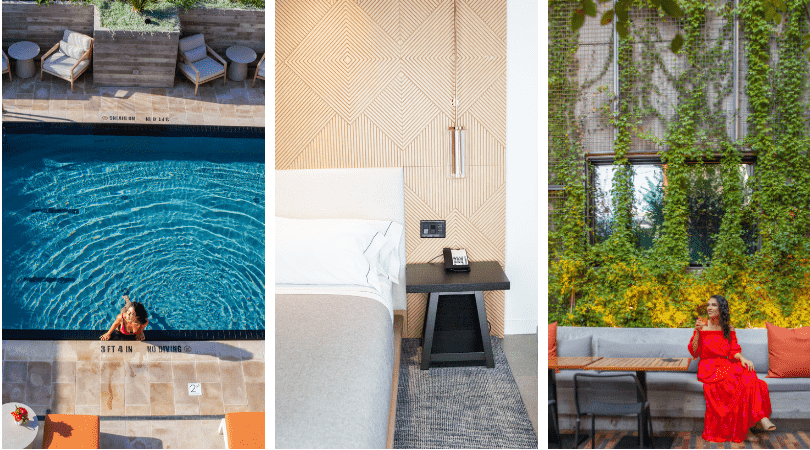 On a recent trip to Austin, we had the pleasure of checking out the Canopy Hotel, conveniently located in Downtown Austin. We enjoyed the open and bright rooms with pops of color, a pool looking over the city, and an amazing culinary experience from one of the top chefs in Austin.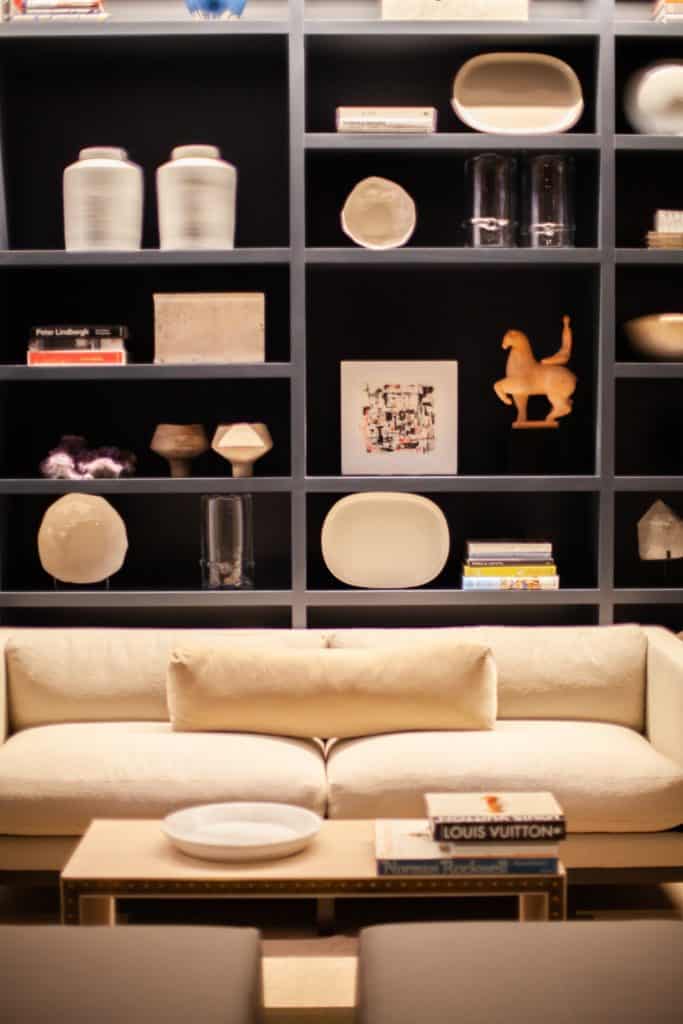 Canopy Austin Hotel Review: The Pool
The pool at the Hilton Canopy Austin was a highlight of our trip! Getting to enjoy some sun bathing while getting to see the downtown views was quite relaxing. They heat it in the cooler weather and even have cabanas you can rent out.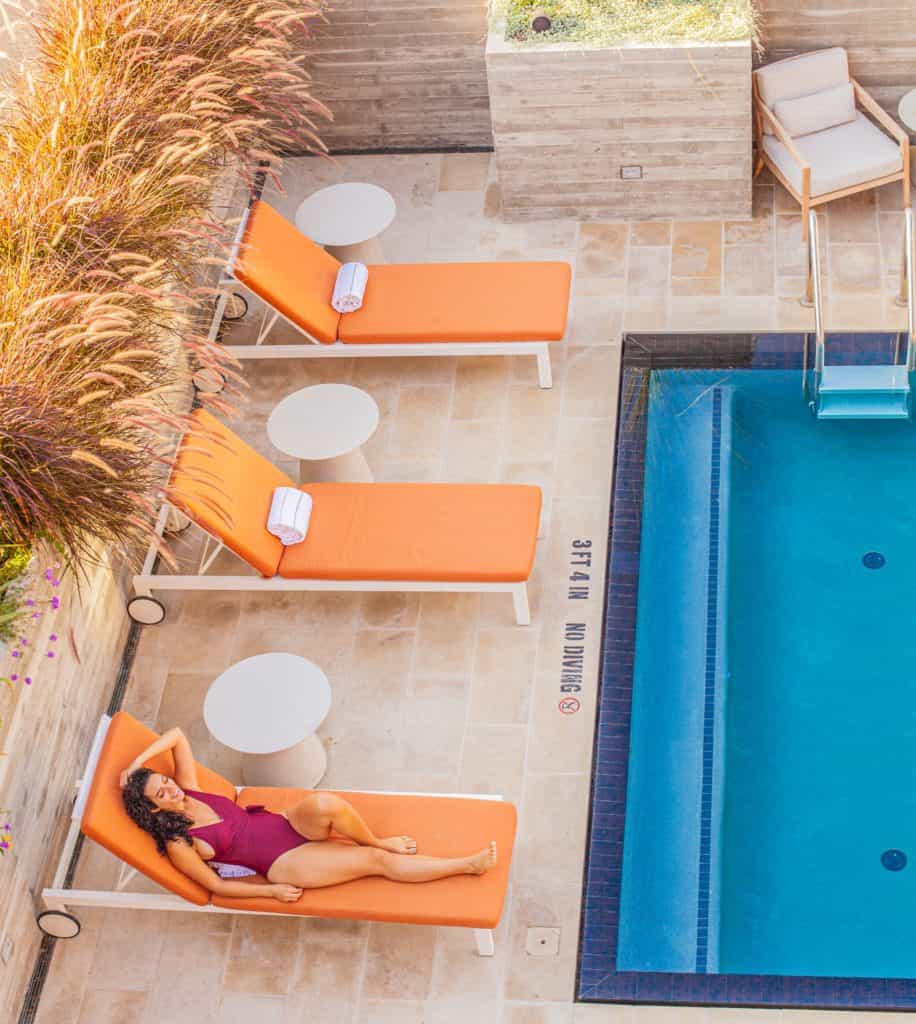 Canopy Austin Hotel Review: Verbena
When staying at the Canopy Austin, you do not want to miss out on the incredible cuisine. We were so excited to find that their onsite restaurant Verbena has their menu from Chef Nic Yanes, who has developed some of the top restaurants in Dallas and Austin. Here you'll find a Mediterranean inspired menu that includes lamb steak, Moroccan meatballs, rosti, and so many other dishes that make this place way more than your average hotel diner. They also have a take on an Old Fashioned, but with tequila. My only regret was not getting to visit on the weekend for some amazing brunch like shakshuka and vanilla buttermilk pancakes.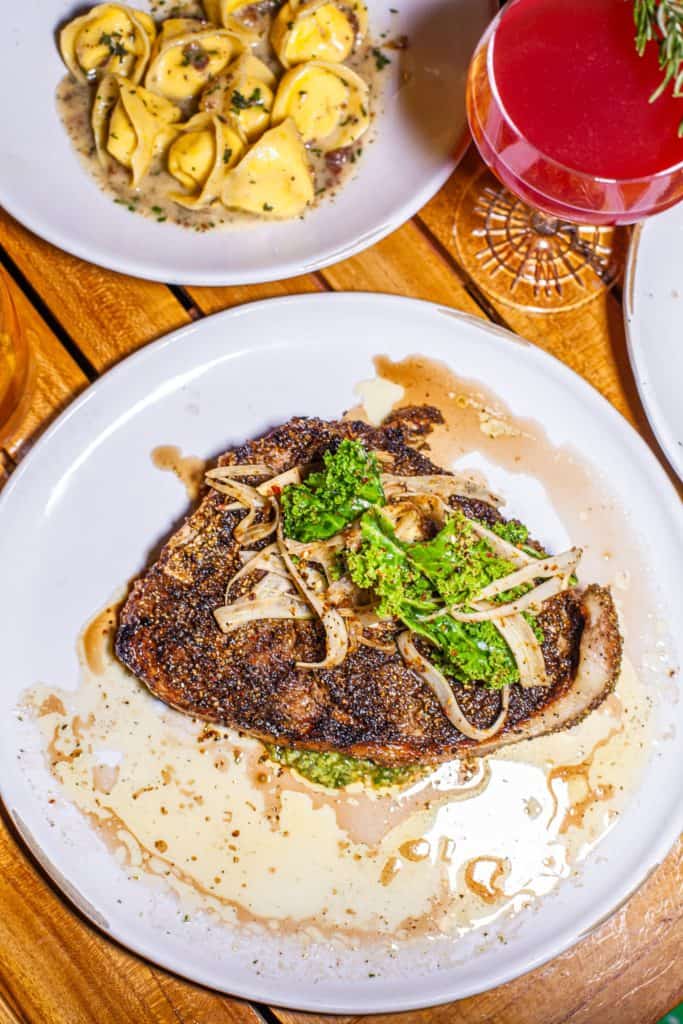 On top of this, the have a beautiful outdoor area filled with greenery and trees growing right through the courtyard.
Canopy Austin Hotel Review: The Room
The rooms at the Canopy are filled with natural light and modern design. I loved the art and the pops of personality with décor like the light purple couch. Additional amenities like a Nespresso machine meant great coffee every morning. It doesn't hurt that our balcony overlooked the pool for an even more enjoyable morning.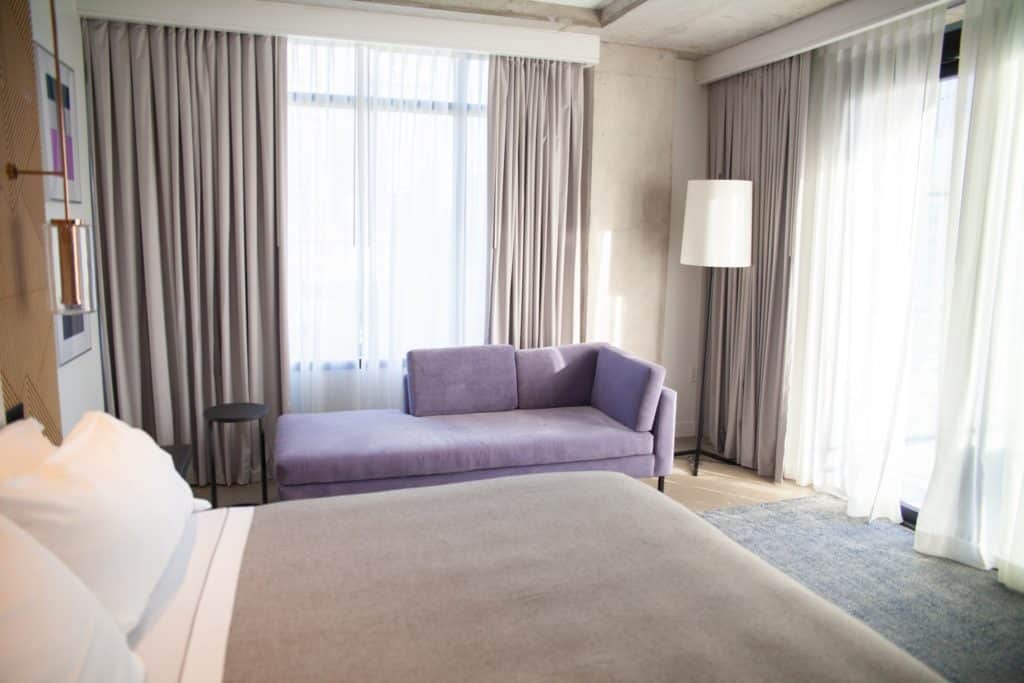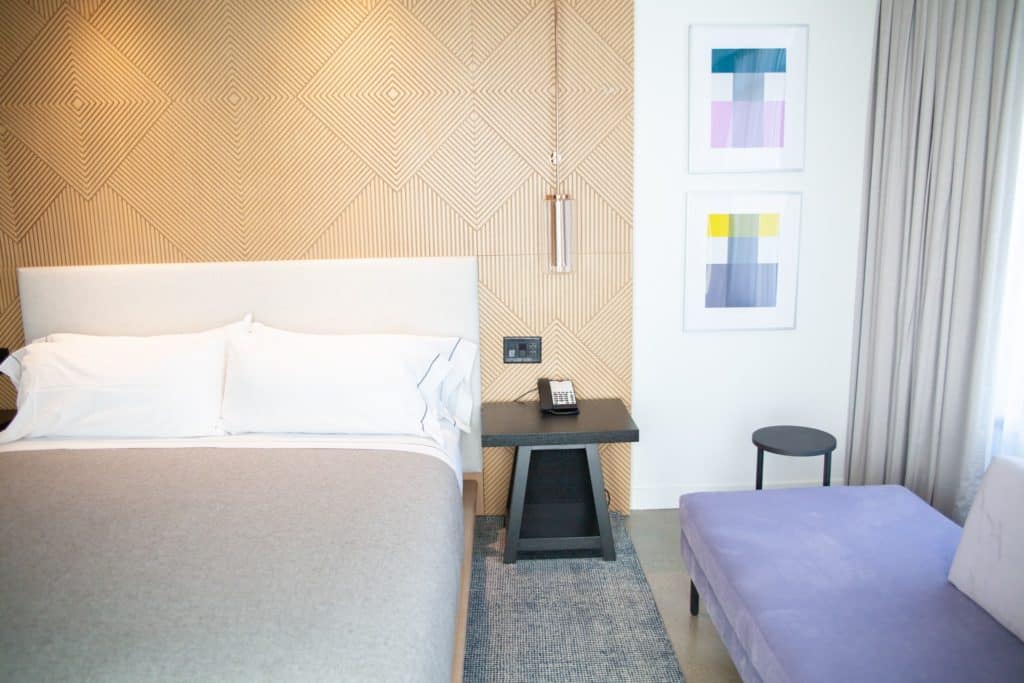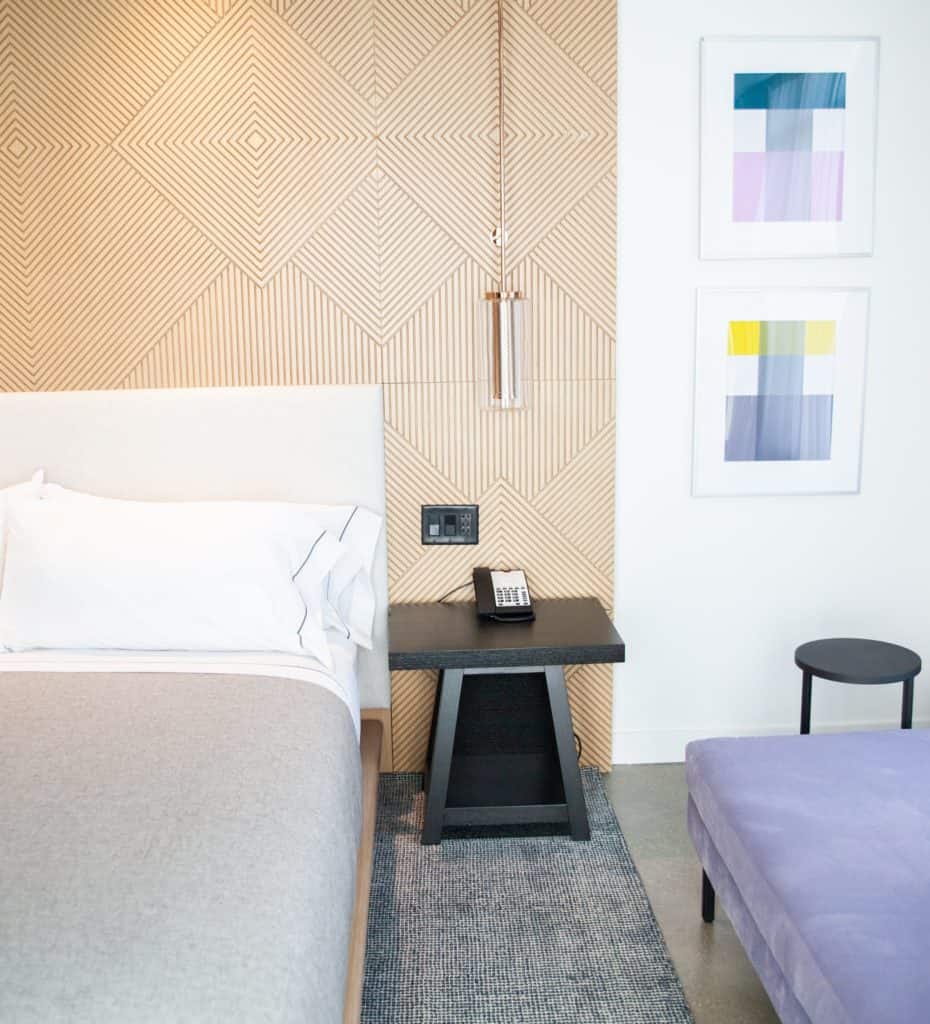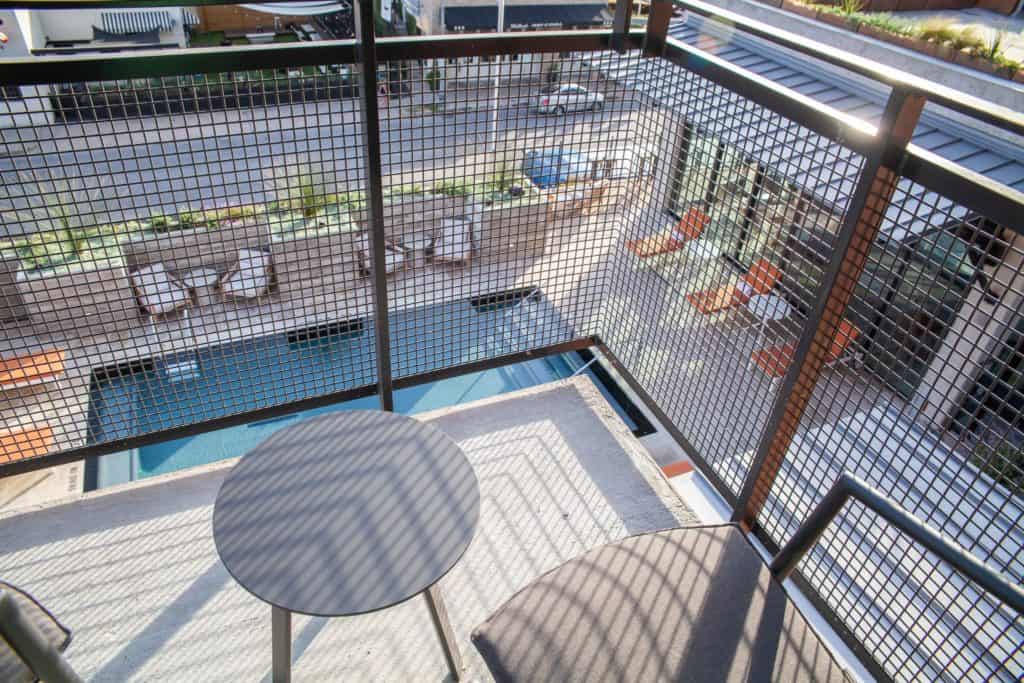 Canopy Downtown Austin Hotel Review: The Extras
It's in the small details that make a hotel extra special! Being in Austin, we loved all of the emphasis on health. And because it can be hard to find parking around downtown Austin, we took full advantage of the bikes that we could check out. We got to explore the murals around, bike to different restaurants, and enjoy the healthy activity we got.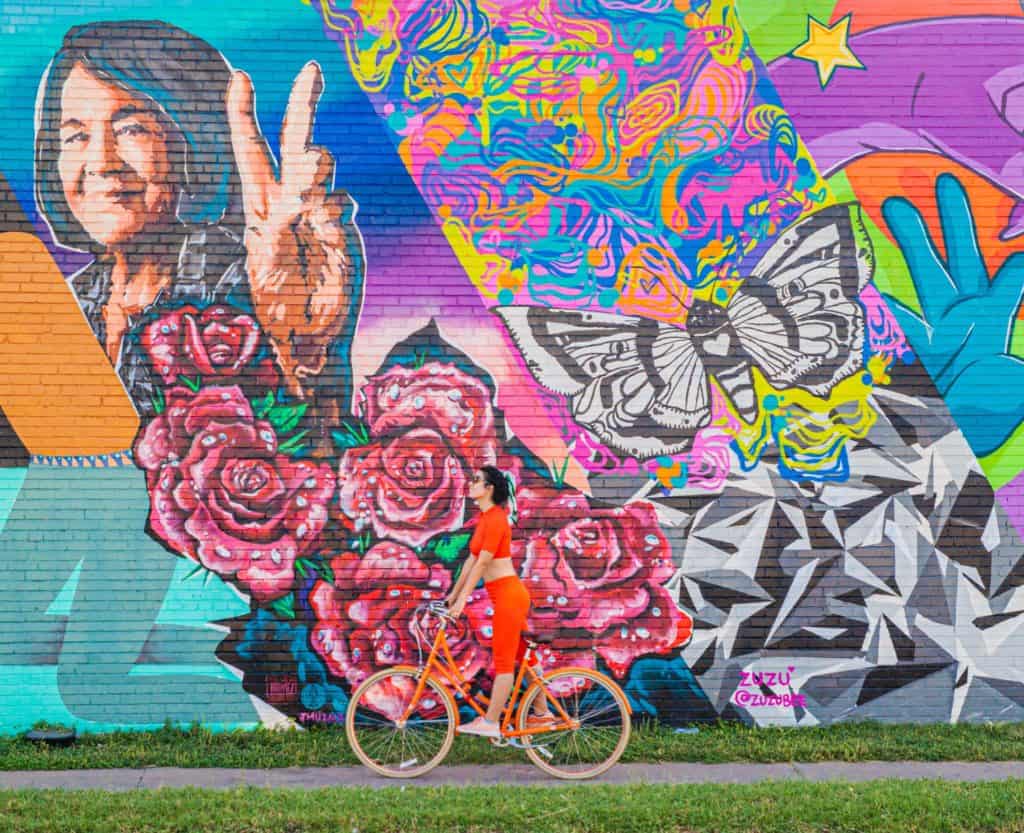 And if you don't get enough fitness from the biking, they have a small, but well equipped gym onsite!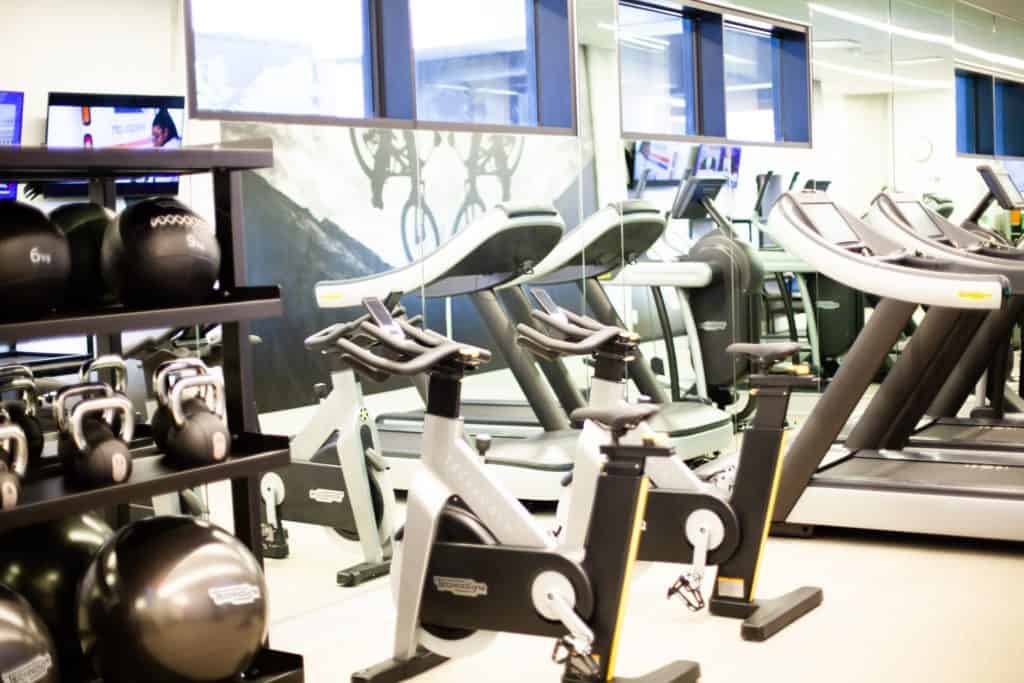 Canopy Downtown Austin Hotel Review: Final Thoughts
We had such a lovely stay at the Hilton Canopy Austin! The beautiful rooms, mixed with the great food, plus the convenience of being downtown made it so that we had everything we needed. Being able to relax poolside was refreshing with a good book (or with a copy of 50 Texas Trips Under $50). If you're looking for things to do while in Austin, check our list of 215+ things to do in Austin.