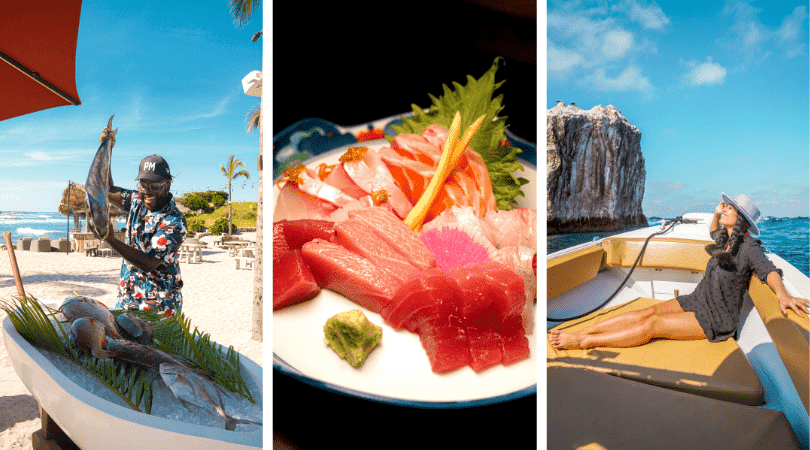 Punta de Mita, a town in Mexico, is famous for its beautiful, white-sand beaches, lots of watersports, golf, culinary delights, nightlife and is even a popular destination for Hollywood stars.
Punta Mita is a private peninsula in the Mexican state of Nayarit and is home to several resorts: the Four Seasons Punta Mita, the St. Regis Punta Mita Resort, along with 16 sub-communities of private residences and rental properties on the northern end of Banderas Bay.
To summarize, Punta de Mita is a city, while Punta Mita is a luxury, gated community of rental properties, residences, and resorts. However, there are also resorts like the W Punta de Mita, which is not on the private peninsula of Punta Mita, but is a part of the city of Punta de Mita.
Sounds complicated, but once it clicks, it makes perfect sense. Read more about our experience in Punta Mita here to help you plan your next trip!
Want to be more prepared before your trip? We've been using the Rosetta Stone app! It has 5-10 minute lessons all on your phone with visual and audio cues to help you learn quick! Join Rosetta Stone now and get 50% off your lifetime subscription!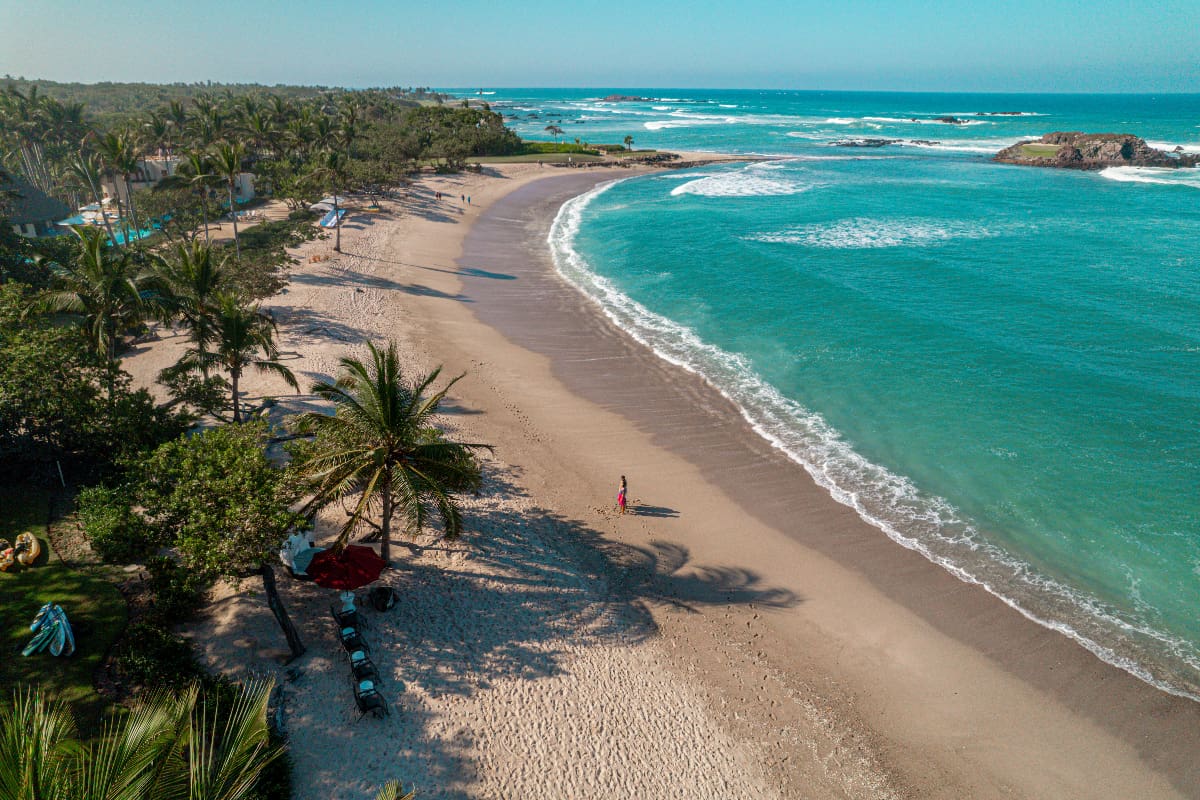 Getting to Punta Mita Mexico
To reach Punta Mita, most people land at Puerto Vallarta International Airport and then drive to Punta Mita, which is 40 km (about 25 miles) away. The safest and easiest way to arrange a pick-up service from the airport is with your hotel.
Your other options are ordering a cab from the airport or renting a car. We strongly recommend that you arrange this before your trip. Otherwise, you will be overwhelmed by a variety of cab services and rental car companies peddling you at the arrival terminal.
Note: Learn from us. When we came out of security, many people were selling services and tours, but one guy caught us. We said we already had a driver, and he pointed to a lady behind a desk, and she showed her ID as if she was official. She said they would help us find our driver and that we should come here. Even though we said we had transportation and an itinerary, she kept talking, trying to win us over with tequila shots and then selling her touring services. She never did help us find our transportation. Eventually, we left, but it was hard when everyone was so pushy.
Our word of advice is to hire a shuttle service beforehand and avoid all the hustlers at the airport. If they say they know where the drivers are, don't worry. They really are right outside and easy to find. Finally, we found our driver, and all was well after that.
Things to Do in Punta Mita
Punta Mita offers many possibilities for an eventful vacation. June through October is the rainy season, and you can expect beautiful sunny weather from November to May. It does not matter when you decide to travel. There is always something to do, whether it's indoors or outdoors.
We will be focusing on outdoor things to do in Punta Mita and encourage you to plan your trip during the dry months to make the most of your stay. November to March is whale season in Punta Mita, so consider that when planning your trip.
Although we will be listing all of the fun things to do in Punta Mita that we saw, we were only able to do a few because there just wasn't enough time! However, this will allow you to plan ahead when you visit Punta Mita yourself!
Visit the Marieta Islands
It is important to mention that in recent years, the Mexican government has been very involved in the protection and conservation of the Islas Marietas, which we are very happy to hear. However, this makes planning a trip to the island a bit more complicated.
There are only certain days where visitors to the island are allowed, only approved tour companies have access to the hidden beach, and only a maximum number of visitors are allowed per day. So make your reservations early, especially if you are coming during peak tourism season.
Before you book your trip, you should know that the Pacific Ocean has strong waves and currents, and even if you wear a life jacket, you must be a strong swimmer. The tour guides will ask you all these questions, and to prioritize your safety, you should answer truthfully. Unfortunately, our tour was canceled because of a tide change, which made it dangerous to jump in the water.
Go Surfing
La Lancha is known for its surfing, so it's something you should definitely try! We recommend taking surf lessons or hiring a surf instructor in advance. They will show you the basic technique on land and then help you feel comfortable on the water.
Go Whale Watching
November through March is whale season, so during this time, there are whale watching tours available. During ours, we were lucky enough to see humpback whales jumping and flapping their fins. It was one of the most magical experiences we have ever had!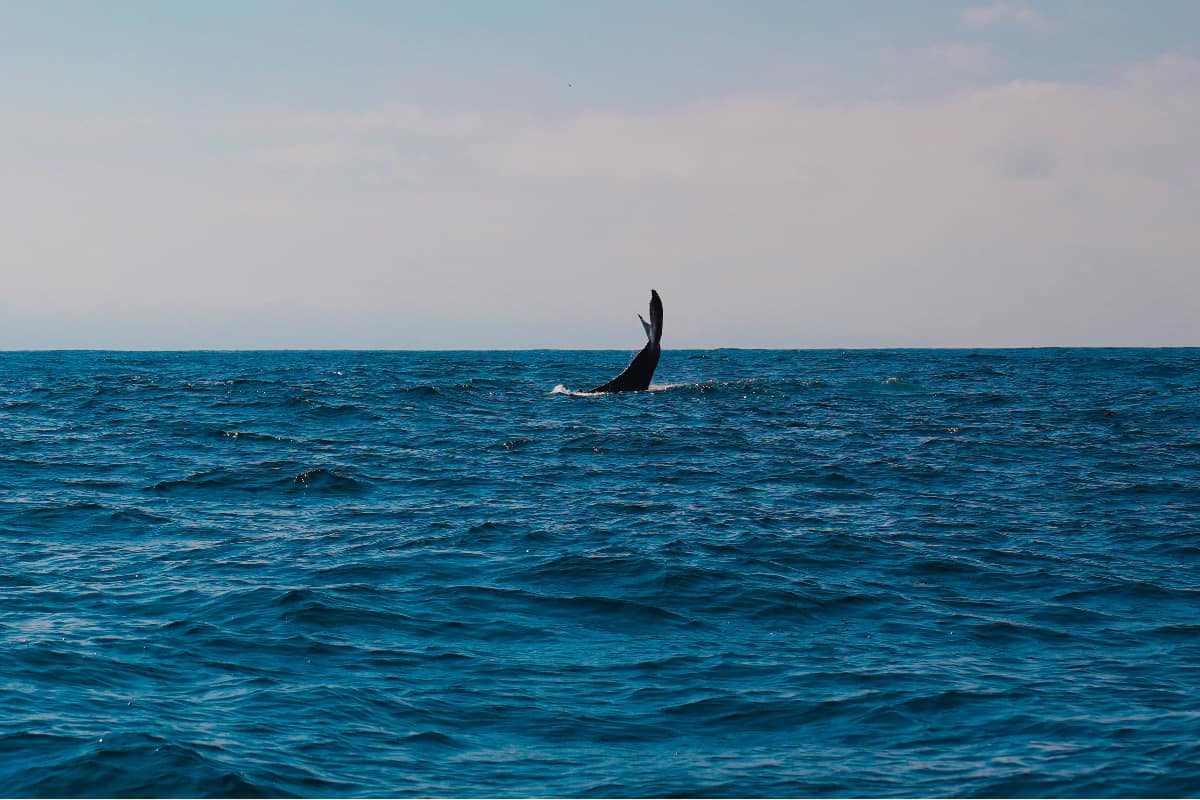 Ask your tour guide if you can add a trip to "El Moro" to your tour, where the sea lions like to hang out. And if you are as lucky as we were, you will see a school of dolphins swimming by your boat. Some tours also include snorkeling on one of the beaches for an additional, small fee.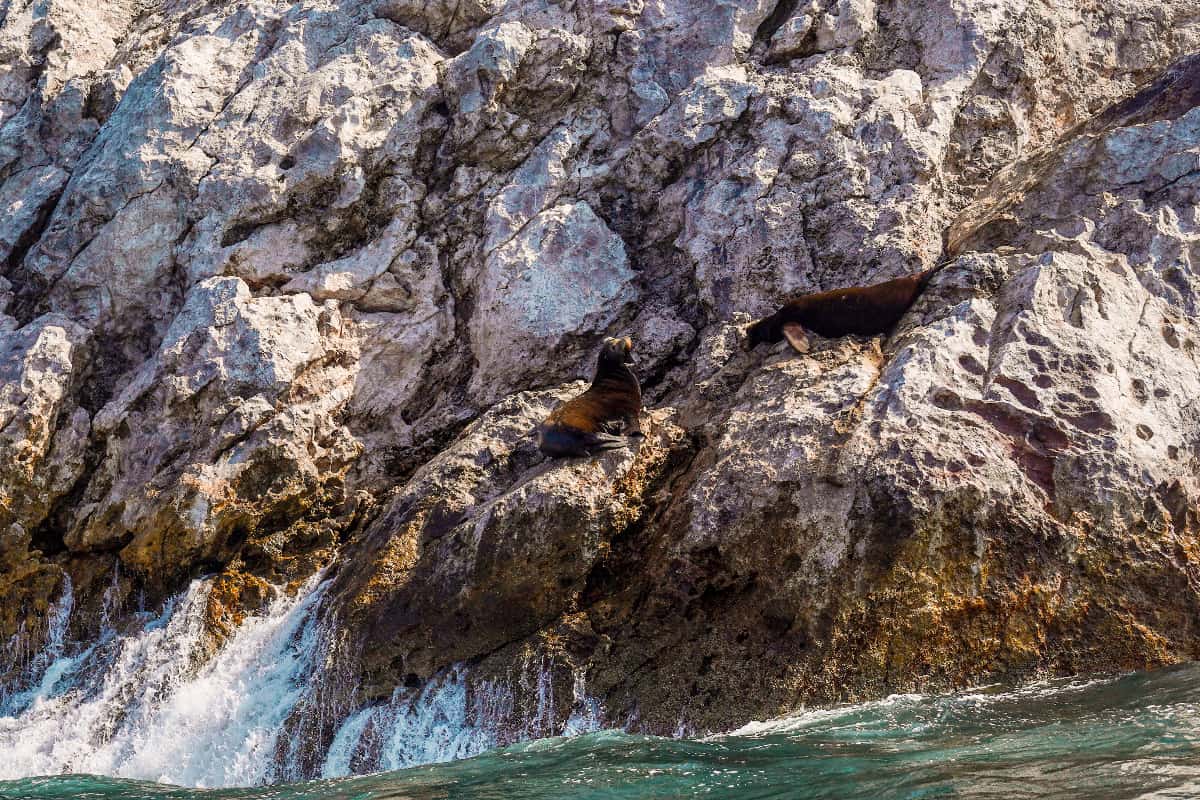 Book a Spa Treatment
There's a spa experience for every budget in Punta Mita. If you want something luxurious and relaxing, head to the Four Seasons or St. Regis Resort, where you can enjoy all the on-site amenities and even indulge in complimentary tequila cocktails. Another affordable option is the Spa Mita, Punta de Mita, which offers manicures for just $20 and 60-minute massages starting at $40 on Punta de Mita. Serenity Spa Punta Mita, which offers body massages on the beach.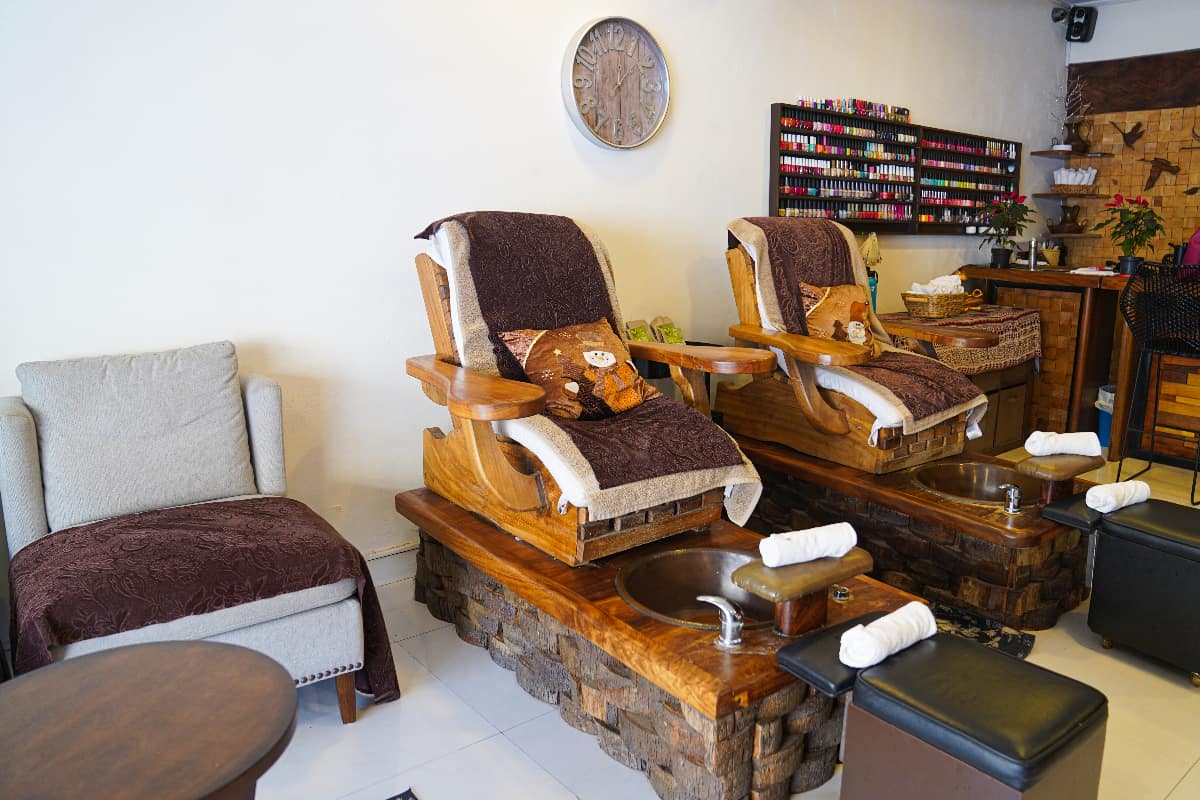 Stay at Punta Mita
Activities include three different beach clubs, access to surfboards, paddleboards, kayaks, waterskiing, and daily activities like tequila blending workshops, Spanish classes, dance and cooking classes, and group workouts. If this is something you want to add to your trip, read about all the amazing things to do when you stay at Punta Mita.
Explore the Activities at the Four Seasons
The Four Seasons offers its guests an extensive list of activities:
Kayaking to the caves
Eating "Sea to Table"
Experiencing the "Octopus Catch and Cook" program
A tequila blending experience
A chocolate-making workshop
Cultural experiences with the Huichol people
Read all about our experience at Four Seasons Punta Mita here.
Go Diving
Punta Mita Ocean Sports offers a long list of scuba diving services for beginners and professionals alike. Divers from all over the world come to Punta Mita to dive into the beautiful Pacific Ocean. You must be a proficient swimmer and complete a diving training certification over the course of 4 to 6 days before heading out into the open waters.
Go Golfing
The Four Seasons is home to the best golf courses: the Punta Mita Bahia Golf Course, the Punta Mita Pacifico Golf Course, and the stunning "Tale of the Whale" 3B hole, created by famous golfer Jack Nicklaus, with panoramic views of Bahía de Banderas and the Sierra Madre. Enjoy amenities like a golf academy with private lessons, clinics, golf schools, customized programs for players of all skill levels, and other services such as caddy rentals, equipment rentals, and golf carts.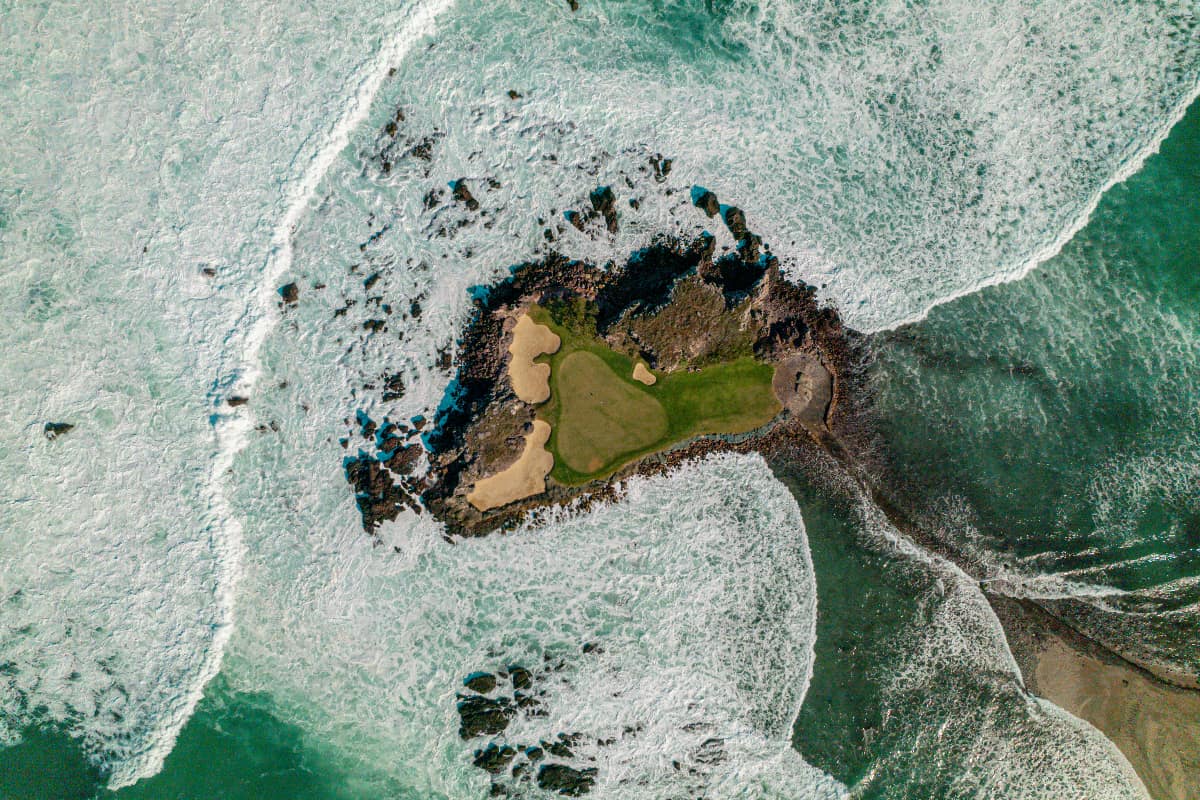 The golf course at St. Regis Resort, also designed by Jack Nicklaus, sits on 380 acres of land with stunning, seemingly limitless views of the surrounding peninsula. It also features a clubhouse restaurant and store, a driving range, a putting green, an academy with workshops and classes, and a junior golf program.
While there are other golf courses in Punta Mita, these are the most popular and sought after destinations among golf course aficionados.
Visit Playa Punta de Mita
This public beach is very popular among surfers. The atmosphere is very relaxed; people lie on their towels and local artists showcase their creations.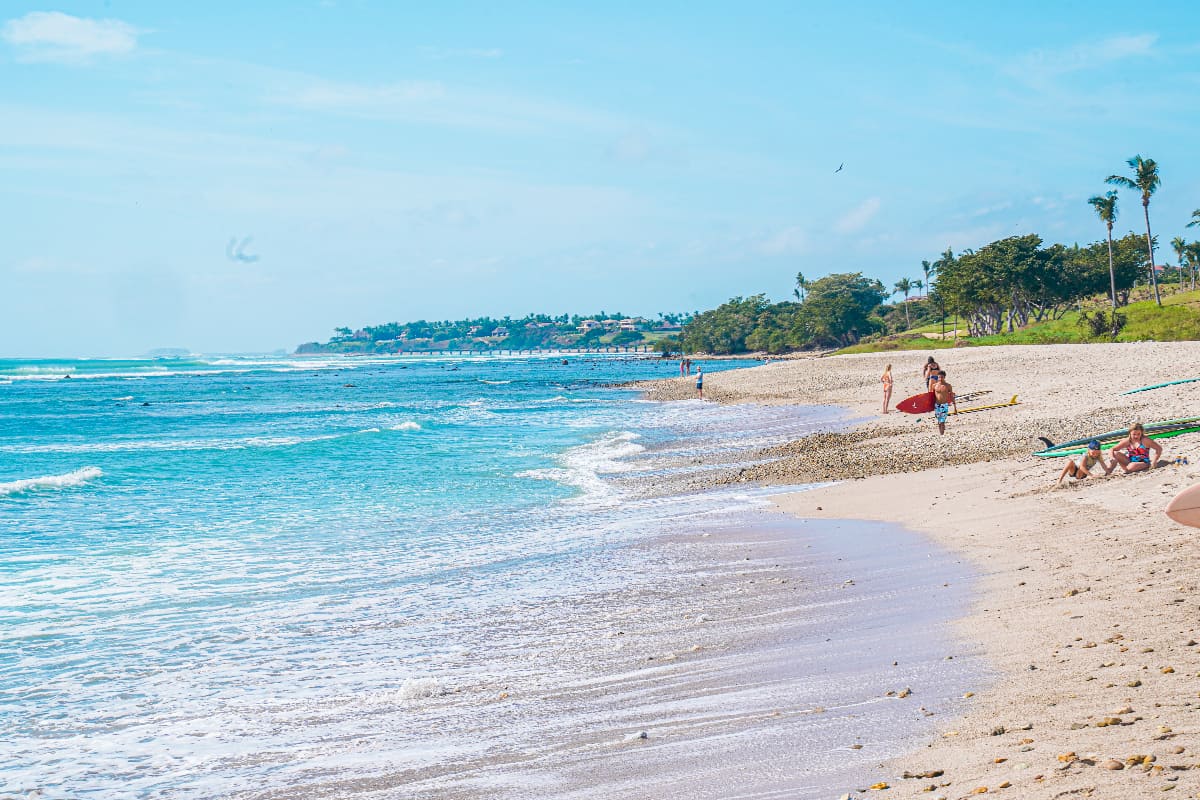 Take a Cooking Class at Hector's Kitchen
Chef Hector Leyva will teach you the cooking techniques and ingredients that are used across different regions of Mexico as you follow along step-by-step. You can also sign-up for his Mercado Tour where you'll eat traditional Mexican cuisine from his favorite mercado stalls.
Soak in Alberca del Mar
The Alberca del Mar is a pool built of rocks through which the ocean water enters and collects. The water is clear because the waves do not pick up the sand from the bottom. In the area, you will find people braiding hair, giving massages on the beach, selling Mexican crafts, and lots of delicious restaurants.
It is located on an unofficial road that you can access by car. It's best to go there in the dry season because, when it's wet, the ground and the path to get there does become muddy. We experienced mud, but not enough to get us dirty on our journey.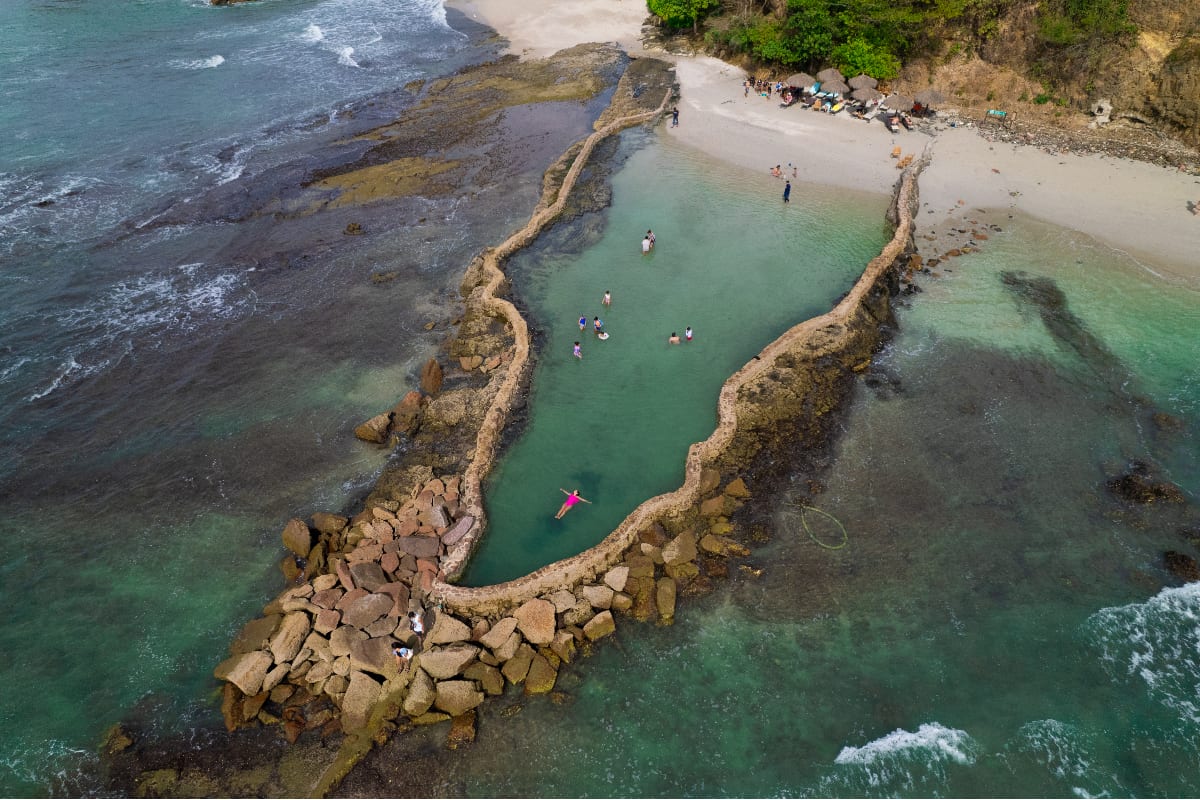 Visit the Pescaderia Punta de Mita
This is the fish market in Punta Mita where everyone gets their fresh "catch of the day." It opens early in the morning when the sailors arrive with their haul and closes around noon.
Charter a Catamaran
With this activity, you can create your own itinerary. There are many options, like finding sea lions, whale watching, and snorkeling. Of course, you could buy a place in a group, but the excursion is more generic and less flexible of an itinerary.
Go Fishing
There are family fishing trips and sport fishing trips available. Both are booked by the hour. What makes this activity super unique is the captain has everything you'll need to make ceviche – all you have to do is catch the fish!
Visit Cueva La Lancha
These caves are located at Playa La Lancha, which is only accessible during low tide. Do not take the risk if the tides are strong or you cannot walk across.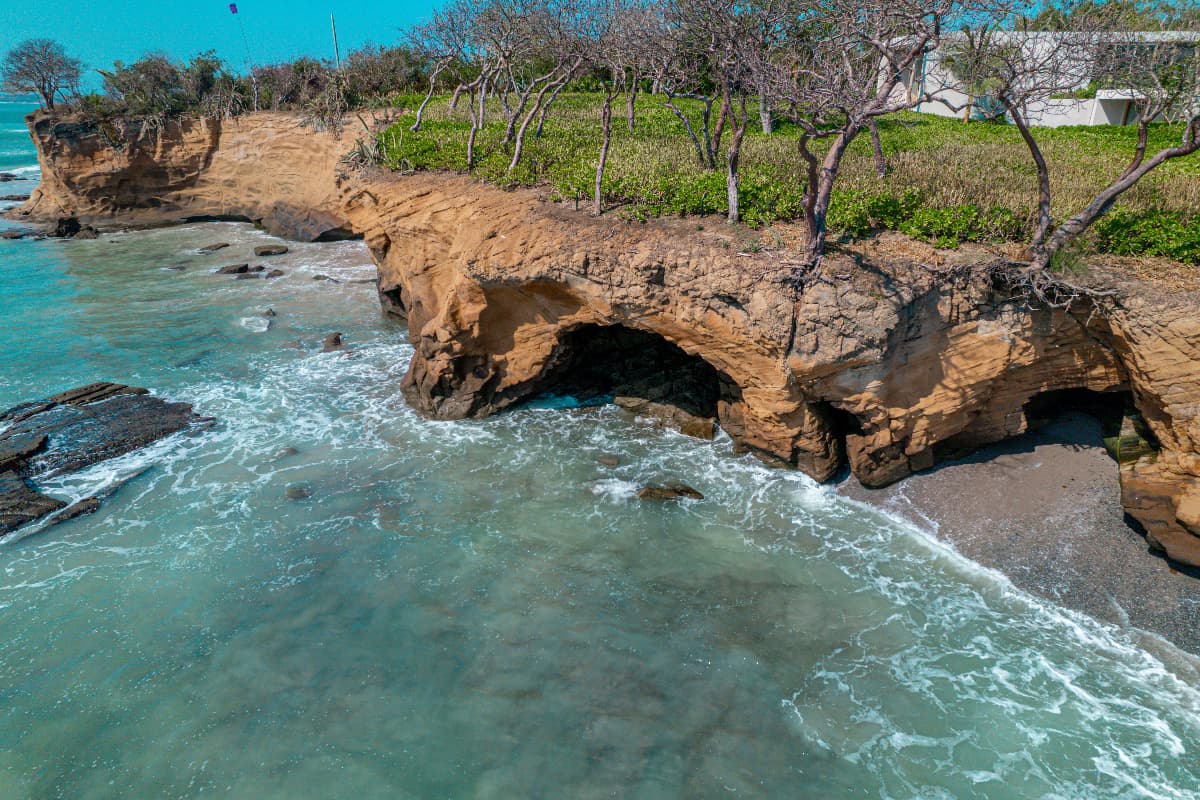 Visit Playa Careyeros
Just 20 minutes north of Punta Mita is Playa Careyeros, a beach in Jalisco, Mexico known for its abundance of sea turtles, especially during hatching season, the gorgeous, Mediterranean architecture of its exclusive resort, its warm water, and beautiful beaches.
Go on a Sayulita Excursion
30 minutes north of Playa Careyeros is the town of Sayulita, with sandy beaches and surf at the heart of "Pueblo Magico" or a magical village. Sayulita is much cheaper than Punta Mita and Puerto Vallarta. People from all over the world come here to catch waves, eat good food, and lay in the sun.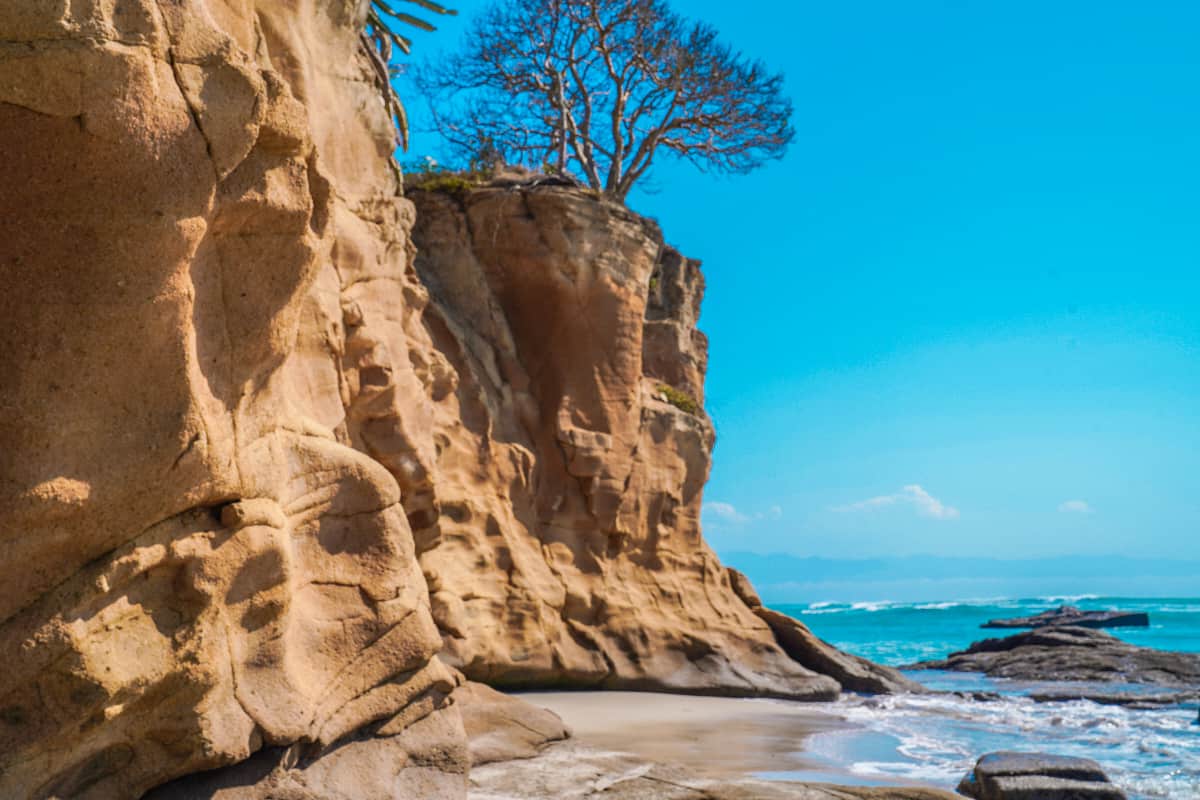 The Plaza of Sayulita is one of the most colorful places in town. Here, you'll find boutiques, street vendors, good restaurants, street taquerias, and much more. Sayulita is a popular tourist destination and, therefore, is always crowded. There are more cases of petty theft and street vendors peddling here, as is common in places that are popular tourist destinations.
Make a Stop in Higuera Blanca
Known for its horseback riding, beaches, and lush jungles, this small village stop between Punta Mita and Sayulita is definitely worth visiting!
Go on a San Pancho Excursion
San Pancho is just an hour north of Puerto Mita and its beach is a great place for advanced surfers looking for serious waves. If you're looking to plan a day trip to this little town, you'll find the beaches of San Pancho to be less crowded.
Go on a Puerto Vallarta Excursion
Puerto Vallarta is around an hour and a half south of Punta Mita. You can arrange transportation with your hotel or a tour guide. The best way is to join a guided tour. Usually, the tour guides know the area, help you find good deals on souvenirs, can help you find the best places to eat and shop, and where to have fun and try good tequila.
Puerto Vallarta is bigger than Punta Mita, busier, and more expensive, and there might be more cases of theft. Traveling alone is not a bad idea, but you could end up wandering the streets endlessly, trying to find a cab ride at the end of the day. It takes away the fun and peace of mind when you have to worry about every aspect of your trip.
Hike Monkey Mountain
If you're up for a challenge, Monkey Mountain boasts gorgeous views from the top. You can start your journey in either in Sayulita or San Pancho. A guide isn't required, but it's recommended if you aren't an avid hiker or you're visiting for the first time. The tours last several hours, but there is a lot to be learned about the area if you opt for a guided tour.
Do Yoga
The Four Seasons and the St. Regis Resort offer yoga classes for an additional fee. Outside the hotels, there are two yoga studios: Punta de Mita Yoga and Pilates and Coral Yoga.
Find Sea Turtles
The Four Seasons has partnered with the Red Tortuguera, a non-profit organization dedicated to sea turtle conservation, and offers guests the opportunity to watch a sea turtle release on a seasonal basis. We were impressed with the hotel's commitment to sea turtle conservation efforts.
Book a Tequila Tasting
In the town of Tequila, you will find yourself in the heart of mezcal and tequila production in Mexico. You'll see it all over stores and on menus. Even some places offer free shots of their favorite tequilas! The Four Seasons also offers a tequila blending experience. The Conrad has an Agave Studio with more than 40 varieties of mezcal and tequila where you can sign up for a tasting. St. Regis offers "A Salud to Tequila," where you'll take a private tour of Mundo Cuervo's La Rojena Distillery, learn more about how tequila is made, and finish at the famous Jose Cuervo's Tequila Tavern.
There are also tequila tours you can book through online travel sites, but these have been carefully crafted for you.
Take a Boat Ride to Yelapa
This small village is accessible by boat, with many water taxis that come and go between Punta Mita and Yelapa during the day. You can spend an afternoon walking the shops, visiting a waterfall, and eating delicious food.
Visit Playa del Amor
This beautiful cave has an open roof and a beach inside. You can only reach it by kayak, water taxi, or private boat. It is a popular tourist destination, but Mexican authorities have issued regulations to protect the barrier reef in the area.
Explore Punta de Mita
Punta de Mita is a small town with a street full of unique boutiques, enticing restaurants, and themed beach clubs.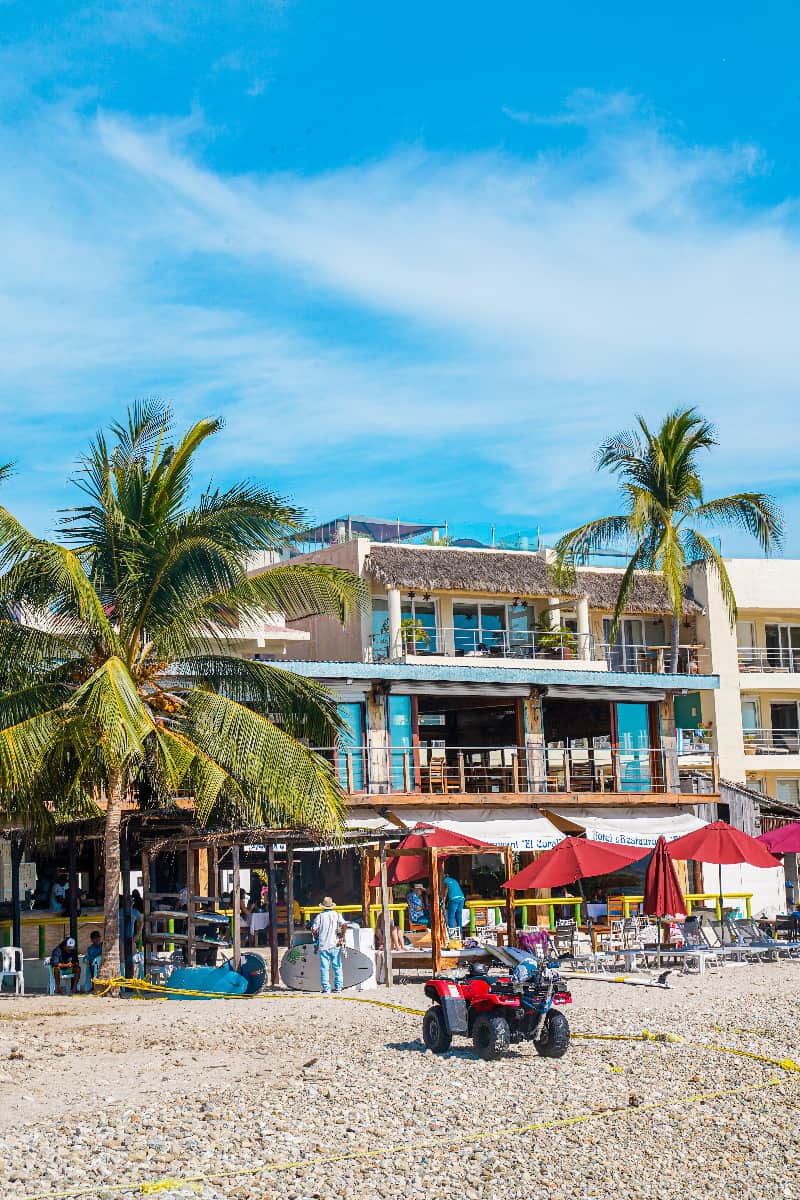 Restaurants to Try in Punta de Mita
Since we had a fantastic culinary experience in Punta de Mita, we wanted to share some of the best restaurants that we had a chance to try. This way, you can avoid poor service or bad food altogether. So be prepared to take some notes!
Cafecito de Mita
This is the most popular breakfast place in Punta de Mita; the line was always very long but moved fast, the service was friendly, and the food was divine!
They serve freshly baked sweet bread, the traditional Cafe de Olla, delicious lattes and coffee blends, and fresh, cold-pressed juices. I had the most flavorful avocado toast with cucumber. Definitely a good place to start your day!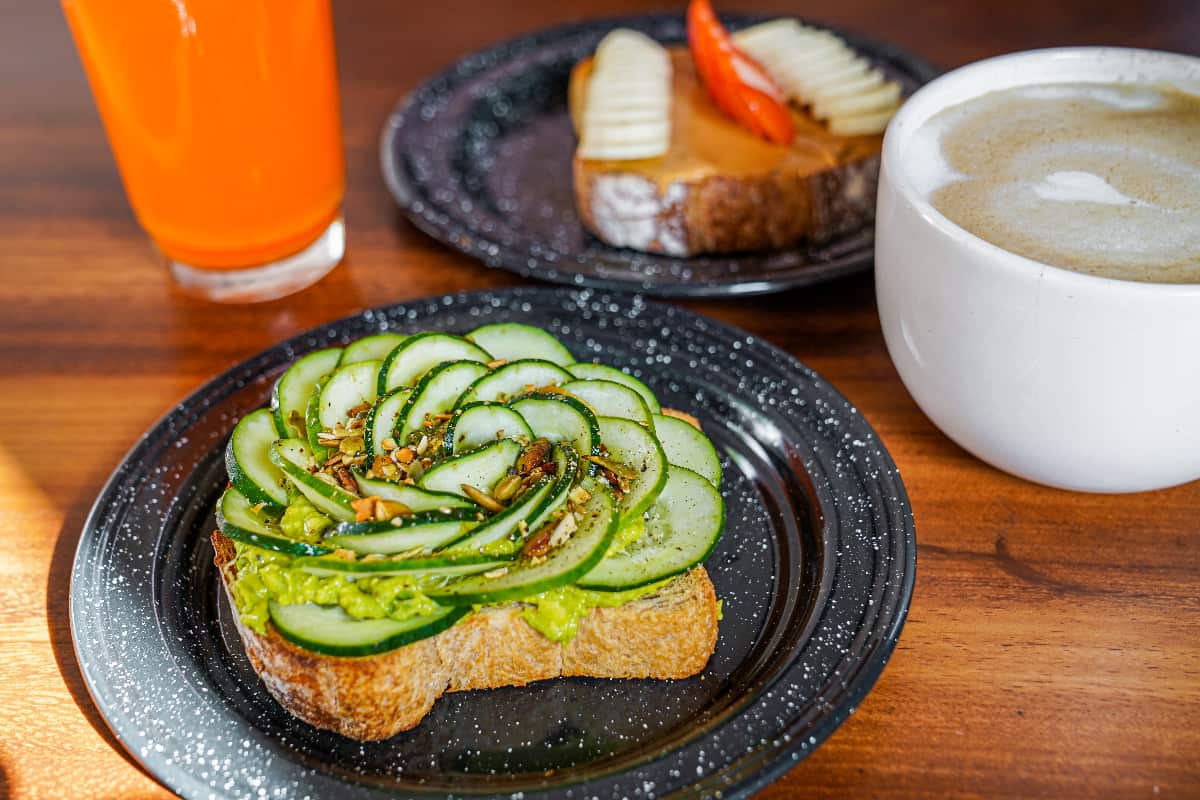 Zicatela
Named after a beautiful surfing beach in the state of Oaxaca, this restaurant offers gorgeous ocean views with high ratings!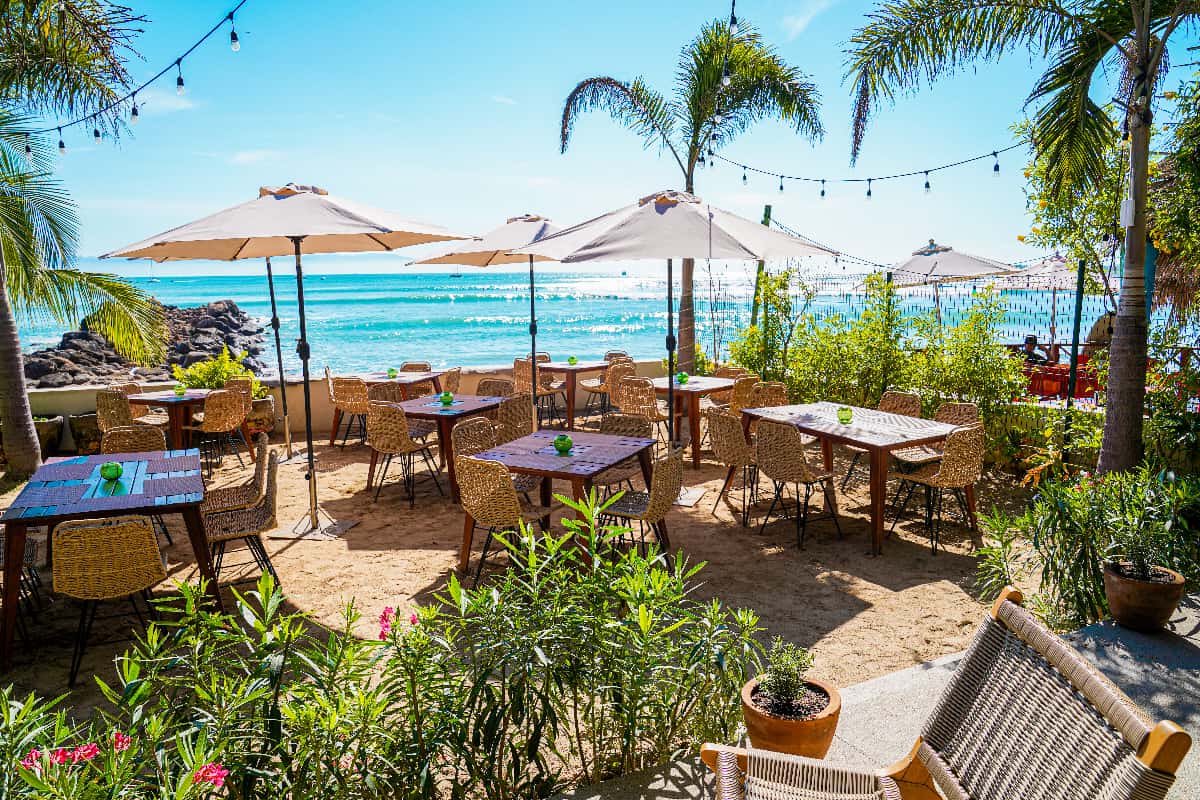 The menu features dishes like Aguachile Verde de Camaron, Tostada de Pulpo, Hamburguesa Zicatela, Tacos de Pescado Zarandeado, and Tres Leches. Since the restaurant is named in association with Oaxaca, the mother of mole, we absolutely had to try the Enmoladas de Pato, and we were not disappointed!