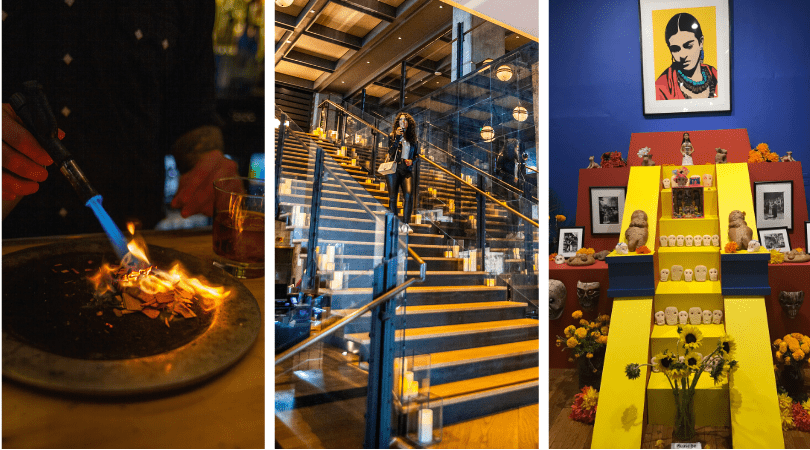 A rainy day or gloomy forecast doesn't have to mean no fun! There are so many exciting indoor activities in San Antonio for a day of excitement in Austin TX. Whether you're a tourist whose outdoor plans got cancelled or a local who just wants to get out of the house, here are some indoor ideas for things to do in Austin when it's raining outside. Most of the things on this list are also great for families and kids.
Things to do in Austin TX on a Rainy Day
Grab a margarita with a view – At the Oasis. Yes it's touristy, but sometimes it takes looking at things from a tourist's eyes to truly enjoy the beauty and the incredibly blue waters! You'll get a different perspective with the rain and can sit inside.
Enjoy a spa day – There's nothing like a day at the spa! Spa Reveil offers an extravagant list of different themed packages including an Egyptian spa ritual and a chocolate spa experience. It has rooms to relax in between services as well as romantic experiences like milky baths. Hiatus Spa has unique packages as well as a Turkish Hammam bath ritual. As part of your spa experience at the Omni Barton Creek, you can enjoy the relaxation lounges, steam rooms, dry saunas and whirlpools. Basically there's no shortage of great spa experiences in Austin perfect for a rainy day.
Learn to give a good massage – Or if you want to take those skills home, head to MYO which helps teach how to give each other a massage.
Visit the Symphony – Get dressed up for a night of music at the Austin Symphony Orchestra. You might even be surprised at some of the shows they have, with music from West Side Story, Tango symphonies, or Cosmos and Classics.
Catch a dance show – There are so many different options for seeing dance forms and troupes, but each experience is a different on any given rainy day! Spend time checking out all of them including the Austin Ballet, Tapestry Dance Co, Blue Lapis Light, Andrea Ariel Dance Theatre, Dance Umbrella, and Forklift Danceworks.
Visit NYC – Well not quite. However, you can experience Broadway in Austin that brings the best Broadway shows to the city for a little NYC right in Austin!
Go for a float – At Zero Gravity Institute you can experience deep relaxation like no other by floating in their relaxation tanks.
Listen to some jazz – The soft candlelight and moody lighting set the theme for a romantic date on a rainy day in Austin at the Parker Jazz Club while listening to some of the best jazz around.
Visit the opera – The Austin Opera is a great place for a classy rainy night in Austin that you have to try at least once, but will probably draw you in for show after show!
Austin Aquarium – Discover marine life and experience personal animal encounters like feeding stingrays, encounter sloths, kinkajous, lemurs, otters, and more.
Try a chef's tasting – Wink has a 7-course meal for a fancy date where you can savor each flavor and try dishes with ingredients from local farms.
Or go for a 20-course Omakase – Otoko only seats 24 people a day for this special 20 course meal and you have to book well in advance to snag a seat, but it's worth the wait. You'll get carefully crafted Tokyo-style sushi and Kyoto-style kaiseki prepared by the head chef .
Relax in a cave – The Austin Salt Cave is a great opportunity to relax and get a little warmth in the middle of all the rain.
Take a staycation – Feel like you've transported to somewhere new by booking a cozy hotel to watch the rain from the window.
Try bouldering – Once you start, people often become enchanted by all the cool things that come from bouldering. Start off at Austin Bouldering Project to gain the skills and build the excitement.
Grab a Drink – Austin East Ciders has indoor seating and a mixture of their different ciders on tap and flavors only available to them!
Go rock climbing – Sometimes it's hard to find active things to do on a rainy day, but with indoor rock climbing you get a little outdoor fun indoors.
Or learn different Latin styles of dance – Esquina Tango has many forms like tango, salsa, and more. They even have Spanish conversation classes for people wanting to learn a language.
Go golfing – Topgolf is a fun Austin thing to do when it's raining with delicious food and drinks.
Throw axes – For a little friendly competition-styled Austin activity, throw axes at a target with Urban Axes.
Play baseball – Except here you have the comfort of A/C! Home Run Dugout is a virtual batting cage experience where you also get to enjoy delicious food and drinks in between each round!
Jump on trampolines – Urban Air Adventure Park has all types of cool trampolines and activities and is for adults too!
Try indoor skydiving – All the thrills of skydiving, none of the fears or rain getting in the way! At iFly you can do cool acrobatics in the air while being pushed up in a wind powered tunnel!
Skate on ice – Ice skating is always a fun idea because at least one person is usually bad at skating which means opportunities to laugh together.
Or regular skating – Bring it back to the funky music, roller rink food, and the fun of rolling around in a circle time and time again.
Escape to a new reality – Virtual Reality is something that is quickly growing and a whole new experience! There are a couple of places in Austin that offer a unique take on the experience! Pinballz arcade has virtual reality games like blaster type games and an Omniverse arena where you actually walk around and experience it. The VR Arcade has a huge selection of all types of games from horror, sports, action, puzzles, and more.
Break Things – Let a little steam off in this bad weather and head to Unchartered Adventures where you are set up in a room with a bunch of things to break! Afterwards you can enjoy fun Texas crafts, or if you didn't burn off enough steam, try some axe throwing.
Row, Row, Row Your Boat – Not so gently down the stream! Since rowing outside likely an option with the rain, try indoor rowing at Ro Fitness.
Dance like it's the 20s – Swing Dancing is quite popular in Austin for all ages. It's active, it's light-hearted, and with the lessons, you can learn fairly easily The Austin Swing Syndicate is the best resource for all the places to go swing dancing as well as learn to swing dance!
Learn to Salsa – or Bachata, Merengue, Cumbia, Cha Cha, the list goes on. Inspired Movement and Salsa Austin will give you the skills for a great Austin night away from the rain!
Escape the room – Challengeyour problem-solving skills and how well you work together under pressure with one of the escape rooms in Austin! The only problem is choosing the right one since each offers something unique and special about it! The Escape Game has really great themed rooms. The Seventh Room is unique because it incorporates live actors. If you're looking for a scare, try out Mindspark Escape Games.
Play some classics – At Pinballz Arcade you can enjoy all of the classics as well as a BYOB for hours of fun and laughter to make you forget about the rain!
Get in a Litle Laughter– Hopefully you're already doing that, but for extra laughs, check out some of the cool comedy spots in Austin. Cap City Comedy brings in some of the best talent from all over as well as as open mic nights.
Go Gaming– Texas Gamers Lounge has unlimited gaming for an affordable price from race car driving, Super Smash Bros, skeeball, pinball machines, and other video games!
Sing off tune together – unless you're really good at singing and plan on dazzling the crowd! The Highball has private themed karaoke rooms if you want to get a group and sing together. For a fun environment, check out the H Mart which hosts karaoke at the food hall eatery. At the Common Interest you can choose between private rooms and the main stage.
Take super cool pictures – There are so many cool Instagram style museums popping up around Austin! Wonderbar is similar with a very photo-worthy and fun bar where you can sip a cocktail while sitting on a banana. Or wander through a maze of lights at Wonderspace.
Have fun while learning – You might think the Thinkery is for kids, but us adults want to learn in fun ways too! Thinkey21 is a special event for adults around happy hour where they design fun learning activities for adults.
Watch modern day Vaudeville – Esther's Follies has been known as the Saturday Night Live of Austin and is one of the most popular troupes in Texas. They have Vaudeville, comedy, magic, and all kinds of great shows.
Dance around the world – The Sahara Lounge is a place to dance to Caribbean, African, Middle Eastern, and Latin music! There's a new experience every night and always something incredible to experience.
Shoot some targets – The Range Austin has shooting packages and classes and you can compete in things like shooting packages.
Race Indoors – Perfect for a rainy day in Austin, K1 Speed is one of the fastest indoor golf carts around for a high thrill race!
Browse through some books – With the rain, it's the perfect time to cozy up with a good book in Austin. But more than just books, Resistencia Bookstore is a community organization that lifts up the voices of Native American/Chicana/o/x/Latina/o/x writers. You'll find a great community here as well as books for great book clubs and deep conversations.
Go Two-Steppin – Enjoy some dancing, great live music, and even some Texas swing at Austin Honky Tonkers.
Enjoy a piano concert – The Dueling Pianos has all kinds of interactive shows for a fun night of singing along, cheering, and great music.
Listen to classic guitar – Austin Classical Guitar Society has live performances, classes, workshops, and other events all around classic guitar!
Watch some wrestling – Get wild cheering on your favorite contender at Anarchy Championship Wrestling which brings back the intensity and excitement around the sport.
Meet a kangaroo – and other animals with the Austin Petting Zoo that has all types of incredible animals that they will bring out to you. They have indoor options for a rainy day.
Listen to Poetry Slam – The Spider House Ballroom hosts some of the best poetry slams around every Tuesday, or check out Austin Poetry Slam for other dates and times.
Go gaming – If board games are your things, check out the Vigilante Gaming Bar which has custom game boxes, hidden rooms, and other exciting treasures. Mothership Books and Games is another great option!
Get a foot massage – If you don't want to splurge on a full massage, you can still get a great experience with foot massages. Beijing Foot Massage and Relax Day Spa both come with great recommendations.
Spoil each other with pedis – Milk + Honey has been top-rated for a luxurious feeling pedi and one that will last through whatever week you have ahead.
Watch an indie movie – Rainy days just call for movies. Rather than a regular movie, check out some of the smaller independent films at Violet Crown Cinema.
See the art at the Mexi-Arte Museum – Explore Mexican culture through art at this museum with regularly rotating exhibits.
Visit the Blanton Museum of Art – With over 19,000 art pieces from Europe and Latin America, you could easily spend all day here.
Enjoy cool art programs – Take your pick of fun Austin ideas with one of the programs from Big Medium including different galleries, an East and West Austin Studio Tour, and other great events.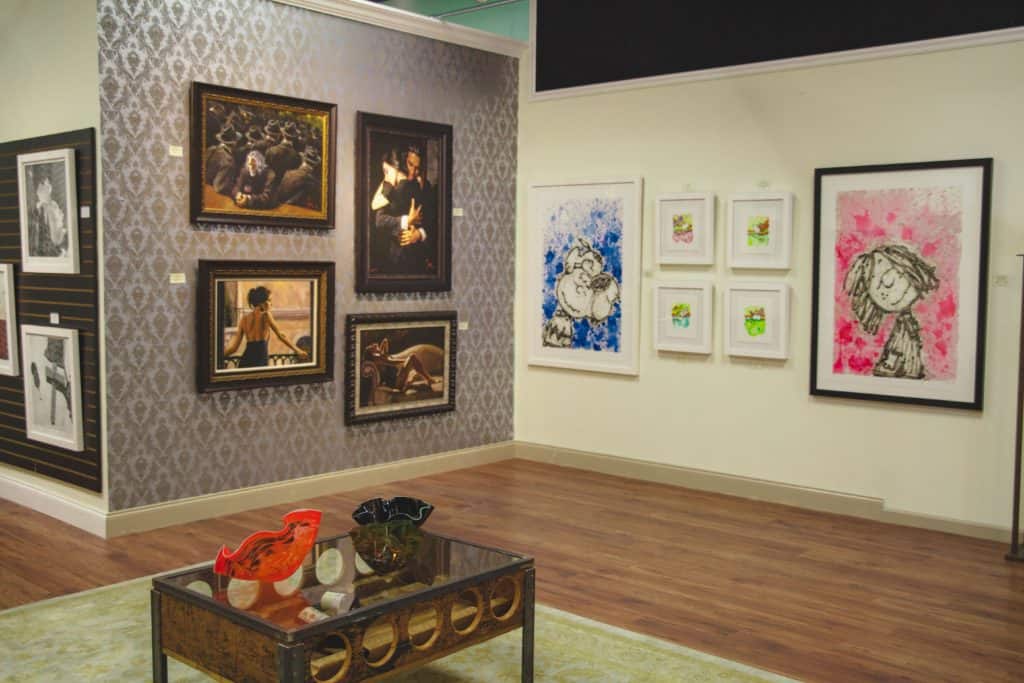 See some theatre – The only hard part will be choosing which ones. Austin has so many great acting troupes to enjoy and support. You can make your way through the list for multiple theatre ideas until you find your favorite. Some of the theatres in Austin are: Hideout Theatre, Zach Theatre, Vortex Theatre, Salvage Vanguard Theatre, Scottish Rite Theater, Institution Theatre, Fallout Theatre, City Theatre, Zilker Theatre Productions, Paramount Theatre, Coldtown Theatre, Hyde Park Theatre, Blue Theatre, and Rude Mechs.
Explore the South Austin Popular Culture Center – Here you'll find a museum that shows the culture of Austin.
Wander through the Mi Casa Gallery – where you'll find all types of Latin American art, pottery, and religious items.
Discover programs at the Asian American Cultural Center – With programs like Chinese cooking classes, Shaolin Kung Fu, Calligraphy, music, and more, there is so much to learn and experience.
See the Lotus Asian Art – This gallery has all types of Asian antiques, ancient and contemporary art, and decor.
Learn about German Heritage – at the German-Texan Heritage Society where you can take language and cooking classes as well as take part in special events!
Explore Latino Theatre – Teatro Vivo puts on plays based on the Latinx community.
Discover the richness of Texas history – The Bullock State Texas History Museum brings Texas history to life that makes this date feel nothing like those high school history classes and lets people wander through interactive exhibits.
Discover Indian Classic Music – at the Indian Classic Music Circle of Austin where you can see different music and dance performances.
Visit the French Legislation Historic Site – This was built to represent the French government in the new Republic of Texas and since then serves as a piece of history that you can walk through and explore.
articipate in a program at the Texas Folklife Center – From concerts, story series, folklife exhibits, and more, there are so many great opportunities for an educational and fun Austin date night here.
Learn about the Messenger of the Alamo – at the Susanna Dickinson Museum.
Listen to different local music performances – at One World Theatre that seeks to promote peace and unity through music.
Learn about the Neil Cochran House Museum – The building was once a school for blind as well as a Federal war hospital, and you can learn about its past with a visit here.
Learn about the history of Texas music – With special exhibits and events, the Texas Music Museum is a great place to learn about the diverse traditions of Texas music!
Rock n' Roll – or at least learn about it at the Modern Rock Gallery and see iconic photos as well as different rock and roll art.
Free Things To Do in Austin TX on a Rainy Day
Go two-steppin' – Broken Spoke has free shows Tues-Sat as well as dance lessons most nights for those who want to learn.
See the George Washington Carver Museum and Cultural Center – This museum celebrates the contributions of African Americans through preserved artifacts, art, and special events.
Practice yoga – Really if you look around (and use a little friend called Google) you can find free yoga just about any day of the week. Some places to look include Black Swan and Luke's Locker.
See a Comedy Show – On Wednesdays The Fallout Theatre puts on a free comedy show!
Learn Improv – At Coldtowne you can dip your feet into improv with a free improv class!
Learn to dance the blues – Motown Mondays at the Highball offers free lessons for blues dancing
Drink free beer – On Tuesdays I Luv Video has free beer until the keg runs dry! While you're there, you can check their huge selection of videos to rent and buy, and they even have VHS tapes if you somehow still have a player.
Visit the Austin Fire Museum – Learn about the history of firefighting and step back in time through old photos and items that show firefighting all the way back to the 19th century.
See the Texas Military Forces Museum – See jet fighters, helicopters, uniforms and photos that date back to the 1800s.
Visit the Science and Nature Center – This is a place for a beautiful leisurely walk where you get to explore the nature, see animals, and check out cool workshops.
See the castle-like Elisabet Ney Museum – Elisabet Ney was a sculptor, and touring inside you'll see some of her creations. However, just exciting is the architecture of the building which is reminiscent of a castle and might make you think you went to Europe, not Austin.
Eat Free Dinner Buffet – Sahara Lounge brings together a diverse community for a meal, conversations, and dancing on Africa night.
Watch the Texas Stars practice – Fans are welcome to watch practice games by checking their training schedule!
Tour the State Capitol – If you've never had the chance to actually take in the Texas State Capitol, the rain might be the perfect chance to tour the building.
Go out to Eat in Austin TX on a Rainy Day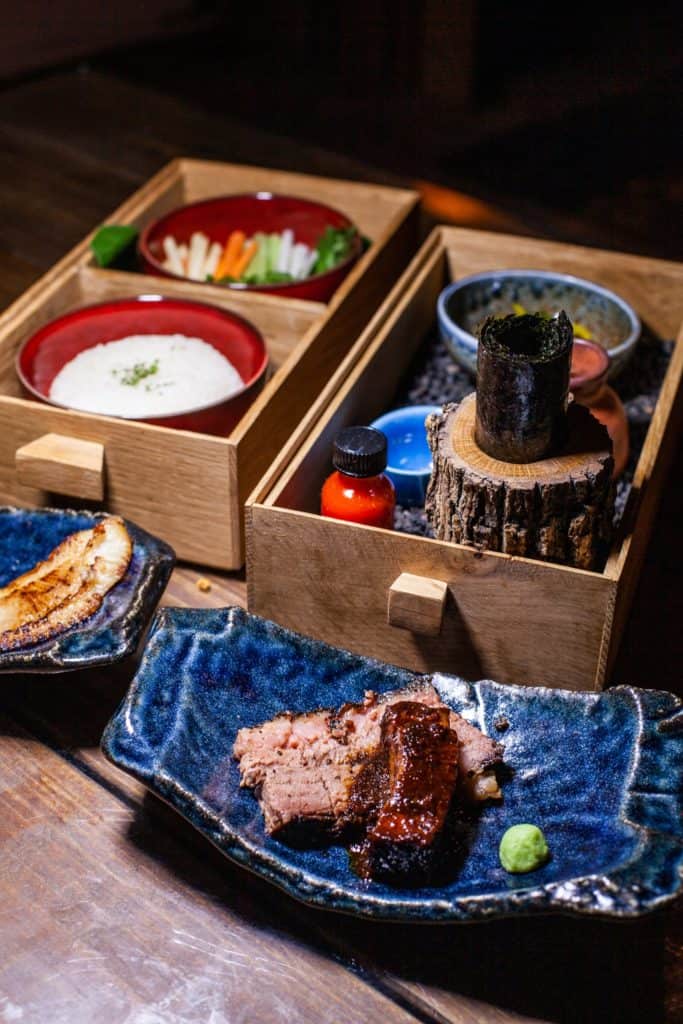 Grab boozy pops – Picole Pops is the stop when you want a sweet treat plus a cocktail. Or try the perfect winter snack (s'mores) in popsicle form.
Visit a winery – Most of the wineries are out of the limits, but The Austin Winery is the place to go for an urban winery when the rain stopped an outdoor trip!
Discover Austin speakeasies – The fun is that you have to do the work to uncover them yourselves! Have fun exploring some more of the hidden spots in Austin, and then reward yourselves with a great drink!
Solve a murder – Tavern Austin has murder mystery dinners for an interactive dinner !
Watch drag – Drag and brunch go well together! Irene's, Cavalier Queers, and Gettin Saucey all have a drag brunch.
Go to a sushi bar – Kura Revolving Sushi Bar lets you eat sushi from a revolving belt for a more fun way to enjoy your sushi!
Go on a blind date – Except this time you know who your date is. Instead it's the food and everything around you that's a mystery since you can't see it! This sensory dinner at the Blind Cafe offers a new way to interact!
Roast marshmallows – At Halycon, you don't need a campfire for s'mores. Instead they bring out a portable fire so that you can roast marshmallows together right in the restaurant without the tain taking it out.
Visit a hibachi grill – Experience dinner and a show at Sushi Japon & Hibachi Grill as they prepare your meal right in front of you.
Enjoy a Brazilian Steakhouse – Enjoy great conversations over a high-end buffet of top sirloin, filet mignon, aged ribeye and other great cuts of meat at Estância Brazilian Steakhouse.
Do a wine tasting – Texas Reds and Whites brings you all of the best Texas wineries. During a tasting you can learn about what makes Texas wine great and find a bottle or two to take home to enjoy.
Learn to cook Thai food – Thai Fresh has cooking classes in Austin to learn new skills and cook an incredible dish!
Make Cheese – If you're an Austinite who really enjoys being a part of the process of the food, rather than just cooking new dishes, learn to make the ingredients that go into those dishes. Cheese can be fairly simple to make and Austin Homebrew Supply offers classes to teach you.
Enjoy high tea – Plan a fancy evening of getting dressed up and then check out some of the top spots in Austin for high tea including Full English, The Driskill, and Fluff Meringues & More.
Eat Around the World – Austin has such a diverse food scene, and you can essentially eat around the world. Choose a couple of countries you've always wanted to visit, or whose cuisine you've never had, and see if there is a restaurant where you can experience part of the country through the food. Some favorites include Wasota for Nigerian food, Beirut Restaurant for Lebanese food, and Russian House for Russian and Ukranian food.
Become a wine expert – House Wine has classes so that you can learn all about that fancy wine jargon and be able to get those tasting notes and discuss tannins.
Make sushi – At Uroku, you can learn all about the art of making sushi and then enjoy the fruits of your labor!
Become a pitmaster – At BrisketU, couples can learn how to make the ultimate Texas bbq.
Quirky Austin Things to Do on a Rainy Day
Watch Shakespeare – Okay that part's normal, but at S— Faced Shakespeare at North Door, one actor performs while completely drunk which makes this Shakespeare show far less tragic and quite amusing!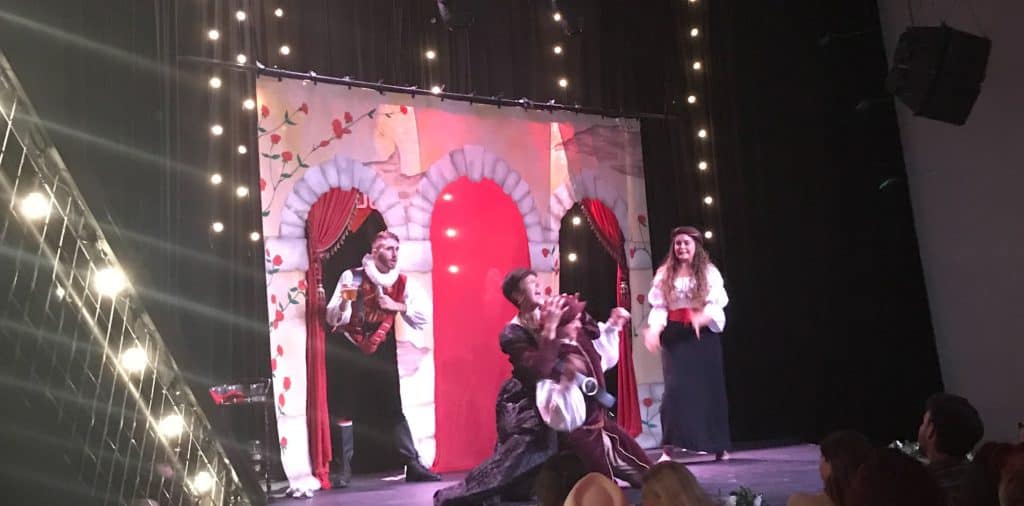 Get Weird on Wednesdays – For some people, Wednesday is for wearing pink, but at Alamo drafthouse, it's all about getting weird! Weird Wednesdays have sometimes outrageous movies and can only be explained by experiencing it yourself.
Tour a home – Casa Neverlandia is a unique home in Austin that feels like you've entered into a fairy tale. Maybe you'll get some quirky home decor ideas from it too.
See the weird – What's a weirder Austin idea than visiting the Museum of the Weird? You'll definitely find some interesting things here.
Enjoy geeky art – Self proclaimed geeks run the Mondo Gallery where you'll find all kinds of cartoon and other nerdy-themed art.
Let out your inner kid – The Texas Toy Museum is where you'll find over 20,000 different pieces all the way back from the 1900s.
Experience Christmas all year – All the excitement building up to Christmas and then suddenly it's all over. However, at Lalas Christmas Bar you can experience that holiday cheer any day of the year without all of that holiday stress.
See ghosts with a limo – Austin Haunted Limo Tours takes you on a ghost tour, but in style.
See underground wrestling with that Austin weird spin – Party World Rasslin' at 4th Tap Brewing starts off with wrestling, but turns into something strange as the night goes on!
Visit a circus – and a lounge! The Carousel Lounge is a circus-themed bar that makes for a fun atmosphere.
Get Crafty in Austin TX on a Rainy Day
Learn Glassblowing – Ghost Pepper has different courses and classes so that you can be a glass blowing expert and take home a one of a kind piece.
Create something with felt – It's amazing all the things that can be created from felt like a re-creation of your pet, clothing, and all types of things and Living Felt offers classes so you can learn too!
Take your pick of cool projects – Upstairs Circus is a DIY shop and bar experience in one. Plus they have such a large selection of cool projects from home art, jewelry, lifestyle projects, and more.
Make something from wood – Woodcraft has all types of cool projects beginning with something like a wooden star all the way to making your own cabinets.
Create everything under the sun – CRAFT really does seem to have a bit of everything from calligraphy, macrame, pickling, and a walk-in adults craft studio with many cool items for you to choose from to create whatever you can imagine.
Make glass art – Helios has glass fusing classes and the more date nights you have here, the better you get and the more complex items you can make to take home.
Make leather goods – At Canoe you can learn about leather working by making a snazzy leather key chain for this fun Austin rainy day idea.
Make home goods – Austin Craft Lounge has all types of crafts that make for home decor like signs, chunky knot blankets, shelves, and more.
Learn to arrange flowers – The Flower Social hosts floral arrangement classes so you can always have beautiful arrangements at home.
Paint ceramics and learn pottery – Cafe Monet will teach you how to spin pottery, or you can paint different types of pre-made pottery.
Walk-in art – At the Art Garage you can simply walk in for different types of fun art workshops including ceramics, tie dye, canvas painting, mosaics, metal stamping, and more.
Paint together – Board and Brush has different workshops and drop-in classes for couples who want to paint together.