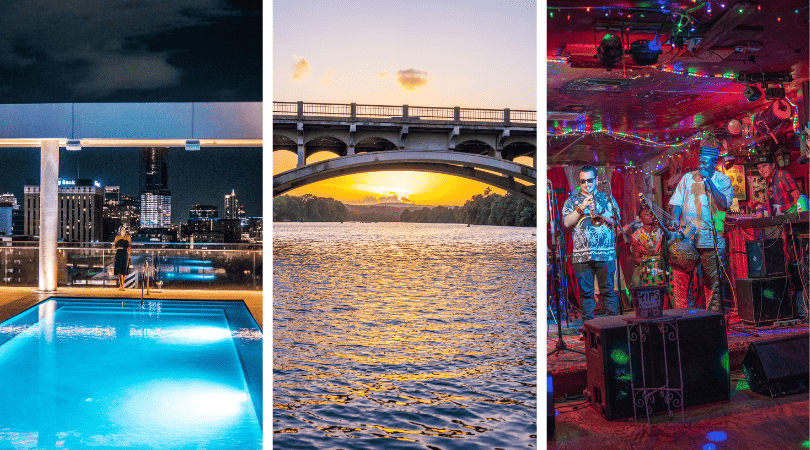 Sometimes you reach the end of the day and you decide you want to have a date night. You look at the clock and realize it's already late. Luckily, Austin is a city with an abundance of activities going on!
You can of course party and drink. However, there are date night ideas that span everything from thrilling race carts to relaxing under the Austin sky, zipping through the night, and so much more.
These are some of our favorite ideas for a late night in Austin, whether you're going on a date or just hanging out with friends.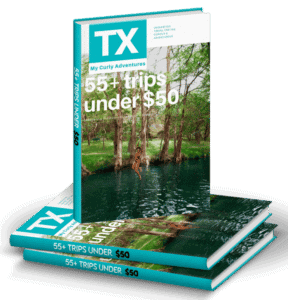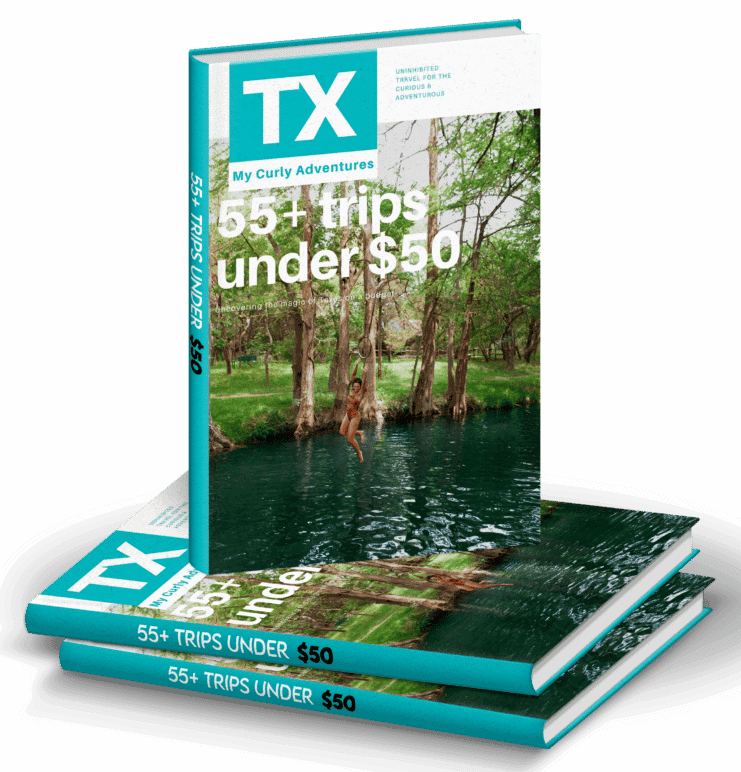 With our latest edition of our Texas Travel Guide, you can take an exciting vacation every weekend without breaking the bank and still have more to do! And in just one trip, the guide pays for itself! You'll be amazed at all the hidden gems, international influence, and wacky attractions you'll find all over Texas!
Not ready to purchase quite yet? We wanted to make this guide as accessible as possible, so we've shared our 1st edition of our guide, 50 Texas Trips Under $50. Click the button below to get yours for FREE!
Introduction to Austin's Nightlife
Austin, Texas, known as the "Live Music Capital of the World," is not just a vibrant city during the day. When the sun sets, the city comes alive with an array of exciting and romantic activities for couples to enjoy.
Whether you're a local or just visiting, Austin offers a diverse range of options for a memorable night out with your significant other. From romantic dinner spots to outdoor adventures under the stars, this guide will take you through some of the best things to do in Austin for couples at night.
Romantic Dinner Spots in Austin
One of the essential ingredients for a perfect night out with your loved one is a romantic dinner. The city of Austin boasts an impressive selection of some of the best restaurants that cater to all tastes.
Uchi
For an intimate and elegant experience, head to Uchi, where you can indulge in Japanese cuisine. The dimly lit atmosphere and exquisite dishes make for an unforgettable evening.
La Traviata
If you prefer Italian cuisine, La Traviata is the place to be. Their cozy ambiance and delectable pasta dishes will transport you and your partner to the streets of Italy.
Justine's Brasserie
For a unique dining experience, consider Justine's Brasserie. This French-inspired bistro offers a charming outdoor patio adorned with fairy lights. The menu features classic French dishes and an extensive wine selection, perfect for a romantic evening. No matter which restaurant you choose, a candlelit dinner in Austin is sure to set the stage for a memorable night.
Hestia
Hestia is a unique culinary destination that offers a modern take on the live-fire grill house concept. Named after the Greek goddess of the hearth, Hestia provides an unforgettable dining experience, focusing on open-hearth cooking and chef-driven service.
The restaurant's menu boasts a wide array of dishes that draw inspiration from a custom 20-foot hearth, showcasing the flavors and techniques that can only be achieved through live fire. Beyond the food, Hestia also features a robust wine program with over 400 selections to complement your meal.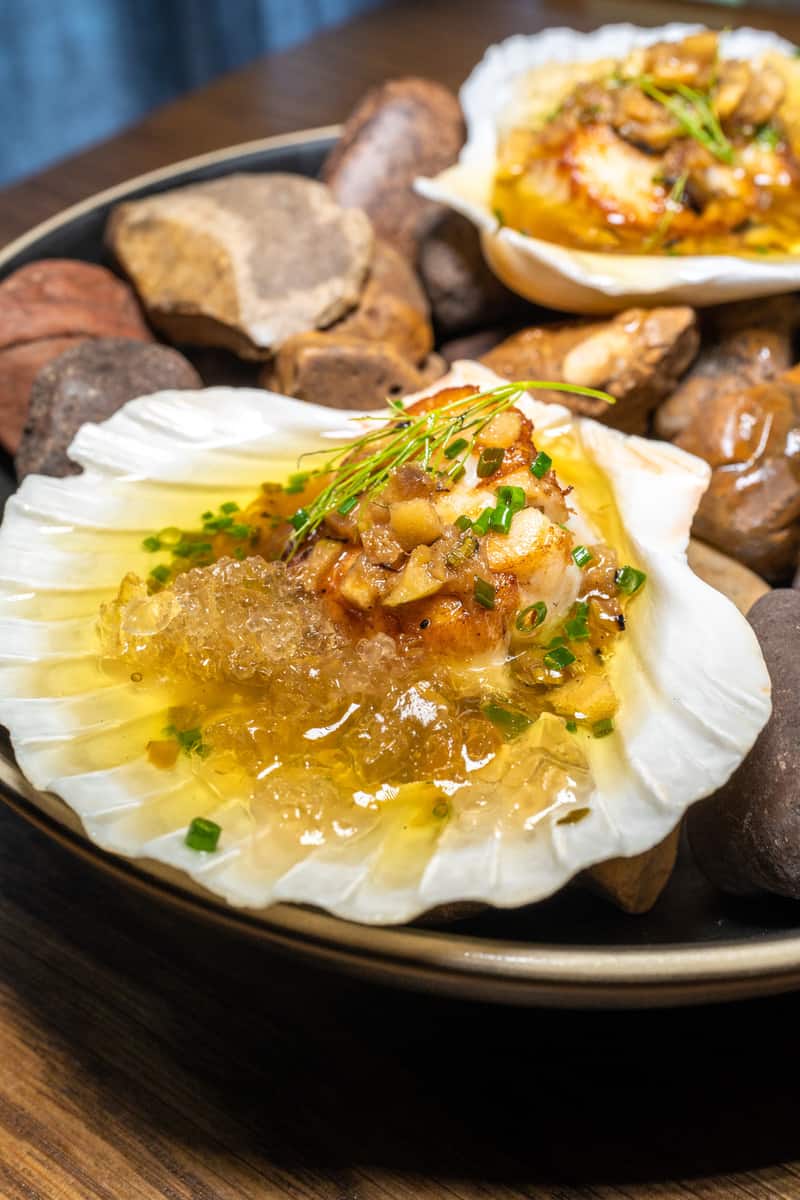 Housed in an austere glass development, the interior carries a warm and welcoming ambiance, making it an entirely Texan take on high-end dining. With its innovative approach to cooking and commitment to providing top-notch service, Hestia has quickly become a standout in Austin's vibrant dining scene.
Nighttime Entertainment in Austin
After enjoying a delicious meal, it's time to explore the vibrant nightlife of Austin.
Continental Club
For a touch of nostalgia, head to the Continental Club, a legendary venue that has been showcasing live music since 1955. From blues to rock, you can enjoy a variety of genres while sipping on your favorite drink.
Antone's Nightclub
Another iconic spot is Antone's Nightclub, known for its blues and jazz performances. The intimate setting and soulful tunes make it an ideal place for couples to unwind and enjoy each other's company.
Cap City Comedy Club
If you're in the mood for some laughter, check out Cap City Comedy Club. With a line-up of talented stand-up comedians, this venue guarantees a night filled with laughter and entertainment.
Blue Starlite Drive-In
Alternatively, you can catch a movie under the stars at the Blue Starlite Mini Urban Drive-In. Snuggle up in your car and enjoy a classic film while munching on popcorn. These nighttime entertainment options in Austin offer something for every couple's taste.
Esther's Follies
For a unique and interactive night out, Esther's Follies is perfect! Located in downtown Austin, this historic venue has been entertaining audiences since 1977 with its hilarious musical comedy shows.
Starting as late as 9pm on weekends, Esther's Follies offers an evening of laughs and entertainment that will keep you engaged. They feature a talented cast of singers, dancers, magicians and comedians who put on an unforgettable show that is sure to leave you in stitches. With its lively atmosphere and engaging performances, Esther's Follies is the perfect way to end your night in Austin with a bang!
For a more unique and intimate night out, check out some of Austin's speakeasies. One of the most popular is Fire House Hostel, which is hidden inside a converted fire station. With its vintage décor and cozy atmosphere, this spot offers a romantic evening with craft cocktails and delicious, small plates. In fact, we have a whole list of Austin speakeasies for you to discover.
Nighttime Outdoor Activities for Couples in Austin
Austin's warm climate makes it the perfect city for outdoor activities, even after the sun sets.
Lady Bird Lake
Take a romantic stroll along Lady Bird Lake and enjoy the breathtaking views of the city's skyline. The peaceful atmosphere and the reflection of the moon on the water create a picturesque setting for couples.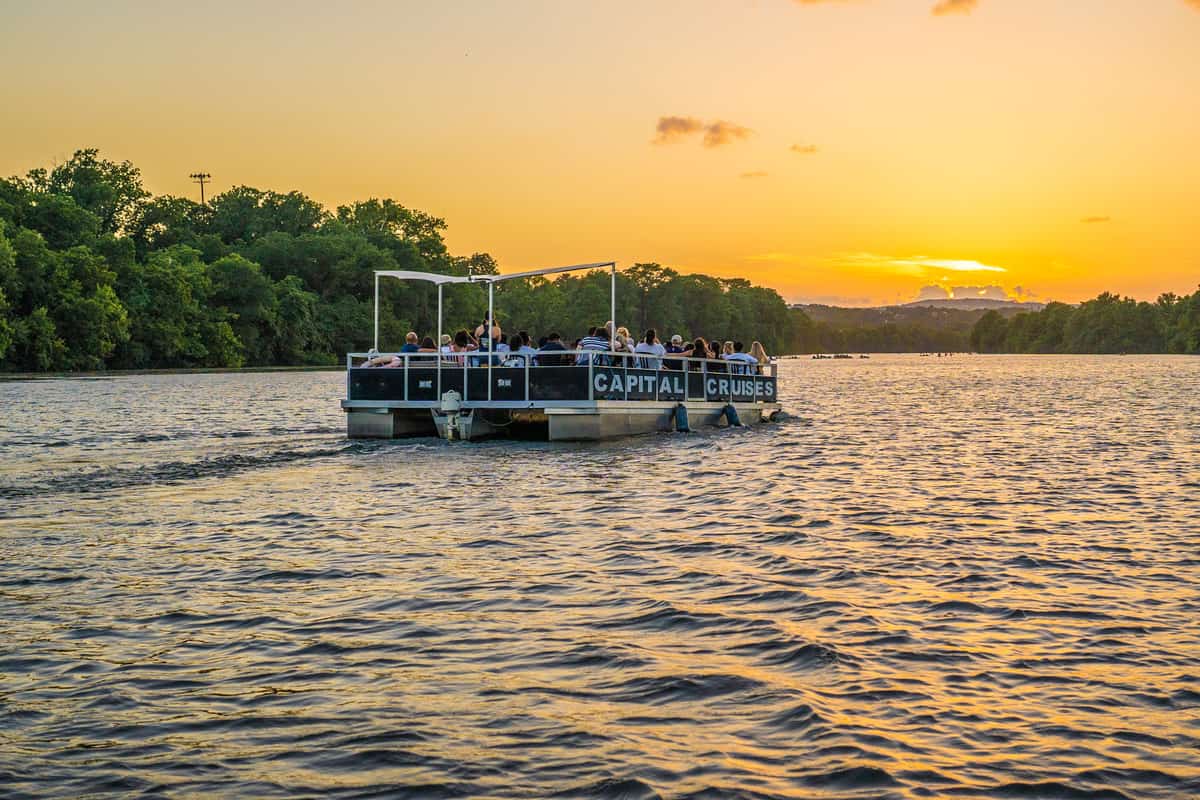 Explore the Roy Butler Hike and Bike Trail, a 10-mile trail through greenery and Austin's iconic cityscape complete with a beautiful boardwalk that runs along the edge of Lady Bird Lake.
If you're feeling more adventurous, rent a kayak or a paddleboard and explore the lake together.
Congress Avenue Bridge Bats
For a truly unique experience, consider booking a bat-watching tour. Every evening in the summer, thousands of Mexican free-tailed bats emerge from under the Congress Avenue Bridge, creating an awe-inspiring spectacle.
Watching these creatures take flight against the backdrop of a fiery sunset is a sight you and your partner won't soon forget. Make sure to bring a blanket and some snacks to enjoy this natural wonder together.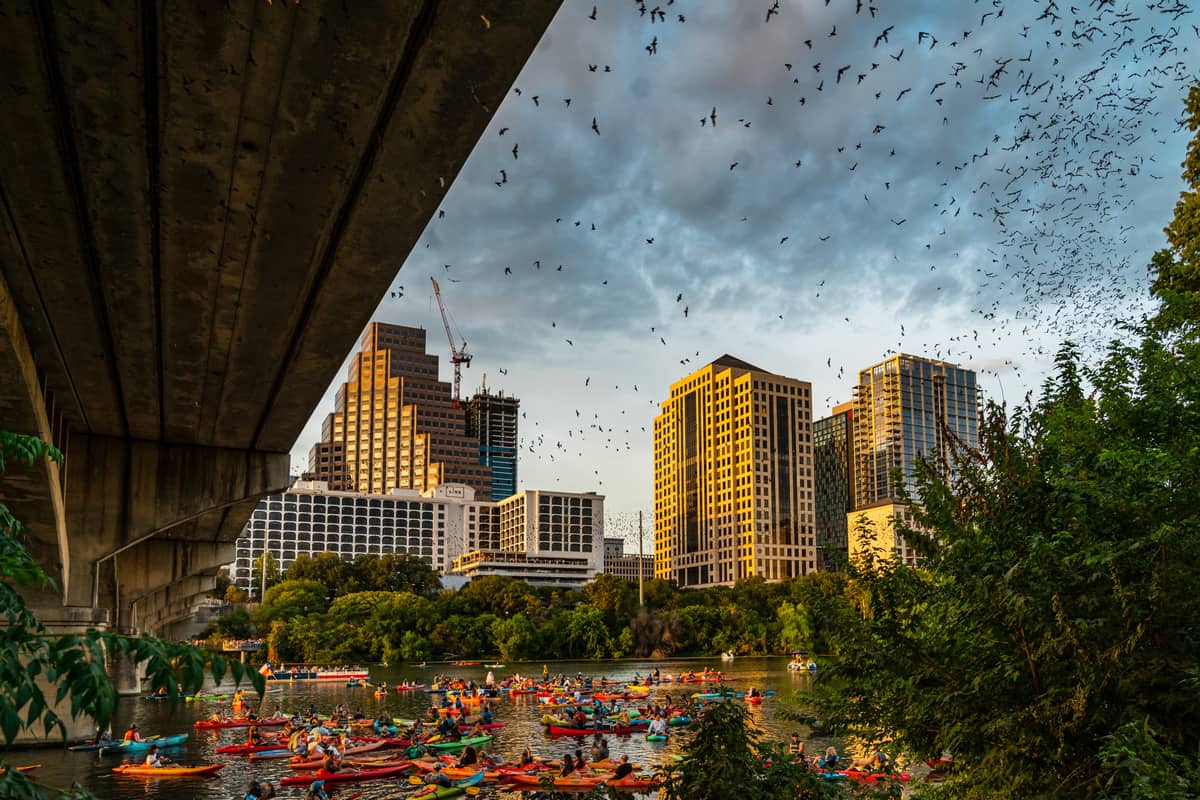 Lake Travis Zipline
If you're looking for a bit of adrenaline, embark on a moonlight zip-lining adventure at Lake Travis Zipline. Several companies offer nighttime zip-lining tours that allow you to soar through the treetops under the stars. It's an exhilarating experience that will bring you closer together as you conquer your fears and create lasting memories.
Barton Springs Pool
Did you know Barton Springs Pool is open until 10 PM on Tuesdays and Friday through Sunday? Even better, entry is free from 9 PM to 10 PM! Sitting at a comfortable 68-70 degrees year-round, this makes for fun date night idea any time of year at one of Austin's most iconic attractions, but without the crowds.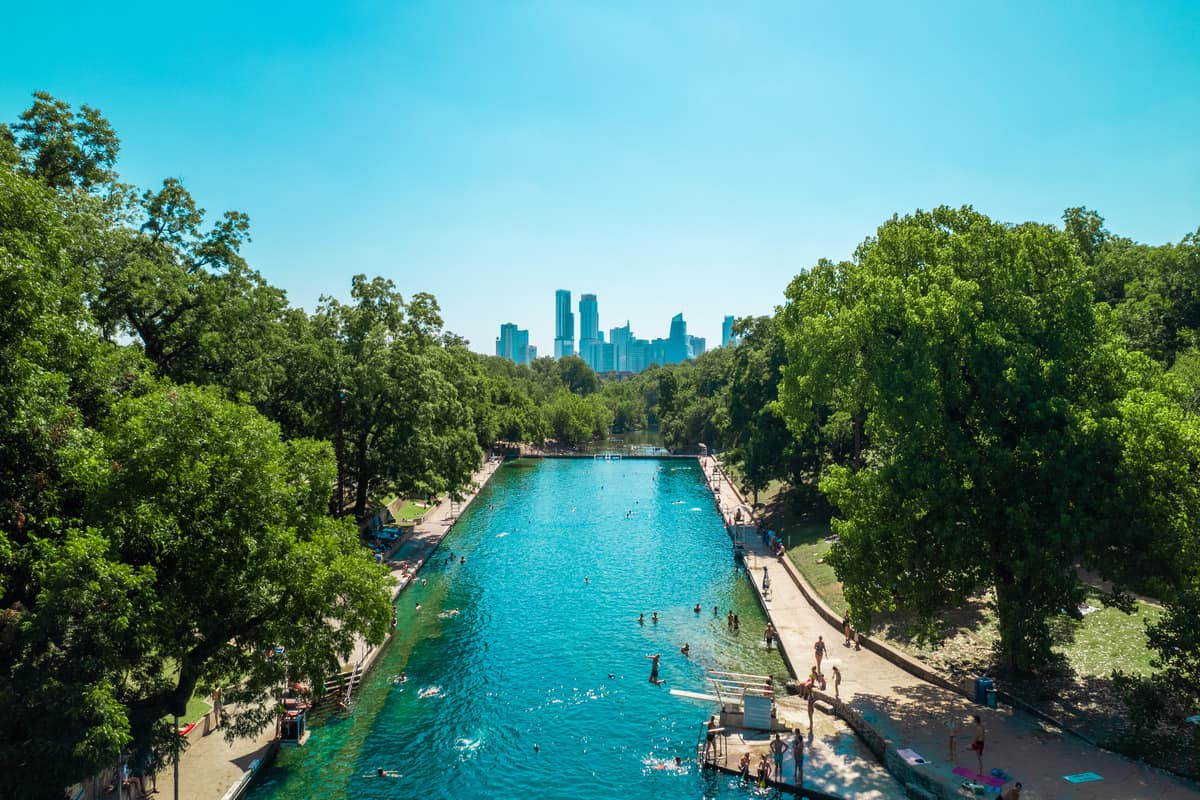 Unique Things to Do for Couples in Austin After Dark
Wonderspaces
If you're looking for something a bit more artistic, Wonderspaces is the perfect spot. This interactive art museum brings together innovative works from around the world, creating a unique and immersive environment.
As you wander through the galleries, you'll find yourself surrounded by spectacular light installations and interactive sculptures. The museum is open late until 10pm so you can take your time admiring the artwork without being rushed.
Austin's Park
If you're looking for a fun evening activity, head to Austin's Park in nearby Pflugerville. This sprawling outdoor adventure park features a wide variety of attractions, including a rock-climbing wall, mini golf course, zip-line, and more.
You and your partner can challenge each other to a race on the go-kart track or take on the high ropes course together. The park is open until 11pm so you can enjoy its attractions all night long.
Cidercade
If you're looking for a unique night out, then Cidercade Austin is the perfect spot. This bar and arcade offers over 100 classic and modern arcade games, as well as a selection of craft cider. You can challenge each other to a game of pinball or show off your skills on Dance Dance Revolution.
With games and ciders from all over the world, there's something for everyone at Cidercade Austin. The bar is open until midnight on weekdays and 1am on weekends, so you can stay out late playing games and sipping cider with your partner.
K1 Speed
For a fun evening activity that will get your adrenaline pumping, head to K1 Speed. This go-kart racing center offers electric go-karts that reach speeds of up to 40mph and a challenging track for you and your partner to race each other.
You can also take on the virtual reality racing simulators and compete against each other in an immersive digital world. K1 Speed is open until midnight on weekends and 10pm on weekdays, so you can enjoy the thrill of go-karting all night long.
Ballroom TX
If you're looking for a unique evening of entertainment, head to Ballroom TX. This live music and performance venue hosts a variety of events throughout the week, including live music, burlesque shows, comedy nights, and poetry slams.
You can enjoy a romantic evening of listening to live music or get up on the dance floor and show off your moves. The venue also features a full bar and kitchen so you can enjoy drinks and snacks while you listen to the music. Ballroom TX is open until 2am on weekdays and 3am on weekends so you can keep the party going late into the night.
Exploring Austin's Music Scene at Night
As the Live Music Capital of the World, Austin is a haven for music lovers. Take advantage of the city's vibrant music scene and catch a live performance with your significant other.
The Elephant Room
The Elephant Room is a renowned jazz club where you can enjoy smooth melodies and intimate performances. The cozy ambiance and talented musicians create the perfect backdrop for a romantic night.
Broken Spoke
If you're in the mood for some country tunes, head to the Broken Spoke. This legendary honky tonk venue offers live music and a spacious dance floor. Whether you're an experienced dancer or a novice, the lively atmosphere and friendly crowd will make for a memorable night of dancing and laughter.
Mohawk
For a taste of Austin's indie music scene, check out Mohawk. This popular venue hosts both local and touring bands, covering a wide range of genres. From rock to electronic music, you and your partner can discover new sounds and enjoy a night of energetic performances.
Skylark Lounge
For a night of music, Skylark Lounge is the place to be. This trendy bar features a wide variety of genres from rock, jazz and blues to reggae, soul and funk. With its lively atmosphere and rotating lineup of DJs, Skylark Lounge is the perfect spot for couples looking to cut loose on the dancefloor.
The bar also serves an array of craft cocktails and tasty snacks to keep you energized throughout the night. Whether you're a fan of classic tunes or modern beats, there's something for everyone at Skylark Lounge.
Little Longhorn Saloon
For a truly unique experience, head over to Little Longhorn Saloon. This iconic honky tonk bar is the perfect spot for couples who want to experience some down-home Texas hospitality. Enjoy some cold beer and live country music as you two-step the night away.
The bar also offers free dance lessons every Sunday, so you can learn how to master this classic Texas dance. With its inviting atmosphere and friendly locals, Little Longhorn Saloon is a great place for couples looking for an unforgettable night out in Austin.
Discovering Austin's Vibrant Bar & Club Scene
Austin's nightlife wouldn't be complete without exploring its vibrant bar and club scene.
Rainey Street
Rainey Street is a must-visit destination, known for its historic houses that have been transformed into bars and restaurants. Take a leisurely stroll down the street and hop from one unique establishment to another. From craft cocktails to local beers, you'll find a drink to suit your taste.
Kingdom
If you're looking to dance the night away, head to Kingdom. This electronic music venue features renowned DJs and a state-of-the-art sound system. Lose yourself in the music and let the pulsating beats guide your movements on the dance floor.
The White Horse
The White Horse is another popular spot for dancing, with its lively atmosphere and live country music performances.
Roosevelt Room
For a more laid-back evening, visit the Roosevelt Room. This sophisticated cocktail bar offers a vast selection of handcrafted drinks, each more unique than the last. Sit back, relax, and savor the flavors as you and your partner engage in deep conversations and enjoy each other's company.
Free Nighttime Date Ideas
Exploring Austin doesn't have to break the bank. There are plenty of free activities for couples to enjoy at night.
South Congress Avenue
Take a romantic walk along South Congress Avenue, known for its quirky shops and vibrant street art. Admire the colorful murals and browse through the boutiques hand-in-hand.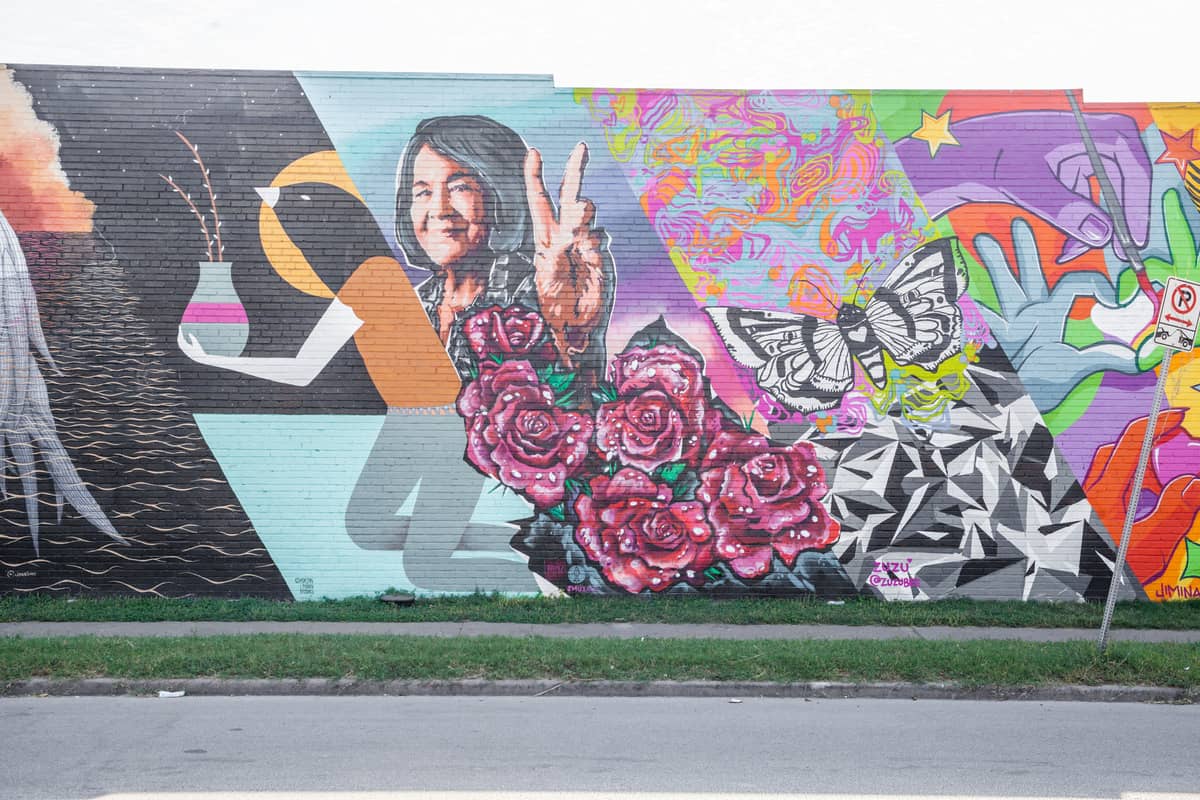 Mount Bonnell
Another free option is to visit Mount Bonnell, the highest point within Austin City Limits. This elevated spot offers panoramic views of the city and the Colorado River. Pack a picnic and watch the sunset together, creating a magical moment that won't cost you a dime.
Shady Grove's Unplugged
If you're in the mood for some live musical performances, head to Shady Grove's Unplugged at the Grove. This free concert series takes place every Thursday during the summer months and features local musicians. Bring a blanket and some snacks, and enjoy an evening of music under the stars.
Zilker Park
For an outdoor adventure, visit Zilker Park. This popular park is open until 10 PM and provides plenty of activities for couples. Take a leisurely stroll through the nature trails and admire the lush greenery.
Lady Bird Lake
Or rent a canoe and paddle around Lady Bird Lake, watching the sun dip below the horizon. Afterwards, lay out on a blanket by the water and stargaze in each other's arms. If you're lucky, you might even catch a glimpse of some wildlife!