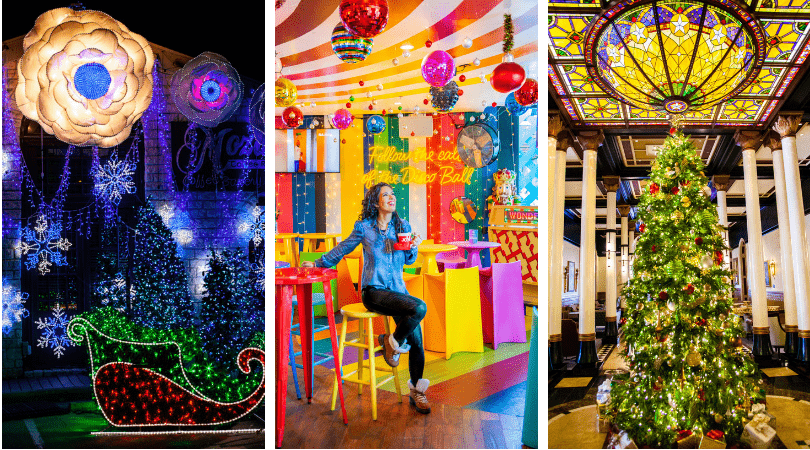 Looking for the best holiday things to do and Christmas activities in Austin in 2022? With all there is to do in Austin, there's no doubt you'll find some amount of Christmas spirit this year. Plus, save this blog post for next year when we update it for Christmas 2023! Be sure to check out our guides for Christmas in San Antonio, Dallas, Fredericksburg, and Houston.
While checking out all of the fun Austin holiday things to do, you can also find year-long fun with our comprehensive guide to Austin.
Find Festive Food & Drinks
Replicate the Final Scene of The Grinch
The Foley Family Wines Long Table Dinner is a family-style, multi-course menu which includes curated wine pairings for a magical December evening among the hills. This fine dining experience will be at Visconti Ristorante & Bar on Dec. 15 at 5:30pm. Online tickets are about $125 per person and cover both the delicious dishes and the full holiday experience.
Order Christmas Coffee with Your Cocktail
At Lala's Little Nugget, it's Christmas all-year round. This Crestview dive bar is decorated to the nines with Christmas spirit, and you can't leave Lala's without trying Santa's Irish Coffee.
Spice Up Your Bar Tab
The Cavalier's Nostalgic Noel pop-up serves festive holiday drinks like Rocko's Modern Coffee (with coffee, whiskey, and peppermint oat milk) and Dexter's Laboratory (tequila, pineapple, honey, and fire bitters).
Drink and Be Merry
Gibson Street Bar's Gibson Wonderland will pop up for the month of December, with winning cocktails and festive decorations. The exterior of this Austin bar and its iconic Gibson sleigh will be the perfect festive addition to your Instagram feed. You can also grab a bite at Luke's Inside Out, which shares the property with Gibson's and was featured on Diners, Drive-Ins, and Dives with Guy Fieri!
Eat Christmas Dinner Under a Full Moon
Stop in Bryan, a town 2 hours outside of Austin, for a Full Moon Dinner at Ronin Farm on Dec. 10, 2022, from 5pm to 10pm. It includes a nine-course tasting menu based on seasonal ingredients from their gardens and local farms. The first portion of the menu will be served in the forest space located next to the barn they converted into a commercial kitchen. Then, you will be guided down the candlelit path to the garden, where dessert and coffee will be served as the moon rises. This is a perfect way to feel the serenity amidst a busy holiday season. Online tickets are $150 and include food. The dinner will be held rain or shine.
Enjoy Holiday Tea
Start a holiday tradition with a fancy multicourse Christmas afternoon tea, including three courses of French pastries, champagne, and, of course, tea. This event at the Driskill Hotel tends to sell out fast, so you'll want to make your online reservations early in December, if not in November.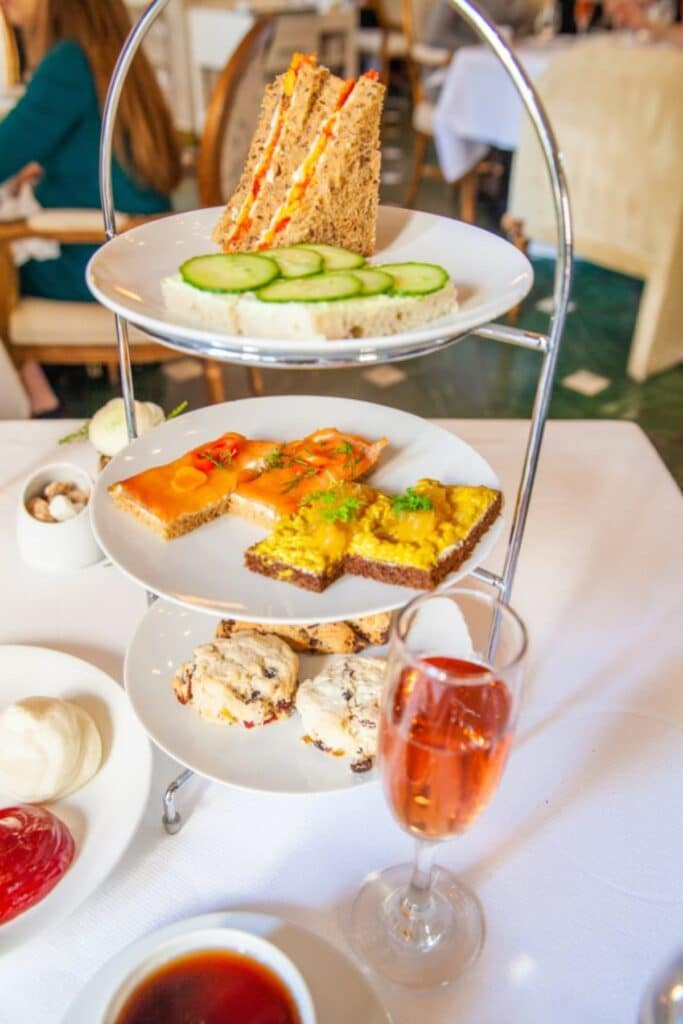 Visit the Famous Miracle Bar
Every year the Miracle Bar pops up around the US where you get to enjoy fun, Christmas themed cups and cocktails. The bars go all out Miracle on 5th St is a Christmas-themed pop-up cocktail bar that serves holiday cocktails in the most festive and nostalgic setting in the city. Featuring wall-to-wall Christmas decor, multiple bars, cheery social experiences, and a whole lot of Christmas spirit! The Eleanor on 5th Street is the perfect location for this festive holiday bar, which will be in town from Nov. 19 through Dec. 28, 2022. Tickets can be purchased online.
Stay in an Igloo
Not overnight! Just long enough to grab some delicious food and cocktails. The Geraldine in Austin turns into the South Pole for Christmas. In addition to their normal seating, they have igloos that you can book out for 2-8 people! This is another holiday activity that sells out fast so be sure to reserve ahead of time! Keep in mind that Geraldine's will be open for Christmas Eve and will be offering a full dinner menu of Southern-inspired contemporary dishes and creative cocktails. They will also be open on Christmas Day providing brunch and dinner cooked up just right for your post-unwrapping palate. A reservation is required, which you can make online while tickets last.
You can also find dinnertime igloos at the Austin Line Hotel, featuring an exquisite meal by Chef Kristin Kish of the hotel's restaurant, Arlo Grey. Dec. 1, 2022-Feb. 26, 2023, 6PM to 10PM. Make reservations online.
Check out a Festive Coffee Shop
Mozart's Coffee is beautiful year-round and the perfect place for enjoying a warm cup of coffee right on the lake. This year, Mozart's is hosting its 13th annual Christmas Light Show. You can register to attend on their website. Standing groups are free, or you can reserve a table for $20 to $30. Don't miss out on their hot cocoa bombs and other signature Christmas drinks! The show will run from Nov. 10 through Jan. 6, 2022, from 6pm to 11pm.
The 4th Annual "12 Bars of Christmas" Crawl
On 6th street in Austin, there will be a bar crawl on Dec. 10, 2022, from 3pm to 10pm. Put on your ugly sweater, Christmas onesies, or any holiday attire you have and enjoy the most wonderful crawl of the year. Online ticket prices start at $12. Keep in mind that as the date gets closer, ticket prices may increase.
The Austin Ugly Sweater Bar Crawl
On Dec. 10, 2022, at 4pm, the Zilker Brewing Company and Taproom ask that you wear your ugliest Christmas sweater and join what is bound to be the most fun bar crawl in Austin! Online tickets range from $20 to $25.
Drink a Holiday Cocktail
Happy Hour just got a whole lot merrier with the bars in Austin that go all out with their holiday decorations! Nickel City is a Central East Austin favorite that transforms for the holidays. They decorate what becomes the Sippin' Santa, which is a tiki spinoff of the Austin pop-up, "Miracle on 5th Street." The pop-up will be open daily during the holiday season from 12pm to 2am.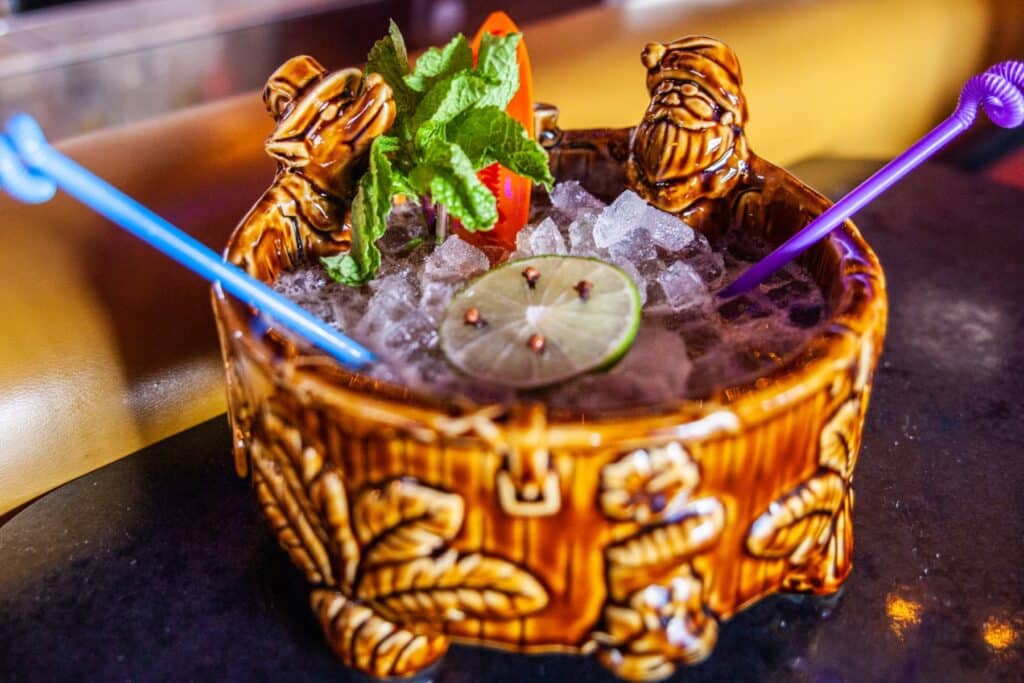 Take Fun Holiday Pictures
The Wonderbar at the Domain in Austin not only serves up delicious holiday drinks, but their whole bar is decked out in colorful Christmas decorations: the perfect photo op for all of your Christmas cards! Be sure to search for the hidden room for an extra holiday surprise!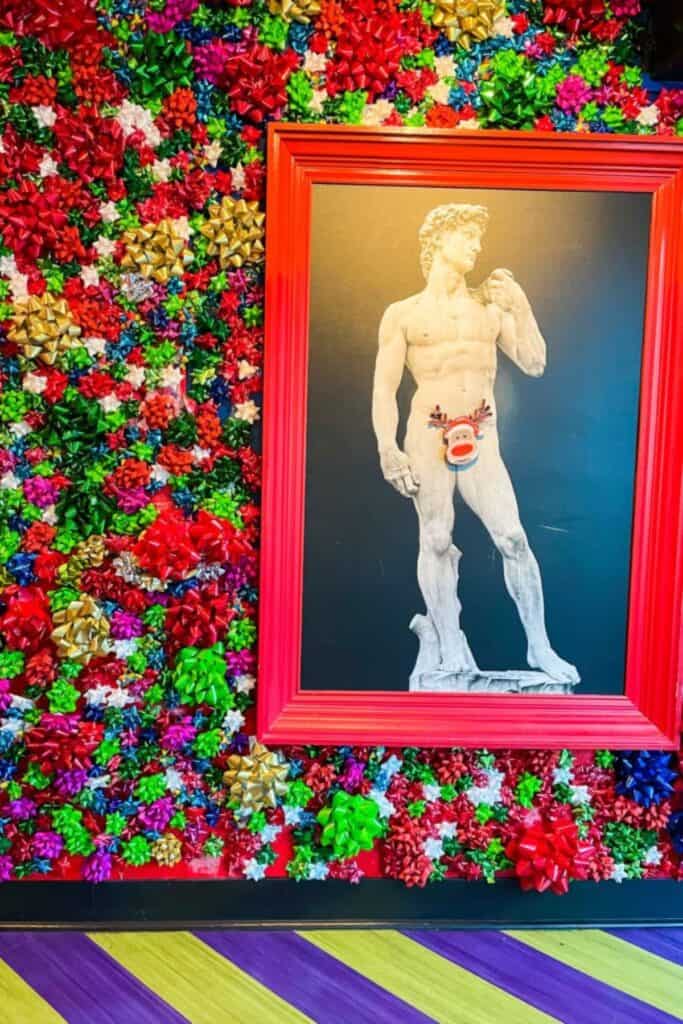 Transport Yourself to Italy
Discover this culinary tradition that you will want to make your own at an Italian Christmas Eve on Dec. 21, 2022, from 6pm to 8pm. Indulge in a festive, multi-course meal featuring Italian seafood specialties. Italian wines will be paired with the dishes for those 21 and over. This is an 18+ event at Central Market on North Lamar. The price to attend is $70 per person including food. You can purchase tickets online.
Visit this Year-Round Christmas Bar
Lala's Little Nugget is patiently waiting for Christmas all year long, so the holiday decor never comes down! Come in just after the holidays because you miss it or during the summer when the heat is getting to be unbearable. Order your go-to drink or, when you need a little extra cheer, choose from their many holiday cocktails.
Dine Under Snowfall
The Edge Rooftop restaurant at the JW Marriott Austin will feature holiday cocktails, festive music, and faux snow every half-hour. Make an online reservation ASAP! Your last chance is Dec. 15!
Find the Christmas Lights
Take a Night-Time Stroll
16 acres at the Texas Arboretum in the Lady Bird Johnson Wildlife Center will be full of vibrant, solar-powered light pods that combine nature, technology, and art, making for a beautiful sight to see. Until Dec. 30, 2022, guests can visit the Field of Light with tickets ranging from VIP pricing starting at $80 to general admission starting at $41 online. There will also be food and drinks available for purchase from local vendors.
Walk Through a Tunnel of Lights
The 58th annual Austin Trail of Lights will return to Zilker Park this holiday season featuring more than 2 million lights! There will also be 90 lit holiday trees and more than 70 other holiday displays and light tunnels, such as a giant jack rabbit reindeer, a light up globe with a Texas twist, and even Santa's workshop. The Trail of Lights is the most beloved and longest running holiday tradition of its kind in Austin. You can visit this long-running holiday tradition from Dec. 8 through Dec. 23, but it will be closed on Mondays. Pricing begins at $5 and goes all the way up to $90 (children 11 and younger receive free admission with a ticketed adult). Parking is $25. Tickets and parking passes can be purchased online.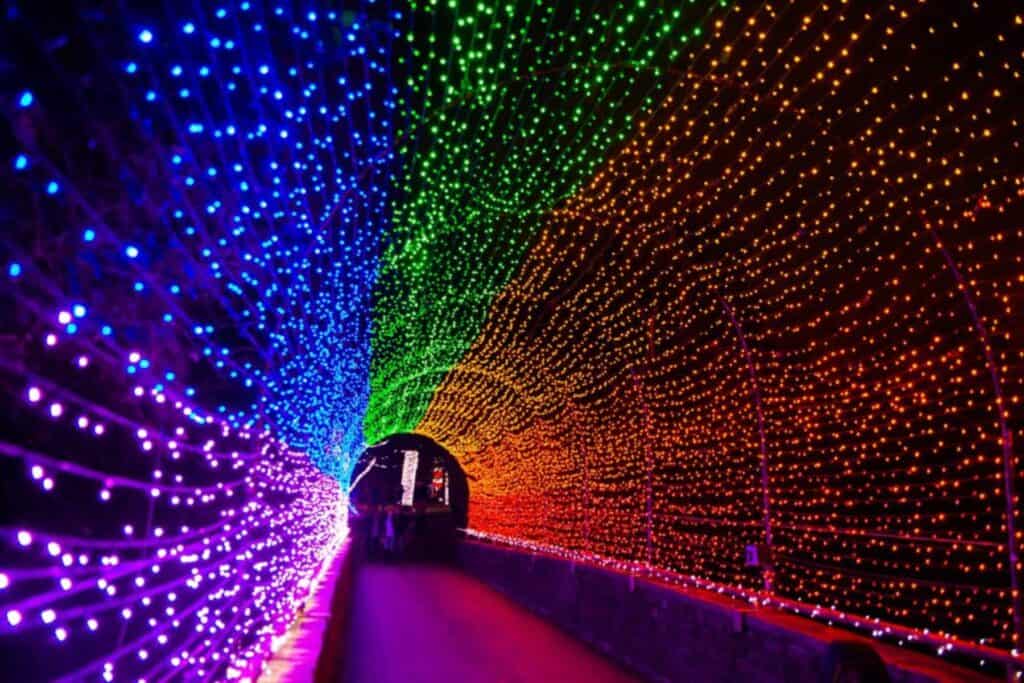 Check out a Christmas Drive-Thru Winter Wonderland
Stay nice and cozy while still getting to see the beautiful holiday lights on a mile of immersive holiday displays, millions of lights, live dancing elves, and a walking plaza full of food and activities on Peppermint Parkway at the Circuit of the Americas! This experience will be open from Nov. 25 through Dec. 30, 2022, from 6:30pm to 9:30pm. Prices range from $40 to $95 per car. Tickets are available on the Peppermint Parkway website.
Visit Hogwarts
Hogwarts in Austin? You bet! A home right on the intersection of Slaughter Lane and Bungalow Lane, whose rise to fame began in 2016 with its extravagant Halloween decorations, will be decorated for Christmas! Coinciding with the family's love for Harry Potter, the display is inspired by the Holiday Yule Ball from the Harry Potter films. You can take advantage of the awesome photo ops from Nov. 26, 2022, through the second week of January, with the light shows occurring every half-hour between 6PM and 9PM! Although viewing the lights is free of cost, the family is raising funds for local non-profits. Keep in mind that light shows will not occur if it is raining. You can follow the family's updates on their home's Facebook page.
And Order Matching Cupcakes
In partnership with Diagon Alley ATX, the Cupcake Bar is selling a "Sorting Box," complete with four cupcakes that represent each of the houses we know and love from the Wizarding World of Harry Potter. 20% of sales will be donated to the Austin Imagination Foundation. In-store pick-up hours are 11am to 4pm, Monday through Friday. Delivery is available to Austin addresses only.
See a Live Performance
Ballet Austin – The Nutcracker
The Ballet Austin is performing the Nutcracker, the longest-running production of the show in the state of Texas. This holiday classic is the perfect way to get into the spirit of Christmas. The shows will take place Dec. 3, Dec. 4, and Dec. 9. Ticket prices will vary and can be purchased online.
Toys for Tots – A Very Metal Christmas
This Christmas activity is a metal concert featuring multiple artists like Broken Teeth, Snake Skin Prison, Death of a Dream, The Crowned, and Butherwhite, with all proceeds going to Toys for Tots. The event will take place Dec. 10, 2022, at 7pm. Bring an unopened children's toy or cash to get in!
Ventana Ballet's "The Watchmaker's Song"
At the Neill-Cochran House Museum, the Watchmaker's Song will feature many different dance and theater traditions. Experience Spanish Flamenco, Egyptian belly dancing, Traditional Chinese, and drag. The mission is to bring together the dance community of Austin. Come see this experience throughout the month of December on various dates with the addition of an interactive kids show! Tickets can be purchased online.
How the Grinch Stole Christmas
At the Texas Performing Arts Center, you can catch this Broadway play directed by two-time Tony Award-winning director Jack O'Brien Dec. 6 through Dec. 11, 2022. Celebrate the holidays with this classic Christmas story. Tickets can be purchased online.
A Charlie Brown Christmas
The Austin Chamber Music Center is hosting live performances of everyone's favorite holiday songs this year. Come see the performances from Dec. 1 through Dec. 12, 2022. See their website for showtimes and ticket prices.
The Deck the Hall Ball
At the Austin Theater, this annual Christmas ball has amazing musicians lined up each season. This year, headliners include the pop band OneRepublic, and other hot new bands and artists. This music event will be held on Dec. 12, 2022, at 7:30 pm. Ticket prices will vary.
A John Waters Christmas
At the Paramount Theater, the legendary cult filmmaker takes the stage with his one-man monologue touching on his love for Christmas as the virtues of the holiday. He will also touch on Christmas films and music. John Waters will take the stage on Dec. 5, 2022, at 8pm. Online ticket prices will vary.
Northlake Presents: A Christmas Homecoming
Lago Vista High School is performing, "A Christmas Homecoming," which is set in WWII. This is the story of a small Texas town during Christmas and a wife who is missing her husband away at war. This story inspires and shows what we have to be thankful for each holiday season. Come watch and support these high schoolers on Dec. 16, 17, and 18. Admission is free.
He Rules the World – A Concert About the Nativity Story
At Dell Theatre, come see the family-friendly telling of the story behind the birth of Christ. This contemporary concert blends songs, imagery, and narration to tell this story. It will be held on Dec. 3, 2022, at 2pm and 7pm with free admission.
Sing Christmas Carols
A great way to ring in the holiday season is a Christmas Carol Performance at the Zach Theatre. With all new music and surprises, it's perfect for not only musical lovers, but for the whole family as well. The concerts will begin Nov. 16 and run through Dec. 31, 2022, at 7:30pm each night. Online tickets range from $25 to $110, and the show lasts about 2 hours and 20 minutes.
Complete Your Holiday To-Do List
Visit the Local Christmas Market
Austin is all about local, and with the holidays, it's a great chance to find local gifts for loved ones. The Blue Genie Art Bazaar is a popular holiday shopping destination where you'll find vendors of all sizes selling all sorts of local and handmade, quality gifts that your friends and family will actually want to receive. From Nov. 18 through Dec. 24, 2022, you can take care of your holiday shopping between the hours of 10am and 10pm. Admission is free.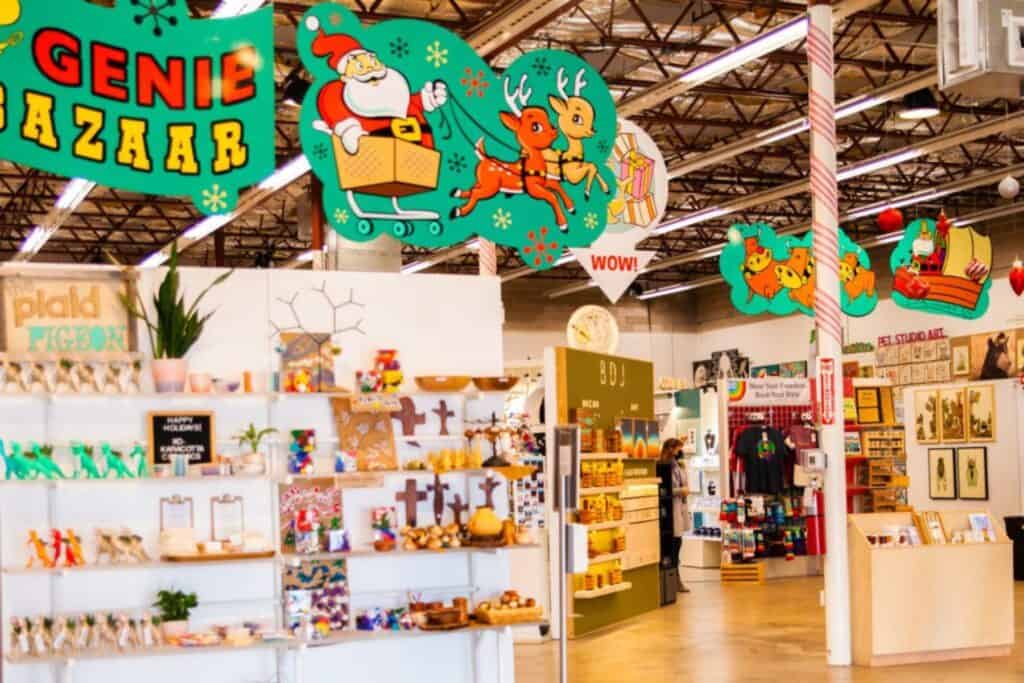 The German-Texan Heritage Society Christmas Market
This annual market offers shoppers a unique experience with handmade, imported art and decor. Shop, listen to traditional German music, and eat amazing German food. This public Christmas Market will be open Dec. 3, 2022, from 10am to 5pm for a $5 entry fee. Tickets can be purchased online.
1st Annual Holiday Bazaar – HUE Marketplace
At Live Oak Brewing Company, there will be 45+ local vendors giving the perfect opportunity for some last-minute holiday shopping. The event will take place on Dec. 18, 2022, from 12pm to 6pm.
Get Some Christmas Shopping Done
This year is the Downtown Holiday Stroll's 28th year. Window displays, photo-ops, holiday shopping, crafts, a screening of The Grinch, appearances by Santa and Ms. Claus, and other opportunities to experience the unique culture of Austin make this a fun activity during the holiday season for all ages. The stroll will begin Dec. 3 and will run through Christmas Eve from 5pm to 10pm. Admission is free.
Party Austin-Style
The Armadillo Christmas Bazaar is a 3-day fine art shopping destination featuring national and local award-winning artists, live music, and a full bar in a festive, lively atmosphere. What more could you ask for in an event? The Bazaar is taking place at the Palmer Events Center Dec. 17 through Dec. 23, 2022, from 11am to 8:30pm. Tickets are $12 and can be purchased online.
Attend a Christmas Tree Lighting Ceremony
The Driskill
On Dec. 1, 2022, at 6pm, the Driskill will start the holiday season by lighting their signature 16-foot Christmas tree in the lobby. Come see the Texas Christmas decor and dine at the Driskill Grill where you can enjoy some tasty dishes. The Christmas tree will be up until Jan. 2, 2023.
Hotel Graduca
Hotel Graduca in Austin will light their courtyard Christmas tree on Dec. 4, 2022, from 5:30pm to 7:30pm. There will be Christmas carols, holiday treats and drinks, and photos with Santa. Admission is free.
Give Back
The 5th Annual Toys for Tots Bar Crawl
On Dec. 10, 2022, from 4pm to midnight, bring toy donations and take a picture with Santa. See elves, reindeer, crazy holiday costumes, and more, all while participating in a bar crawl. Online admission is $5 to $20.
Texas Barbell Christmas Classic
Crossfit Austin will hold a local weightlifting meet on Dec. 17, 2022, from 7am to 7pm. The cost to enter is $60. Tickets can be purchased online.
Go Ice Skating
Right above the iconic Austin Wholefoods on North Lamar, this grocery store likes to add its own holiday cheer with an ice-skating rink! Enjoy the fun views overlooking part of the city and maybe even pick up some of your favorite holiday foods to warm up with! On weekends, you can also enjoy hot coca, cider, and live music. The store is open daily from 10am to 9pm.
Get Creative
Thinkery is a museum packed with things to explore for all ages! In addition, every December, they have a selection of Gingerbread kits you can build and decorate at home or on-site. They have three different kits to choose from. This is perfect for creative little builders of all ages and abilities. The Gingerbread kits vary from $20 to $40. Kits are limited and online pre-sale is encouraged. Shipping is not available.
Mix Halloween in with Your Christmas
The Nightmare Before Christmas Gothic Ball and Bazaar hosts DJ Crescendoll and DJ Neph who bring the spooky-meets-merry vibes to this dance party and vendor market extravaganza. Sip on The Nightmare Before Christmas cocktails while shopping for that super unique gift for that super special someone (or people) in your life. This event will take place the weekend of Dec. 17 through Dec. 18, from 9pm to 2am. Admission is $17 to $24, and costumes are encouraged! Tickets can be purchased online.
Make it a Holiday Staycation
So many hotels in Austin go all out for Christmas all month long! Take part in exclusive activities and special decor by booking a night or weekend!
Fairmont Austin – If you want all the Christmas fun, the Fairmont has got it! Before you even get there, you might see the giant snowflake lighting up the side of the building. Experience their 7th floor lounge with lights, igloos, and firepits (Dec. 2-Dec. 30, 2022)! You can even bring your pet! They will also be celebrating their Annual Tree Lighting on Dec. 3 from 5pm to 8pm.
Driskill Austin – This hotel gets decked out for the holidays! Enjoy the Texas Christmas ambiance with their signature 16-foot Christmas tree in the lobby. Be sure to make reservations for a refined five-course Christmas dinner at the Driskill Grill too.
Four Seasons Austin – Enjoy a luxurious Austin getaway Texas Christmas style! The Four Seasons Austin will be hosting a Teddy Bear Brunch Dec. 10 and Dec. 17, 2022. They will also be collecting new, unwrapped toys for a non-profit. Plus, you can book a special holiday meal at Ciclo's for Christmas Eve Dinner or a cozy Christmas Day Brunch.
Go on a Weekend Getaway
San Antonio or Dallas
Of course, there's a lot of holiday things to do in Austin, but if you haven't gotten your fill of Christmas cheer, why not take a day or weekend trip to San Antonio or Dallas to see how they celebrate Christmas? Perhaps spend Christmas at the Adolphus Hotel!
Round Top TX
On Dec. 3, 2022, at Royers Round Top Cafe (about 2 hours from Austin in Round Top, Texas), there will be a delicious breakfast with Santa as the guest of honor. The menu will include pancakes, bacon, sausage, and eggs, as well as hot chocolate and coffee. This is the perfect event for the whole family. Pricing starts at $20, and tickets can be purchased online.
Holiday Things to Do & Christmas Activities in Austin 2022: Final Thoughts
Whether you're looking for family fun or a night out with friends, Austin will have tons of fun holiday things to do and Christmas activities to attend. Go on a fun bar crawl, see a performance, or drive through millions of lights to get yourself in the holiday spirit. In Austin, everyone will find a holiday event in 2022 to enjoy!
Plan a Christmas getaway with our other lists of holiday things to do and Christmas activities in: