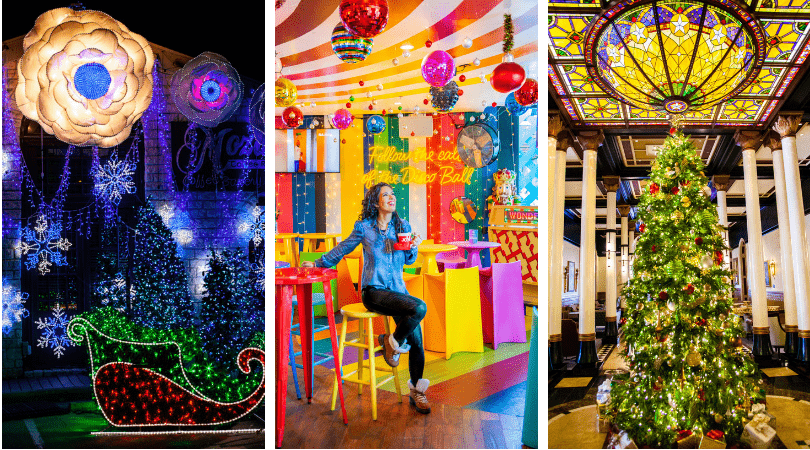 Looking for the best Christmas events & holiday things to do in Austin in 2023? With all there is to do in Austin, there's no doubt you'll find some amount of Christmas spirit this year.
Plus, save this blog post for next year when we update it for Christmas 2024!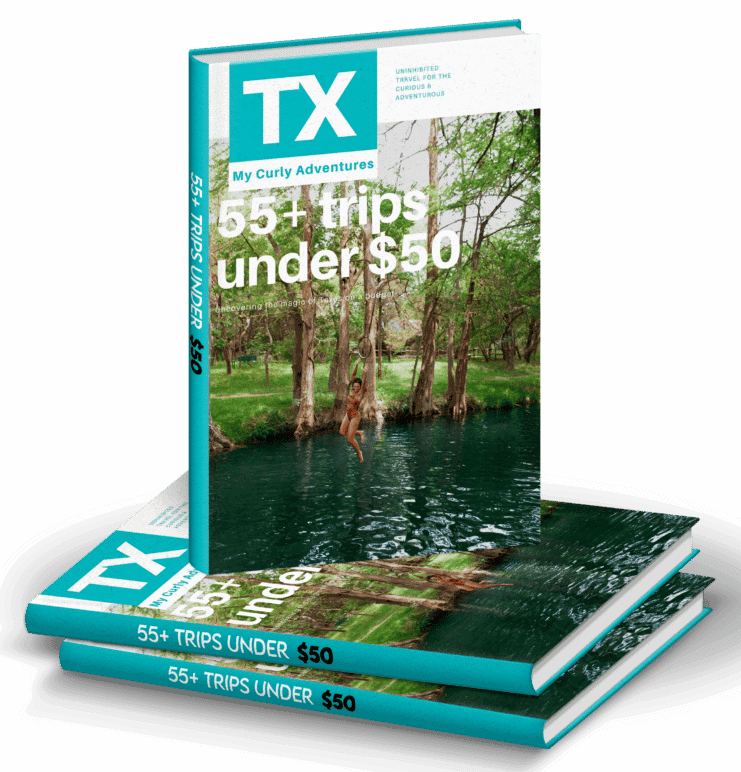 With our latest edition of our Texas Travel Guide, you can take an exciting vacation every
weekend without breaking the bank and still have more to do! And in just one trip, the guide
pays for itself! You'll be amazed at all the hidden gems, international influence, and wacky
attractions you'll find all over Texas!
Not ready to purchase quite yet? We wanted to make this guide as accessible as possible, so
we've shared our 1st edition of our guide, 50 Texas Trips Under $50. Click the button below
to get yours for FREE!
Holiday Blog Posts Across Texas
Fun Christmas Things to Do in Boerne
How to Spend Christmas in Fredericksburg
Fun Christmas Things to Do in Houston
Fun Christmas Things to Do in San Antonio
Dallas Holiday Blog Posts
Best Things to Do this Holiday Season
Holiday Christmas Bars & Restaurants
Best Places to See Christmas Lights in DFW
Plan a Holiday Staycation at the Adolphus Hotel
Find Festive Food & Drinks
Mozart's Holiday Light Show (Nov. 9 – Jan 6, 2024)
Mozart's Coffee Roasters is beautiful year-round and the perfect place for enjoying a warm cup of coffee right on the lake.
This year, Mozart's is hosting its 14th annual Christmas Light Show. You can register to attend on their website. Standing groups are free, or you can reserve 4-person tables for $40 and 6-person tables for $60. Don't miss out on their hot cocoa bombs and other signature Christmas drinks! 6pm to 11pm.
Mozart's will also celebrate a Celtic Christmas Dec. 15 – 17, 2023 at 7:30pm, featuring an Irish band and themed goodies like spiked Irish coffee! Get your tickets here, starting at $59.
Wonder Bar (Nov. 10 – Dec. 2023)
Wonder Bar is like Austin's own slice of holiday heaven, decking the halls to the max for the holiday season. This spot is where Instagram-worthy meets holiday spirit, with every corner turned into an over-the-top photo opportunity.
The whole bar becomes a playful, colorful tribute to all things merry and bright. The menu also features an array of sweet and savory treats, perfect for complementing your festive beverages.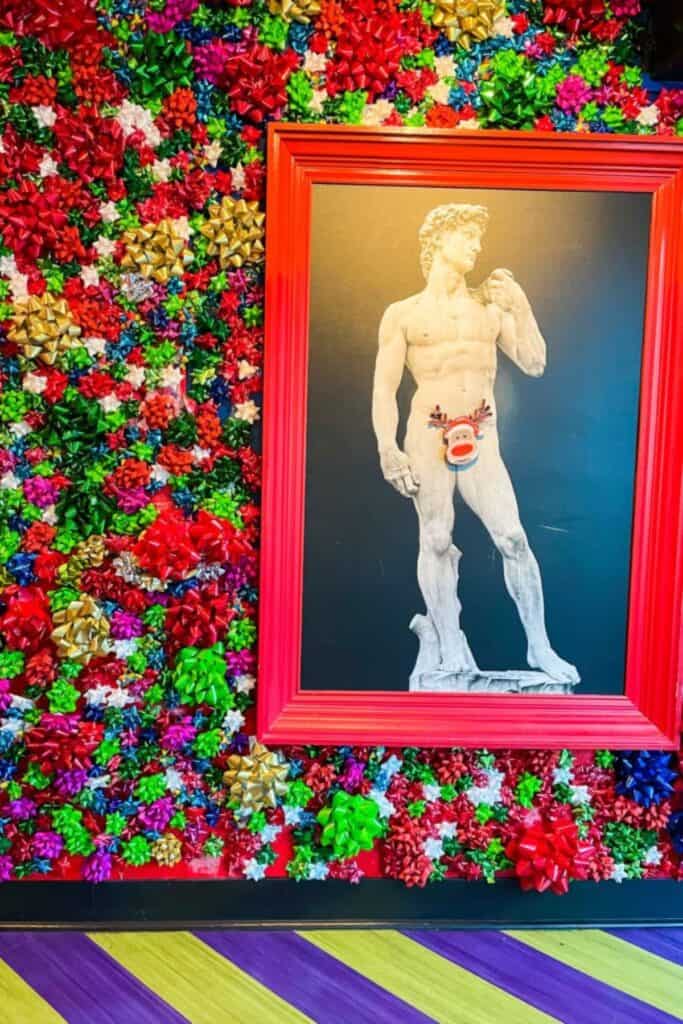 Miracle on 5th Street (Nov. 16 – Dec. 27, 2023)
Every year, the Miracle Bar pops up around the US, including in our beloved Austin! Miracle on 5th St is a Christmas-themed, pop-up cocktail bar that serves Christmas themed cocktails in the cutest cups. You can even purchase their glassware or take their cocktails to-go!
The Eleanor will be decorated in wall-to-wall Christmas decor, with multiple bars and festive photo ops! Tickets can be purchased online.
The Sippin' Santa Pop-up (Nov. 20 – Dec. 27, 2023)
With the way bars in Austin go all out with their Christmas events and holiday decorations, Happy Hour just got a whole lot merrier! Nickel City is a Central East Austin favorite that transforms for the holidays. They decorate what becomes the Sippin' Santa, a tiki spin-off of the Austin pop-up, "Miracle on 5th Street." The pop-up will be open daily during the holiday season from 12pm to 2am.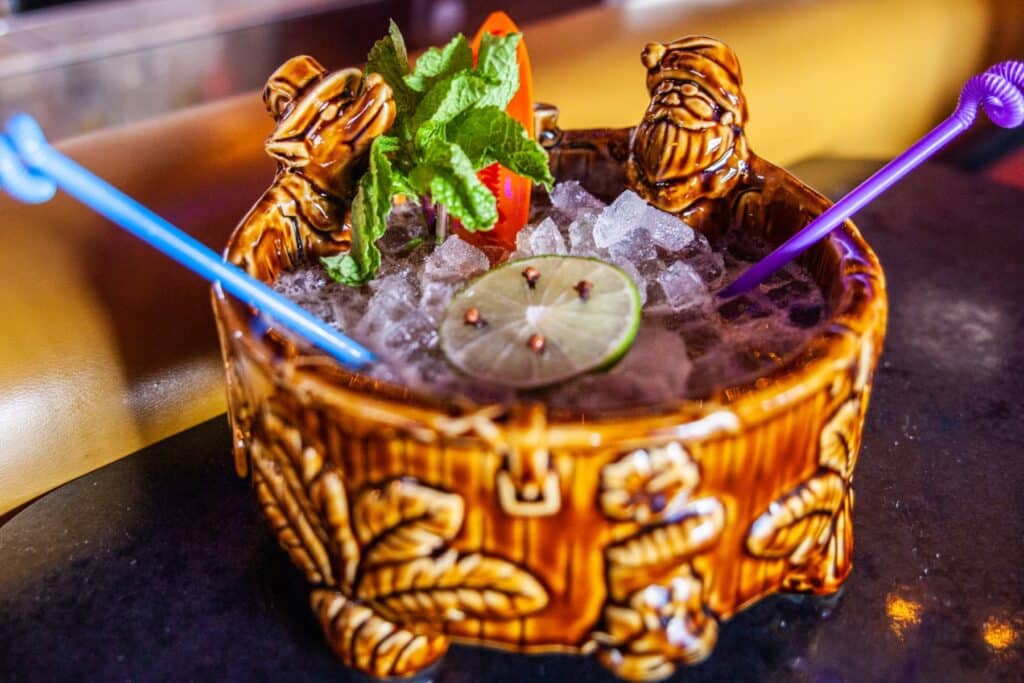 Otopia Rooftop Bar: Wintersol (Nov. 20 – Dec. 2023)
For a high-up holiday escape in Austin, make your way to Otopia Rooftop Bar. Their Wintersol event is all about giving you those cool, winter feels with a twist. It's not just any bar; it's a winter-themed wonderland perched above the city.
Think cozy vibes with a view, complete with a menu of drinks that'll warm you right up. And for something extra special, you can even rent a private igloo. Yes, you heard that right—your own little snow dome where you can laugh and cheer the night away.
It's a fun, frosty experience without the freezing temperatures, perfect for those looking to add a little ice to their holiday season.
Fairmont Hotel: The Ugly Sweater Holiday Pop-up Bar (Nov. 24 – Dec. 31, 2023)
Get ready to jingle and mingle at the Fairmont Ugly Sweater Pop-Up Bar, a rooftop holiday haven located at the Fairmont Austin Hotel. This quirky festive attraction is the place to show off your most outrageous Christmas sweater.
Think of it as your favorite festive house party, but nobody has to do the dishes. Plus, the drinks are as festive as the decor, with cheeky names that'll make you smile. So put on that sweater your grandma knitted with love (and zero fashion sense) and come join the party.
Gibson's Street Bar Wonderland (Nov. 24 – Dec. 31, 2023)
Wander into a boozy winter paradise at Gibson Street Bar's Wonderland, a must-visit pop-up bar in the heart of Austin this holiday season. The exterior of this Austin bar and its iconic Gibson sleigh will be the perfect festive addition to your Instagram feed. You can also grab a bite at Jewboy Sliders, which shares the property with Gibson's.
As you step inside, you'll find yourself surrounded by a merry and bright atmosphere where every inch is dripping with festive decor. The bar transforms into a jolly playground for adults, complete with twinkling lights and ornaments hanging from every surface. It's the ideal spot for those looking to unwind with friends and toast to the joy of the season.
Happy's at Wax Myrtle (Nov. 24 – Dec. 24 2023)
Add some sparkle to your festive outings with a visit to Happy's Holiday Pop-Up at Wax Myrtle's. It's like a Christmas party where the cool kids hang out, all decked out in sparkling lights and decked halls.
Grab a comfy spot and settle in with one of their special holiday drinks that'll have you feeling merry in no time. Plus, their cocktails are not just tasty—they're pretty enough to be the backdrop of your next selfie. So whether you're looking to chill after a long day of gift hunting or just want to get your festive night started, swing by Happy's.
Edge Rooftop: Snow Much Fun (Nov. 24 – Dec. 25, 2023)
Edge Rooftop, a swanky bar located atop the JW Marriott Austin, is hosting a delightful holiday pop-up experience called "Snow Much Fun". This place is not your average rooftop bar; it's a seasonal escape that brings the chill of the North Pole to the heart of Texas.
Imagine sipping on frosty-themed cocktails surrounded by a flurry of faux snow and twinkling lights that give off major winter vibes. Whether you're looking for the perfect selfie spot with snowfall in the background or just want to clink glasses under the stars, Edge Rooftop is where it's at for unforgettable festive nights out in Austin.
Lucille Patio Lounge (Nov. 26 – Dec. 2023)
Lucille Patio Lounge invites merry-makers to step into its holiday pop-up that's all about spreading the cheer. Tucked away in the heart of Austin's bustling Rainey Street, this laid-back bar dresses up in its holiday best, with festive lights and garlands that create a cozy, welcoming atmosphere.
They mix up some really creative holiday drinks that'll definitely get you in the spirit. At Lucille's, you can lounge on the comfy patio, wrapped in the soft glow of string lights, and raise a toast to the holiday season with friends. It's the perfect spot to unwind and celebrate the most wonderful time of the year with a laid-back Austin twist.
Sunny's Backyard (Nov. 27 – Dec. 2023)
If you're looking for a laid-back holiday hangout in Austin, head over to Sunny's Backyard. This holiday season, it's not just a bar—it's a Christmas chill zone with a fun Austin vibe. The interior is adorned with twinkling string lights, rustic wooden décor, and a magnificent Christmas tree that radiates with a kaleidoscope of colors.
You can enjoy live music, and the entire atmosphere has a warm and relaxed vibe, as if you're just casually hanging out in a friend's backyard. It's the spot to kick back, relax, and have a good time without any of the holiday fuss.
Museum of Ice Cream (Nov. 27 – Jan. 15, 2024)
If you've ever dreamt of a winter wonderland with a sweet twist, then you can't miss the Museum of Ice Cream. Think of it as Santa's workshop, but for ice cream lovers. You'll walk through brightly colored rooms that feel like stepping inside a giant holiday dessert. Adults can even indulge in unique ice cream cocktails that perfectly blend holiday tradition with a cheeky splash of fun.
Whether you're licking a cone or sipping a spirited shake, the Museum of Ice Cream's "Pinkmas" celebration is the cherry on top of your holiday festivities. Ticket prices range from $21 on weekdays to $24 on weekends. Tickets are available online.
Marlow Bar: Merry Merry Marlow (Nov. 27 – Dec. 27, 2023)
Marlow Bar in Austin doesn't just celebrate the season; it immerses you in it. This holiday, it morphs into a pop-up bar where the Christmas spirit is in full swing. From the moment you walk in, you're wrapped in a cozy blanket of holiday joy. The decor is a tasteful nod to winter's charm, with a touch of sparkle here and there to catch your eye.
It's the perfect place to unwind after a long day of holiday hustle or to start your evening with a toast to good health and happiness.
Donn's Depot (Starts Dec. 1, 2023)
This holiday season, Donn's Depot is the place to be if you're looking to mix a little old Austin charm with your Christmas cheer. This festive tradition has been delighting locals and visitors for years, creating a warm and welcoming atmosphere perfect for celebrating the holidays.
You'll feel like you've hopped on a time machine the moment you step through the doors, with train car interiors and an authentic, rustic feel. The holiday cocktails are a mix of timeless recipes and new twists, served up with the kind of hospitality that keeps locals and visitors coming back.
Lefty's Brick Bar: Rudolph's Road House (Dec. 1 – 31, 2023)
Visit Rudolph's Road House for a pop-up bar experience that's as festive as it is funky. This interactive pop-up takes over Lefty's Brick Bar and the adjoining Gin Bar, offering a tinsel-tastic time with festive cocktails, over-the-top decorations, and themed events all month long.
With a nod to everyone's favorite reindeer, this spot lights up the season with a warm, rustic ambiance decked out in boughs of holly and a dash of southern charm. It's a great spot to have a laugh with friends and make some merry memories.
Kitty Cohen's Hanukkah Pop-Up Bar (Dec. 1 – 30, 2023)
Kitty Cohen's is bringing some Hanukkah fun to the bar scene in Austin. Imagine walking into your best friend's backyard party, but with a cool Hanukkah vibe. They've got everything from menorahs to strings of blue and white lights, plus a bunch of dreidels that are just waiting to go for a spin.
The drinks are a playful nod to the holiday, with clever twists on classics. It's the kind of place where everyone fits in, whether you're there for the whole Hanukkah shebang or just looking for a cozy nook to chill out with pals.
Stay in an Igloo (Dec. 1 – 31, 2023)
Not overnight! Just long enough to grab some delicious food and cocktails. The Geraldine at Hotel Van Zandt 4th floor pool deck turns into the South Pole for Christmas, complete with games, holiday tunes, and comfortable, heated igloos.
In addition to their normal seating, they have igloos that you can book out for up to 6 people! This is another holiday activity that sells out fast so be sure to reserve ahead of time!
Reservations are $100 per igloo, plus a $200 food and beverage minimum (+ tax and gratuity) for two hours of service. Tickets are available online.
You can also find dinnertime igloos at the Austin Line Hotel, featuring an exquisite meal by Chef Kristin Kish of the hotel's restaurant, Arlo Grey. Time slots can be reserved online. Dec. 6, 2023 – Feb. 25, 2023.
Enjoy Holiday Tea (Dec. 2 & 3, 2023)
Start a holiday tradition with a fancy multi-course Christmas afternoon tea, including three courses of French pastries, champagne, and, of course, tea, accompanied by live piano. This event at the Driskill Hotel tends to sell out fast, so you'll want to make your online reservations early in December, if not in November. Tickets start at $85. 3pm to 5pm.
There will also be a Princess Tea Party on Dec. 10, with visiting costume character princesses posing for photos, dancing, singing, and telling stories. Adult tickets include champagne along with a tea service. Children under 12 cost $85, while adult tickets are $145. Purchase yours here. 11am to 1pm.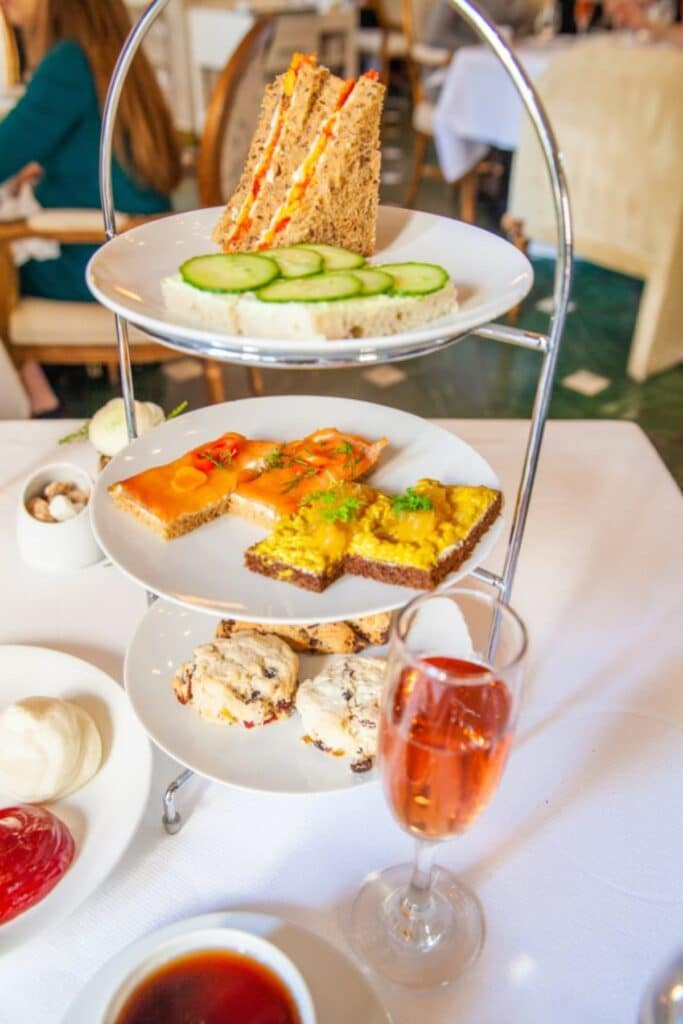 Full Moon Dinner at Ronin Farm (Dec. 9, 2023)
Stop in Bryan, a town 2 hours outside of Austin, for a BYOB Full Moon Dinner at Ronin Farm. It includes a nine-course tasting menu based on seasonal ingredients from their gardens and local farms.
The first portion of the menu will be served in the forest space located next to the barn they converted into a commercial kitchen. Then, you will be guided down the candlelit path to the garden, where dessert and coffee will be served as the moon rises. This is a perfect way to feel the serenity amidst a busy holiday season.
Online tickets are $150 and include food. The dinner will be held rain or shine and the gates of the farm will open at 5pm, followed by a tour at 5:30pm and dinner at 6pm. Wear closed toed shoes and dress comfortably/casually.
Bad Santa Cocktail Experience (Dec. 14 – 16, 2023)
Calling all cocktail enthusiasts for a mischievously merry time at the Bad Santa Cocktail Experience! This festive speakeasy in Austin is run by a mischievous Kris Kringle, who wanted to take a break from the North Pole and pursue his dream of opening a bar.
Your ticket gets you in the door and includes four themed cocktails crafted to tantalize your taste buds. But there's more than just drinks — live entertainment will keep the spirits high and the laughter loud!
General admission tickets are priced at $55. Purchase your tickets here.
The 5th Annual "12 Bars of Christmas" Crawl (Dec. 16, 2023)
Put on your ugly sweater, onesies, or any holiday attire you have and enjoy one of the most wonderful Christmas events in Austin: The 12 Bars of Christmas Crawl! Online ticket prices start at $14. Keep in mind that as the date gets closer, ticket prices may increase. 12pm to 8pm.
The Austin Ugly Sweater Bar Crawl (Dec. 16, 2023)
Wear your ugliest Christmas sweater and join what is bound to be the most fun bar crawl in Austin! The check-in location will be noted on your tickets or will be sent out closer to the day of the event. Online tickets are $14.99.
An Italian Christmas Eve Dinner (Dec. 19, 2023)
Discover a new holiday tradition you will want to make your own! Indulge in a festive, multi-course meal featuring Italian seafood specialties at the Central Market on North Lamar. Italian wines will be paired with the dishes for those 21 and over. This is an 18+ event. The price to attend is $80 per person including food. You can purchase tickets online. 6:30pm to 8:30pm.
Visit this Year-Round Christmas Bar
Lala's Little Nugget is patiently waiting for Christmas all year long, so the holiday decor never comes down! You can come in after the holidays because you miss them or during the summer when the heat is unbearable. However, nothing says Christmas like popping into Lala's and celebrating with one of their many holiday cocktails.
Edge Rooftop at JW Marriott Austin – Updates Coming Soon
The Edge Rooftop restaurant at the JW Marriott Austin will feature holiday cocktails, festive music, and faux snow every half-hour. Make an online reservation ASAP! Your last chance is Dec. 15!
Find the Christmas Lights
Peppermint Parkway Drive-Thru Lights (Nov. 24 – Dec. 30, 2023)
Stay nice and cozy while still getting to see an entire mile of immersive holiday light displays, including millions of lights, live dancing elves, and a walking plaza full of food and activities on Peppermint Parkway at the Circuit of the Americas! Prices start at $45 per car. Tickets are available on the Peppermint Parkway website. 6pm to 9pm.
Austin Trail of Lights (Dec. 8 – 23, 2023)
The Trail of Lights is the most beloved and longest running holiday tradition of its kind in Austin. This year's 59th annual celebration in Zilker Park will feature more than 2 million lights, 90 lit holiday trees, and more than 70 other holiday displays and light tunnels, such as a giant jack rabbit reindeer, a light up globe with a Texas twist, and even Santa's workshop.
Free general admission is available on select days. Admission tickets begin at $8 (children 11 and under are free with a ticketed adult). On-site parking is $25, with two additional parking locations offering shuttle passes for $8 (including your general admission entry fee). Tickets and parking passes can be purchased online.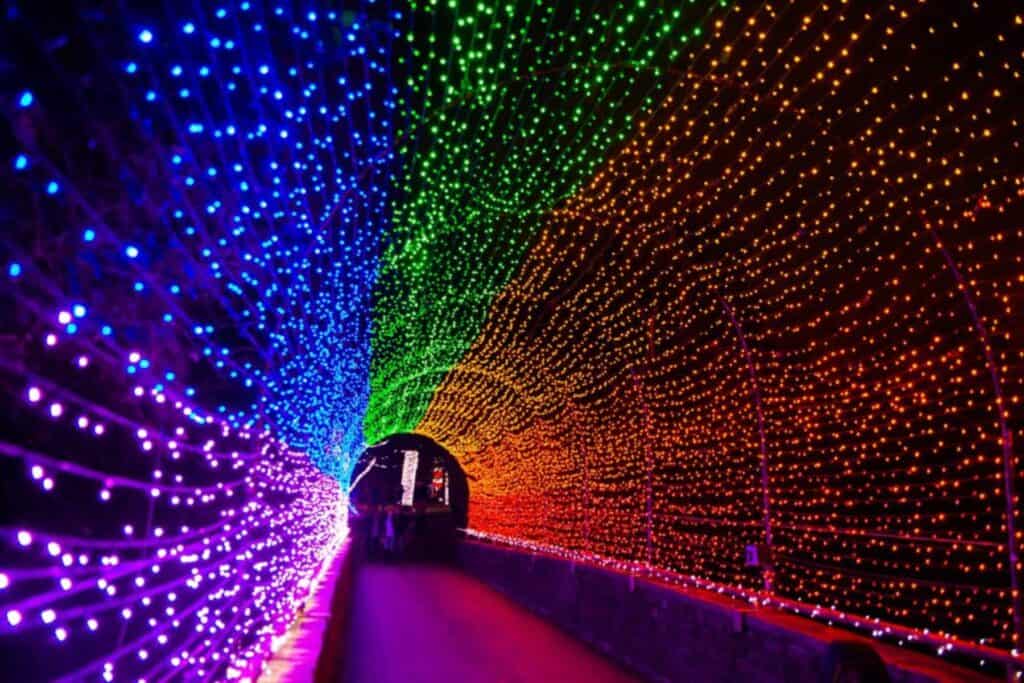 See a Live Performance
A Christmas Carol (Nov. 17 – Dec. 31, 2023)
A great way to ring in the holiday season is a Christmas Carol Performance at the Zach Theatre. With all new music and surprises, it's perfect for not only musical lovers, but for the whole family as well.
Showings will occur on select days at 7:30pm, with some additional showings at 2:30pm. Online tickets start at $25.
A Charlie Brown Christmas (Dec. 2, 2023)
The Austin Chamber Music Center is hosting live performances of everyone's favorite holiday songs this year. See their website for showtimes and ticket prices.
The Nutcracker (Dec. 2 – 23, 2023)
Did you know Ballet Austin performs the longest-running production of The Nutcracker in the state of Texas? This holiday classic is the perfect way to get into the spirit of Christmas. Tickets start at $45 and can be purchased online. Location: Dell Hall, Long Center for the Performing Arts
A John Waters Christmas (Dec. 5, 2023)
At the Paramount Theatre, the legendary cult filmmaker takes the stage with his one-man monologue touching on his love for Christmas as the virtues of the holiday. He will also touch on Christmas films and music. John Waters will take the stage at 8pm. Online ticket prices will vary.
Ventana Ballet's "The Watchmaker's Song" (Dec. 7-9, 14-16, 2023)
At the Neill-Cochran House Museum, the Watchmaker's Song will feature many different dance and theater traditions. Experience Spanish Flamenco, Egyptian belly dancing, Traditional Chinese, and drag. The mission is to bring together the dance community of Austin.
Come see this experience throughout the month of December on various dates with the addition of an interactive kids show on Dec. 10! Tickets can be purchased online.
Toys for Tots – A Very Metal Christmas (Dec. 8, 2023)
This Christmas activity is a metal concert featuring multiple artists like Snake Skin Prison, Damage, LLC (a tribute to Metallica), Wellborn Road, and ItBegins, with all proceeds going to Toys for Tots. Bring an unopened children's toy or cash to get in! 7pm. RSVP here.
Candlelight: Holiday Jazz & Soul Classics ft. Ella Fitzgerald (Dec. 9 & 22, 2023)
Add a touch of soulful jazz to your Christmas celebration with "Candlelight: Holiday Jazz and Soul Classics." This enchanting evening of music brings together the talents of Michael Sailors and the Higher Calling Orchestra, delivering an unforgettable performance that pays tribute to the legendary Ella Fitzgerald.
There will be showings at 6:45pm and 8:45pm. Ticket price ranges from $53-$58. Purchase your tickets here.
Northlake Presents: The Lights & Sounds of Christmas (Dec. 16, 2023)
Northlake Church will host thee event, "The Lights & Sounds of Christmas" at Lago Vista Highschool at 5pm. There will be a drone light show, music, food, and family-friendly activities. Admission is free. RSVP here.
Candlelight Holiday Special featuring "The Nutcracker" & More (Dec. 21, 2023)
Get ready to be swept away by a classic Christmas tale with "Candlelight Holiday Special featuring The Nutcracker & More." This cozy holiday event will take place at the AFS Cinema, giving you that comfy movie-theater vibe mixed with live music magic. The talented Austin Camerata String Quartet will be there, bringing The Nutcracker to life right before your eyes.
And it's not just about the ballet music – they'll mix in other holiday favorites that'll definitely get you feeling festive. There will be showings at Dec. 21, 2023 at 6:45pm and 8:45pm. Ticket price ranges from $53.50 – $71.50. Purchase your tickets here.
Complete Your Holiday To-Do List
Blue Genie Art Bazaar (Nov. 17 – Dec. 24, 2023)
Austin is all about local, and with the holidays, it's a great chance to find local gifts for loved ones. The Blue Genie Art Bazaar is a popular holiday shopping destination where you'll find vendors of all sizes selling all sorts of local and handmade, quality gifts that your friends and family will actually want to receive. 10am to 10pm. Admission is free.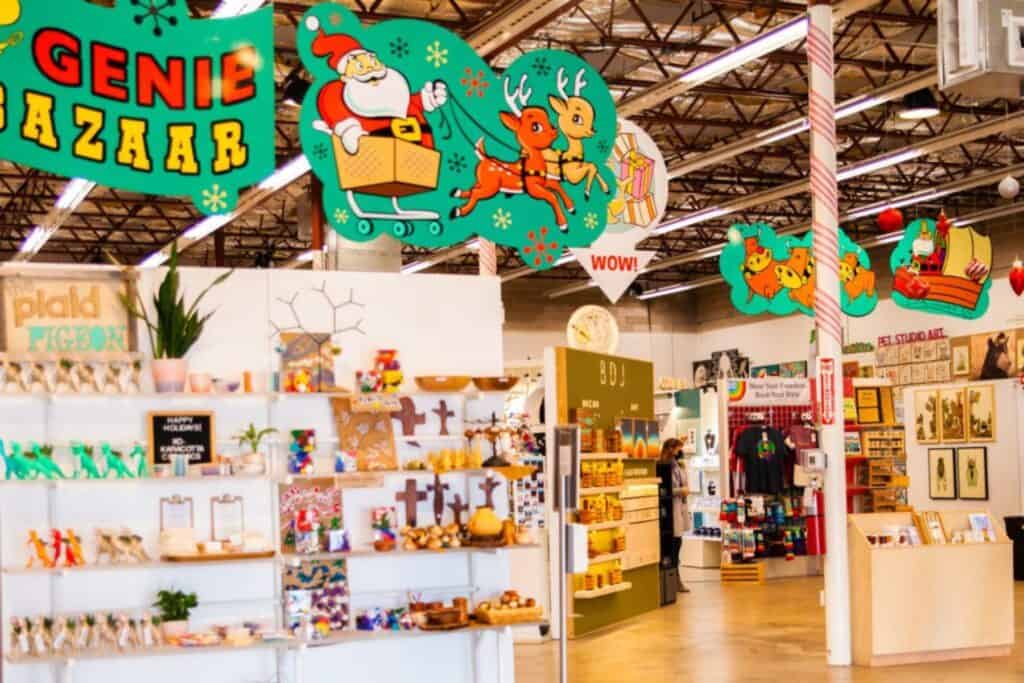 The German-Texan Christmas Market (Dec. 2, 2023)
This annual market offers shoppers a unique experience with handmade, imported art and decor. Shop, listen to traditional German music, and eat amazing German food. Tickets are just $5 and can be purchased online. 10am to 5pm
2nd Mistletoe Mania Holiday Market (Dec. 2, 2023)
At Big County Organic Brewing Co., there will be local vendors giving the perfect opportunity for some shopping in Pflugerville, just outside of Austin. There will also be live music, seasonal beer, and food. 4pm to 8pm. Admission is free and this event is pet-friendly.
Downtown Holiday Stroll (Dec. 2, 2023)
This year is the Downtown Holiday Stroll's 29th year. Window displays, photo-ops, holiday shopping, crafts, appearances by Santa and Ms. Claus, and more make this holiday event fun for all ages! The Texas State Capitol Christmas tree lighting ceremony will take place at 7pm.
New in 2023: Peppermint Alley, located on 10th Street near Old Bakery & Artisan Emporium. There will be a no comply skate ramp, lighting dance wall, a s'mores station, interactive graffiti wall, and a live DJ. 5pm to 10pm. Admission is free. Free parking will be available in select nearby parking garages.
Armadillo Christmas Bazaar (Dec. 15 – 23, 2023)
The Armadillo Christmas Bazaar is a fine art shopping destination featuring national and local award-winning artists, live entertainment, and a full bar in at the Palmer Events Center. What more could you ask for in an event?
Tickets are $12 for single day entry while a season pass for any and all days are $60. Children under 12 receive free admission. Tickets are available online. 11am to 9:30pm daily.
Christmas Tree Lighting Events in Austin
The Driskill (Dec. 1, 2023)
Celebrate the historic hotel's annual lighting of their signature, 16-foot Christmas tree from 5pm to 7pm. Santa will also make an appearance!
The Christmas tree lighting will occur at 6pm, but there will also be tasty cocktails and live music. Perhaps grab dinner at the Driskill Grill while you're there!
Fairmont Austin (Dec. 2, 2023)
Hosted by Trevor Scott of CBS Austin, the Fairmont's Annual Tree Lighting will include live carolers, complimentary seasonal treats like cookies, hot cocoa, and cider, as well as photos with Santa (6pm to 8pm). A $10 donation to Dell Children's Medical Center is encouraged.
You can also write letters to Santa at the North Pole Nook and explore their huge nutcracker soldiers covered in 20,000+ macarons, outdoor igloos, and fire pits. 5pm to 8pm.
Hotel Viata (Dec. 3, 2023)
Hotel Viata in Austin will light their courtyard Christmas tree and host a variety of free, family activities, including snow, photos with Santa, live Christmas carols, music, ornament decorating, a Christmas market, and a silent auction benefiting Community First Village. 5:30pm to 7:30pm. RSVP here.
Other Christmas Events in Austin TX
Christmas at the Farm (Nov. 24 – Dec. 24, 2023)
Step into a fairytale at Sweet Eats Adventure Farm's giant gingerbread house! Kids will love crawling through the candy cane columns and exploring the gingerbread-shingled roof. Adults will appreciate the festive photo ops and the chance to relive their childhood memories of gingerbread houses.
The best part is that admission to the gingerbread house is included with your general admission ticket to Sweet Eats Adventure Farm, so you can enjoy all the other holiday fun too. This includes wagon rides, community campfires, and a giant petting zoo.
Make your holiday experience even sweeter with breakfast with Santa! Enjoy a delicious breakfast buffet while Santa mingles with the tables, spreading Christmas cheer.
Ice Skating at the Long Center (Dec. 1 – 31, 2023)
Slide into the holiday spirit at Austin's Long Center, where ice skating becomes the centerpiece of winter fun. Whether you're gliding smoothly or gripping onto the railings, ice skating here is a festive tradition that's sure to get you laughing and making memories.
And the fun doesn't end on the ice – before or after your skating session, you can warm up with a steaming cup of hot cocoa, munch on popcorn, and savor the sweetness of Christmas cookies. It's a fun, festive way to get into the holiday groove, Austin-style. Ticket prices starts at $15.
Gingerbread Kits at the Thinkery (Dec. 2 & 3, 9 & 10, 16 & 17, 21-23, 2023)
The Thinkery is a museum packed with things to explore for all ages! In addition, every December, they have a selection of gingerbread kits you can build and decorate at home or on-site.
There are two different kits to choose from: a gingerbread man and a gingerbread house. This is perfect for creative little builders of all ages and abilities. The gingerbread kits vary from $35 to $40. Kits are limited and online pre-sale is encouraged. Shipping is not available. You can choose to make them at home or in-house at the Thinkery's Candy Wonderland (a general admission ticket is also required for this option).
Attend a Free Christmas Festival (Dec. 3, 2023)
Southwest Christian Church hosts an annual Christmas Festival, complete with camp fires, hot chocolate, bounce houses, Christmas crafts, a visit from Santa, and a story about the reason for the season. 5pm to 8pm. Admission is free. Reserve your spot here.
Texas Barbell Christmas Classic (Dec. 16, 2023)
Crossfit Austin will hold a local weightlifting meet. The cost to enter is $65. Tickets can be purchased online. 8am to 8pm.
Mix Halloween in with Your Christmas (Dec. 16, 2023)
The Nightmare Before Christmas Gothic Ball and Bazaar hosts DJ Crescendoll and DJ Neph who bring the spooky-meets-merry vibes to this dance party and vendor market extravaganza.
Sip on The Nightmare Before Christmas cocktails while shopping for that super unique gift for that special someone (or people) in your life. Admission starts at $17, and costumes are encouraged! Tickets can be purchased online. 9pm to 2am. Location: Elysium
Make it a Holiday Staycation
So many hotels in Austin go all out for the holidays all month long! Take part in exclusive Christmas events and special decor by booking a night or weekend in Austin!
Go on a Weekend Getaway
The Texas Hill Country or Dallas
Of course, there's a lot of Christmas events and holiday things to do in Austin, but if you haven't gotten your fill of holiday cheer, why not take a day or weekend trip to Boerne, Fredericksburg, San Antonio or Dallas to see how they celebrate Christmas? Perhaps spend Christmas at the Adolphus Hotel!
Round Top TX
On Dec. 2, 2023 (8am to 11am), at Royers Round Top Cafe (about 2 hours from Austin in Round Top, Texas), there will be a delicious breakfast with Santa as the guest of honor. The menu will include pancakes, bacon, sausage, and eggs, as well as hot chocolate and coffee. This is the perfect event for the whole family. Pricing starts at $20, and tickets can be purchased online.
Christmas Events & Holiday Things to Do in Austin: Final Thoughts
Whether you're looking for family fun or a night out with friends, Austin will have tons of fun Christmas events and holiday things to do! Go on a bar crawl, see a performance, or drive through millions of lights to get yourself in the holiday spirit. In Austin, everyone will find Christmas events they'll enjoy in 2023!
Check out our other holiday content listed below: