I've always wanted to visit the Christmas markets in Germany. Luckily, here in Texas, we have Fredericksburg TX! Book a trip this holiday season to the historic German town of Fredericksburg for all of its holiday things to do and Christmas activities in 2022. A Fredericksburg Christmas is truly magical! Be sure to check out our holiday guides for San Antonio, Austin, Dallas, and Houston too!
You can also enjoy all of the things to do and its unique German heritage any time of year with our guide to Fredericksburg TX!
Experience MarktPlatz
Celebrate Christmas with some German festivities at Marktplatz where you can see a German Christmas pyramid, experience the 30-foot Christmas tree, and go ice skating!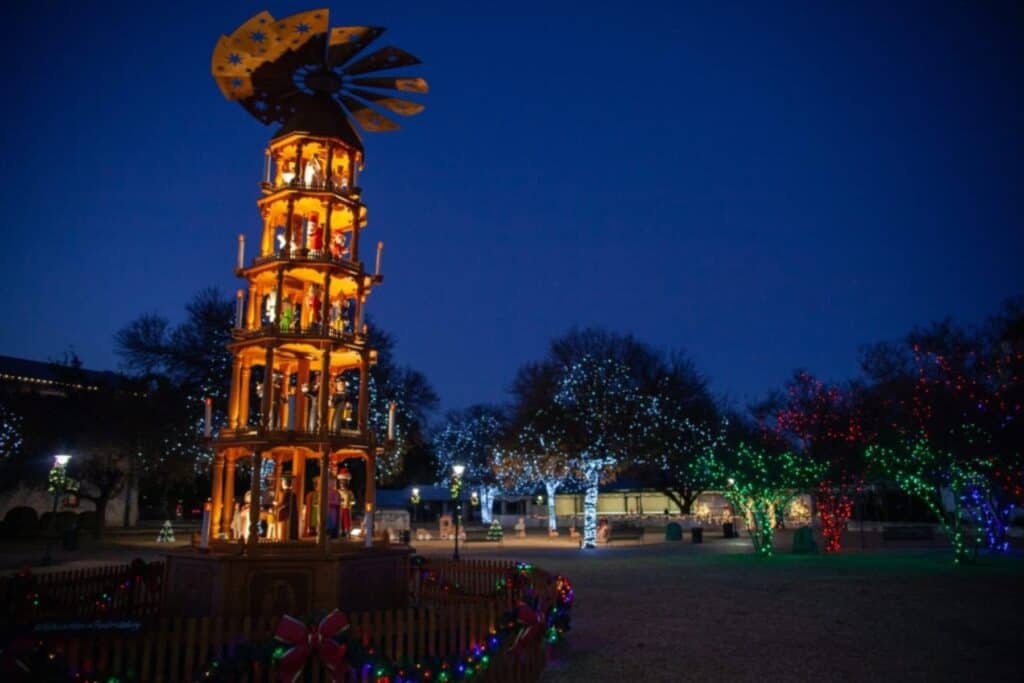 Eisbahn Outdoor Ice Skating
Give back while still having fun this holiday season by skating on real ice at the Kinderhalle Pavilion. At Eisbahn Outdoor Ice Skating, experience a Fredericksburg's holiday tradition with funds going towards the Heritage School and Cystic Fibrosis. The schedule varies by day, but the rink will be closed on Thanksgiving Day, Christmas Eve, Christmas Day, and will close early on New Year's Eve. Tickets are $15 per day including skate rental, but there is also a $10 ticket special on Tuesdays. Until Jan. 1, 2023.
Fredericksburg's Christmas Nights of Lights
Kickstart the holiday season at Fredericksburg's Christmas Nights of Lights. Starting November 22, 2022, at 6:00 PM enjoy the lighting of the Christmas tree, holiday carols, and the story of Fredericksburg's German heritage. Through Jan. 6, 2023. Free.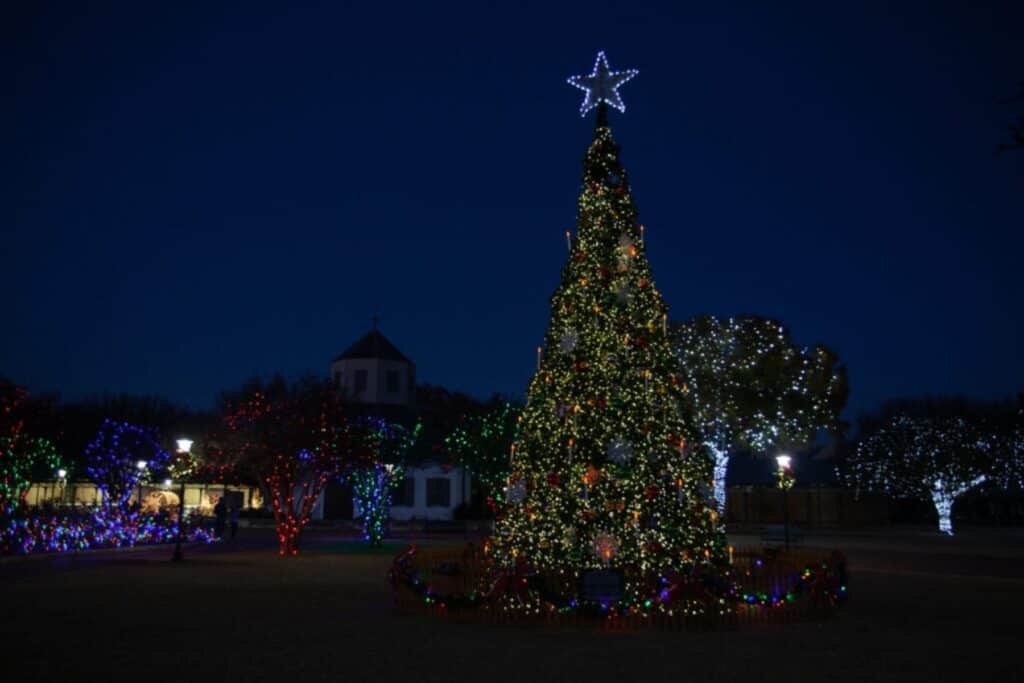 The Light the Night Christmas Parade
Head down to the Chamber of Commerce on Dec. 2, 2022, at 6:30 PM for Fredericksburg's Christmas parade. Be sure to grab a bite to munch on during the parade, and afterward, snap a picture with Santa & Ms. Claus at the whimsical Peppermint Platz. Free.
Go Shopping
Visit the Christmas Store
Even if it's not Christmas time, the Fredericksburg Christmas Store is open year-round to bring you holiday cheer no matter what the season. This store has rooms upon rooms of Christmas décor, ornaments, little Christmas villages, and more!
A Fredericksburg Holiday Market
Attend the Fredericksburg Holiday Market and shop local vendors and artisans selling handmade items, jewelry, kids' clothing, art, and more! Dec. 9, 2022, 9:00 AM to 4:00 PM. Free.
The Ab Astris Winery Christmas Market
Enjoy hot mulled wine, wine, hot chocolate, live Christmas music, shopping, and more at Ab Astris Winery Christmas Market. Shop local vendors selling jewelry, vine art, glass artwork, metal artwork, and more! Dec. 4, 2022, 12:00 PM to 4:00 PM. Free.
Sip & Shop on Main Street
Have fun while shopping for Christmas gifts for loved ones while walking down the Fredericksburg Main Street. Gluhwein is a German mulled wine, or a spiced hot wine, that I look forward to every holiday season. The wine shops sell it during the winter, and you can actually carry it around the main square! There are so many cute boutiques where you are bound to find unique arts, clothing, and gifts for yourself — I mean others!
A Snow Globe Workshop with Suzanne McComack
Have you ever wanted to make a snow globe? Well, now you can! Make a snow globe at Suzanne McComack's Snow Globe Workshop at the Yellow Door Studio. Tickets are $55 per person. Dec. 3, 2022, 1:00 PM to 3:00 PM.
Deck the Halls
Help Sauer-Beckmann Farm get ready for Christmas! Holiday activities include stringing popcorn, cookie decorating, wreath making, and more! Celebrate Christmas the old fashion way with the farm on Nov. 26, 2022, from 10:00 AM to 3:00 PM. Free.
The ABBA Christmas Tribute Show
Rock out to ABBA this holiday season at the ABBA Christmas Tribute Show. Dance to hits like "Dancing Queen," "Waterloo," "Mamma Mia," "Gimme Gimme Gimme," and many more at the Rockbox Theater. Tickets range from $48 to $62 per person. Dec. 10, 2022, 3:00 PM.
See a Huge Nativity Display
Come tour hundreds of Christmas nativities from around the world at Holy Ghost Lutheran Church Fellowship Hall. The event will run from Dec. 2 to Dec. 4, 2022, Friday from 4 PM to 9 PM, Saturday from 2 PM to 8 PM, and Sunday from 9 AM to 1 PM. Free.
The 5th Christmas Bazaar
Enjoy a day of holiday fun at the Fredericksburg Christmas Bazaar. Shop local vendors, participate arts & crafts, take advantage of a photo-op with Santa, and watch the Christmas tree lighting. 11:00 AM to 6:00 PM, Dec. 3, 2022. Free.
The Annual LBJ Tree Lighting
Join the Texas Hill Country Community for the Annual LBJ Tree Lighting, a holiday tradition that began over 50 years ago by President Lyndon B. Johnson and Mrs. Johnson. Enjoy carolers, a live nativity, Santa Claus, and of course, the spectacular tree lighting. Afterward, take a trip to the past visiting Sauer-Beckmann Living History Farm to experience what a German Christmas Eve was like one hundred years ago! Dec. 18, 2022. Free.
Zweite Weihnachten
Come celebrate the German tradition, Zweite Weihnachten or "Second Christmas." Festivities include German and English caroling, music, and fellowship. Try traditional German foods and drinks like Baked Stollen and warm Gluhwein. Dec. 26, 2022, 2:00 PM to 5:00 PM. Free.
A Ranger Christmas
Come see Santa Claus and meet the players of the Texas Rangers at the Texas Ranger Heritage Center. Enjoy crafts, cookies, hot chocolate, hot dogs, and more! You can even see the swearing-in of Junior Texas Rangers! Dec. 3, 2022, 2:00 PM to 4:30 PM. Free.
Kinderfest
Celebrate Fredericksburg's joyous tradition of Kinderfest at the Pioneer Museum. Children 10 and under are encouraged to bring a stocking to hang on the fireplace. While the kiddos enjoy refreshments and crafts, Santa and his elves will be working to fill the stockings according to German tradition. Nuts, fruit, and candy for nice children, and a lump of coal for naughty children. Luckily all kids at Kinderfest are on the nice list! All children must be accompanied by an adult. Dec. 3, 2022, 10:00 AM to 12:00 PM. Free.
The Santa Day Parade
See the Santa's Day Parade on Main Street and visit Santa at the Gillespie County Courthouse Square where you can tell him what you want for Christmas this year. Don't forget to grab a free holiday goodie bag from Santa! Dec. 3, 2022, 10:00 AM. Free.
The Singing Christmas Tree
Attend the Fredericksburg Singing Christmas Tree event at the Pioneer Museum. Hear community choruses put on a family holiday concert. Admission is free but donations are accepted. Dec. 3 & Dec. 4, 2022, 6:15 PM.
Luckenbach Christmas Ball
Bring your dancing shoes for a night of fun at Luckenbach Dancehall dancing the night away to the music of Aaron McDonnell. Tickets are $15 per person. Kids 8 and under are free. Dec. 16, 2022, 7:00 PM to 10:30 PM.
Deck the Dancehalls 2022
Deck the Dancehall with your best moves to the tunes on Kevin Fowler and Carson Jeffrey. Limited tickets are available. Advanced tickets are $30 per person and tickets at the gate are $35 per person. Dec. 17, 2022, 8:00 PM to 11:00 PM.
Watch Santa Fly into Town
Come watch Santa fly into Fredericksburg at the Gillespie County Airport. Enjoy free hot chocolate, cookies, and caroling while waiting for Santa's arrival. Afterward, snap a picture with Santa and his plane! Dec. 17, 2022, 1:00 PM to 3:00 PM. Free.
The 15th Tannenbaum Ball
Enjoy an elegant evening at the Tannenbaum Ball. Dine on delicious food, fine wines, craft beers, spirits, and signature cocktails. Bid at silent and live auctions. End the night dancing to the music of the Bill Smallwood Band. Tickets are $200 per person. Prize drawing tickets are $100 each. Dec. 10, 2022, 6:30 PM to 11:00 PM.
Don't Forget the Wine!
A Christmas Wine Affair
Fredericksburg is known for its wineries in the same way that Germany is known for its Riesling. Have the best of both worlds on a Christmas wine tour presented by Texas Hill Country Wineries where you'll have the chance to enjoy complimentary tastings (limit of 4 wineries per day). Tickets are $65 for individuals and $100 for couples. Daily from Nov. 28 to Dec. 23, 2022, during regular winery hours.
A Holiday Cookie & Wine Pairing
Enjoy a holiday cookie perfectly paired with a wine by the Texas Wine Collective. Book your seat online. Sessions are limited to 10 people. Dec. 10, 2022. Sessions at 11:00 AM, 1:00 PM, 2:30 PM, & 4:00 PM. Tickets are $45 per person.
Go on a Holiday Wine Tour
Fredericksburg is already fun for wine tastings, but during the holiday season it gets even better with Christmas carolers, holiday lights, and special holiday themed activities. Plus, there often deals to be able to visit multiple wineries at a major discount. Last year you could visit 17 wineries for $45 per person. Since most tastings are $10-$20 this is an incredible deal!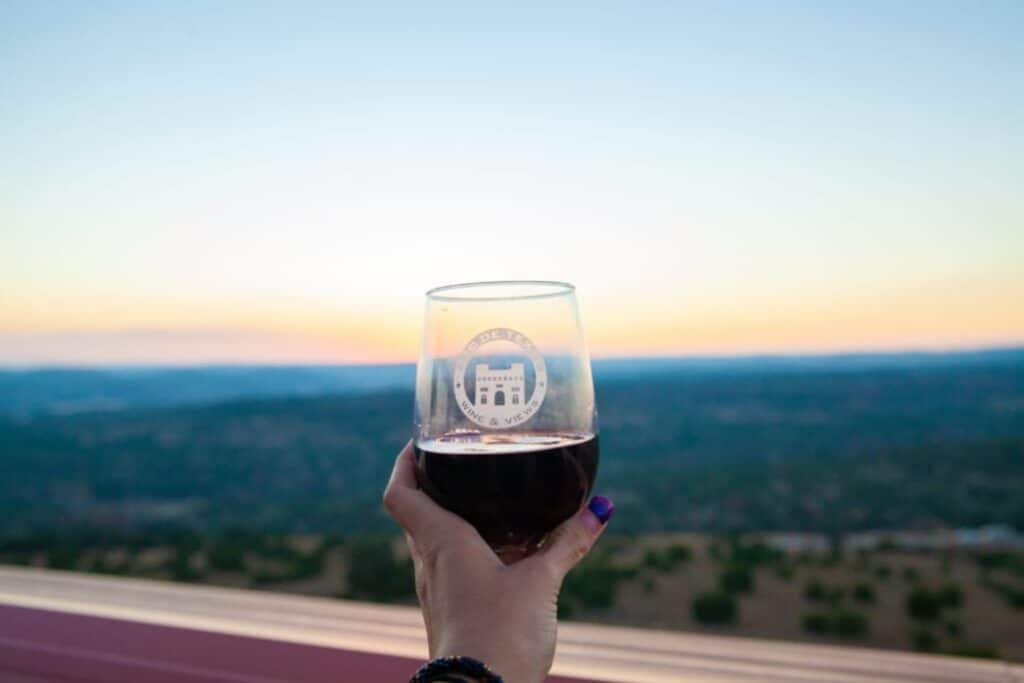 Holiday Things to Do & Christmas Activities in Fredericksburg 2022: Final Thoughts
If you're looking for a fun Christmas destination with holiday things to do and Christmas activities in 2022 that's not too far of a trip, Fredericksburg is the place to visit. I love it for its international feel, the Christmas spirit, and of course, the wine! Even if you don't go during Christmas, you will be in for a good time anytime of the year. Don't forget to check out all of the other fun things to do in Fredericksburg!
Check out our other holiday things to do and Christmas activities in: