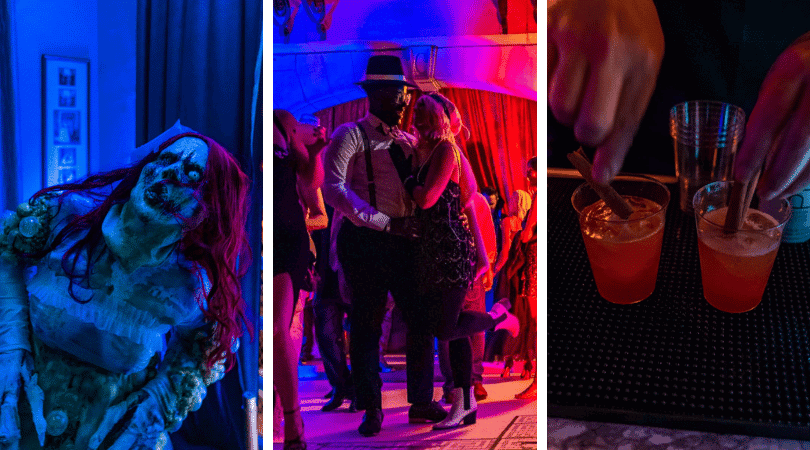 If you're in the Halloween spirit and are itching to go on a spooky adventure with your friends and family, there are countless spooktacular things to do to celebrate Halloween 2022 in Texas: sip on a scary cocktail, watch an eerie film, go to a spooky festival, or all of the above and more! Don't let the fact that Halloween is on a Monday this year get you down either. Carve out time during the week or the weekend before and explore all the things to do to celebrate Halloween 2022 across Texas before spooky season has bowed out for the year.
Where to Celebrate Halloween 2022 in North Texas
Dallas
Hall Arts Hotel
It's five o'clock somewhere! Get your drink on at the Howl-O-Ween Yappy Hour on October 27th at the Hall Arts Hotel on Ellie's Terrace from 6pm to 8pm. It's free to attend (reserve a table here), and they will be serving an array of fall menu items, themed cocktails, and even hosting a canine costume contest with prizes!
Angelika Film Center
Calling all film enthusiasts for this next one! Hitchcock_tober at Angelika Film Center will be hosting its last two Hitchcock movie nights October 24th and October 31st. Check out the schedule for what showtimes are available and add it to your list of ways to celebrate Halloween this year! Tickets are $13 and must be purchased online.
House of Spirits
House of Spirits will be hosting a 21+ Haunted Cocktail Soirée through October 31st. Tickets start at $59, and you can find the remaining days/timeslots online, so get your tickets while you still can! There will be spooky-themed cocktails, interactive and mysterious performances, live magic, tarot readings, live music, as well as a Giant Ouija Board! The pre-show lounge will be open all night and have yummy bites to eat, along with alcoholic beverages, water, and soda for purchase.
Sons of Hermann Hall
Take part in more festivities to celebrate Halloween this year at the 21+ Haunted Tavern Cocktail Experience, hosted by Sons of Hermann Hall. It will take place October 27th through October 30th with tickets for $55. The night will include a menu of 4 themed cocktails and the opportunity to learn about the history of the tavern. There will be actors and a "ghost" that you may see as well, so beware!
The Wonder Bar
Grab a spooky cocktail at the Wonder Bar's Halloween Themed Pop-Up! This bar is open to the public every day until 2 am. There will be a Stranger Things installation, themed cocktails, Halloween decor, a secret room with a spooky photo-op, and scary decorations out on the patio!
Roy G's
Who's hungry? Grab some grub off of Roy G's Halloween Menu all October long! Their new Halloween menu will include dishes such as the Ghost Pepper Burger, Blood Berry Cocktail, and Frito Chili Pie!
Trick Pony Bar
The Trick Pony Bar has outdone itself this year with their Halloween-inspired cocktails and spine-chilling decor. Offering a special edition menu until October 30th, stop by Wednesday through Sunday during business hours! Their spooky drink options will include fun creations like Children of the Corn, Squid Game, and Lake Placid.
Electric Shuffle USA
This eclectic cocktail bar has gone above and beyond with their scary decor and creepy cocktails. Nightmare on Elm St. will have drink specials all month long! They get busy, so be sure to make a reservation online. Their Halloween menu will include a Pumpkin Spice Espresso Martini, a Nightmare on Elm St. Margarita, and Spooky Shots!
Fort Worth
The Halloween Haunted Maze and Carnival in Fort Worth will be October 30th from 5pm to 9pm. Celebrate Halloween in Texas this year with a Victorian-themed, haunted maze featuring fairies, ghouls, and goblins! It will be hosted by the non-profit, Good Fellows with the mission of making this event sensory-friendly!
Abilene
If you're an animal lover, you will love Boo at the Zoo, hosted by the Abilene Zoo October 29th and 30th from 10am to 4pm. For children ages 2 and under, admission is free, and tickets can be purchased on their website. Celebrate Halloween in Texas with activities like a hay maze, a pumpkin patch, pumpkin decorating, animal encounters, cultural food, piñatas, ballet Folklorico performances, pumpkin catapults, and more, all inside their six themed zones. There will also be free candy and costumes are highly encouraged!
Wylie
Boo on Ballard will be a night full of scary-themed entertainment and adventures! This event will be hosted on October 27th in Downtown Wylie from 6pm to 8pm. Admission is free and some of the fun festivities will include live music, trick-or-treating, and carnival games. Neighboring Olde City Park (112 S. Ballard Ave) will also be hosting Glow in the Park from 5:30pm to 8:30pm, complete with a foam canon, live music, and more!
Plano
Dark Hour Haunted House
See some spine-chilling sights at the Dark Hour Haunted House in Plano through October 31st starting at 7pm. The dates vary, so be sure to visit their website for more information! Parking is free and tickets are available for purchase online. The haunted house will be an immersive experience with frightening scares that feature a coven of 13 witches!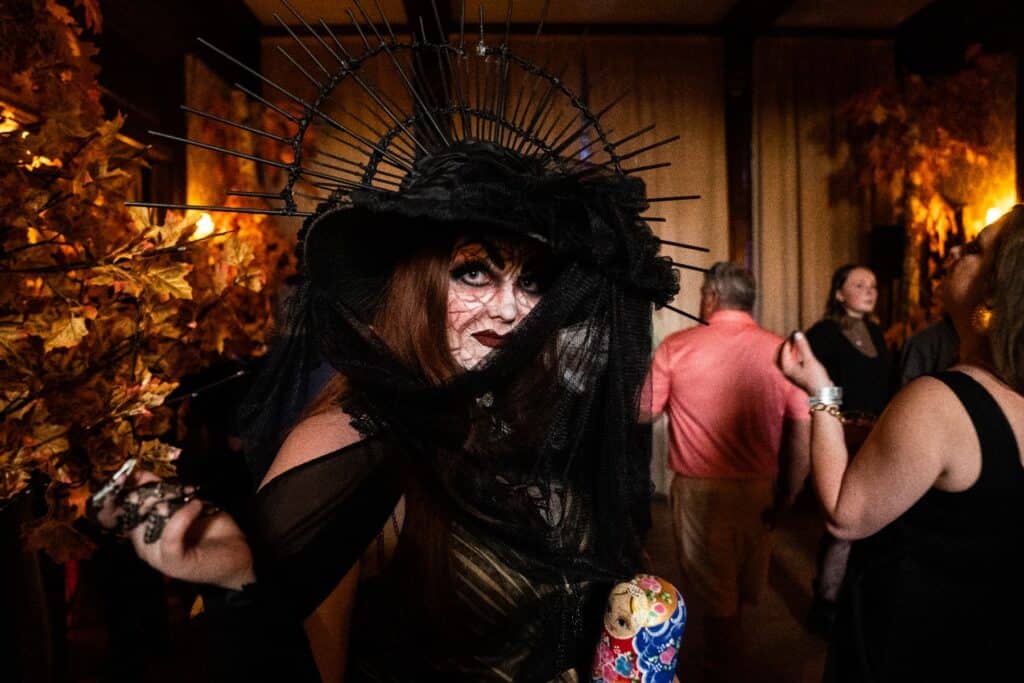 Tom Muehlenbeck Recreation Center
To continue the Halloween adventures, Boo Bash will be hosted at the Tom Muehlenbeck Recreation Center on October 27th from 4:30pm to 8:30pm. This event is free, but it's encouraged for you to bring canned goods in support of local food banks. The age limit is for children 12 years and under, along with their parents. Put on your favorite Halloween costume and celebrate Halloween this year with 'lots of candy & carnival games!
Legacy Hall
For all of the movie geeks out there, the Hall-o-ween Movie Series at Legacy Hall will be screening The Addams Family starting at 7:30pm, but it's recommended you arrive to grab a good seat! Admission is FREE and be sure to grab a bite to eat and some booze from their limited-time spooky cocktail menu. The Box Garden (which is an outdoor venue with a 24-foot movie screen) is also pet-friendly, so bring your furry friends along to celebrate Halloween!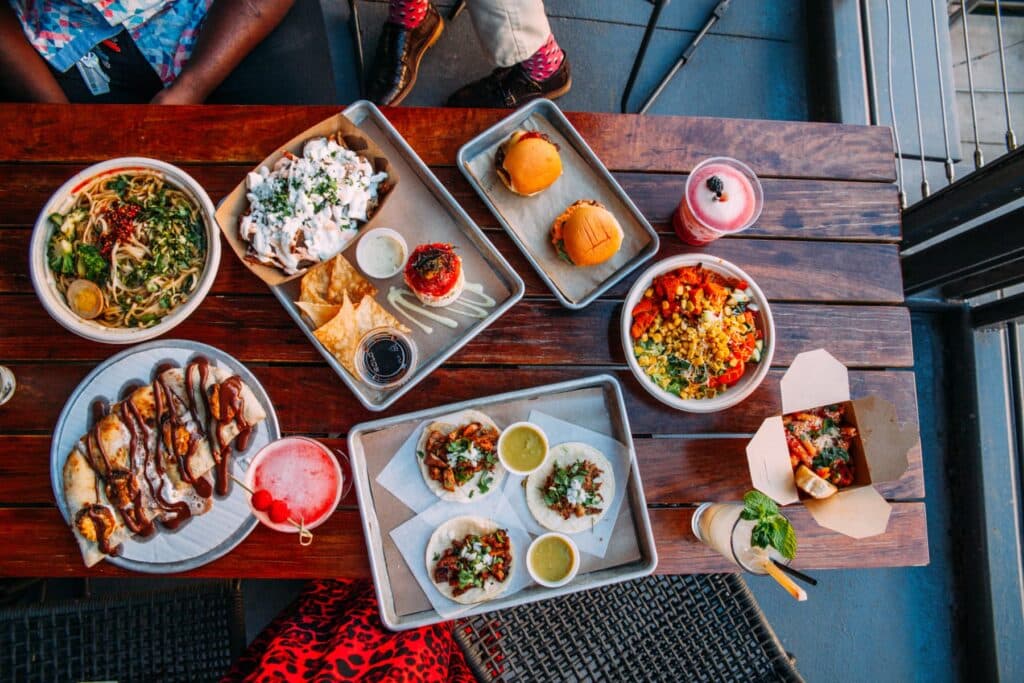 Kai Restaurant & Lounge
It's SHOWTIME! Beetlejuice Halloween is October 29th from 9pm to 2am. Be sure to schedule a reservation online for this ghoulish gathering. Celebrate Halloween by participating in their costume contest with prizes and enjoy VIP tables and live music.
Go Ape Plano
Outdoor enthusiasts and adventure seekers with kiddos will love the ​​Zip or Treat quest happening at Go Ape Plano the rest of October! Be sure to call to book. A few of the fall activities will comprise of scavenger hunts, zip or tree-ting, and Halloween decor. There will also be people in costumes along the zipline and ropes course after dark if you're looking for a thrilling way to celebrate Halloween 2022 in Texas!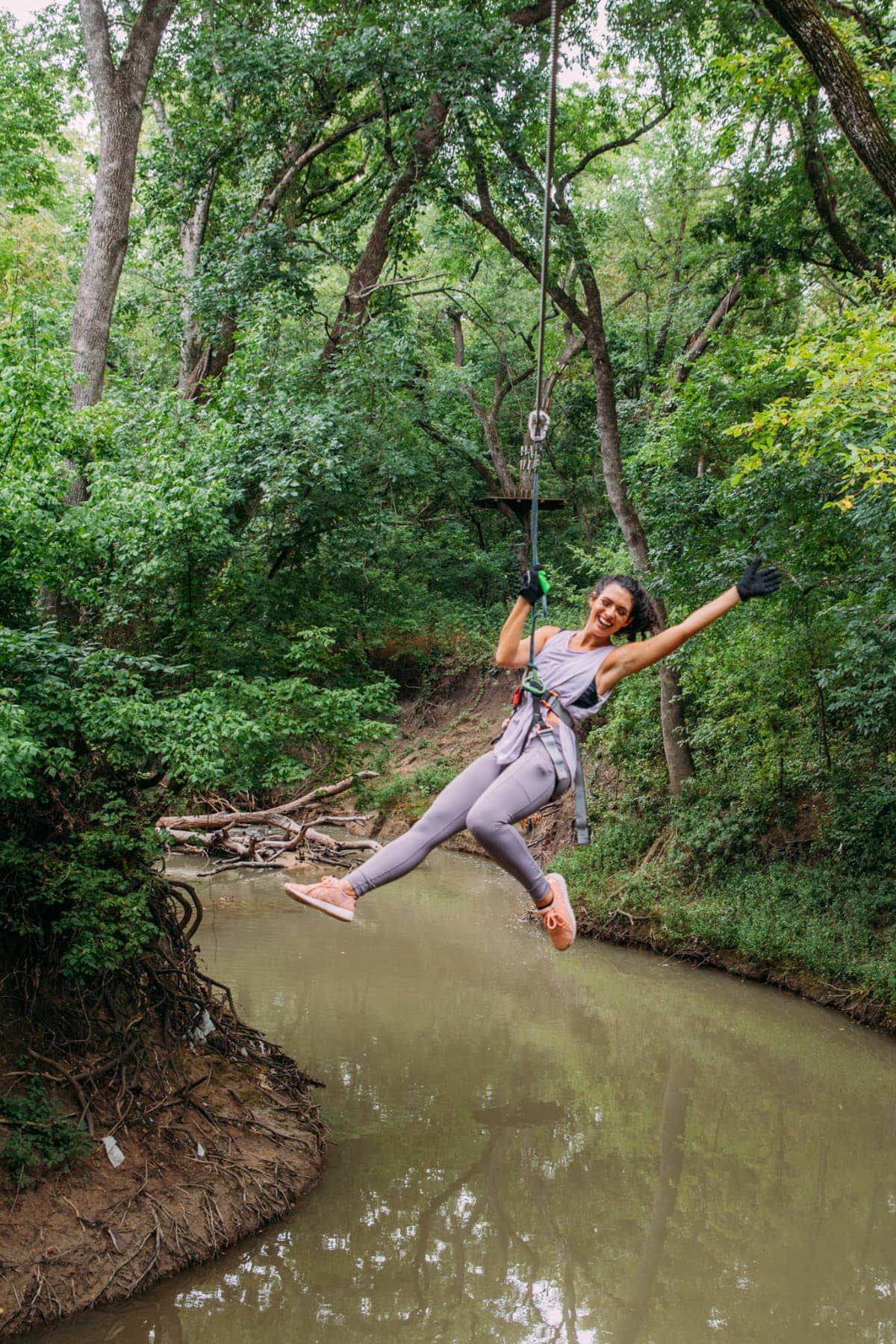 Forney
If you're into outdoor activities, Zombie Safari could be just what you're looking for! Going on for the remainder of October (Fridays and Saturdays from 7pm to 10pm), enjoy a spin on paintball where you can wreak havoc on zombies atop everything from a bus to military-grade vehicles! Tickets can be purchased online for $24.95 plus fees for a ride, including 250 rounds, along with an option to buy a simple ride-along ticket for $9.95. You can also buy tickets at the door but are guaranteed a spot if you buy online! Hurry before their sold out!
Frisco
Dr. Pepper Ballpark
For more evening activities and spooky attractions, Frights'n Lights at the Dr. Pepper Ballpark has something for everyone! Through October 31st (times will vary), you can experience a variety of family-friendly attractions, including a corn kernel pit, kid-friendly characters, crafts, a mechanical jack-o-lantern, a haunted hay maze, and more! Tickets are $26 for adults and $23 for children, with children 2 and under receiving free admission.
The Star District
Celebrate Halloween in Texas this year with spooky season tailgating at its finest. Park your car and be part of the Halloween Spooktacular event on October 29th from 3pm to 7pm. Admission is FREE and there will be Trunk-or-Treating, music, candy, photo ops, games, and so much more!
The Colony
Grandscape
Howl-O-Ween is for all pet parents and animal lovers! This puppy parade and costume contest will be on October 26th from 6pm to 8pm. Entry into the event is FREE, although the deadline to enter the costume contest has passed.
Release your inner child at the Halloween Spirits Walk from 6pm to 9pm. Tickets are $35 and will include adult trick-or-treating with 8 cocktail samples, a souvenir cup, and live music! Spooky season is in full effect!
Celebrate Halloween with a Halloween Concert at Grandscape! This live show will be on October 28th from 7pm to 9pm. Admission is FREE but be sure to bring a chair or blanket for the lawn so you're comfortable!
Celebrate the frightening fall season at the Monster Mash Bash on October 29th from 6pm to 9pm! Entry is FREE, but if you and your family would like to do certain activities, you'll have to purchase tickets from the booths on-site. This includes the games, petting zoo, train rides, and the pumpkin patch. There will also be live entertainment, face painting, balloon artists, pumpkin decorating, an 18+ blackout Halloween maze, photo ops, and candy!
Munch on all the tasty Halloween candy and goodies at the Spooktacular Trick-Or-Treat event on October 31st from 5:30pm to 8:30pm! Admission is FREE. Come trick-or-treating throughout Grandscape and enjoy a live DJ, bounce house, and a scavenger hunt.
Waxahachie
The adrenaline junkies will enjoy this next one. The Screams Halloween Theme Park will be running through October 29th on Friday and Saturday nights from 7pm to 1am! Your tickets must be purchased online (Friday's tickets are $42 and Saturdays are $52). Activities will include five haunted houses, aerial performances, plus plenty of themed cocktails and food! Keep in mind that masks are not allowed, and this amusement park is recommended for kids 13 and over due to the intensity of some scares.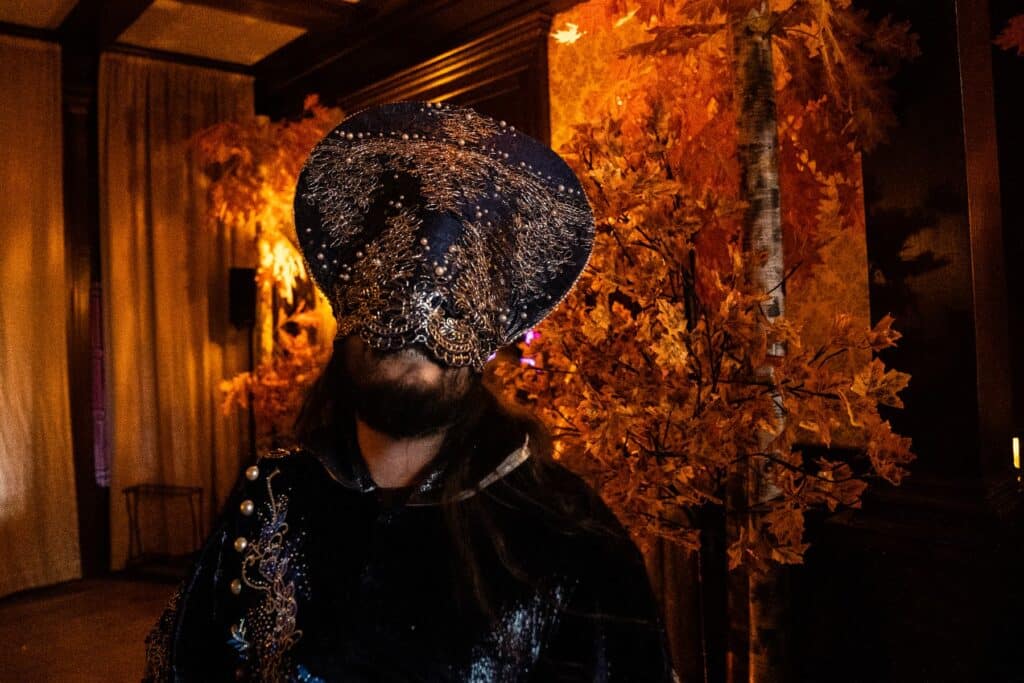 Arlington
Take the rollercoaster ride of your life at Six Flags Fright Fest through October 30th (hours will vary depending on the day). Single-day tickets start at $39.99/person and will include family-friendly fun during the day with scarier fun at night. Keep in mind costumes will not be allowed.
Where to Celebrate Halloween 2022 in Central Texas
Austin
Gibson Street Bar
Celebrate Halloween 2022 in Texas with a little bit of booze to start the evening at Gibson Street Bar! Open Monday through Thursday 4pm to 2am and Friday through Sunday from 12pm to 2am, Nightmare on Gibson Street will be running through the remainder of October. They will have live music from DJs every other weekend, as well as a Halloween celebration on October 31st! A few of the signature spooky-themed cocktails include the Hocus Pocus, Oh My Gourd, and the Forbidden Apple. Drink up!
Wonder Bar
Located at the Domain Northside, Wonder Bar is going all out with their creepy cocktails, Halloween decor, and photo ops for you and your friends! Open Monday through Friday from 3pm to 2am and Saturday/Sunday 12pm to 2am, you can indulge in crazy cocktails like the Trippy Tonic and the Skull Crusher.
Dumont's Down Low
Tucked away in the Warehouse District is the Haunted Basement Whiskey Bar, perfect for the spooky vibes of October! Open Monday through Sunday from 5pm to 2am, the atmosphere of this hidden gem is the best place to go for a decorative cocktail. A few of their most popular drinks include the Whisper Sister, the Poisoned Apple, and Death in a Basement!
Lucille Patio Lounge
Are you a Stranger Things fan? Well then, you're in luck because Lucille Patio Lounge on Rainey has committed to decking out their entire bar in Stranger Things decorations! Open Monday 4pm to 12am, Tuesday through Thursday 4pm to 2am, Friday 2:30pm to 2am, Saturday 1pm to 2am, and Sunday 1pm to 12am, you'll be able to enjoy Stranger Things photo ops and inspired cocktails such as the Demogorgon, Eleven, The Upside Down, and Mind Flayer.
The Red Headed Stepchild
If you're looking for a lowkey setting to celebrate Halloween in Texas this year, you should check out one of the most popular speakeasies in Austin, The Red Headed Stepchild. Dedicated to the spooky season, this swanky cocktail bar is horror-themed throughout the year! There is a door code to get in, so check out their sister bars, Eden or Firehouse Lounge, and get the code from the bartender.
Haunted ATX
For more things to do to celebrate Halloween in Texas throughout the year, Haunted ATX is open all year long! It is also the only mobile, haunted tour in Austin. Activities include investigation using actual paranormal machinery and are led by Bert & Jane Mesa, producers of the YouTube Series, "Unearthly: History & Paranormal Investigation." Tickets are $99 per person and is recommended for kids 13 and over, but they are able to tailor the experience to younger guests. Tickets can be purchase online. It's also BYOB and snacks!
San Antonio
Bad Wolf Ghost Tour
Go on a supernatural adventure by embarking on a Bad Wolf Ghost Tour. The San Antonio Ghost Walk is a great way to experience downtown San Antonio, embrace the history, and see some of SA's oldest, most haunted buildings. Tours are about an hour and a half, so wear some comfy shoes. Every night at 8pm, the tickets are $25 for adults and $20 for children 12 years and under.
Want a glimpse into your future? The Reading Room is a great tour to take if you're looking for a spiritual adventure. Through tarot card readings, their intuitive counselors will be able to read your affirmations and predictions about your life journey.
Haunted Pub Crawl
Did someone say bar crawl? Fridays and Saturdays beginning at 10pm, the San Antonio Haunted Pub Crawl is the perfect event to grab drinks while you learn about the history of some of the most haunted bars in San Antonio. Drink specials are at 3 of the 4 bars and there is NO cover fee. Tickets are $30, including $15 to $20 in savings.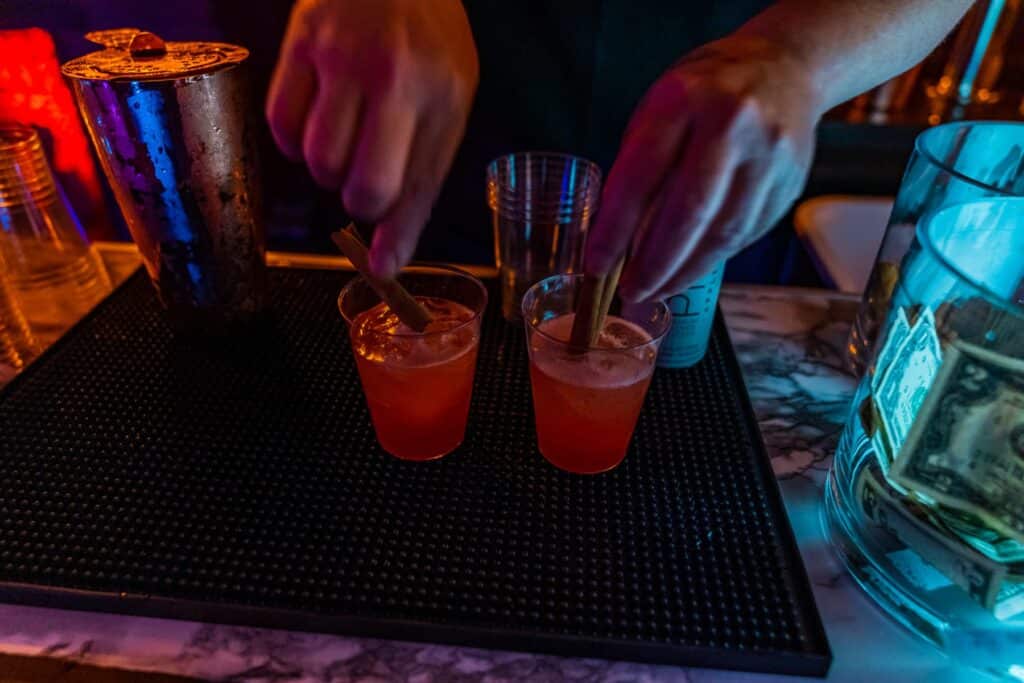 Black Swan Inn
Celebrate Halloween in Texas with this next ghost tour of the Black Swan Inn every Friday at 6pm. A tour guide will take you through the property and teach you about the scary history of one of the most haunted places in San Antonio. Book your tour now!
Haunted Dinner Tour
Experience a dinner night out like never before at this Haunted Dinner Tour! Serving up Texas-style BBQ in an 1800s haunted building, you'll get the chance to learn more about the spooky history of San Antonio and this location. The dinners take place every Friday and Saturday at 7pm and tickets are $55 for adults, $45 for children 12 years and under.
Tower of the Americas
The Spooktacular Halloween Bash will take place at the Tower of the Americas on October 28th from 7pm to 11pm. Admission is FREE and some of the festive fall and Halloween festivities will include a pumpkin patch, live music, food, a pumpkin carving contest, a moon bounce, and 'lots of other kid-friendly activities!
Where to Celebrate Halloween 2022 in East Texas
Houston
Axelrad Beer Garden
At Axelrad Beer Garden, you can celebrate Halloween this year with their on-site haunted house, open through October 31st. With your $10 ticket, you'll also get a FREE can of beer. Then, hangout for a while to close out your Halloween celebration.
Color Factory
An immersive art experience for creatives and art enthusiasts alike, the Halloween Interactive Art Museum Haunted Hues, is taking place at the Houston Color Factory until November 1st! The cost of tickets will start at $36 but are $39 on Saturdays. When you purchase your tickets online, you'll be able to choose a preferred time slot between 10am and 4pm, and you can expect it to be open most days during the entire week. Wear your costume, take photos, explore the interactive exhibits, decorate pumpkins, and eat some delectable Halloween-themed treats to celebrate this year!
Houston Zoo
It's a jungle out there, so take the time to celebrate Halloween this year at the Houston Zoo with Zoo Boo through October 31st! On Fridays from 9am to 5pm, with extended hours until 8:30pm on Fridays for Zoo Boo, you'll enjoy photo ops, decorations, art installations like pumpkin lantern tunnels, as well as after-hour activities. You will need to check ticket costs, as it varies depending on the time of day and day of the week.
Betelgeuse Betelgeuse
This unique, vibrant, and pet-friendly cocktail/pizza bar will be turning their space into a spooky scene with a Halloween-themed menu, decor, and games! They will be open from 4pm to 2am every day and kid-friendly until 9pm. Their menu items will include a Highway to Hell pizza and a Pumpkin Foam Espresso Martini! On October 27th, a Misfits cover band will be performing from 8pm to 10pm. On October 28th, there will be Costume Karaoke with a Beetlejuice-themed costume contest. Karaoke starts at 9pm and costume voting will be at 11pm.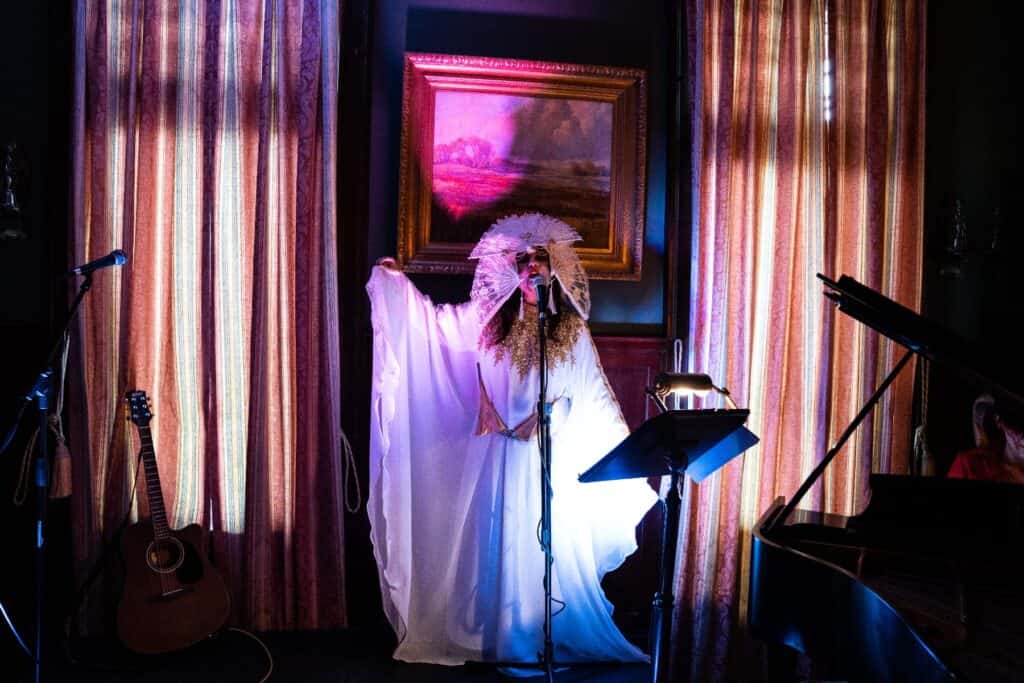 Things to Do to Celebrate Halloween 2022 in Texas: Final Thoughts
There are so many fun things to do for Halloween 2022 in Texas, whether you're looking for 21+, pet-friendly, kid-friendly, or family-friendly things to do! It's all about the haunted houses, ghoulish celebrations, and trick-or-treating all October long. It's the perfect time to put on your favorite costume and go out on the town to embark on the spooky tours and find the nightlife that your city has to offer. Celebrate Halloween 2022 in Texas by booking one of the creepy crawly events and things to do. Oh, and Happy Halloween everyone!