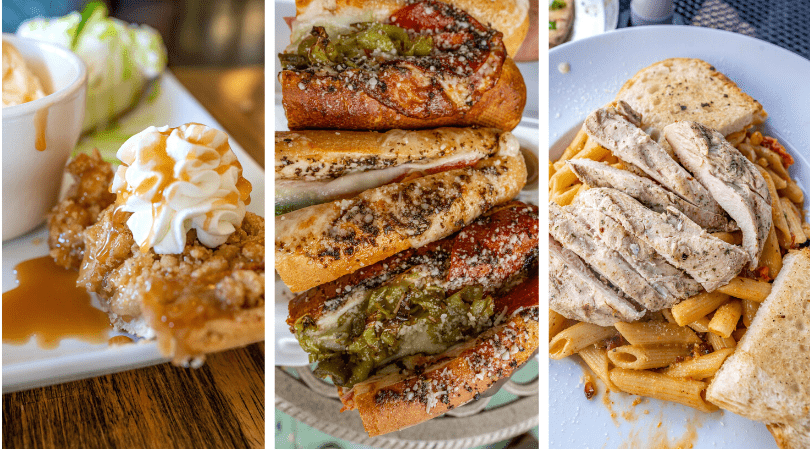 When traveling, whether by yourself or with friends and family, a destination where you have opportunities to try something new while having access to your favorites with a local spin always makes for a memorable trip. Home to pine trees and tropical, water-side destinations, when you're looking for where to eat in Conroe TX to fuel you and your travel buddies, there's something for everybody no matter what you did that day or what you feel like having. The ample places to eat in Conroe will keep you on your toes just like all the things to do in this scenic Texas town.
Where to Eat in Conroe for Italian Sandwiches
We had to stop at Tony's Italian Delicatessen after learning it won top restaurant on Yelp in the US in 2017. Walking into this quaint shop, they had a large list of cold and hot sandwiches. You'll see every type of deli meat, fresh cheese, plus an array of vegetables, and the traditional use of oil and vinegar to help you wash it down. Or challenge your appetite with a chicken parm sandwich or one of their several hot sandwiches topped with corned beef. Not only are these sandwiches mighty and delicious, but they are beautiful and worthy of a photograph before you chow down.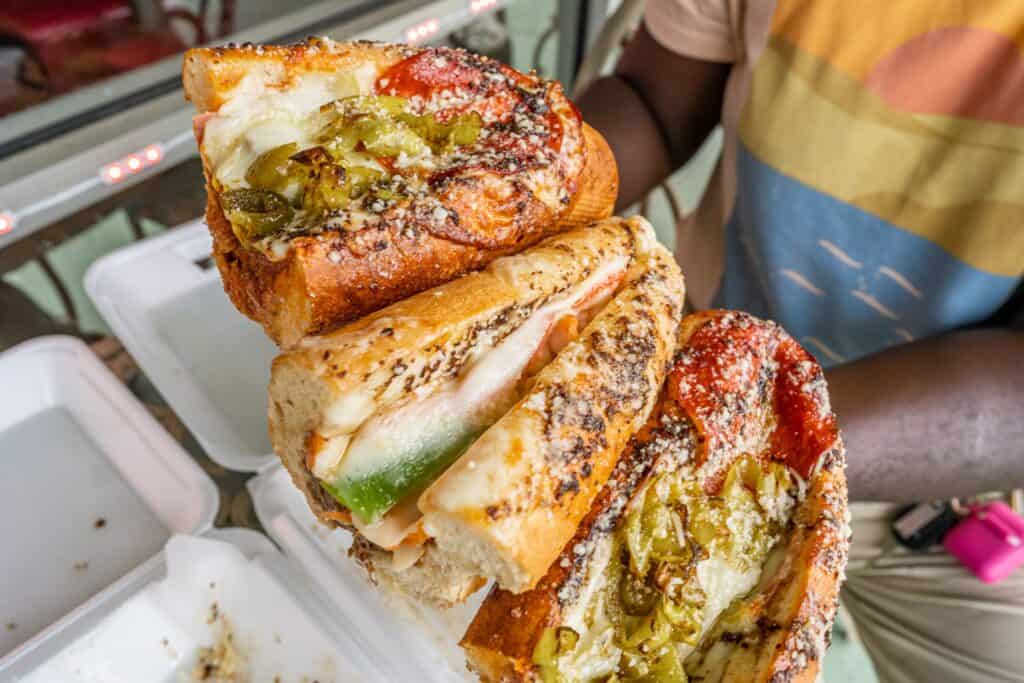 Where to Eat in Conroe for Sushi
Dinner at Akashi Asian Bistro & Sushi Bar brings a mixture of seafood, sushi, Japanese, and Chinese entrees. Both their lunch and dinner menus are extensive, so plan to come back to Conroe and visit Akashi again. From chicken wings and BBQ ribs and bento boxes, to stir fry shrimp, sauteed scallops, or their many unique appetizers to tide you over, like an Ahi Tower, grilled yellowtail cheese with a spicy ponzu sauce, or rock shrimp tempura in a creamy milk sauce, you'll leave not only stuffed but with a more well-rounded palette. A fun thing about this spot is all the unique sushi roll combos they come up with, like the Lady Gaga Roll or the Igloo roll. There's also a family dinner special that offers every person in your party their choice of soup, appetizer, and an entree.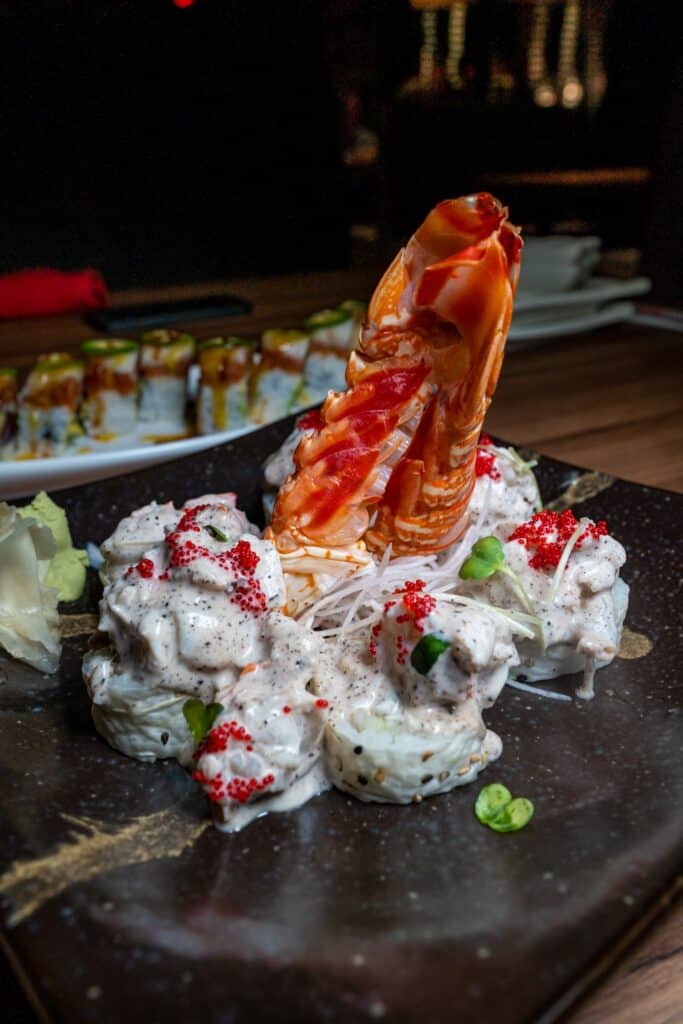 Where to Eat in Conroe for a Cafe-Style Brunch
For breakfast, we went to the cute little bakery at Flourish. They have so many beautiful pastries that are almost too pretty to eat and a brioche breakfast sandwich that is so rich. It was such a great way to start the morning. Their lunch options are to die for: a fig and goat cheese sandwich, a chicken salad-stuffed avocado, a white cheddar honey basil sandwich, and a roasted butternut and cauliflower protein bowl, with a French press coffee for any time of day if you're anything like me. Or, treat yourself with a glass (or bottle) of wine from France.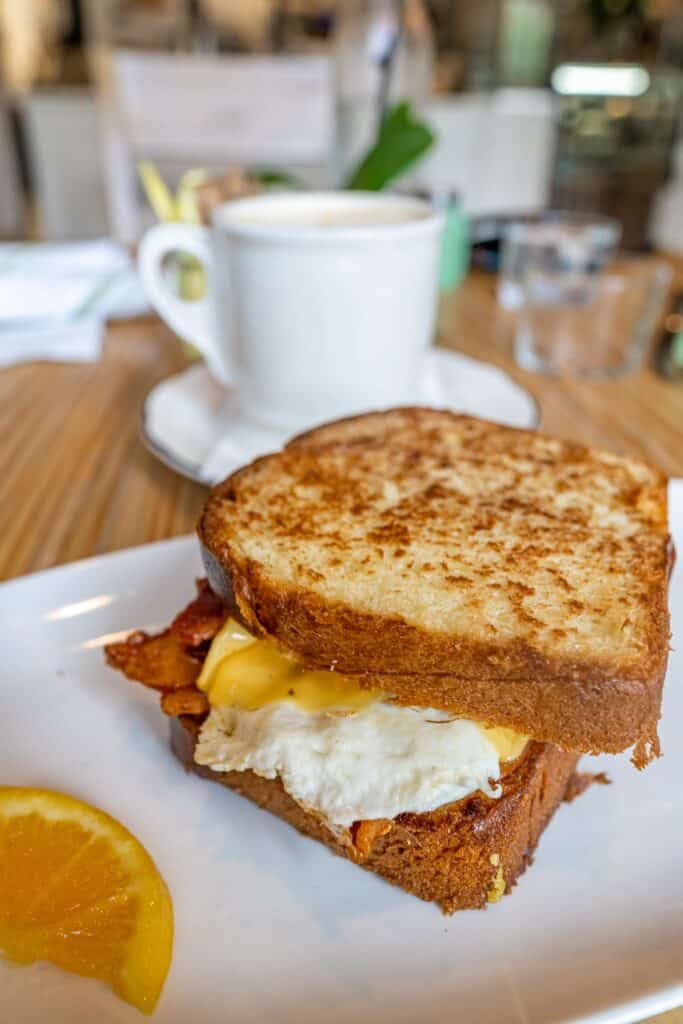 Where to Eat in Conroe for Texas BBQ
McKenzie's Barbecue & Burgers serves up all your BBQ favorites and even lets you choose your favorite cut of brisket, from lean to just the ends! Pair that with some of their Mac n cheese and fried pickles and you'll certainly leave satisfied! Then stop by for breakfast and gobble up biscuits, pancakes, an omelet made your way, or several varieties of a traditional country breakfast.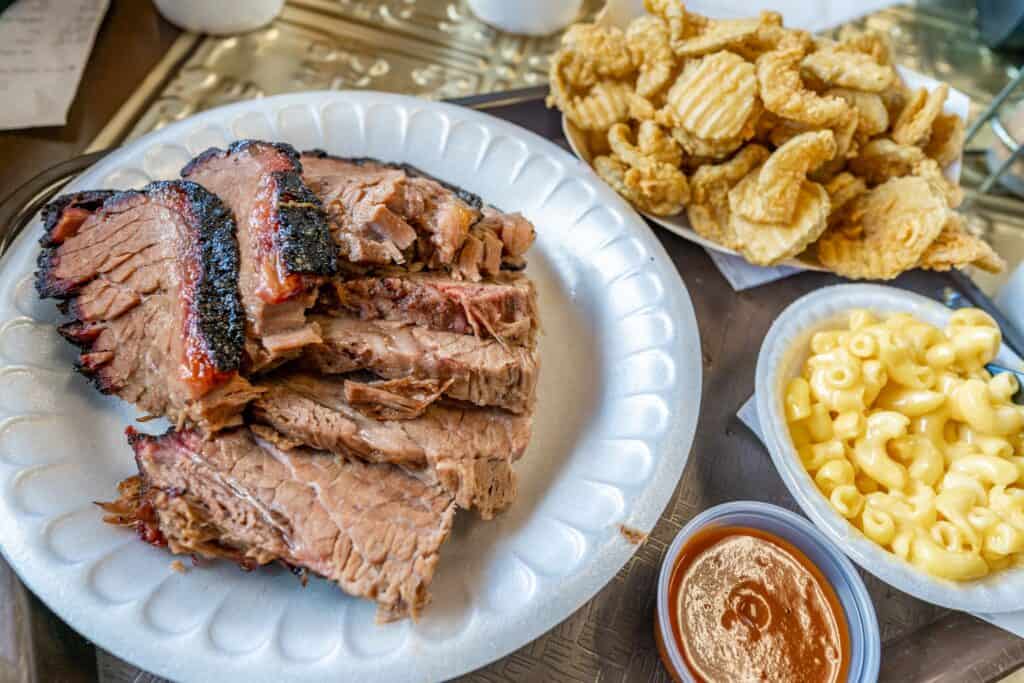 Where to Eat in Conroe for a Little Bit of Everything
There are so many places in Conroe for live music with a fun atmosphere, like Pacific Yard House. Their menu is filled with a mixture of Mexican fusion, BBQ, seafood, burgers, sandwiches, and pizza! Not to mention their irresistible appetizers that you'll undoubtedly order and share between you and your travel companions. Try one or two of the 30+ beers they have on tap or pass the time by splitting some of their unique cocktails with your friends. You could even order one of their two punch bowls for the table!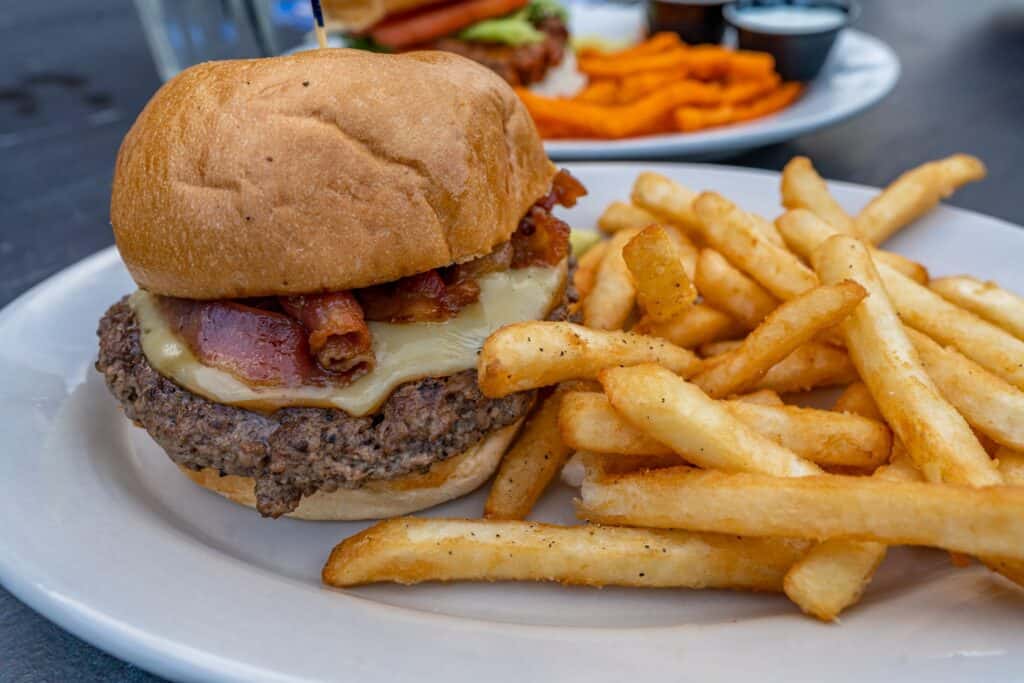 Where to Eat in Conroe for Pie
Now it's not every day you eat pie for breakfast but when you think about it, is eating pie really any different than a cinnamon roll or pancakes drenched in syrup! Pie in the Sky has a brunch special that includes a pie waffle with your favorite slice of pie! Can't decide what pie you want (it really is hard because they're all so good)? You can get their sampler. Just a warning though. You'll probably walk home with a pie or 5. They're that good!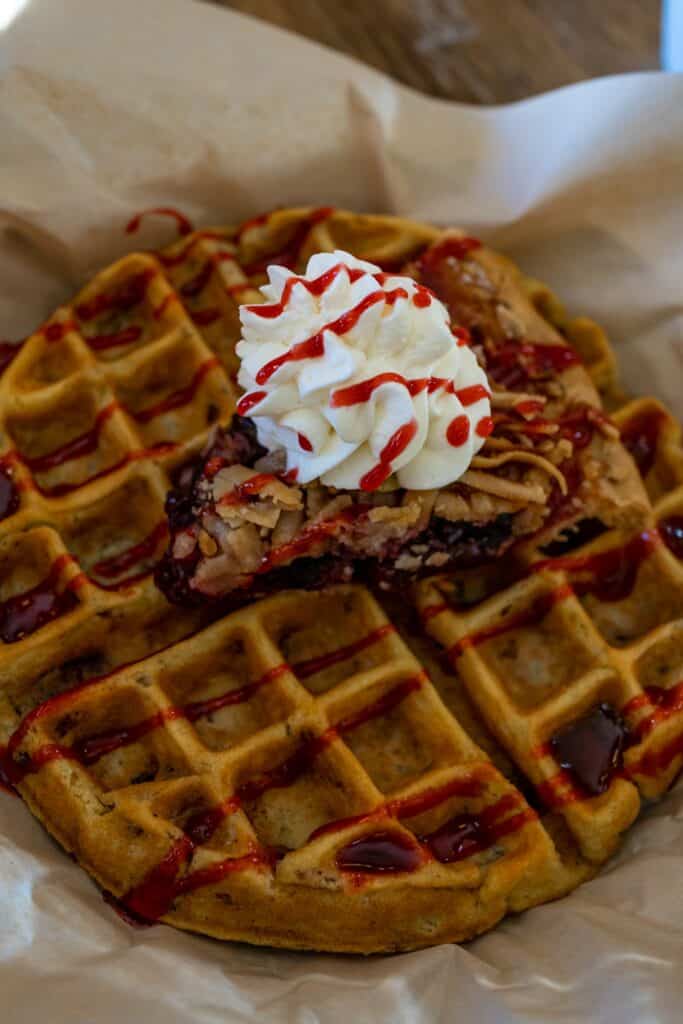 Where to Eat in Conroe for a Beach View
Margaritaville Resort on Lake Conroe is home to LandShark Bar & Grill, a bright meal-time destination that'll give you a peek at this tropical Texas resort. For more information, check out our review of our stay at the Margaritaville Resort in Conroe. Order their beach chips, served with cheese sauce, bacon, and sour cream and something tantalizingly tropical off their bar menu. Top the meal off with a sandwich, a burger, fish tacos, or their crispy shrimp basket and don't forget dessert!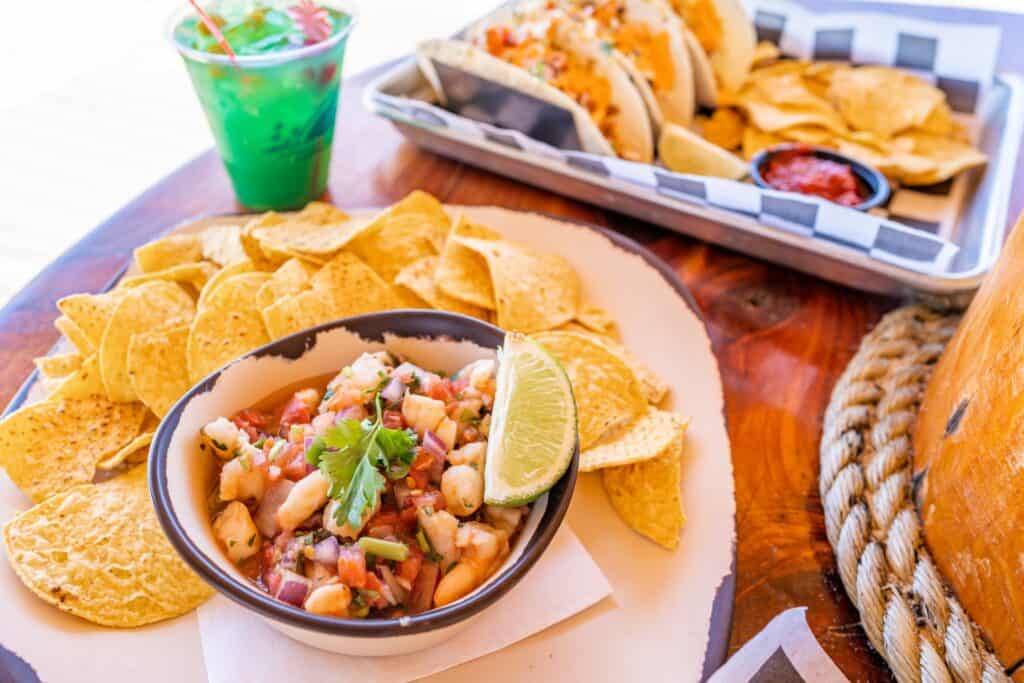 Where to Eat in Conroe for Cajun Food
For a scenic dinner overlooking the lake where you can watch the boats pull in, we headed to Monty's Lighthouse Cajun Bar & Grill. They have a delightful crab queso and so many flavorful seafood dishes. Choose from broiled, pan-seared, blackened, fried, or boiled seafood alongside traditional dinner-time favorites. And afterwards, you can enjoy a romantic stroll along the boardwalk.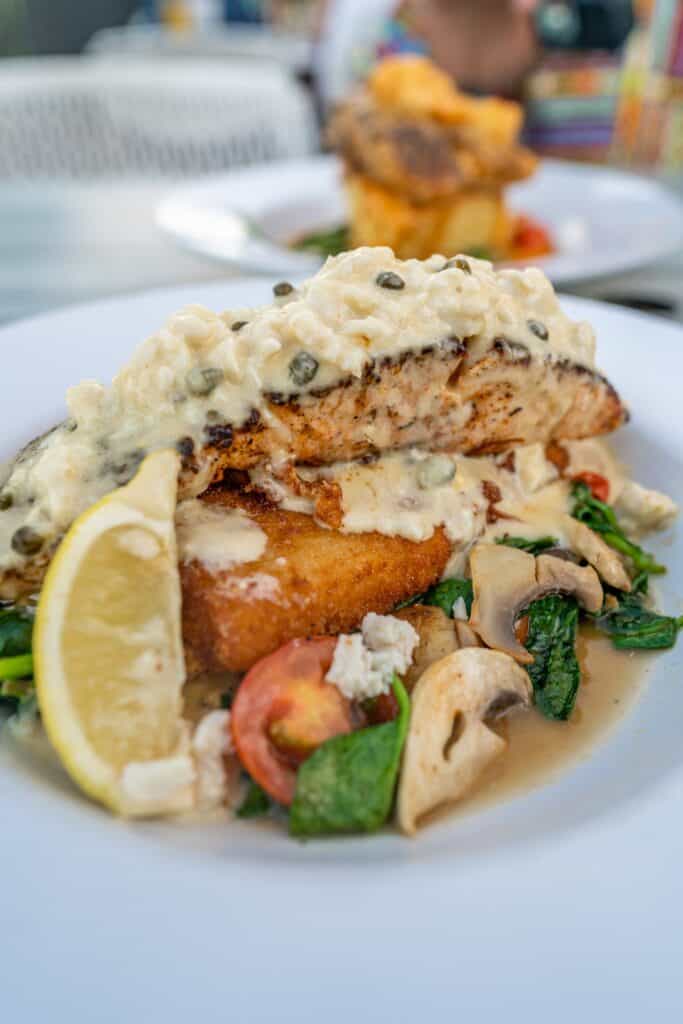 Where to Eat in Conroe for Traditional Mexican
The next morning, we woke up for some breakfast tacos at Taco Veloz. It's a tasty and affordable place to get traditional Mexican food in Conroe TX. For lunch or dinner, they also offer tacos, traditional Central American baleadas, nachos, burritos, tostadas, gorditas, quesadillas, and chicharrones. A cute red and blue food truck housed under a matching awning, it's a great place to enjoy the sun while satisfying your tummy.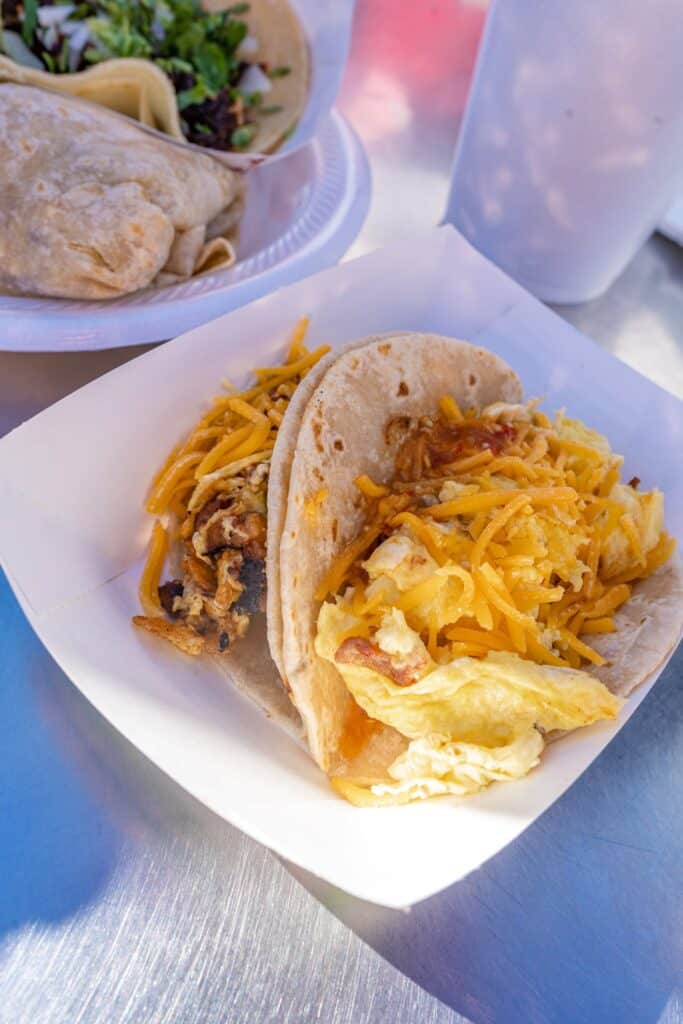 Where to Eat in Conroe for Pizza
Before heading out, we grabbed one last meal at Red Brick Tavern, with their skillet cornbread and a basil pesto pizza topped with steak and peppers. What pairs better with a great meal and a drink than live music? Try to line up your trip to Conroe with one of their live concerts of all varieties, their Songwriter Spotlight on Thursdays, or their Gospel Sunday Brunch.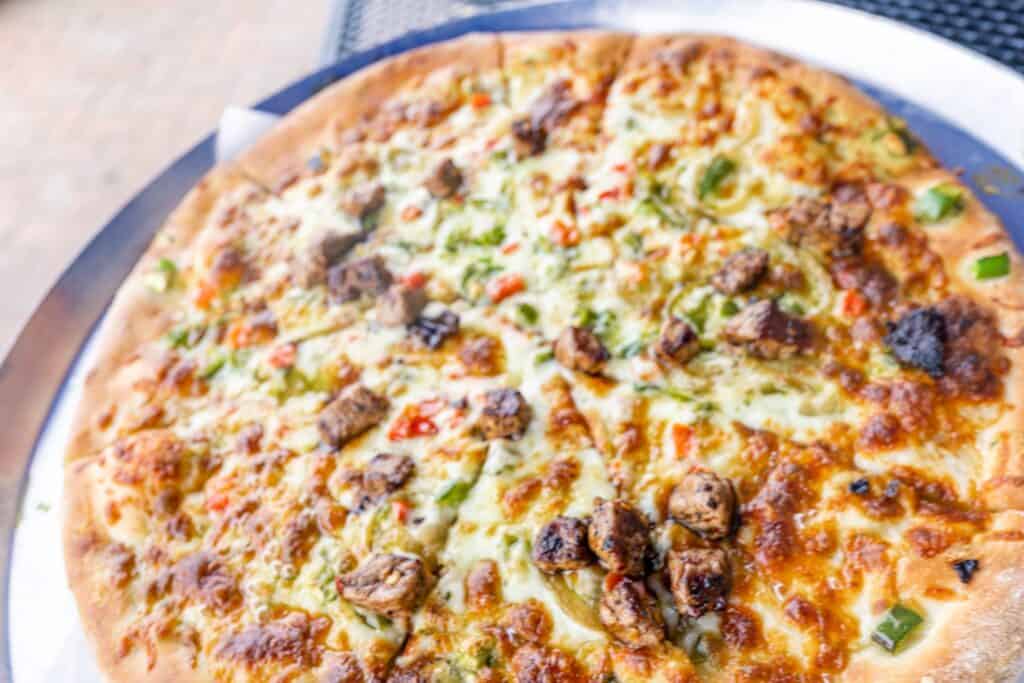 Final Thoughts: Where to Eat in Conroe TX
Conroe's eatery scene is the definition of Texas-style dining. It highlights the melting pot that is Texas while striving to make our favorite BBQ and seafood dishes bigger and better. Top it off with breath-taking scenery, live music, and great drinks and you're in for one heck of a foodie experience no matter where you choose to eat in Conroe, TX.