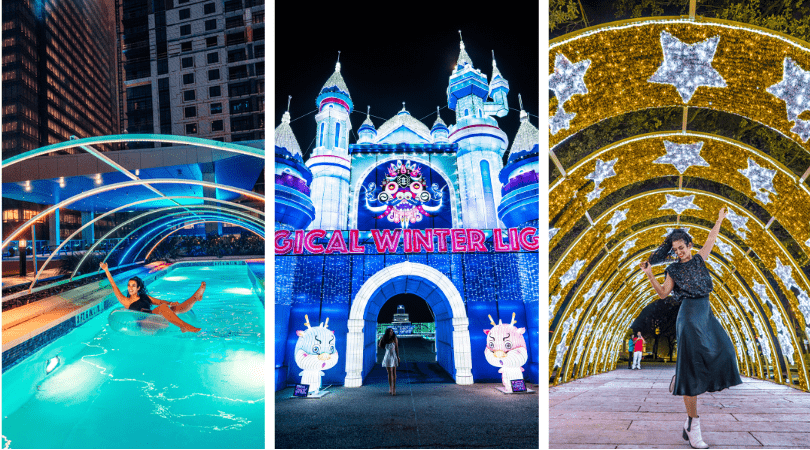 Looking for the best Christmas events & holiday things to do in Houston? Check out the fun light festivals, Christmas activities, holiday markets, seasonal pop-ups, and so much more!
With so much to do in Houston this time of year, you'll be feeling cheerier than ever! Bookmark this for next year as we round-up all the best Christmas events in Houston!
Holiday Blog Posts Across Texas
Fun Christmas Things to Do in Boerne
How to Spend Christmas in Fredericksburg
Fun Christmas Things to Do in Austin
Fun Christmas Things to Do in San Antonio
Dallas Holiday Blog Posts
Best Things to Do this Holiday Season
Holiday Christmas Bars & Restaurants
Best Places to See Christmas Lights in DFW
Plan a Holiday Staycation at the Adolphus Hotel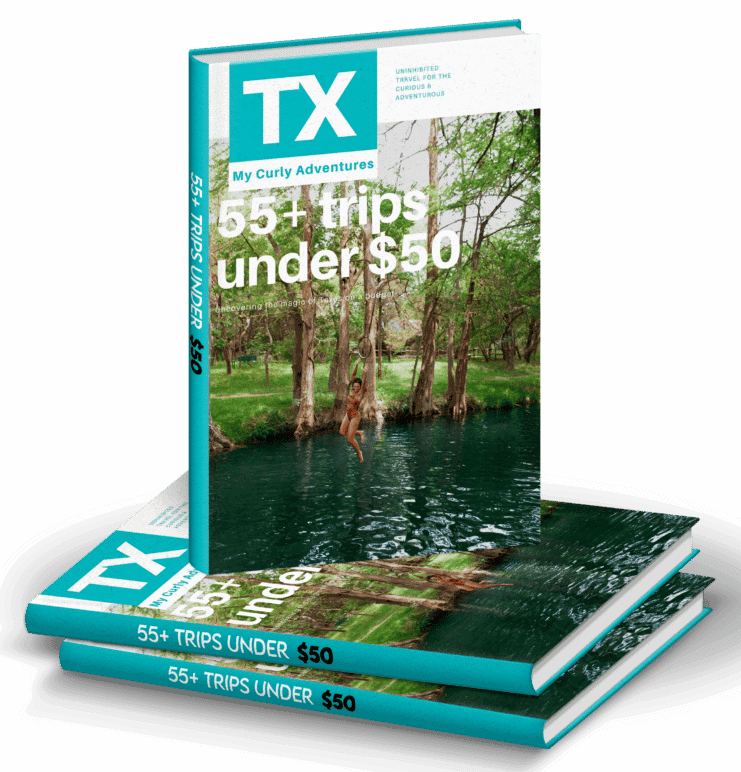 With our latest edition of our Texas Travel Guide, you can take an exciting vacation every
weekend without breaking the bank and still have more to do! And in just one trip, the guide
pays for itself! You'll be amazed at all the hidden gems, international influence, and wacky
attractions you'll find all over Texas!
Not ready to purchase quite yet? We wanted to make this guide as accessible as possible, so
we've shared our 1st edition of our guide, 50 Texas Trips Under $50. Click the button below
to get yours for FREE!
Downtown Houston Christmas Events
Want to see pretty Christmas lights and other unique displays for the perfect, free photo backdrop? Downtown Houston has a ton!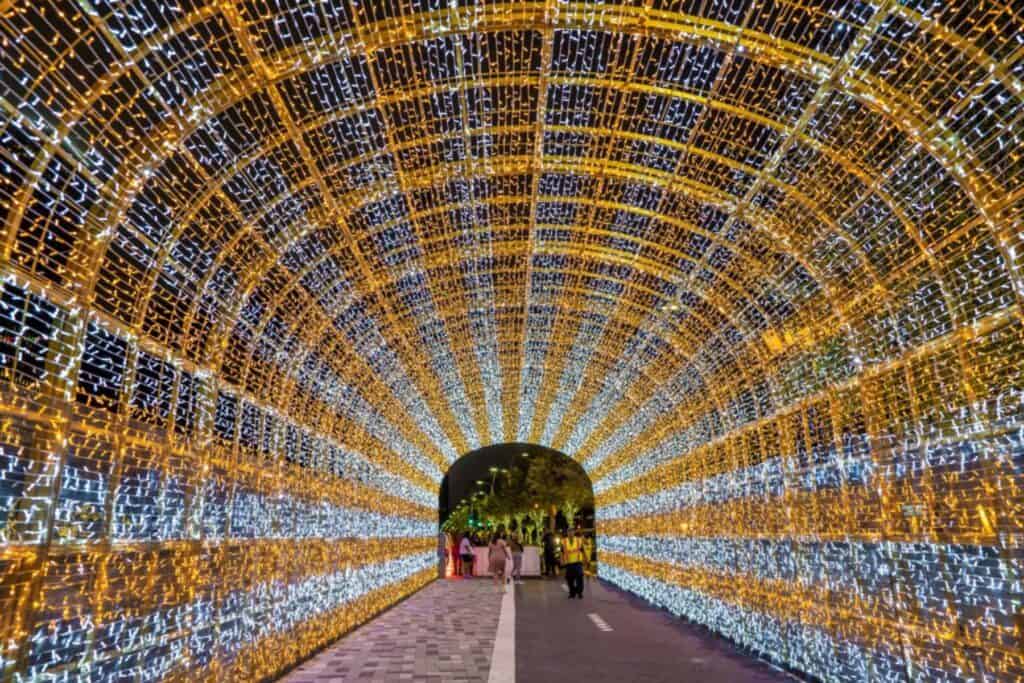 City Lights Downtown Holiday Magic (Nov. 17 – Dec. 31, 2023)
Turn the crank on 10 giant, interactive music boxes, each with their own unique tune, created by LeMonde Studio and enjoy activities like photos with Santa, the most festive, extravagant photo ops, light displays, and so much more!
Hop on board one of the FREE pedicabs (pick-up at Discovery Green, Lynn Wyatt Square, POST Houston, Trebly Park, and Market Square Park) and explore everything that downtown Houston has to offer this holiday season.
For a fee, you can also ride the Hop-on, Hope-off Holiday Trolley, with stops at the Trebly Park, Heritage Society, Avenida Houston/Discovery Green, Market Square Park, and POST Houston,
Grab one of the Holiday Passports for a chance to win a one-night stay at Hotel Icon, four tickets to a Theater District performance, and four tickets to a Houston Rockets game. They're available for pick-up at Market Square Park, Trebly Park, and Heritage Society.
The Holiday Passports feature the following 11 Holiday Villages that have popped up in downtown Houston:
Winter Wonderlawn
POST Skylawn's 5-acre rooftop park and garden will feature holiday lights, a 25-foot Christmas tree, and phenomenal skyline views! Children 5 and under are free, with tickets ranging from $7 to $10. Tickets are available online. Nov. 4, 2023 – Jan. 14, 2024.
Click here for a complete map of all the fun holiday things to do in downtown Houston!
Texas Winter Lights at the Marriott Marquis
The Marriott Marquis gained its notoriety from its spacious, temperature-controlled rooftop pool and lazy river. How could it get any better you ask?
For the last four holiday seasons, it's sixth floor rooftop has been decked out in colorful holiday lights, making it easy for everyone to be entertained, whether you're missing the summertime, or you'd rather be surrounded by Christmas decor.
Among the many delights for you to enjoy, expect festive cocktails, a wintry-themed menu, fantastic photo opportunities, and
To name a few things everyone will enjoy, there will also be festive cocktails, a themed menu, photo-ops, and a range of additional activities to add to the holiday cheer! Get your tickets online now for between $15 and $30! Nov. 10, 2023 – Dec. 31, 2023, 5 PM to 10 PM.
Ice Skate in Texas at Discovery Green
Looking for some wintertime outdoor activities? Green Mountain Energy Ice at Discovery Green offers outdoor ice skating for some wintery fun, even in Texas where we have 70-degree weather in December.
Plan your visit so you can experience live performances while you skate or catch sight of Santa! Tickets start at $17 and include your skate rental. Purchase yours online. Nov. 10, 2023 – Jan. 28, 2024.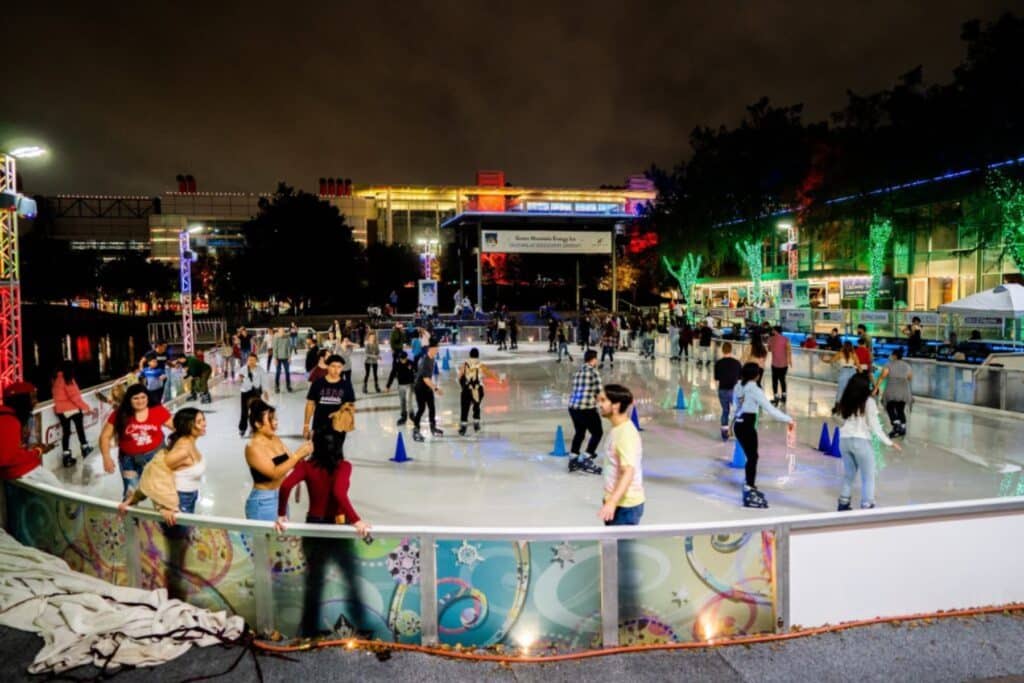 Deck the Trees (FREE)
If you are the type of holiday enthusiast that sees Christmas tree decor as an art, then this exhibit is for you! Alley Theatre and the George R. Brown Convention Center will have several 20-foot-tall Christmas trees on display for your viewing pleasure. Each venue has their own signature tree that matches a unique theme. Nov. 17 – Dec. 25, 2023.
On select weekends, you can catch live entertainment in The Plaza at Avenida Houston.
See a Chocolate Sculpture at the Hilton Americas (FREE)
Inside the lobby at the Hilton Americas, you'll find a hand-sculpted, chocolate sculpture made up of over 2,000 pounds of chocolate. Bring the kiddos for a fun photo op, especially if they love Super Mario Bros!
While you're at it, snap photos with all the holiday lights and 14-foot Champagne trees in the hotel lobby. Nov. 17 – Dec. 29, 2023.
Jingle Town (FREE)
Here, in Lynn Wyatt Square, you can catch three more of the interactive music boxes, as well as a beautiful, new greenspace. Nov. 17, 2023 – Jan. 2, 2024.
Winter Wanderland (FREE)
Fill your week with Christmas lights or explore downtown Houston on the weekends posing with all of the holiday installations along Bagby Street. There will be an 80-foot LED light tunnels and arches, 3D trees, and amazing photo ops stretching from Hobby Center to City Hall, like constellations and illuminated arches.
At Sam Houston Park, you can also snag a cup of hot chocolate, snap free pictures with Texas Cowboy Santa, an