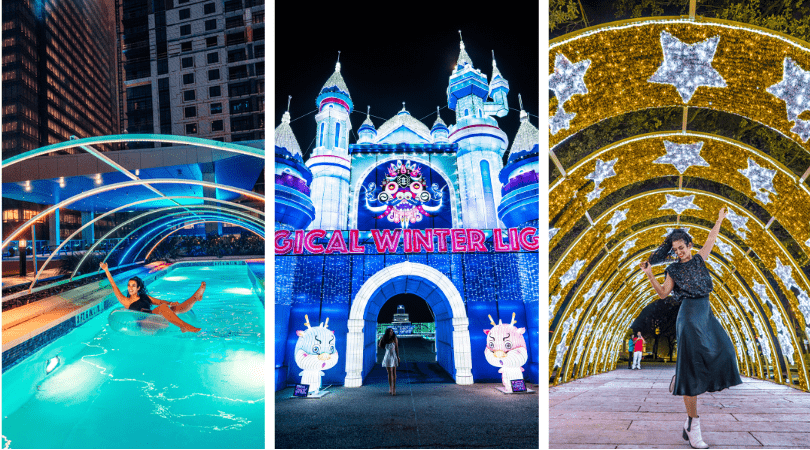 Looking for the best things to do in December in Houston to get into the holiday spirit? Check out the fun light festivals, Christmas activities, Christmas markets, holiday pop-ups, and so much more. With so much to do in Houston in December, you'll be feeling cheerier than ever! Bookmark this for next year as we round-up all the best Christmas activities in Houston!
Be sure to check our holiday guides for San Antonio, Dallas, Fredericksburg, and Austin too!
Things to Do in December in Houston: Free Holiday Displays & Activities
Want to see pretty Christmas lights and other unique displays for the perfect, free photo backdrop? Downtown Houston has a ton!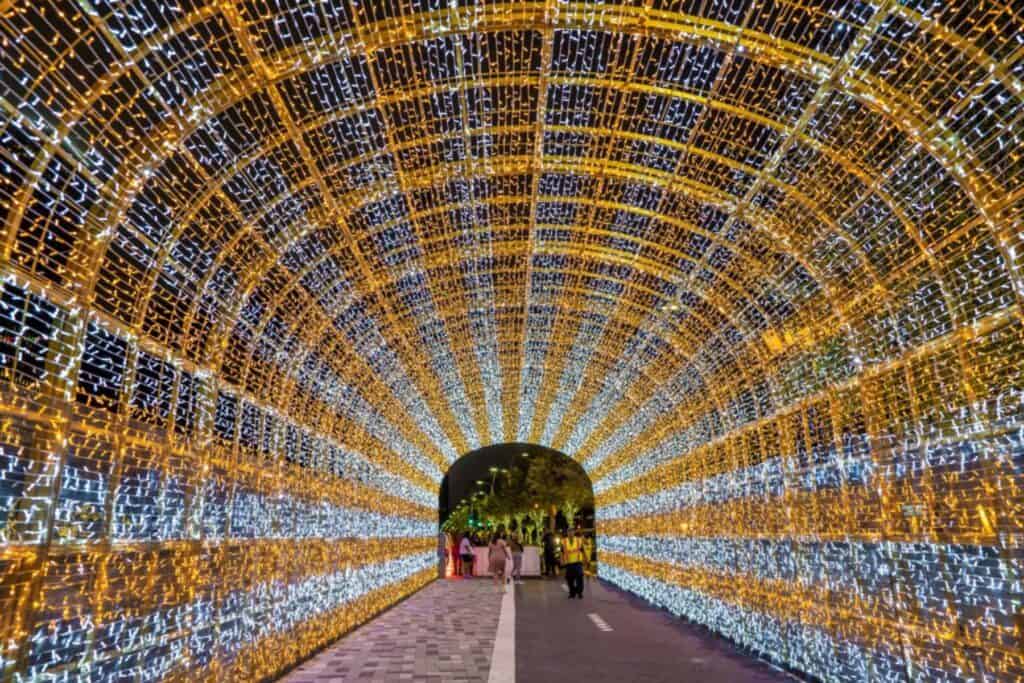 Sugar Plum Plaza
Pose with huge, custom ornaments inside Fish Plaza in front of the Wortham Theater. Nov. 18, 2022-Jan. 2, 2023.
See a Chocolate Sculpture
Inside the lobby at the Hilton Americas, you'll find a hand-sculpted, chocolate sculpture made up of over 2,000 pounds of chocolate. Bring the kiddos for a fun photo op, especially if they love the Minions! Nov. 17, 2022-Jan. 2, 2023.
Mistletoe Square
For the perfect backdrop for your cute couple photos this holiday season, pose in Mistletoe Square under a huge ball of mistletoe hanging from a 15-foot candy cane. Nov. 18, 2022-Jan. 2, 2023.
Deck the Trees
If you are the type of holiday enthusiast that sees Christmas tree decor as an art, then this exhibit is for you! Alley Theatre and the George R. Brown Convention Center will have several 20-foot-tall Christmas trees on display for your viewing pleasure. Each venue has their own signature tree that matches a unique theme. Nov. 18, 2022-Jan. 2, 2023. Free.
Sugar Land Holiday Lights
If seeing Christmas lights is one of your favorite things, Sugar Land Holiday Lights has taken the entirety of their local baseball field and turned it into an interactive work of art. With more than 3-million lights, plus 8-themed light exhibits, holiday shopping, a built-in carnival, yummy bites, and time with Santa (and you're four-legged friend(s) if you want to bring them along), you're in for a memorable night. Nov. 18, 2022-Jan. 1, 2023, hours vary. Free.
Winter Wanderland on Bagby Street
Fill your week with Christmas lights or explore downtown Houston on the weekends posing with all of the holiday installations along Bagby Street. There will be an 80-foot LED light tunnels and arches, 3D trees, and illuminated angel wings. Nov. 18, 2022-Jan. 2, 2023, 7AM to 9PM.
River Oaks Boulevard Lights
Take a drive through the River Oaks neighborhood with its 1,600 estates and mansions decorated to the nines with all kinds of holiday displays. According to their Facebook page, the best houses can also be found on Inwood Drive and Del Monte Drive, where you'll find the "River Oaks Santa House." You can find other Christmas activities (for an additional charge) in the River Oaks neighborhood as well, like the Christmas Village on the Ima Hogg Estate. Be mindful that parking is limited, and it is recommended you drive-through rather than parking and walking the area. Lasts until Dec. 26, although some houses will remain lit until the Feast of the Three Kings, 5PM to 10PM nightly.
Free Pictures with Santa
Visit Community First ER for pictures with Santa and the whole family! Reserve your spot online. Dec. 17, 2022, 9AM to 11AM, 1101 East Blvd. Deer Park, TX, 77536. Free.
Visit Santa's Village
Santa and his elves will be in downtown Houston for pictures. There will also be a vendor market with gift wrapping, an ornament-making station, music, and hot chocolate all along Main from Dallas St. to Commerce St. Every Friday & Saturday, 6PM to 9PM.
The Gingerbread Build-Off
Although they are no longer accepting registrations, the 13th Annual Gingerbread Build-Off will be quite the spectacle, with teams made up of local architecture firms, design professionals, and more! There will also be a Kid's Zone, a scavenger hunt, and Santa will be in attendance. Dec. 10, 2022, 10AM to 5PM. Free.
Annual Old Town Spring Home
If all these Houston Christmas activities haven't curbed your holiday excitement, visit the 41st Annual Old Town Spring Home this year. Here, you can explore a historic Texas storefront in the Woodlands, complete with shops of all kinds, museums, galleries, and Christmas lights after the sun sets. Nov. 12-Dec. 24, 2022. Free.
Grab Holiday Brunch
At the Holiday Brunch Mixer and Market at the Pitch 25 Beer Park, find last-minute Christmas gifts from local vendors; participate in yoga, a fitness bootcamp, or an Ugly Sweater Contest; jam out to live performances and snap photos with Santa. Then, indulge in some brunch and drinks! Dec. 11, 2022, 11AM to 6PM. Free (yoga/bootcamps are $5).
A Gingerbread Craft for the Kids
A Christmas addition to the Houston Center for Contemporary Craft's monthly art workshop, you're welcome to drop in and create your own unique gingerbread man/woman to add to your holiday decor. The activity will last 15-to-20-minutes but you'll leave with a memory that'll last for many Christmases to come! Reserve your spot online. Dec. 3, 2022, 11AM to 3PM. Free.
The 61st Annual Christmas Boat Parade
Watch a spin on a Christmas parade that you'll only find in the Bay Area. The 61st Anniversary Christmas Boat Lane Parade will feature 60 decorated boats that will float from the South Shore Harbour Marina and the Nassau Bay Lagoon to Galveston Bay. Watch from your own boat along the channel or watch from Nassau Bay and the Kemah Boardwalk. The parade will also kick off with fireworks! See their website for a map of the parade route. Dec. 10, 2022, 6PM (at Nassau Bay Lagoon) to 7:30PM (Seabrook and Kemah Boardwalk). Free.
Attend a Houston Who-billation
Visit the annual Gingerbread Village and you'll feel as if you've been dropped into a game of Candy Land with picture-perfect backdrops. While here, visit Santa for free pictures, attend the Mayor's Holiday Spectacular where they will light the official holiday tree, participate in a karaoke sing-along, and attend your first Ugly Sweater Stroll. Nov. 28, 2022-Jan. 7, 2023, 6AM to 11PM. The Mayor's Holiday Spectacular: Dec. 3, 6PM. Free.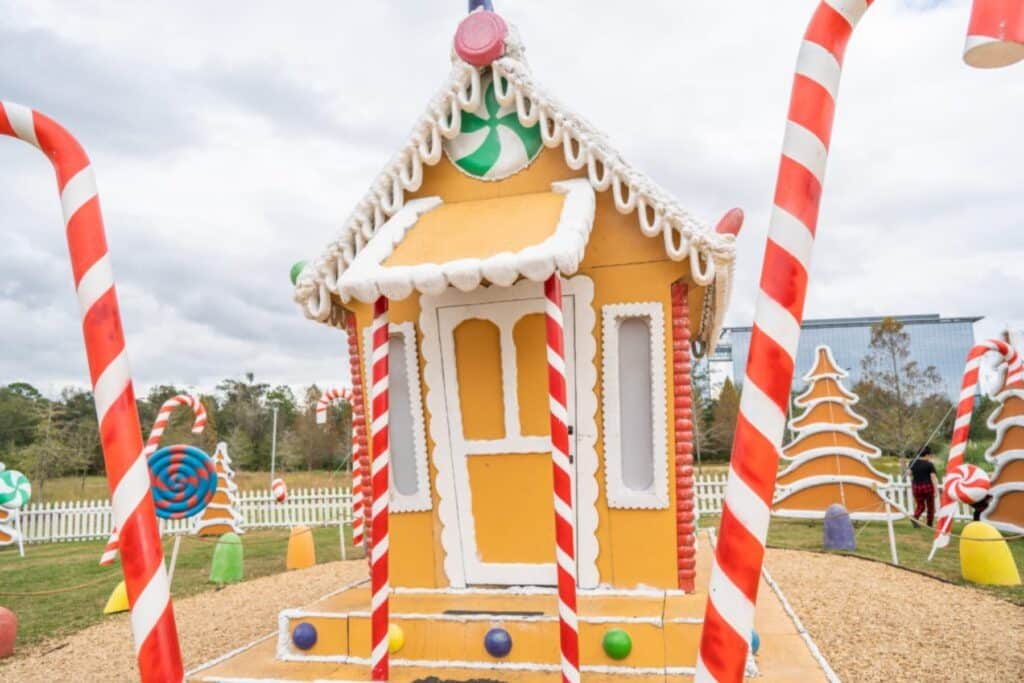 Things to Do in December in Houston: More Christmas Activities
Texas Winter Lights by the Pool
The Marriott Marquis gained its notoriety from its spacious, temperature-controlled rooftop pool and lazy river. How could it get any better you ask? For the last three holiday seasons, it's sixth floor rooftop has been decked out in colorful holiday lights, making it easy for everyone to be entertained, whether you're missing the summertime, or you'd rather be surrounded by Christmas decor. To name a few things everyone will enjoy, there will also be festive cocktails, a themed menu, photo-ops, and new light displays! Get your tickets online now! Nov. 11, 2022-Jan. 8, 2023, 5PM to 10PM.
The Magical Winter Lights
One of the joys of the holiday season is seeing Christmas lights strewn everywhere you go, but the Magical Winter Lights show will blow your mind! Covering over 20-acres with all sorts of themed displays celebrating Houston and the holiday season, as well as carnival food, games, an interactive dinosaur kingdom and opportunities to meet Santa, you're in for a night filled with Christmas spirit and fun. Check their website for information on upcoming live performances and ticket prices. Nov. 18, 2022-Jan. 7, 2023, hours vary, closed Jan. 2-Jan. 4, 2023.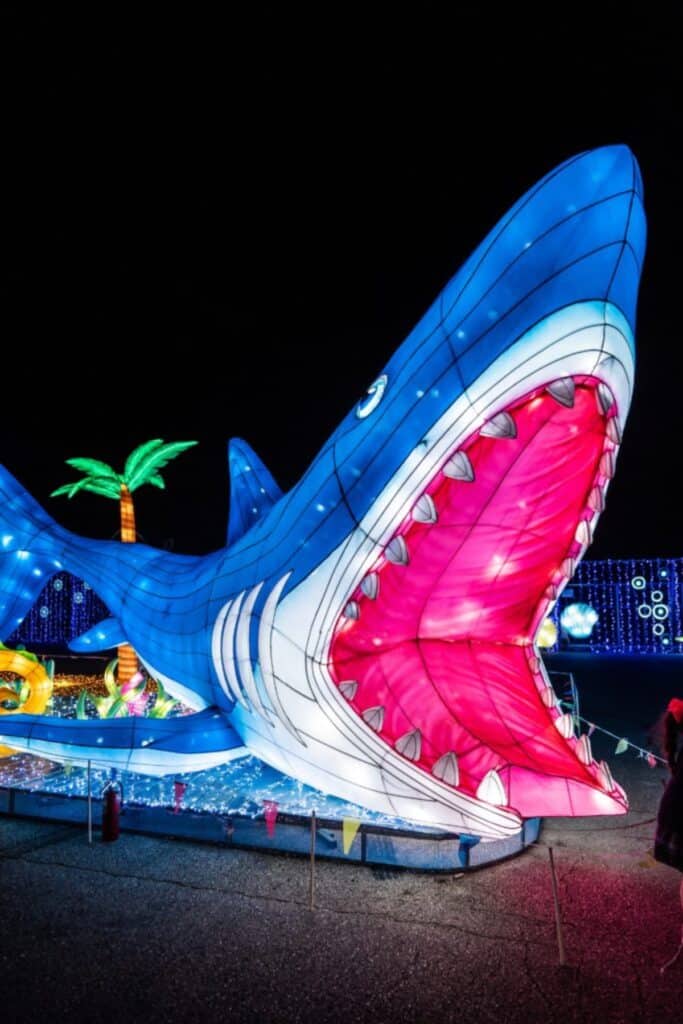 Visit a Christmas Theme Park
If you're obsessed with Christmas, Moody Gardens in Galveston has created a holiday wonderland that you won't want to miss out on. This hotel has created a Christmas-themed Disneyland with attractions like a festival of lights, an arctic slide, Christmas-themed 3D movies, a 4D Rudolph show, and a New Year's Palooza. And keep an eye out for Santa! Extend your Christmas-themed itinerary and book a stay at Moody Gardens for a night or two for a spin on your typical Christmas. They are even open Christmas Day! Tickets can be purchased online. Nov. 19, 2022-Jan. 7, 2023, open daily from 10AM to 5PM, 12PM to 5PM on Christmas Day.
Dasher's Drive-Thru
Chilly nights might make you want to stay in, but you can still get out and celebrate the holidays from the warmth of your car. Dasher's Drive-Thru offers light tunnel slots every 30 minutes, along with Christmas displays synced to music. There is also a Park & Watch package you can add-on if you'd like, which includes 10 redeemable tokens for activities like an inflatable obstacle course, Santa photos, character photos, souvenirs, plus food and drinks! Tickets and parking passes can be purchased online. Nov. 18-Dec. 31, 2022, 6PM to 10PM.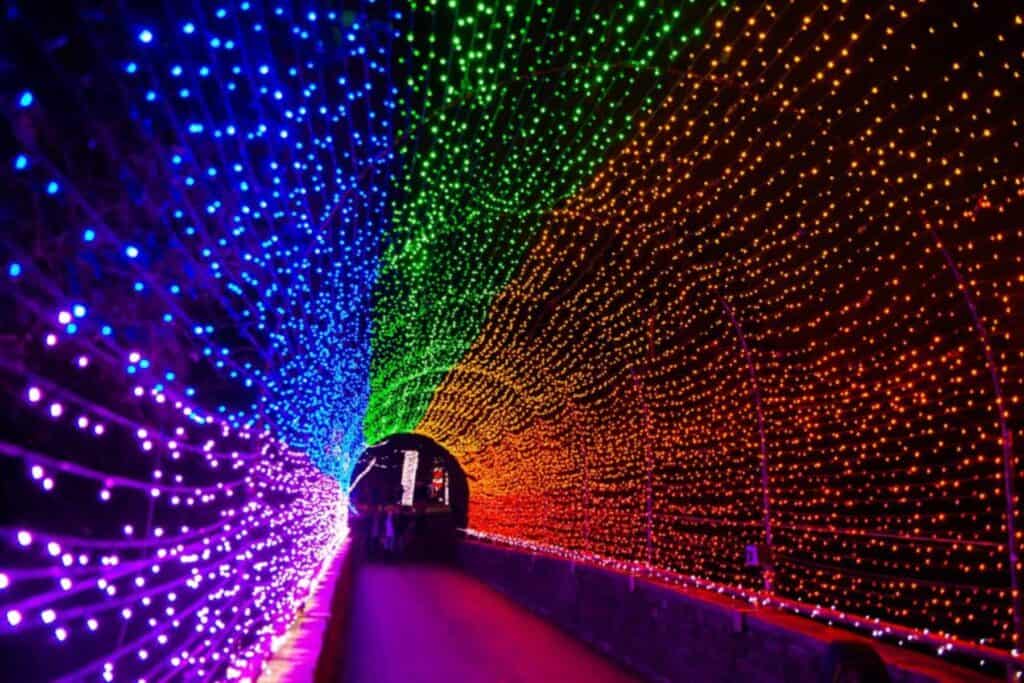 Visit the Museum of Fine Arts
Houston's very own Museum of Fine Arts is going all out for you and your family this holiday season. The Bayou Bend Collection and Gardens offers unique ways to celebrate Christmas while simultaneously learning and exploring the outdoors. Your blossoming little ones who are exploring the world will be able to play iSpy with life-size reindeer statues, search for butterfly ornaments amongst indoor Christmas decor, play with Christmas handbells, and admire the decked-out trees and Christmas-themed illustrations from the largest Christmas storybook you've ever seen!
With opportunities to take pictures with Santa, see a handcrafted model train, and tons of Christmas lights that offer great backdrops for your Instagram photo-op, this is a stop you won't want to miss! Tickets can be purchased online. Dec. 9-30, 2022 (closed Dec. 24 & 25), hours vary, tickets are free for children 4 years and under.
See Santa's New Ride
Santa's making a pitstop at the Lone Star Flight Museum where children can watch him taxi a PT-17 Stearman plane and then hangout with him and Mrs. Claus while participating in holiday crafts and story time. Access to the Holiday Market is also complimentary with a general admission ticket. Dec. 3 & 17, 2022, 11AM to 12:30PM; Dec. 10, 2022, 10:30AM to 2PM (does not include Santa's arrival). There is also a ticket option that includes a private breakfast with Santa: Dec. 10, 2022, 8:30AM to 10:30AM.
Visit the Botanic Gardens
The Houston Botanic Gardens have brought back Lightscape by Reliant, but with two all-new light displays that are seeing the US for the first time! They will be positioned all throughout the garden, set to holiday music, along with holiday photo backdrops and firepits for s'mores! Tickets can be purchased online. Nov. 18, 2022-Jan. 1, 2023, entry between 5:30PM & 8:30PM (officially closes at 10PM), children 2 years and under are free. On-site parking: $20.
Ride a Christmas Train
You can take an open-air train ride on the Christmas Train in Alvin while enjoying beautiful displays of Christmas lights. This family-friendly event offers a place to grab a bite of pizza, a hot cup of cocoa or other sweet treats to satisfy your sweet tooth. A general store is also available to pick up some keepsakes. Tickets can be purchased online. Nov. 25-26, Dec. 1-3, Dec. 8-10, Dec. 15-23, 2022, 6PM to 9PM, kids 2 and under are free.
Get Professional Photos with Santa
The Houston Museum of African American Culture will be hosting breakfast with Santa & Mrs. Claus along with a Holiday Market, making it a merry way to start your day with the whole family! There will be holiday crafts, a sing-along, and professional photos with Santa! Early access to the museum will also be provided with your ticket purchase. Dec. 3, 2022, breakfast 8AM to 10AM, Holiday Market 11AM to 4PM, one complimentary adult per child.
Galaxy Lights
Experience Space Center Houston in a whole new way with Galaxy Lights, an immersive holiday experience with some displays that are so large, they have to be outside. You'll see kinetic lights, a 20-foot Christmas tree, and 3D holiday decor; you'll drink hot cocoa, eat holiday snacks, and roast s'mores by the fire, and you'll have the chance to learn a little about light, interact with light exhibits underneath and inside the aircraft on site, and dance under flurries from a snow machine. Tickets can be purchased online. Nov. 12, 2022-Jan. 1, 2023, 6PM to 10PM, kids 3 and under receive free admission.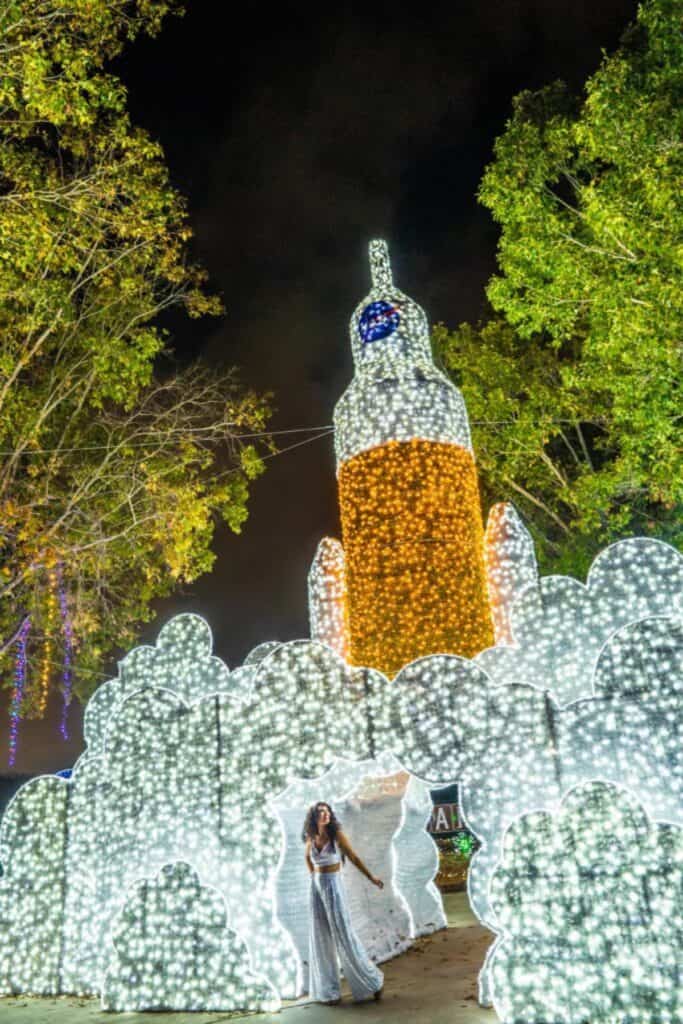 Dine in the Dark
Experience a dinner date in a whole new way this holiday season. Before entering a dark dining room, you'll be able to enjoy drinks together before being blindfolded and seated. Then, you'll be served a special, two-course Christmas meal with options for those with dietary restrictions. Book your spots online now before they're sold out! Dec. 7, 2022, 6PM to 7:30PM.
Support a Good Cause
The "Jingle All the 5K/10K" will give all their proceeds to the non-profit, Memorial Assistance Ministries, this holiday season. Whether you're looking to work on your endurance or just go on a spirited walk with your family, this is a great way to surround yourself with some holiday cheer. Everyone who participates will receive a complimentary medal, merch, time with Santa, and refreshments, including from the brewery, Saint Arnold. There is even a virtual option available if you'd like to give but aren't able to make it to the physical race location. Tickets can be purchased online. Dec. 3, 2022, 8:15AM (Kid's Dash begins at 8am).
Ice Skate in Texas
Looking for some wintertime outdoor activities? Green Mountain Energy Ice at Discovery Green offers outdoor ice skating for some wintery fun, even in Texas where we have 70-degree weather in December. Plan your visit so you can experience live performances while you skate or catch sight of Santa! Tickets can be purchased online. Nov. 19 & 26, Dec. 3, 10, & 17, 2022, 7PM to 8PM.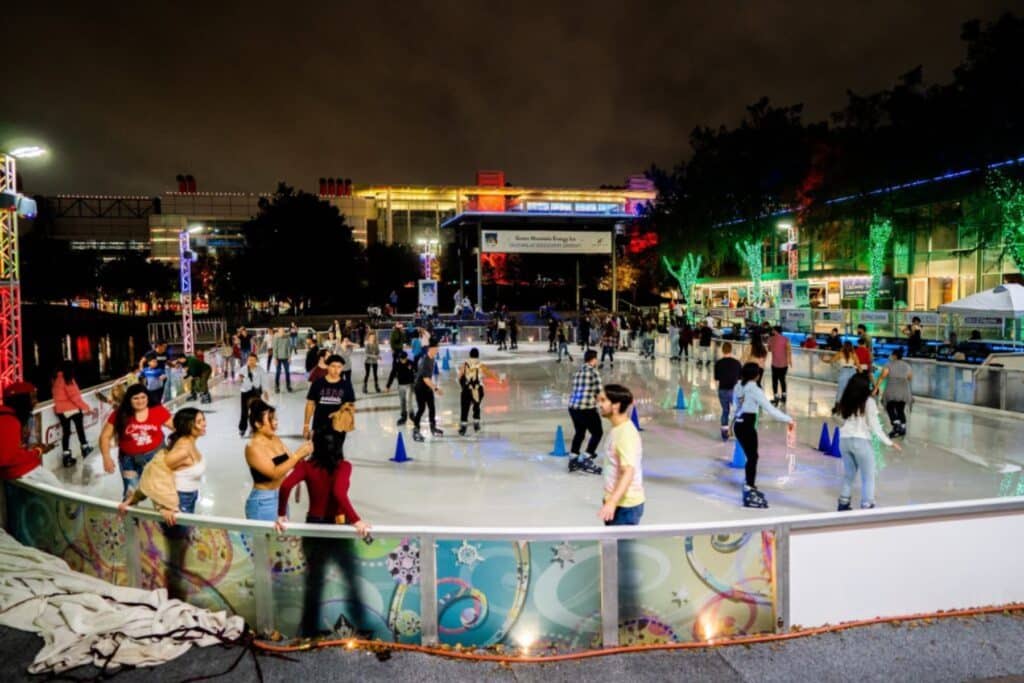 Things to Do in December in Houston: Attend a Holiday Performance
A Christmas Carol
Visit Alley Theatre to catch the classic Dickens story, A Christmas Carol. Make this a new family tradition for the holidays and watch the story unfold on stage in a whole new adaptation of this classic tale in an intimate setting. Tickets can be purchased online. Nov. 18-Dec. 30, 2022.
A Texas Twist on a Classic Christmas Tale
What-a-burger is a Texas treasure, so Houston's Alley Theatre is hosting a twist on the classic, A Christmas Carol. In this rendition, Scrooge is a Texan named Margot who is working the drive-thru at our state's favorite restaurant on Christmas Eve night when she is also visited by ghosts. This performance features Latinx performers and was written by Texan playwright, Isaac Gómez. Tickets can be purchased online. Dec. 2-Dec. 24, 2022, times vary.
Go to the Ballet
Get tickets to The Nutcracker at the Houston Ballet this holiday season and watch the 4th largest ballet company in the US perform their interpretation of this classic Christmas time story. Make this a new holiday tradition with an abridged version of The Nutcracker that even children will love. Tickets can be purchased online. Last performance is Dec. 27, 2022.
Assist the Humanitarian Effort in Ukraine
The classic ballet performance of the Nutcracker is one-of-a-kind. However, you've never seen the Nutcracker performed like this! With not only dancers, but acrobats, large puppets, white doves, and handmade marionettes, the "NUTCRACKER! Magical Christmas Ballet" will be touring again this holiday season after two years due to COVID. A portion of the proceeds will be donated to help those effected by the war in Ukraine. Choose your desired seats and purchase your tickets online. Dec. 28, 2022, 7PM.
See a Historic Live Performance
The Houston Symphony will be performing Handel's "Mesiah," complete with a chorus, full orchestra, and guest soloists. "Messiah" was first performed in Dublin back in 1742, making this performance 200+ years old, and one of the Western world's most widely performed pieces of music. Tickets can be purchased online. Dec. 9-11, 2022, show times will vary.
Cirque Dreams Holidaze
Performing Arts Houston will be putting on four shows of Cirque Dreams Holidaze, an eye-catching, festive show for the whole family! There will be holiday characters, new renditions of classic Christmas songs, and an array of circus acts! Tickets can be purchased online. Dec. 23 & 24, 2022, showtimes vary by day.
A Magical Cirque Christmas
There will also be a showing of a similar show, "A Magical Cirque Christmas" in Sugar Land at the Smart Financial Centre. There will be comedy, singing, and magic! Purchase your tickets online. Dec. 29, 2022, 7:30PM.
Holiday Follies 2022
If you're looking for even more song, dance, and circus acts, get a ticket to Holiday Follies 2022 by Stageworks, inspired by the Vaudeville and Follies shows of the late 19th century. Tickets can be purchased online. Dec. 9, 10, 11, 16, 17, & 18, 2022, showtimes will vary.
Things to Do in December in Houston: Eat, Drink, & Be Merry
Breakfast with Santa at the Woodlands Resort
Are your kids a big fan of Santa? Stop by the Woodlands Resort and get breakfast with Santa! Snap plenty of photos for your Christmas cards and bring the Christmas magic to life for your little ones. Tickets can be purchased online. Dec. 3, 4, 10, 11, 17, 18, 2022, 9AM to 1PM, kids 5 and under are free.
Houston's Christmas Miracle Pop-up
Perhaps you need a night out away from the kids, or maybe you're single and want to attend an adult holiday activity. Houston's Christmas Miracle, an immersive, Christmas-themed, pop-up cocktail bar, offers the perfect way to celebrate Christmas. Ugly sweaters are encouraged, and Christmas-themed spirits will be served! This pop-up is available at two local bars. Johnny's Gold Brick will be taking reservations, but Winnie's will be walk-in only. Santa's Speakeasy will be offered as a private holiday lounge (10-25 people) this year. Pick what you'd like and plan your best Christmas party yet without having to host or clean-up afterwards. Nov.25-Dec.30, 2022, hours vary by day and location.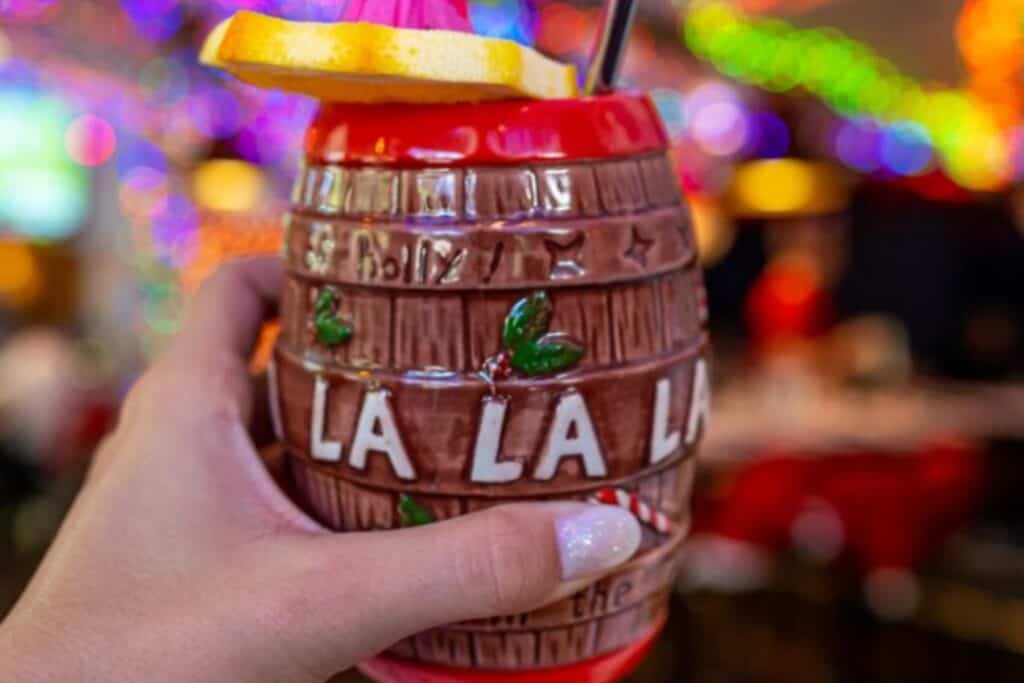 Pop Fancy's Holiday Pop-up
Pop Fancy is known for their fun pop-ups, and they do not disappoint with this year's Christmas pop-up, featuring all of your favorite wintertime tales, like Harry Potter, Narnia, the Nutcracker, and more! Their limited time menu will feature items like Butter Beer Three Ways, Sorting Hat Elixirs, Melted Snow Man Hot Cocoa, and other treats from the Snow Queen's Palace. Dec. 9, 2022-Jan. 1, 2023, 1PM to 10PM daily. Reservations are required Fridays through Sundays.
Rudolph-tini at Brass Tap
Brass Tap in Houston has added some festive items to their menu featuring different holiday themed martinis. Try a Rudolph-tini with a cherry red nose and cinnamon stick antlers or their other drinks with roasted marshmallows on top. Beginning Dec. 3, 2022.
Festive Conchas at Arandas Bakery
Arandas Bakery is famous for making their large self-service style panaderias that Houston has become known for. They're all about quality ingredients using all natural items and even grounding their own cinnamon. When it comes to conchas they are also known for getting creative with Santa conchas as well as other holiday treats. Grab your tamales here as well! Get yours now at all 6 locations!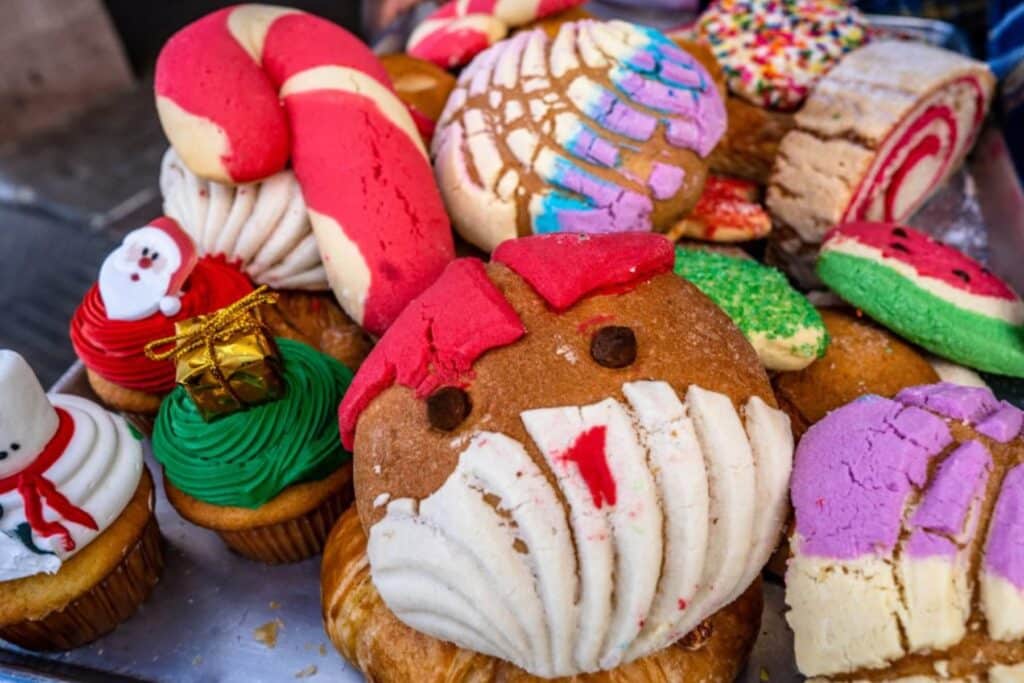 Houston SantaCon 2022
Whether you want to go all out and dress up like Santa the way Chandler did on the show, FRIENDS, or you're looking forward to wearing a festive headband and your favorite ugly Christmas sweater, you'll blend right in at Houston's SantaCon Bar Crawl. There will be live music, food and drink specials, and free entry into the best bars in Houston! Get your tickets online. Dec. 3, 2022, 1pm, 21+ only.
Porch Swing Pub
If you're looking for fun Christmas photo ops, activities like Christmas Trivia on Thursdays, cocktail specials, and festive food items, Porch Swing Pub has them all! Bring your pup along too and enjoy their dog-friendly patio! Reservations can be made online.
Riva's Italian Restaurant
Decked out in all of the tinsel, inflated Christmas characters, and most importantly, Christmas lights on every wall, Riva's Italian Restaurant is here to provide you a warm atmosphere with the best comfort food there is: Italian food!
Things to Do in December in Houston: Shop Local
Home for the Holidays Market
Enjoy 100+ vendors, a complimentary photo booth, a Santa sighting, food trucks, and wine/cocktails at the Home for the Holidays Market in Humble. Come and knock out your Christmas shopping, then kick back and relax. It's the perfect place to do both! Parking and tickets for children 12 and under are free! Dec. 2-3, 2022, 10AM to 6PM, purchase tickets online or at the gate.
Mrs. Kringle's Claus-ette
Shop at an outdoor artisan market and admire the handcrafted wreaths inside the Municipal Court/Theater Building made in honor of those with breast cancer. See one you can't live without? There will also be a silent auction until Dec. 3! Dec. 2, 2022, 10AM to 4PM. Free.
The Hollydays Market
Much like the Home for the Holidays Market, the Hollydays Market in Rosenberg will have Santa, food, and drinks, but even more days for shopping! Parking and tickets for children 12 and under are free! Dec. 2-4, 2022, 10AM to 6PM (11AM to 4PM Sunday), purchase tickets online or at the gate.
Tomball German Fest Christmas Market
Didn't get to attend Oktoberfest this year or you're just looking for a fun way to get some shopping done? The Tomball German Fest Christmas Market will have 160+ vendors selling German heritage items and more to help you with your gift giving this holiday season. There will also be live music, food, a parade, and a keg tapping ceremony. Dec. 9-11, 2022, events and hours vary by the day. Free admission, parking, and a weekend shuttle.
Things to Do in December in Houston 2022: Final Thoughts
End your holiday experience exploring other great Texas cities like San Antonio, Dallas (including festive bars and restaurants), Fredericksburg, and Austin to discover what other Christmas activities you might enjoy! Make sure to bookmark this list for when we update it for December of 2023!