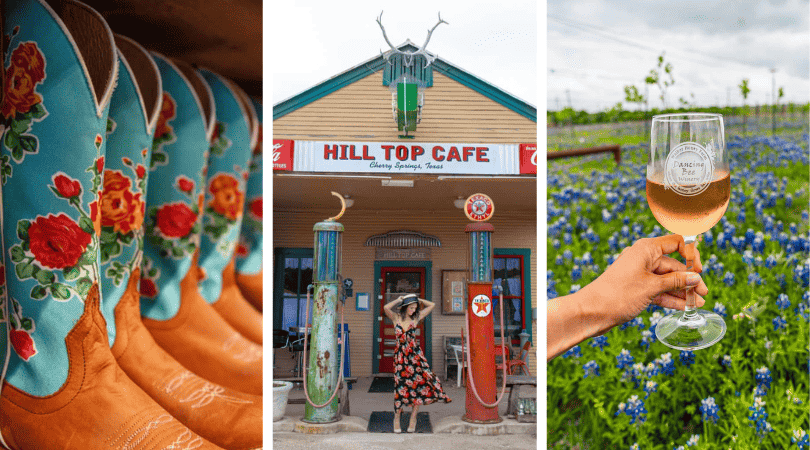 Escape the hustle and bustle of Austin, Texas, and explore a myriad of exciting day trips just a stone's throw away. Explore the scenic landscapes of Texas Hill Country, filled with vineyards and wildflowers, the historical landmarks of San Antonio, and the laid-back vibe of Waco. A wealth of experiences awaits right at Austin's doorstep!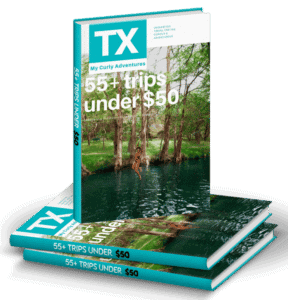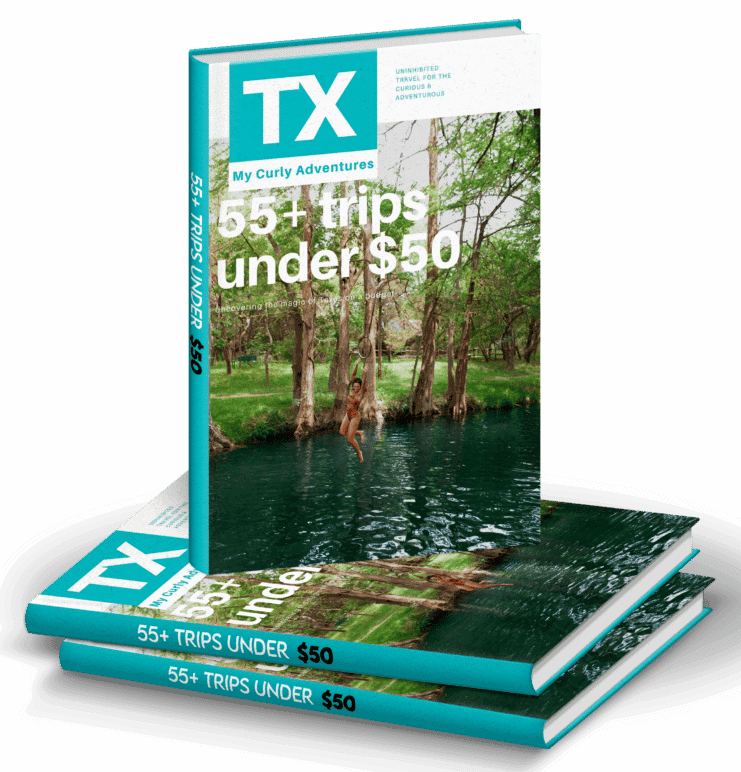 With our latest edition of our Texas Travel Guide, you can take an exciting vacation every weekend without breaking the bank and still have more to do! And in just one trip, the guide pays for itself! You'll be amazed at all the hidden gems, international influence, and wacky attractions you'll find all over Texas!
Not ready to purchase quite yet? We wanted to make this guide as accessible as possible, so we've shared our 1st edition of our guide, 50 Texas Trips Under $50. Click the button below to get yours for FREE!
Day Trips Less Than 1 Hour From Austin TX
Dripping Springs (30 min)
Set off for Dripping Springs, also known as "The Gateway to the Hill Country." Start your day with breakfast at Mazama Coffee Co., a locally renowned coffee shop serving specialty coffees and homemade pastries.
Then, make your way to Hamilton Pool Preserve, a remarkable natural pool formed thousands of years ago. The emerald green water, the 50-foot waterfall cascading over limestone outcroppings, and the lush vegetation are sure to provide a refreshing experience, especially in the Texas heat. Don't forget to reserve your visit in advance, as it's a popular spot.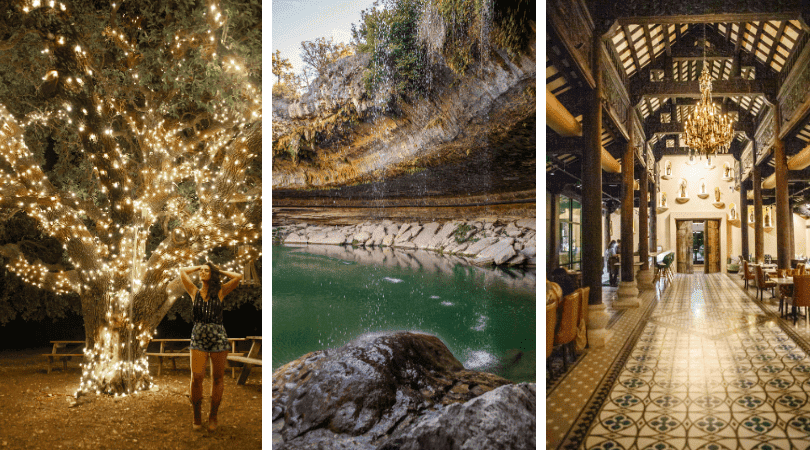 Driftwood (30 min)
Embark on a journey to Driftwood, a charming Texas hamlet nestled in the heart of the Hill Country. Start at the famed Salt Lick BBQ for a taste of authentic Texas barbecue, where succulent smoked meats and hearty sides pay homage to traditional Southern cuisine.
Once you've had your fill, head to Driftwood Estate Winery. Perched on a hilltop, the winery offers breathtaking views of the surrounding countryside, as well as a wide selection of locally crafted wines.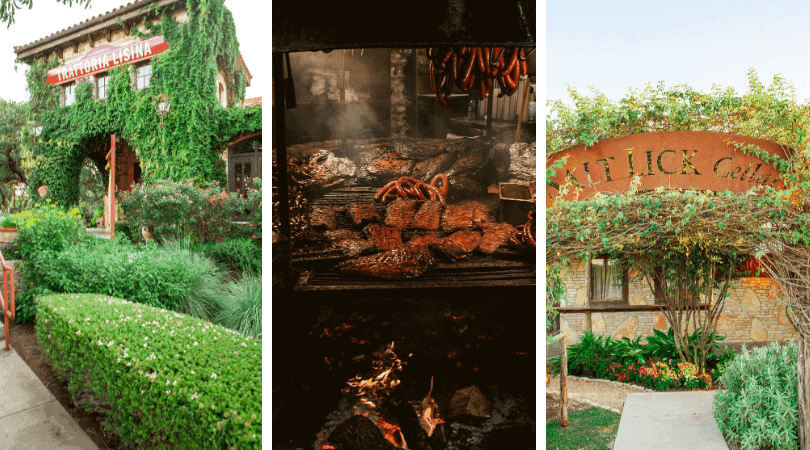 Manchaca (30 min)
Begin your Manchaca exploration at the Manchaca Springs Saloon. It's a rustic, down-home bar known for its live music and vibrant atmosphere. Unwind with a local brew in hand and enjoy Texas-style hospitality.
From there, venture out to Indian Springs Ranch, where you can meet different animals like zebras and camels. You can enjoy walking trails, picnics, and wildlife viewing.
Lastly, make your way to Texas Keeper Cider, where you can sample a variety of artisanal ciders crafted from local apples. The tasting room in a restored historic farmhouse adds a charming touch to your cider experience.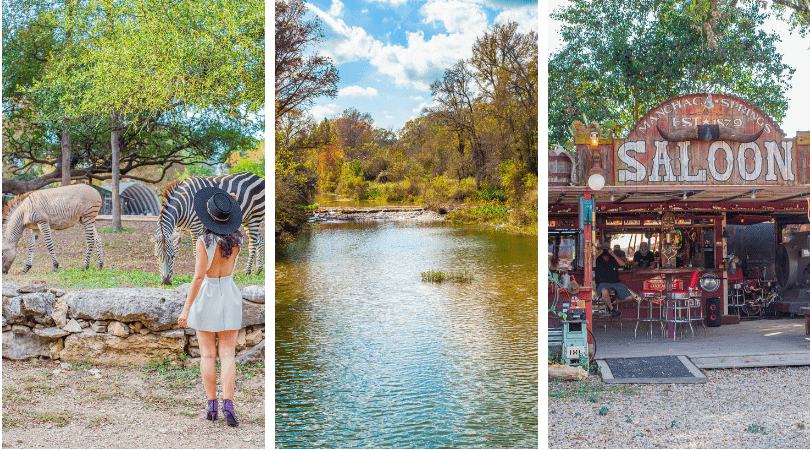 Leander (45 min)
Leander is a small town just north of Austin. Start your day at the charming Casa Costa Bake Shop. Wrapped in the aroma of fresh bread and pastries, this family-owned bakery offers an array of delectable treats.
After a caffeine boost and a hearty breakfast, head over to Waterloo Adventures, an innovative water park on Lake Travis. Featuring a floating obstacle course, this park delivers a unique blend of relaxation and playful challenges. Finally, end with the Lake Travis Zipline and bird's-eye views of the beautiful Texas Hill Country.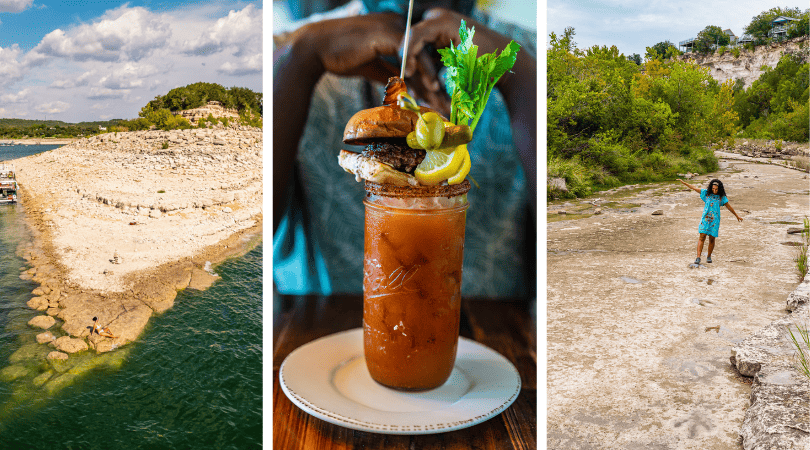 Liberty Hill (45 min)
Embark on a journey to Liberty Hill, renowned for its distinguished distilleries and picturesque landscapes. Start your trip with a visit to Schitz Creek Distillery and Brewery. This brewery is an artisanal establishment that boasts a great selection of locally crafted spirits.
After savoring their delectable offerings, head over to Gabriel's Overlook Park. This park is home to breathtaking views of the San Gabriel River. Its verdant surroundings make it an ideal spot for a serene picnic.
As your day winds down, make your way to Fire Oak Distillery. This award-winning distillery is known for its premium spirits, including whiskeys and vodkas, which are distilled using the age-old method of fire. Indulge in a tasting session and explore the intricate flavors of their finely crafted spirits and maybe even see zebras.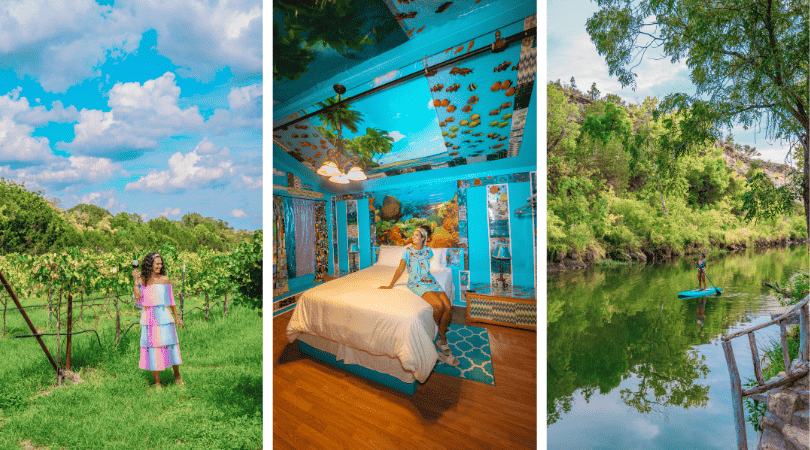 Round Rock (45 min)
Start off your time in Round Rock with some water-filled fun at Kalahari Resort and Conventions. A home to America's largest indoor waterpark. Here, you'll discover an array of thrilling water slides, pools, a lazy river, and a wave pool that cater to all ages. The resort also offers an extensive range of dining options, ensuring a satisfying meal after your aquatic adventures.
After you've dried off, head to Tom Foolery's Adventure Park next door. This vast, indoor entertainment venue features everything from thrilling rides and arcade games to an impressive climbing wall and an exhilarating ropes course.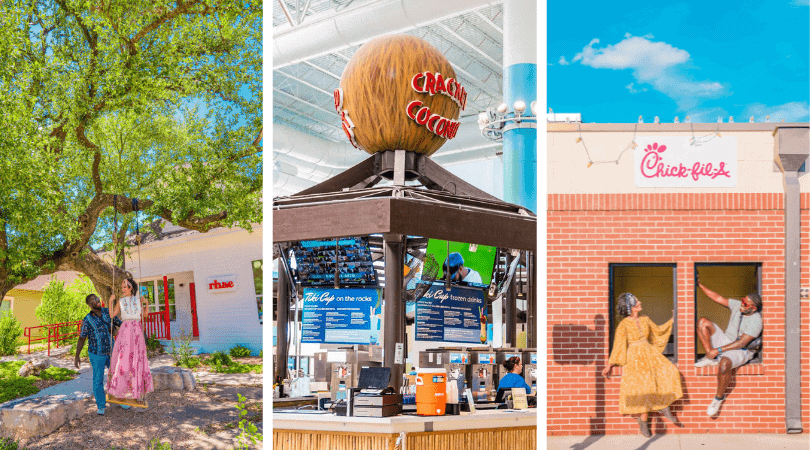 San Marcos (45 min)
Venture to the vibrant city of San Marcos, a hub of cultural, recreational, and educational attractions nestled along the edge of the Texas Hill Country. Begin your journey at the Meadows Center for Water & the Environment. Here, you can explore the beauty of Spring Lake through glass-bottom boat tours, snorkeling, and more!
Next, consider a visit to the Wittliff Collections, a treasure trove of writing, photography, and music from the Southwest. If you're a shopaholic, the Tanger Outlets and San Marcos Premium Outlets are a must-visit. They offer an extensive selection of brand-name and designer stores.
For nature lovers, Purgatory Creek Natural Area provides miles of trails winding through lush, unspoiled landscapes. After a busy day, unwind by strolling through the downtown area. The craft breweries, local eateries, and live music venues there create a lively and inviting atmosphere.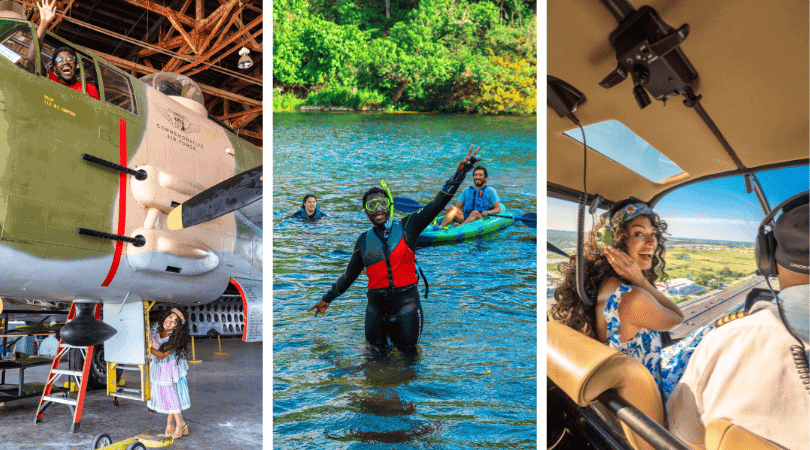 Wimberley (55 min)
Escape to the charming town of Wimberley, nestled in the heart of the Texas Hill Country, for a day filled with natural beauty, unique art, and Texas hospitality. Start your day with a visit to Blue Hole Regional Park. This scenic natural swimming hole is surrounded by towering cypress trees.
If you're an art enthusiast, don't miss the chance to explore the various art galleries clustered around the town square, each showcasing an array of art forms. For breathtaking views of the Hill Country, make your way to the peak of Old Baldy, a local hiking favorite. Next, step back in time with a visit to Pioneer Town. It's a living history museum portraying life in the early 20th century.
You can end your day with a delicious meal at one of the many local eateries serving up authentic Texas cuisine. Or, you can take in a live production at the Wimberley Playhouse. With its laid-back vibe and scenic landscapes, Wimberley makes for an enchanting day trip destination.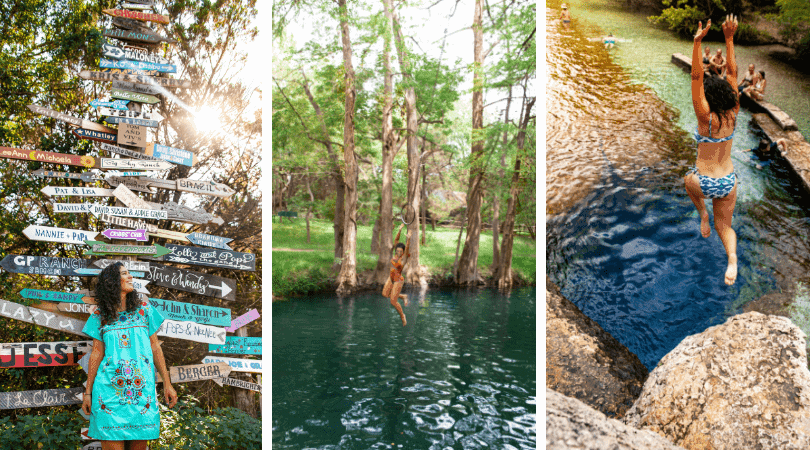 Georgetown (1 hr)
Begin your journey by exploring Georgetown's historic downtown square, an enchanting blend of Victorian-era buildings and modern establishments. It's the perfect spot to indulge in unique shopping, local cuisine, and the vibrant arts scene.
From there, make your way to the Blue Hole, a scenic lagoon on the South San Gabriel River. This tranquil spot, framed by limestone bluffs, offers a refreshing respite from the Texas heat.
Lastly, dive into the subterranean wonders of Inner Space Caverns. Discovered in the 1960s, these caverns showcase stunning stalactite formations and provide a glimpse into the region's geologic past.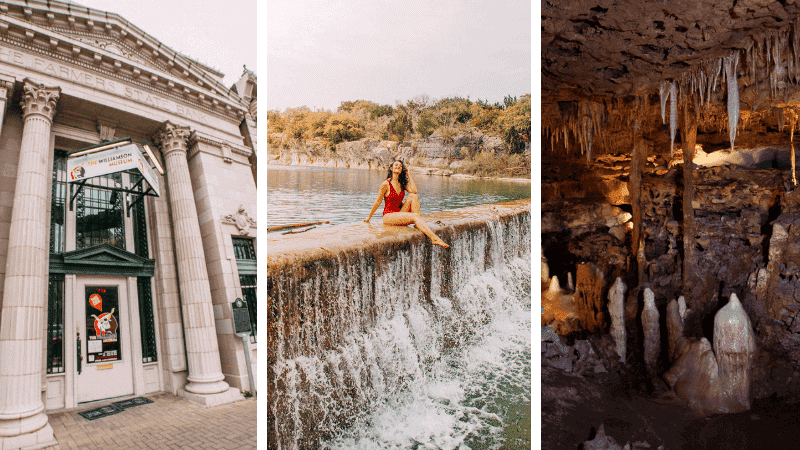 Bertram (1 hr)
Journey to Bertram, a hidden gem in the Texas Hill Country, renowned for its rural charm and historic heart. Start your exploration at the Bertram Train Depot, a beautifully restored 1912 train station that serves as a museum. This place provides a glimpse into Bertram's rich railroad heritage. Also, don't miss the opportunity to take a scenic ride on the Bertram Flyer. A vintage passenger train that offers breathtaking views of the surrounding countryside.
Follow this up with a visit to Flanigan's Texas Distillery & Winery. Here, you can sample an array of locally sourced spirits and wines. Round off your day with some antique shopping at the numerous vintage stores scattered throughout town. Each store is filled with unique treasures waiting to be discovered.