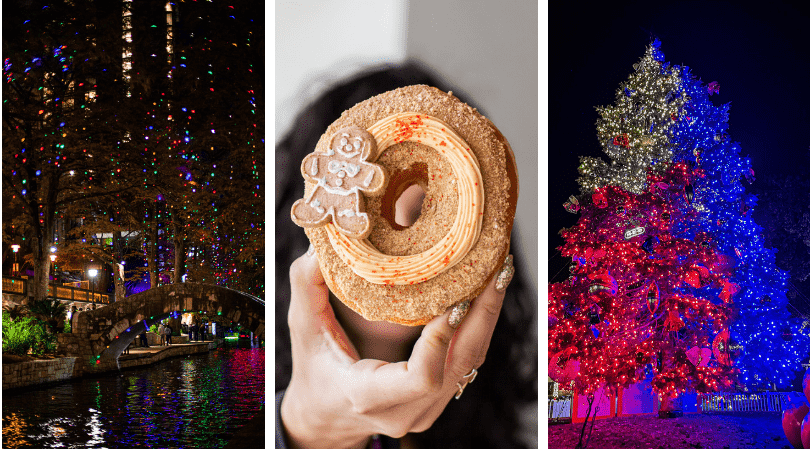 San Antonio is such a magical place to visit during the Christmas season in 2022, with an abundance of holiday things to do and Christmas activities! With beautiful lights everywhere, choosing where to celebrate the holidays may prove challenging. So, we've compiled a list of holiday things to do in San Antonio this 2022 Christmas season! There are so many things to see and so many Christmas activities that will put you in the holiday spirit, from strolls along the San Antonio Riverwalk, to yummy holiday treats, and holiday lights in all sorts of shapes and sizes! Be sure to check out our Christmas guides for Dallas, Austin, Fredericksburg, and Houston too!
Attend a Christmas Parade
The 41st Annual Ford Holiday River Parade will be on Nov. 25, 2022, from 6pm to 10pm beginning at the Tobin Center. There are free places to sit along the Riverwalk, but this one-hour parade will be a ticketed event. Tickets can be purchased online. The best seats are at Joe's Crab Shack and will be first come first serve like some of the other free seating areas. Some restaurants also offer packages specifically for the Ford Holiday Parade.
Stay at a Luxurious Hotel
With lots of great hotel options near the San Antonio River Walk, you can book a room with some beautiful views, but a stay at the St. Anthony Luxury Hotel is the perfect spot during Christmas time! The décor is fun and colorful with items like green couches (Christmas colors). It's also perfectly located to many Christmas activities such as a quick walk from the River Walk, the giant Texas Christmas tree, and more.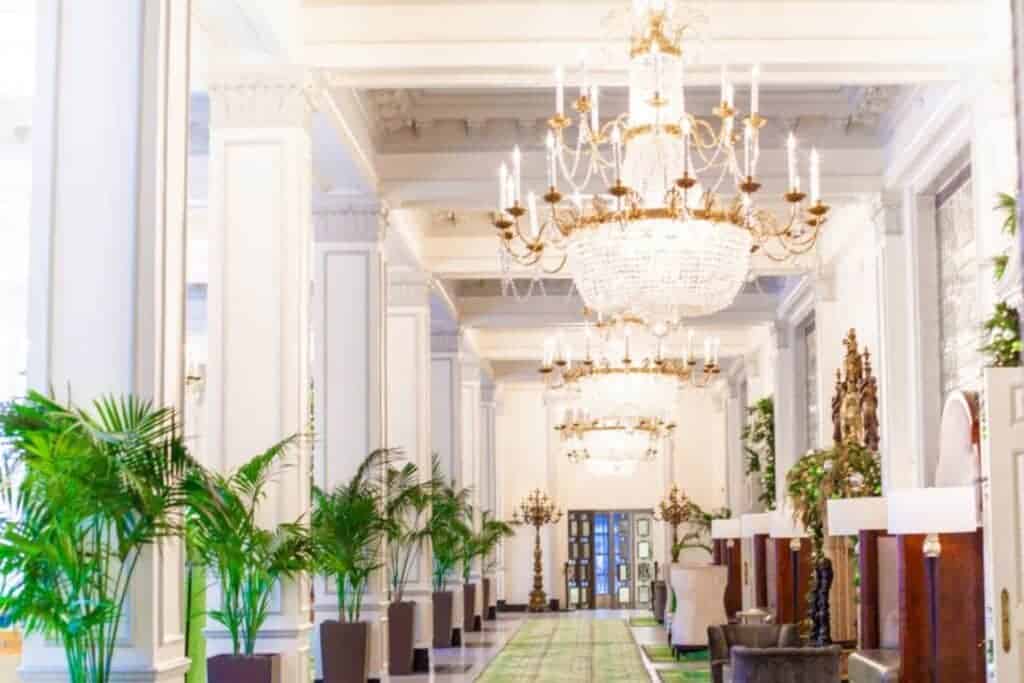 Marvel at a Wintery, Watery Wonderland
Visit Seaworld's Christmas Celebration to visit your favorite underwater creatures amid beautiful lights. With family-friendly attractions, Seaworld is welcoming to guests of all ages. Not only do they have Christmas-themed shows and food, but they even have their very own Santa Claus. The park will celebrate the holiday season from Nov. 10 through Jan. 2, 2022, and tickets can be purchased online for between $50 to $120. There will also be a Menorah Lighting Ceremony Dec. 19, 2022, at 5:30pm at the Bay of Play.
Stroll Along the Iconic San Antonio River Walk
In downtown San Antonio, the holiday lights have been a tradition since 1975. Christmas lights sparkle while you stroll along the river, putting you in that joyful, holiday mood. There are riverboats with Christmas carolers, restaurants with people enjoying each other's company and delicious dinners, and shops all decked out in holiday decorations and lights. There are so many great gift shopping items in the fun shops along the way. The lights will be up from Nov. 25 to Jan. 9, 2022.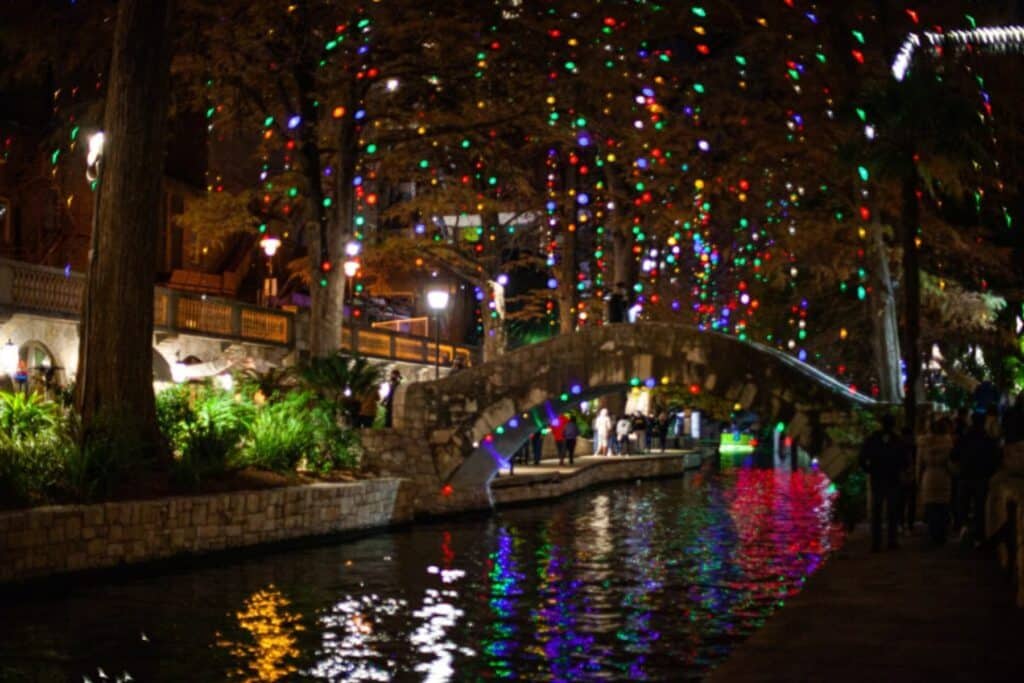 Walk Through a Field of Lights
Westover Field of Lights has over three hundred thousand synchronized lights. With holiday music and plenty of kid-friendly activities, including a free photo with Santa, this fun event has something for everyone. The event is available Nov. 25 through Dec. 18 on multiple days for $5 per person or $30 for a family of six. Tickets can be purchased online.
Visit an Authentic Texas Christmas Tree
We already have Texas waffles and Texas just about everything. It only makes sense that we have a Texas tree too! This Christmas tree is a 50-foot concolor fir decorated with ten-thousand red, white, and blue lights, in true Texas fashion! The lighting will be on Nov. 25, 2022, from 3pm to 9 pm, but the tree will be up until the new year! Stay after the tree lighting ceremony to watch "The Polar Express" at 7 pm. The event is open to the community and there will be crafts, giveaways, and live music, as well as a visit from Santa himself!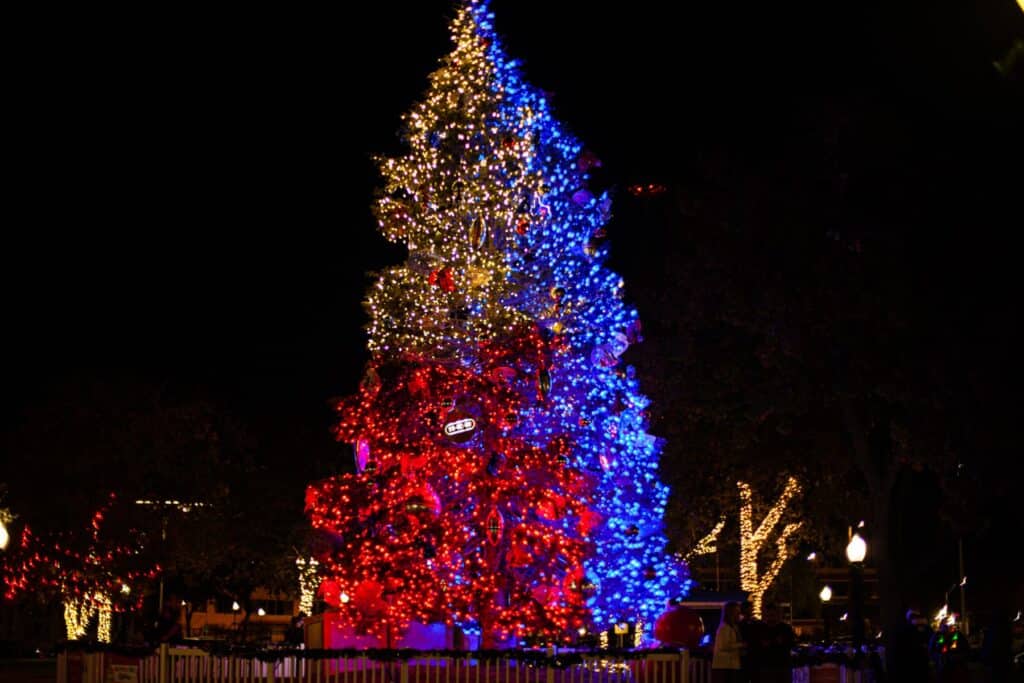 Roast S'mores in a Bright Garden
San Antonio Botanical Gardens has a one-mile-long illuminated path and delicious, festive food to enjoy, including s'mores you can make yourself. The art illuminations are made by local and international artists and includes a cathedral arch tunnel with over a hundred thousand lights. The garden will include the lights and festivities from Nov. 11, 2022, through Jan. 8, 2023, and prices vary from $25 to $60. Tickets can be purchased online.
Sing Christmas Carols on the Water
Grab a group of friends and book a boat for Ford Boat Holiday Caroling. The public is encouraged to come out and carol from the banks of the river or on a restaurant patio as the carolers float along the river in the downtown area. If you want to participate on a boat, you can spread the holiday cheer and carol your favorite holiday songs on the San Antonio River for $125 to $175. Caroling will take place from Dec. 1 through Dec. 23, 2022. Reserve your spot online if you'd be interested in caroling.
See the Alamo Lit Up
Visiting the Alamo during the holiday season is extra special. With hours extended until 7 pm, the Alamo is a must-see during the holidays with lights and a Christmas tree! You might even catch carolers singing holiday carols on your visit. The event runs from Nov. 25, 2022 to Jan. 2, 2023.
See the San Antonio Zoo Lights
Included with your San Antonio Zoo admission, you can enjoy the Whataburger Zoo Lights Starry Safari. Along with some amazing light displays throughout the zoo, there will be two 32-foot LED trees, games and activities, as well as your favorite Christmas drinks and snacks. Come visit Nov. 19, 2022, through the first of the year, with prices ranging from $17.60 to $21.73 depending on the day. Tickets can be purchased online.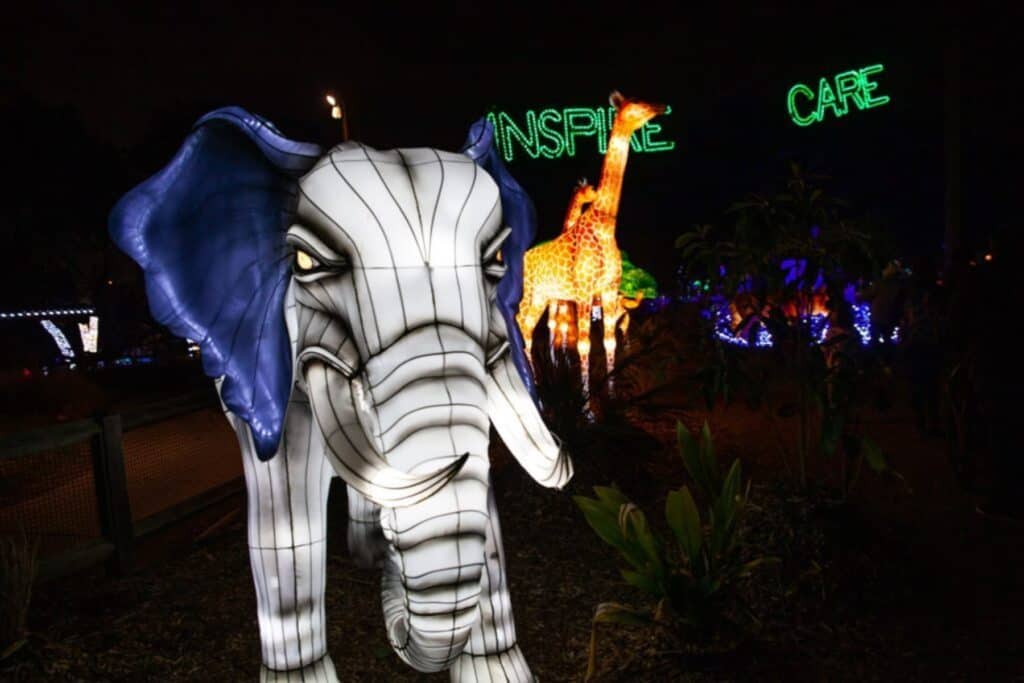 Eat Christmas Donuts
Enjoy some Christmas sweets! Near the San Antonio Zoo is a sweet spot called Art of Donut, where you can find some fun Christmas-themed donuts. Grab some for you and some to share! They are even selling Christmas DIY donut decorating kits! Place your orders online for pick-up or visit in-store.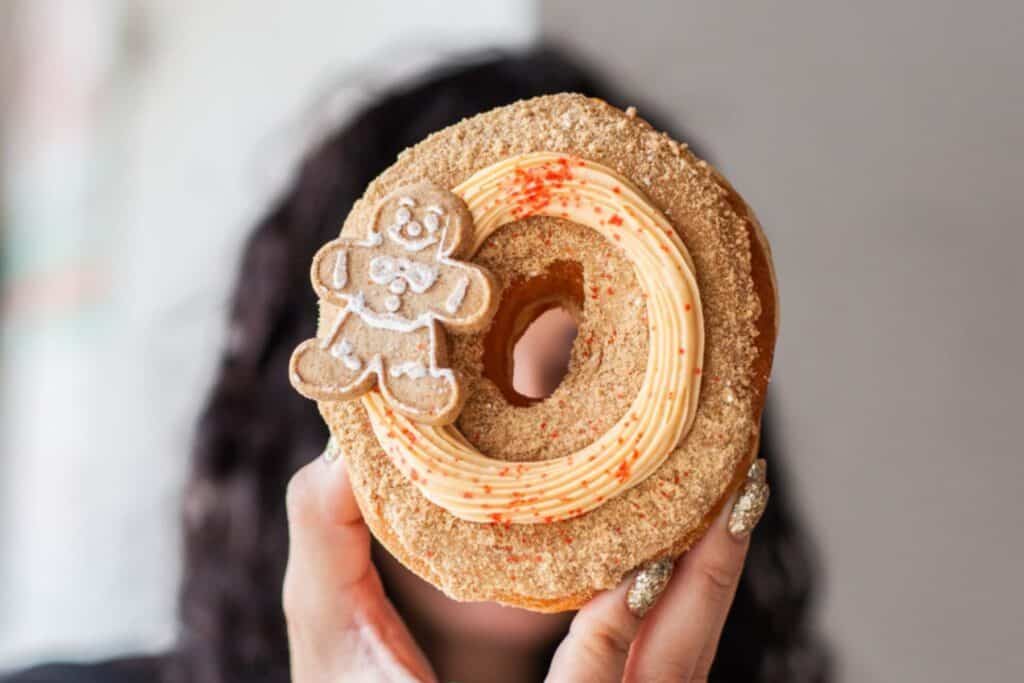 Have a Christmas Unlike Any Other
Enjoy Texas' largest caverns this holiday season. The Natural Bridge Caverns hosts a unique holiday celebration every weekend beginning Dec. 3 until Dec. 23, 2022, from 4:30pm to 9pm. With a 30-foot Christmas tree, a ⅓ mile illuminated trail, and even live music, this is an experience unlike any other. Visit to see Santa "Spelunker" Claus and round up his reindeer in the outdoor maze. They will even have campfires to roast s'mores! Tickets range from around $20 to $50 and can be purchased online.
Trade the Sleigh for a Railroad Car
Every area of the Texas Transportation Museum is decked in holiday decor for their Santa's Railroad Wonderland. Grab a cup of hot chocolate and stroll through the museum. You can even see Santa for some pictures! The museum will be open on multiple days throughout the month of December from 5:30pm to 8 pm. Pricing is $10 to $12, and parking is free. Tickets can be purchased online.
A Christmas Carol: the Musical
At the Public Theater of San Antonio, there will be performances of the iconic holiday classic, A Christmas Carol. The show will open on Nov. 25 and will run multiple times until Dec. 8, 2022. Prices are $19 to $49 per ticket. Get yours online now!
Eat Breakfast with Santa
Westin Riverwalk
Have a delicious breakfast with Santa and Mrs. Claus on Dec. 17, 2022, from 9am to 11 am. There will be holiday music and story time with Santa. Snap some pictures for your holiday cards or your feed while you're at it! Prices range from $32 to $55 a person. Tickets can be purchased online.
Neiman Marcus
Neman Marcus is inviting all to come and join Santa for breakfast. The event will take place on Dec. 10 and Dec. 17, 2022, from 9am to 10 am. The cost is $50 for children and $60 for adults. You can purchase tickets for Dec. 10 here and Dec. 17 here.
Caliente Harley-Davidson
Caliente Harley-Davidson will be offering breakfast with a special guest: Santa! There will be a free breakfast, hot chocolate, and pictures with Santa. The event will take place on Dec. 17, 2022, with breakfast from 9am to 11 am and pictures with Santa from 12pm to 2pm.
Bass Pro Shops
Visit Bass Pro Shops in San Antonio to take a picture with Santa Claus. He will be in store Mondays through Sundays from 8am to 5 pm until Christmas Eve! This event is free and perfect for the family. You can even shop for a loved one while you wait! Make your reservation online at your nearest store.
Shop at a Christmas Market
At the Historic Pearl Farmers Market, you'll find some great Christmas gift-giving options such as spa certificates, restaurant vouchers, and adorable Gingerbread cookies! These are just a few of the many great finds at The Pearl this holiday season! Be sure to pick up a thing or two for yourself. You deserve it! Their farmer's market is by far one of the best in Texas, and it gets more of a Christmas touch. While there, enjoy dinner at one of the restaurants, also nicely decorated for Christmas.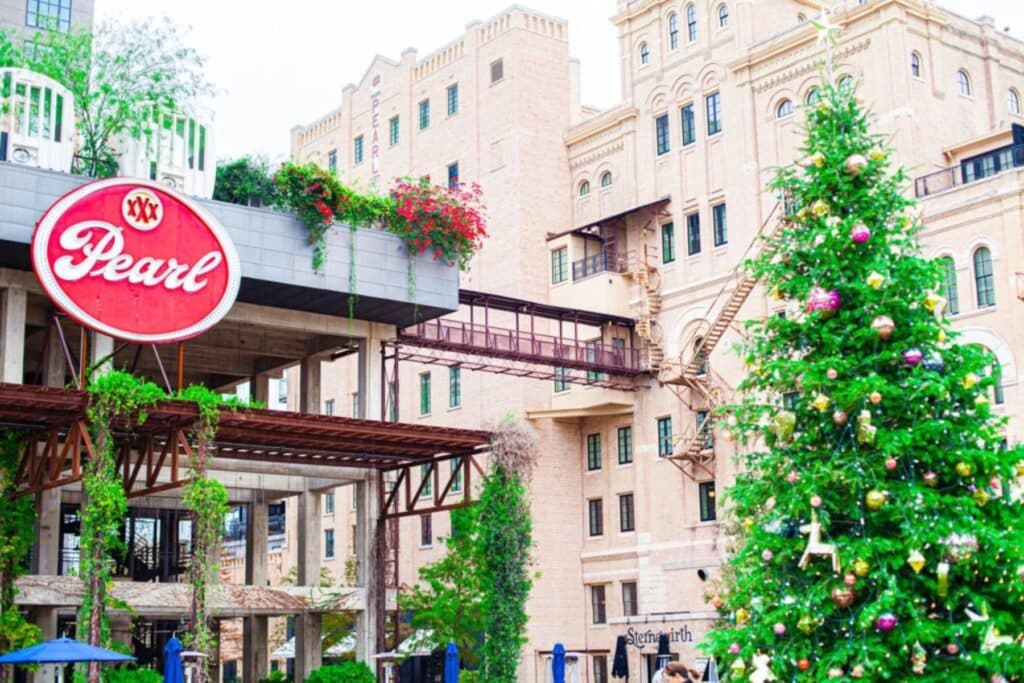 An Olmos Park Holiday
Enjoy deals on holiday gifts and get a photo with Santa at Olmos Park along McCullough Avenue. The park will partake in holiday events on Dec. 10, 2022, from 10am to 5pm.
Shop at La Cantera
You'll find some fun, festive things going on at the Shops at La Cantera on the northern side of San Antonio that include giant, lit reindeer and other holiday light displays; Grinch crepes and other fun and scrumptious holiday creations at Sweet Paris; photos with Santa until Dec 24. Or bring your pet on Mondays for Pet Nights with Santa on Nov. 21, Nov. 28, and December 5, 2022. There will also be a sensory-friendly environment offered for pictures with Santa on Dec. 4, 2022, from 9am to 10am. Make reservations for pictures with Santa online.
Holiday Tea Party and Shopping
Celebrate the holidays with a holiday tea party at the Lambermont Mansion. There will be local vendors and artists for your holiday shopping needs. This tea party will take place on Dec. 17, 2022, from 10am to 12pm or 2pm to 4pm. The cost ranges from $125 to $500 depending on the size of your group. Tickets can be purchased online.
Traditions of Christmas Tea at the Rosemont Mansion
Enjoy a tea party at the Rosemont Mansion and celebrate the season with an afternoon of holiday fun. The Rosemont will be decorated for the holidays and will feature music from harpist, Alexis McGehee. Pay a visit on Dec. 3 and Dec. 10, 2022, from 2pm to 3pm. Prices range from $68 per person to $500 for a table of eight people. You can purchase tickets for Dec. 3 here and Dec. 10 here.
Participate in a First Friday Pub Run
At On the Rocks Pub, there will be a bar crawl with dancing and drink specials. This is a free event and will give you access to any bars on the list for free. Come dressed in your best holiday attire on Dec. 2, 2022, at 7 pm.
Become Santa for a Day
Put on your Santa suit and fill the streets of San Antonio! All Clauses are asked to participate at the San Antonio SantaCon Crawl on Dec. 10, 2022, beginning at 2pm until 9pm. Keep an eye on their website and Facebook for any updates.
Celebrate the Holidays in the Park
Six Flags Fiesta Texas has some great prices this holiday season so you can really enjoy their festive Holiday in the Park with sparkling lights, Christmas shows, and plenty of Christmas cheer! Plus, you can enjoy the rides with the new addition of holiday lights all around. Visit Six Flags Fiesta Texas Nov. 19 through the first of the new year and enjoy one-day tickets for a cost of $25. Tickets can be purchased online.
Snowbound: A Merry Ski Lodge
Chicken N Pickle in San Antonio will be featuring an adult's only, holiday pop-up this holiday season. You'll discover plenty of Christmas lights and decor, a gondola photo booth, eight holiday cocktails, outdoor firepits, access to a small buffet, and more! Reservations are required.
Experience Miracle on Commerce St.
The Esquire Tavern in downtown San Antonio will be all dressed up for the holiday season for its holiday pop-up, Miracle on Commerce Street. Order holiday cocktails, like the "Snowball Old Fashioned" and the "Grandma Got Run Over by a T-Rex" to name only a few. Reservations are encouraged. Will last through Dec. 31, 2022.
Visit a Decked Out, Old West Town
Just a little outside of San Antonio is the cute little Christmas town of Boerne. At night, you can head out to the Old West Christmas Light Fest at Enchanted Springs Ranch. There will be a Christmas light drive-through before you head into an old west town with Christmas lights, a little market, snacks, pictures with Santa and all kinds of other cool activities. Come enjoy the lights and a beautiful open sky on multiple dates between Nov. 24 and Dec. 24, 2022, with admission varying from $20 to $100. Tickets can be purchased online.
You can also stroll down the Hill Country mile, a downtown area with all kinds of boutiques with great spots to find Christmas gifts. They even have a year-round Christmas store!
Take Time Away
Of course, there are a lot of holiday things to do in San Antonio, but if you haven't gotten enough Christmas cheer, why not take a day or weekend trip to Austin or Dallas to see how they celebrate Christmas?
Holiday Things to Do & Christmas Activities in San Antonio: Final Thoughts
No matter how old you are, there is fun to be had this holiday season. Have breakfast with Santa, look at Christmas lights, or bar crawl in a Santa suit to celebrate the season. Check out any of these holiday things to do and Christmas activities in San Antonio, and you're sure to have a jolly time!
Check out our other holiday things to do and Christmas activities in: