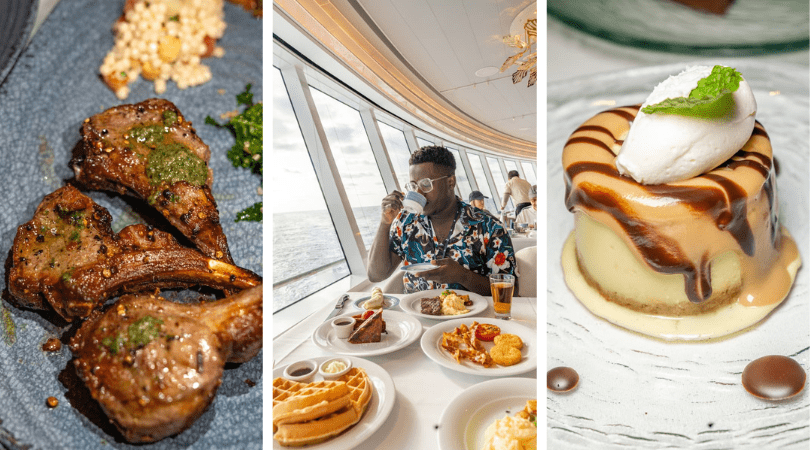 Recently, we enjoyed a cruise from Galveston to Mexico aboard Norwegian Cruise Line's newest cruise ship: the Norwegian Prima. Although we were excited about the cruise and all the amazing amenities, my husband and I are huge foodies, so we were most concerned about how much we would enjoy the food.
Once you're aboard a ship and leave port, your options become limited. You can't just go across the street to grab something different like you would on land. Before we boarded the Norwegian Prima, I browsed through all the restaurant menus and drink menus I could find. However, the only real way to measure quality, especially when it comes to food and drink, is to taste them for yourself.
The Norwegian Prima's Restaurants: What You Need to Know
The Norwegian Prima has a wide variety of dining and drink options, with multiple main dining rooms, plus outdoor seating options on Ocean Boulevard. Complimentary dining options include a buffet, the Indulge Food Hall, casual dining with pizza/burgers, sit-down restaurants, and bars with pub fare.
They also have specialty dining options for an additional charge, including two Starbucks, but with all the food options, it's just an added plus and not at all required to enjoy eating aboard the Norwegian Prima. There's certainly enough complimentary dining to keep guests happy!
Although Norwegian Cruise Line's ships are known for their quality dining, some establishments from previous prima class ships have made an appearance aboard the Norwegian Prima, but with revamped menus.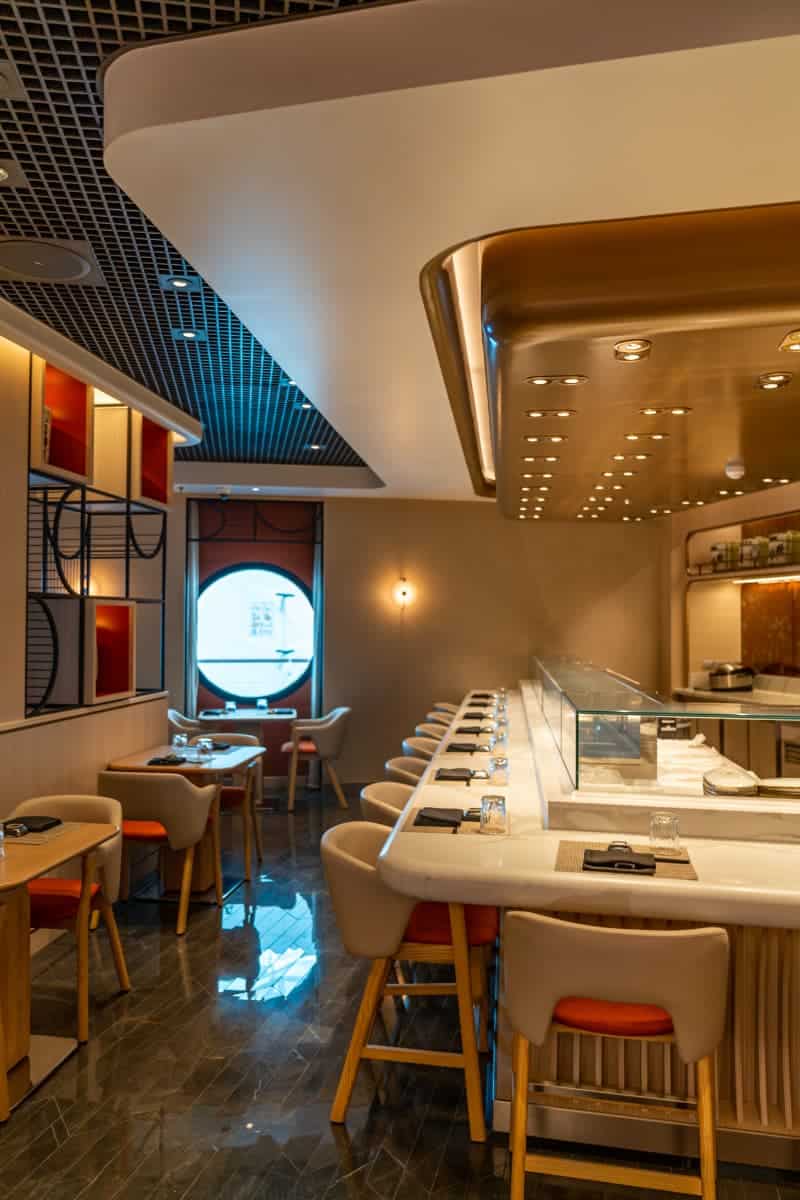 The Norwegian Prima's Restaurants: Complimentary Dining
The Indulge Food Hall (Deck 8)
This might be the most genius idea I've ever seen! We spent 80% of our time here because we just loved the selection and quality so much. Each table has a digital menu with 8 different dining options listed:
Tamara serves Indian cuisine with options like tikka masala, saag paneer, naan, and roti made in a clay oven.
Tapas Food Truck – I'm a huge charcuterie lover, so obviously, this was my favorite place to visit and use as a poolside snack. I loved the Manchego cheese, Prosciutto, and bacon-wrapped dates! The food truck design was so neat too!
Nudls serves a good mixture of different noodle dishes, from Italian to Thai.
Latin Quarter serves Mexican food and it's the best place to get your guac fix.
Seaside Rotisserie served churassco–style meats with dishes like lamp chops, grilled pineapple, beef tenderloin, and more. The meat was always well cooked and so moist!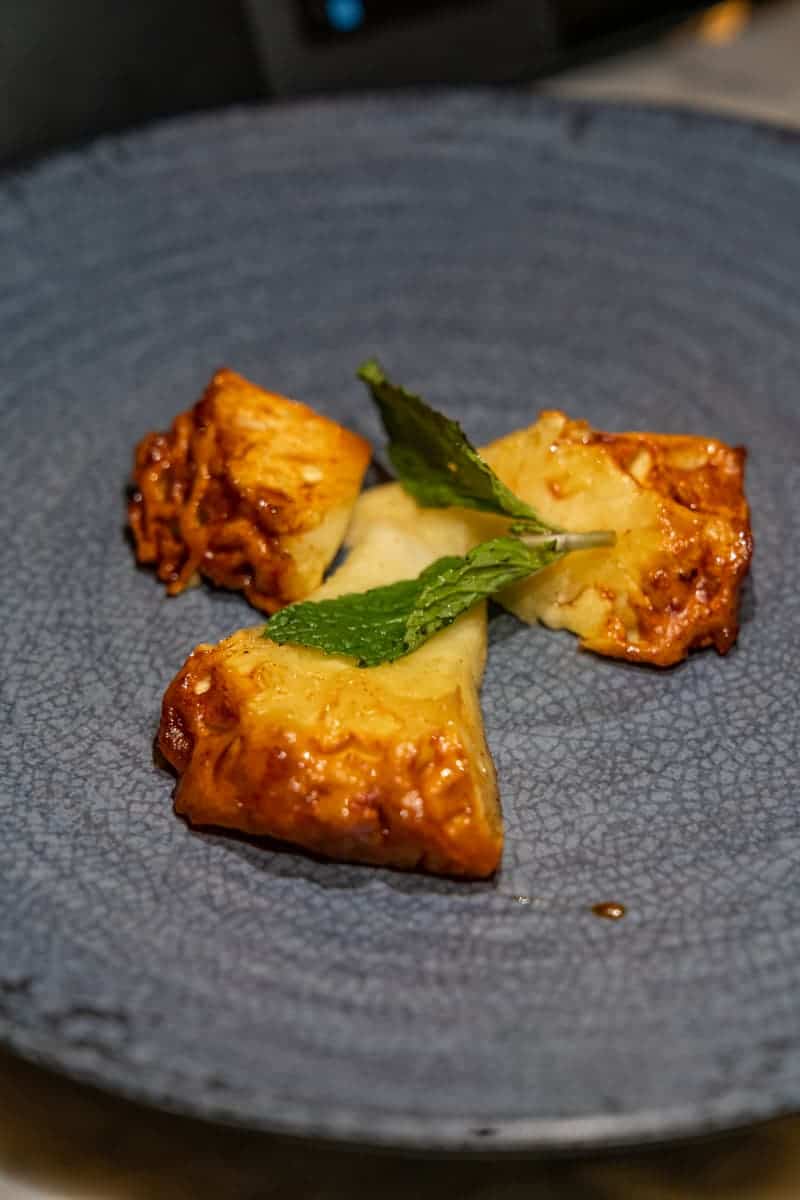 Garden Kitchen is the easiest way to get some greens in with customizable salads. I thoroughly enjoyed their selection, but I would recommend asking for your dressing(s) on the side.
Q Texas Smokehouse – As a Texan, I have huge expectations for my BBQ, so I didn't try this much, but it was still fun to have as an option and they have some tasty sides.
Just Desserts – This was more of a grab-and-go area with a selection of cakes and pastries.
Just Ice Cream – Similar concept as Just Desserts, but with ice cream.
There are also options for an additional cost available at the Indulge Food Hall including:
A full-service Starbucks (Deck 7 & 8)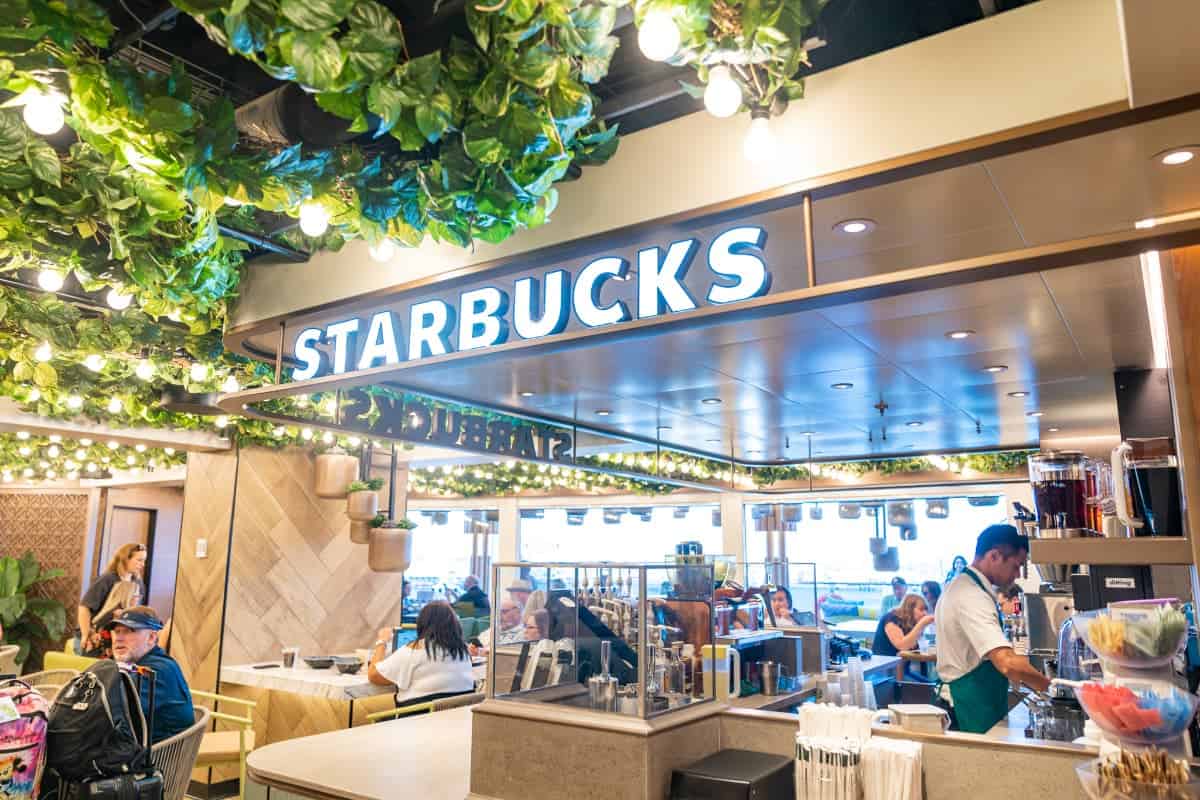 Coco's serves decadent milkshakes big enough to share (and of course get a picture with). It's definitely a splurge-worthy item.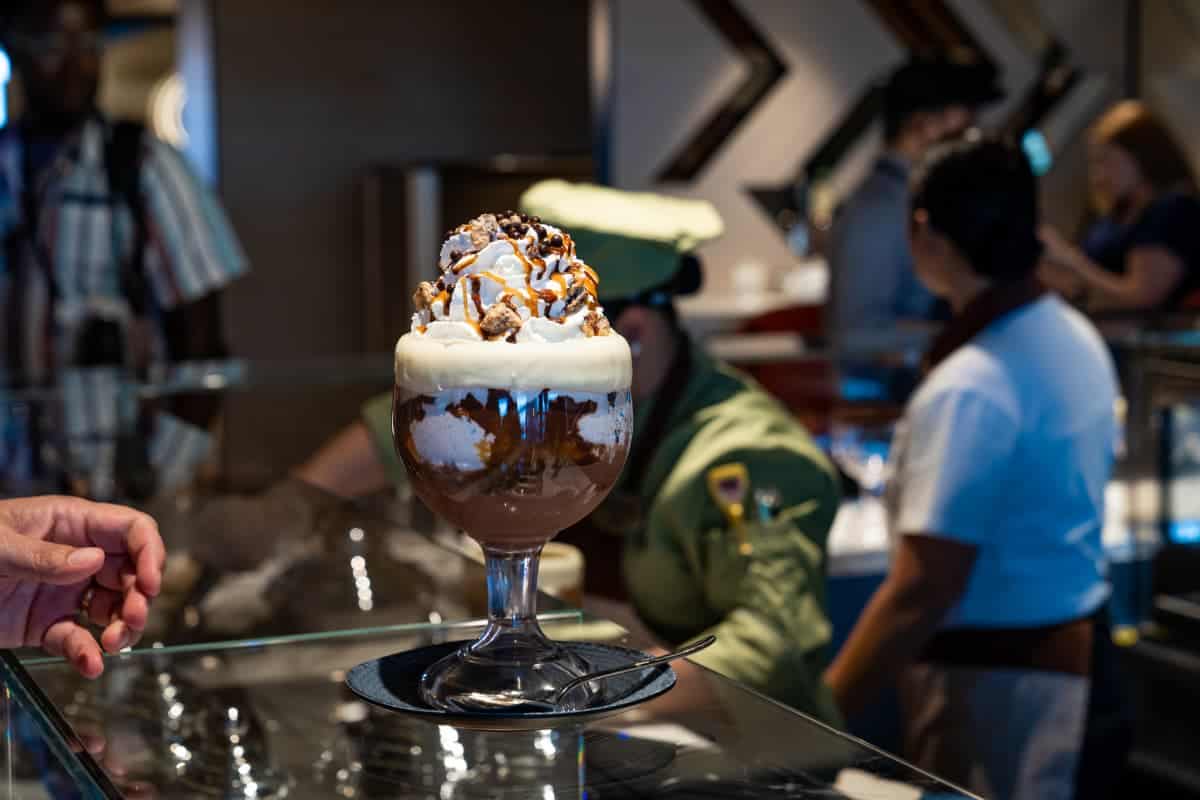 Like a buffet, you get the joy of choosing anything you want while also customizing your portions. You can mix and match your choices or try one plate from every restaurant if you really wanted to! The selections rotated throughout our trip, so we were surprised to find something new to try every time we visited. Additionally, every morning, they had different areas with grab-and-go breakfast items such as croissant sandwiches, oatmeal, pastries, and more.
At the Indulge Food Hall, you can also sit at the small tables in front of your favorite spot. We especially enjoyed this at Tamara where they offered us small samples so we could try things before ordering. Tamara was one of our favorite spots, along with the Seaside Rotisserie where we ordered their lamb chops and grilled pineapple with cinnamon.
You can also grab a seat under the cabanas in the outdoor seating area of the Indulge Outdoor Lounge.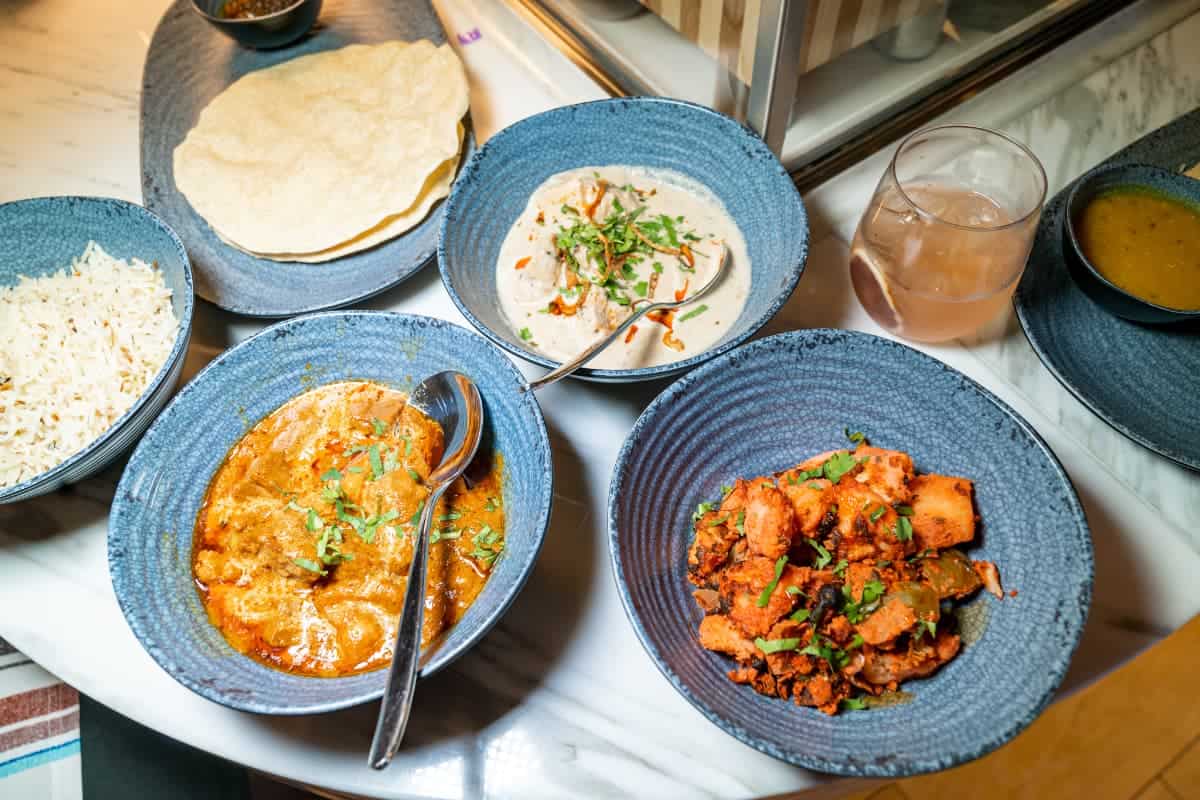 The Buffet at the Surfside Café (Deck 17)
To be honest, I didn't get to enjoy the buffet as much because the Indulge Food Hall held all of my attention. However, I enjoyed how large of a breakfast spread there was, including traditional breakfast items, lox bagels, and beautifully topped French toast and pancakes. They also had a pre-prepared version of everything you could order off the menu at Hudson's, the Norwegian Prima's fancy, sit-down restaurant.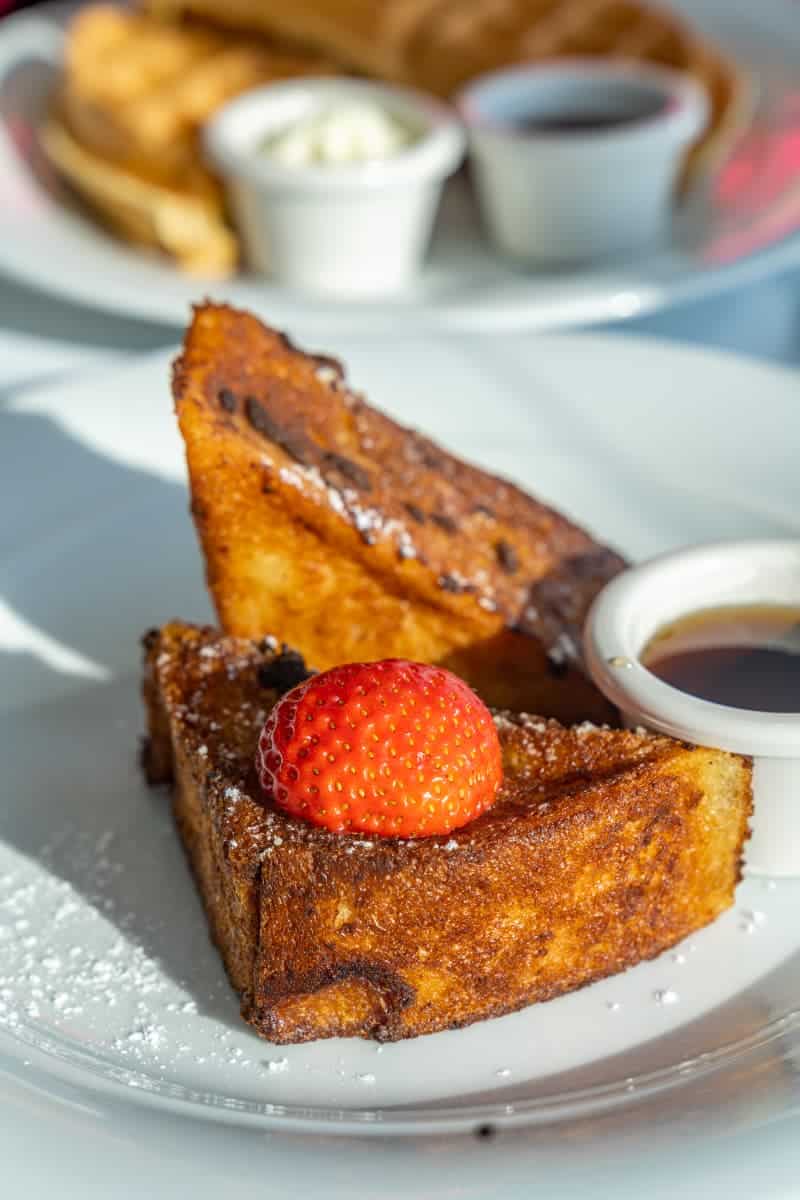 Don't miss the seafood buffet they serve on day one! Throughout the rest of the trip, you'll find a buffet with a build-your-own pasta section, salad, tacos, a selection of desserts, and even a carving station! I was surprised at how many options there were, and if our cruise was longer, I would've made it more of a priority.
In all honesty, I'm happy that there were so many dining options that I didn't get to fully experience them all, because it meant I was never bored, and now have even more reason to book another cruise!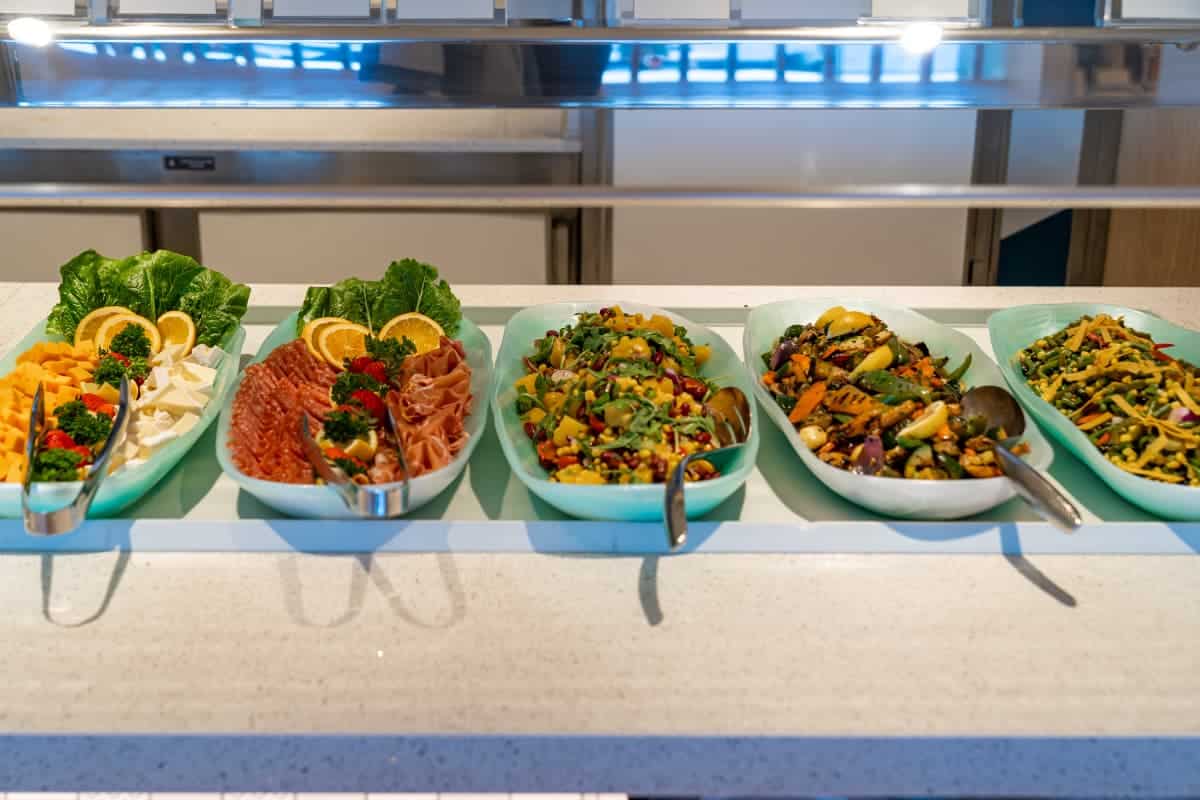 Hudson's (Deck 7)
Hudson's is the Norwegian Prima's sit-down restaurant located in one of the ship's main dining rooms. I had to do at least one breakfast here because the 270-degree views are unforgettable! They have several options including steak and eggs, smoked salmon bagels, and a cinnamon raisin brioche French toast!
We did enjoy one dinner here as well with delectable Asian spareribs and Crudo. The experience was similar to a steak house with different cuts of meat and tasty sides.
My biggest issue with Hudson's was how long everything took. I think they mean for it to be a sit-down restaurant where you spend time socializing. However, I think if you made them aware you were in a rush, they would bring things out faster. Otherwise, be prepared to visit on a slow night when your schedule is more flexible.
The Commodore Room (Deck 6)
An additional, complimentary dining option, the Commodore Room shares a menu with Hudson's, but its dining room is a smaller, more intimate space.
The Local Bar & Grill (Deck 8)
The Local Bar & Grill is a pub-style spot I, unfortunately, wasn't able to try, but I wish I had, especially on late nights. Guests can choose from chicken wings, burgers, appetizers, pasta, and desserts; what you would expect from your standard pub. The late-night hours, however, aren't quite as late. This is where I would have stopped for some wings after a night of dancing!
The Surfside Grill (Deck 17)
Near the Vibe Beach Club is the Surfside Grill. You can choose from pizza, hot dogs, corn dogs, hamburgers, and fries. It's convenient when you want to spend as much time in the water as possible!
The Norwegian Prima's Restaurants: Specialty Dining Options
While these options aren't complimentary, they can be a fun way to mix things up onboard. The decor in each one is unique to the next and they really get creative with their desserts. Options include:
Palomar (Deck 17) is a seafood restaurant serving Mediterranean cuisine. You can indulge in fresh lobster, sea scallops, and sea bass. They also have steak options like filet mignon. This is one of the specialty restaurants we tried.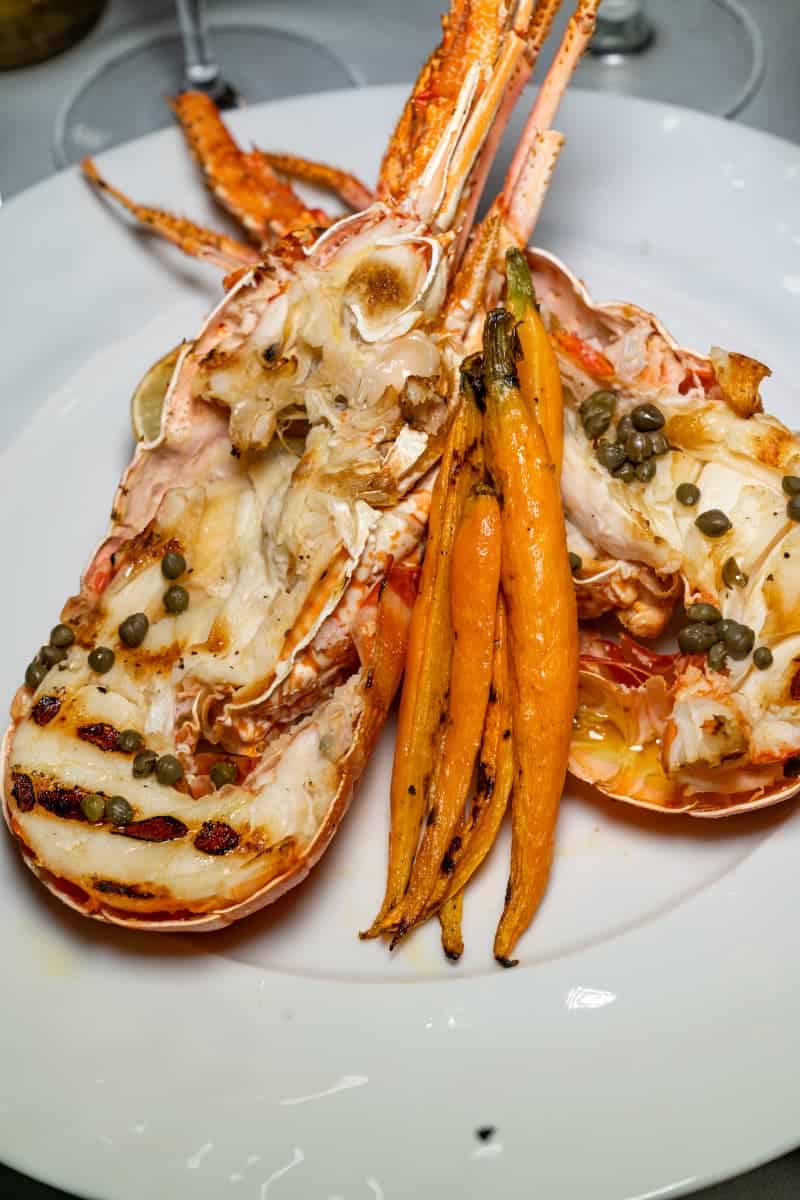 Cagney's Steakhouse (Deck 6) – A higher-end steakhouse onboard, Cagney's Steakhouse has an incredible wine selection, along with New York strip, bone-in tomahawk, Australian lamb chops, and more. With dim lighting, it's perfect for an intimate dinner date. This is another one of the specialty restaurants we tried.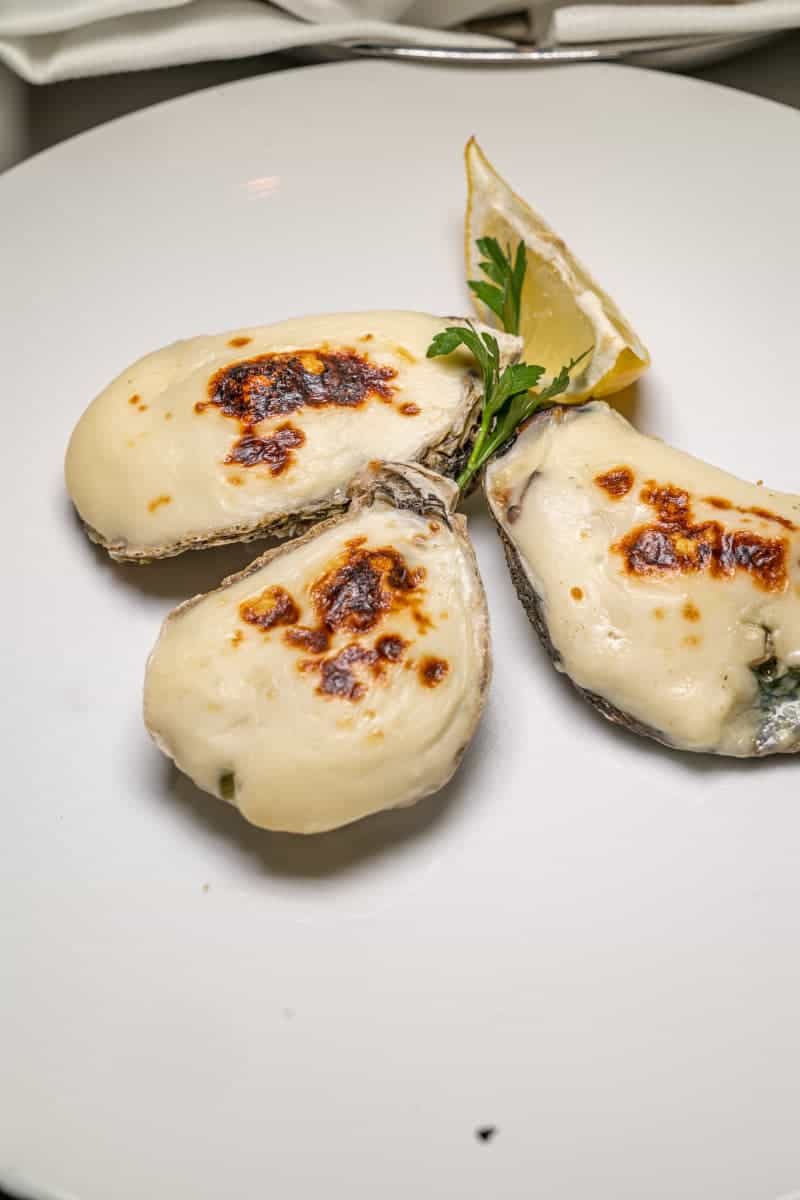 Food Republic (Deck 17) – Choose items like sushi, noodles, spicy Korean fried chicken, elote, and Peruvian beef skewers. It's a whole menu of fusion items.
Los Lobos (Deck 8) serves Mexican-style cuisine. The decor here, especially in the entryway, was one of my favorites. You can get guacamole tableside, margaritas, and Mexican classics like Cochinita Pibil.
Hasuki (Deck 7) – Enjoy dinner and a show at this Japanese grill where they cook right in front of you!
Le Bistro (Deck 7) – Serving French cuisine, guests can order escargot, cote de veau roti, and goat cheese croquettes at Le Bistro.
Onda by Scarpetta (Deck 8) – Popularly known for its unique structure, it's at least worth walking through just to see the inside. Here, you can order Italian dishes, like pizza and pasta, plus seafood dishes and desserts.
Nama Sushi & Sashimi (Deck 7) – Get your sushi just the way you like it made right in front of you with a side of delicious Sake.
And, of course, there's room service for when you just want to stay in bed all day!
The Norwegian Prima's Restaurants: Bars & Drinks
This was another area that stood out to me! There were so many places to grab a drink and several bars had different things to try. Keep in mind that, aside from the Local Bar, costs for beverages aren't included unless you purchased a beverage package during booking.
One of the coolest things was their reuse program, which we discovered at the Metropolitan Bar, which aids in reducing food waste onboard. There were also several options for non-alcoholic drinks and teas, which I appreciated when I needed to hydrate, but wanted something aside from plain water.
Whiskey Bar (Deck 8) – This was my husband's favorite because you could get whiskey drinks you couldn't find anywhere else. Of course, you can get your classic old-fashioned, but there are several other whiskey-based cocktails to get you out of your comfort zone. They even have whiskey flights for an additional charge that isn't covered under the drink package.
Belvedere Bar (Deck 6) – This bar has an upscale environment that we ended up enjoying throughout our trip. It's a little tucked away and I felt it was one of the better places to talk to the bartender. They have some fun, pre-made cocktails, in addition to drinks that are created on the spot.
Observation Lounge (Deck 17) – Another one of those slightly out-of-the-way bars, the Observation Lounge has an unforgettable view of the surrounding ocean! Grab a Sidecar, Negroni, and cocktails on tap, like their Smoky Peach Margarita.
Luna Bar/Soleil Bar (Deck 8)– The Luna Bar is inside the Indulge Food Hall while the Soleil is outside on Ocean Boulevard, but they have the same menus, including cocktails on tap and kombucha.
The Local Bar & Grill (Deck 8) is where you can order pub-style food and drinks! It's also close to some of the infinity pools and comfortable, poolside beds you can lay out on with a drink in hand. There was even a Mudslide AKA a spiked, chocolate milkshake, that wasn't listed on the menu that we loved! You can get just about anything here although it does stay packed with its proximity to the food hall and seating on Ocean Boulevard.
The Waves Pool Bar (Deck 17) – If you plan on hanging out at the pool, this will probably be your go-to bar. They have cocktails on tap and frozen drinks, like Frosé.
The Vibe Beach Club (Deck 17) – We spent a little more time here because of the smaller hot tubs, but it was such a nice bar! They pretty much had all the same drinks as the Waves Pool Bar along with zero-sugar, energy drinks and zero-sugar teas.
The Metropolitan Bar (Deck 7) – This was my favorite because they had zero-waste cocktails. I loved the Primadonna, a take on the classic Aperol spirits, and a Mai Tai served with croissants! You can find these throughout the ship as well!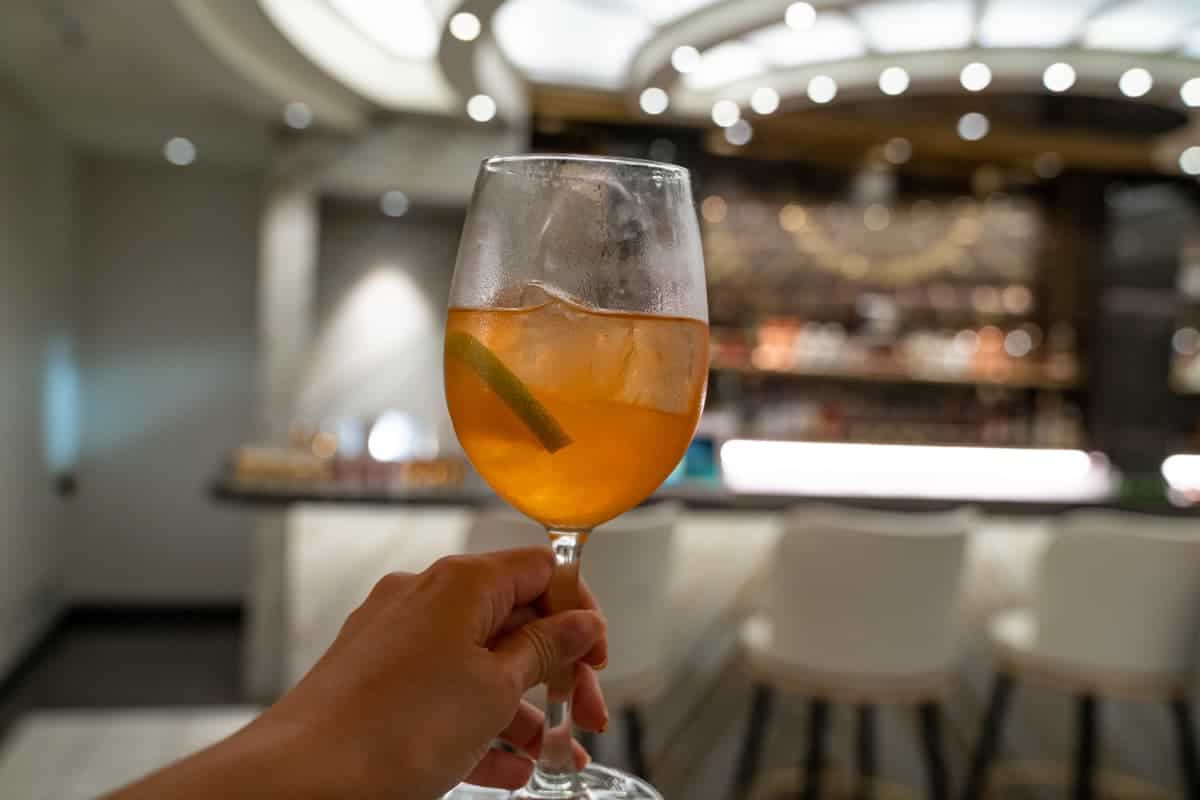 Other Bars – You can't walk anywhere on the Norwegian Prima without running across a bar. While we didn't include all of them in this review of the Norwegian Prima's restaurants, the ones listed above piqued our interest the most due to their unique selections. However, don't be afraid to explore the ship and find a spot that is unique to your taste! I will say, be sure to hit up the Prima Speedway Bar and the attached, three-story, go-kart racing track on Deck 18 if you can!
I do recommend bringing some hydration packets with all the drinking you may end up doing, as well as a personal water bottle. They tend to only hand out one water per trip to the bar. I needed a lot more after a night of drinking or time out in the sun. Read our general review of the Norwegian Prima for even more insider tips.
The Norwegian Prima's Restaurants: Final Thoughts
Overall, we were thoroughly impressed! We expected to run out of things to drink and food to try. I'm not one to stick to just one type of cocktail either. Since I didn't get to try everything available, I know this was indeed a cruise worthy of our praises. We have even more reason to book another trip and find even more Norwegian Prima and Norwegian Cruise Line restaurants we love.
The experience we had aboard the Norwegian Prima expanded well beyond the food and drink. You can read all about the amenities, live entertainment, accommodations, and more in our general review of the Norwegian Prima.