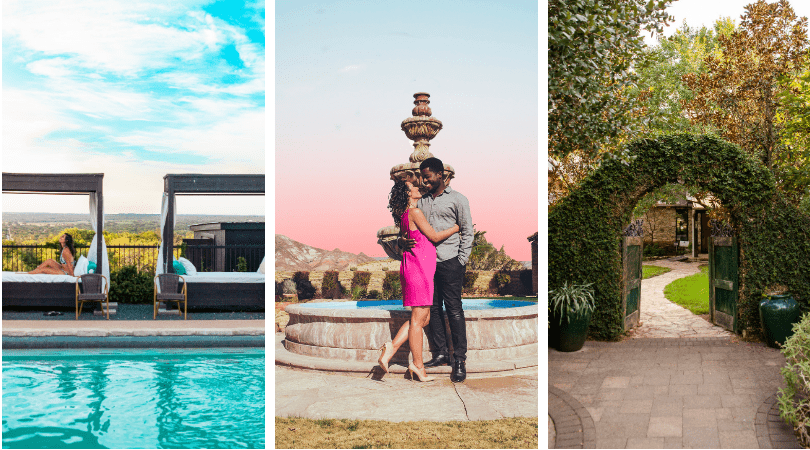 Planning your Texas honeymoon is sometimes even more fun than planning the wedding. What makes it even more exciting is the variety of offerings around the state of Texas that can make your Texas honeymoon extra special. The hard part…deciding which fun place to stay! No one said you couldn't have multiple honeymoon destinations in Texas. You can even combine multiple destinations listed here for the ultimate Texas honeymoon to last as long as you like.
Texas Honeymoons for Those Seeking Adventure
You want a little luxury, but you also want to go play outdoors. Lajitas Golf Resort & Spa in Big Bend might be the Texas honeymoon destination for you. Stay in a suite or a villa, with a true Texas feel, with beautiful brick architecture, a balcony with views of the golf course and mountains, and on-site spa and gourmet dining. It's perfect to come back to after a day of exploration. Spend a few hours on their premier golf course, hike and/or rent a Jeep to explore Big Bend National Park, or zip line through the mountains. The spa will be awaiting your arrival after exhilarating days spent with the one you love. What a great way to start your new life together! Find out more about Lajitas Golf Resort & Spa here.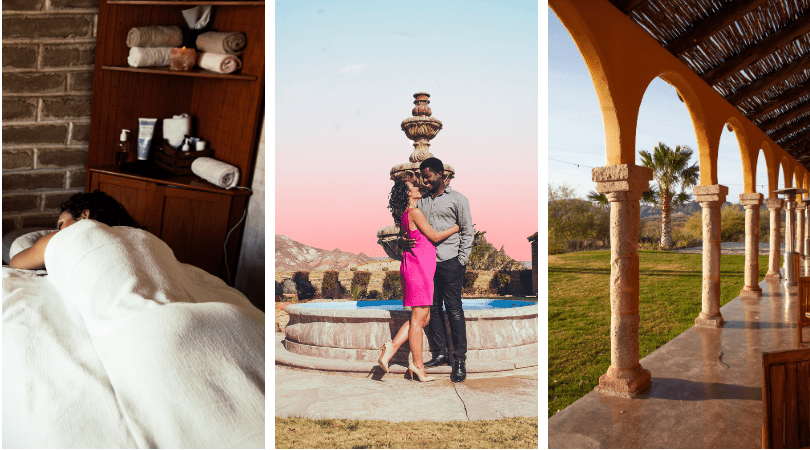 For a Quiet Texas Honeymoon with a View
For a quiet Texas honeymoon getaway for the new bride and groom, with breathtaking views, consider Fossil Knob Ridge in Terlingua, Texas. You'll feel like you're secluded from the world where you can focus on each other – and the great big, gorgeous Texas sky! This container cabin has all of the Wi-Fi and features you want, and a view that you can't imagine. Wake up to the rising sun with coffee on the porch and sit by the fire pit under the stars at night. Big Bend is nearby where you can find plenty of nature or adventure to fill your days. Explore Big Bend National Park and enjoy all of the natural formations. If you're seeking big adventure together, here are some exciting outings near Terlingua, TX. Or just stay in bed all day. It is your honeymoon, after all!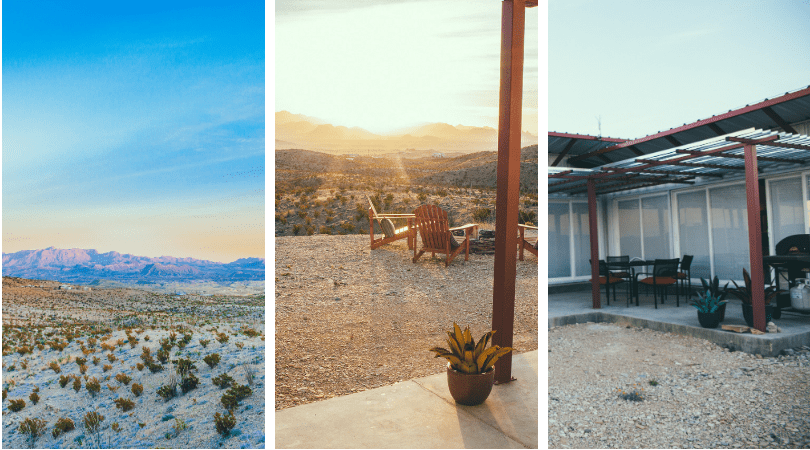 Eco-friendly Texas Honeymoon Spot
Enjoy your honeymoon while being nice to nature. Stay in one of the eco-friendly tree houses for a magical experience at Cypress Valley Canopy Tours in Spicewood, Texas. You'll enjoy many luxuries such as plush bedding, a relaxing hammock, a beautiful rock structure heated waterfall pool, and A/C (this is Texas, A/C is a necessary luxury!) Plus, you still have a full bathroom and a small kitchen. And all this among the trees, with a view of nature as you sit on the porch as newlyweds or holds hands as you cross the suspension bridge. Be sure to ask about their romantic packages at this memorable honeymoon destination. And when you're ready to venture out of your tree house, check out all of the fun things in Spicewood that you can do.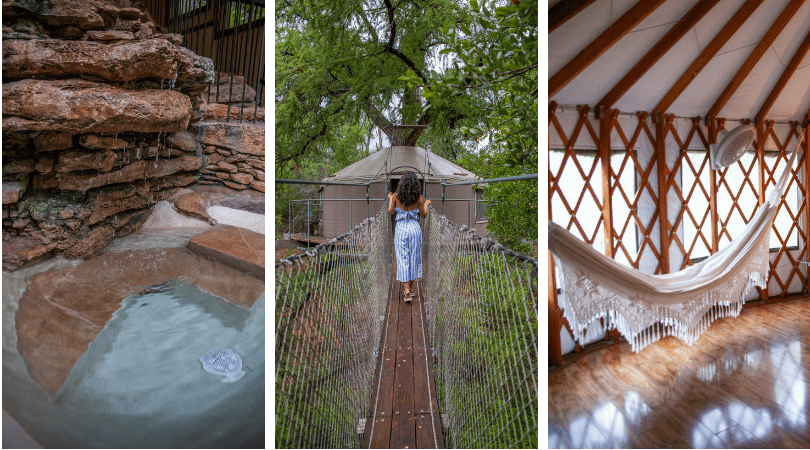 Wine Country Texas Honeymoon
For a romantic honeymoon experience, stay at a cozy Bed & Breakfast in Fredericksburg, Texas and enjoy the wine country. Hye-Way Haus is a quaint Bed & Breakfast that sits on a vineyard and has beautifully decorated rooms that have a vintage Texan feel. With several amazing wineries nearby, you can create an intimate itinerary with wine tastings, beautiful sunsets, scrumptious food, and live music, along with plenty of other fun experiences in Fredericksburg perfect for newlywed couples.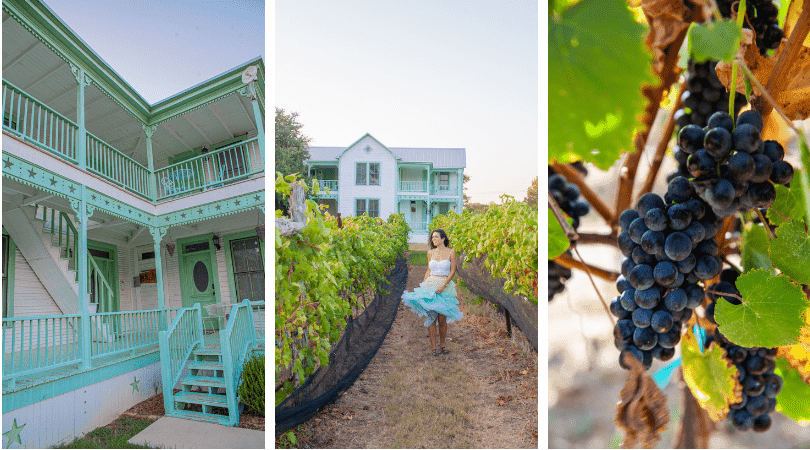 The Texas Honeymoon for Mind, Body and Soul
After the chaos of planning a wedding, you may want to spend your honeymoon relaxing and connecting with your new mate through mind, body and soul. Miraval Austin Resort & Spa is an all-inclusive resort that offers tranquility, wellness, culinary and adventure experiences, all in an atmosphere of serenity. What better way to connect than through yoga, massages, horse-back riding, and nutritious meals? The spa is complimentary. All meals are included. Sit back, relax, and bond with your new spouse at this all-inclusive Texas honeymoon destination.
Waterfront All-Inclusive Texas Honeymoon
For the honeymooners who want an all-inclusive resort experience, another great option is Lake Austin Spa Resort. This stunning property on Lake Austin is a sanctuary of luxury, wellness, and upscale amenities, perfect for a bride and groom to begin their life together! They offer rooms with special features such as private hot tubs, soothing fountains, and private patios overlooking the lake. Create a honeymoon that brings you and your soulmate together while enjoying yoga or cardio sessions, water skiing and wake boarding, cooking demonstrations, scenic boat tours and more. And be sure to take in the spa amenities for some well-deserved pampering. Lake Austin provides a perfect Texas honeymoon experience.
Mongolian Yurt Honeymoon in Wimberley, Texas
If you're looking for a unique Texas Honeymoon experience, book your stay at Yurtopia in Wimberley, Texas. A Mongolian Yurt with a private hot tub on the patio will give you the privacy you want, and all of the luxuries you'll need. The yurt has a bright, fun interior, and amazing views of the hill country. Wake up and enjoy a cup of coffee on the patio overlooking miles of trees and nature. Relax in on your porch hammock with your mate and watch the sunset. During the day, you can venture out to the whimsical town of Wimberley and discover the quaint town with plenty of adventure. From shopping to watering holes and nature hikes to zip-lines, Wimberley is a magical Texas honeymoon destination.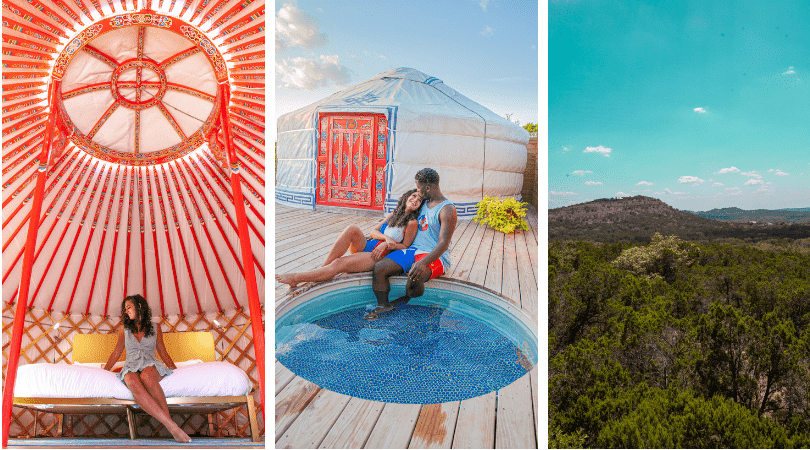 Honeymoon at the Riverwalk in San Antonio, Texas
The San Antonio Riverwalk is a beautiful honeymoon destination with so many great hotels, an array of authentic restaurants, and unique experiences, such as riverboat dining! You'll find comfortable and bright, airy rooms, along with thoughtful amenities, at the Grand Hyatt San Antonio. Enjoy stunning views of downtown San Antonio from the heated rooftop pool at the San Antonio Riverwalk Hyatt Regency Hotel. These are just a couple of the great hotel options just steps away from the Riverwalk, and you'll be within just a few minutes' walk, of La Villita historic village, the Alamo, museums, cultural events and more! You're almost guaranteed to see a mariachi band or two while you're there. At nighttime, take a romantic stroll along the riverwalk with the one you love, and take in the colorful lights and sounds of this incredible destination full of life and culture! You'll enjoy a honeymoon full of fun, food and festivities of all types to jump-start the fulfillment of your life together.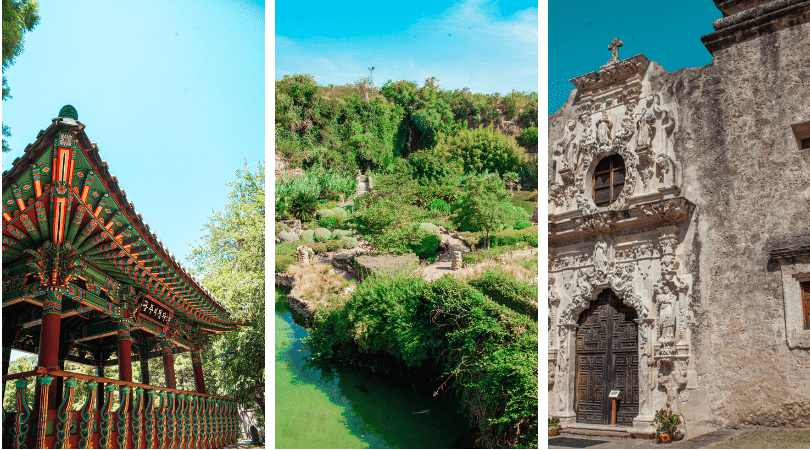 Texas Honeymoon Experiences in Dripping Springs
There are some amazing options for the perfect Texas Honeymoon experience in Dripping Springs! While all of the stays are unique, they are just minutes away from the enchanting town of Dripping Springs where you will find plenty to enjoy together.
Nothing says exotic romantic adventure like a treehouse safari! Asante Lodging is a destination that will be memorable, just as your honeymoon should be! Asante Lodge sits in the middle of an exotic animal preserve where you will see wildlife within feet of your porch, and nature all around. There are lodging options that include a treehouse, one-room suites, two-bedroom cottages, and all with decor ranging from African-inspired to Texas rustic, beautifully designed for your cozy, romantic stay.
Maybe a fairy-tale honeymoon cottage to commemorate your fairytale wedding? You'll find it in one of the Havenwald tiny homes, decked out in fun whimsical themes. With charming details such as stained-glass windows, natural wood finishing, and special goodies delivered to your door, this is a magical stay for you and your prince/princess charming!
Glamping in a yurt is a great way to start your life among nature, but in a luxurious kind of way! Find a yurt experience on HipCamp, such as Lucky Arrow Retreat, which has some beautiful Texas-themed yurts that make camping luxurious. Whether you are hiding away in your yurt, or enjoying the community areas with a pool, darts, and other activities, this is a unique Texas honeymoon adventure that provides a fun start to your new lives together.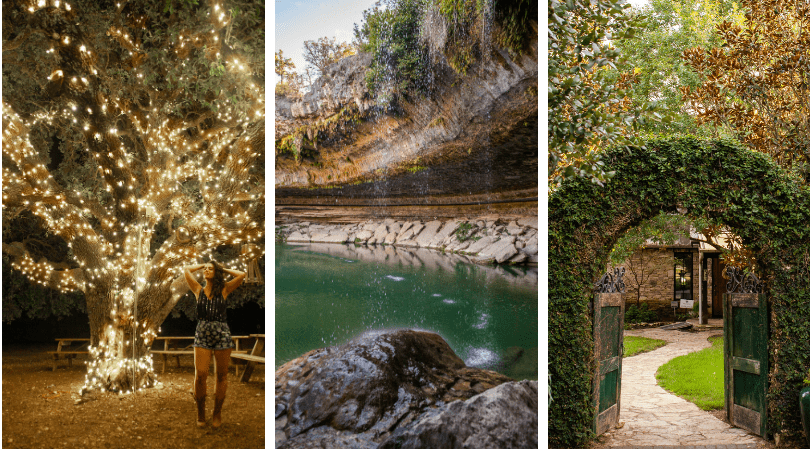 Bed and Breakfasts in Jefferson, Texas
Azalea Inn is just one of the amazing bed and breakfast treats in Jefferson, Texas that is perfect for your Texas honeymoon! This historic bed and breakfast, has beautiful grounds and interesting touches that give you a tranquil place to relax and explore together. Breakfast in bed? Of course, especially on your honeymoon! The innkeepers will deliver an incredible breakfast right to your room. What a great way to start each day as newlyweds! Some other beautiful and quaint bed and breakfasts in Jefferson include the Claiborne House, Delta Street Inn, and Green Gables.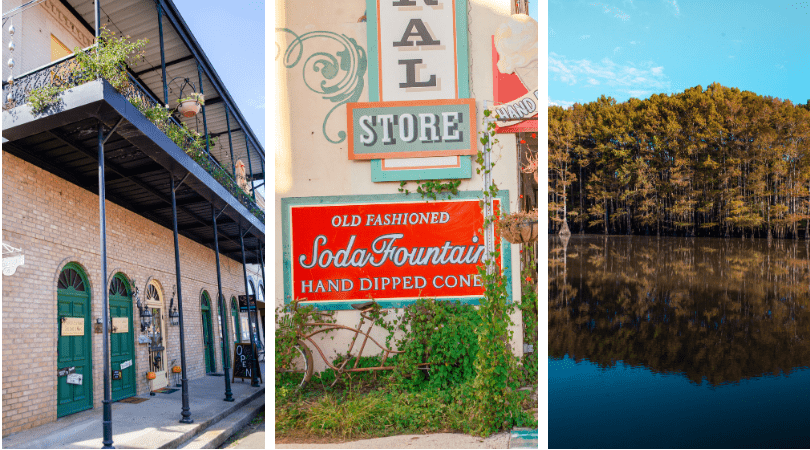 Honeymoon in the Alsatian Village of Castroville, Texas
If you're looking for a Texas honeymoon with a touch of France, you must visit Castroville and stay at the Hillside Boutique Hotel! This boutique hotel with detailed original furnishings has a farmhouse feel with all of the modern amenities to make you feel like you've stepped back in time to a slower pace, where you can just enjoy life with your loved one, while enjoying some pretty amazing views! Wake to mists among the treetops, and wind down to the glow of the stunning sunsets. Enjoy a drink in the Barrel Room, and dine in the beautiful bistro overlooking the Medina River, where you'll enjoy some scrumptious comfort foods. While you're there, enjoy all of the charm in the little Alsatian country town, or take a short drive and enjoy many of the things to do for couples in San Antonio!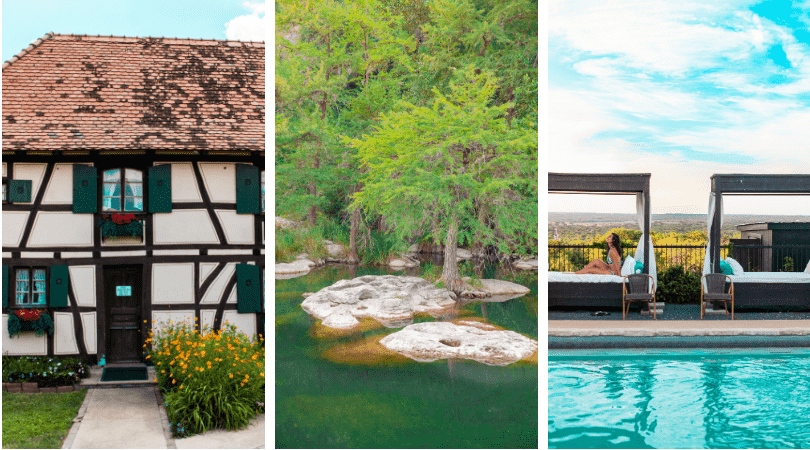 Honeymoon in Texas with a German Feel
Can't get out of the country? You can still feel like you're in a different country with all the German influences in New Braunfels. You can have the fun of historic German bakeries, all the water excitement at Schlitterbahn, a romantic vineyard picnic, and so much more.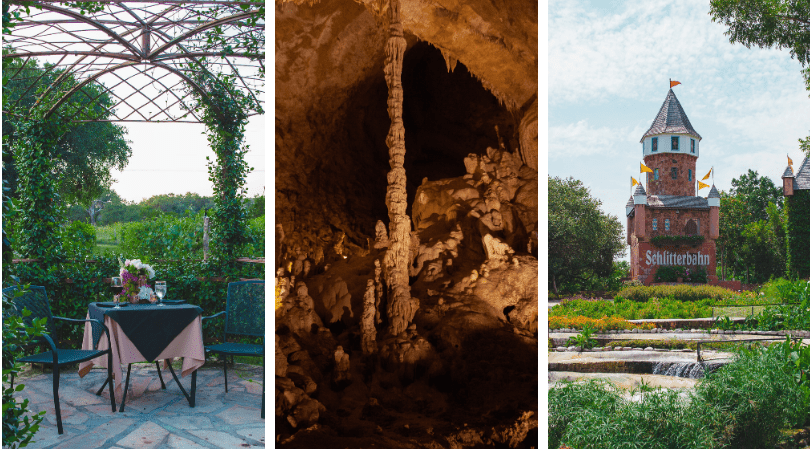 All-Around Great Resort for a Texas Honeymoon
At the Four Seasons Resort and Club Dallas at Las Colinas, you'll have gourmet meals, a luxury spa, an elite fitness center, and wonderful staff to make your Texas Honeymoon most memorable and enjoyable! It's the perfect all-around honeymoon destination, not only for all of the superb amenities at the Four Seasons, but for the beautiful property, amazing views, and close proximity to everything there is for couples to do in Dallas, Irving, and Frisco. You're either going to have to take a REALLY long honeymoon or keep coming back for more! This honeymoon destination has so much to offer, and you'll love the Four Seasons Resort! We did!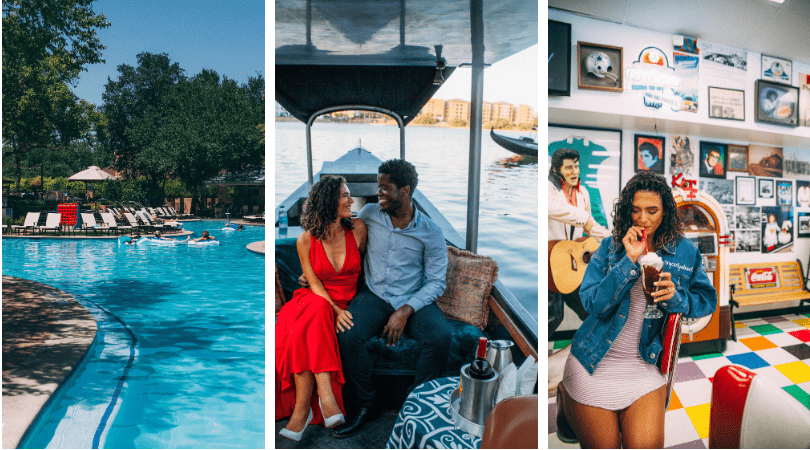 Budget-friendly Texas Honeymoon
For a budget-friendly, but full of character honeymoon, consider staying in the cute little town of Glen Rose. The Inn on the River is so charming with details that make you feel welcome and relaxed. Being greeted by the wonderful hosts and having yummy goodies like chocolate chip cookies waiting for you in the evenings are just some of the hometown, feel-good amenities you'll find here. Take a stroll hand-in-hand throughout the beautiful property and relax by the pool. Want to enjoy the A/C? How about a game of chess or some traditional board games? Be sure to wander into town and experience all the enchantment that Glen Rose offers. There is so much to do in Glen Rose, including a safari, dinosaurs, delectable dining options and so much more that you wouldn't even expect from this small town. It's just so comforting and fun here, that you will go home from your honeymoon feeling relaxed, recharged, and ready to start your new life with your love!