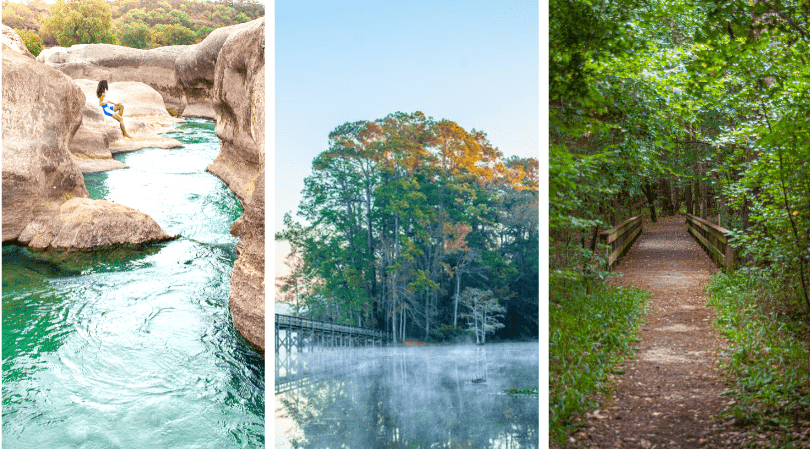 Camping doesn't have the same appeal to everyone. There are avid outdoorsmen (and ladies) who thrive on pitching a tent, spending hours in the sun amongst the bugs, hiking for miles on unbeaten paths, and then trekking back to their campsite, exhausted and sweaty, for a fireside meal. Others enjoy the pleasures of indoor plumbing, internet, air conditioning, and mattresses, stepping away from them to take in the beauty of nature, the warmth of the sun, the coolness of the breeze, and the wonderment that seeing undisturbed wildlife brings.
No matter what kind of adventurer you are, what makes any camping trip worthwhile is the abundance and variety of activities that fill your day before you rest by the fire and turn in for the night. Here are some of the best state parks in Texas to pitch your tent, or simply unpack your bag. With a variety of activities both inside and nearby these state parks, it'll make your camping trips some of your fondest vacation memories.
Best State Parks to Camp in Texas
Martin Dies Jr. State Park
Martin Dies Jr. State Park has adventures on land and on the water. It has trails that border a lake and a bridge along the way that crosses over onto a miniature island. It's the perfect place for an afternoon picnic to enjoy the peace and undisturbed beauty nature has to offer. Or, try something new, and canoe along its paddling trails. Simply rent a canoe or bring your own and paddle your way through an oasis. When you wake up the next morning, this state park is the ideal spot to watch the sunrise. You'll be amazed at the view in combination with the water below and the surrounding trees.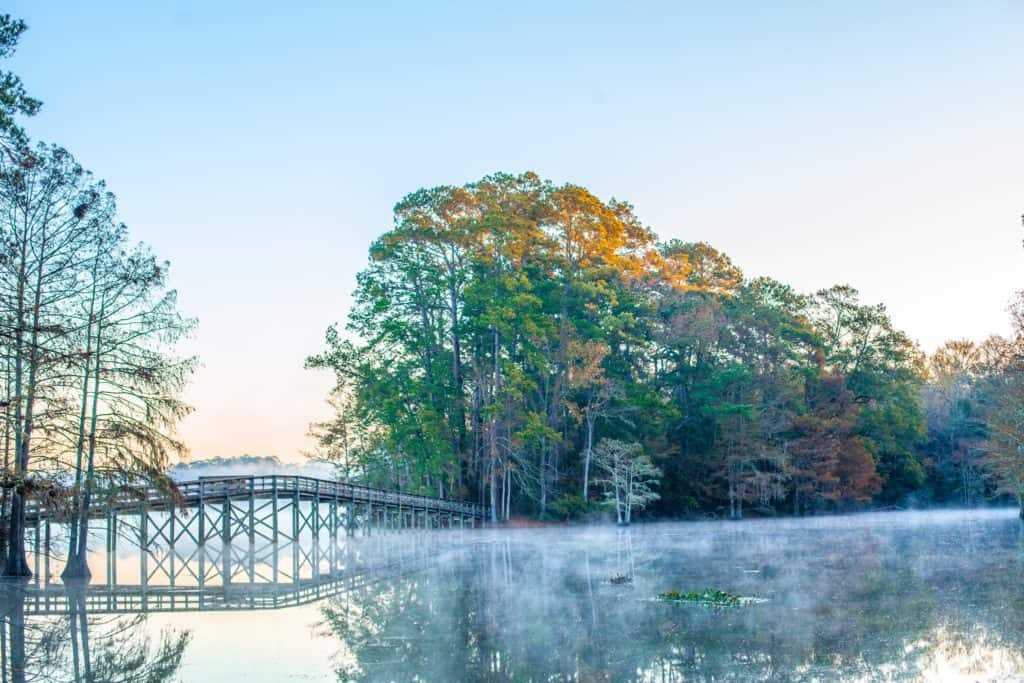 Caprock Canyons State Park
One thing we lose out on living in residential areas is seeing diverse wildlife in their natural habitats, but luckily for us, Caprock Canyons State Park has an abundance of bison and prairie dogs for your viewing pleasure. Here, you have the opportunity to drive through one of the many state parks in Texas and see both up close, and that is only the beginning! The beautiful red rock canyons along its hiking trails will be too picturesque to pass up. With various ways to take in all Caprock Canyons has to offer, from scenic driving routes and overlooks, to hiking trails of all lengths, this is the perfect place for camping in Texas. You'll be tuckered out and have a great night's rest after seeing all there is to see here.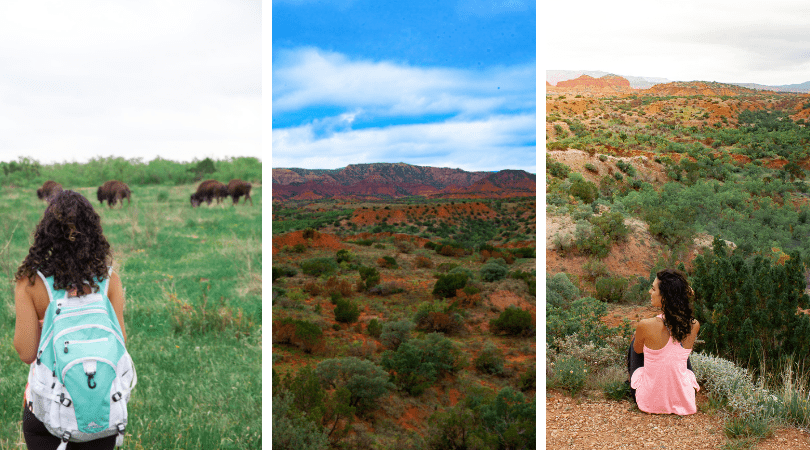 Garner State Park
There really is a little bit of everything here at Garner State Park. Old Mount Baldy Trail offers a more challenging hike and an amazing view overlooking the Frio River when you reach the top. If you're looking for a day by the water, pack your swimsuit and your innertube and float down the river, or go for a swim at the foot of Mount Baldy. Bringing the kiddos? There are paddle boats for rent and a mini golf course. If a little of both is more your speed, and you're looking to fill your camping trip with adventures, if you hike Blinn River Trail, you'll come across some shallow pools to cool off in after your long day of exploring this Texas state park.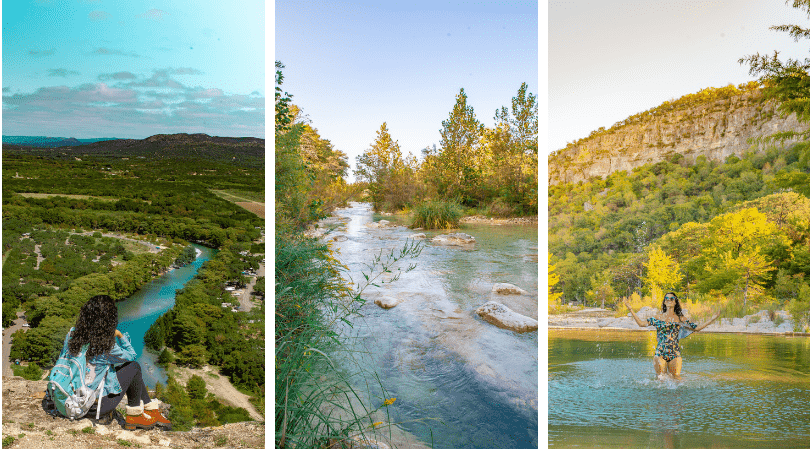 Pedernales Falls State Park
Before making camp, visit Stonewall, which neighbors Johnson City, the home of Pedernales Falls State Park. As stops along the 290 Wine Trail, both towns are home to wineries and restaurants of all kinds. Johnson City even has wildflowers in the summer, art galleries, and fun educational destinations for the little ones. After filling your belly, you can hike Twin Falls Nature Trail, geocache, or picnic and soak up the sun along the Pedernales River. Be careful because, although it is said to have mostly calm waters, it can have turbulent currents as well.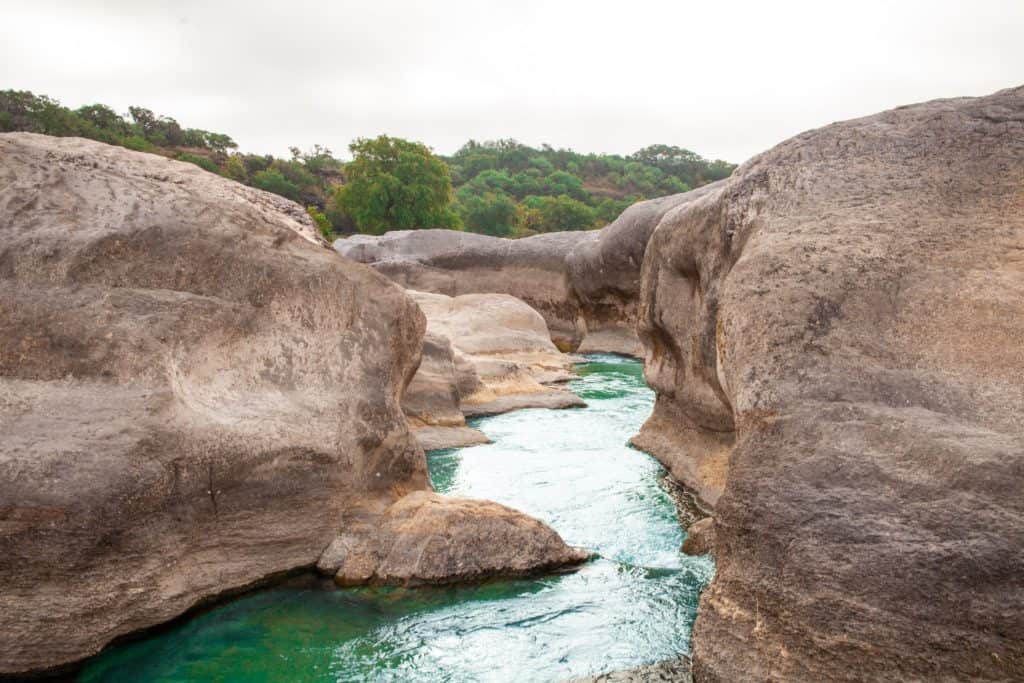 Inks Lake State Park
This Texas state park is a fisherman's paradise. They have everything you could ever want or need. You can borrow rods, reels, tackle boxes with hooks, sinkers, and bobbers. Their diverse fish, including sunfish, catfish, and different species of bass can make for an eventful afternoon. When your arms are ready for a break, cool off with some shaved ice and snacks from Kona Ice, a local food truck. Take a dip in the Devil's Waterhole or admire the waterfall at Village Spring Creek. For even more to see, hike their 9 miles of trails that cover diverse terrain and bird watch from their bird blinds. Some s'mores and a great night's sleep will be all that's on your mind after exploring every avenue of this Texas wonderland.
Monahans Sandhills State Park
Take advantage of the unique experience Monahans Sandhills State Park has to offer among the sand dunes. Without any marked trails, you truly have free reign. Speaking of reins, you might even see campers riding their horses, and if you have a long-nosed friend of your own, you can too! With sand disks for rent and unlimited space to roam, this is a great place to bring the whole family while remaining close to your campsite, nestled within the sandhills. You can also take the opportunity to learn all about this state park at the Dunagan's Visitor Center.
Village Creek State Park
Village Creek State Park is the perfect camping destination if you love to canoe or kayak. Its multiple paddling trails and launch points allow you the freedom to make this state park your playground for as many hours as your heart desires. Village Creek Paddling Trail, a 21-mile long journey, even has places to fish and camp along the way.
Sea Rim State Park
If you've ever dreamt of camping on the beach, Sea Rim State Park can make those dreams a reality. With places to camp within walking distance of the water, you can spend your day swimming, sunbathing, paddling or combing the sand for little treasures to remember your time on this Texas beach. If sleeping in a tent isn't your style, there are also campsites with utilities, as well as a cabin. Beaumont is the home of this state park, a quaint town with so many sites to see, as well as history, fun activities, Cajun food, and places to drink and have fun. If you're in the mood for a hearty meal and evening fun, Beaumont is the place to go.
Eisenhower State Park
Located near the shore of Lake Texoma, you have endless possibilities on your next camping trip to Eisenhower State Park. Take a day trip down to the lake and choose from paddleboarding, kayaking, swimming, and fishing. There are plenty of activities on the water to fill your day! If you're wanting to stay close to your campsite, Eisenhower State Park has caves to explore, trails to hike, and its own little beach. If you're looking for a more laid back day before returning to your campsite, Eisenhower State Park is located in Denison, a charming town with vintage shops and boutiques, wineries, a food truck park, and art galleries.