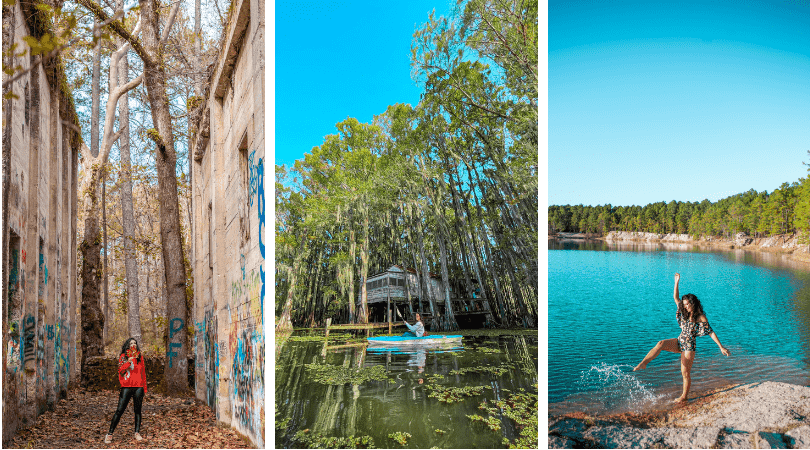 East Texas is a wonderful place filled with history, unexpected beauty, and, of course, plenty of nature.
I didn't know much about Fall until I discovered the way that the colors of the trees changed in East Texas. And there's nothing like watching the fog rise over the water in the early morning. The weather is mild, making it a great time to go for hikes, bike rides, or simply enjoy the scenery.
There's so much beauty in East Texas. So take a day trip and discover the best places to visit in East Texas.
Go Car Camping in Jasper TX
Jasper is a small town, but sometimes that's all you need for a trip to East Texas. In Jasper, you'll find Martin Dies Jr. State Park, which is a completely stunning state park.
There are miles of hikes and lakefront property. You can rent kayaks to go out on the water, and there's a small island hike.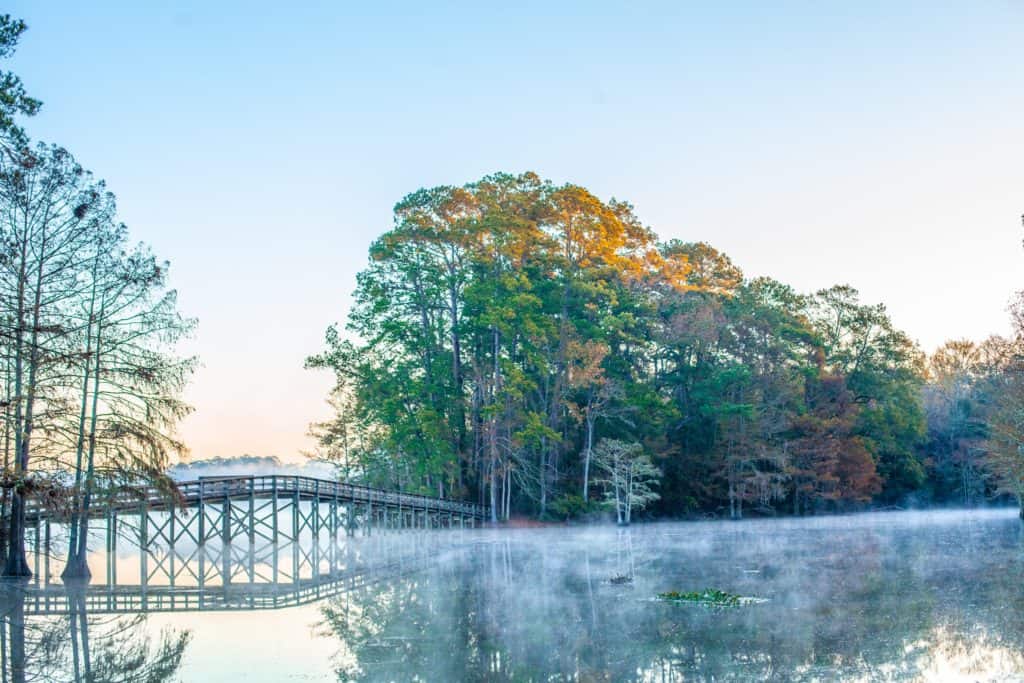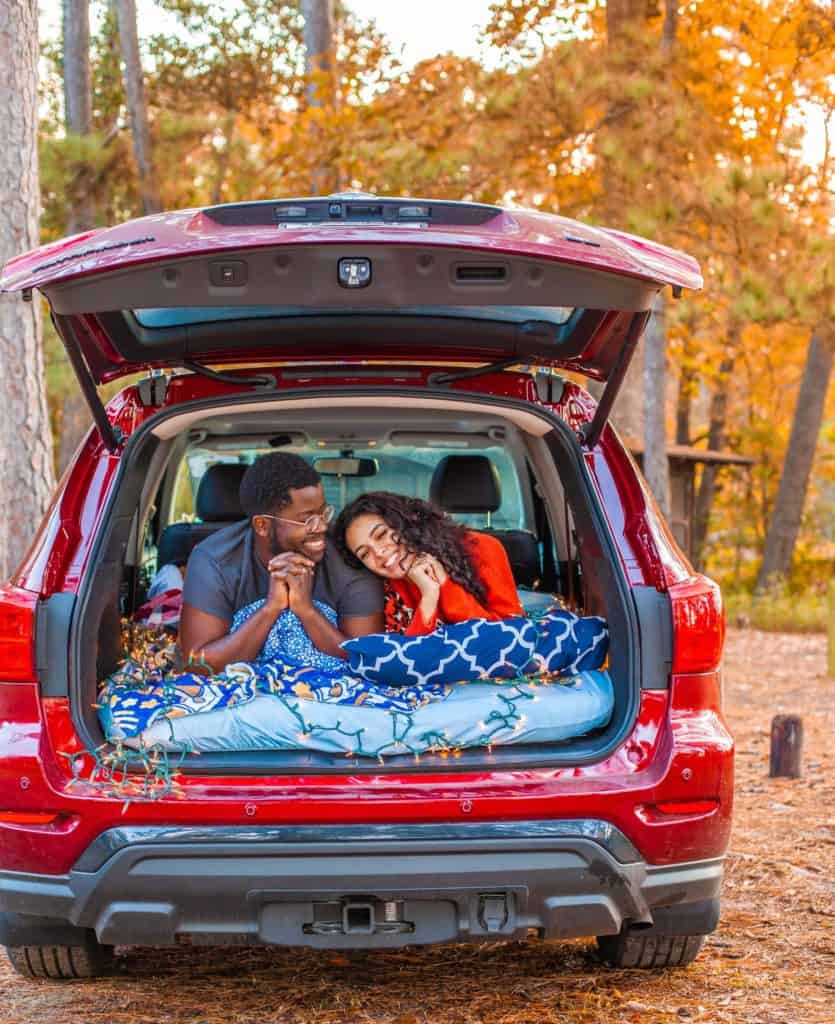 One of our favorite parts was just the chance to go camping in nature with the pine trees, except instead of a tent, we stayed in the Trophy Nissan Pathfinder. Between camping at Martin Dies Jr State Park and just relaxing, we found so much peace out in nature.
Orange
Orange is a city in East Texas known for its citrus industry. The city is home to the Shangri La Botanical Gardens and Nature Center, which is home to a variety of plants and flowers.
Check out all of the fun things to do in Orange, TX.

Marshall
Stroll down its historic streets lined with architectural marvels, and you'll feel like you've stepped into a vintage postcard. But don't let the history fool you—Marshall's vibrant culture, friendly locals, and vibrant festivals are as lively as ever!
Check out all of the fun things to do in Marshall, TX.
Aldridge Sawmill
This abandoned building used to be a once-thriving sawmill. Now a short hike will lead you to these ruins in East Texas. There's something beautiful about seeing the way that nature has reclaimed this area with trees and vines growing through.
It's one of the best places in East Texas for a hike and something unexpected.
Caddo Lake State Park
This state park is one of the most popular places in East Texas, and it's easy to see why. The park is filled with bald cypress trees that hang mystically in the water. You can follow the pier out to get a view of the water and the trees.
We even went a little outside to Uncertain, TX, which has some of the most stunning kayaking trails. I love finding this area, although I can't imagine I would want to have tea in this area.
Uncertain is home to some unique lodging experiences, including the chance to sleep in a boat at Hodge Podge Cottages!
Check our review of the Hodge Podge Cottages.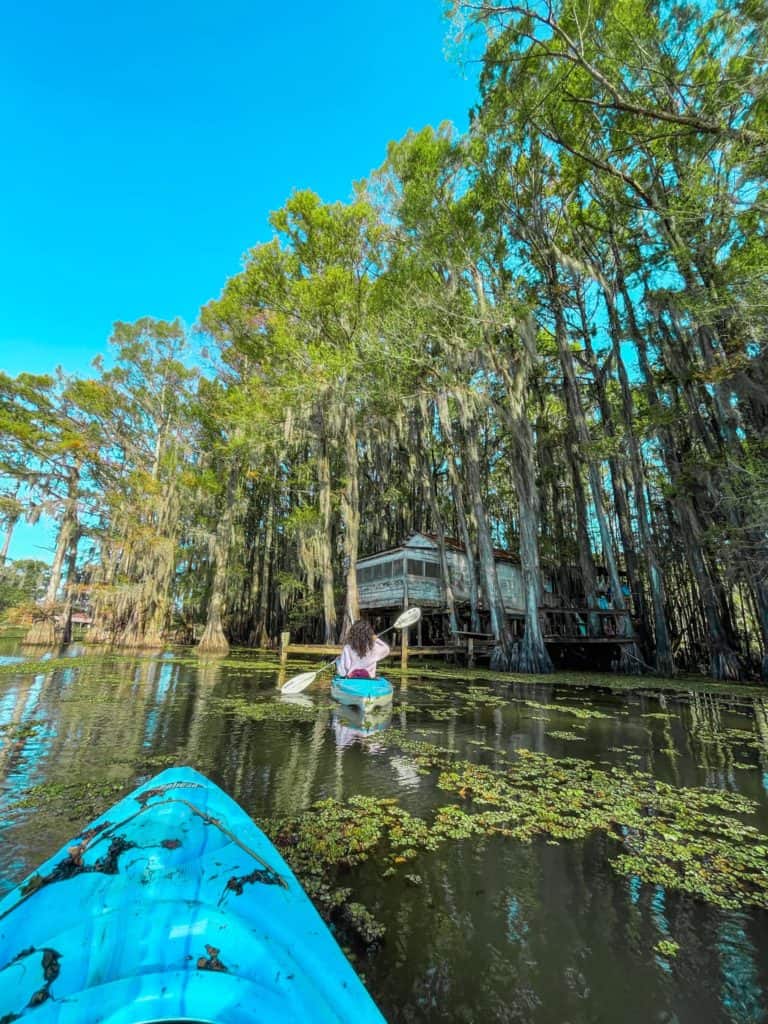 Jefferson
Close to Caddo Lake State Park is Jefferson, the bed and breakfast capital of Texas. Here you'll find so many cute b&bs as well as a beautiful downtown full of color.
Enjoy bayou tours, quirky things like a clock museum, and a beautiful wine tasting room.
Check out all of the top things to do in Jefferon, TX.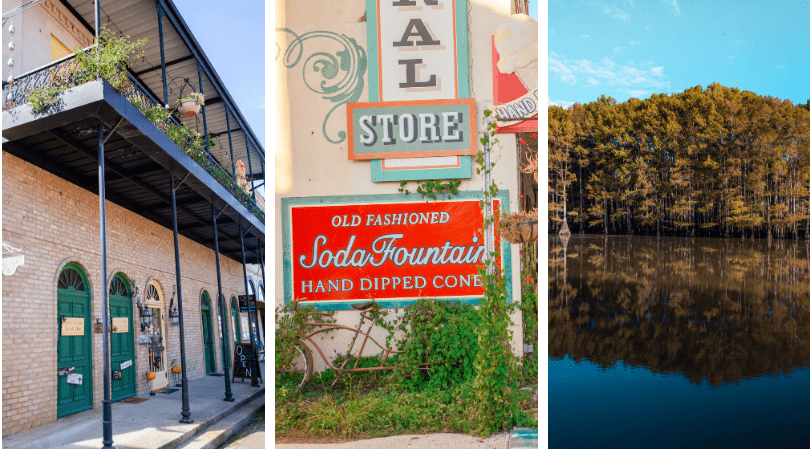 Beaumont
Beaumont, located in the heart of South East Texas, is that delightful blend of history, culinary delights, and nature that every traveler dreams of.
Here you can feast on some of the most mouthwatering Cajun dishes (did I mention it's the Cajun capitol of Texas?). For history buffs, prepare to be wowed at the iconic McFaddin-Ward House, and while you're at it, dive deeper into the past at the town's antique shops and old Texas replica town.
For those daring souls, a face-to-face rendezvous with gators at Gator Country awaits. And if rare orchids are your thing, Beaumont promises to mesmerize.
For those nature enthusiasts, gear up, because the tranquil trails of Big Thicket National Preserve are just around the corner.
Check out all of the fun things to do in Beaumont, TX.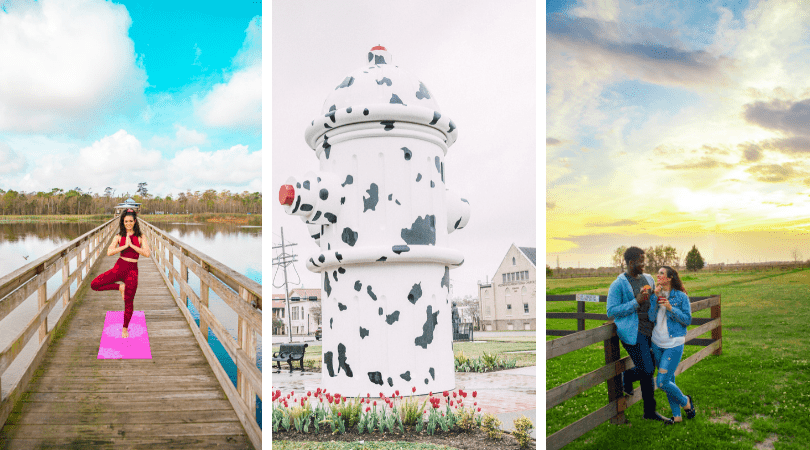 Nacogdoches
If you're looking for history and culture, be sure to visit Nacogdoches, the oldest town in Texas.
Founded in 1779 by the Spanish, Nacogdoches has a rich history that is evident in its many historical sites, including the Old Spanish Fort and the Stephen F. Austin State University campus.
Jacksonville
If there's one thing Jacksonville takes pride in, it's its tomatoes! Known as the Tomato Capital of the World, this city is more than just its delicious red fruits. Surrounded by rolling hills and serene lakes, Jacksonville offers a delightful escape for nature lovers.
Check out all of the fun things to do in Jacksonville, TX.
Palestine
Palestine is a beautiful town and is full of color in the spring. Any day of the year, it's beautiful, with a fairytale forest like Lake Palestine, offering a wide range of outdoor activities. It is a great place to go for a swim, boat ride, or fish. You can also hike or bike in the surrounding forest.
Also, one of the best things you have to experience in East Texas is riding the Texas State Railroad. The picturesque landscapes and charming towns along the route make the train rides truly memorable.
Check out all of the other fun things to do in Palestine, TX.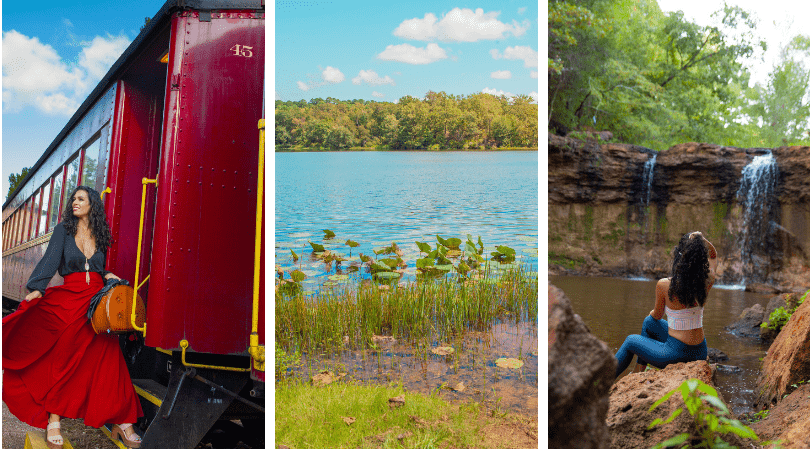 Paris
You don't have to travel to Europe to see the Eiffel Tower. You can find one right here in Texas, and it even comes with a red cowboy hat! This fun town gives you European vibes, history, and some great vintage shopping.
Check out all of the fun things to do in Paris, TX.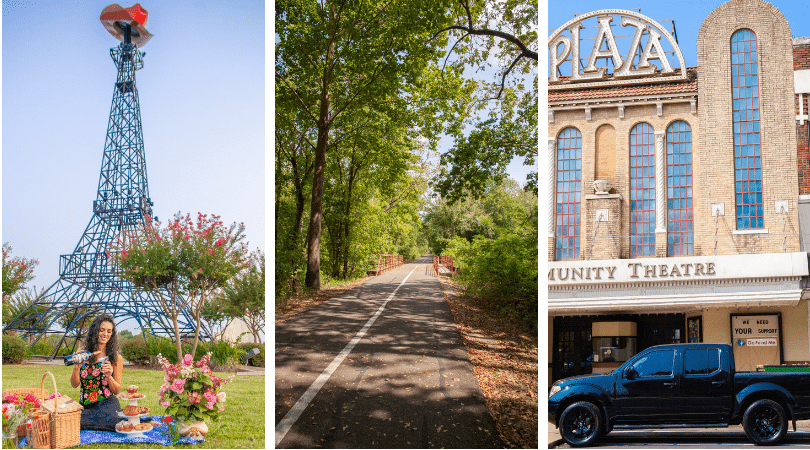 Livingston
A castle in East Texas? Yes, you read that right! There's a good reason why East Texas keeps surprising travelers with its hidden gems. In addition to a German castle that you can stay in, you can enjoy the beautiful state parks and a quaint downtown.
Check out all of the fun things to do in Livingston, TX.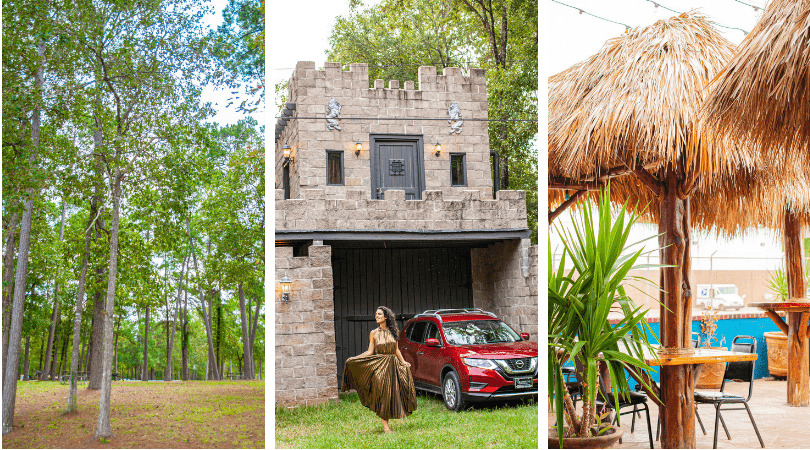 Huntsville
The boot house is something strange in East Texas, but Huntsville has so much more that's unexpected. You can stay nearby in a tree house, go hiking at the state park or the national forest, and of course visit the iconic Sam Houston Statue.
You might even be able to find another East Texas surprise: Caribbean blue waters to go swimming in.
Check out all of the fun things to do in Huntsville, TX.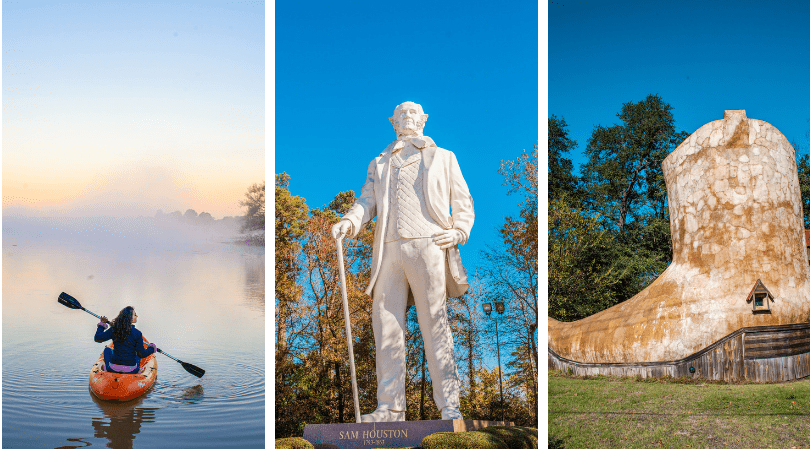 Tyler
When you think of East Texas, the city of Tyler is that radiant gem you can't overlook. Why, you ask? Start with the intoxicating Tyler Rose Museum, which pays homage to the region's deep-rooted love for this elegant full bloom.
For those who lean toward nature, Tyler has more to offer. The tranquil waters and forested trails of Tyler State Park promise an escape from the urban hustle.
And if you're looking to switch things up, Lake Tyler awaits with its shimmering expanse, perfect for a day of fishing, boating, or just unwinding by the shore.
But the real showstopper? The Texas Rose Festival! Set against the backdrop of the stunning Tyler Rose Garden, it's where Tyler, Texas, truly blossoms, showcasing a mesmerizing parade, rose-adorned floats, and that undeniable Southern charm.
In addition to being the Rose Capital of America, it's also home to the Tyler Museum of Art, the Caldwell Zoo, the Historic Aviation Memorial Museum, and Discovery Science Place.
Check out all of the fun things to do in Tyler, TX.
Longview
Longview is located near the Piney Woods region, which offers a variety of hiking, camping, and fishing opportunities.
One of the most popular things to do in Longview is take a hot air balloon ride. Hot-air balloon rides offer stunning views of the city and the surrounding countryside.
Grapeland
Grapeland is a tiny town in East Texas, but this great place is worth a visit!
Here you'll find Mission Tejas State Park, a drive-through safari where you can feed the animals, and a historic Texas town replica.
Read all about Grapeland, TX.