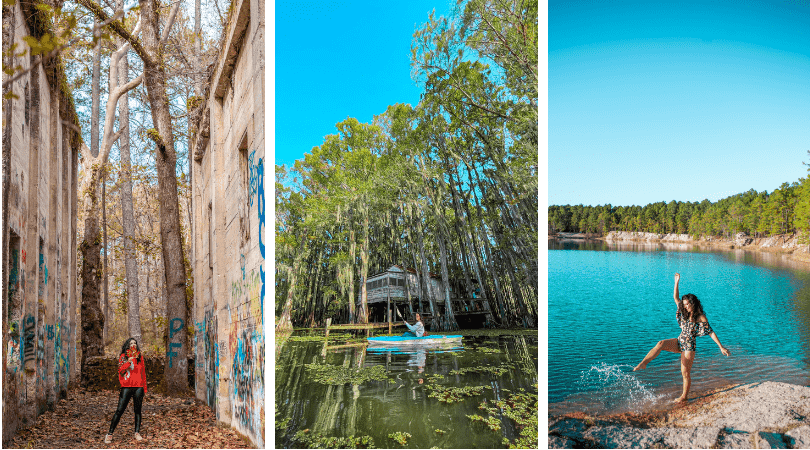 East Texas is a wonderful place filled with history, unexpected beauty, and of course, plenty of nature. I didn't know much about Fall until I discovered the way that the colors of the trees changed in East Texas. And there's nothing like watching the fog rise over the water in the early morning. There's so much beauty in East Texas. So take a road trip and discover the best places to visit in East Texas.
Go Car Camping in Jasper TX
Jasper is a small town, but sometimes that's all you need for a trip to East, TX. In Jasper you'll find Martin Dies Jr. State Park, which is a completely stunning state park. There are miles of hikes and lakefront property. You can rent kayaks to go out on the water, and there's a small island hike.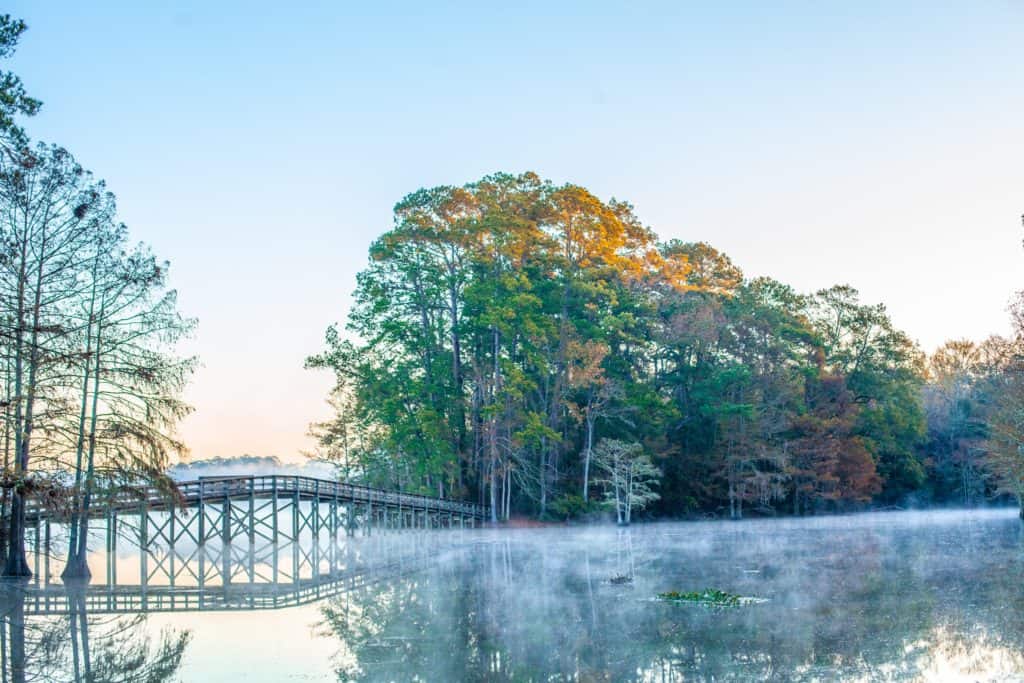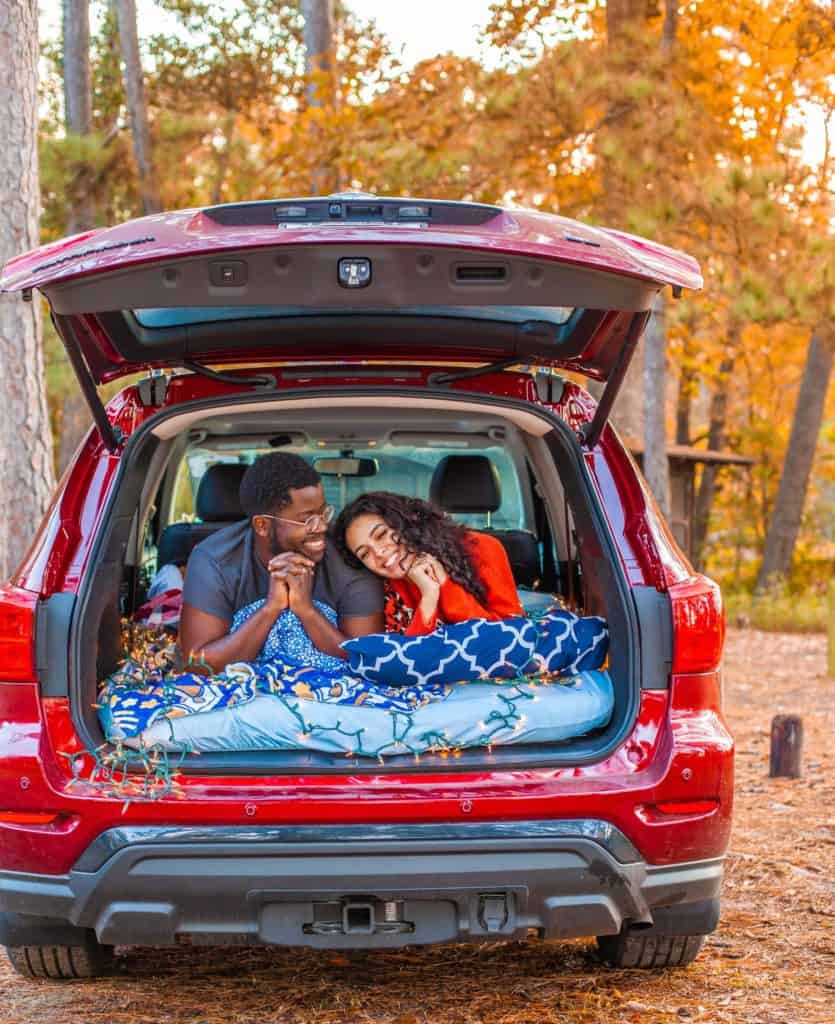 One of our favorite parts was just the chance to go camping in nature with the pine trees, except instead of a tent, we stayed in the Trophy Nissan Pathfinder. Between camping in at Martin Dies Jr State Park and just relaxing, we found so much peace out in nature.
Aldridge Sawmill
This abandoned building used to be a once thriving sawmill. Now a short hike will lead you to these ruins in East Texas. There's some beautiful in seeing the way that nature has reclaimed this area with trees and vines growing through. It's one of the best places in East Texas for a hike and something unexpected.
Caddo Lake State Park
This state park is one of the most popular places in East Texas, and it's easy to see why. The park is filled with bald cypress trees that hang mystically in the water. You can follow the pier out to get a view of the water and the trees.
We even went a little outside to Uncertain, TX which has some of the most stunning kayaking trails. I love finding this area, although I can't imagine I would want to have tea in this area.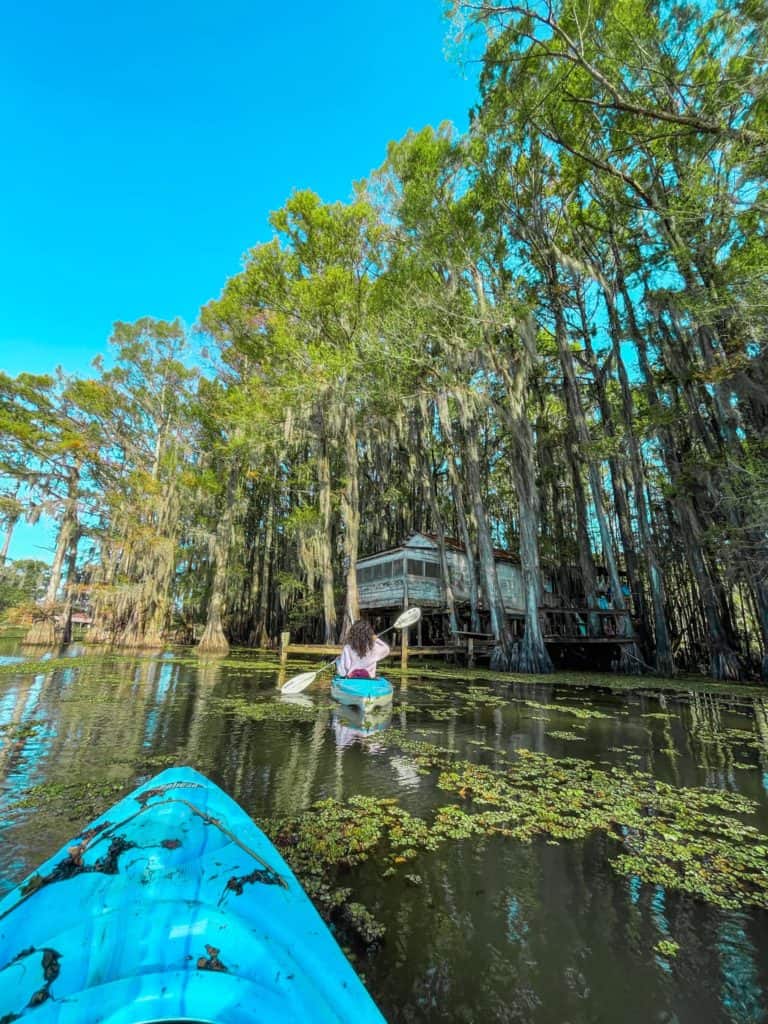 Jefferson
Close to Caddo Lake State Park is Jefferson, the bed and breakfast capital of Texas. Here you'll find so many cute b&bs as well as a beautiful downtown full of color. Enjoy bayou tours, quirky things like a clock museum, and a beautiful wine tasting room. Check out all of the fun things to do in Jefferon, TX.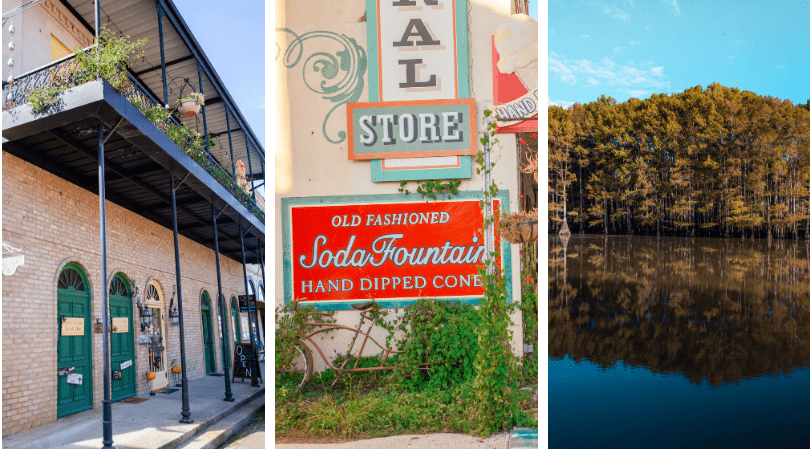 Beaumont
This South East town is full of fun adventures and is a great getaway in East Texas for those who are looking for an affordable getaway and great Cajun food (it is the Cajun capitol of Texas!) See an old Texas replica town, meet gators at Gator Country, and discover rare orchids. Check out all of the fun things to do in Beaumont, TX.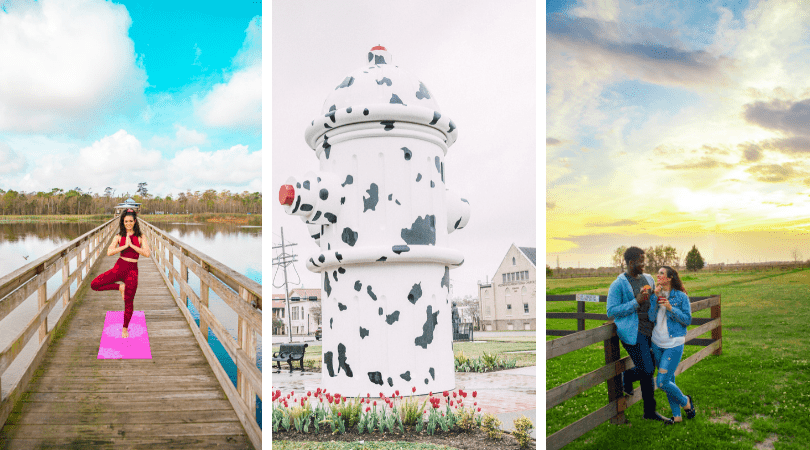 Palestine
Palestine is a beautiful town and is full of color in the Spring. Any day of the year it's beautiful with a fairytale forest, lakes to enjoy a picnic by, and and even a waterfall to discover. One of the things you have to experience in East Texas is riding the Texas State Railroad. Check out all of the other fun things to do in Palestine, TX.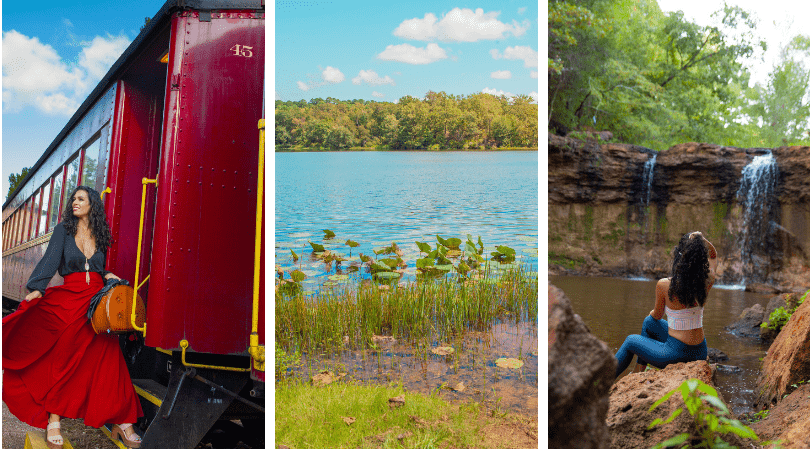 Paris
You don't have to travel to Europe to see the Eiffel Tower. You can find one right here in Texas, and it even comes with a red cowboy hat! This fun town gives you European vibes, history, and some great vintage shopping. Check out all of the fun things to do in Paris, TX.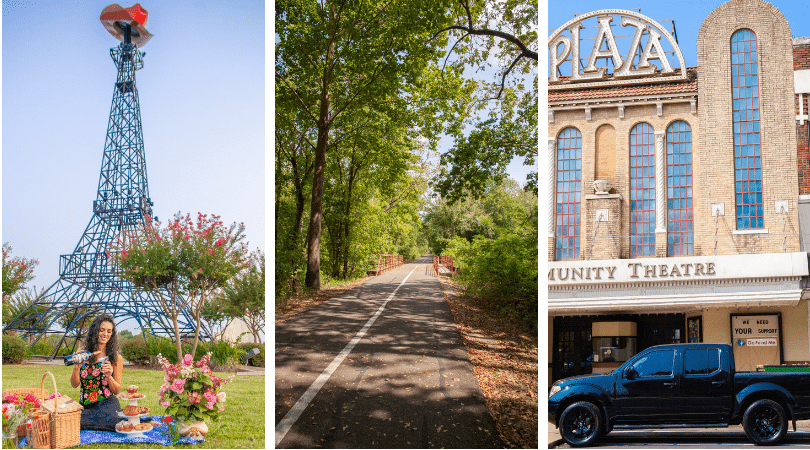 Livingston
A castle in East Texas? There really are so many gems to be found in East Texas. In addition to a German castle that you can stay in you can enjoy the beautiful state parks and a quaint downtown. Check out all of the fun things to do in Livingston, TX.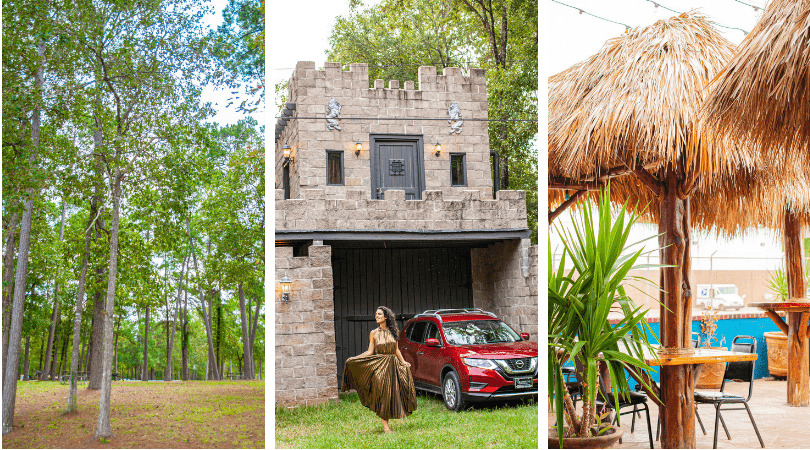 Huntsville
The boot house is something strange in East Texas, but Huntsville has so much more that's unexpected. You can stay nearby in a tree house, go hiking at the state park or the national forest, and of course visit the iconic Sam Houston Statue. You might even be able to find another East Texas surprise, Caribbean blue waters to go swimming in. Check out all of the fun things to do in Huntsville, TX.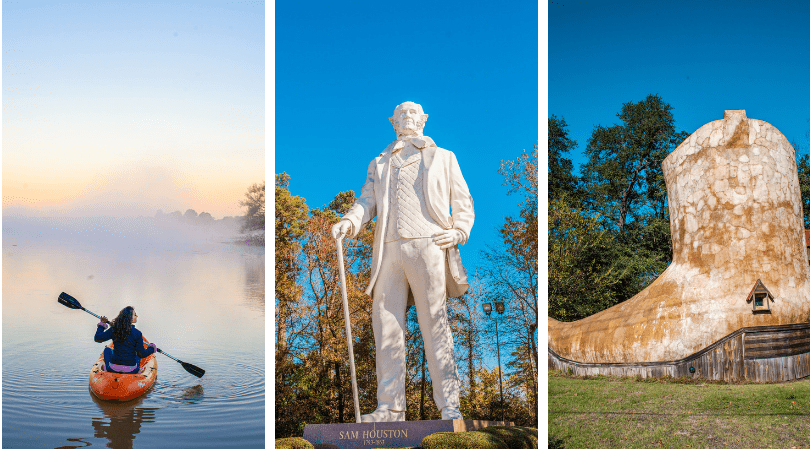 Grapeland
Grapeland is a small town in East Texas, but it's one of the best places to visit! Here you'll find Mission Tejas State Park, a drive through safari where you can feed the animals, and a historic Texas town replica. Read all about Grapeland, TX.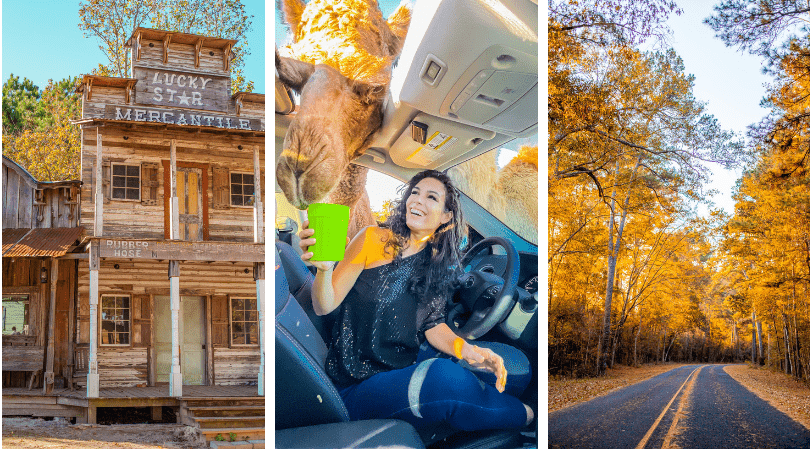 Best Places to Visit in East Texas
East Texas is so beautiful and it's worth taking the time to explore. Once you start discovering the best places to visit in East Texas, you'll get hooked and want to keep discovering all the beauty East Texas has to offer.