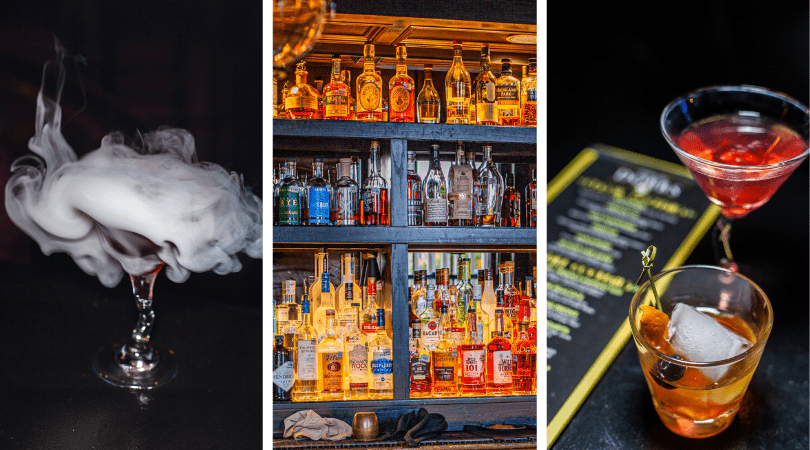 While we've long passed the Prohibition era, when secret speakeasies first came to be, the atmosphere of these hidden bars continue to reel people in. In an effort to replicate the vibes of this period in history, a contemporary take on the best speakeasies and hidden bars are popping up all over. In San Antonio, you don't want to miss out on our tips on how to get into the RD Hidden Door Speakeasy, among other secret speakeasies and hidden bars in town. When you're visiting Dallas, Houston, or Austin, there are even more hidden bars to be discovered!
RD Hidden Speakeasy
The RD Hidden Speakeasy in San Antonio is one of the premier hidden bars and cocktail lounges in town. Located behind the Barn Door restaurant in Alamo Heights and, often easily missed, you'll find it through a door beneath a green light. To access RD, a password is required. Text 210-605-2292 to receive the password and make your reservation. Text your party size and expected time of arrival to the number and, if approved, you'll receive a response with a passcode. When at the RD door, repeat the passcode through the peephole to enter. Only 27 guests can be in this hidden bar at a time, so the reservation only policy is a real perk for an intimate and exclusive experience.
Upon entering, you'll be met with a 1920's ambiance, complete with dim lights and candles. The atmosphere of this secret speakeasy is perfectly reminiscent of the Prohibition era. There is a large two-way mirror inside this hidden bar that lets guests of RD into the Barn Door, but restaurant goers can't see them. The speakeasy is open from 5:30pm to 12am Thursday through Saturday. You'll also be greeted with complimentary cocktails and snacks. On top of this, you can order drinks from their extensive list of specialty cocktails, wines, and beers.
Other Hidden Bars in San Antonio TX
Secret speakeasies and hidden bars are making a comeback in San Antonio. If you're looking for things to do in San Antonio, make sure to check out some of these other, lesser-known hidden bars for an unforgettable experience.
Hidden in Plain Sight: Bar 1919
Located in the Blue Star Complex in Southtown, Bar 1919 can be easily missed if you're not on the lookout for it. This hidden bar in a basement is only a flight of stairs away and gives the feel of a speakeasy straight out of the 1920's. With dim lighting and an extensive list of liquor on their menu, you can find a wide variety of whiskeys and rums, but you may notice only one variety of vodka is available. This is intentional, as the establishment has a long-lasting snub of the drink. You can find out more about the house rules here. Please adhere to and respect them when visiting Bar 1919.
A Speakeasy Inside a House: The Modernist
The Modernist is a mid-century speakeasy with a luxurious and opulent ambiance that will keep visitors coming back for more. This hidden bar is located inside a house, making it a non-descript establishment that most people don't realize is actually a bar. A mailbox with a small name on it is the only sign that you'll get to inform you that you've arrived. The Modernist serves classic and customizable cocktails that can be ordered by word-of-mouth, as there really isn't a menu in place. Enjoy the exclusivity and stop by the uniquely styled bathroom for a photo-op.
A Modern Take on a Speakeasy: Cellar Mixology
Beneath Toro Kitchen + Bar at St. Paul Square, under the rose, you'll see a red phone. Instead of picking it up to make a call, push it back and you'll see the whole wall move to reveal Cellar Mixology, a modern speakeasy. The secret-cellar establishment is adorned with picturesque neon signs and decorative wine barrels, along with CBD cocktails on its unique one-drink-per-page menu. Sip on specialty drinks while enjoying the upbeat ambiance at this hidden bar.
Score Tickets and a Drink: Best Tickets
What better way to celebrate scoring some awesome tickets than with a drink? Best Tickets is a hidden bar at the back of the AT&T Center. In order to enter this speakeasy-style den, you need to purchase tickets first. This is a good opportunity to buy tickets to see your favorite team win in-person. Or, maybe there's a concert you've been debating about going to that now looks like the perfect idea. Once you've bought your tickets, you'll have access to this hidden bar, serving cocktails and beers fit for a good time. On your way out, make sure to check out the breathtaking mural located on the side of the building for the perfect picture to close out the night.
Enjoy Specialty Mixes: The Green Lantern
With no signs or paintings indicating where it is, the Green Lantern can be hard to find. A single green lantern hangs outside of the door as the only indicator of where this hidden bar is located. Past visitors say it's in the Stone Oak area of San Antonio near the JW Marriott. Upon entering the speakeasy, you'll be able to experience the refined ambiance. Complete with trained mixologists and an array of specialty mixes, you can enjoy handcrafted drinks all night long at this hidden bar. Green Lantern's extensive list of cocktails are all made from fresh ingredients and range from classical drinks to customizable creations that you'll love.
Have a Drink on the Riverwalk: Downstairs at the Esquire
While the Esquire Tavern is a popular San Antonio destination, many people are unaware that it has a downstairs area. Just take the stairs down to the Riverwalk level of the building and you'll be met with an intimate cocktail and hidden bar. The lounge is a speakeasy with top-of-the-line, handcrafted drinks and small plates perfect for an evening out on the town. Right in the center of all the action, the speakeasy is conveniently located in downtown San Antonio where you can take a stroll down the Riverwalk before or after drinks and take in the beautiful ambiance of the city.
For a Truly Intimate Evening: The Havana Bar
Down for an intimate night with a drink in hand? The Havana Bar is one of the most secretive speakeasies in the San Antonio area. Located in the basement of the Havana Hotel, the Havana Bar is dimly lit and gives off a laid back and soothing ambiance. The candlelit bar sports a variety of specialty cocktails and spirits that come in phenomenal flavors that you won't be able to resist. I recommend trying out their daiquiri, as it is ranked one of the tastiest in the city! The darkness of the lounge makes for a cozy and exclusive experience where you can disappear for a little while and unwind. Enjoy mixed drinks with friends in this moody and laid-back setting for a night you won't forget.
The Speakeasy at Devils River Distillery
Distilleries are known for their liquor and handcrafted drinks, but people may not expect to find a secret speakeasy inside one. Maybe that's what makes the speakeasy at Devils River Distillery so special. In the basement of this San Antonio distillery, you'll find a charming, hidden bar that serves specialty cocktails. While all of their drinks are fantastic and worth a try, Devils River Distillery specializes in their bourbon whiskey that is sold across the country. What better way to experience it than tasting it from the source? This secret speakeasy also has some of the best unique takes on tacos and pork sliders! Say no more, you have to check out this hidden bar for a truly exciting speakeasy experience!
Get into the Swing of it: Jazz, TX
For a night of smooth jazz and dancing, you'll want to pay a visit to Jazz, TX, San Antonio's premier destination for live jazz music. To find this secret speakeasy, go to the basement of the Bottling Department at the Pearl Brewery. Right when you walk in, you'll immediately be transported to the 1920's as you're met with upbeat swing music and elegant decor right out of the Prohibition era. Dance the night away as you take in the tunes and enjoy specialty craft cocktails and beers from their extensive menu. Jazz, TX also has a restaurant with a full kitchen, serving authentic southern Texas cuisine.
A Toyshop Like You've Never Seen Before: Salvador Dobbs
A little outside of San Antonio in the town of Boerne is Salvador Dobbs, a contemporary bar hidden in plain sight. Formerly the home of the toyshop Ewe & Eye, the building has all the signage of the previous shop on the outside. While it may appear to be a toyshop at first glance, this secret speakeasy comes to life upon entering the front doors.
Salvador Dobbs offers a full bar and a small menu of specialty cocktails and drinks. From draft beers, handcrafted cocktails and wine to champagne, and martinis, you won't run out of options. While the menu may be small, the quality of their mixed drinks is through the roof. They also serve authentic Czech and German bites from Little Gretel, the restaurant right next door. These snacks pair perfectly with the drinks offered at this hidden bar. Live music is featured every weekend and they also offer karaoke on Thursdays. Guests can enjoy a game of pool, corn hole, darts, and shuffleboard as well! Don't miss the chance to enjoy the Hill Country breeze while hanging out on the patio swings out front.
The Story Is Yours To Tell: The Bunker Mixology
Plan your unique cocktail experience at San Antonio's newest visually appealing underground bar. Be impressed with its innovative cocktail menu, classic artwork and stunning laser lights illuminating the walls and hallway.
The Best Speakeasies and Hidden Bars in San Antonio TX: Final Thoughts
Filled with a variety of unique, secret speakeasies and hidden bars, San Antonio's cocktail scene is bustling. From a classic speakeasy like RD Hidden Door to a never-before-seen location like Best Tickets, the city is brimming with cool drinking options and things to do. Be sure to check out the best secret speakeasies and hidden bars in San Antonio on your next visit. Don't forget we also have lists of speakeasies in Houston, Austin, and Dallas!