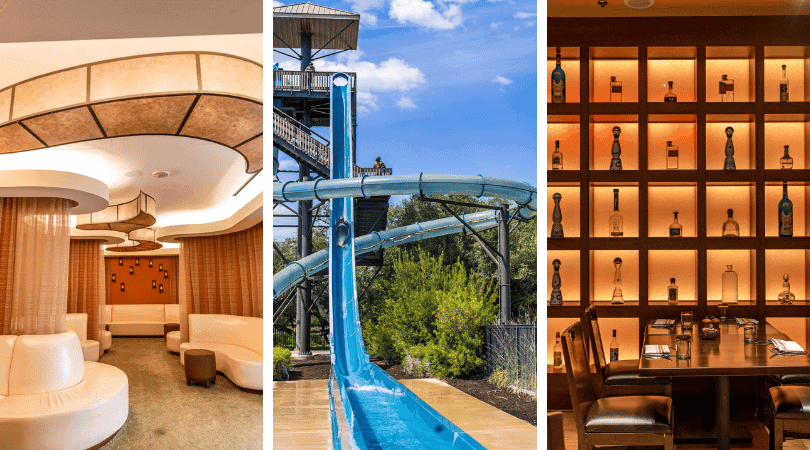 Thank you to Marriott International for making this post possible. As always, all opinions are my own.
A retreat for everyone! For fun loving businesspeople, families traveling with little ones who want a simultaneously relaxing vacation, and everything in between, the JW Marriott Hill Country Resort & Spa, one of the many luxury hotels that are a part of the Marriott Bonvoy brand, is the place to be. Home to numerous restaurants, a nine-acre waterpark, huge gym, and so much more, you'll experience equal parts relaxation and excitement at this prized Marriott Bonvoy hotel, ideally positioned in the great city of San Antonio.
Checking in at the JW Marriott Hill Country with Marriott Bonvoy Rewards
The process of planning and staying at beautiful resorts is exhilarating! When you can add the excitement of saving money and earning rewards using the Marriott Bonvoy rewards program to plan your next hotel stay, it's even better! You'll gain several member-specific benefits, such as mobile check-in, free Wi-Fi, special room rates, and more! Upon arrival, you'll also receive two complimentary drinks! Whether you're there for work or pleasure, you'll experience your first of many moments of bliss at the JW Marriott Hill Country with the help of the Marriott Bonvoy program, and what's a better way to start a getaway than by saving money, checking in hassle free, and enjoying a free drink?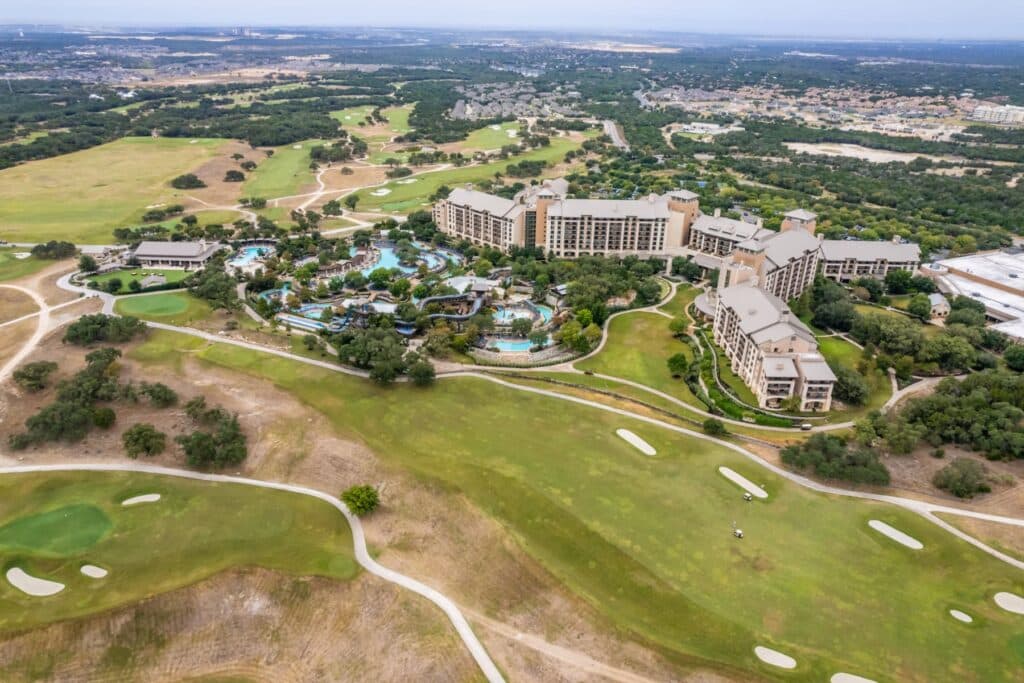 Earn Marriott Bonvoy Points on Spa Services at the JW Marriott Hill Country
Looking for relaxation during your stay? The JW Marriott Hill Country has one of the best resort spas in Texas! As a bonus, with the Marriott Bonvoy rewards program, you can earn 10 points for every $1 you spend on spa services. There are a variety of different amenities included in the experience too, like a steam room, sauna, multiple waiting rooms, and a pool and hot tub exclusive to spa guests. I personally found my massage at the JW Marriott Hill Country to be one of the best I've ever had! Once relaxed and pampered, stroll over to their restaurant, the Replenish Bistro, where you can grab salads, sandwiches, cold-pressed juices, and more made from organic ingredients.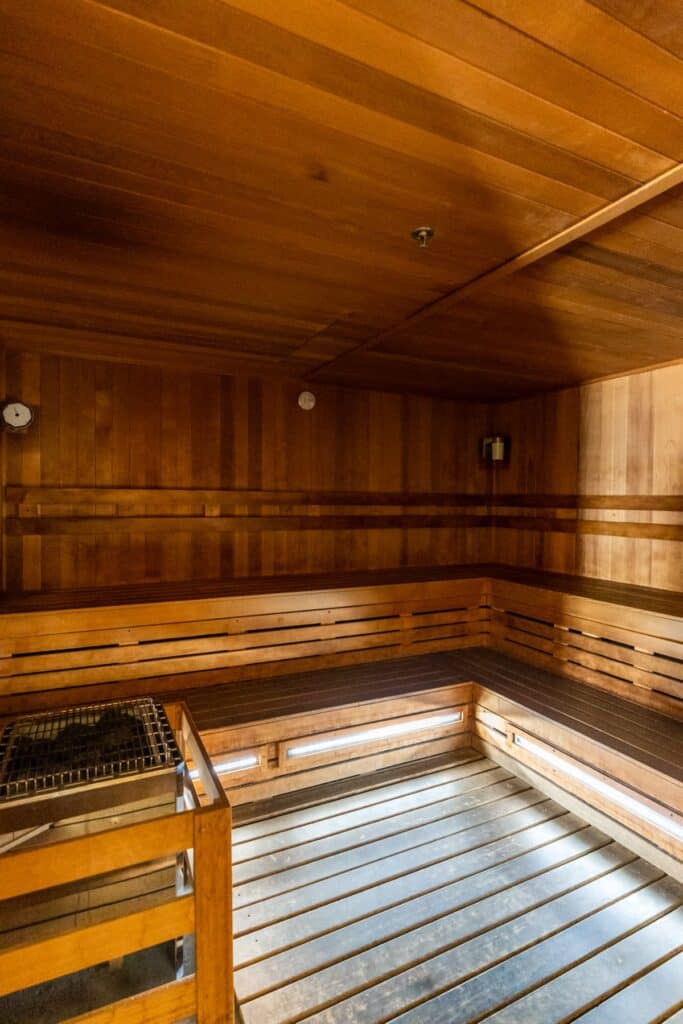 Earn Even More Marriott Bonvoy Points When You Play Some Golf
Another gem at the JW Marriott Hill Country: the golf course at the TPC San Antonio, a private resort that has hosted the PGA Tour's Valero Texas Open since 2010. Guests of the JW Marriott Hill Country receive exclusive access to this world-renowned golf course that has seen golf champions from all over. Take a swing at one of the two, 18-hole courses, take golf lessons, or just visit the clubhouse and enjoy the beauty of the Texas Hill Country laid out before you. You're even able to earn points off rounds of golf at the JW Marriott Hill Country as a Marriott Bonvoy rewards member!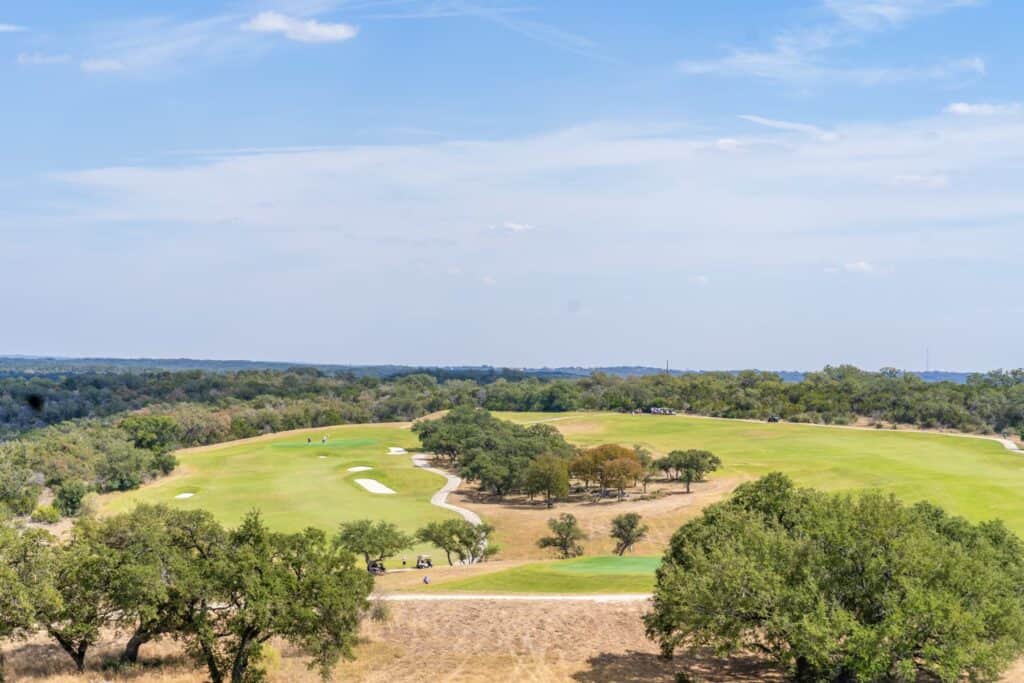 Experience a Nine-Acre Waterpark at the JW Marriott Hill Country
Who doesn't love a seemingly endless waterpark, especially when it shows up in the most unexpected of places: at a luxurious hotel. The River Bluff Water Experience at the JW Marriott Hill Country is nine acres of pools and slides for every age and occasion, perfect for a splashing good time! If you're looking for a more relaxing experience, float on the lazy river, lay out on the edge of the sand beach pool, and enjoy the views of the Hill Country from the infinity-style, adults only pool and accompanying whirlpool.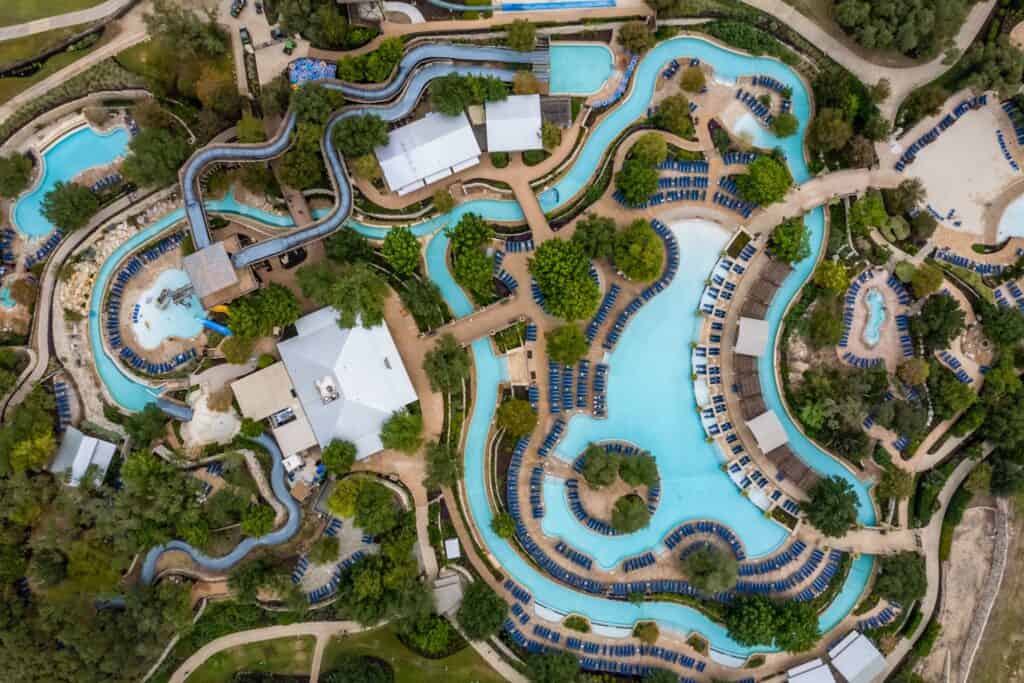 Looking to decompress or have fun with the family? There are 25 slides to try! Ride the tube slides, body slides, the 60-foot-tall plunge slide, and take the little ones swimming in the kiddie pool or enjoy the 261,000-gallon Activity Pool. Best of all, the end of summer doesn't mean you can't enjoy the luxury of this extensive waterpark at the JW Marriott Hill Country. Their outdoor pools are heated during the colder months so, as long as the temperature is above 55 degrees, play like its summer!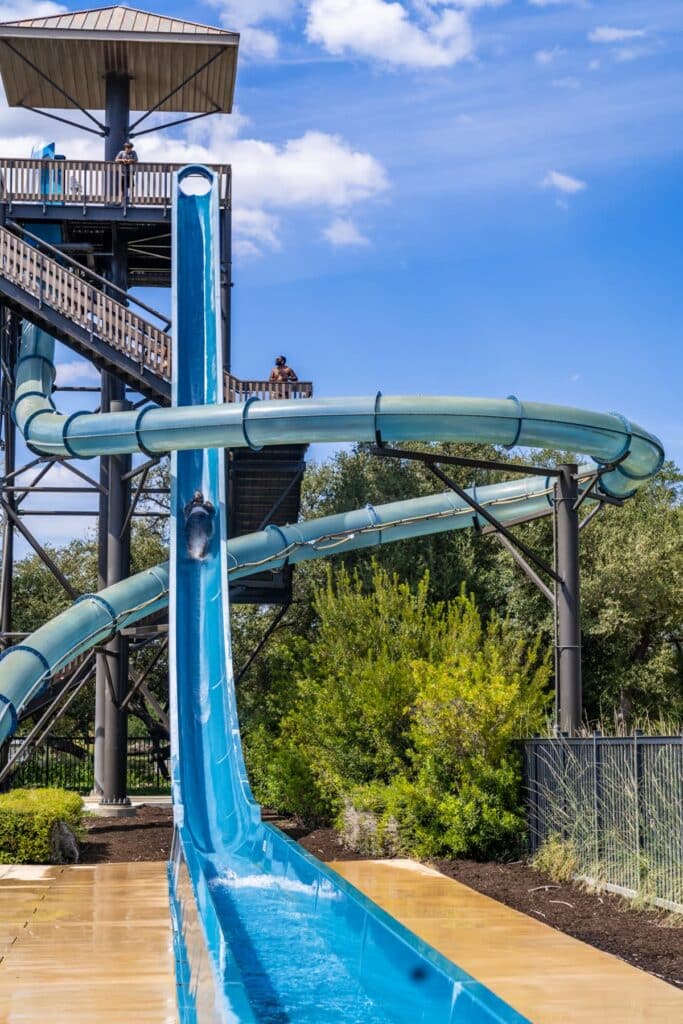 Food & Drinks Can Earn You Marriott Bonvoy Points Too!
With all these activities at the JW Marriott Hill Country, good food is a must, and there is no shortage of dining options! Best of all, you can earn Marriott Bonvoy points on food and beverages at the JW Marriott Hill Country to help fund your next getaway! My absolute favorite was the Presidential Breakfast. It was full of homemade pastries that were phenomenal if you're looking for a quick bite.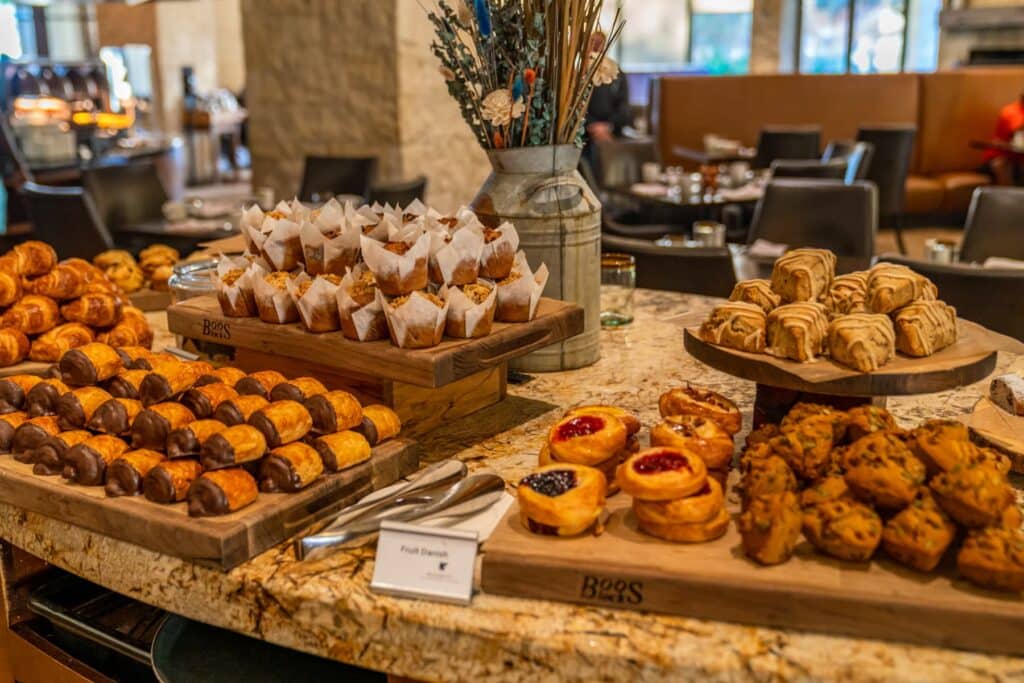 If you're looking for a bit more, the breakfast buffet at Cibolo Moon was my go-to, with homemade omelets, tacos, waffles, eggs, bacon, fresh fruits, and bagels with multiple spreads. The cherry on top of an already great morning, grab your daytime drink of choice at their on-site Starbucks.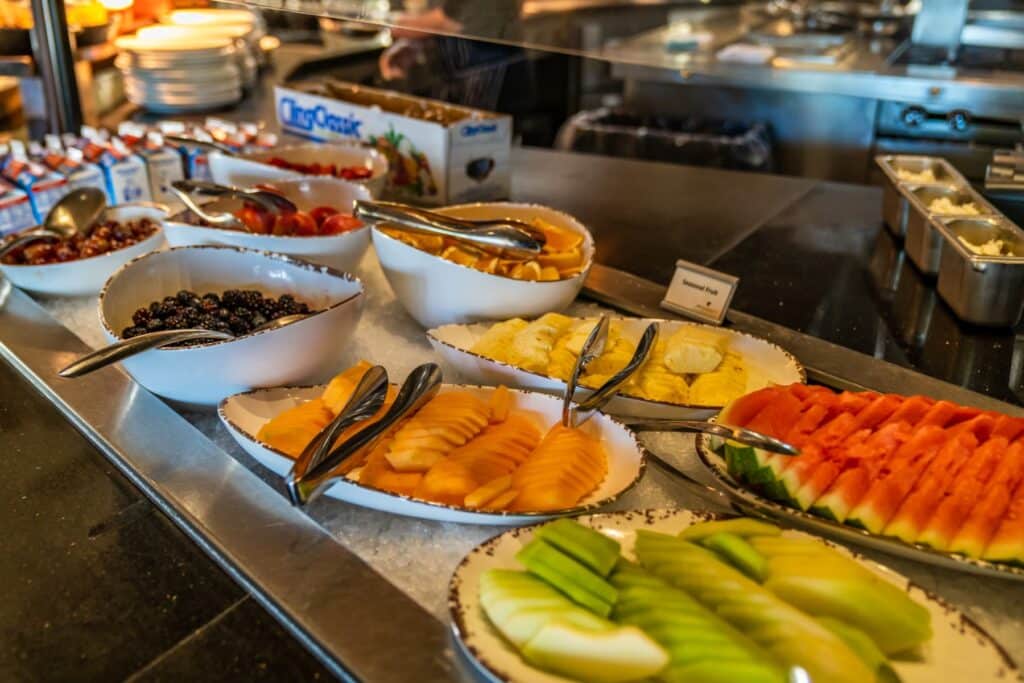 For dinner at Cibolo Moon, you'll start out with complimentary warm biscuits, served with a Jalapeño Strawberry Jam. As our entree, we ordered the Filet Mignon and the Pan Seared Mole Chicken which were divine. Beyond dinner, Cibolo Moon has great menu options from breakfast and quick bites to lunch and a kid's menu. There are plenty of great offerings throughout the day.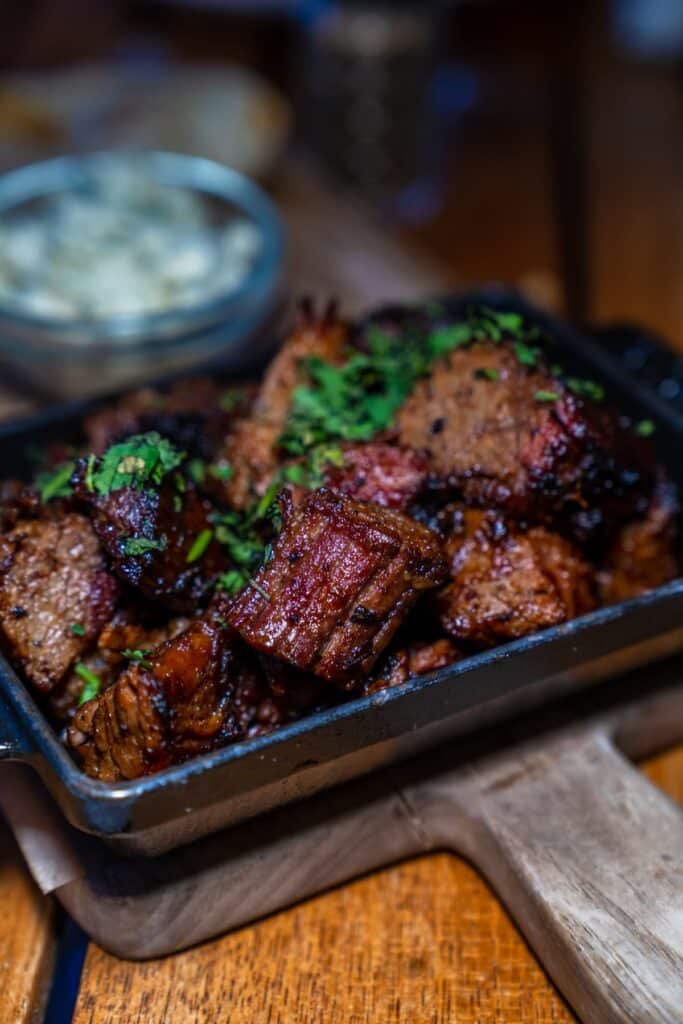 Stick around and top off the evening with a drink from Cibolo Moon's tequila bar. You'll find over 100 varieties of tequila and five tequila infusions that are used to create amazing cocktails, like their famous Strawberry Jalapeño Margarita. Ask to see the infusion jars, which they keep on display for guests to see, a testament to the care they take in creating a one-of-a-kind bar and dining experience. If you're a tequila aficionado, you'll also find several specialty and allocated tequilas.
Complimentary Amenities at the JW Marriott Hill Country
Whether it is relaxation or lots of fun activities, you'll find it all when you stay at the JW Marriott San Antonio Hill Country Resort & Spa. In addition to the spa, waterpark and food, there are many other fun amenities, such as outdoor fire pits and seating, basketball courts, tennis/pickleball courts, arcade games, complimentary events like s'mores nights, plus slime-making workshops and Kid's Nights Out for parents who are needing some quiet time.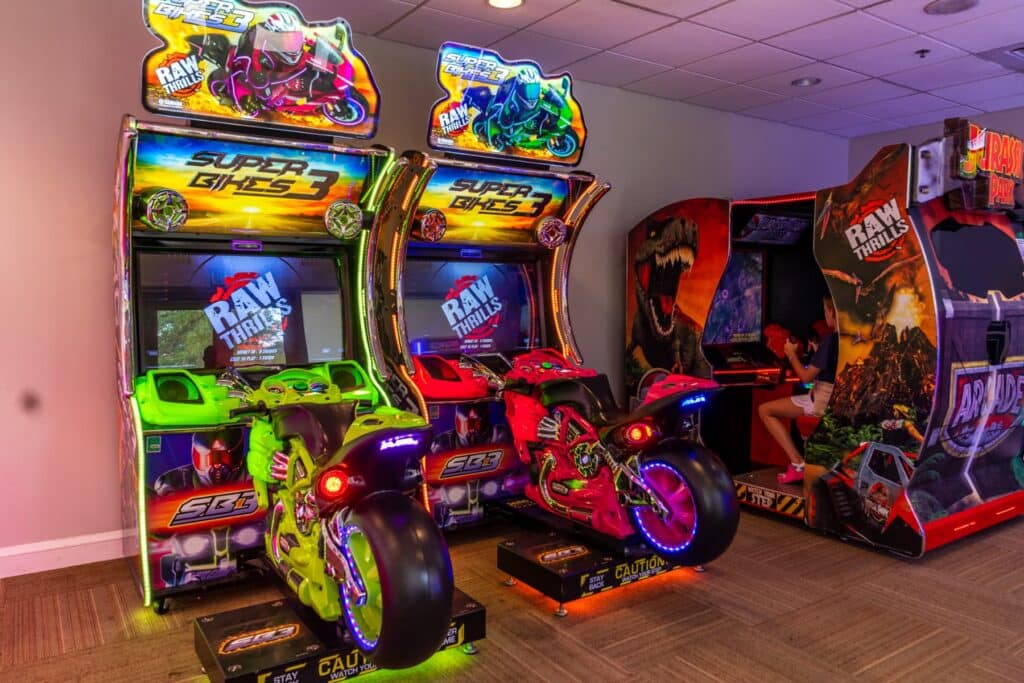 Check out their online calendar during your visit to see what they have going on during your stay! Perhaps take advantage of a complimentary night at the JW Marriott when you book for five consecutive nights with your Marriott Bonvoy credit card so you can enjoy even more fun activities.
The JW Marriott Hill Country with the Marriott Bonvoy Rewards Program: Final Thoughts
You can sign up for a Marriott Bonvoy credit card for free, and what's even better, there is one for everyone. You can choose the card that is best for you based on your credit score and traveling habits to start earning perks as a Marriott Bonvoy rewards program member right away! Start taking more vacations and enjoying the benefits of saving money and enjoying free/discounted experiences, hotels, and other services on your next getaway. Earn even more points at one of the many Marriott Bonvoy brand hotels, including the JW Marriott Hill Country. Experience its nine-acre waterpark, multiple restaurants, state-of-the-art golf course, and the wonders of San Antonio and the Texas Hill Country.