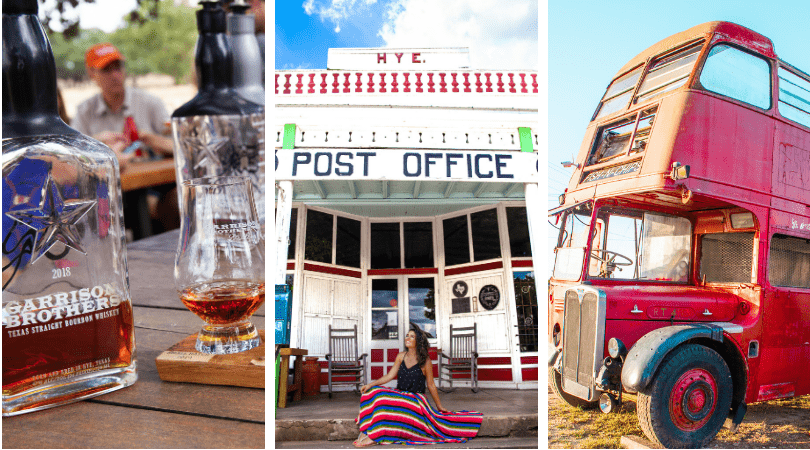 If you've ever driven through the 290 Wine Trail on your way to Fredericksburg, in the blink of an eye, you probably passed through the town of Hye, and didn't even realized you passed on by. (See what I did there?)
In fact, the typical 290 Wine Trail actually starts in Johnson City and goes through Hye and Stonewall, before passing on into Fredericksburg. With so many different wineries and distilleries around, I found it easier to break each city into its own section and have been working on a separate trip for each one to capture each town's unique features.
Admittedly, in Hye there aren't many activities, so it's worth adding in some extra activities from the other towns around so you're not just drinking the whole time. However, I truly enjoyed getting to only focus on the local spots when it came to wineries, distilleries, and even a cidery! Although, it will take a few trips to experience all that Hye has to offer. Hye has attracted some of the best in the Hill Country! So this guide is more of where to drink in Hye, Texas vs things to do in Hye, but all the same, it's a good time!
Things to Do in Hye: Visit the Wineries
William Chris Vineyards
Growing grapes in Texas is not an easy task. Our climate is harsh, hot, and has a mind of its own! And yet the people at William Chris are industry leaders when it comes to creating great Texas wine! And their property is gorgeous. As soon as you walk in, you are met with flowers all around that cause butterflies to flutter about. I almost didn't want to leave the entrance because I was so enchanted with all the butterflies! Their property is also covered with vines and has fun photo opps as well as a historic cemetery a short walk away for those who are interested.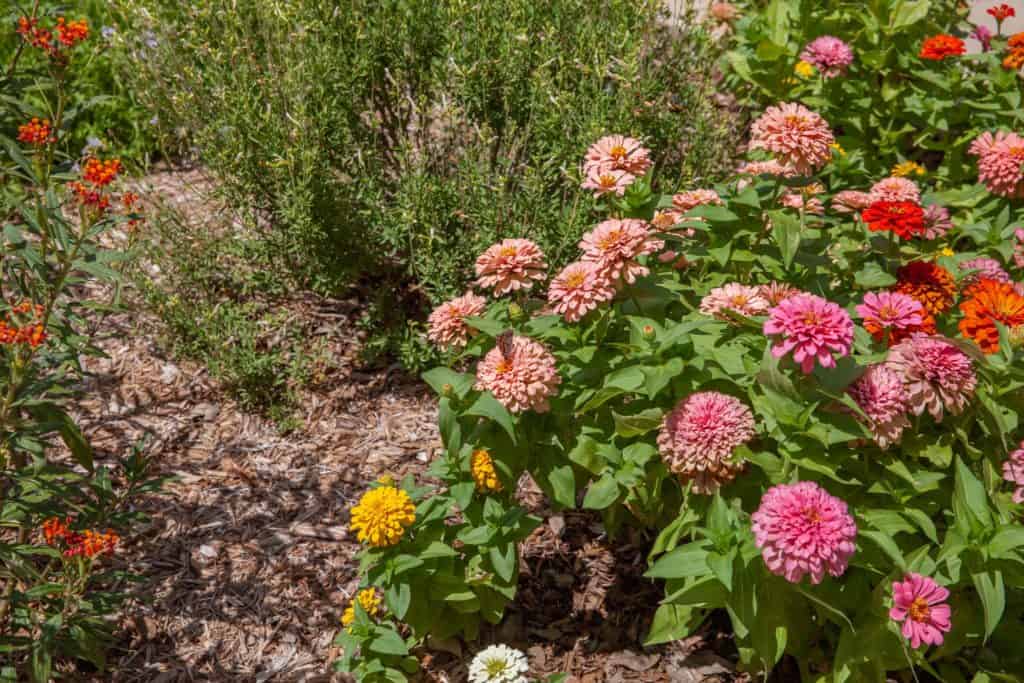 Ron Yates Wines
I've been to Fredericksburg and down the 290 Wine Trail multiple times, and there were two names that consistently came up. Ron Yates was one of them. Ron Yates actually has two wineries with one being Spicewood Vineyards (read all about the things to do in the magical town of Spicewood!) Ron Yates does an incredible job of representing Texas wines and consistently goes out to California and takes the golds in wine competitions, so you know the wine is good.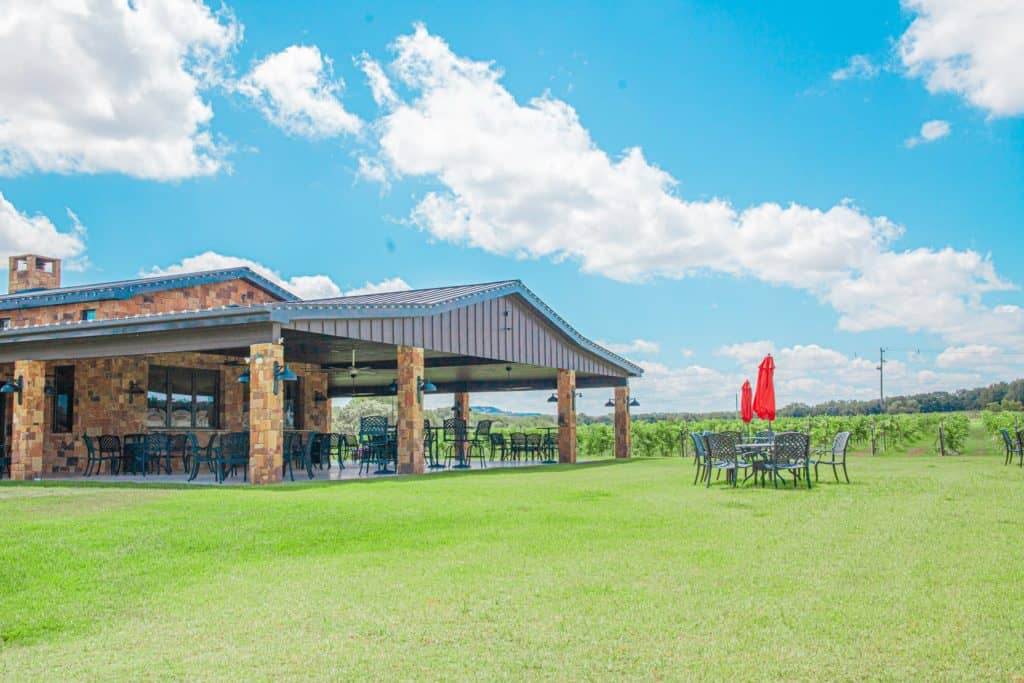 CALAIS Winery
When I said there were two wine makers that were constantly brought up, the second one also happens to be in Hye! Ben Calais is from France and has been raised by generations of wine growers. The thing is, when you drive past Calais Winery, it's easy to miss. There are no flashy signs or rows of gorgeous vines to invite you. However, they don't need all of that to attract people! Using those French wine-making techniques, Ben Calais consistently produces some of the best wines in Texas, so much so that other winemakers will talk about what he is doing. From the outside, the tasting room is unassuming and looks more like a bunker. However, inside Calais Winery is pretty unique. And just wait until you try the wine.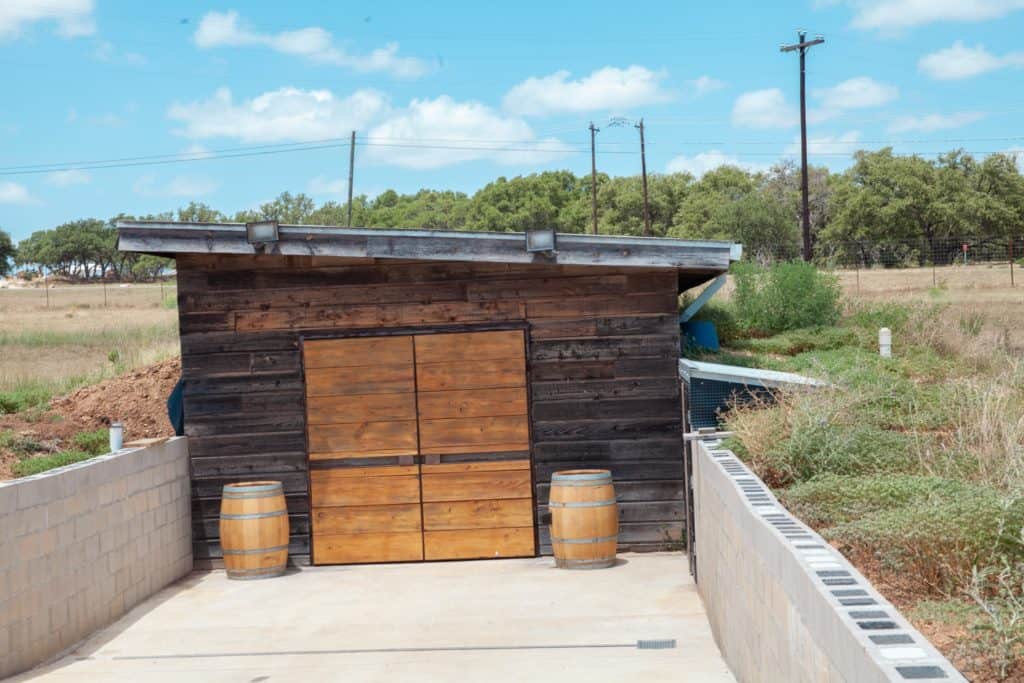 French Connection Winery
The French Connection is Ben Calais's second winery in the Fredericksburg/Hye area with a completely different style of wine that is still uniquely French. You have to drive off the normal trail, but as you drive, you get higher into the Hill Country, and as soon as you arrive, you are met with some scenic views! On top of some refreshing wines in line with the high standards of wine making that Ben Calias holds onto, they have French inspired charcuterie boards, snacks, and pastries like eclairs.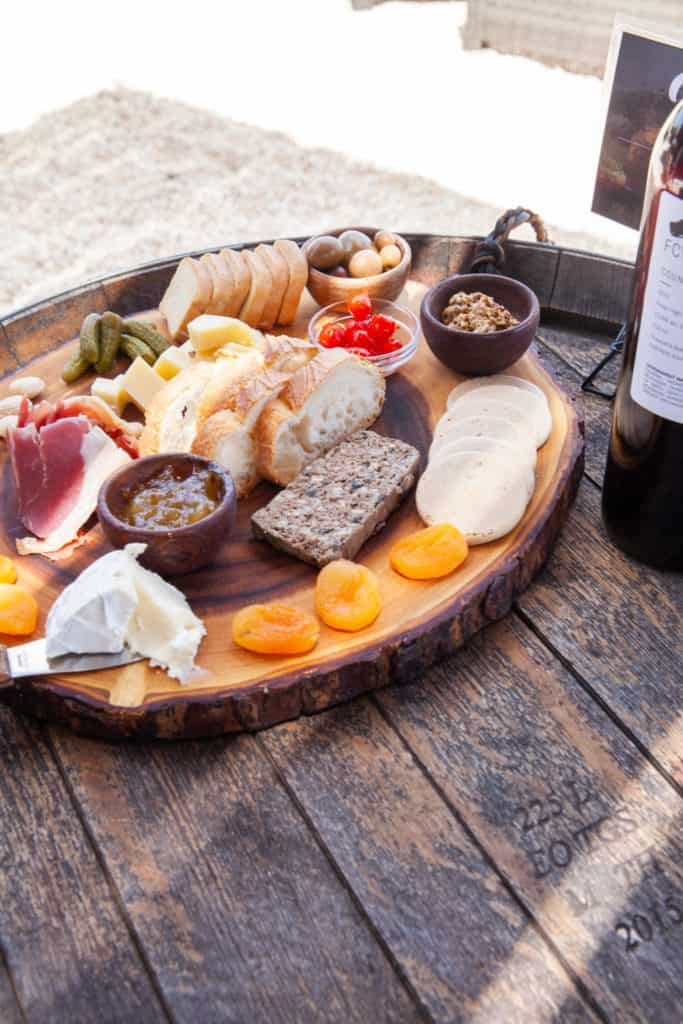 Horn Winery
If you're a music lover, the wines are an easy appeal with names like crescendo, melody, and rhapsody. All of the wines are inspired by music. This location also does something exciting with the extra grapes that don't go into the wine, which we will share a little further below.
Hye Meadow Winery
Hye Meadow Winery is located on a gorgeous property that allows for plenty of space to wander around. They even have donkeys on site, and if you're lucky, they may have some apples so you can feed them! Hye Meadow Winery also offers several great wine experiences including their tour where you get to learn about the art and science of wine making and then enjoy a premium tasting. They have food onsite including paninis and charcuterie boards (important to note as when you're doing wine tastings it's important to stay hydrated and well fed.)
Things to Do in Hye: Visit the Distilleries
The Texas Hill Country isn't just for wine! In fact, there are plenty of distilleries around the Texas Hill Country to enjoy.
Garrison Brothers Distillery
Garrison Brothers Distillery is the first legal whiskey distillery in Texas history. In addition to the tastings that they offer onsite, you can go in and for a distillery tour! On top of great bottles of whiskey and bourbon, you can also snag fun bourbon-themed and flavored goods.
Hye Rum
If you're looking for small artisinal rum, then this is your place! They use baker's grade molasses in their dark rum which is aged with Cabernet French oak. Or get tropical with their coconut rum. Don't leave without some rum soaked pecans! They even offer distillery tours for people who want to learn about the process.
Azeo Distillery
Horn Winery also has another section that focuses on vodka made from grapes and apples, brandy made from apples, moonshine, black label brandy distilled from grapes, rum, and spirit of agave (essentially tequila made in the US). Azeo has a unique concept that's one of a kind in the Texas Hill Country.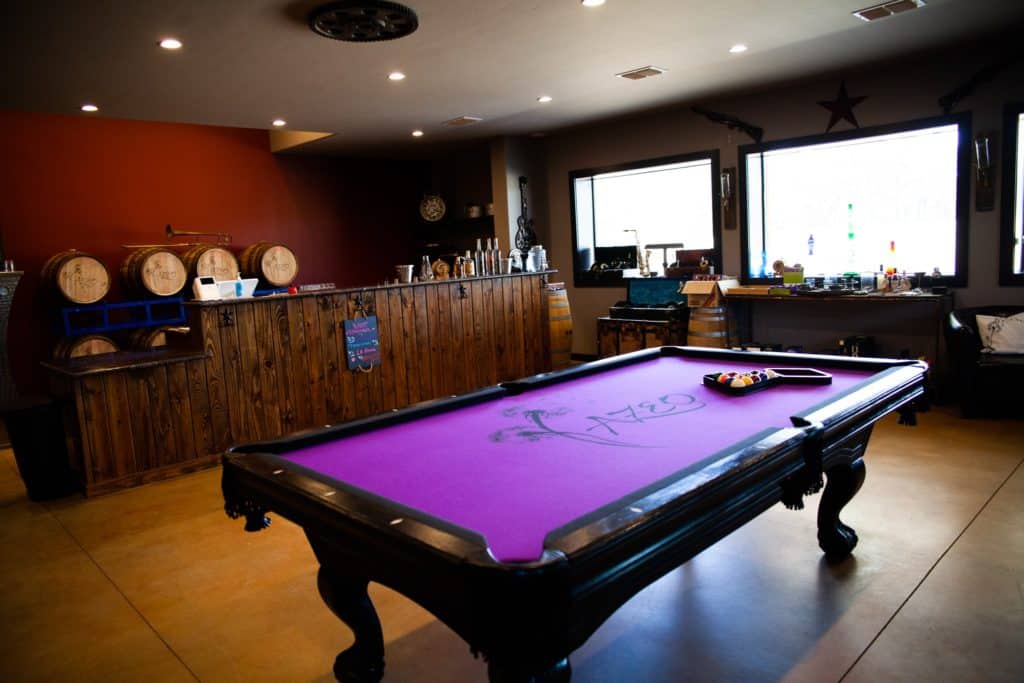 Things to Do in Hye: More Drinking
Hye Cider
Everything about Hye Cider is eclectic and fun! From the double-decker bus that sits outside, the fun decor all around, and the chickens that roam the property, you know you're in for a good time as soon as you enter! And this woman-owned business does an incredible job of creating savory ciders, something I had never experienced before, but thoroughly enjoyed. They also have a Thai food truck onsite, Hye Thai, that pairs well with their cider!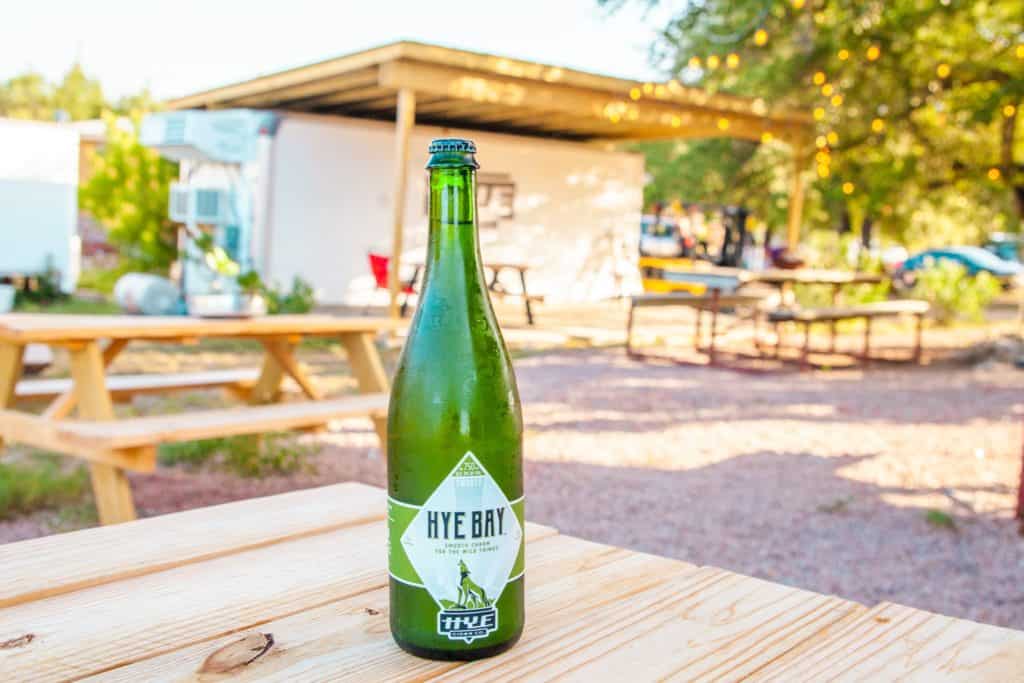 Texas Mead Works/Blue Lotus Winery
Mead is the oldest known alcoholic beverage and involves fermented honey. Texas Mead Works prides itself on being the best in Texas and has fun flavors that include all types of fruits (from blackberry, peach, raspberry, and more) as well as a snickerdoodle mead and other dessert flavored meads. We had the pleasure of visiting their original location in Seguin. However, their new location in Hye is just as fun and includes a wine barrel shaped building. While their mead stands out for being unique, they serve up just as exceptional wine in the same location under the label Blue Lotus Winery.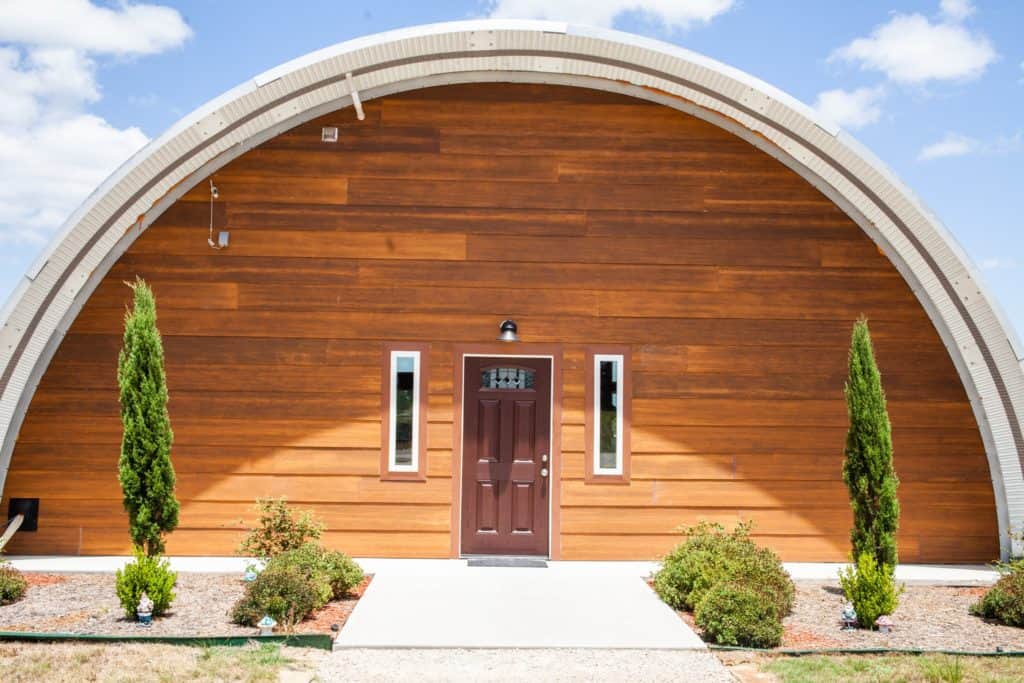 Go Dancing
Pay a visit to Hye's historic dance hall. Be sure to check out their calendar for special events and concerts!
Things to Do in Hye: Where to Stay
One of the things I was most excited about in Hye is the unique bed and breakfast experience they offer! William Chris Vineyards opened up bed and breakfast next door where you get to wake up and enjoy the vines growing on property. They have different Texas themed rooms and each one has its own unique beauty. Plus, there's nothing like getting to soak in a claw-foot tub!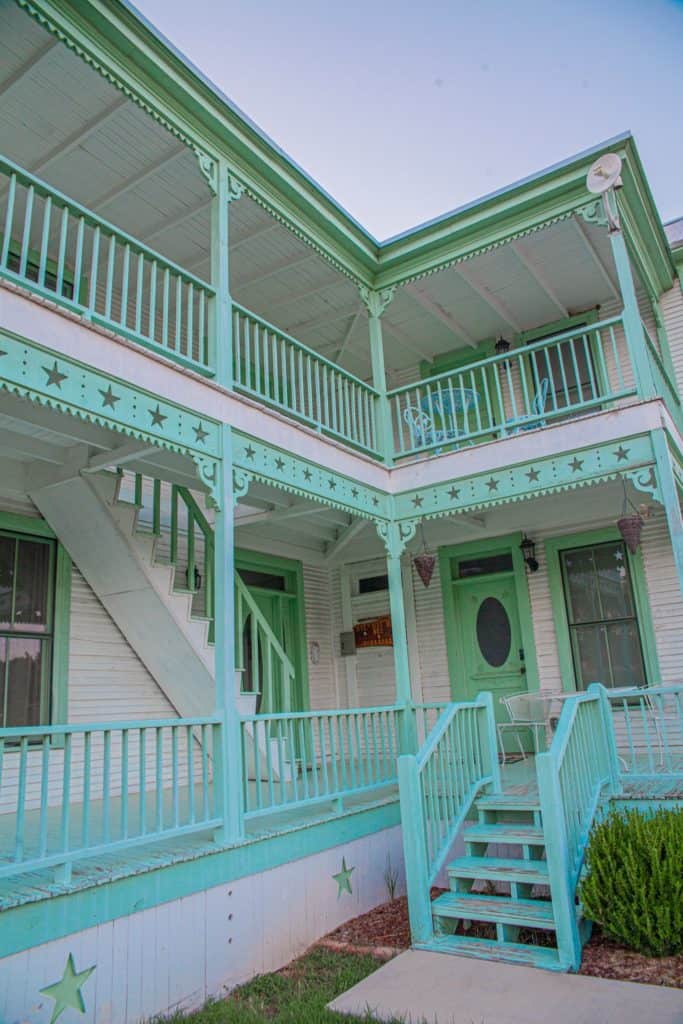 Where to Eat in Hye
While we mentioned them above, I thought it would be great to list out the food spots below! If you are consuming alcohol make sure to carry plenty of water with you, have a designated driver, and plan for some food stops!
Hye Thai – this food truck serves up some classic Thai favorites.
French Connection – They offer French-inspired charcuterie boards, pastries, and other snacks.
Hye Meadow – This spot serves paninis and charcuterie boards.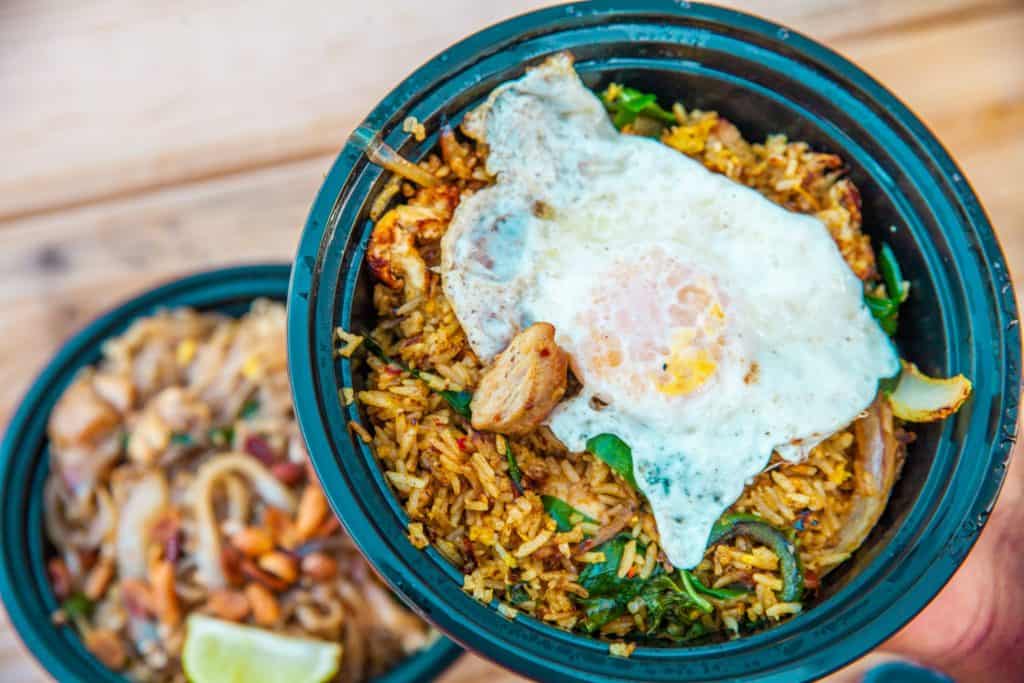 Things to Do in Hye: Final Thoughts
Hye truly stands out as a unique destination along the 290 Wine Trail! It's a little eclectic, a little historic, and a whole lot of fun! While you'll likely have to come back once or twice more, it's worth it for the unique experience it provides.
Permanently Closed
These places may be permanently closed but still have a special place in our heart (plus we hate when we can't find a place we previously remembered and enjoyed). So these remain on our list even though they may not exist anymore in case you hold onto memories of them the same way we do. We're weird and sentimental.
Visit the Post Office
Known as Hye Market and Deli, this spot is located inside the Historic Post Office that still operates today. The post office was built in 1886 and still remains today. In addition to being a spot where locals can pick up and deliver mail, anyone can walk in and order sandwiches and other delicious fare. They pride themselves on doing everything as handmade and as fresh as possible! In between eating, make sure to walk around and take in the historical artifacts and images.
Zero 815 Winery
Zero 815 focuses on 100% Texas grapes which is important when we think about the reason we're visiting Texas wineries in the first place. They are known for their Texas grown Zinfandel. You'll also likely meet the precious pups and yorkies on property. This winery is woman owned, and on your visit, you'll likely meet Laura who takes great pride in focusing on quality over quantity.