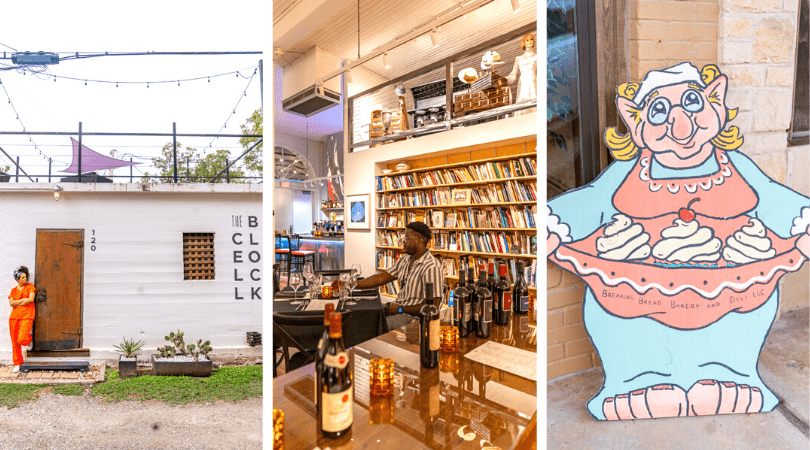 Clifton TX was first established by Norwegian settlers in 1854 and continued to grow through the end of the 19th century. The Texas oil boom contributed further to its growth, including the industrial growth that occurred across the entire state. Eventually, Clifton became the largest Norwegian colony in the southwest and was officially named the Norwegian Capital of Texas by the state legislature in 1997.
Clifton, a small town in Central Texas, still keeps and celebrates its Norwegian roots to this day. You can see original limestone buildings built by their Norwegian ancestors, Norwegian history and artifacts at the Bosque County Museum, and so much more! The list of the best things to do in Clifton TX will keep you busy for sure!
Things to Do in Clifton: Glimpse Local Art
You wouldn't think life in a town out in the middle of the Hill Country would have so much art integrated into it. However, Clifton is full of noteworthy artists and their work! It has also been named one of the top 100 small art communities in the nation twice and is one of the 51 named cultural districts in Texas!
The Bosque Memorial Museum is a gem of a place in the heart of Texas. It's home to the largest collection of Norwegian artifacts and exhibits. The museum also hosts a variety of special events throughout the year, including art exhibits, concerts, and historical lectures. If you're looking for a fun and educational way to spend an afternoon, I highly recommend visiting the Bosque Museum.
The Seven, a group of seven artists that are well-known in town, each have their own unique and inspiring story documented inside the Bosque Museum. Additionally, it is full of pieces by local artists and home to the Bosque Museum founder's childhood home, a preserved log cabin built in 1866.
The L. A. Thompson Gallery of Fine Art is a smaller art gallery in downtown Clifton with a constantly rotating selection of art pieces.
Or Catch a Show
The Bosque Arts Center hosts live performances, concerts, workshops, and even bingo nights! Clifton also hosts annual events like Books on the Bosque, which includes a writing workshop led by a seasoned author, as well as the nationwide songwriting competition, the Texas Troubadour Songwriter Classic.
Check the Bosque Arts Center's website and Facebook to stay up-to-date on the upcoming events happening in Clifton.
Things to Do in Clifton: See a Movie
Don't be fooled by the classic appearance of the Cliftex Theatre. Although it has been in business since 1916, you can purchase tickets to any of today's much-anticipated movies.
Inside, you'll find the theater itself has been restored, but its memorabilia has been preserved for your viewing pleasure on your way to your seat. You can catch a show from Thursday to Saturday nights at 7 p.m. and on Sundays at 4 p.m.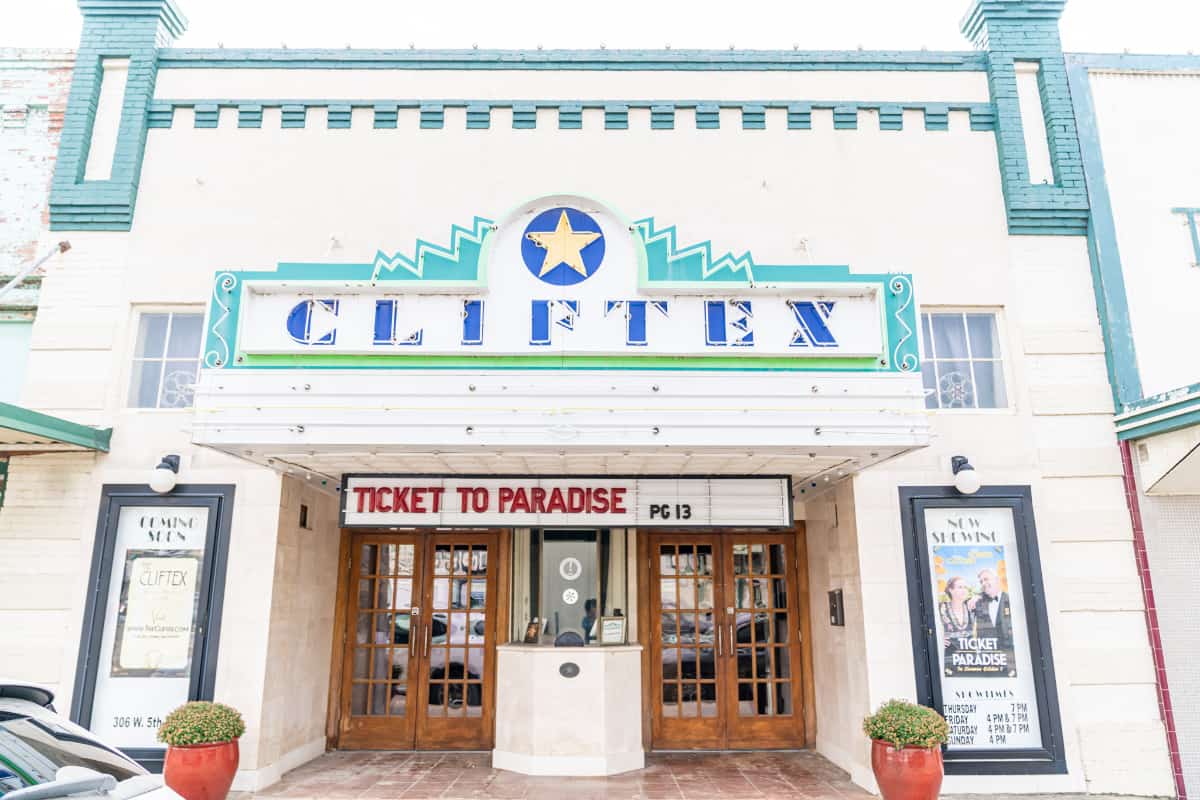 Things to Do in Clifton: Explore the Market at the Mill
Featuring an outdoor area, live music, food trucks, and a cute boutique, Market at the Mill is a charming spot reminiscent of the original Dansby Feed Mills, a cornerstone business in the 1930s. Follow their Facebook page and be the first to hear about public events like Workout Wednesdays and seasonal celebrations!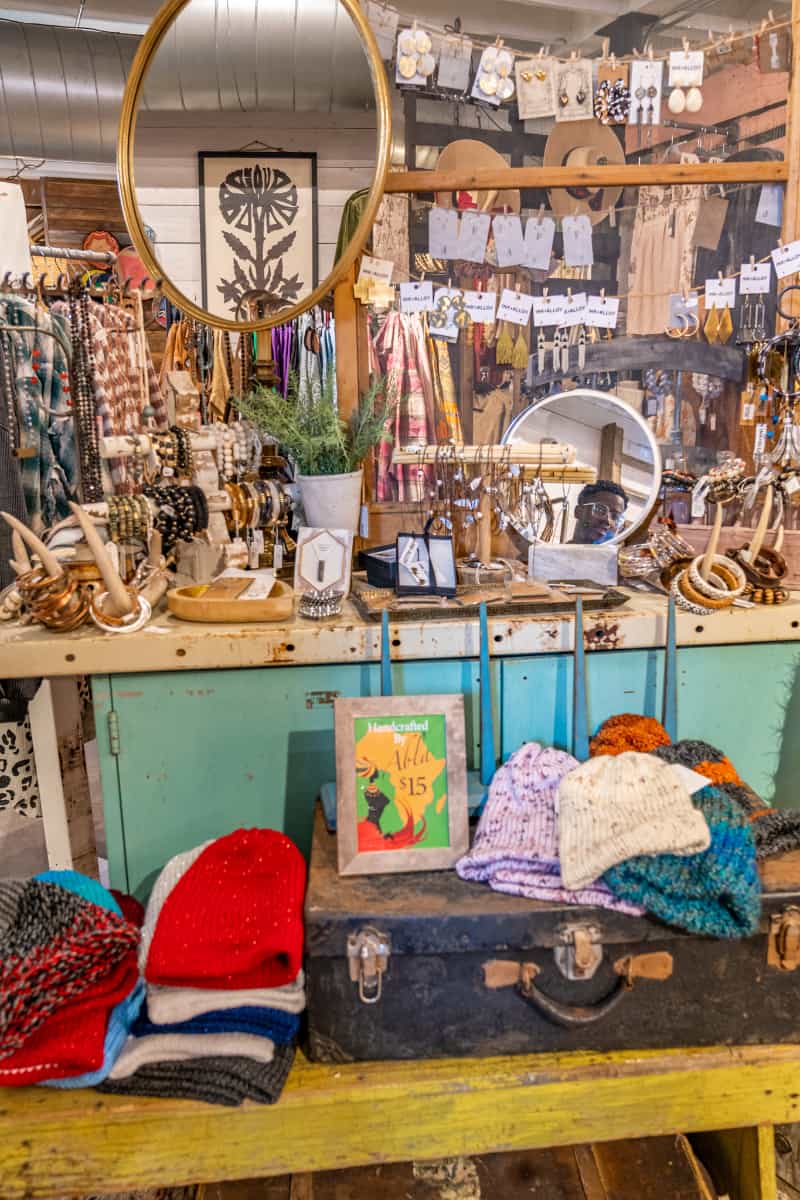 Things to Do in Clifton: Walk Main Street
You may notice storefronts guarded by their own unique troll cutouts along Main Street. Each one was created by notable artist Megan Major, owner of the local store 219 Artisan Market.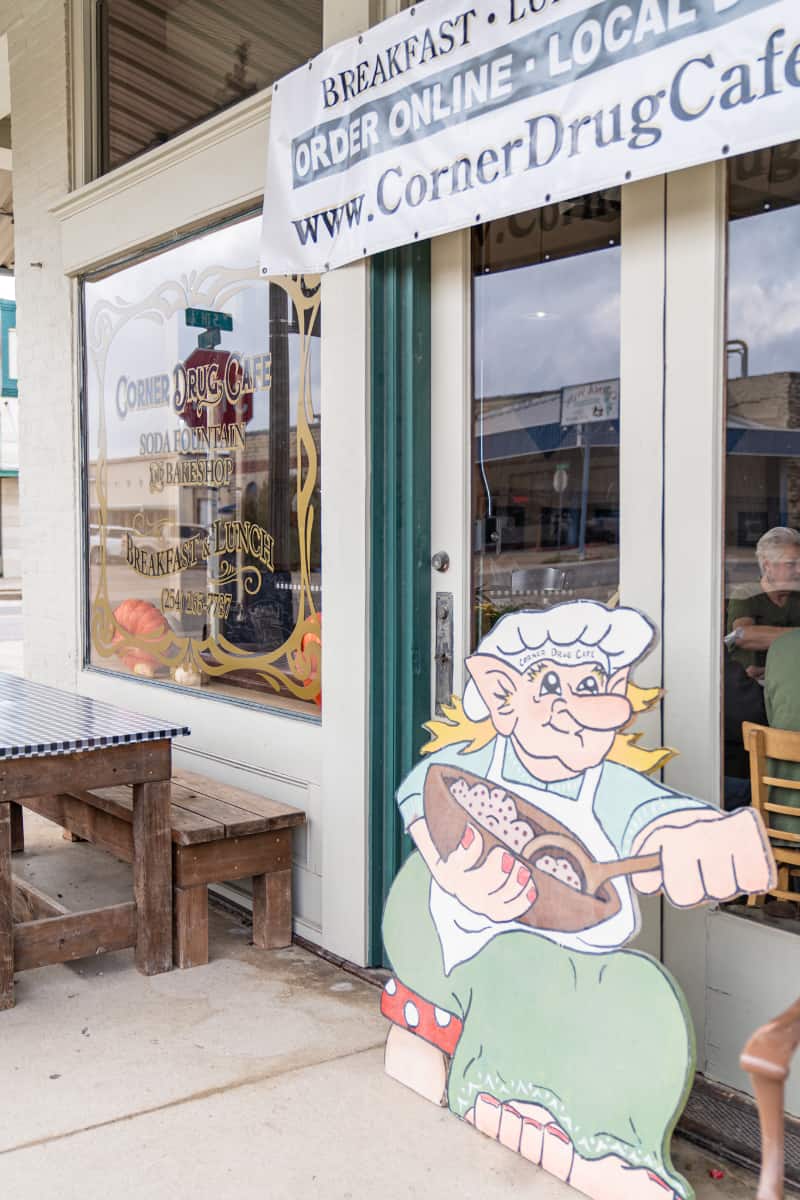 Things to Do in Clifton: Enjoy a Romantic Dinner
Despite its size, Clifton is home to several tasty restaurants, including Olaf's Restaurant and Bar. If you're looking for an affordable but romantic getaway, Olaf's is a great spot for a romantic dinner. Their menu includes dishes such as filets, salmon, and rack of lamb.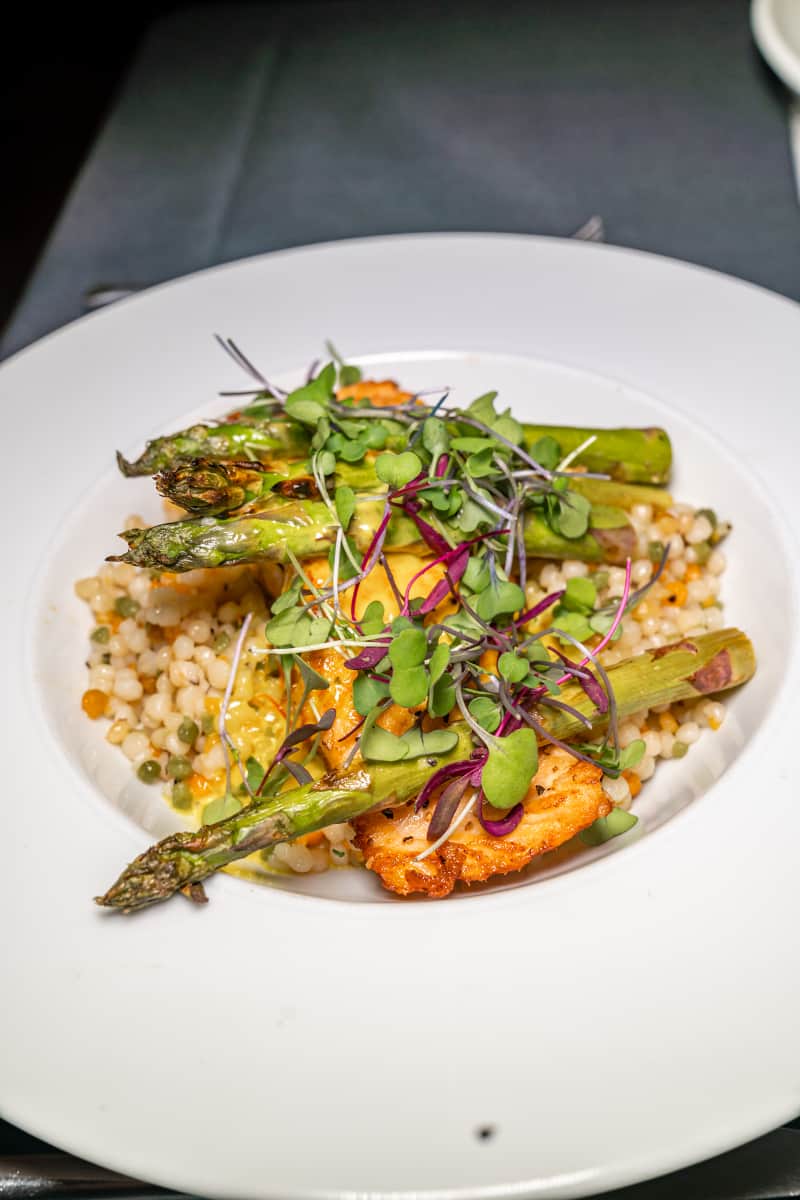 Things to Do in Clifton: Order Fresh Baked Goods
Housed in what was Clifton's town pharmacy, Corner Drug Café is now a family-owned business selling fresh, scratch-made meals that you can enjoy at breakfast, lunch, and dinner with an accompanying cup of coffee, glass of wine, or beer. If you stop in for anything, take one of their homemade pies or pastries to enjoy on the county road.
Fun fact: according to their website, it is the only place in Clifton where you can get a cappuccino.
Despite the building's long history, which dates back to the 1800s, you'll still be able to enjoy its original Italian marble bar top, stools, stained glass bar back, and working soda fountain! Even better, you can find keto, gluten free, vegetarian, and vegan options as well! There is no need to make separate plans to accommodate dietary restrictions!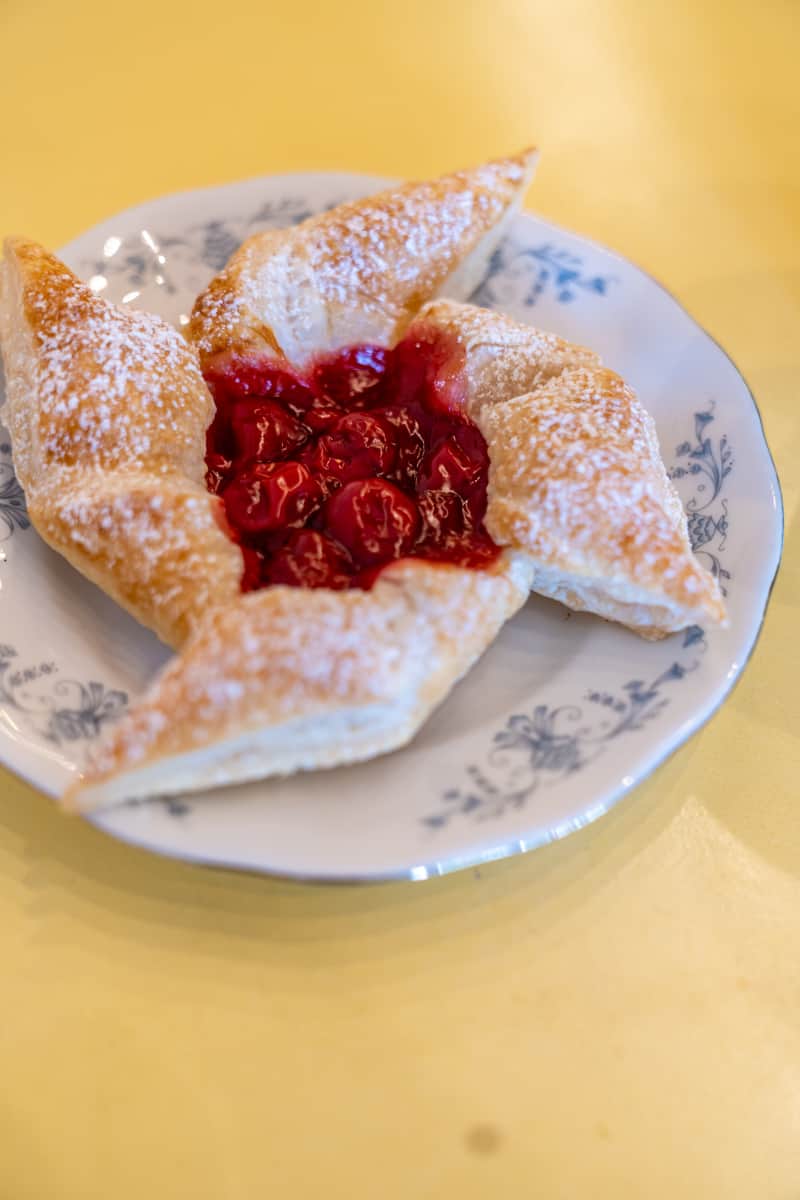 And Book a Room Upstairs
On the second floor of the historic Brooks Building, just above the Corner Drug Café, is the Screen Door Inn.
This historic building has housed several businesses since the early 1900s, but this local bed and breakfast is the first business to inhabit the second floor in over 50 years! Much of the building's original interior is still intact, even after its complete remodel in 2011.
The Screen Door Inn also features one-of-a-kind décor like refurbished claw-foot bathtubs, original wood floors, exposed brick walls, and a mirror that is at least 100 years old! Offering affordable prices and spacious, comfortable rooms, you might as well spend the night and make your list of things to do in Clifton TX that much longer! What's even better is that you'll get to have a complimentary breakfast at the Corner Drug Café!
Things to Do in Clifton: Go Antiquing
Inside Olaf's Restaurant is the Bosque County Emporium. Featuring a variety of antiques, collectibles, books, crafts, art, and jewelry, there is something for everyone on your souvenir list (or for you, of course). You'll also find art by Clifton artists!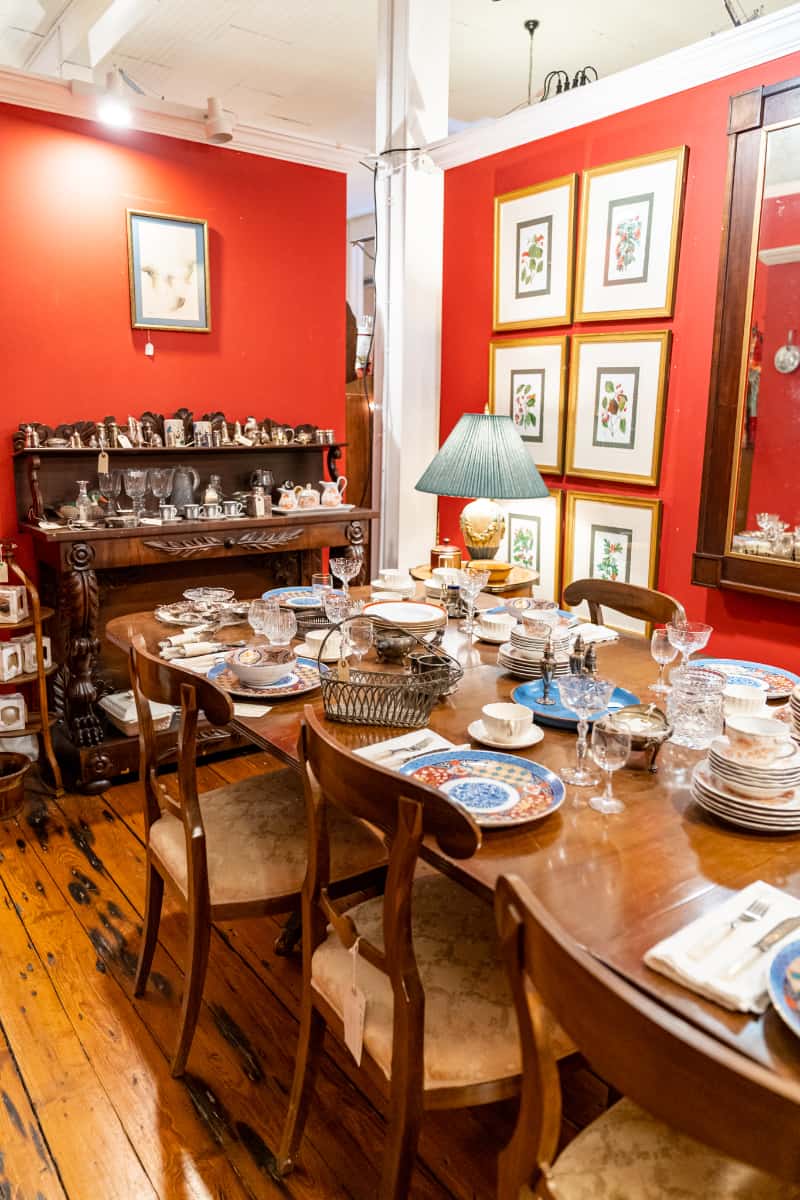 You can also find a great selection of items at the Clifton Antique Mall.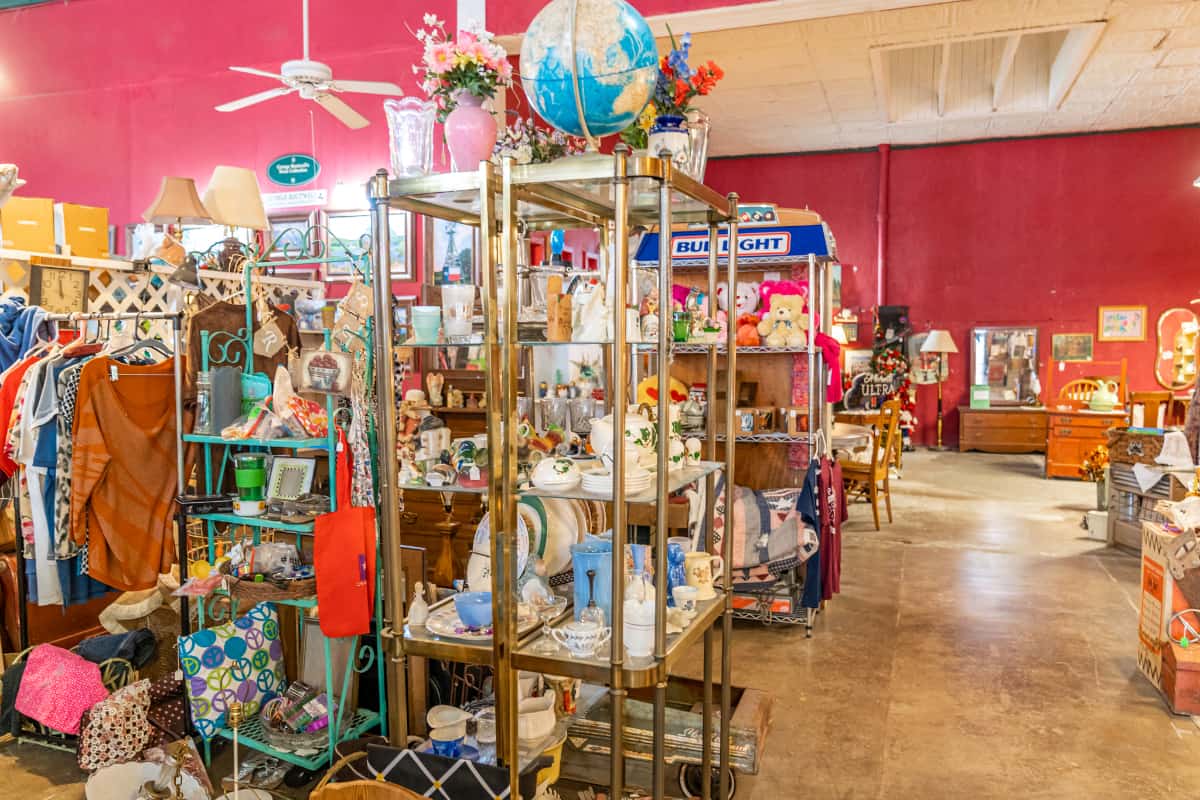 Things to Do in Clifton: Taste Texas Wine
Clifton is home to the flagship tasting room of Meridian, Texas' Red Caboose Winery & Distillery. Their award-winning wines are made with sustainably grown grapes that are processed using traditional methods to create small-batch wines and liquors.
The Red Caboose tasting room in Clifton offers sweet and dry wine tastings, along with small bites and regularly occurring live entertainment. The best time to visit the tasting room is in the afternoon, when the weather is mild and the crowds are smaller.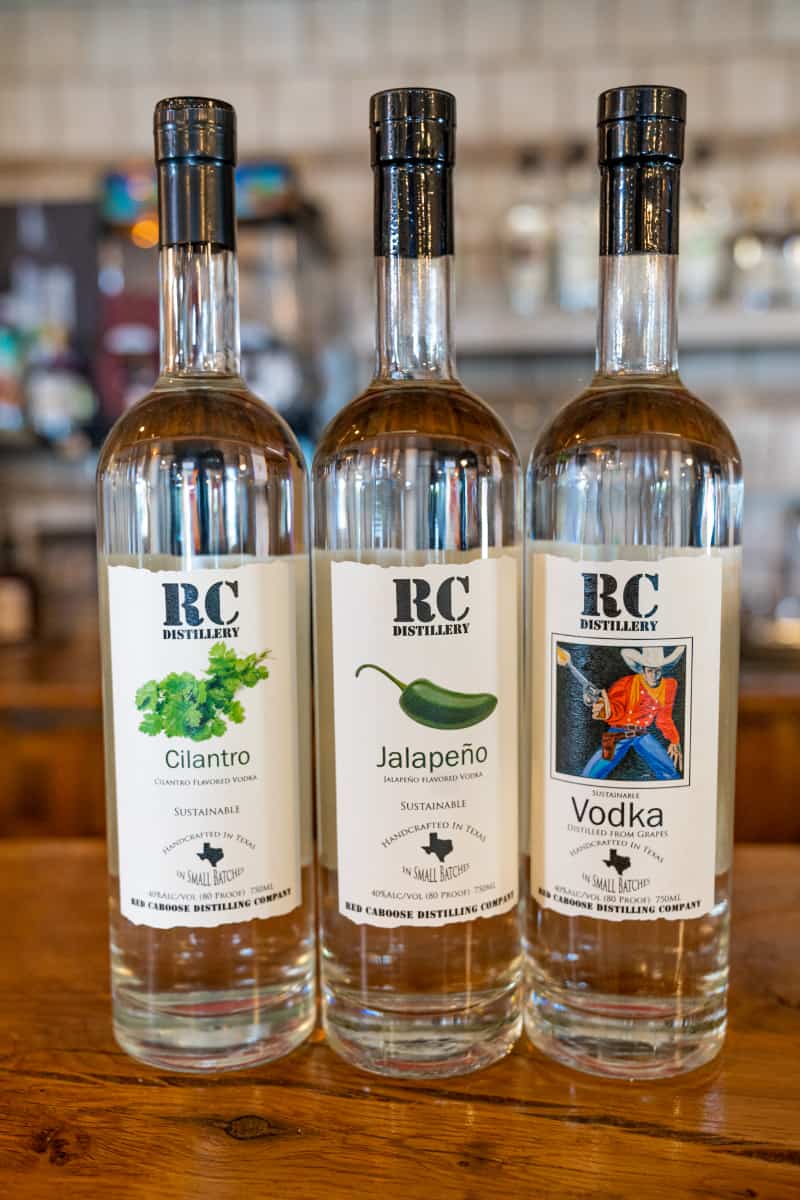 The estate itself also hosts tastings and events like their Fork & Cork events, complete with patio seating and live music, and their Grape Stomping Festival. Check their online schedule for the most accurate information.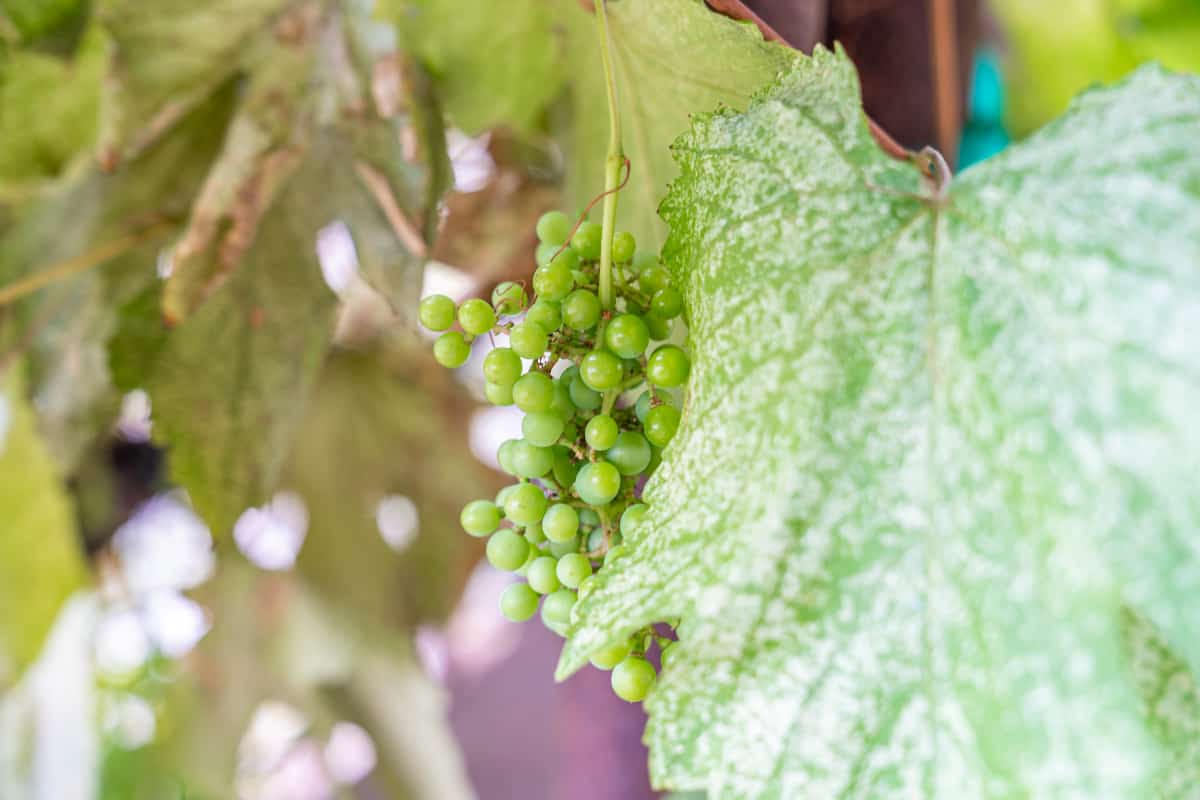 Things to Do in Clifton: Make Art of Your Own
Channel your inner artist on your next trip to the city of Clifton and visit Workshop 219, a local business that offers paint parties, art classes for all ages and levels of experience, as well as open studio time! See their website for a complete list.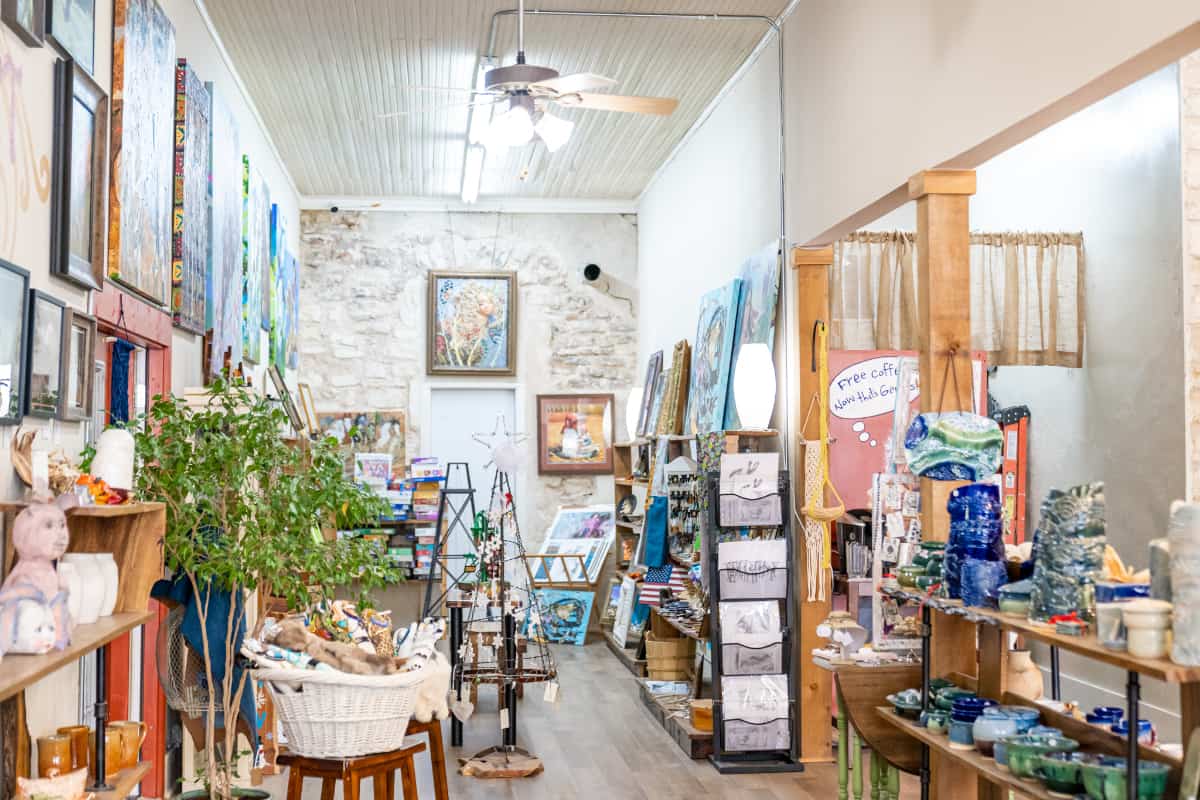 Things to Do in Clifton: Book a Night in an Old Clifton Jail
Ordinarily, you would avoid spending the night in jail at all costs. However, the Cell Block Hotel in Clifton, Texas, is the one jail you just might want to spend multiple nights in!
It offers an unusual, but unique overnight stay with fun touches like two complimentary alcoholic libations that are inspired by the ruffians and drunks who were once locked up there. Read our review of where to stay in Clifton for more about the Cell Block Hotel.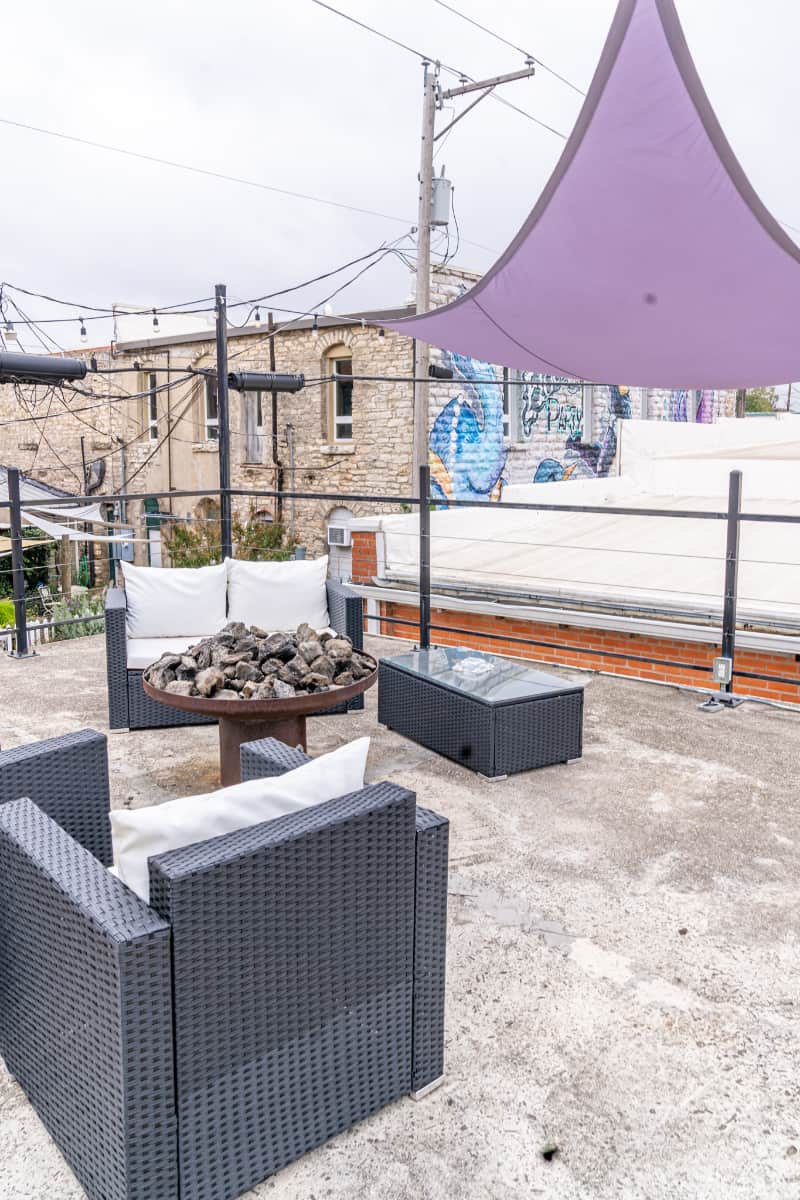 Things to Do in Clifton: Find Refuge in a French Farmhouse
Just minutes from Clifton and located on 10 private acres, the Feather Glen Farmhouse features a main home (the Aviary) and an accompanying cottage (the Audubon). You'll also discover a covered patio, a fire pit, and the cutest, French-inspired décor. It's perfect for a girl's trip or a romantic getaway!
Things to Do in Clifton: Shop for Souvenirs You'll Actually Use
Lady Bugs in Clifton is filled with clothing for all ages, vintage items, refurbished furniture, gifts, and more! They even have a plus-size section! Pop in to see all the cool things the store has to offer, and maybe you'll find something you can't live without.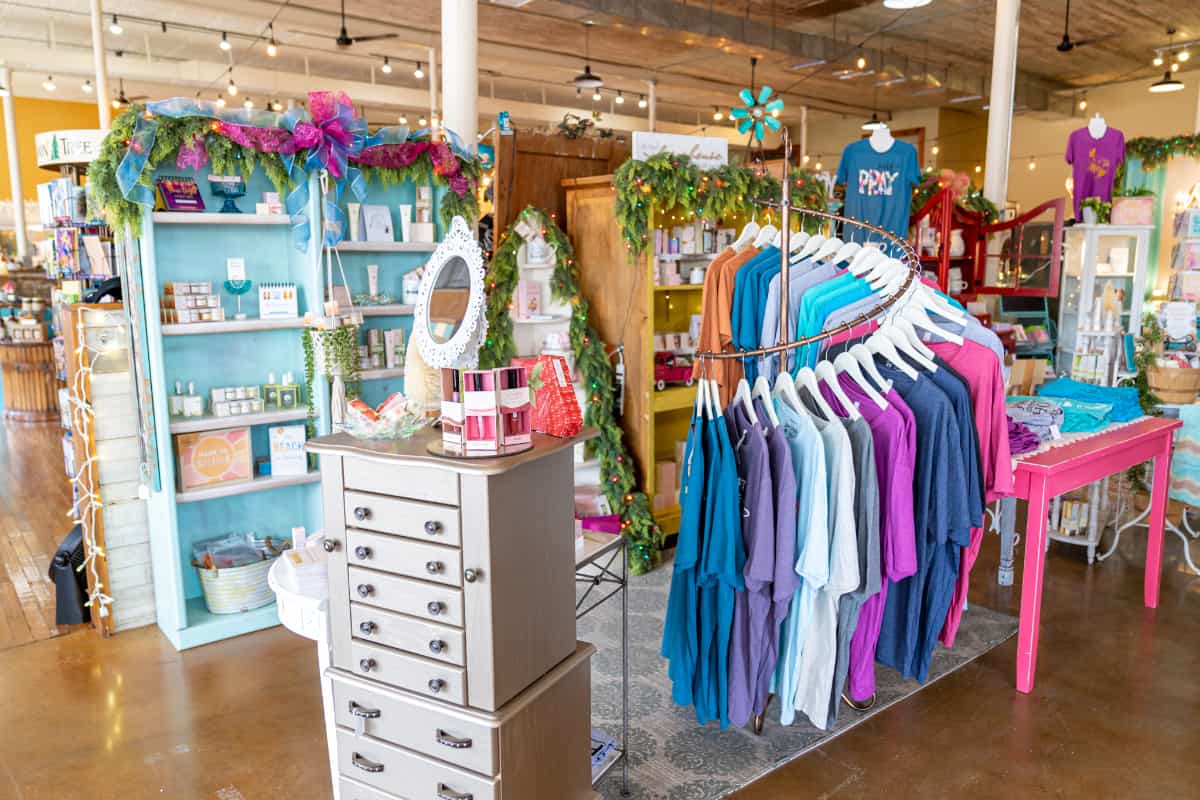 Things to Do in Clifton: Read a Book & Sip on Coffee
Tolstoy & Co. Bookshop is not only a charming, independent bookstore, but you'll also find a coffee shop, lounge, study area, and a kid's space if you're traveling with the littles. Stop by and pick up a coffee to fuel you as you conquer your list of things to do in Clifton TX, stay awhile and have a good time reading, or accomplish a few computer tasks with their complimentary Wi-Fi.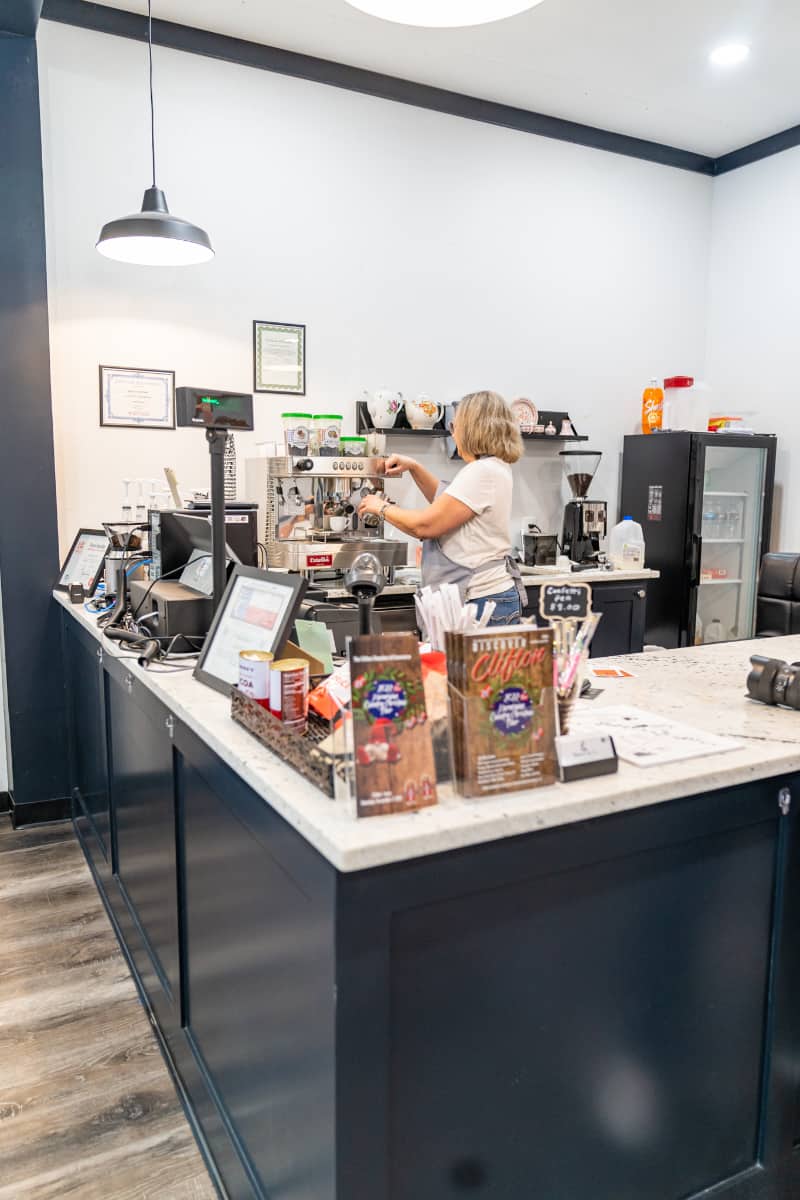 Things to Do in Clifton: Visit a Park
Clifton City Park
Clifton City Park is a great place to visit if you're looking for something to do in the sun or the little ones need to burn off some energy. This 20-acre park features a tennis court, swimming pool, dog park, river access, several historical structures, and a variety of playground equipment.
During the 4th of July celebration, it's the best place to catch the fireworks.
Walling Bend Park
One of the many parks that surround Whitney Lake, Walling Bend Park offers five, free overnight camping sites with covered picnic tables, a boat dock, and pit toilets. However, these are first-come, first-served, and they don't have any hook-ups. There are also cliffs and a beach area where many visitors go to cliff jump.
Cockrell-Thiele Park
Here you'll find a playground, which once served Clifton Elementary School, as well as a walking path.
Olsen Park
Enjoy a swimming pool, sand volleyball court, walking path, and tennis courts at Olsen Park. This is the only public pool in Bosque County, so call beforehand if you are visiting from out of town (it's likely only available to residents of the county).
Dahl Park
At Dahl Park there is a basketball court, playground, picnic areas, and a walking path.
Things to Do in Clifton TX: Visit Art Alley
In downtown Clifton is Art Alley, where you'll find the prettiest, photo-worthy murals. It's ultimately a walkable art space with perfect backgrounds for a free photoshoot.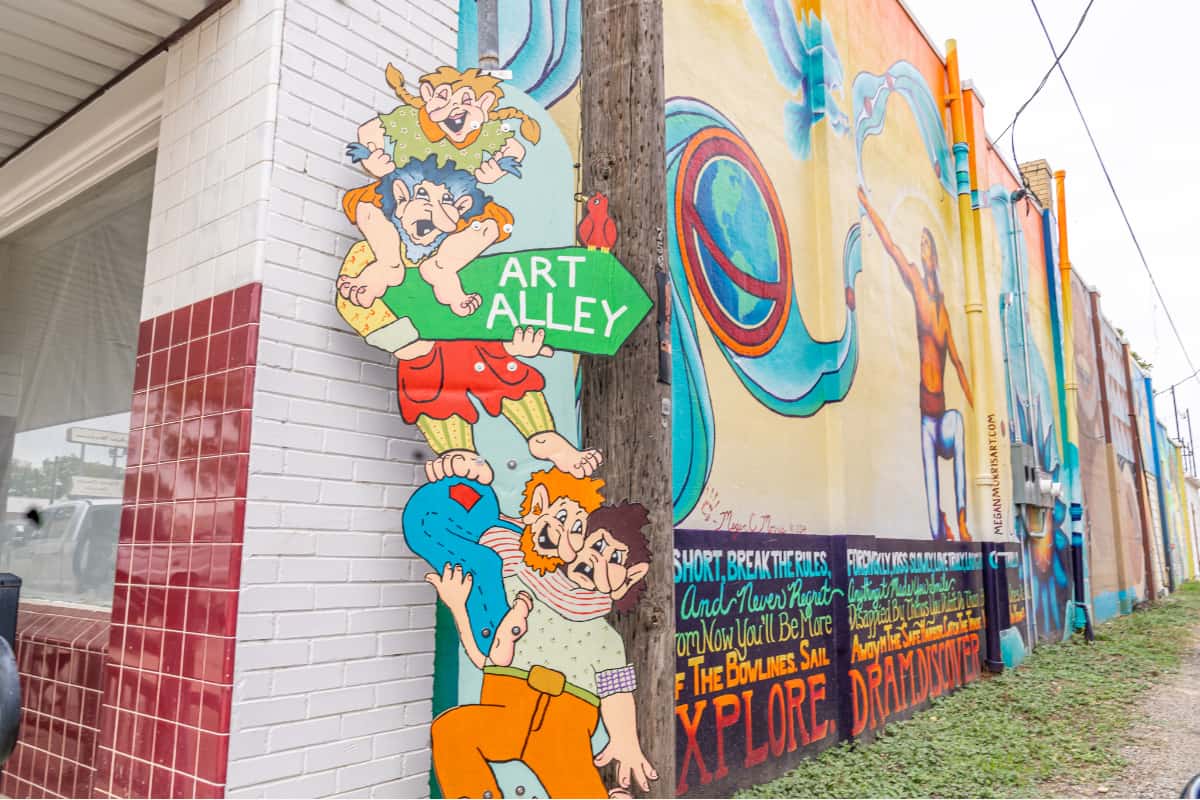 Things to Do in Clifton TX: See a Clifton Icon
The Clifton Whipple Truss Bridge is one of the few remaining bridges of its kind in Texas. A historical landmark, this particular bridge was built in 1884 and opened up a new travel path for residents of Bosque County over the North Bosque River, even when it flooded. You can also access the river just past the bridge.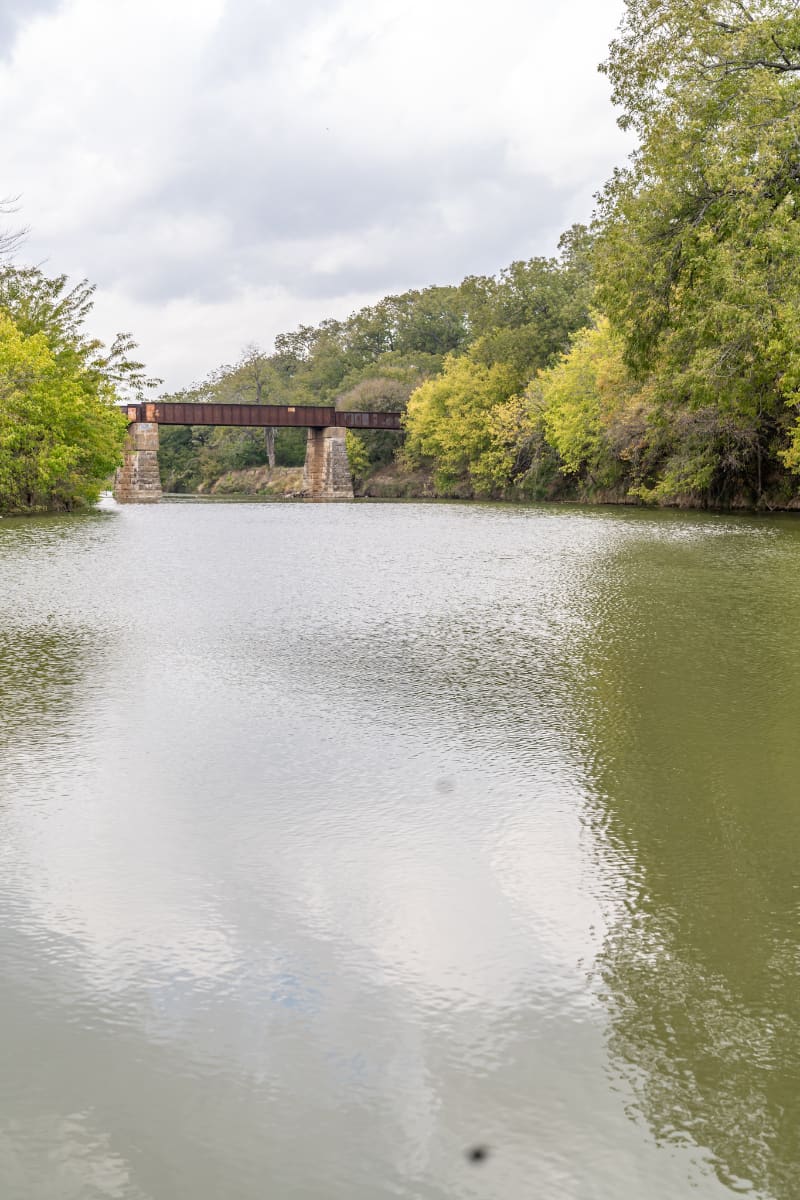 And More Pieces of Bosque County History
The Clifton Auto Museum
The Clifton Classic Chassis Auto Museum and Golden Age Gallery of Art features 35 cars spanning from the 1940s to the 1980s, including Corvettes, Thunderbirds, and many more!
Inside, you'll also find the Clifton Memories Room, which houses a collection of historical relics from the Clifton and Bosque County communities from the 1950s and 1970s, as well as a vast collection of glass art dating back to the Aztecs and Mayans.
The Edwin Olsen Railroad Museum
The Santa Fe Railroad brought a lot of foot traffic into Clifton. However, after World War II ended, the Clifton train depot didn't see as many visitors. Although it served other purposes later on, like housing the Clifton Police Department, today it tells the story of the Santa Fe Railroad through memorabilia.
The museum is open from 10 a.m. to 2 p.m. on the first and third Saturdays of each month, with tours available upon request.
Seasonal Events in Clifton TX
The Clifton Rodeo
Despite its small size, Clifton hosts its own rodeo in June, complete with roping and barrel racing, as well as a parade and a carnival in June. See their website for more information.
The Bosque Arts Classic
Every year in September, the Bosque Arts Center hosts its annual Bosque Arts Classic, an international art festival where artists of all backgrounds come to showcase their masterpieces. From this visiting collection, the center chooses three pieces to permanently add to its collection.
FallFest
Every October, Clifton hosts its very own FallFest. You'll find several activities along Main Street, including a local market with a BBQ and burger cookout, a 5K/1K event, a handmade quilt auction, a car and motorcycle show, free kid's activities, and live entertainment.
Things to Do Near Clifton TX
Valley Mills TX (14 minutes)
Go Stargazing
A short drive away from Clifton is the Paul & Jane Meyer Observatory. Every third Saturday of the month, it welcomes the public for a free, guided tour of the facility. You'll have the chance to glimpse striking images captured by the Meyer telescope.
Valley Mills Vineyard
Book a Waco Wine Tour and one of your stops will be Valley Mills Vineyard. Stroll through their vineyard, grab a glass or a bottle to share, and enjoy the view of the rolling hills from their rooftop patio.
Meridian TX (17 minutes)
Watch a Free Outdoor Movie
The John A. Lomax Ampitheater holds a free, monthly outdoor movie night with free concessions while supplies last. See their website for upcoming showings.
Explore Meridian State Park
Meridian State Park offers various overnight campsites as well as fishing, hiking, wildlife, and single kayak rentals. Enjoy the shade of its iconic pavilion, which dates back to the state park's creation in 1933 by a group of World War I veterans. See the Texas Parks & Wildlife website for more information.
Hico TX (33 minutes)
Make a stop at Silver Spur Winery in downtown Hico, stay in the cutest, themed airstreams at Off the Vine RV Park, and experience rock climbing like never before at Siloville, complete with ziplining, a bouldering course, and a Ninja Warrior course.
Whitney TX (36 minutes)
Visit Juniper Cove Winery for one of their many on-site events, like Thirsty Thursdays and live music. Hike, bike, fish, swim, and camp at Lake Whitney State Park. Looking to camp with littles? McCown Valley Park has all the same recreational activities as Lake Whitney State Park, but with playground equipment!
Glen Rose TX (45 minutes)
Explore Dinosaur Valley State Park, go on safari at Fossil Rim Wildlife Center, shop around downtown, and so much more in Glen Rose.
Lorena TX (49 minutes)
Country Spring Winery offers free tours, a tasting room with a fireplace, outdoor seating decorated with fairy lights, yard games, and space to roam the vineyard at your leisure. Keep in mind they are only open Friday, Saturday, and Sunday from 1 PM to 7 PM.
Waco TX (57 minutes)
Don't underestimate all the fun you can have on your next Texas road trip, and check out our lists of things to do and where to eat in Waco.
Things to Do in Clifton TX: Final Thoughts
The Norwegian Capital of Texas is full of amazing art, history, food, and more to add to your list of things to do in Clifton. If you're looking for a weekend getaway or perhaps some inspiration, a trip to Clifton is perfect for just that!