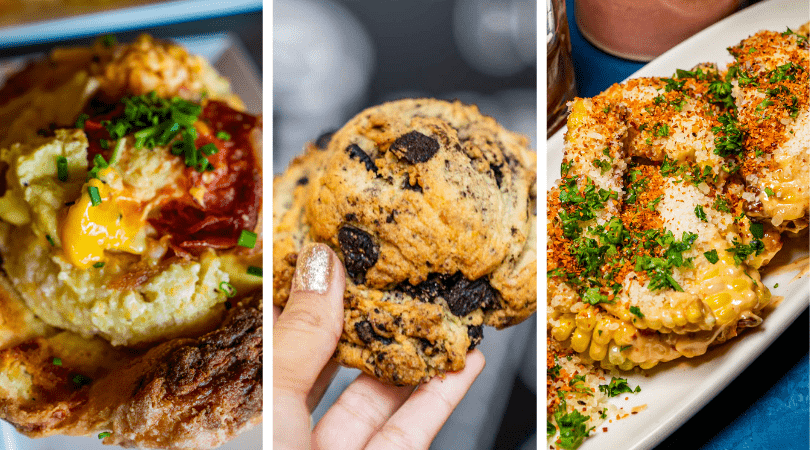 Waco is full of culture, art, and outdoor wonders, making it the perfect place for a weekend getaway. While visiting "the Heart of Texas," you'll find a variety of amazing eateries and dining establishments that will leave you wanting more. If all the intriguing options are overwhelming, we've curated a list of where to eat in Waco!
Don't worry if you aren't able to tackle every restaurant on our list of where to eat this weekend; there is so much to do in Waco anyway that you'll have to come back again to this up-and-coming town in Central Texas.
Check out our YouTube channel for Part 2!
Where to Eat in Waco for Authentic Jamaican Food
TruJamaica is a Jamaican restaurant serving authentic flavors from the island. They unfortunately experienced a fire on December 8, 2022, and as a result, they are temporarily closed while they work to reopen as soon as possible.
In the meantime, if you're in a position to do so, you can donate to their GoFundMe or give them a call at 254-304-9288 to find out where their food truck is currently located!
The Curry Goat is moist and tender, with a texture similar to your favorite brisket. It is well seasoned with a little kick. The Jerk Chicken is just as tender, with skin so thin, we didn't even need to take it off.
There are 16 different spices, including Scotch Bonnet Pepper, and a Jerk BBQ sauce made from scratch. It's sweet with a small kick that make it so flavorful. If you love sauce like me, I was happy to see there was plenty of extra glaze that I mixed into my rice.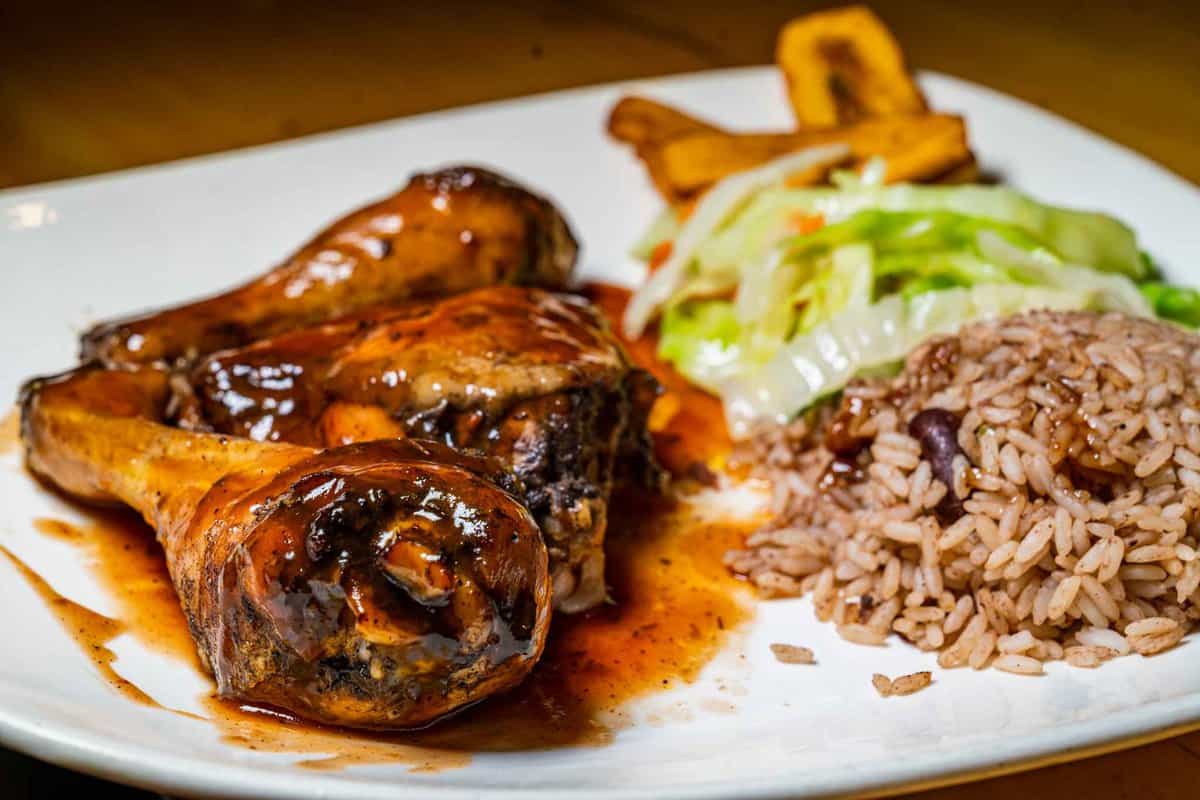 Make sure to also order their Coco Bread, made with coconut butter sugar. Its sweetness was reminiscent of a Hawaiian roll. Get it with a beef patty and make a sandwich using the Coco Bread. We loved the crunch of the outside of the beef patty and how it was followed by the soft and slightly spicy interior.
Where to Eat in Waco for Diner-Style Southern Food
The next stop on our list of great places to eat in Waco was Jake's Texas Tea House. This retro diner brings a whole new look to Southern cuisine.
When you first hear the words "tea house," a diner probably isn't the first thing that comes to mind. In the 1960's, the term "Texas Tea" became a popular term to describe crude oil. Since the theme of Jake's Texas Tea House revolves around cars and gas stations, the name is fitting.
The restaurant is full of vintage décor and antiques that will take you back to the 1950s. The whole place is bright and colorful, giving off a fun and laid-back vibe, reminiscent of simpler times. The old school signs and car parts scattered throughout the restaurant make for the perfect photo opp.
The diner serves classic Southern meals made from scratch. With hearty burgers, steaks, and sandwiches, the menu really gives you the best spread of traditional American cuisine.
The Hubcap Burgers come with several options, all absolutely delicious and mouthwatering. I tried the Cadillac Melt, and I can guarantee that it will take you for the culinary ride of your life. The Pepper Jack cheese, bacon, and onions made for the perfect combination and the jalapeños and poblanos gave it an extra kick of flavor. To top it off, it's served on grilled jalapeño bread! They also have a wide range of desserts baked fresh daily.
On the first Saturday of the month, the coolest Elvis impersonator pays a visit and gives the most amazing performance. On second Saturdays, Marilyn Monroe puts on a show to complement the 50's vibes.
Where to Eat in Waco for Breakfast & Board Games
Delve into the universe of one of your favorite games at Butter My Biscuit. The café is incorporated into King's Landing, a game store full of board games and themed merchandise. You'll also find items from your favorite pop culture franchises, including Harry Potter, Lord of the Rings, and Pokémon. Last but not least, their shelves are stocked with retro games, collectibles, and RPG games like Overwatch.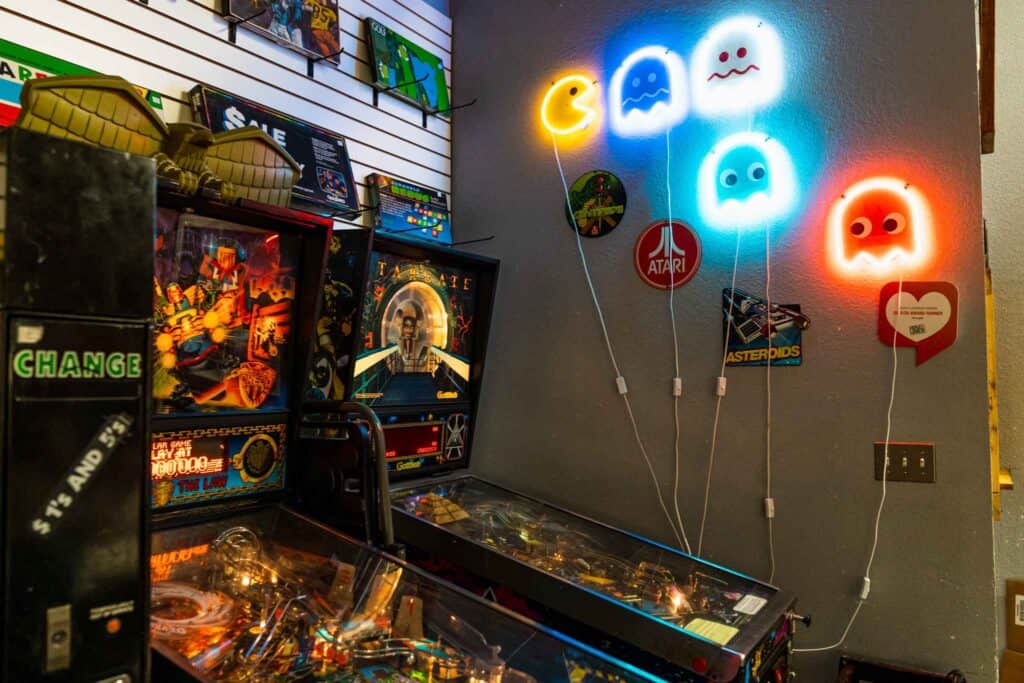 Some of their menu items are themed and based on fan favorites, like Pac-Man, and their coffee menu is just as fun!
Try themed drinks like the Princess Zelda, a mocha and lavender latte, or a Coffee Sunrise made with orange juice and espresso. If you drink it while the mixture is still separated into layers, your first few sips will consist of mostly orange juice. Mix it up and the espresso becomes more distributed, and you'll end up feeling like you're drinking an iced latte with a hint of orange.
Then, take home their unique coffee blends, made in partnership with Bridge City Waco, to remember your weekend trip!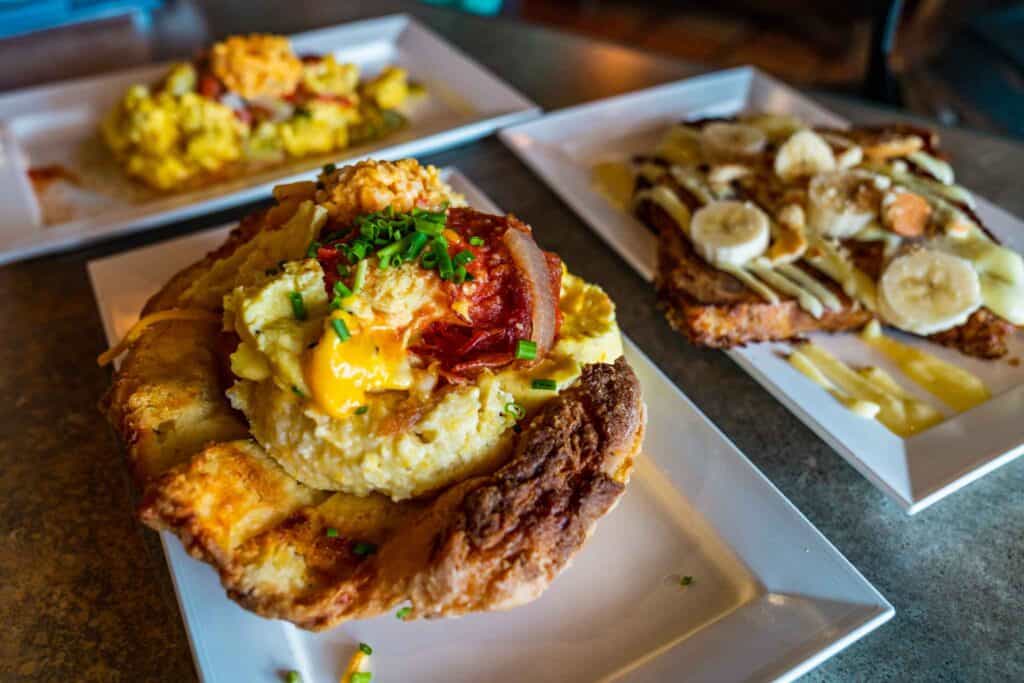 We tried the Lee's Breakfast Tacos and the Biscuit French Toast, made to taste just like banana pudding! It was hearty and appetizing, making for the perfect breakfast to start off our long day. For those arriving later in the day, they also have an evening menu with equally delicious options.
Butter My Biscuit hosts fun game nights and tournaments in the back room throughout the week, but the room is also available if you just want to hang out and play games with your friends and family. Indulge in some Pac-Man and try your hand at beating the high score.
Where to Eat in Waco for Lunch with Afternoon Tea
Serving some of the best comfort food in Texas, Sironia Café is a charming eatery with an atmosphere that'll remind you of home. Surrounded by a plethora of cute boutiques, the café is the perfect place to spend a day of eating and shopping. All of their menu items are made from scratch daily and showcase the best flavors in Waco.
Serving great house specials like hamburger steak and quiche, as well as a variety of burgers and sandwiches, Sironia Café takes comfort food to a whole new level.
They have three different trio options: the Pick Three Trio, the Uptown Trio, and the Sironia Trio. The Sironia Trio came with a cup of soup, a croissant sandwich, and spinach salad. I chose the homemade chicken and wasn't disappointed. It was savory and delicious!
After you've finished your meal, you have to order their dessert. From delectable triple layered cakes to meringue pies, the menu is sure to satisfy your sweet tooth. I recommend ordering their famous strawberry cake. It's a simple dish, but the richness and attention to detail in the preparation made it so delicious. It's the café's top-selling dessert for a reason, after all.
Where to Eat in Waco for Homemade Ice Cream
Another fantastic dessert option is Heritage Creamery! Everything is local at this ice cream parlor, including their in-house made ice cream, cones, and jams.
The shop has so many flavors to choose from, so it can be hard to pick just one. I tried out the Sweet Cream Stracciatella and I can't recommend it enough! It was sweet and creamy in all the right ways, melting right away in my mouth. The ice cream here is perfect for hot days and nights, or to satisfy a craving.
You can also buy pints and ice cream flights with multiple different flavors. Monday through Friday, they have Happy Hour from 2pm to 5pm, where all ice cream is 50 cents off!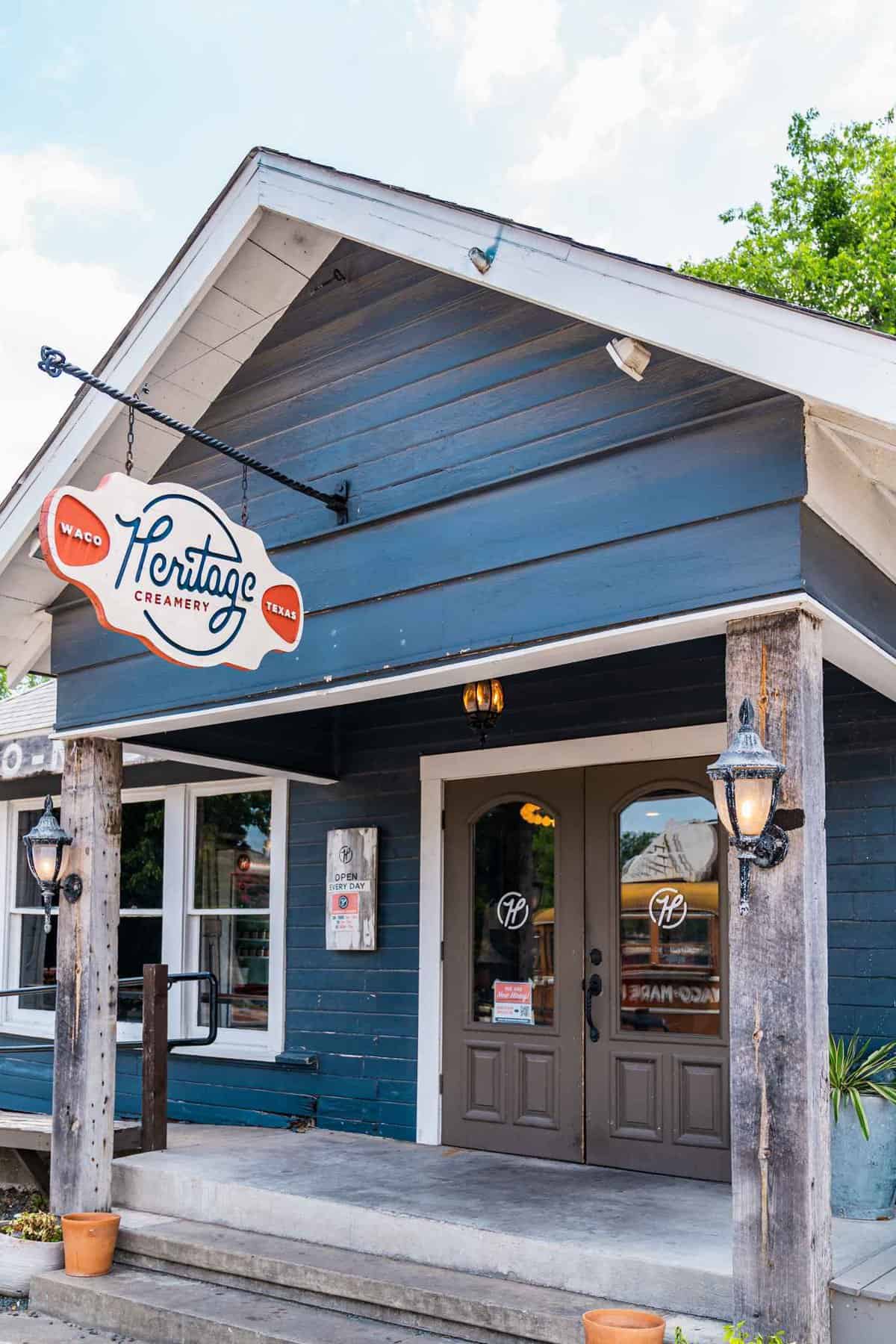 Where to Eat in Waco for Cowboy Coffee
Common Grounds is an easygoing coffee shop that doubles as a live music venue. The shop is very welcoming and has some of the best coffee in town!
Their Cowboy Coffee is a collection of drinks made from their secret sauce, which is sweet and perfectly caffeinated. We tried out their original "Cowboy Coffee," which came with the secret sauce, drip coffee, and whole milk. It was just the right amount of sweet and served as the perfect start for our busy day ahead.
Common Grounds also has a wide selection of house coffees, traditional espressos, and unique house specialties to try.
You'll find charming rustic décor and an ideal space for working or hanging out. They have an open outdoor area with a beautiful canopy of trees overhead. They regularly have local and national talent come to perform on their concert stage, so check out their website to see who's coming to town. Be sure to add Common Grounds to your list of where to eat in Waco this weekend!
Where to Eat in Waco for Award-Winning Barbecue
It's not a true Texas trip if you don't have at least one BBQ joint on your list of where to eat. Helberg BBQ is hands down one of the best places to eat in Waco, so we had to include it on this list.
From the moment you enter the restaurant, you'll smell the smoking meat. There are shaded picnic tables all around, giving off a great, bona fide Texas barbeque vibe.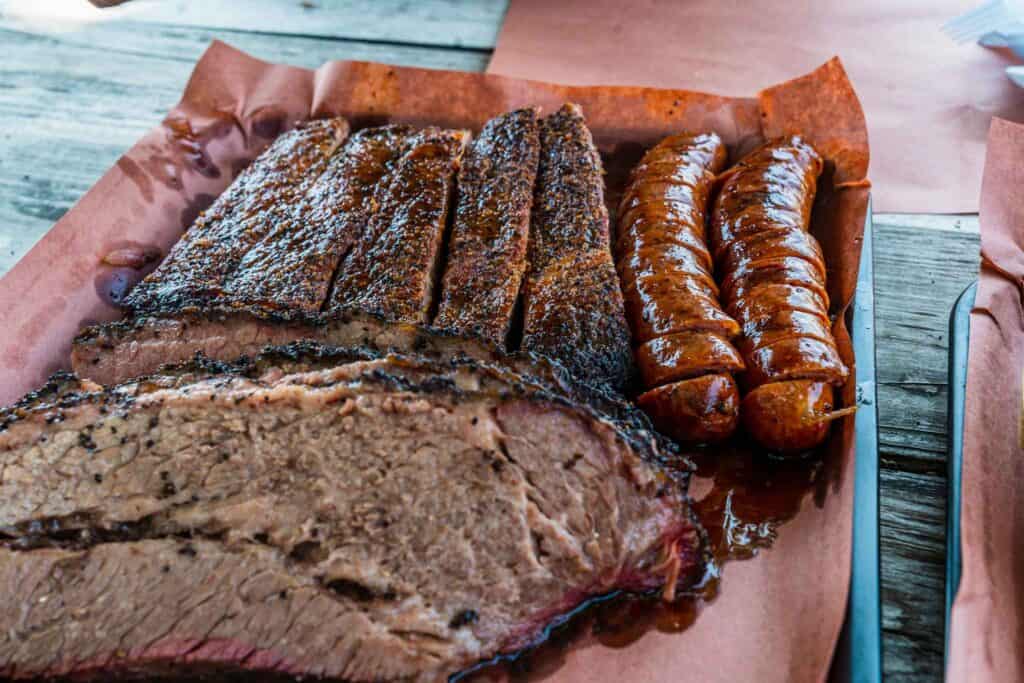 We had a meal filled with Cauliflower Steak, Banana Pudding, Mac and Cheese, a corn salad, and Brisket. The brisket was moist with a thick, peppery crust, and it melted right in our mouths. The mac and cheese was so creamy. The corn salad had a kick and the right amount of creaminess without it being too heavy. We also tried their beef sausage, which was so soft and very flavorful. Overall, the food was fantastic and definitely worth the wait!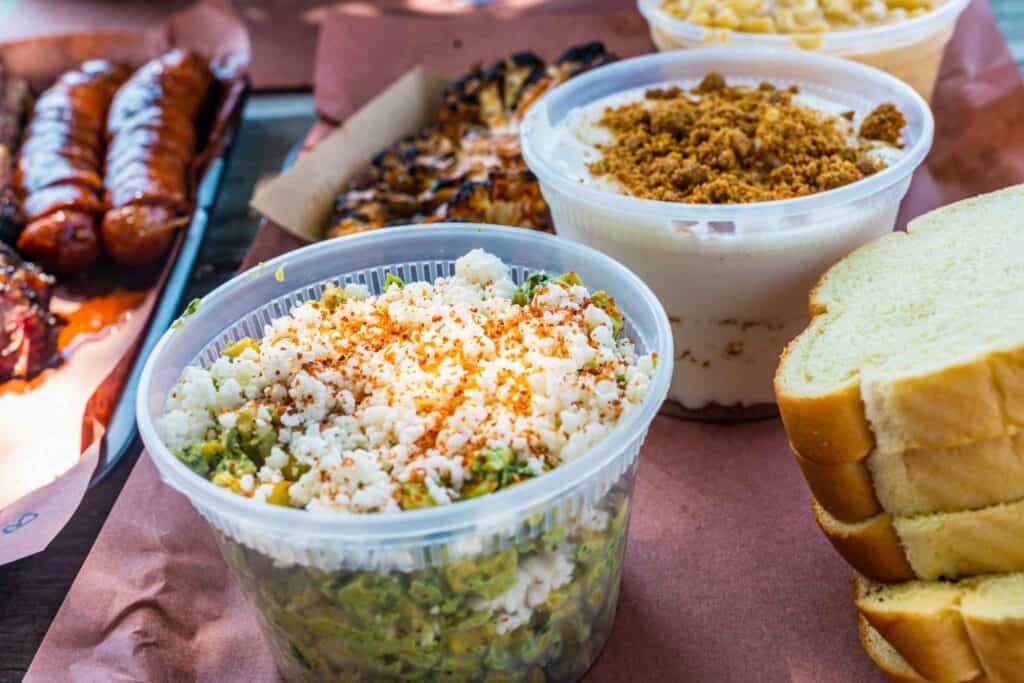 Where to Eat in Waco for Bubble Tea
1102 Bubble Tea is the cutest boba spot in town! Whether you're on the lookout for some good bubble tea or yummy pastries, 1102 Bubble Tea is the place to be. The café is decorated with cute pieces that make the place extremely welcoming. There's a lot of greenery inside that livens up the space, creating the perfect backdrop for your selfies.
They have a menu filled with a variety of different bubble tea and coffee flavors, including organic and caffeine free options. I tried the Lavender Milk Tea and loved that I got to choose the sugar level to make the drink just right for me. I was really impressed by how well the lavender mixed with the tea, creating the perfect balance of flavors.
1102 Bubble Tea also serves desserts like ice cream, flan, and macaroons, along with a menu of small eats. The Chicken Dumplings and Crunchy Crab Meat paired well with our bubble tea and made for a great afternoon snack.
Where to Eat in Waco for Crazy Good Cookies
If you're like me and love a good dessert, you have to check out Milk Bottle Cookies. Serving some of the best cookies that Waco has to offer, they come in a variety of flavors like Cookies and Cream, Peanut Butter, and Chocolate Chip. The cookies are absolutely scrumptious, with a slight crunch on the outside and a soft center.
We tried several different options and were impressed by them all, especially the unique flavors like Banana Cream Pie and Citrus. They also serve coffee and bottled milk, which pair great with their cookies! If you happen to have Balcones Distilling on your list of things to do in Waco, it's right across the street!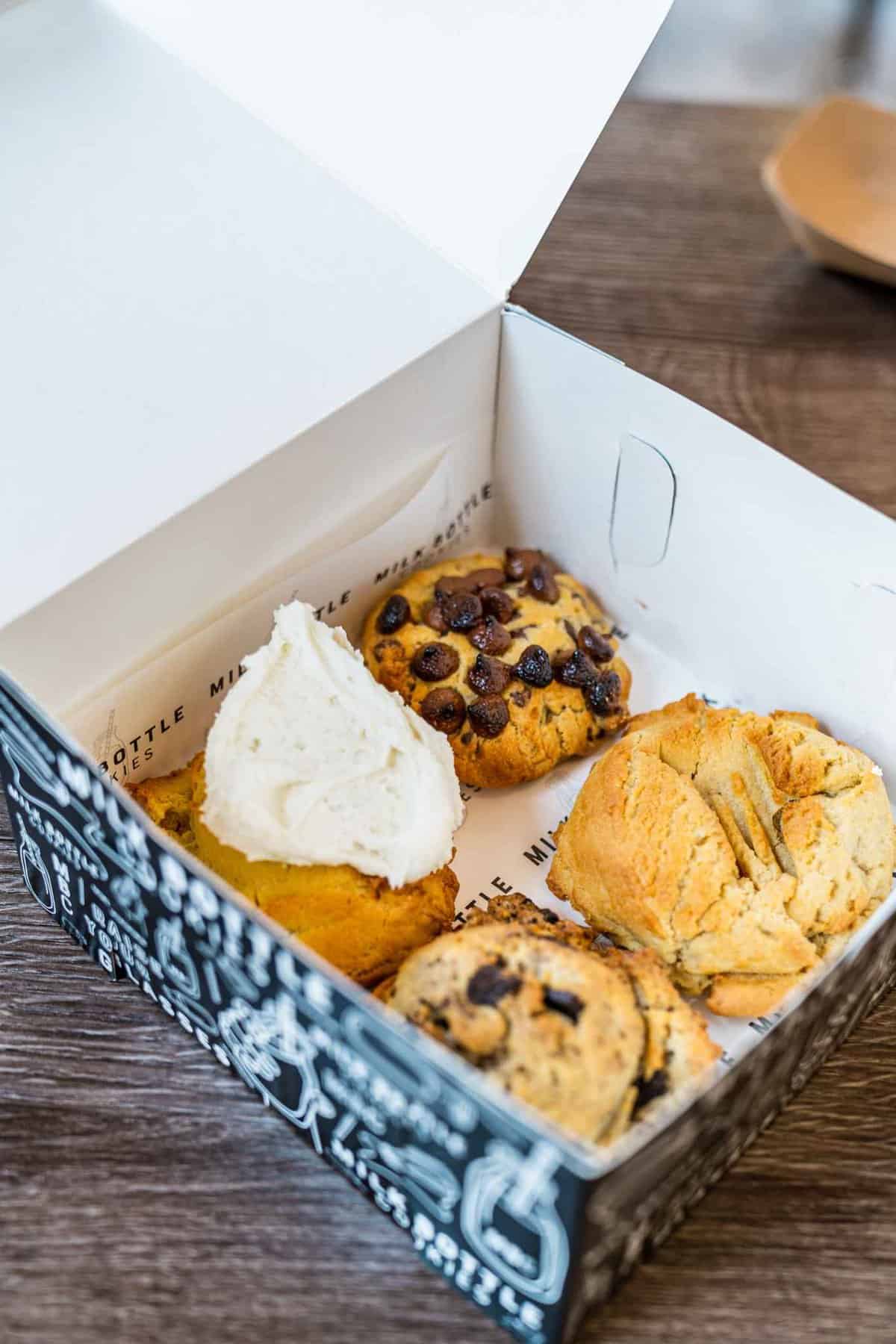 Where to Eat in Waco for "Czexan" Food
Pivovar is a Czech inspired hotel with a full-service restaurant serving Czech and Texas-inspired dishes. You have to add this place to your list of where to eat in Waco!
We ordered their Czech Fried Cheese, Pivovar Truffled Gnocchi, and the Czexan Schnitzel. I love to order schnitzel when it shows up on a menu, so I have to say, it was one of the best I've had! The seasoning was spot on, and it was as crisp as it was moist.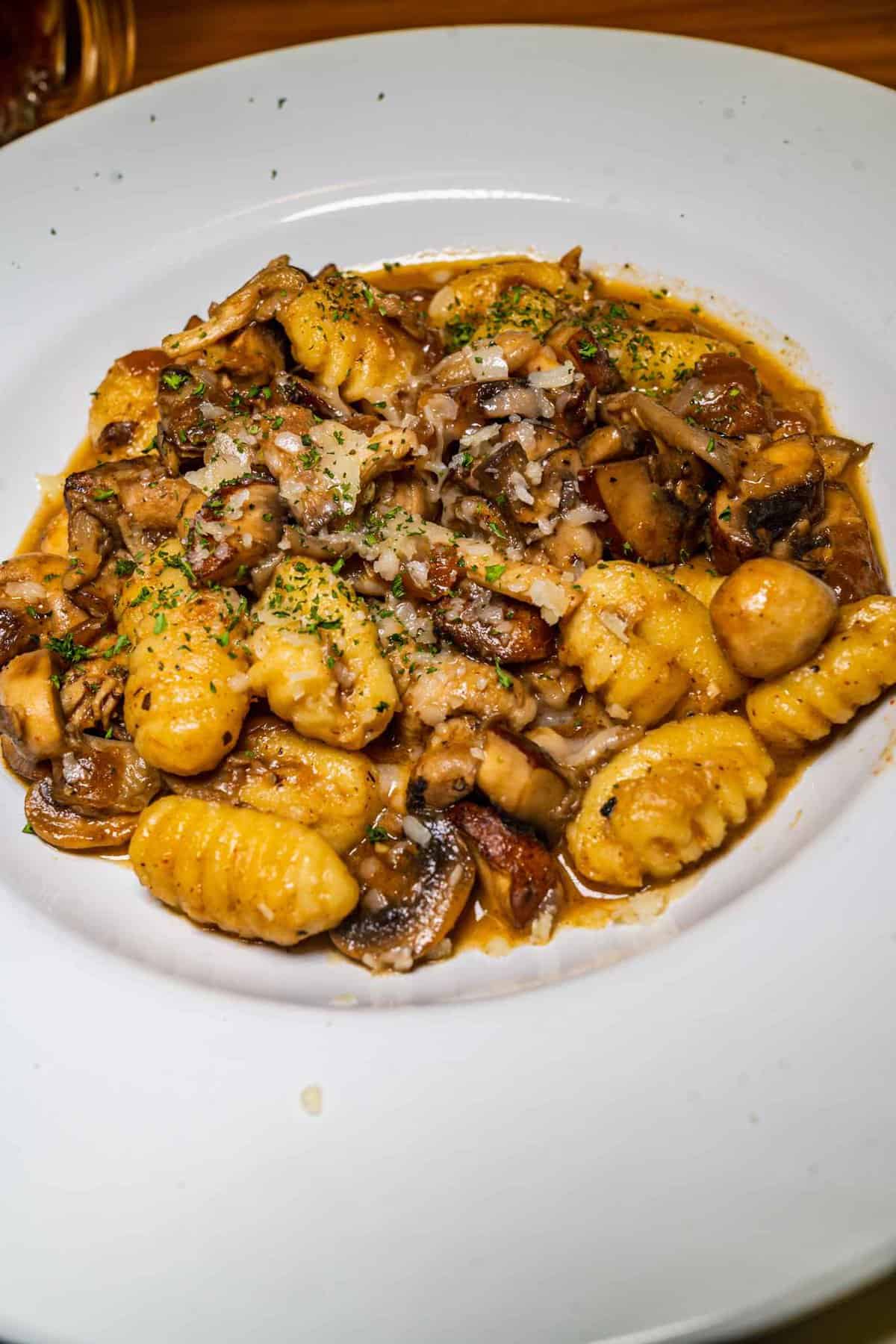 The interior of the restaurant, as well as the entirety of the hotel, are filled with nods to Czech culture and Pilsner Lager's conception and roots. Most unique of all, the hotel offers Beer Spa treatments and massages, even if you aren't a guest of the hotel. Read our review of the Pivovar Hotel, then call to book a room or spa experience of your own!
And Czech Pastries
The Pivovar's on-site bakery serves authentic Czech delights and treats. From breads to pastries, the bakery has a variety of tasty items to choose from. It wouldn't be a proper Czech stop if you didn't try a kolache! They have options with meat or fruit.
I tried one of both and was amazed at how delicious they were. You can expect their bread to be baked fresh daily and prepared in accordance with traditional European recipes.
Where to Eat in Waco for Coffee & Cocktails on a Rooftop
Another great coffee joint in the Waco area is Dichotomy Coffee & Spirits. It has a chic, modern vibe mixed with vintage touches. The establishment screams sophistication while still maintaining a fun atmosphere, making it a great place to relax, day or night.
Local art lines the walls, showcasing some of the best talent in the area. There is also rooftop seating where you can enjoy cocktails with an amazing view of the city courthouse and downtown Waco.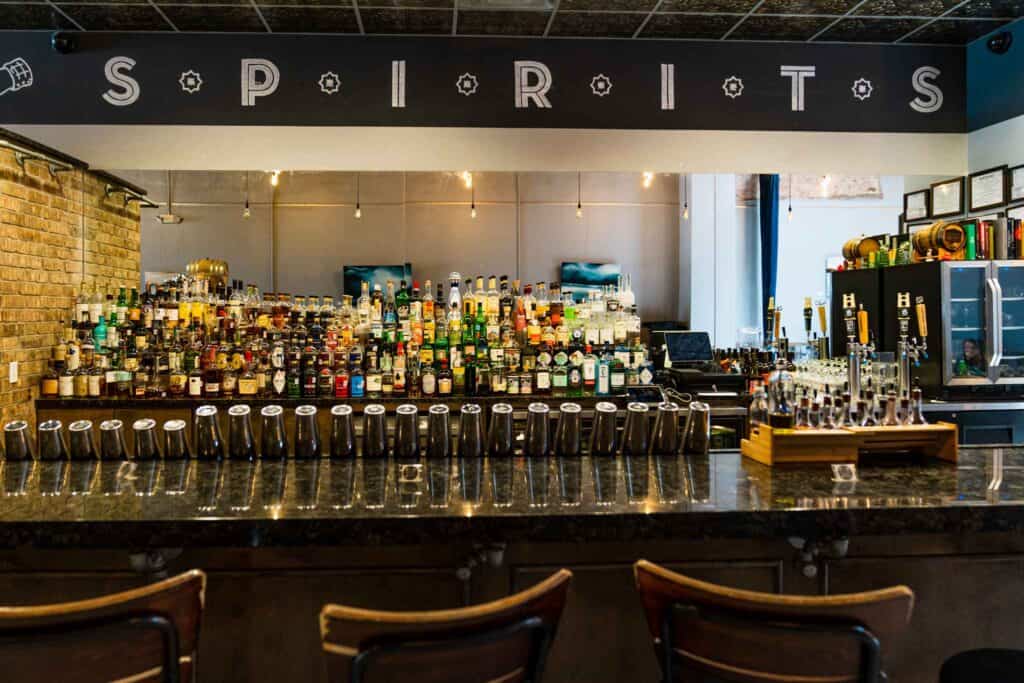 The menu includes a wide variety of coffee and cocktail options that you're sure to enjoy.
I tried the 1885, an iced drink made with Waco's favorite, Dr. Pepper, and espresso. Ask for it "animal style" and your barista will add vanilla and half and half. It's definitely something that you have to try, as it was such a unique combination, working wonders on my tastebuds. I also ordered a Bluebonnet Latte, with the perfect balance of bitter and sweet.
Where to Eat in Waco for Phenomenal Fusion
If you're looking for a place with a variety of options, you have to try out Union Hall. Union Hall is filled with over 20 eateries and an abundance of different foods to try, so you'll absolutely find something for everyone. The Union Hall brings a sense of community into their establishment, showcasing the best of what Waco has to offer.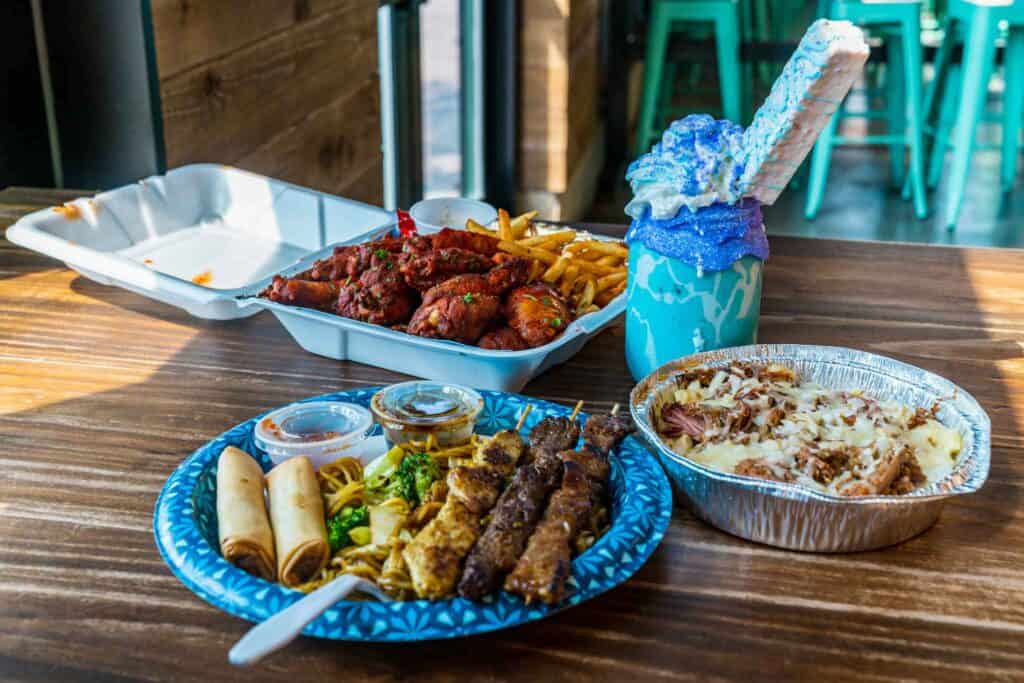 We tried out a variety of different things, starting with Cambodian food at Blasian Asian. They serve traditional food with a twist, making this fusion absolutely delicious. At King's Wings, we got the Louisiana wings, which were served medium hot with fries.
Everything was so good! We can't wait to go back to eat at the other vendors we didn't get a chance to try.
Permanently Closed
Be Kind – Although they are no longer located inside Union Hall, Be Kind Coffee has multiple locations across Waco so you still have the chance to try them!
Unshakeable – They are no longer open, but their hope is to open a new location in the near future.
Where to Eat in Waco for Farm-to-Table Southern Food
Straight from the farm to your table, Milo All Day serves amazing Southern fare made entirely from scratch for breakfast, lunch, and dinner. The restaurant is adorned with plants, rope wrapped chairs, a beautiful bar with a blue tile backsplash, and aeronautically themed bar stools. There's even a spacious outdoor patio!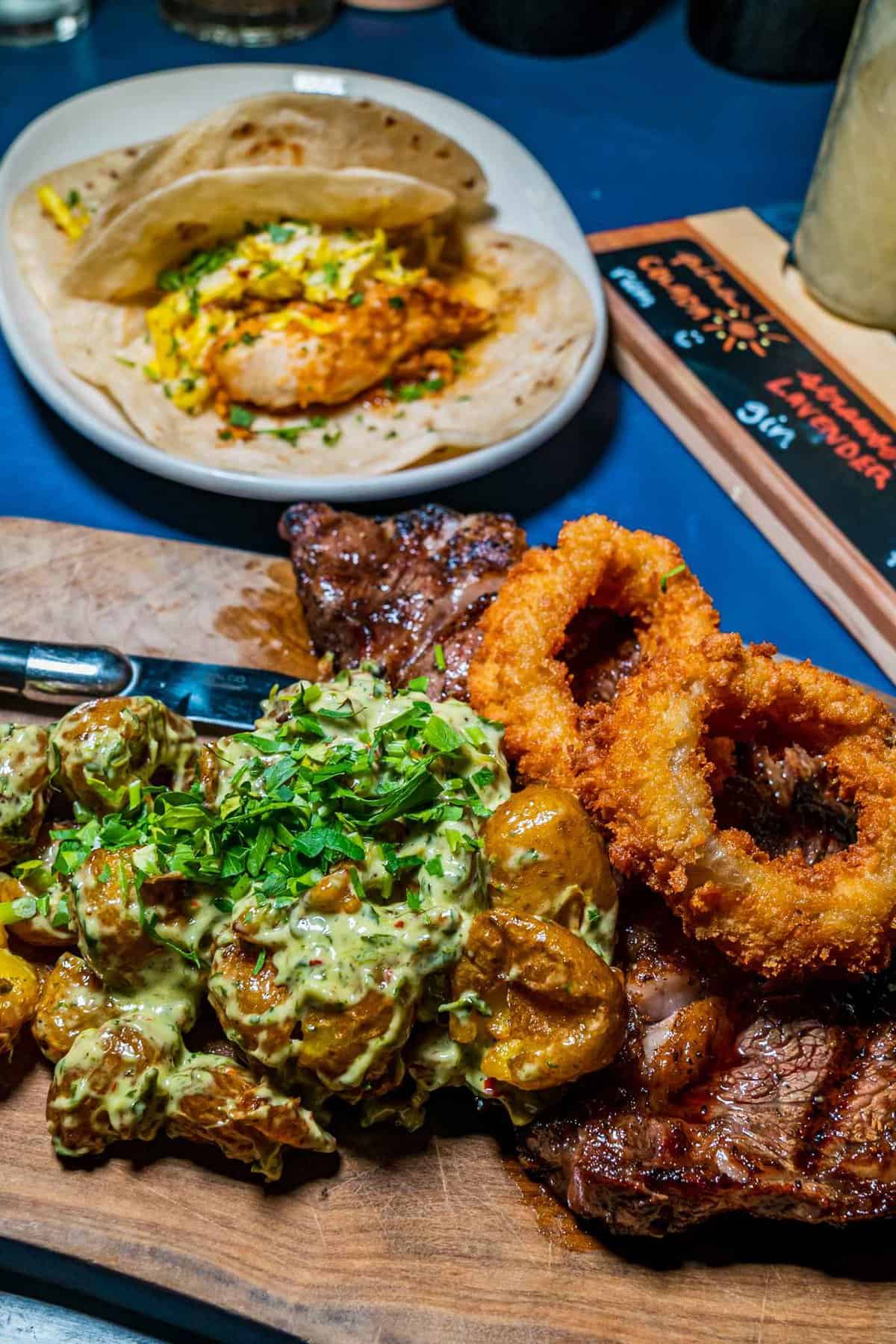 Our server recommended we try the Red Snapper, which proved to be an excellent choice. It was prepared to perfection and was absolutely delectable!
We also tried the Elote Corn Ribs, slices of corn with Cotija cheese and ancho aioli. The corn comes on the cob, but it's not hard to eat at all. You can choose to eat the kernels off the cob or eat the "ribs" whole.
The menu also comes with all sorts of spirits, wines, beers, and cocktails to enjoy with your meal, making for a great lunch or dinner out on the town.
Where to Eat in Waco for Chocolates & Small-Batch Ice Cream
At Splendid Oaks Chocolate and Ice Cream, the desserts are almost too pretty to eat. Almost. The dessert shop opened in the fall of 2020, home to an artisan chocolatier who makes their chocolates by hand and in small batches with the finest ingredients.
There are so many different and unique chocolates to choose from, so it can make the decision a bit overwhelming. That's why we got a variety box where we could choose several we wanted to try. Choose from different box sizes and make sure to see if they have any off-menu flavors available for you to try.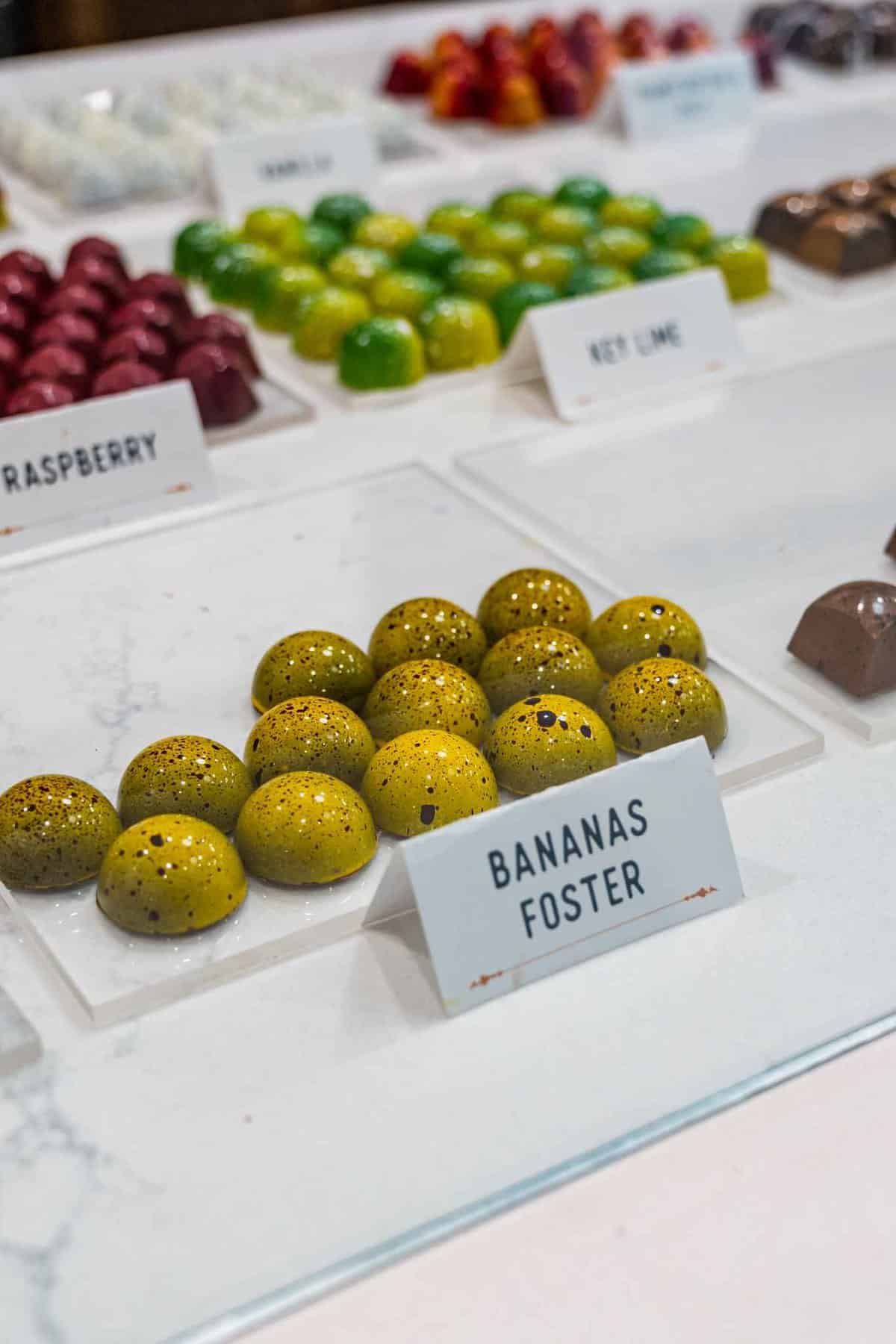 Splendid Oaks also sells Graeter's ice cream, which has a 150-year-old history, making it the oldest family owned and operated ice cream producer in America. The ice cream is crafted in small, 2-gallon batches, making it some of the best ice cream you'll ever have. You can also order an ice cream flight that comes with 8 different flavors, or a delicious milkshake.
Where to Eat in Waco for Food from Joanna Gaines Herself
Magnolia Table is a Waco staple that you have to add to your list of where to eat this weekend. With a menu based on Joanna Gaines' recipes, the restaurant also serves specials directly out of her cookbook.
From all-day breakfast to amazing brunch and lunch options, Magnolia Table serves a variety of Southern cuisine that are truly the heart of Waco.
The meat used at the restaurant is from 44 Farms, a local farm that raises free range pasture cows, making for some of the best meat you'll ever have. The restaurant is a mix of modern and rustic décor, with plants and farm style tables. There's a beautiful outdoor patio with vines growing within the walls of the covered area, as well as uncovered seating options.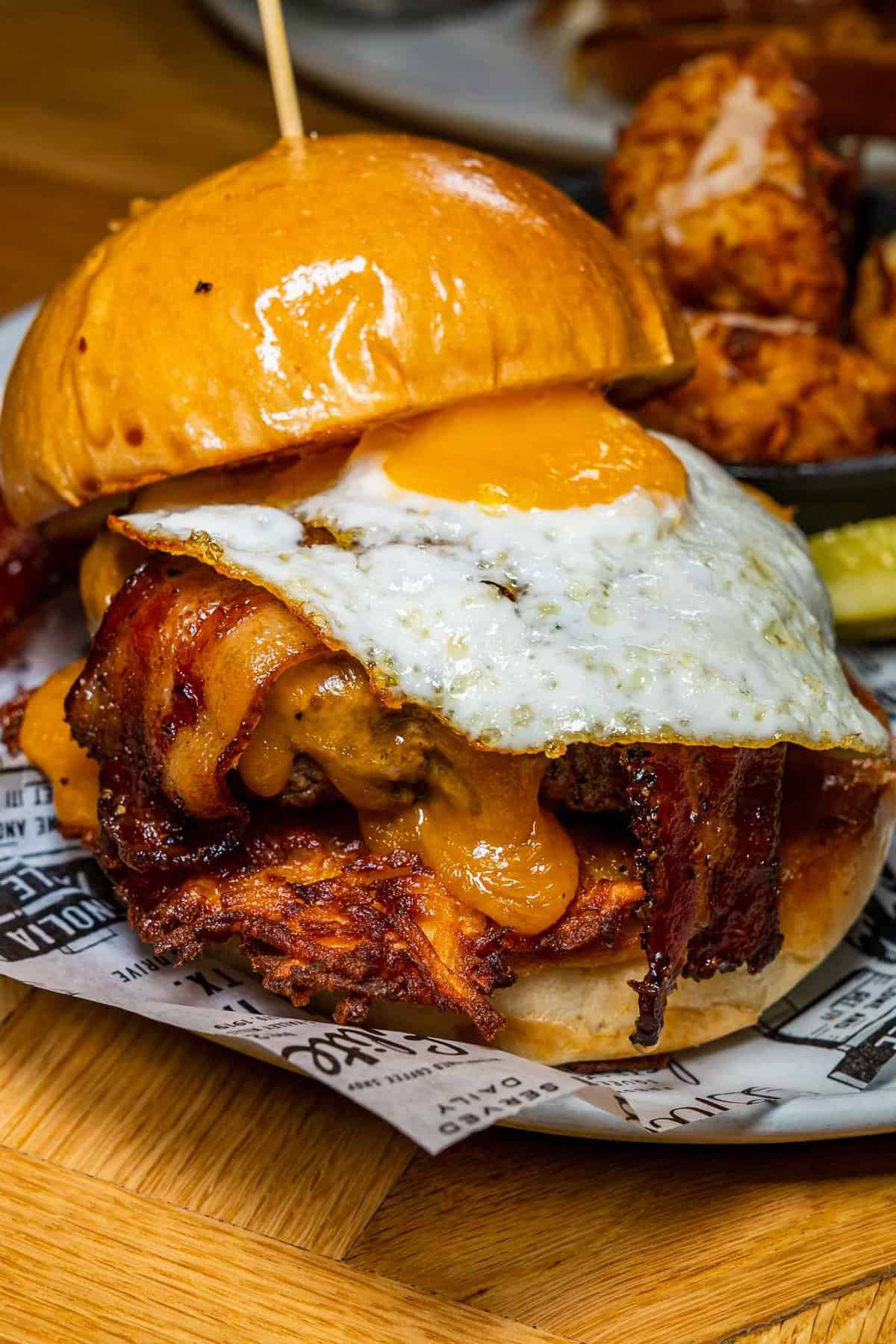 Magnolia Table doesn't serve alcohol, but their coffee is amazing! They use Press Coffee, a small batch, coffee roastery. If you are seated across from the bar, you can watch the baristas make fresh coffee drinks.
The food is fantastic, especially the biscuits. They were so fluffy and airy and weren't too thick or dry. They fell apart easily, attesting to just how good they are.
We ordered the French Toast Crunch, served with whipped cream, strawberries, and covered with a homemade caramel cornflake crunch. Trust me, it tasted even better than it sounds (if that's possible). Don't waste any of the butter from the biscuits either! I recommend adding it to the French Toast Crunch for an extra treat.
Where to Eat in Waco for Literature & Literary Coffees
This coffee shop doubles as a bookshop. Their menu consists of your usual coffee drinks and teas, as well as literary-inspired drinks, like the Muggle Mocha. We were surprised when the barista handed it to us with a lightning bolt on top made out of chocolate butterscotch powder!
The walls are lined with books of all kinds that cover topics like cooking, home design, fiction, non-fiction, and more! You'll notice some of the books have notes from the staff about what they thought of them, so if you have a hard time choosing, this is a great way to receive guidance from well-versed readers.
There's also a puzzle table, chess, window seating with natural sunlight, plants, plus comfy chairs, a dim study nook, and even a kid's room where they host story time on Wednesdays at 10:30am.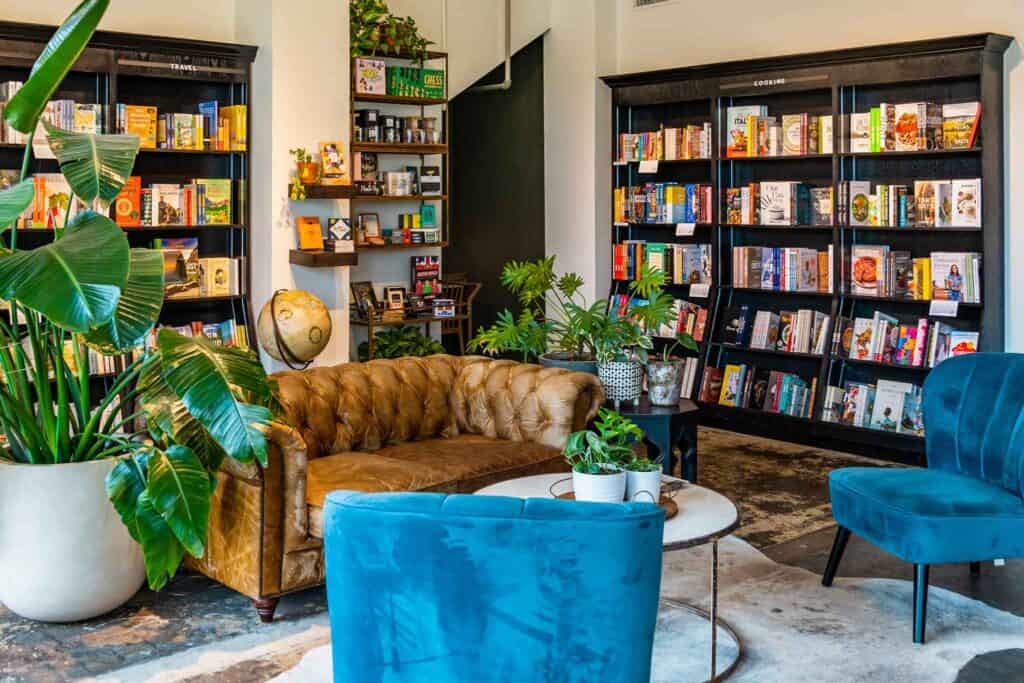 Where to Eat in Waco for Serenity & Coffee Syrups from Scratch
On-site at Homestead Heritage, Heritage Coffee serves your favorite espresso and coffee drinks with scratch-made syrups.
Their menu includes unique drinks like the Dutch Delight (a maple pecan breve cappuccino with a warm stroopwafel), as well as seasonal drinks like the Heirloom (a strawberry cortado with a piece of dark chocolate). Their affogatos are even made with homemade vanilla ice cream!
Not one for coffee? Order a matcha, an earl grey tea, or a chai.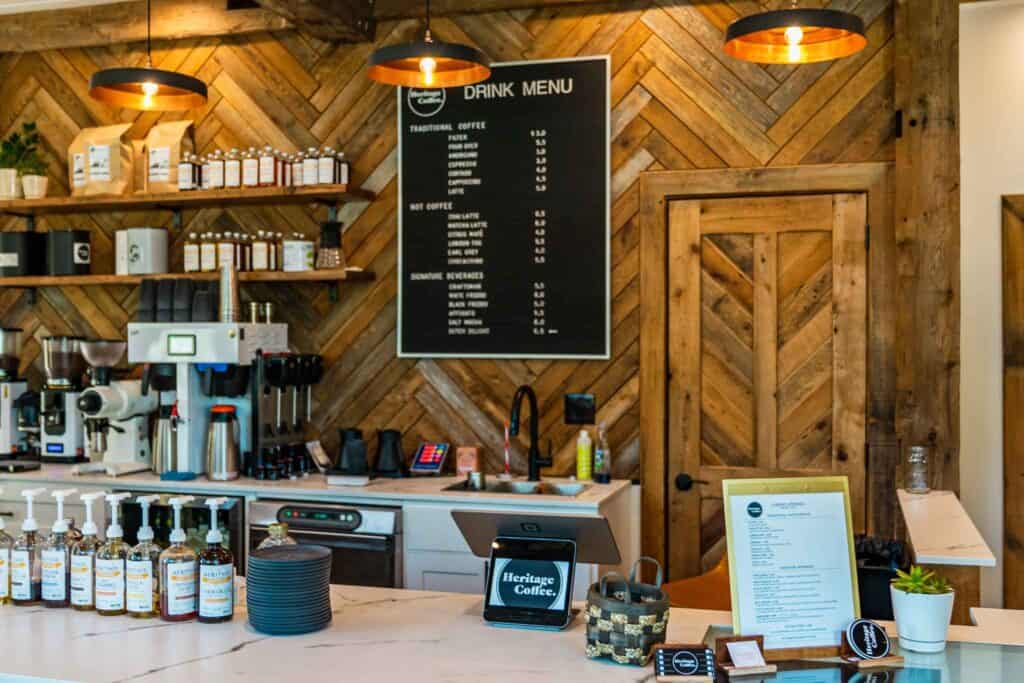 You'll be amazed at all of the windows and natural light. There are beautiful wood beams and unique chandeliers overhead. There's a variety of seating, from tables and booths to couches and outdoor picnic tables under the shade of a big tree.
Where to Eat in Waco TX This Weekend: Final Thoughts
Waco should be at the top of your list of destinations for your next Texas trip; if not for its things to do, definitely for its restaurants and coffee shops. This weekend perhaps?
The list of where to eat in Waco is extensive with so many places to try, including traditional Southern fare, international cuisine, and hip dessert joints. If you're on the lookout for the best places to eat in Waco, our list, along with our list of things to do in Waco, has gotcha covered!