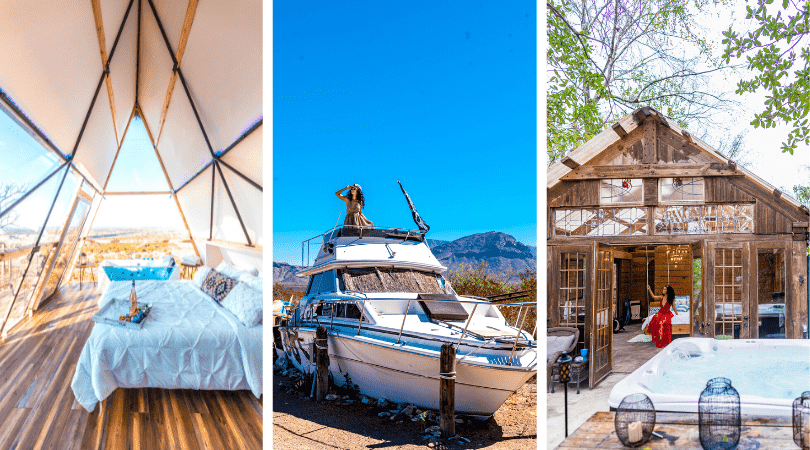 You cannot travel without trying out glamping at least once. Thankfully for you, Texas is home to some of the best places for a glamping getaway. Choose from treehouses, yurts, cabins, glamping bubbles, eco-cabins, vintage airstreams, and that's just a few of your options! Whether you like animals, outdoor activities, lake getaways, Star Wars, or you love to try new things, you'll have opportunities to try your hand at so many activities and experiences if you make your way through this guide of the best places for a glamping getaway in Texas.
The Retreat on the Hill
The Retreat on the Hill is not only a great glamping spot, but also a wedding venue in the Texas Hill Country, so you can imagine how beautiful it is. There are several unique units, so you're guaranteed to find something to your liking, but between lodgings like the Stardome Suite and the Eagle's Nest Retreat, it may be hard to choose just one. Although they are suspended over Horseshoe Bay, these units are very private, perfect for a romantic couple's retreat. Just an hour away is the lovable town of Austin with its abundance of things to do, whether you want to stop in before, after, or during your stay.
Pet-Friendly? Depends on the unit
Lucky Arrow Retreat
Have you ever been glamping in a yurt? Well now is the perfect opportunity! It is surrounded by beautiful green trees and has the cutest decor inside. There is also a community area where you can swim in the pool, play darts, and just hang out! There is also AC, so don't be turned off by the summer heat, because it is the best time to visit! Plus, this unique glamping yurt is located in Dripping Springs, one of the most charming parts of the Texas Hill Country with a magnificent spring to cool off in!
You can save $10 with my Hipcamp referral code!
Pet-Friendly? Yes
Orr Family Farm
There are many different ideas of glamping, but Conestoga wagon glamping is definitely a unique experience. Located in Oklahoma City (it's so close to our Texas border, so we decided to include it), this wagon is surrounded by the beautiful outdoors with desired, modern luxuries like AC and running water.
Surprisingly, there is so much space in these Conestoga wagons! With a queen-sized bed, a bunk bed, a mini fridge, and even a table, this wagon can comfortably fit 4 people! This would make for a cool family trip, and you could expose your children to something different that they'll never forget. There are also several things to enjoy with your family, like the barnyard, ziplining, pedal boats and more! You should also be sure to check out the things to do in Oklahoma City.
Pet-Friendly? No
Naturalist Boudoir B&B
Are you and your partner in need of a private getaway? This secluded, romantic cabin by the river in East Texas is surrounded by windows that allow in so much natural light, with a hanging bed that gently rocks. If that doesn't sell you on this romantic cabin getaway, there is also a luxurious hot tub right outside. You and your partner can relax indoors or outdoors while enjoying the sights and things to do in Beaumont.
Pet-Friendly? No
Kasitas at Lake Texoma
This Lake Texoma campground sits right by the lake, which means you can spend your entire trip on the water. Whether you like to swim, boat, fish, or relax, these kasitas have everything you need to enjoy your next lakeside getaway. Outside are swings and hammocks so you can enjoy views of the lake too! While the kasitas might seem small, the furnishings include two beds and a dining table. Additionally, the neighboring city of Dallas has so many things to do that are more than just eating and drinking.
Pet-Friendly? Yes
Yurtopia
Yurtopia in Wimberley, Texas will also make for the perfect romantic getaway. These luxurious glamping yurts were handcrafted in the Mongolian countryside and beautifully represent the culture. Their detailed craftsmanship shows as soon as you enter. Surprisingly, this Texas yurt has the usual glamping amenities, such as a comfortable bed, AC/heat, and even an outdoor flat screen TV! There is also an upstairs deck which overlooks miles of the dazzling Texas Hill Country. Be sure to tour the city of Wimberley and experience our list of things to do for yourself.
Pet-Friendly? No
Off the Vine RV Park
Off the Vine RV Park has to be one of the best RV parks in Texas. Here, you can stay in airstreams of all different colors and themes! Each time you visit the park, you will have a different experience with the number of choices you have. Not only do these airstreams make for the perfect photo-op, but they are also super cozy, and you won't want to leave. This park is located in one the quaintest towns in Texas called Hico and Glen Rose, with its many things to do, close by.
Book through Hipcamp to get an additional $10 off.
Pet-Friendly? Yes
Blue Skies Retro Resort
Sticking to the RV theme, Blue Skies Retro Resort located in Fredericksburg will make you feel like you took a time machine back to your childhood! This RV park in Texas is filled with pastel, retro themed RVs with a vintage feel. They have everything you need including a bed, extra storage, fridge, and a microwave. You can also enjoy a swim in their retro-themed pool! Fredericksburg is also a very charming city with several wineries so make sure to look into all the things to do.
Pet-Friendly? No
The Gratitude Cabin
Dripping Springs, Texas has several unique places to lodge, but the Gratitude Cabin gives you a bang for your buck! This secluded, romantic cabin is available for $80 a night and will leave you feeling so relaxed. The cabin is meant to provide tranquility. As you enter your private cabin, you will immediately feel yourself relax. The Gratitude Cabin is perfect for journaling, yoga, meditating, and letting go. There are even hammocks outside for a more relaxing experience. Be sure to check out Dripping Springs!
If you are a first-time user, you can use this Airbnb link for a discount!
Pet-Friendly? Yes
Geronimo Creek Retreat
Do you like to find a new adventure while you are vacationing? Geronimo Creek Retreat in Seguin is a great destination for families. This treehouse cabin in the woods is very cozy and stocked with all the glamping amenities. There are several things to do around the retreat including relaxing in the hot tub, playing in the outdoor game room, challenging each other at corn hole, relaxing in a hammock, and more! This retreat vacation is the perfect opportunity for you and your family to disconnect from reality and spend some uninterrupted quality time together. You all can also explore the city of Seguin and enjoy all of its things to do.
Pet-Friendly? No
Goats On The Bayou Farm
Bell tents at Goats On The Bayou Farm are elegant bohemian-style tents that fit up to 6 people! There is even a private balcony that hangs over the water and allows you to enjoy the view from across the bayou. During my stay, I had the honor of hosting 10 furry visitors! The goats stopped by to say hi and it made my trip even more memorable. You can also find equally amazing things to do in Alvin!
Pet-Friendly? No
Silver Spur Resort
If you're visiting Dallas or you live in the area, Canton should be your next place to visit! Known for their First Monday Trade Days, Canton also has an array of things to do on a weekend. When I stayed at the Silver Spur Resort, it was one of the most relaxing weekends. Their Conestoga wagons offer air conditioning, picnic tables, and BBQ grills along with a group of fire rings for all to gather around. Although they appear small from the outside, there is space for up to 4 people!
Other lodgings are also available, such as their ranch-style house, cabins, and RV parking area, all supplied with a small kitchen. Silver Spur Resort also offers many outdoor activities such as swimming in the lake and pool, paddleboarding, yard games, playing on the kids' playground, and even human foosball. Rest assured you and your whole family will have so many options to choose from.
Pet-Friendly? No
The Inn Between
An oasis of crystal waters, beautiful, intriguing caves, and breathtaking trails, what is there not to like! The Inn Between, located in Concan, Texas is the perfect spot for year-round visits. Not only will you fall in love with how colorful this place is, but also the cute cottage homes! They are just the right fit, allowing you to match your mood and decorative desires. You'll be taken away by the greenery and plants surrounding the property. My favorite things were the oven and stove top, considering there are only a few places to eat in Concan.
Pet-Friendly? Yes
Camp Lucy
Was camping one of the many highlights of your childhood? Well, that's perfect because Camp Lucy has all of the camp activities you could ever want, except it's the adult version (although kids are welcome here and can have just as much fun)! You can get a wine tour through their vineyard, hike around the property, plus painting, fishing, and even feeding alpacas! There is also a swim up bar, which really ties into the whole adult camping thing. Be sure to check out the town of Dripping Springs and all of its things to do!
Pet-Friendly? Yes
Havenwald
Havenwald is the perfect, magical glamping experience right outside of Austin. There are three tiny homes to choose from, but we stayed in the Robin Hood Cottage. This cottage had my fairytale childhood written all over it! Stained glass windows covered the house and colored wood was speckled throughout. The pictures don't do this charming cottage justice. The owners were even kind enough to provide a picnic basket with yummy treats. This wholesome experience will offer plenty of privacy, but since you are nearby, stop in Austin and experience all the things to do.
Pet-Friendly? No
A Renovated School Bus
Lubbock's converted school bus may not look like much on the outside, but its interior is sleep with a Texas Tech-theme. The bus is stocked with chocolates, snacks, coffee, and even farm fresh eggs! There is also a TV with all your favorite stations. What is there not to love about all of that?
Pet-Friendly? No
Hodge Podge Cottages
The Hodge Podge Cottages are waterfront cabin rentals along the shore of Caddo Lake, the only natural lake in Texas and home to the largest cypress forest in the world. This area is pretty secluded from the city, which will allow you to live a different life for a day or two. You have the opportunity to sleep in a carefully crafted boat equipped with AC, internet, and an outdoor pavilion with a BBQ and fire pit. There are also large cabins that can fit up to 8 people! Check out the nearby cities of Jefferson and Marshall, Texas where you can find more stuff to do!
Pet-Friendly? Yes
A Camper Van
Do you have a dream glamping destination in Texas? This camper van was created so you could live out those dreams. All you have to do is drive to Austin to pick up the van, then you are set to glamp! These conversion vans have AC and generators for your electronics, so you just need to find a good spot for a bathroom/shower. This camper lets you live a spontaneous life and go wherever your heart takes you. Since you are in the area, be sure to explore nearby Austin and Burnet, Texas. There is also Inks Lake State Park, which is where I took my camper, and I highly recommend!
You can use code Mycurly30 for $30 off your booking.
Pet-Friendly? Yes
Treehouse in East Texas
This beautiful treehouse rental in Huntsville, Texas will chase away any boredom with their on-site kayaks, canoes, and bikes. If you decide to visit during the winter, be sure to pack warm clothes because the treehouse is not completely sealed from the outside, but firewood is available to use in the firepit outside, as well as a propane heater and heating blanket. Not to mention the canopy beds and hammock chairs are a nice luxurious touch. There are basic amenities available as well, such as a shower with warm water, a toilet, and some kitchen stuff, to keep you comfortable while glamping.
Pet-Friendly? Yes
Cypress Valley Canopy Tours
Would you like to submerge yourself in the beauty of nature without harming it? This Cypress Valley Canopy treehouse offers an eco-friendly getaway with all of the glamping luxuries. Inspired by a Costa Rican experience, there are on-site adventures, like a suspension bridge and ziplining! In the surrounding town of Spicewood, you'll also find itinerary items to fill your day.
Pet-Friendly? No
River Road Treehouses
River Road Treehouses is located near New Braunfels and was memorable to say the least, with their cabins partially suspended above the ground to mimic the feeling of staying in a treehouse. Once you are inside, you'll feel like you're staying in a luxurious house! Each treehouse cabin has multiple beds and a loft, so you can bring your family on this trip too! Be sure to take the short drive to New Braunfels and float along the river, among other activities.
Pet-Friendly? Yes
Asante Lodging
If you love animals, Asante Lodging is the perfect glamping getaway for you! No need to visit an African Safari when Stay Asante can offer the same experience! This treehouse in the Texas Hill Country has animals grazing all around on a safari ranch promoting animal conservation, giving you access to so many different animal species. The gorgeous town of Dripping Springs is nearby, so be sure to check out all of its things to do.
Pet-Friendly? No
The Country Woods Inn
The Country Woods Inn is in the middle of nature in the town of Glen Rose. They have more than the usual glamping amenities, including basketball, volleyball, flat screen TV's and Wi-Fi! There are also several things to do around the property, such as bird watching and fishing. Be sure to explore the historic town of Glen Rose and the riverwalk along the Paluxy River.
Pet-Friendly? Yes