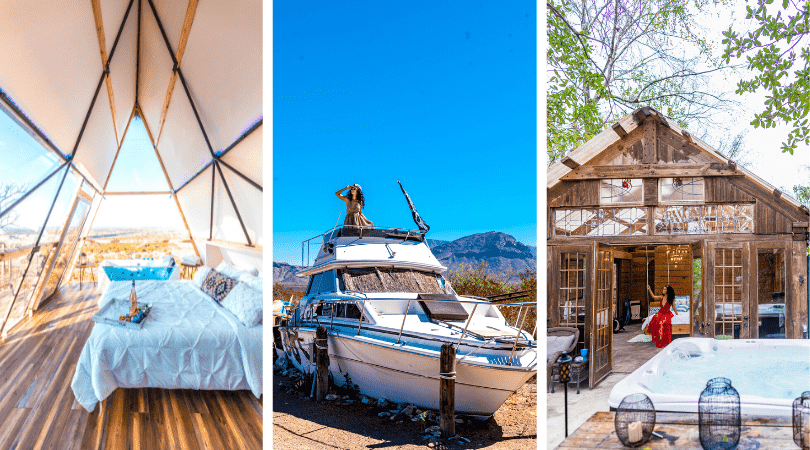 You cannot travel without trying out glamping at least once. Thankfully for you, Texas is home to some of the best places for a glamping getaway. Choose from treehouses, yurts, cabins, glamping bubbles, eco-cabins, vintage airstreams, and that's just a few of your options! Whether you like animals, outdoor activities, lake getaways, Star Wars, or you love to try new things, you'll have opportunities to try your hand at so many activities and experiences if you make your way through this guide of the best places for a glamping getaway in Texas.
The Retreat on the Hill
The Retreat on the Hill is not only a great glamping spot, but also a wedding venue in the Texas Hill Country, so you can imagine how beautiful it is. There are several unique units, so you're guaranteed to find something to your liking, but between lodgings like the Stardome Suite and the Eagle's Nest Retreat, it may be hard to choose just one. Although they are suspended over Horseshoe Bay, these units are very private, perfect for a romantic couple's retreat. Just an hour away is the lovable town of Austin with its abundance of things to do, whether you want to stop in before, after, or during your stay.
Pet-Friendly? Depends on the unit
Lucky Arrow Retreat
Have you ever been glamping in a yurt? Well now is the perfect opportunity! It is surrounded by beautiful green trees and has the cutest decor inside. There is also a community area where you can swim in the pool, play darts, and just hang out! There is also AC, so don't be turned off by the summer heat, because it is the best time to visit! Plus, this unique glamping yurt is located in Dripping Springs, one of the most charming parts of the Texas Hill Country with a magnificent spring to cool off in!
You can save $10 with my Hipcamp referral code!
Pet-Friendly? Yes
Orr Family Farm
There are many different ideas of glamping, but Conestoga wagon glamping is definitely a unique experience. Located in Oklahoma City (it's so close to our Texas border, so we decided to include it), this wagon is surrounded by the beautiful outdoors with desired, modern luxuries like AC and running water.
Surprisingly, there is so much space in these Conestoga wagons! With a queen-sized bed, a bunk bed, a mini fridge, and even a table, this wagon can comfortably fit 4 people! This would make for a cool family trip, and you could expose your children to something different that they'll never forget. There are also several things to enjoy with your family, like the barnyard, ziplining, pedal boats and more! You should also be sure to check out the things to do in Oklahoma City.
Pet-Friendly? No
Naturalist Boudoir B&B
Are you and your partner in need of a private getaway? This secluded, romantic cabin by the river in East Texas is surrounded by windows that allow in so much natural light, with a hanging bed that gently rocks. If that doesn't sell you on this romantic cabin getaway, there is also a luxurious hot tub right outside. You and your partner can relax indoors or outdoors while enjoying the sights and things to do in Beaumont.
Pet-Friendly? No
Kasitas at Lake Texoma
This Lake Texoma campground sits right by the lake, which means you can spend your entire trip on the water. Whether you like to swim, boat, fish, or relax, these kasitas have everything you need to enjoy your next lakeside getaway. Outside are swings and hammocks so you can enjoy views of the lake too! While the kasitas might seem small, the furnishings include two beds and a dining table. Additionally, the neighboring city of Dallas has so many things to do that are more than just eating and drinking.
Pet-Friendly? Yes
Yurtopia
Yurtopia in Wimberley, Texas will also make for the perfect romantic getaway. These luxurious glamping yurts were handcrafted in the Mongolian countryside and beautifully represent the culture. Their detailed craftsmanship shows as soon as you enter. Surprisingly, this Texas yurt has the usual glamping amenities, such as a comfortable bed, AC/heat, and even an outdoor flat screen TV! There is also an upstairs deck which overlooks miles of the dazzling Texas Hill Country. Be sure to tour the city of Wimberley and experience our list of things to do for yourself.
Pet-Friendly? No
Off the Vine RV Park
Off the Vine RV Park has to be one of the best RV parks in Texas. Here, you can stay in airstreams of all different colors and themes! Each time you visit the park, you will have a different experience with the number of choices you have. Not only do these airstreams make for the perfect photo-op, but they are also super cozy, and you won't want to leave. This park is located in one the quaintest towns in Texas called Hico and Glen Rose, with its many things to do, close by.
Book through Hipcamp to get an additional $10 off.
Pet-Friendly? Yes
Blue Skies Retro Resort
Sticking to the RV theme, Blue Skies Retro Resort located in Fredericksburg will make you feel like you took a time machine back to your childhood! This RV park in Texas is filled with pastel, retro themed RVs with a vintage feel. They have everything you need including a bed, extra storage, fridge, and a microwave. You can also enjoy a swim in their retro-themed pool! Fredericksburg is also a very charming city with several wineries so make sure to look into all the things to do.
Pet-Friendly? No
The Gratitude Cabin
Dripping Springs, Texas has several unique places to lodge, but the Gratitude Cabin gives you a bang for your buck! This secluded, romantic cabin is available for $80 a night and will leave you feeling so relaxed. The cabin is meant to provide tranquility. As you enter your private cabin, you will immediately feel yourself relax. The Gratitude Cabin is perfect for journaling, yoga, meditating, and letting go. There are even hammocks outside for a more relaxing experience. Be sure to check out Dripping Springs!
If you are a first-time user, you can use this Airbnb link for a discount!
Pet-Friendly? Yes
Geronimo Creek Retreat
Do you like to find a new adventure while you are vacationing? Geronimo Creek Retreat in Seguin is a great destination for families. This treehouse cabin in the woods is very cozy and stocked with all the glamping amenities. There are several things to do around the retreat including relaxing in the hot tub, playing in the outdoor game room, challenging each other at corn hole, relaxing in a hammock, and more! This retreat vacation is the perfect opportunity for you and your family to disconnect from reality and spend some uninterrupted quality time together. You all can also explore the city of Seguin and enjoy all of its things to do.
Pet-Friendly? No
Goats On The Bayou Farm
Bell tents at Goats On The Bayou Farm are elegant bohemian-style tents that fit up to 6 people! There is even a private balcony that hangs over the water and allows you to enjoy the view from across the bayou. During my stay, I had the honor of hosting 10 furry visitors! The goats stopped by to say hi and it made my trip even more memorable. You can also find equally amazing things to do in Alvin!       
Pet-Friendly? No
Silver Spur Resort
If you're visiting Dallas or you live in the area, Canton should be your next place to visit! Known for their First Monday Trade Days, Canton also has an array of things to do on a weekend. When I stayed at the Silver Spur Resort, it was one of the most relaxing weekends. Their Conestoga wagons offer air conditioning, picnic tables, and BBQ grills along with a group of fire rings for all to gather around. Although they appear small from the outside, there is space for up to 4 people!
Other lodgings are also available, such as their ranch-style house, cabins, and RV parking area, all supplied with a small kitchen. Silver Spur Resort also offers many outdoor activities such as swimming in the lake and pool, paddleboarding, yard games, playing on the kids' playground, and even human foosball. Rest assured you and your whole family will have so many options to choose from.
Pet-Friendly? No
The Inn Between
An oasis of crystal waters, beautiful, intriguing caves, and breathtaking trails, what is there not to like! The Inn Between, located in Concan, Texas is the perfect spot for year-round visits. Not only will you fall in love with how colorful this place is, but also the cute cottage homes! They are just the right fit, allowing you to match your mood and decorative desires. You'll be taken away by the greenery and plants surrounding the property. My favorite things were the oven and stove top, considering there are only a few places to eat in Concan.
Pet-Friendly? Yes
Camp Lucy
Was camping one of the many highlights of your childhood? Well, that's perfect because Camp Lucy has all of the camp activities you could ever want, except it's the adult version (although kids are welcome here and can have just as much fun)! You can get a wine tour through their vineyard, hike around the property, plus painting, fishing, and even feeding alpacas! There is also a swim up bar, which really ties into the whole adult camping thing. Be sure to check out the town of Dripping Springs and all of its things to do!
Pet-Friendly? Yes
Havenwald
Havenwald is the perfect, magical glamping experience right outside of Austin. There are three tiny homes to choose from, but we stayed in the Robin Hood Cottage. This cottage had my fairytale childhood written all over it! Stained glass windows covered the house and colored wood was speckled throughout. The pictures don't do this charming cottage justice. The owners were even kind enough to provide a picnic basket with yummy treats. This wholesome experience will offer plenty of privacy, but since you are nearby, stop in Austin and experience all the things to do.
Pet-Friendly? No
A Renovated School Bus
Lubbock's converted school bus may not look like much on the outside, but its interior is sleep with a Texas Tech-theme. The bus is stocked with chocolates, snacks, coffee, and even farm fresh eggs! There is also a TV with all your favorite stations. What is there not to love about all of that?
Pet-Friendly? No
Hodge Podge Cottages
The Hodge Podge Cottages are waterfront cabin rentals along the shore of Caddo Lake, the only natural lake in Texas and home to the largest cypress forest in the world. This area is pretty secluded from the city, which will allow you to live a different life for a day or two. You have the opportunity to sleep in a carefully crafted boat equipped with AC, internet, and an outdoor pavilion with a BBQ and fire pit. There are also large cabins that can fit up to 8 people! Check out the nearby cities of Jefferson and Marshall, Texas where you can find more stuff to do!
Pet-Friendly? Yes
A Camper Van
Do you have a dream glamping destination in Texas? This camper van was created so you could live out those dreams. All you have to do is drive to Austin to pick up the van, then you are set to glamp! These conversion vans have AC and generators for your electronics, so you just need to find a good spot for a bathroom/shower. This camper lets you live a spontaneous life and go wherever your heart takes you. Since you are in the area, be sure to explore nearby Austin and Burnet, Texas. There is also Inks Lake State Park, which is where I took my camper, and I highly recommend!
You can use code Mycurly30 for $30 off your booking.
Pet-Friendly? Yes
Treehouse in East Texas
This beautiful treehouse rental in Huntsville, Texas will chase away any boredom with their on-site kayaks, canoes, and bikes. If you decide to visit during the winter, be sure to pack warm clothes because the treehouse is not completely sealed from the outside, but firewood is available to use in the firepit outside, as well as a propane heater and heating blanket. Not to mention the canopy beds and hammock chairs are a nice luxurious touch. There are basic amenities available as well, such as a shower with warm water, a toilet, and some kitchen stuff, to keep you comfortable while glamping.
Pet-Friendly? Yes
Cypress Valley Canopy Tours
Would you like to submerge yourself in the beauty of nature without harming it? This Cypress Valley Canopy treehouse offers an eco-friendly getaway with all of the glamping luxuries. Inspired by a Costa Rican experience, there are on-site adventures, like a suspension bridge and ziplining! In the surrounding town of Spicewood, you'll also find itinerary items to fill your day.
Pet-Friendly? No
River Road Treehouses
River Road Treehouses is located near New Braunfels and was memorable to say the least, with their cabins partially suspended above the ground to mimic the feeling of staying in a treehouse. Once you are inside, you'll feel like you're staying in a luxurious house! Each treehouse cabin has multiple beds and a loft, so you can bring your family on this trip too! Be sure to take the short drive to New Braunfels and float along the river, among other activities.
Pet-Friendly? Yes
Asante Lodging
If you love animals, Asante Lodging is the perfect glamping getaway for you! No need to visit an African Safari when Stay Asante can offer the same experience! This treehouse in the Texas Hill Country has animals grazing all around on a safari ranch promoting animal conservation, giving you access to so many different animal species. The gorgeous town of Dripping Springs is nearby, so be sure to check out all of its things to do.
Pet-Friendly? No
The Country Woods Inn
The Country Woods Inn is in the middle of nature in the town of Glen Rose. They have more than the usual glamping amenities, including basketball, volleyball, flat screen TV's and Wi-Fi! There are also several things to do around the property, such as bird watching and fishing. Be sure to explore the historic town of Glen Rose and the riverwalk along the Paluxy River.
Pet-Friendly? Yes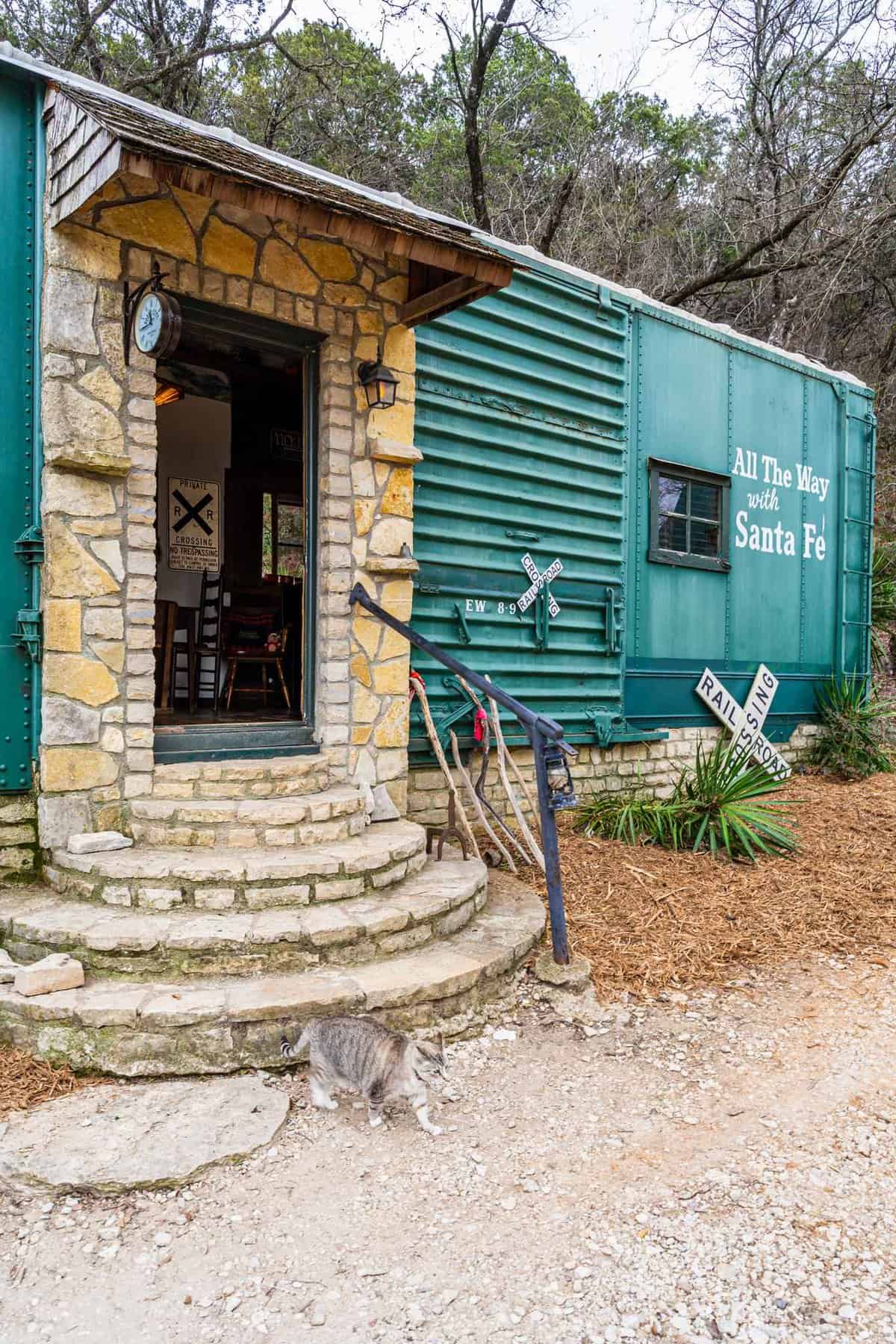 HoneyTree Farm
The Acorn is a new treehouse cabin in Fredericksburg, Texas with a different look than the other lodgings at HoneyTree Farm. There is a spiral staircase leading up to the house and inside is a suspended lounging bed, a hanging swing, a chimenea, and cute seating where you can enjoy the breathtaking views from your perch. Each of these treehouse rentals have their own special features, so no matter which one you choose, you'll want to come back to try out the others! Be sure to visit nearby Fredericksburg and find some interesting things to do on your next glamping getaway.
Pet-Friendly? No
Ladonia Air Castle
The Ladonia Air Castle has a unique look that is supported in part by a Bois d'Arc tree. It has an industrial and modern style not commonly seen in a treehouse. There are several balconies on this treehouse Airbnb for endless views of the surrounding Texas wilderness, including overlooking the expansive trees from the very top! The Ladonia Air Castle is only one minute from the tiny town of Ladonia, so you can expect plenty of seclusion so you can relax.
Pet-Friendly? No
Grandview Treetops
Grandview Treetops allows you to choose from sleeping in a luxurious captain's quarters or in a stylish, yet simple, treehouse cabin. The Dawn Treader is decorated with dark furniture, leather chairs, and an iron chandelier; something straight out of your favorite pirate movie. The Viewpoint is so relaxing and has so much nourishing, natural light leaking in. The tall windows frame the forest; it'll leave you in awe.
Pet-Friendly? No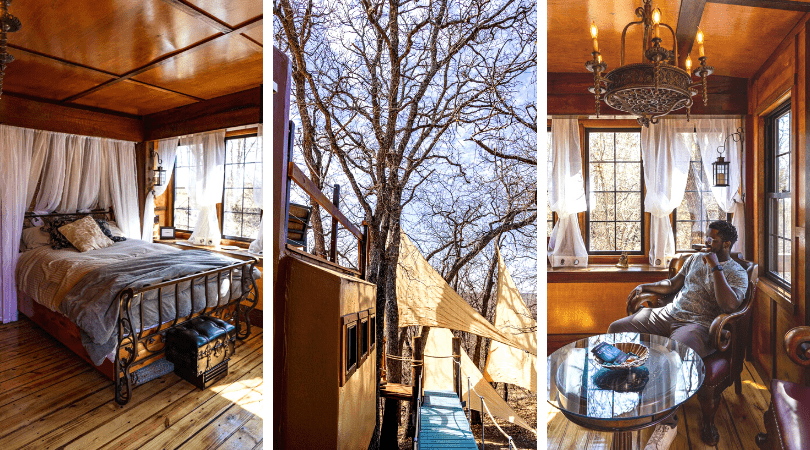 Hobbit Treehouse
This Hobbit Treehouse cannot be described in words, but if I had to use one, I would say "magical." A lot of thought was put into this treehouse Airbnb, and you will know what I mean once you experience it yourself. The inside of the house is very cozy, and the stained-glass windows add to the ambiance. Located near Austin, you can continue the magic of your stay with our extensive list of things to do.
Pet-Friendly? Yes
Wanderin' Star Farms
Tiny homes have become more popular in the last few years. If you've always been curious, Wanderin' Star Farms offers the perfect tiny home for you, spacious enough for a maximum of 4 people! Sure, the house looks small on the outside, but it is surprisingly roomie, furnished with two beds and a couch! This tiny home has everything you need from kitchen supplies to delightful natural lighting. Since the Wanderin' Star Farm is located in Dripping Springs, don't forget to visit the glorious natural springs, among other things to do, before you leave!
Pet-Friendly? Yes
High Hill Farm
A glamping getaway at High Hill Farm is the perfect sleep-away retreat for everyone from couples to families. The bungalows on-site feel very suburban, painted in tasteful pastels and with a sleek and minimalistic interior. High Hill Farm has a lot to offer, including an on-site restaurant, room service, a pool, an 18-hole golf course, and more! Don't forget to explore the town of Tyler while you're staying on this luxurious farm.
Pet-Friendly? Yes
Fossil Knob Ridge
Fossil Knob Ridge near Big Bend National Park is located outside the funky city of Terlingua. You will see miles of empty spaces and breathtaking sunsets while staying on the ridge. The house we stayed in had floor-to-ceiling windows, which is just what you need with a view like this. Considering it is a tiny house, it's quite spacious and even had a television with Netflix and a Roku. This tiny home has all the modern amenities, so if that's what you are looking for, this is a great pick for you. Also, be sure to check out Big Bend National Park on your trip. The sights are even more beautiful along our 5 favorite hikes.
Pet-Friendly? No
Wildflower Yurts
Wildflower Yurts, just outside of Dallas in Emory, is a great choice for your next glamping getaway! These yurt glamping rentals have everything your home has from AC to showers. What you don't have back at home: a beautiful view of nature with its sunrises and sunsets that you can experience in a whole new way. The yurts are very private even with other yurts being on the property.
Pet-Friendly? No
SkyBox Cabins
SkyBox Cabins offers secluded cabins near the DFW area. Their options include the Birdhouse, La Tour, the Nest, the Hive, and the Glamp. With all of these options, you are bound to find the right fit for you. The Hive has a cool treehouse feel with a huge, wrap-around porch; great for relaxing. The Nest is like something you'd see on your Pinterest feed and will have you feeling like you're still dreaming even after you wake up. Each of the options are beautiful and relaxing, so you cannot go wrong with any of them, especially with all of the things to do in Glen Rose, Texas.
Pet-Friendly? No
Laughing Llama Farm
The Silo House, housed on the Laughing Llama Farm, is a glamping getaway in Belton, Texas. There is a farm on the property, hence the name, with the most adorable animals you have ever seen. From llamas to goats, they will bring a smile to your face and make you want to take them home with you. The interior of the Silo House at Laughing Llama Farm does not feel like a barn at all either! It is quite sleek with vibrant touches all over. Even the ceiling is artistic!
Pet-Friendly? No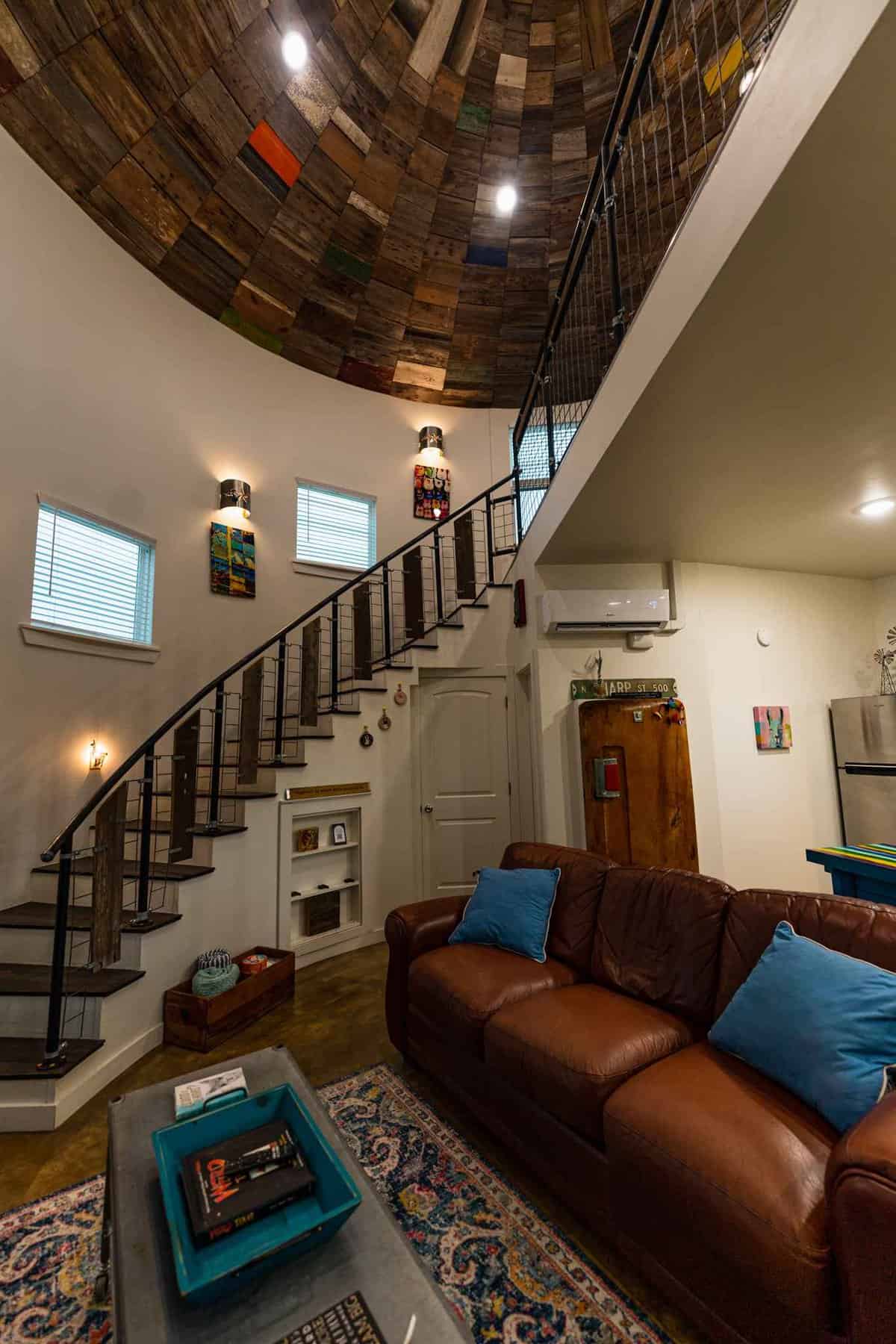 Houseboat on Lake Travis
Relaxing on the water is a great glamping getaway, and this houseboat on Lake Travis is the perfect way to do so! You can fit up to 12 people, so bring your family or close friends and split it with them! From this Texas houseboat, you will not only be surrounded by Lake Travis, but you'll also get to see shooting stars and breathtaking sunrises. This spin on glamping is not one you'll want to pass up!
Pet-Friendly? No
A Glamping Bubble
Big Bend can be a long trip, but if you are willing to make the drive, it will change you forever. This glamping getaway with Starstruck Glamping offers the optimal sleeping arrangement with an amazing view of the surrounding landscape. You can even fall asleep gazing at the stars while in your own private glamping bubble! They also have modern amenities like hot showers and an outdoor grill. Not to mention you'll get the best view of the stars with a complimentary telescope in each of the domes! This experience is not one you will want to skip out on!
Pet-Friendly? No
A Land-Locked Texas Yacht
This glamping getaway was actually featured on National Geographic! This lodging near Big Bend is an amazing location for stargazing. The yacht offers lots of privacy and includes a large fire pit and kitchen. If you get seasick, but love the idea of expensive boats, stay on this land yacht and experience something entirely different!
Pet-Friendly? Yes
Bertram Log Cabin
This log cabin in Bertram, Texas is perfect for a peaceful glamping getaway. It is out in the country, so your experience will be nothing like the loud commotion of the city. There are two fishing and boating locations a short drive from the cabin, so if you enjoy the water and the great outdoors, this log cabin is a great choice. There is also a TV if you decide to stay in one day and just relax.
Pet-Friendly? No
A Luxurious Texas Cave
Located in Big Bend National Park and perfect for stargazing, this cave is furnished to look like a luxurious suite and encompassed by glass doors so you can sightsee from inside. If this isn't to your liking, Big Bend has other great lodging options, such as a glamping bubble and a land yacht. However, I recommend you give the cave a try, because the views of the stars and mountain range are phenomenal!
Pet-Friendly? No
An Eco-Cabin
Another cool and eco-friendly item on the list, this eco-cabin is a funky glamping getaway in the Texas Hill Country, not far from Austin. This waterfront cabin is along the Colorado River, so you can enjoy water activities during your stay like fishing, swimming, and paddleboarding. There are two other eco-cabins available for rent depending on your needs, so look online and choose the right one for you!
Pet-Friendly? No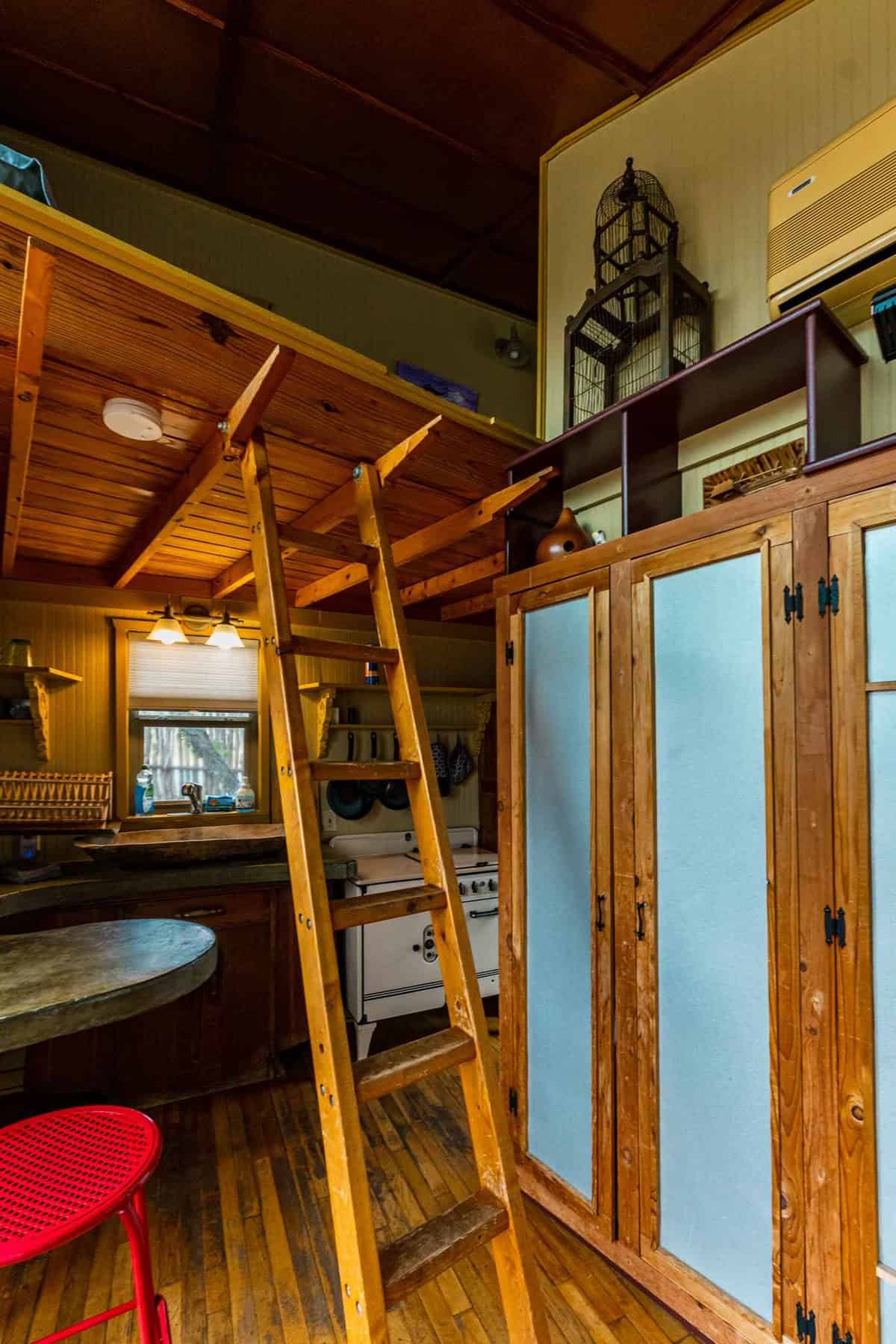 The Missing Hotel
The Missing Hotel is a collection of glamping domes and houses with striking views of nature. Located in the Hill Country and not far from Burnet, this glamping getaway in Marble Falls, Texas provides a personal pool for each of the houses on-site, as well as the usual glamping amenities. Take a break from reality and find yourself at the Missing Hotel.
Pet-Friendly? Yes
A Luxe Safari
Is your family ready to experience the ultimate trip into the wild? Luxe Safari ensures that you are safe inside your tent, but you also get to be one with it. The tent is large and can fit up to 6 people. Since the tent sits on a Texas safari ranch, you can imagine the number of animals you will see, but your tent is elevated so you can observe from a safe distance. My favorite part of the tent was the bathtub with a retractable window so you can relax and watch the deer as you bathe! All the wildlife will make this tent relaxing, yet exciting on your next glamping getaway.
Use my referral code for a discount when you book.
Pet-Friendly? Yes
Dead Cat Ranch
Have you ever wondered what it was like to live on a ranch? Dead Cat Ranch can offer you the chance to experience the freedom of a ranch getaway. There are several lodging options from a bunkhouse to cottages. They also have vintage airstreams if you are a part of a traveling pair. However, you will want to make sure to bring your family here too, as it will be fun for everyone! This East Texas ranch offers fishing, ATV trails, walking trails, and additional cost activities, such as clay shooting and horseback riding!
Pet-Friendly? No
A Tatooine Cave
Are you a Star Wars fan? If so, you will not want to pass up this unique glamping getaway near Big Bend! This off-grid cave resembles the home planet of Luke Skywalker, Tatooine. Not only is it one of the best caves in Texas, but there are so many things to do in the area. The cave can comfortably sleep two to three people, so be sure to bring your trekker friends along. Because the cave is near Big Bend, you will get amazing views of the stars at night and trust me, you will struggle wanting to leave after that!
Pet-Friendly? No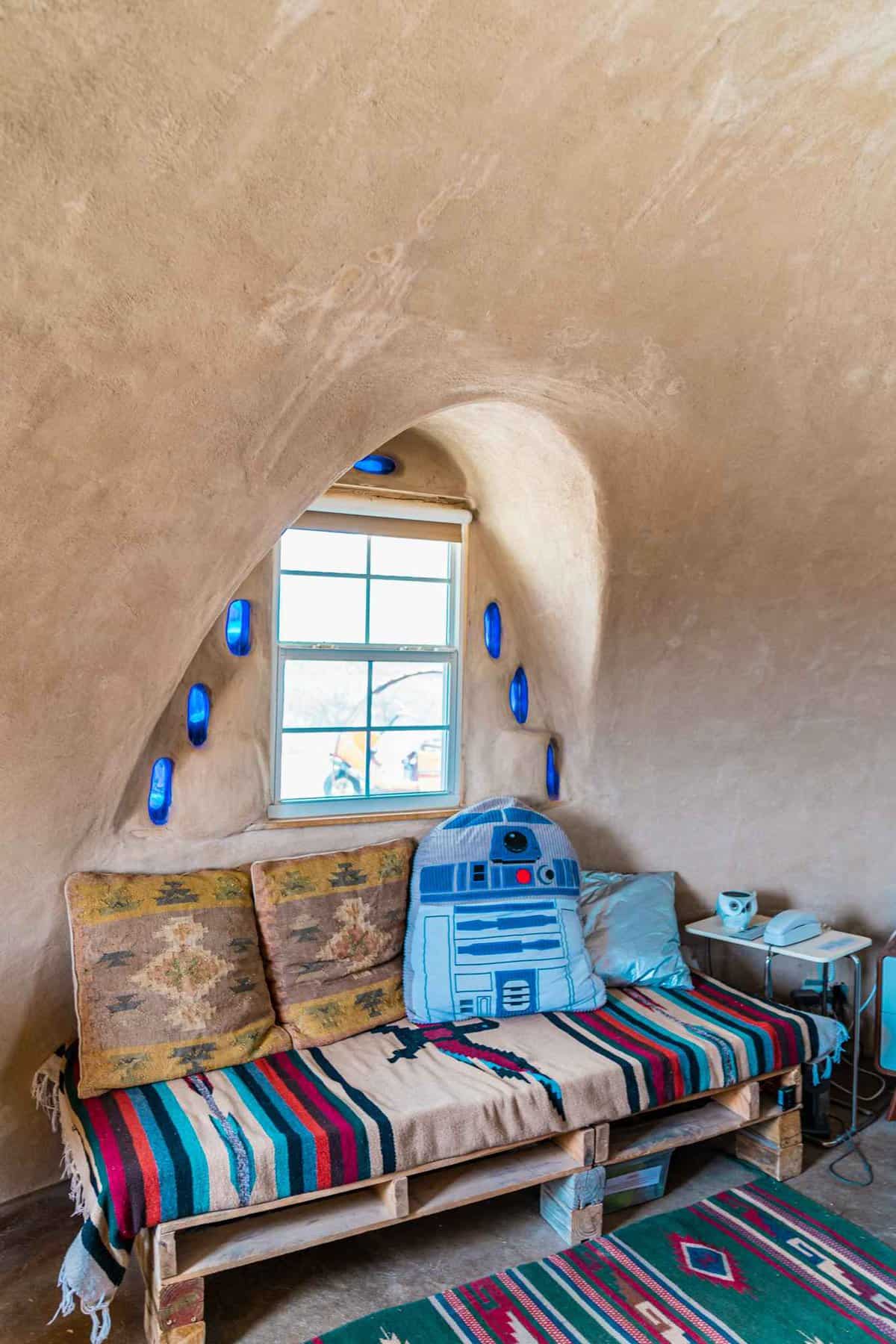 Best Glamping Getaways in Texas: Final Thoughts
The best places for glamping are an experience all their own. They aren't the simplicity of a stay in a hotel and also not the challenge of outdoor camping. Glamping is what the name implies: glamorous camping. With the abundance of landscapes and hidden gems, these glamping getaways will be the best home base as you travel across Texas.