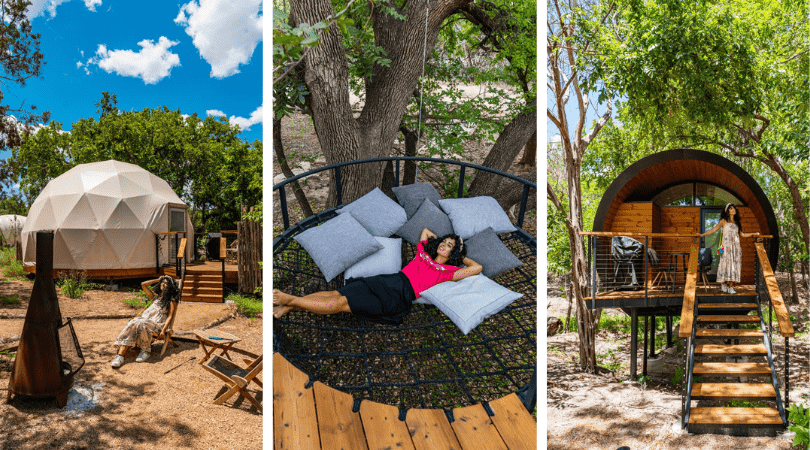 Fredericksburg TX is a small German town whose thriving vineyards bring tourists and natives alike from all over. Despite Fredericksburg's popularity, it is still possible to find serenity without sacrificing luxury or convenience. When you're looking for where to stay in Fredericksburg near Main Street, Onera has everything you could want and more!
The Onera Luxury Treehouse Resort can be found in the boundless and beautiful Texas Hill Country. Even still, Main Street Fredericksburg is only a mile away! Choose between treehouses, lavish, recycled shipping containers, or canvas safari tents (just to name a few). In total, there are 11 accommodations, each with their own unique architectural features, but with privacy and comfort in common.
Be sure to check out our list of things to do in Fredericksburg!
Note: We stayed inside Monarch and Spyglass. We will start with our experience of these two properties followed by what we saw during our tours of the others.
The Amenities at Onera
If you're looking to stay near Main Street but are still hoping to have some peace and quiet, all of Onera's cabins are secluded, with a private entrance, and are designed to give you a mesmerizing, panoramic view of nature. And before you ask, each one has an HVAC system.
Additionally, there is a communal area with a hot tub, container pool, a sun deck with chairs, a barrel sauna, a tree deck with comfy patio furniture, and a lofted hammock. There is also a community fire pit for making friends.
Onera is a part of the International Dark Sky Community (IDA) and encourages their guests to turn off their lights at 8:00pm, light the fire pit, and spend time outdoors gazing at the night sky. They even provide a complimentary bottle of wine from a local vineyard for everyone to share!
Where to Stay in Fredericksburg TX Near Main Street: Monarch
Inspired by the monarch butterfly in full flight, this treehouse is elevated 10-feet off the ground with stairs for access.
The inside features floor-to-ceiling windows with a view of the native wilderness while still maintaining a sense of privacy. You'll also find an indoor, lofted hammock right below a skylight, perfect for stargazing. It was fun trying to play and snuggle in this massive thing while also taking a moment to rest after our long drive.
For your convenience, there is a small kitchen with butcher block countertops and all the essential appliances: a stove, mini fridge, convection oven, air fryer, toaster, and coffee maker; how else are you going to wake up to watch the sunrise on the deck? In addition, there is a king-size bed and Wi-Fi, which I guarantee you will hardly use. I do recommend using it to play music over anything else.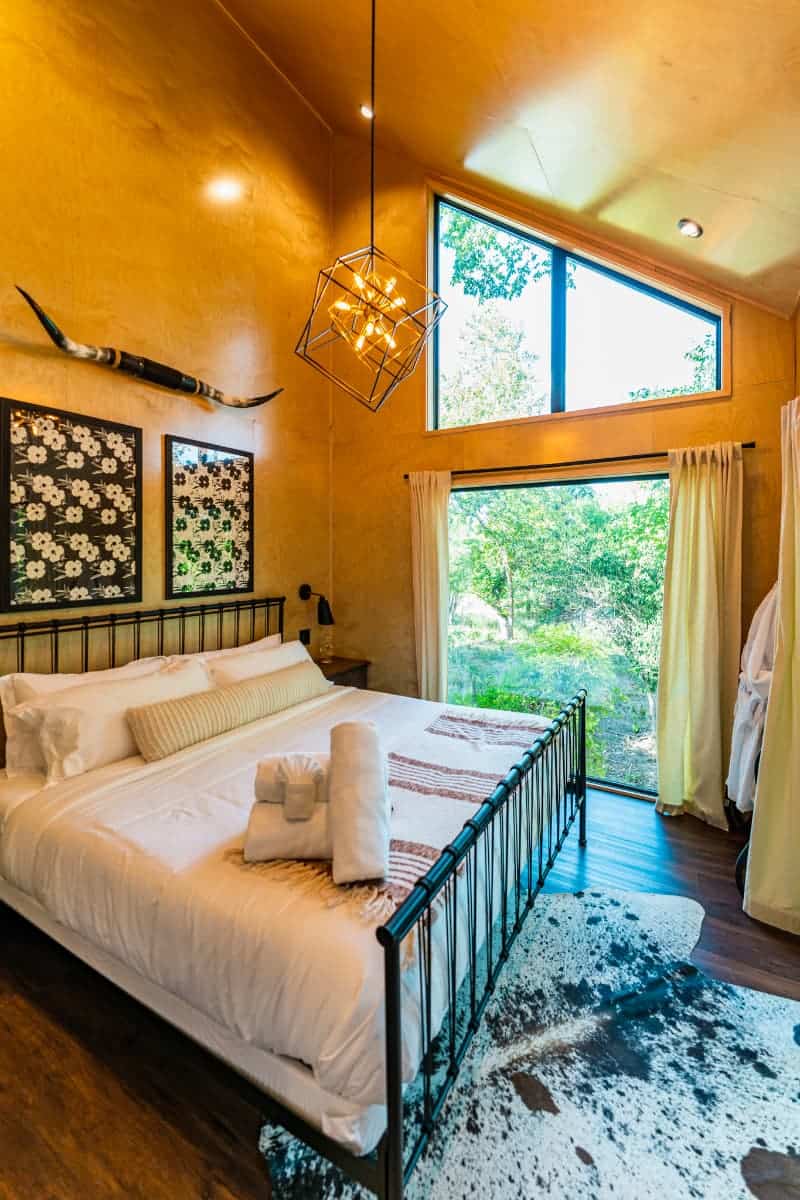 Rather than enduring the outdoors, enjoy it on the elevated dining deck that doubles as a meditation area. Then, become one with nature and soak in the hand-carved, outdoor rock tub. The tub greatly resembles a hot spring you might found out in nature. It is definitely one of the most remarkable features of the lodging, in my opinion.
At night, grab a blanket, and cuddle next to the fire pit. This is an excellent place to reconnect with your partner and just exist together.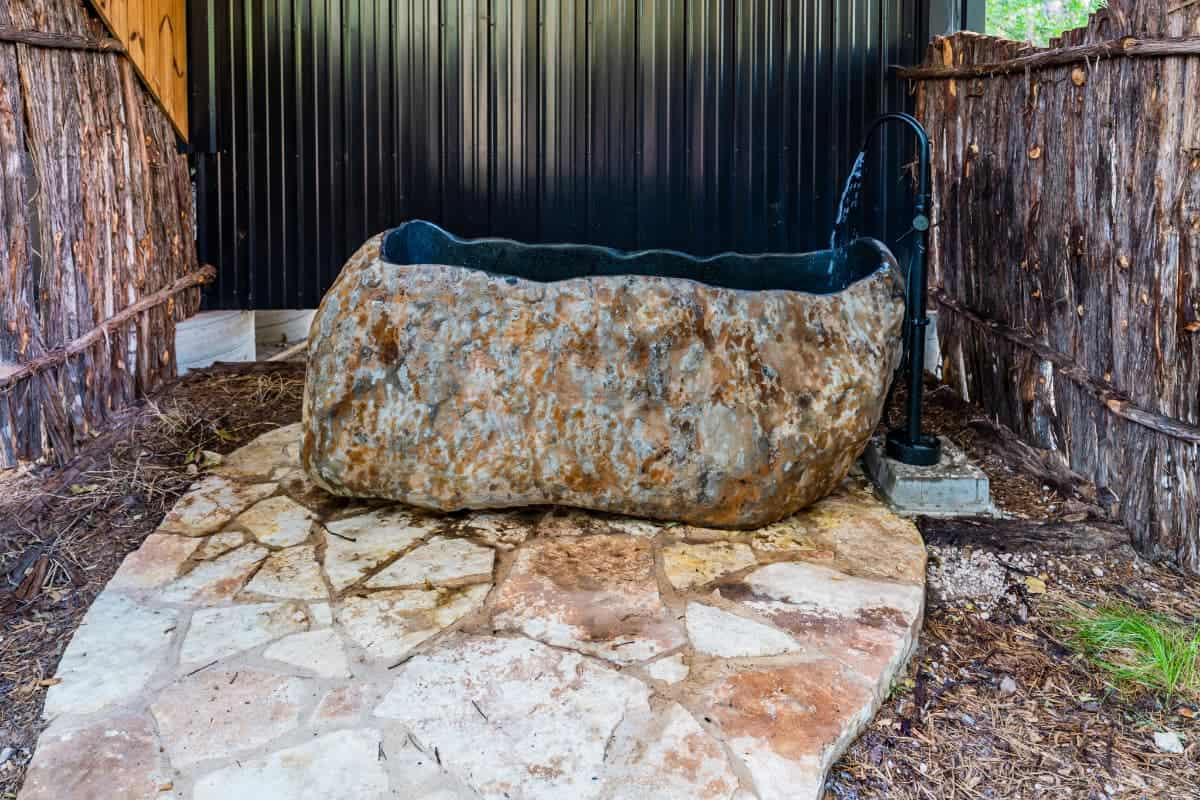 Where to Stay in Fredericksburg TX Near Main Street: Spyglass
Rekindle your inner pirate from when you loved to play pretend and book Onera's Spyglass treehouse. Also elevated 10 feet in the air, its shape mimics a spyglass while becoming one with a tree canopy.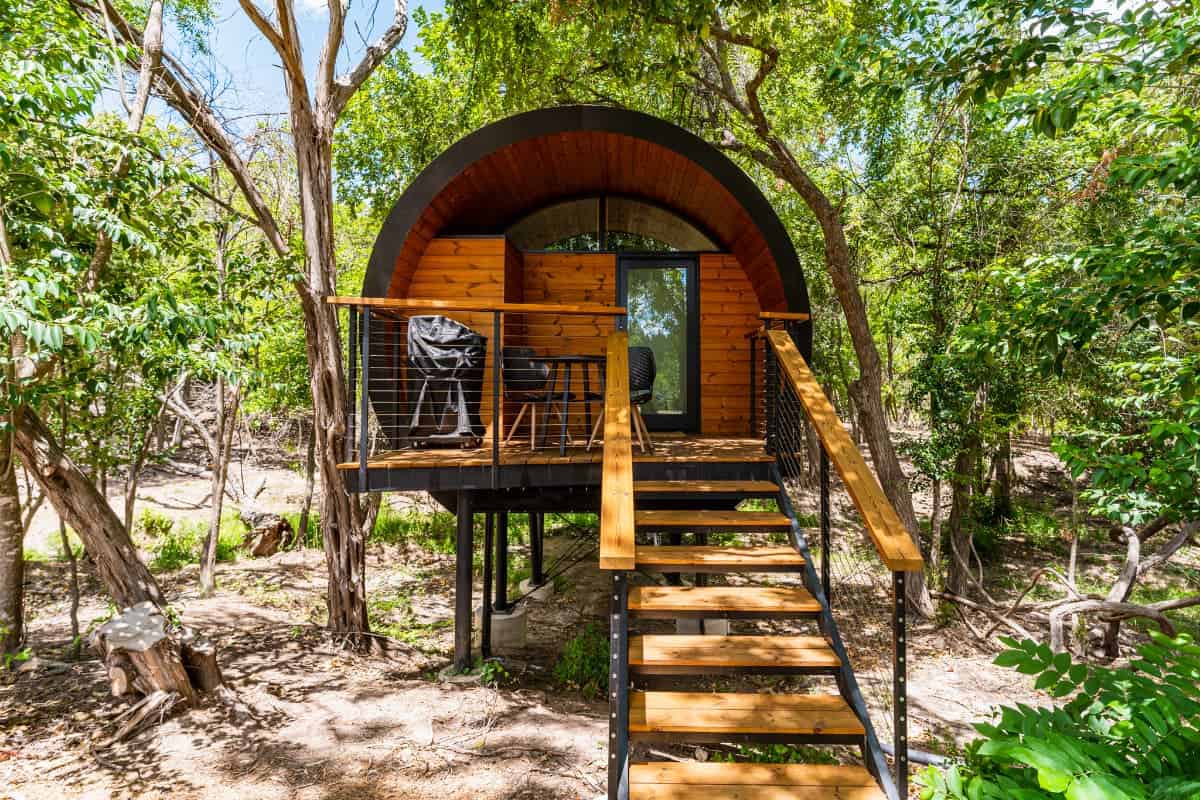 On one end is your private deck with a table for dining and space for yoga or meditation. On the other side is the lover's nest, with a private, barrel hot tub, and a loveseat. You could spend forever unwinding outside, stargazing, and embracing the wilderness by counting how many animals you see from your spot; you are in the Texas Hill Country, after all.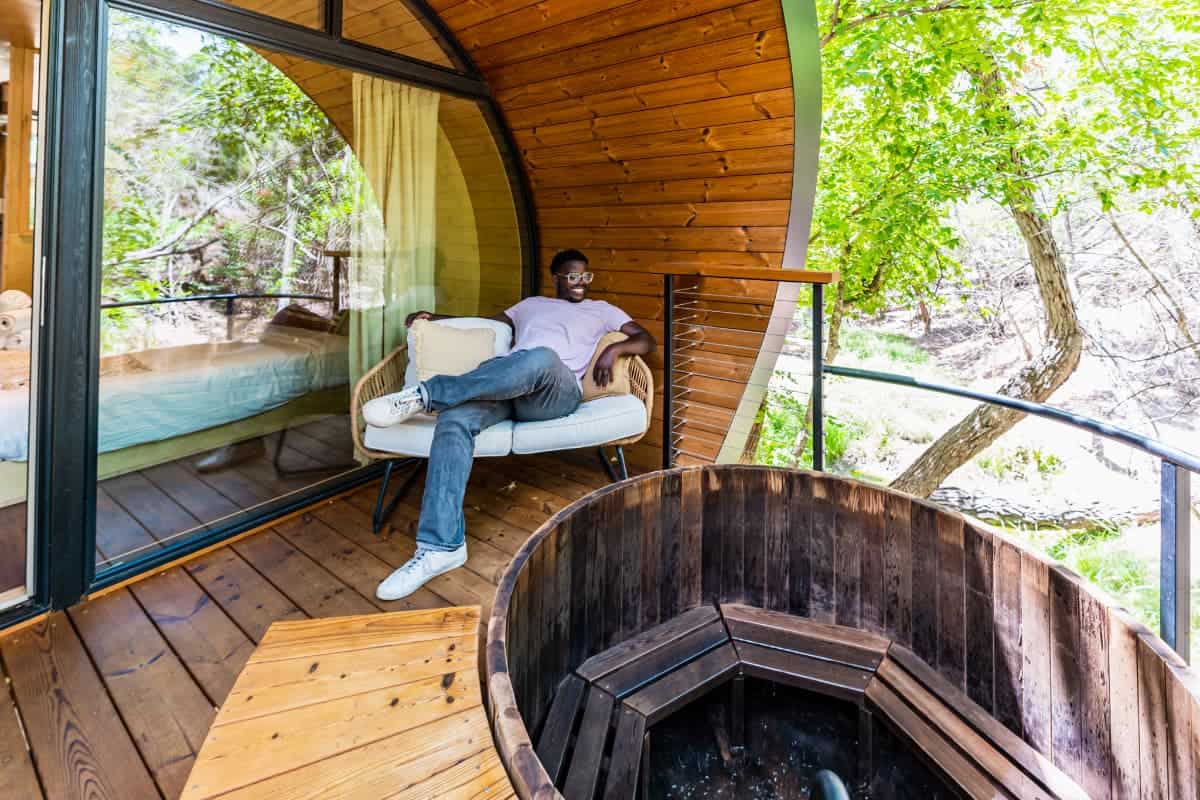 Even though Spyglass is a treehouse, you'll still have the luxuries of floor-to-ceiling windows on both ends, a comfortable king-size bed, private bathroom, and a kitchen with the essential appliances (countertop burners, mini-fridge, convection oven, an air fryer, and a toaster). Their Wi-Fi is good if you need to update your social media. At the bottom of the stairs, there is a private fire pit for all the s'mores you can eat!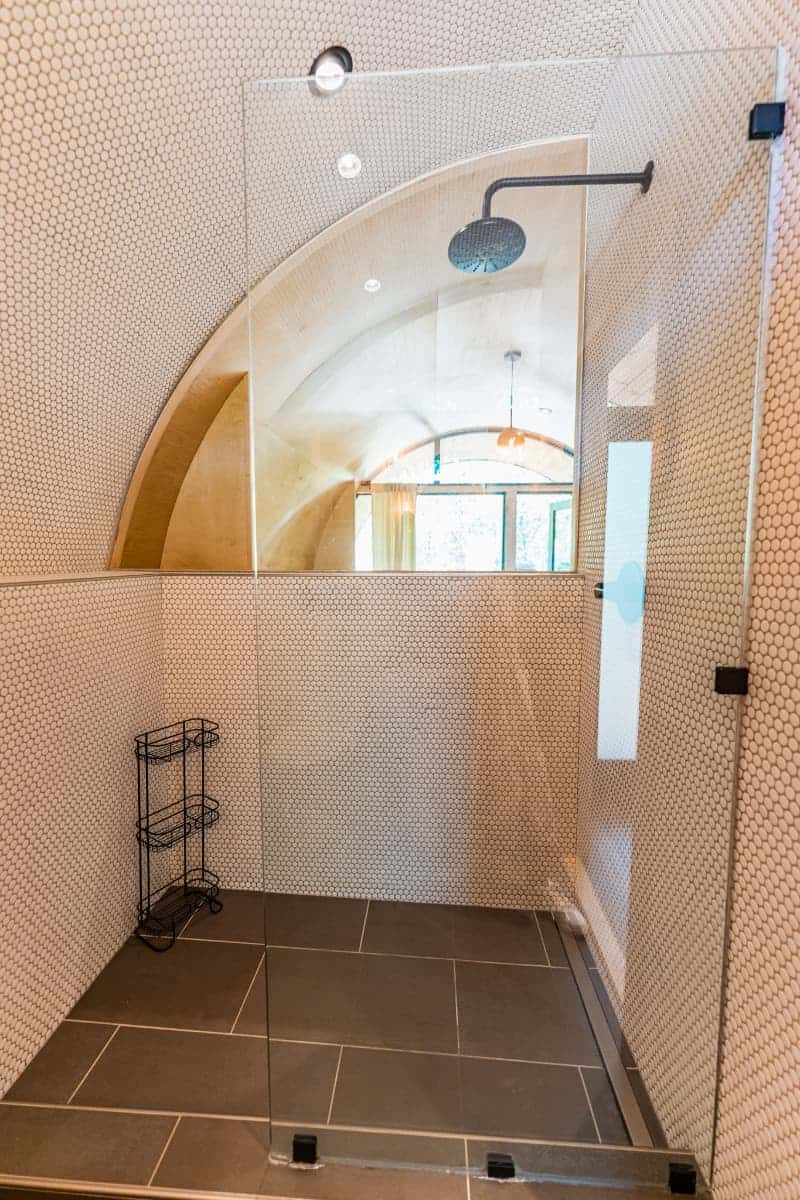 Where to Stay in Fredericksburg TX Near Main Street: Live Oak Lodge
A shipping container turned into a fully functioning home; Live Oak Lodge is floor-to-ceiling windows, giving you a front-row seat to nature. The main features are an indoor bathroom, cedar hot tub, and an ADA-compliant, private pool. In addition, this is one of the few spaces with two queen bedrooms.
This lodging has an open concept, excluding the bedrooms. Therefore, there is enough space to maneuver in the living-dining area. The kitchen is fully stocked with essential appliances, and there is a BBQ grill on the outdoor deck. There's also the option to view the night sky from the roof! Although this rooftop is not ADA-compliant, you can get the same view of the night sky no matter where you sit.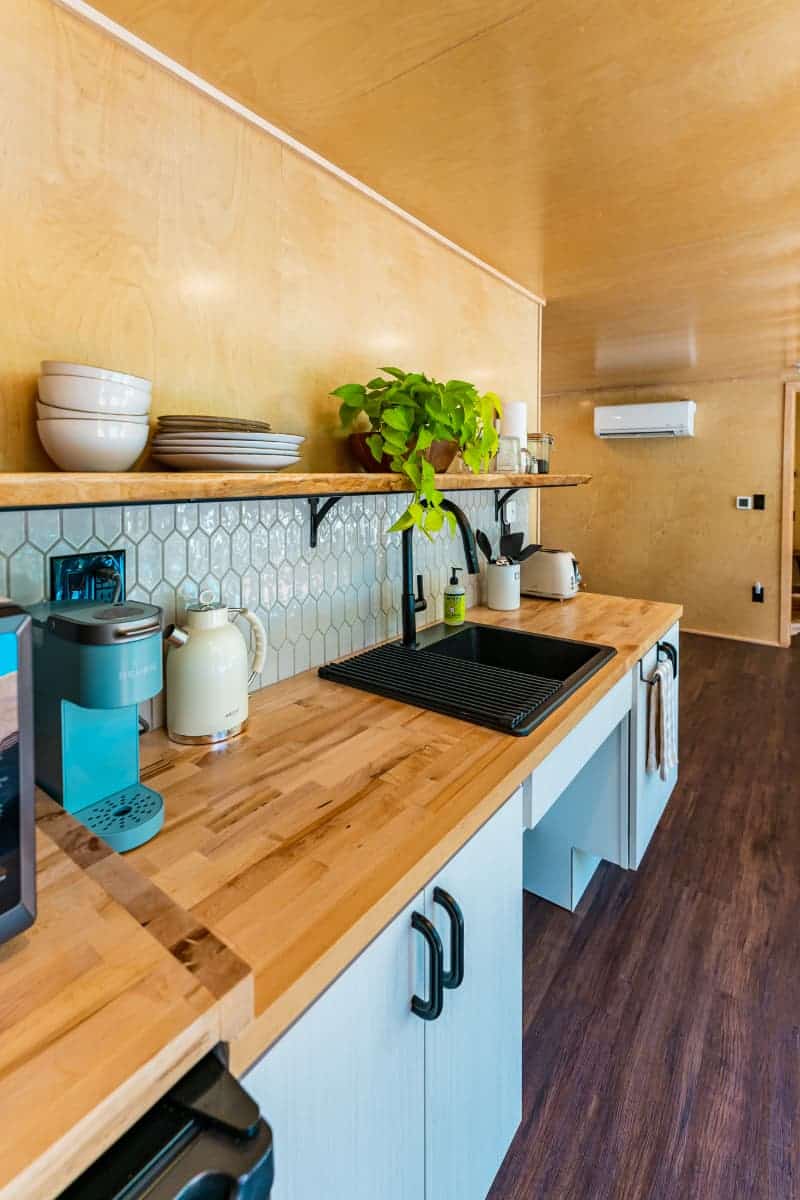 Where to Stay in Fredericksburg TX Near Main Street: Walnut House
A tiny home with glass walls facing the elevated deck and wilderness, the Walnut House provides eclectic views from every direction and a treehouse feel with a modern, minimalistic twist.
The exterior features an extended rooftop deck for meditation or early morning stretching, cozy patio chairs, a BBQ pit, cedar hot tub, and a private fire pit on the ground level. Indoors, the bathroom is the only thing separate from the open concept. The kitchen is furnished with all the essentials, including a dining table. There is a king-size bed waiting for you to comfortably stargaze and watch the wilderness come alive at night.
Where to Stay in Fredericksburg TX Near Main Street: Sage Safari
This massive tent is one of my favorite designs, with a canvas roof and floor-to-ceiling glass windows. It brings my dream of glamping on an African safari to life!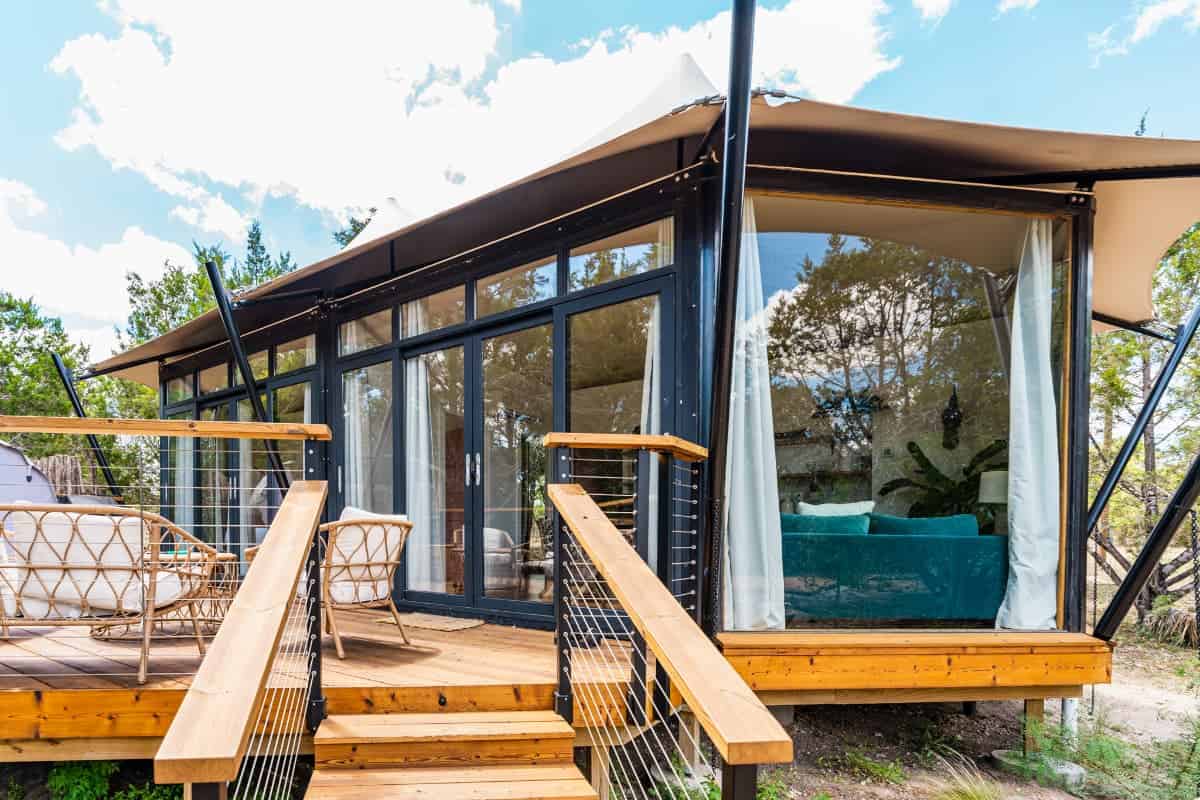 There are two private bedrooms with queen-size beds and a bathroom, but everything else is open concept. The kitchen has all the essentials you need for a staycation. The outdoors has a front deck, a comfy patio dining set, and a BBQ grill. You can take turns grilling and soaking in the round hot tub with plenty of space for two people to enjoy it together. Let's not forget the long deck for meditation or late-night swaying with your partner to the sounds of nature.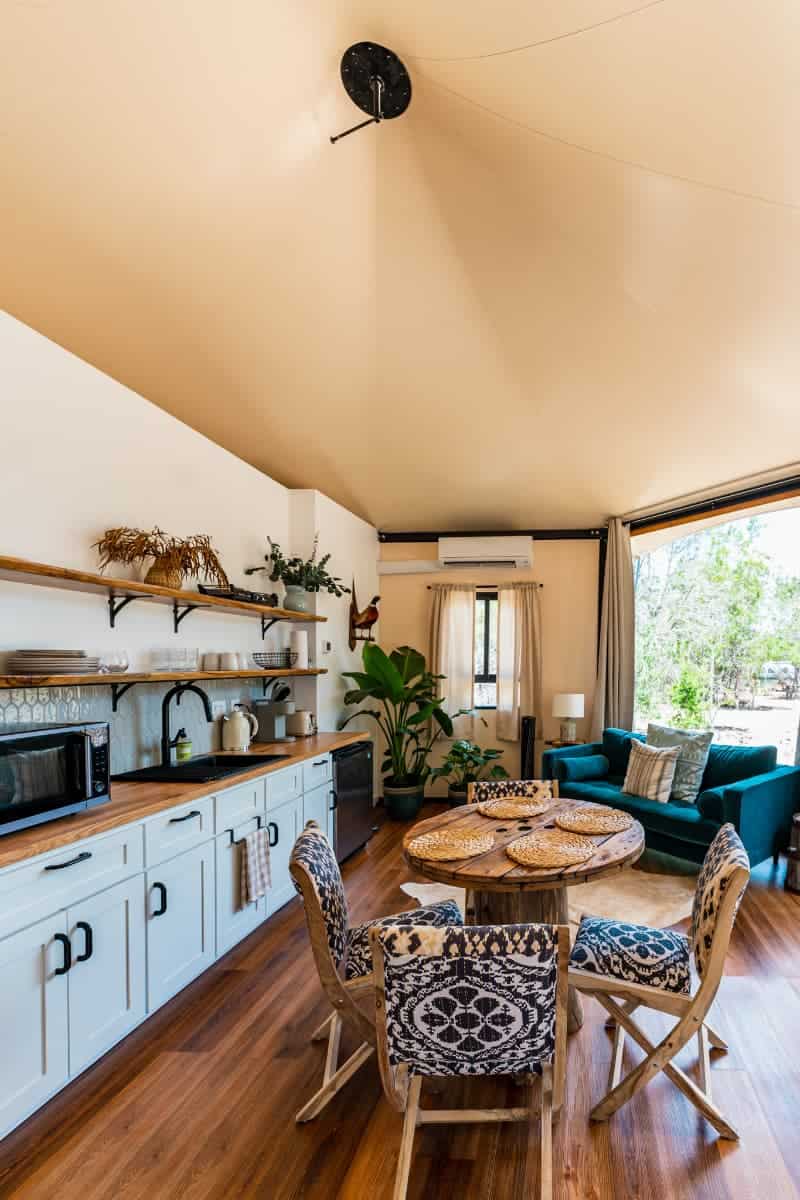 Where to Stay in Fredericksburg TX Near Main Street: Lantana Dome
Geodesic structures have become popular in the world of glamping, so of course, Onera had to include one in their collection too! It's beautifully done, with minimalistic decor, a clean design, and a hexagonal window overlooking your own little piece of hill country paradise.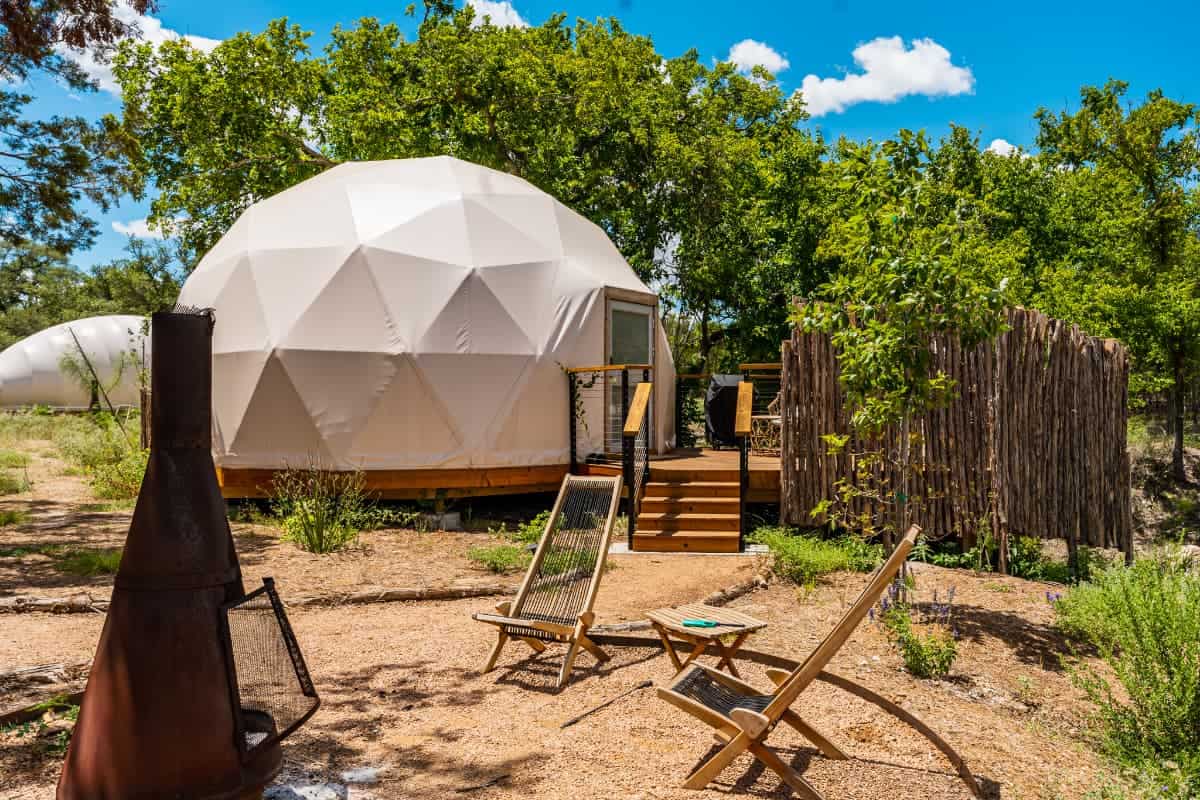 The dome has two main parts: a bedroom with a king-size bed and bean bag chairs, plus a full-bath and kitchen, all divided by a singular wall. Outside you'll find a hot tub, cute patio furniture, a BBQ grill, a front deck, and a private fire pit area.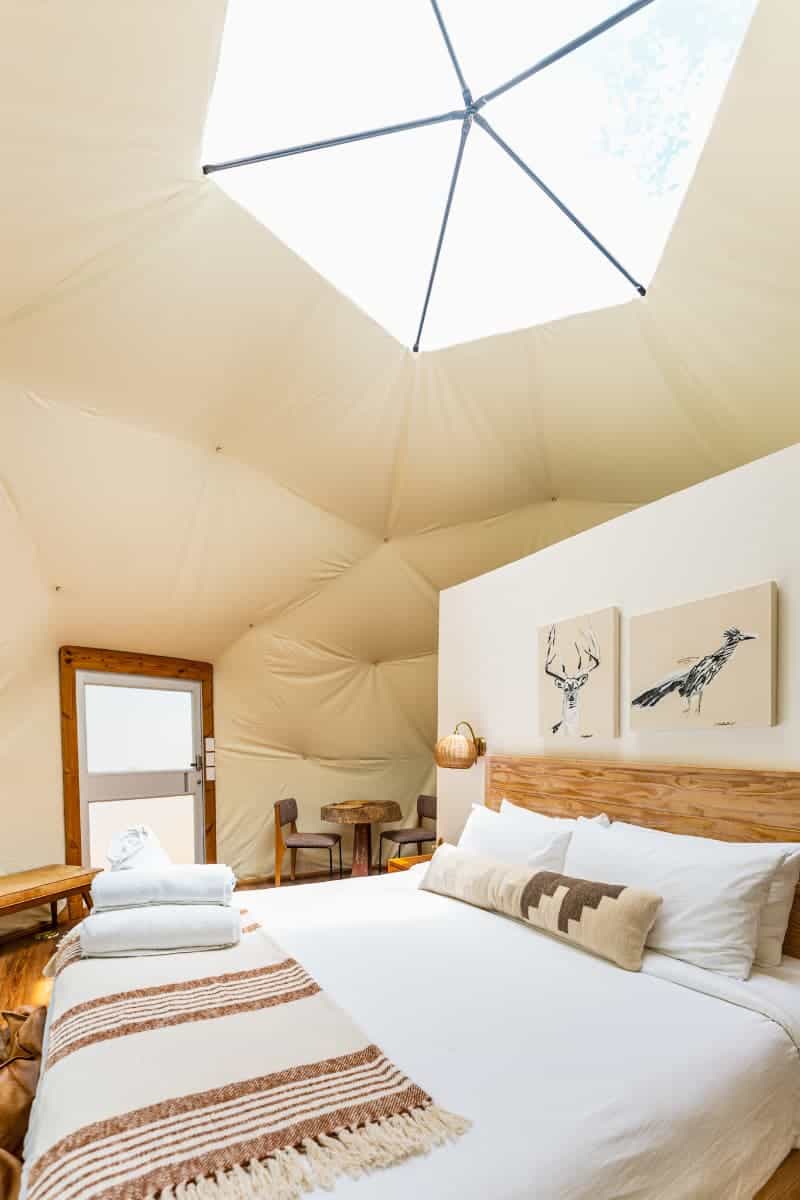 Where to Stay in Fredericksburg TX Near Main Street: Cocoon
The Cocoon is a tent-like structure, also with floor-to-ceiling windows. Apart from the full bathroom, it gives you an unobscured view of the wilderness from your comfortable king-size bed. It has all the kitchen essentials, Wi-Fi, and a small dining area. Take advantage of the cedar soaking hot tub, private fire pit patio, and ample space on the front deck to drink and soak in the view.
Where to Stay in Fredericksburg TX Near Main Street: Buckeye Bungalow
The Buckeye Bungalow is another safari-inspired canvas tent with windows that line one side of the bungalow. While comfortably tucked indoors, you can still revel in the adventure that is glamping while enjoying its open concept design.
The space has everything you'll need for an overnight stay! There is a simple kitchenette with all the essential appliances, a small dining area, and a full bathroom. Outside you will find cozy patio furniture, a hand-carved, bedrock hot tub, an extended deck for dancing to your favorite songs (thanks to Wi-Fi), and a fire pit so you can feel like a proper camper.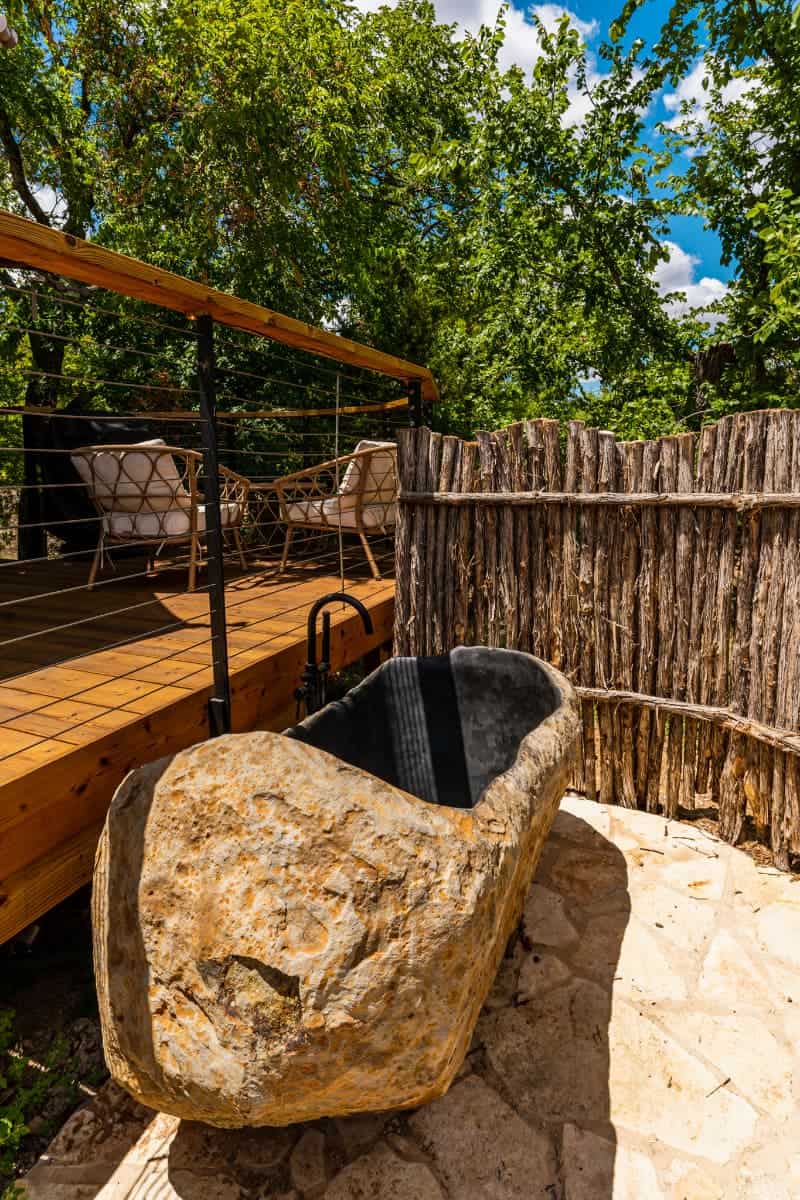 Where to Stay in Fredericksburg TX Near Main Street: An Airstream
If you ever wondered what it was like to live in one of those Instagram-worthy vans, then you have to book Onera's revamped, 1970s Airstream RV. We are still wondering how such a small area can feel so spacious! The inside includes a kitchenette, a well-stocked bathroom, and Wi-Fi. Although the outdoor amenities only include a private fire pit, don't forget you still have access to the luxurious amenities in the community area!
Where to Stay in Fredericksburg TX Near Main Street: Juniper
Although this house may look small, it has everything you could want and more on your next trip to Fredericksburg: a fluffy, queen-size bed, a kitchen with all the essential appliances, a full bathroom, a private fire pit, and a rooftop with patio furniture! Unfortunately, this is one of the few locations without a hot tub but don't worry! You still have access to those communal amenities.
Where to Stay in Fredericksburg TX Near Main Street: Cedar Haus
Much like the Juniper, the Cedar Haus is luxurious and minimalistic, but with floor-to-ceiling windows that frame the surrounding Texas Hill Country. There is also a kitchen with all the necessary essentials, plus a full bathroom and a comfortable queen-size bed. The rooftop is accessible via the spiral staircase, where you can enjoy a glass of wine and watch the sunset. You also have access to the communal area, where you can relax in the hot tub or enjoy the sauna.
The Onera Luxury Treehouse Resort: Final Thoughts
Just a short drive from Main Street and all of Fredericksburg's things to do, Onera is the perfect place to rest your head on your next Texas getaway! Do yourself one better and plan multiple trips that'll take you all over Texas by checking out our Texas Travel Guide. Let us help you plan memorable, but affordable, Texas trips!