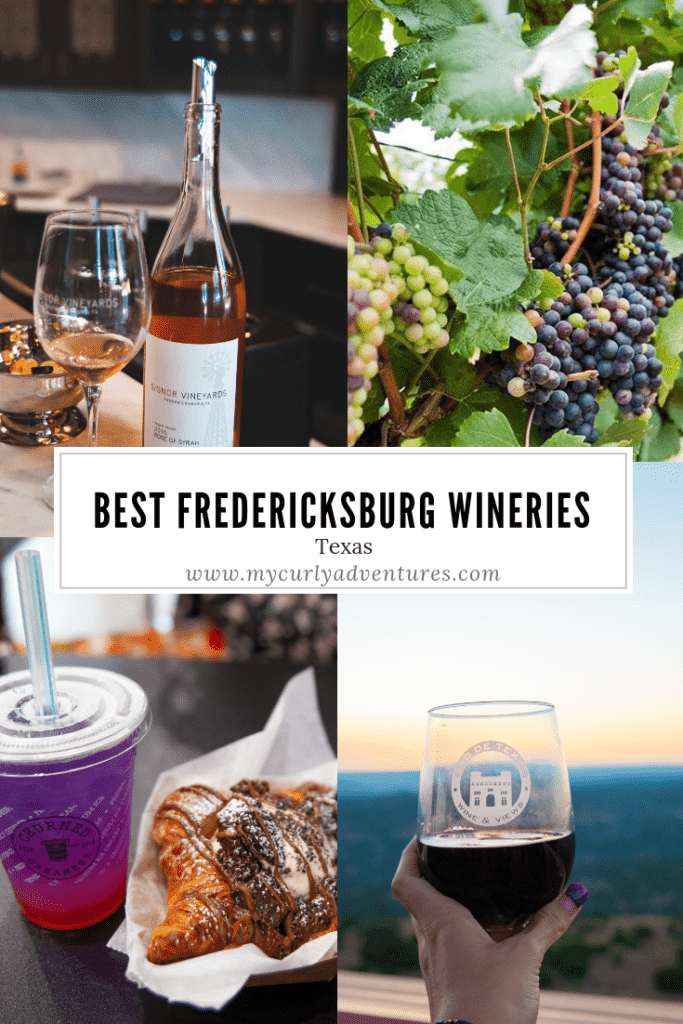 Who knew that here in Texas we have our own little wine valley and a pretty good one at that! Between Austin and Fredericksburg is a road known as Wine Road 290 filled with more wineries than I thought possible! Frederick already has 70+ wineries with new ones being added on the regular.  Now I highly recommend that you only do 4-5 in a day (which means you will have to come back!).  When I was in Fredericksburg there were a lot of other things to do on this road (berry picking, Wildseed Farms, and others). I've been able to visit quite a few of these wineries through multiple trips and I am here to share the best Fredericksburg TX wineries! If you want to see other things to do in Fredericksburg Texas head here. Looking for romantic things to do in Fredericksburg? Head here. 
Tips for Visiting Fredericksburg Wineries
To make sure you have the best experience, read up on my tips for visiting the wineries and vineyards.
Make sure to check out the hours and days online as they all have different hours and days that they are closed.
For the most popular vineyards I recommend making reservations.
The wineries get packed during the weekends so if you want a more intimate experience, consider visiting during the weekday.
Make sure to plan your meals before heading out. There are only a couple of restaurants along the trail and some of the vineyards have snack trays or dining options, but it's best to plan that ahead of time.
Either plan for a designated driver or book a tour so you don't have to worry about driving without being safe.
Texas Hills Vineyards
This was a great first stop! For $10 you get 6 tastings and $1 for each additional tasting. If you buy a bottle of wine you get $10 off. They have a good selection of wines from their vineyard, Texas wines, and other places. You can usually walk through their vineyards as well.
Signor Vineyards
Signor is a newer vineyard and is easily making a name for itself! While I was in Fredericksburg I had so many locals talk about it that I knew I had to visit. I was not disappointed!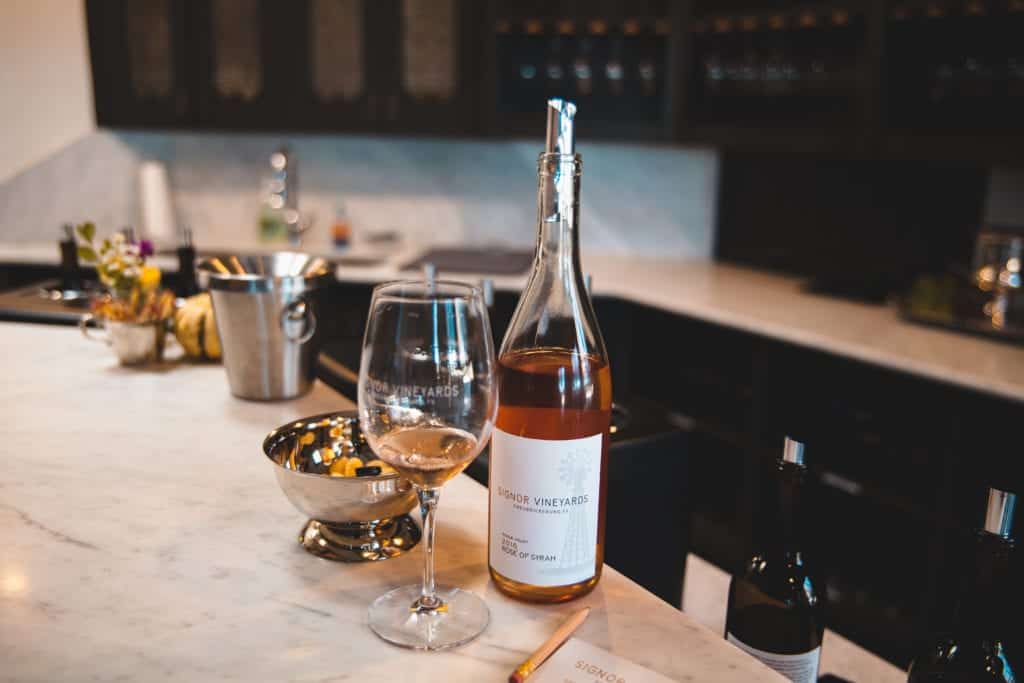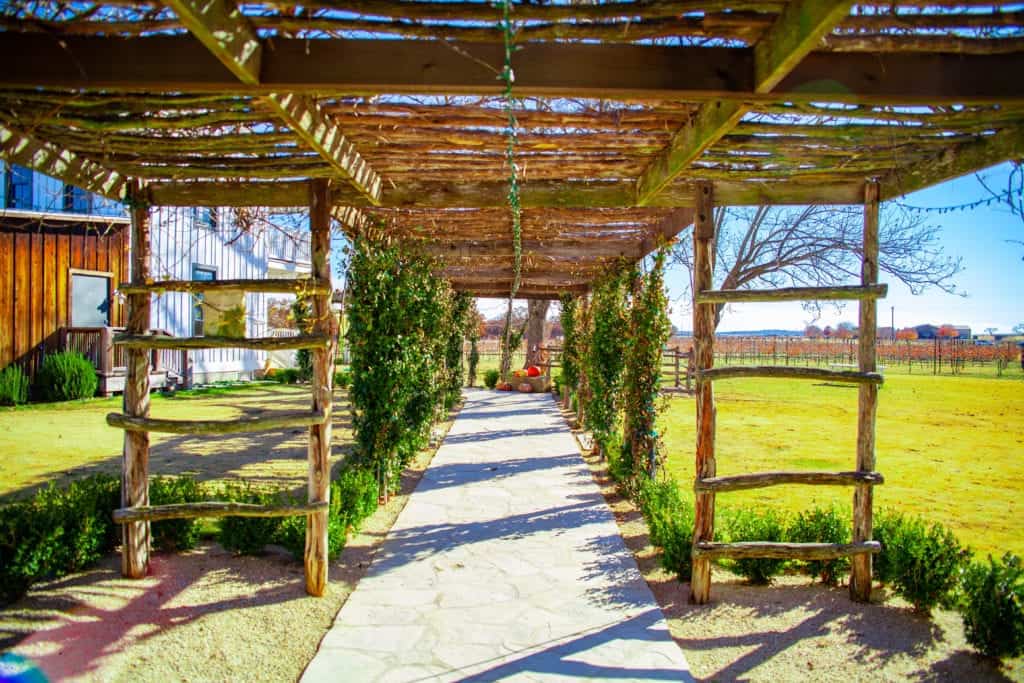 William Chris Vineyards
This one was one of my favorites just because of how gorgeous it was to walk through the vineyards! It's best to get a reservation in advanced for this one. You get to try 5 of their wines which tend to be on the drier side. Make sure you grab your last glass to wander through the vines! This one is on the pricier side, but I forgot to record how much!
Fat Ass Winery
This winery was a lot of fun! It's a lot more chaotic than regular wineries and you're not going to get the sophisticated feel, but it's cool to try a lot of "flavored" wines. For $10 you get to try 5-6 wines and you get a glass. Their wines included a peach, strawberry, and apple pie wine.
Becker Vineyards
Right across from Fat Ass is Becker. This place includes a vineyard, a lavender field, and a tour of their brewing rooms. For $21 you get 7 tastings and a glass. They had a mixture of drys, sweets, and ports. The staff get busy, but they are friendly.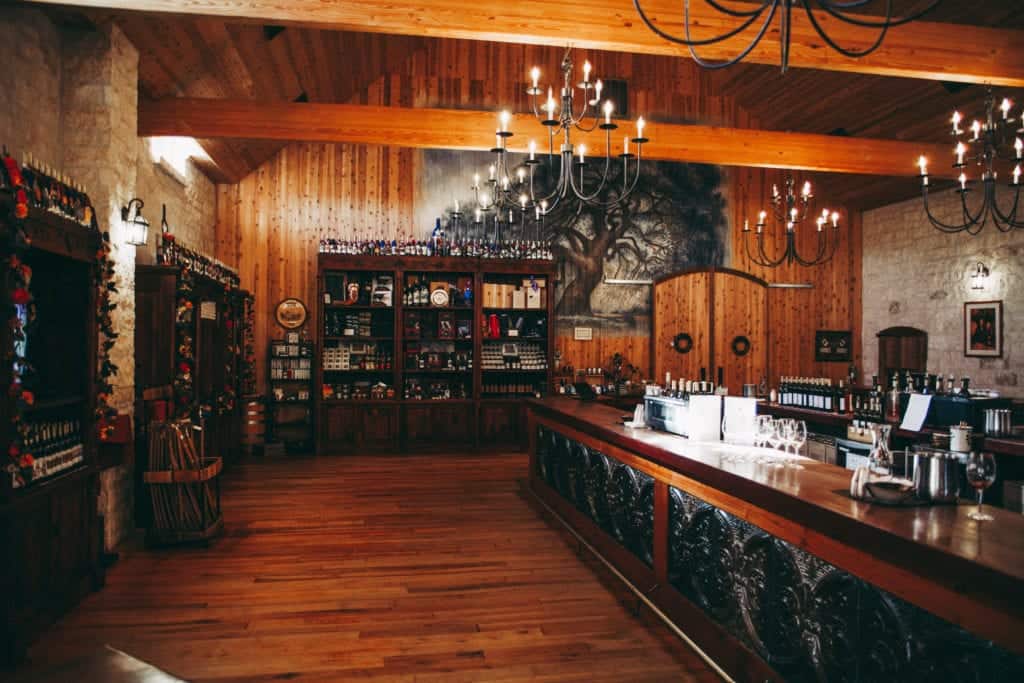 Wedding Oaks at Wildseed Farms
This winery is located at Wildseed farms, which is exactly what it sounds like. In between the fields of flowers is a tasting room. It's from a vineyard about a hour north. They also have a small amount of wine made there. For $12 you get 6 tastings. The Wedding Oaks wines are more dry while the Wildseed wines are sweeter.
Barons Creek Vineyard
This place is a hotel and winery in one. While we didn't get the chance to stay here, it looked like an amazing place to stay. We went there early, but it gets packed fast. For $18 you get 7 tastings and chocolate!
Fiesta – Six Shooters – Armadillo's Leap – Vintage Cellar
This place is actually a complex with 4 different wineries (which featured wines from other wineries). On one walkable plaza there was Fiesta Winery, Six Shooters Cellars, Armadillo's Leap Winery, and the Vintage Cellar. For $12 you get 6 tastings and a glass. This is also a great stop if you don't want to drive since you can try 4 different places just by walking to the next shop.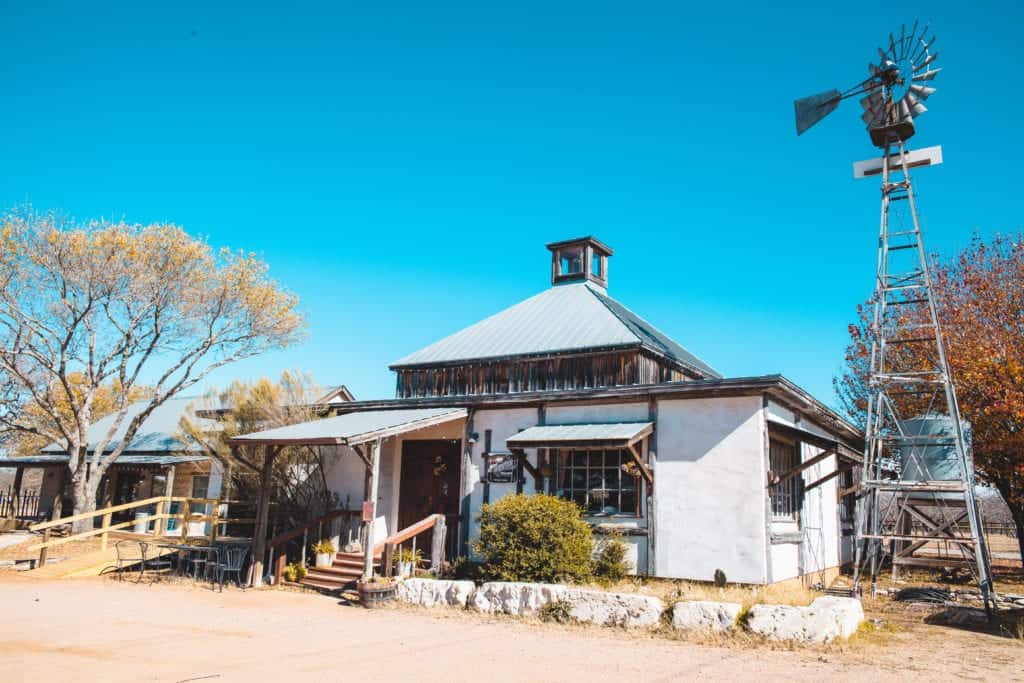 Arc De Texas
So this isn't exactly a winery, but Arc de Texas is an absolute must on your trip. They sell wine by the glass and then you go up to the top of their arc like building for the best views of the hill country and sunset.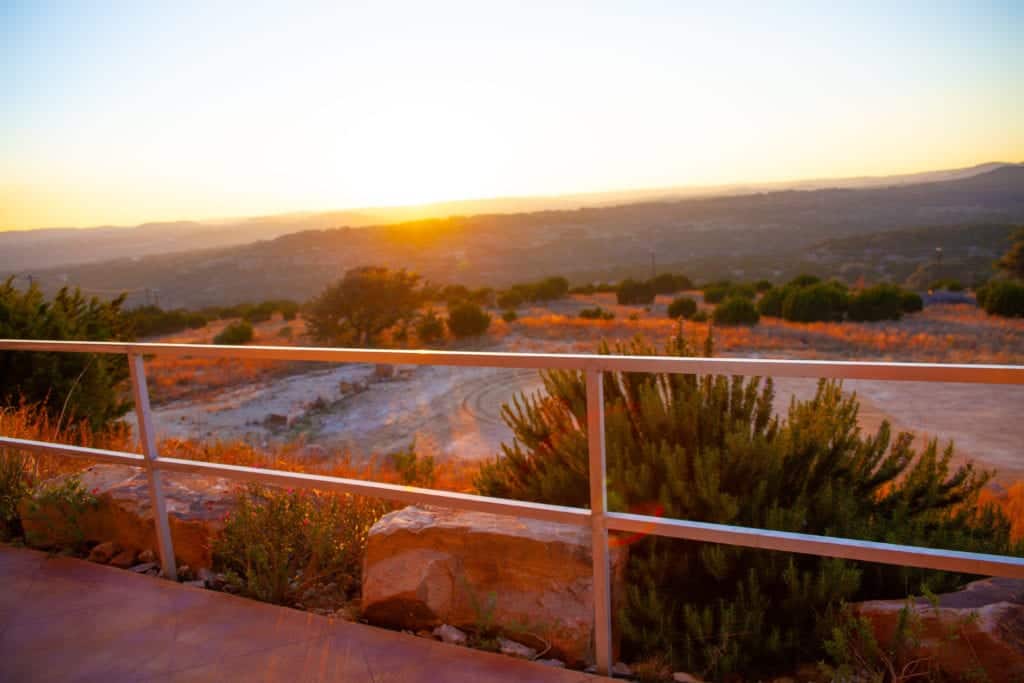 If you don't get the chance to drive down wine road, there are also several wineries featured in downtown Fredericksburg.
What to Do Besides Drink
There are several things to do on the Fredericksburg wine trail to either break up your drinking fun or are great Fredericksburg alternative for those who do not drink.
Chocolates El Rey
Chocolate and wine go perfect together and you can take a stop for a free chocolate tasting at Chocolates El Rey.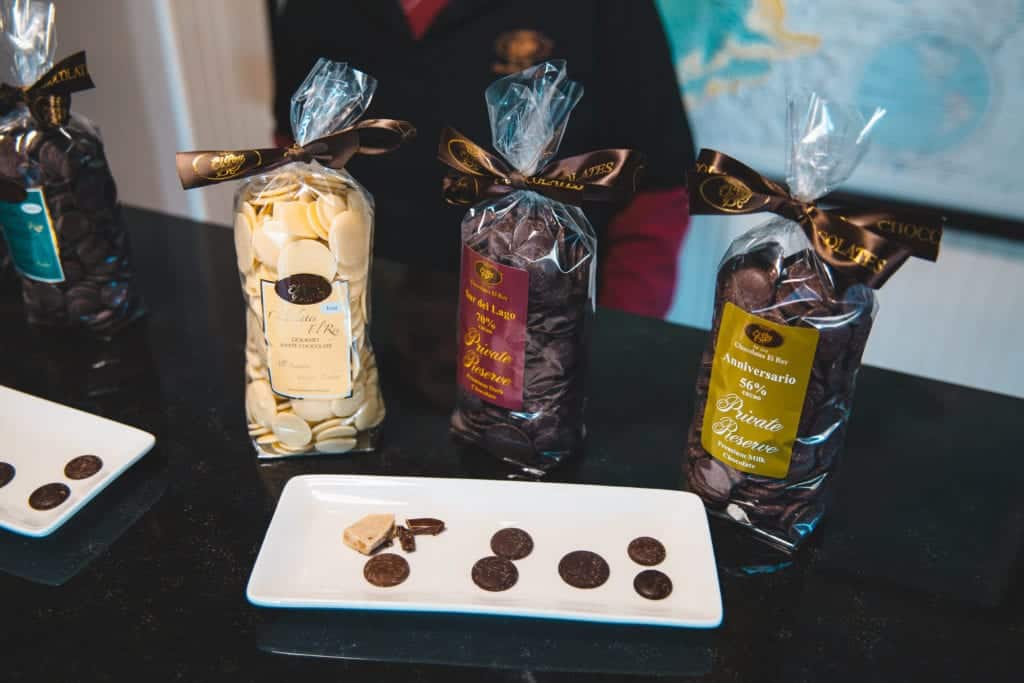 Burg's Corner
Fredericksburg is famous for wine AND peaches so you don't want to miss out on some peach tasting as well! I knew of apple cider, but I had never heard of peach cider! Stop into Burg's Corner to sample peach cider and pick up some peach related goodies.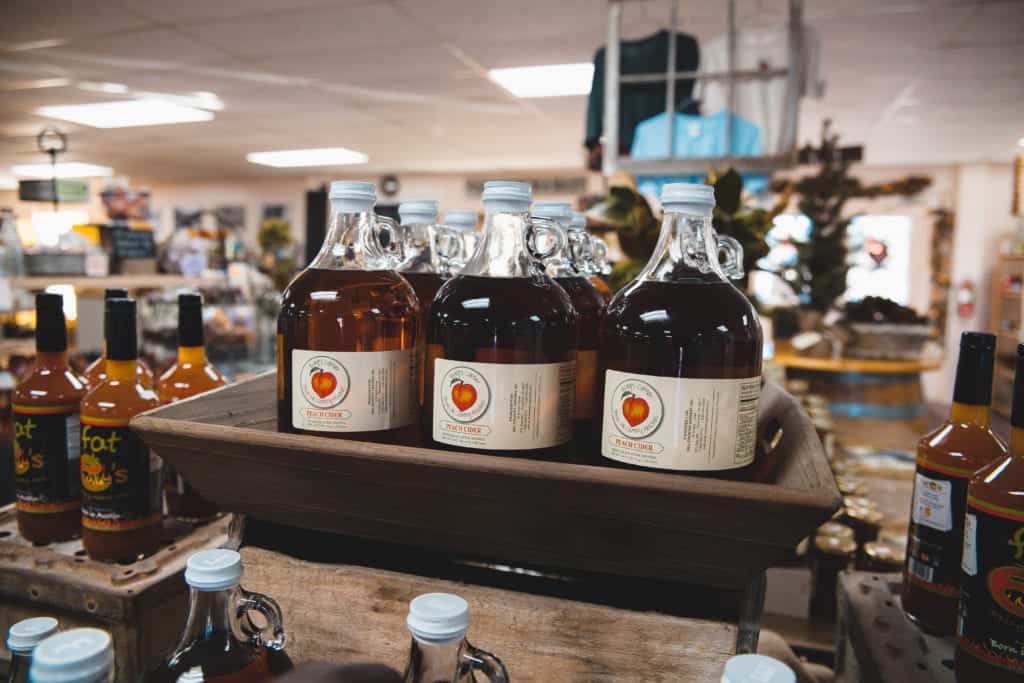 Best Wineries in Fredericksburg TX
You really can't go wrong with all of the wineries in Fredericksburg TX! I always have a blast going to my favorites wineries and visiting new ones! You don't have to go to California to get an amazing vineyard experience and here there are even less crowds which makes it so much better! Make sure to check out the other things to do in Fredericksburg or how to plan a fun weekend in Fredericksburg for couples.