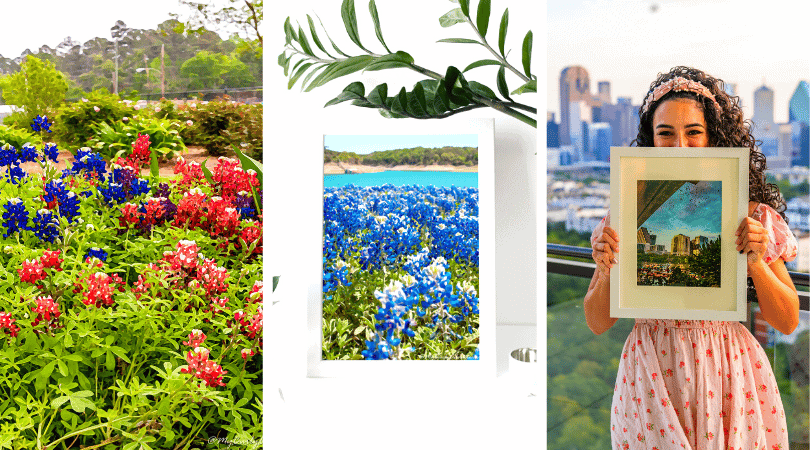 The bluebonnet is the Texas state flower, and in turn, one of our most prized possessions. Each spring, the beautiful bluebonnets blossom up and down Texas highways and across our many parks and trails, but only for a short time. However, you don't have to wait until spring to indulge in wildflower season. The next time you're looking for a unique gift, we have 22+ Texas bluebonnet gifts for the passionate Texan and/or the bluebonnet lover in your life! There are dozens of small businesses that have created accessories, artwork, clothing, and more for one of a kind bluebonnet gifts.
Be sure to visit our Etsy store for our new watercolor prints, including some gorgeous bluebonnet displays we've captured on our travels that make wonderful bluebonnet gifts!
22+ Texas Bluebonnet Gifts
Add a pop of color to your home with this vibrant bluebonnet gift: a watercolor print of colorful bluebonnets. We might be biased on this, but after traveling all over Texas and taking LOTS of bluebonnet pictures, we wanted a fun way to remember them. This watercolor print is part of a collection of many watercolor prints of places across Texas that we created ourselves.

Pictures are great, but nothing beats the real thing. Even if you live far away, you can carry Texas with you every Spring with this gift.Grow your own bluebonnets with this Texas bluebonnet gift: a personalized Texas bluebonnet seed kit.
Sadly flowers die, but even when our Texas State flowers aren't in bloom, we can remember them with this gift idea! Always have a bluebonnet on you with this gold bluebonnet keychain. You can even use it to accesorize different items like attaching it to a purse or backpack keychain or really anything with a zipper.
A bluebonnet floral scarf is the cutest accessory to elevate any outfit and maybe get a little warmth in!

Nothing says I love Texas and bluebonnets like wearing it all over with pride! There are so many fun bluebonnet jewelry creations that naturally fit into any look. Add final touches to your outfit with these gorgeous, handmade bluebonnet clay earrings. Make sure to pair it with a bluebonnet ring and bracelet as well!

Decorate your house or garden with these handmade, metal bluebonnets. Another great option to have bluebonnets year round! That way, no matter the season you can always see your yard speckled with blue and white!
For that person in your life who loves a good glass of wine, this Texas bluebonnet gift will be just what they need: a bejeweled wine glass. Bonus points for enjoying a nice Texas wine in this glass!
Even our fur friends want to get in with all the bluebonnet love! Have your pet looking cute as ever in these bluebonnet dog and cat bandanas.

Bluebonnet baby pictures with a bluebonnet outfit?! So much cuteness! We love all the cute bluebonnet pictures people take (just make sure not to sit in the bluebonnets) and a set like this is just irresistable.

If you're a crafter or someone who likes to sew the opportunities are endless wit some fabric in hand! DIY custom items with this bluebonnet fabric and create even more Texas bluebonnet gifts!
A little water for the bluebonnets, a little water for you. Stay hydrated on-the-go with this bluebonnet water bottle. Plus add on some bluebonnet stickers for extra fun!
Cozy and colorful, this bluebonnet throw pillow is a pretty pop of color for any home or it'll make the best Texas bluebonnet gift for your next housewarming party.

Look good while repping Texas with this bluebonnet graphic t-shirt.

A bluebonnet iPhone case will keep your phone protected and looking cute at the same time. It's a win win! Plys this makes the perfect bluebonnet gift for the Texan techie in your life.
For your favorite foodie, gift them this colorful piece of artwork depicting tacos AND bluebonnets. I love a good bluebonnet art print, but just the added dimensions of another Texas favorite makes this art print all the more fun!

Why stop with one peice of artwork? With so many talented artists we could fill an entire wall with bluebonnet artwork and still have more to collect!

These bluebonnet kitchen towels are a must have that'll look great thrown over your shoulder as you're cooking.
We're definitely going for as close to a head toe bluebonnet look as possible! Bad hair days call for some flower power! Look cool and stylish in this embroidered bluebonnet baseball cap.
A handmade bluebonnet soap will spark wonderful memories of Texas wildflower season and will make the best Texas bluebonnet gift for any occasion.

And Check Out Our NEW Etsy Store
After a year of work, we've finally released our first edition of watercolor prints based on some of our favorite Texas spots!
From spots like Big Bend, items like bluebonnets, and so much more, we're so excited to launch our second product! You can also find our scrumptious bourbon pecan candles made with all-natural, non-toxic ingredients, including soy wax and cotton wick, along with our newest edition of our Texas Travel Guide: 55+ Texas Trips Under $50 on our NEW Etsy store!
Thank you so much for your support and we hope you love our latest release!