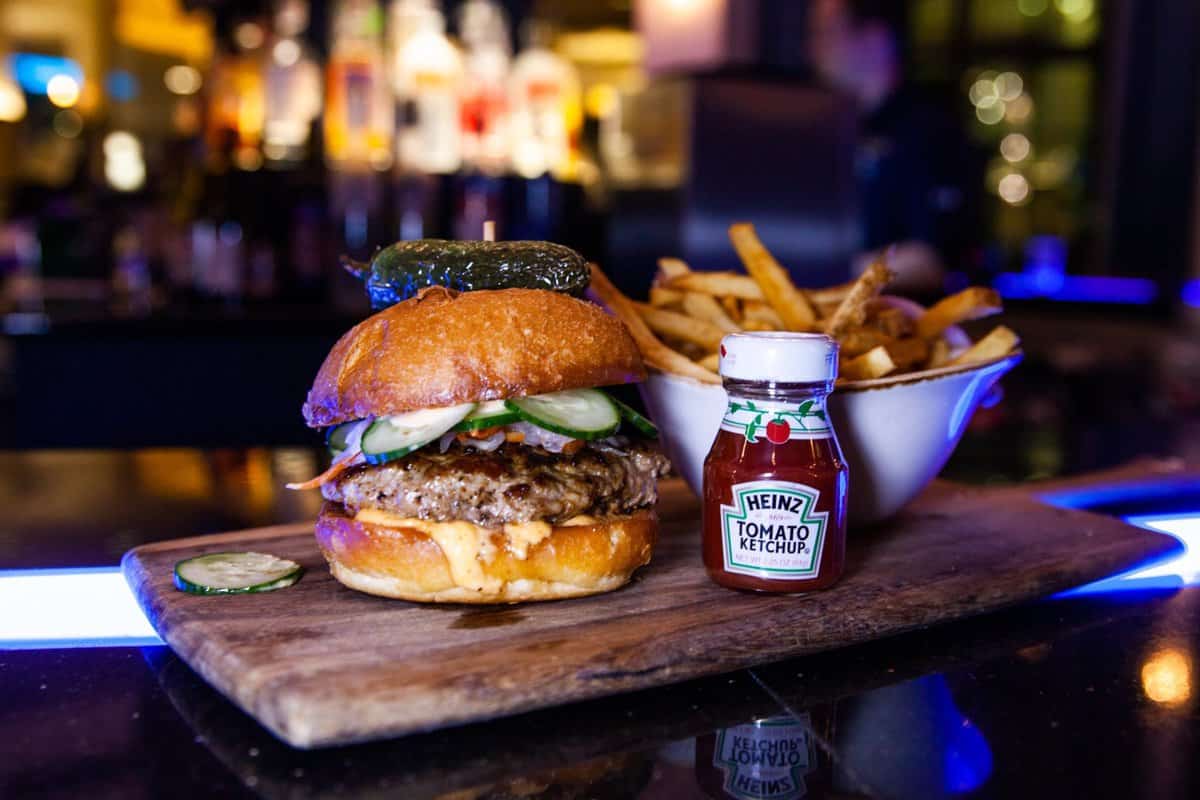 After travelling around Texas and having a burger obsessed husband, we set out on a journey to find the most unique burgers throughout Texas. It's a tough job, but someone had to to do it. Scroll to the bottom for the ultimate best burger in Texas.
Now I know I'm going to have some burger trolls coming for me. Look, I'm one person. I've probably missed some. Feel free to share in the comments. Just don't come for my head.
San Antonio – Al Pastor Burger at Burgerteca
Mexican food and burgers combine at Burgerteca in San Antonio. My mouth is watering over the Al Pastor burger with al pastor seasoning, grilled pineapple, tomatillo ketchup, and Manchego cheese. Not to mention their Oaxaca burger with mole or their chilaquiles burger. Their entire burger menu is just magic, and I wish I could eat here every day.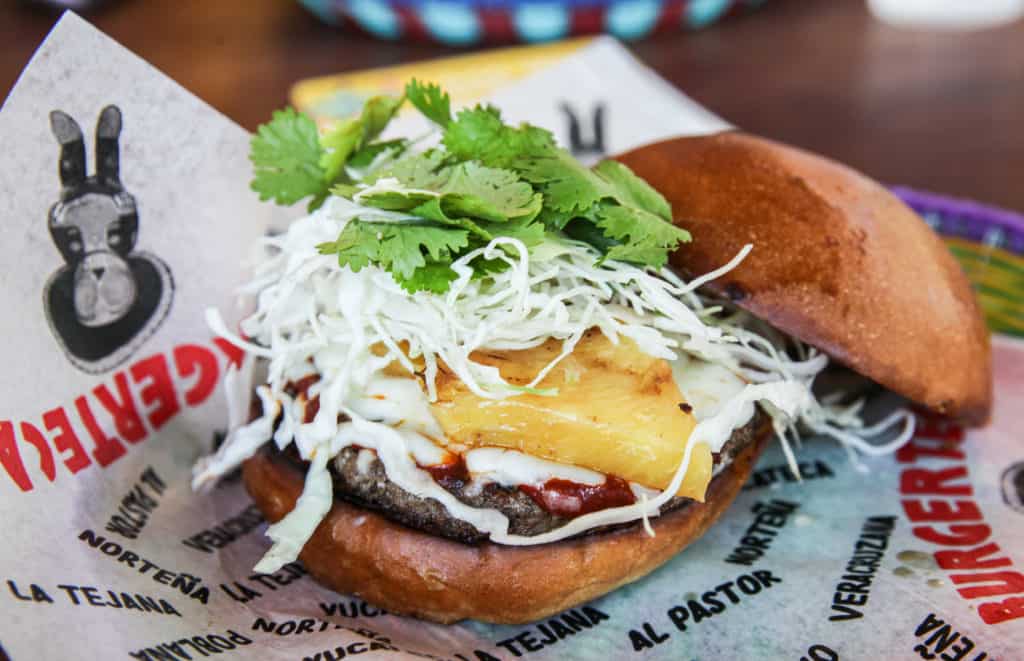 Corpus Christi – Cali Roll Burger at 8TE
More fun food combinations coming at you with the Cali Roll burger at 8te in Corpus Christi. This burger is topped with crab meat in spicy mayo, house made pickles, avocado, microgreens, and nori served on sriracha butter toasted buns.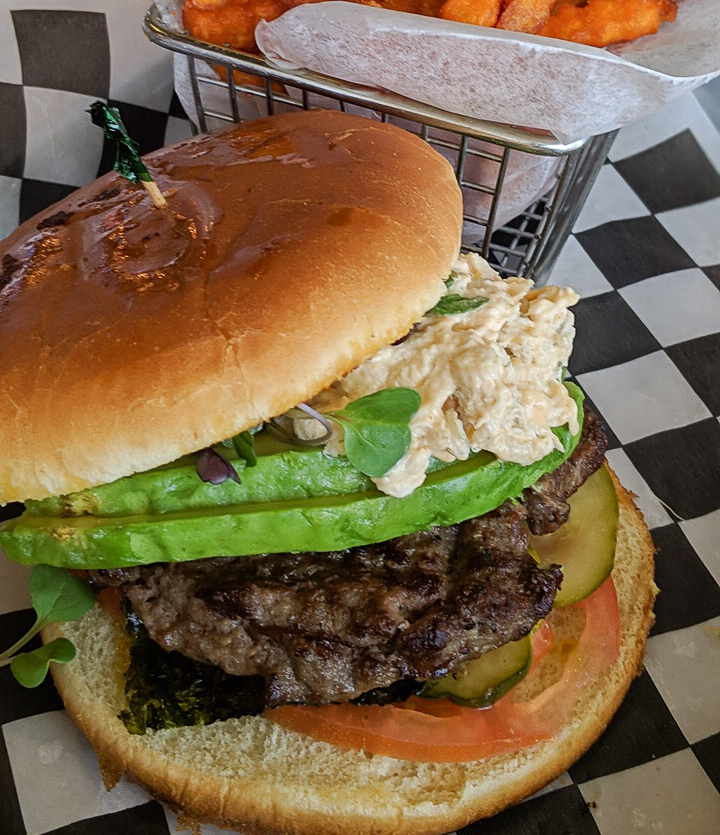 Abilene – Nutty Professor at Rockin Rollerz
This funky burger from Rockin Rollerz has peanut butter, crispy potato chips, bacon, and strawberry chutney.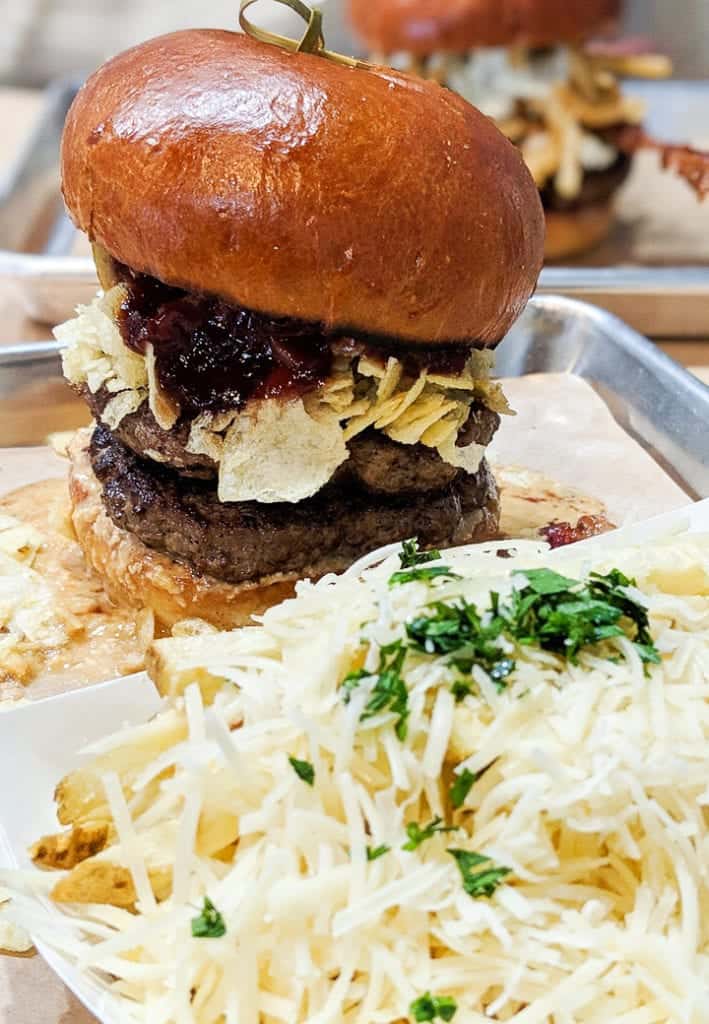 Dallas – PizzaBurger at Maple Leaf Diner
And another food combination at Maple Leaf Diner in Dallas with their Pizza Burger! This Burger is topped with sautéed pepperoni, bacon, bell & banana peppers, Bolognese sauce, fried mozzarella cheese crowned with breaded mushrooms and served with zesty dill dip.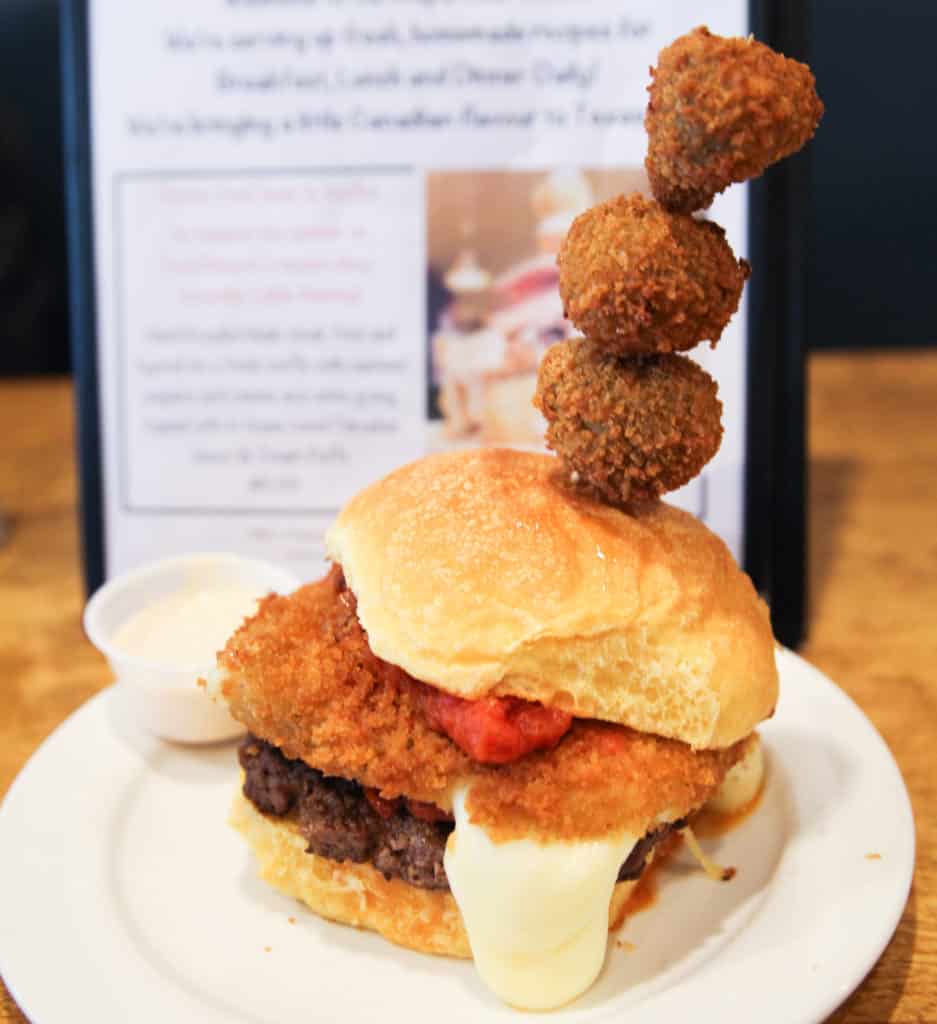 Victoria – Flaming Hot Cheetos Burger at Burger Nation
Burger Nation located in Victoria and Houston Texas has a large range of unique burgers from a Camel burger to a Keto burger. But the one that takes the cheese is the Flaming Hot Cheeto burger with a kaiser bun, cream cheese, nacho cheese, sriracha ranch, & Flamin' Hot Cheetos.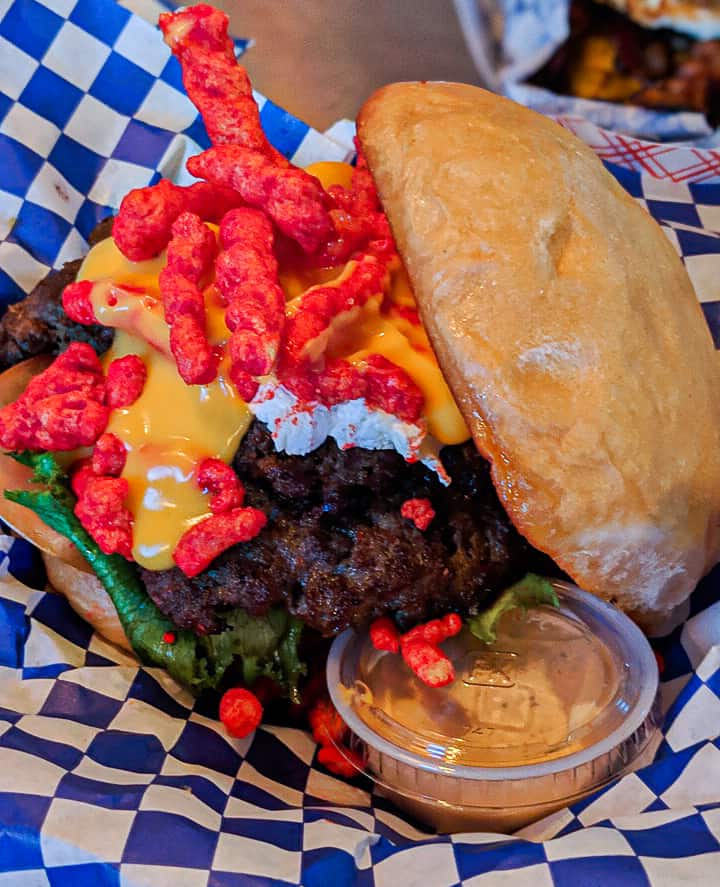 Burnet – Green Eggs & Ham Burger at Bills
Head to Bill's in Burnet for the Green Eggs & Ham burger with a fried egg, green chilies, and bacon. Plus stay for the super spicy fried pickles if you can handle them.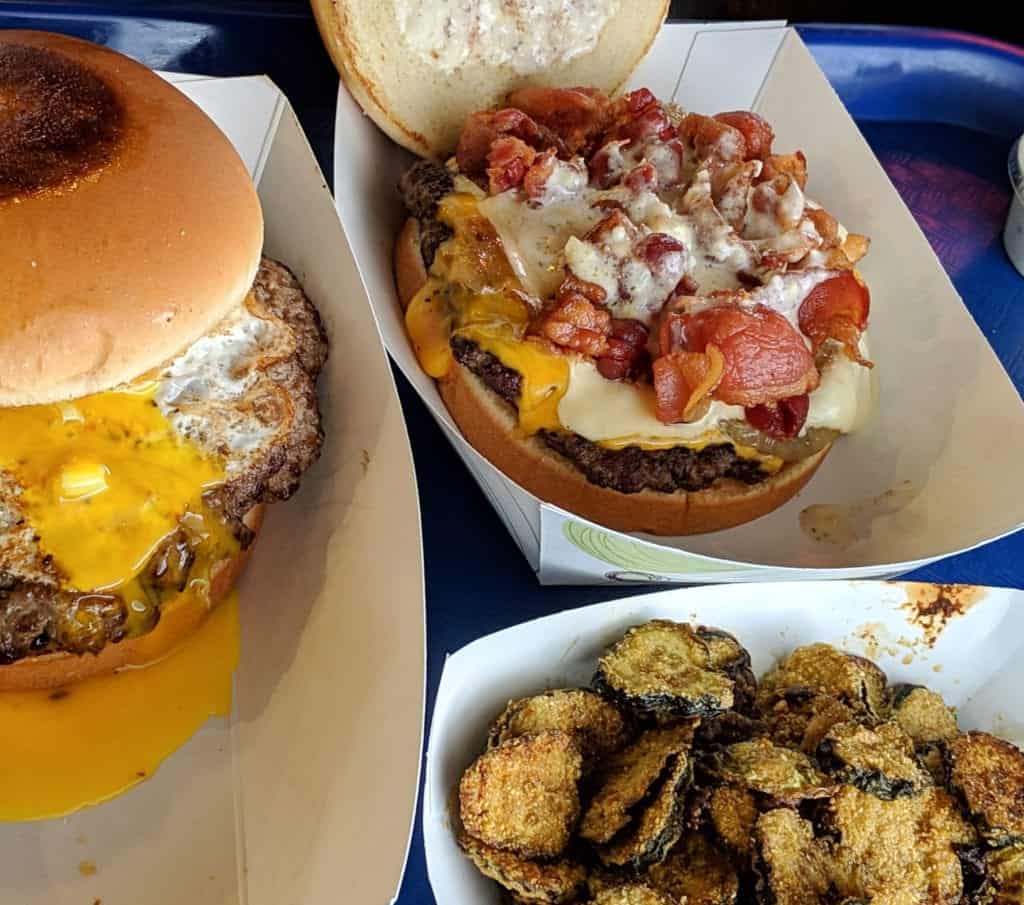 Fort Worth – Burger of the Month at Rodeo Goat
Rodeo Goat pairs two burgers head to head each month. The Shrimp Creole burger has been their most recent winner with spiced Gulf shrimp patty, cajun ravigote sauce, fried green tomatoes, and crunchy chayote slaw, but you can't go wrong with any of their burgers like one of my regular favorites the Chaca Oaxaca! They also have locations in Plano, Rockwall, Dallas and Houston!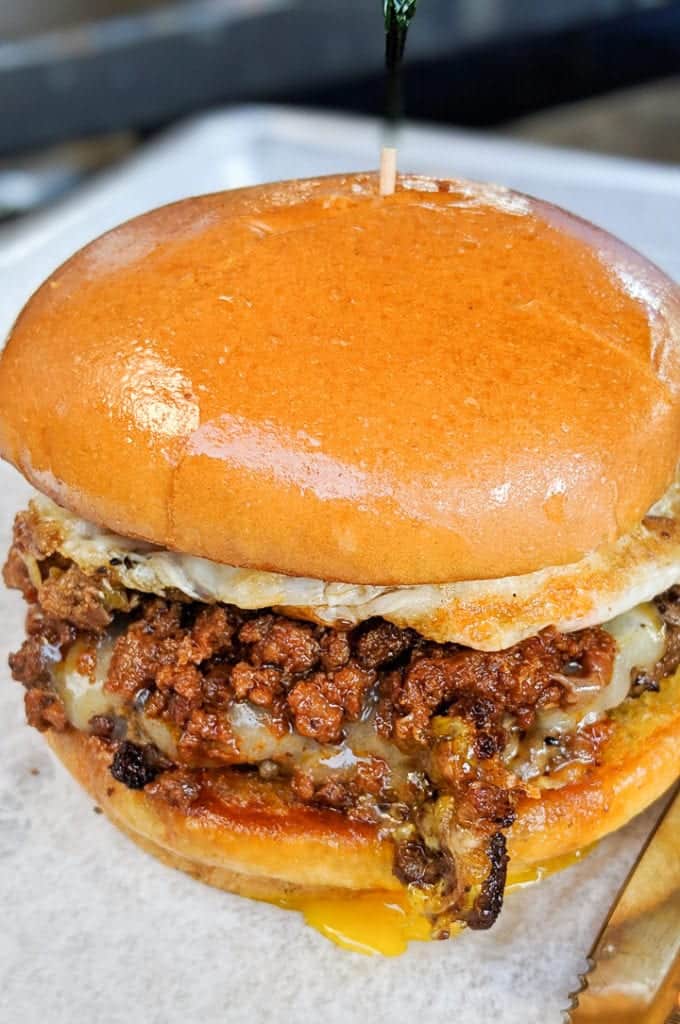 Fredericksburg – BYOB at Burger Burger
At Burger Burger in Fredericksburg you can add some interesting ingredients. Build your own with ingredients like a cheddar bun, goat chevre cheese, roasted corn, carrots, artichoke, chili, and more.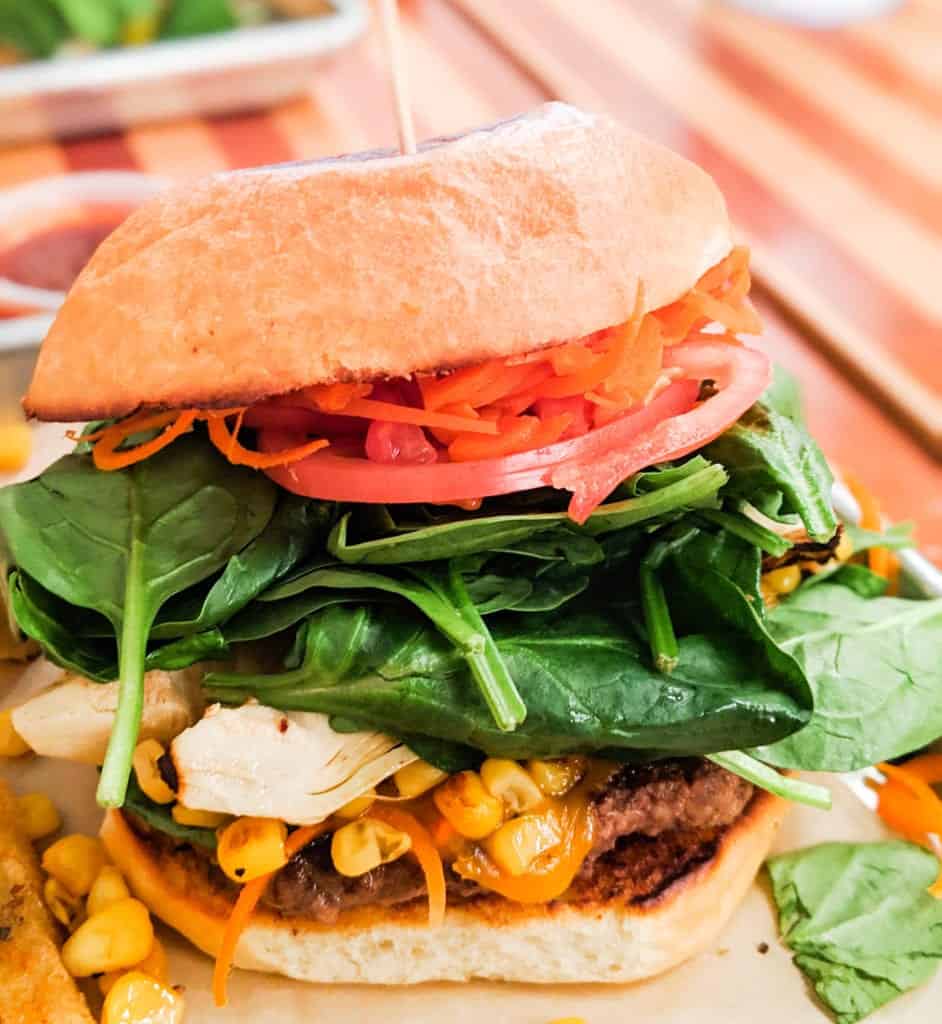 Rockwall – Banh Mi Burger at Hilton Rockwall
I didn't expect a hotel burger to make it on this list, but the Banh Mi burger with a pork and shrimp patty, pickled carrot and daikon, cucumber, cilantro, and siracha aioli was so unique and delicious that even if you don't check into the Hilton at Rockwall you might want to come here just for this great burger and the spectacular sunset views over the lake.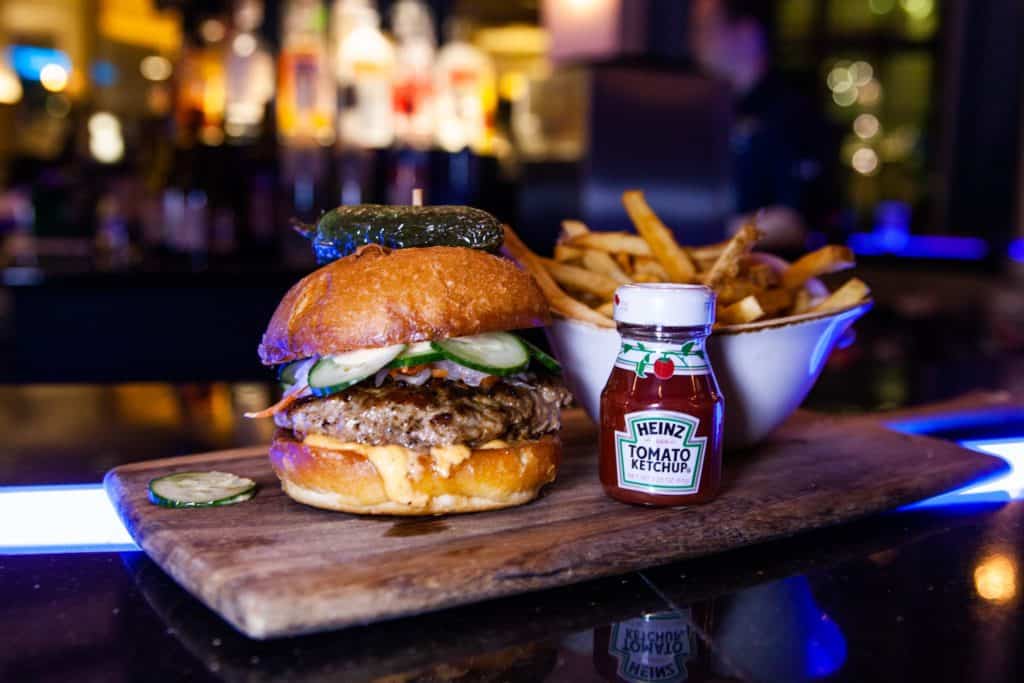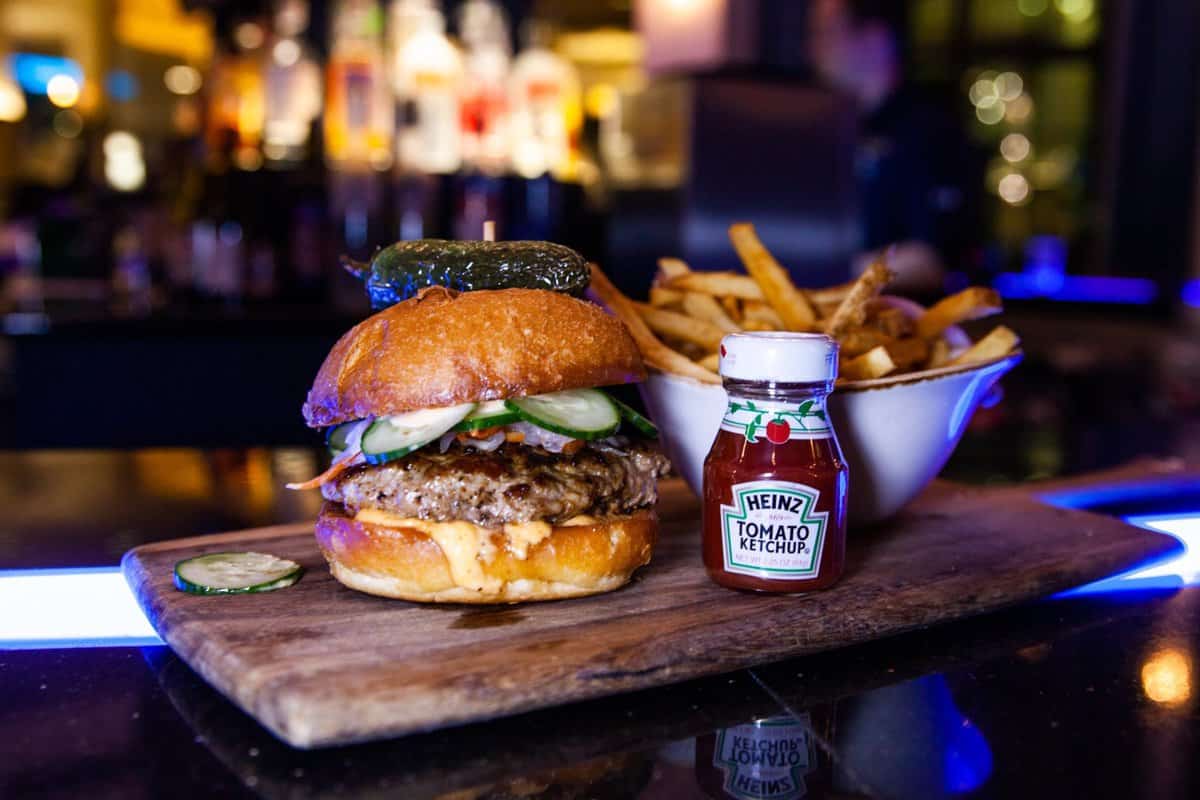 Lubbock – Fiery Green Chile Cheeseburger at Toro Burger Bar
Choosing one burger at Toro Burger in Lubbock is hard. They have such a unique mix. The Toro Burger was my top pick for the fried onion strings, green chile cream sauce, diced jalapeño toreados with a whole crispy fried green chile on top.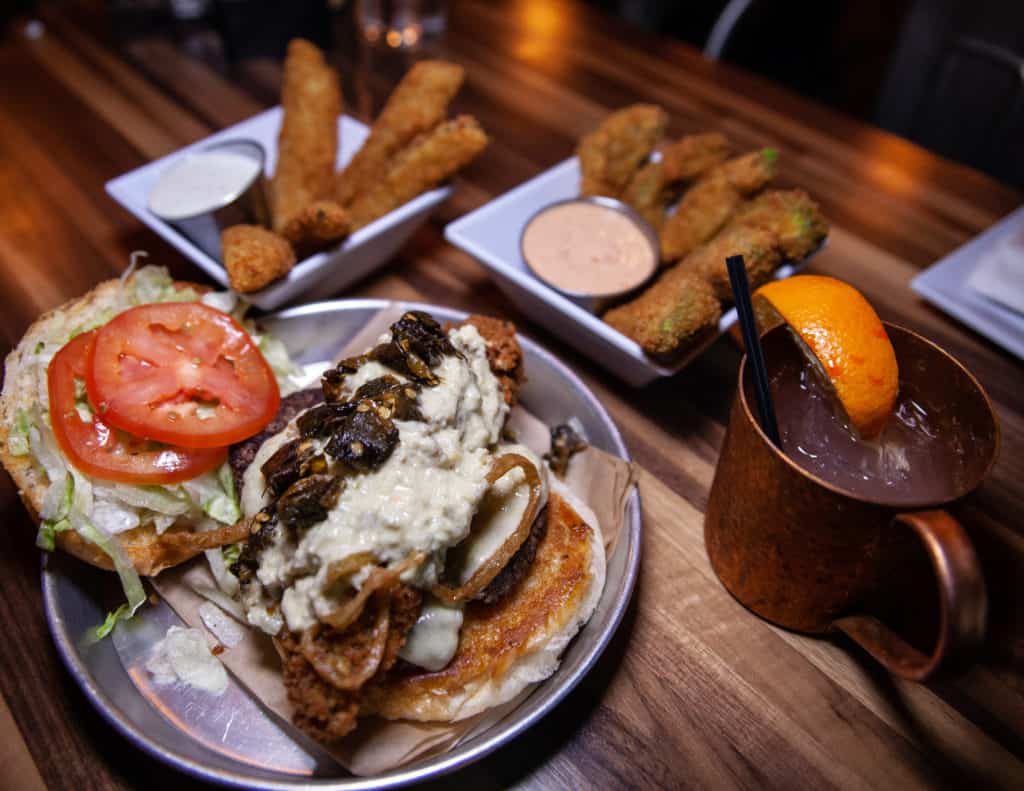 Weatherford – Prius Burger at Vintage Grill & Car Museum
Sitting outside of Vintage Grill in Weatherford is a historic gas station. The Prius burger is a bean patty topped with ginger garlic hummus, spinach, avocado and a tomato basil bun. Meat eaters can swap out the bean patty for a meat one. After chomping on some burgers, you can view cars from celebrities like Aretha Franklin and cars from famous movies. Or stop by during the Weatherford Peach Festival for the peach burger!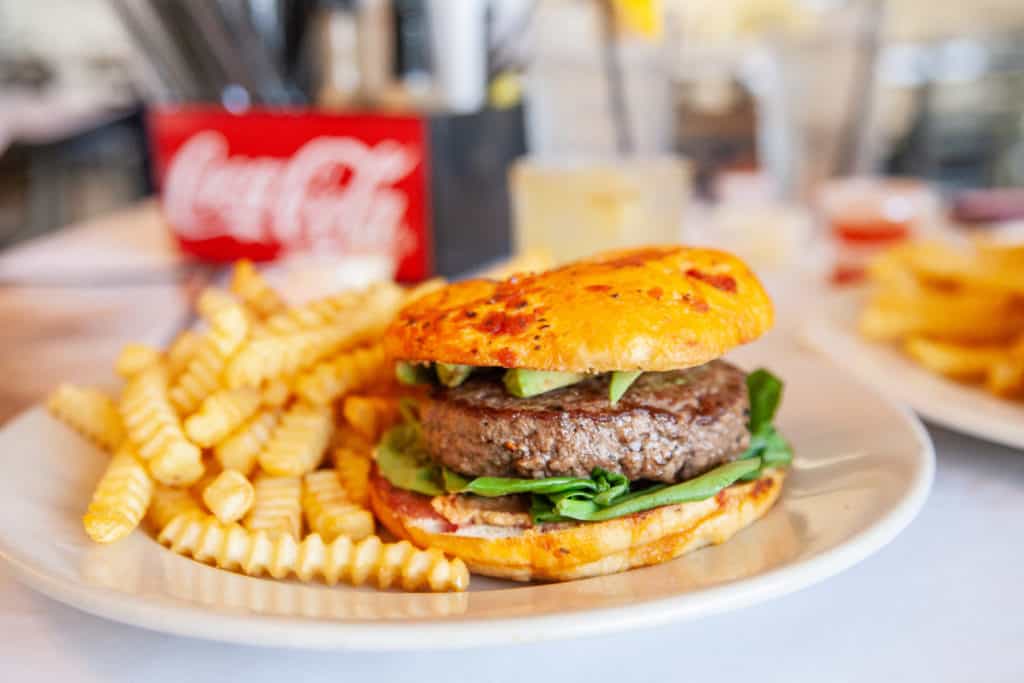 #1 Best Burger in Texas!
Glen Rose – Jack Daniels BBQ Burger at Coyote Loco
I ate this burger well over a year ago in Glen Rose and still dream about this burger! This burger from Loco Coyote is a beef patty topped with brisket, fried pickles, onion rings, cheese, and Jack Daniels BBQ sauce.