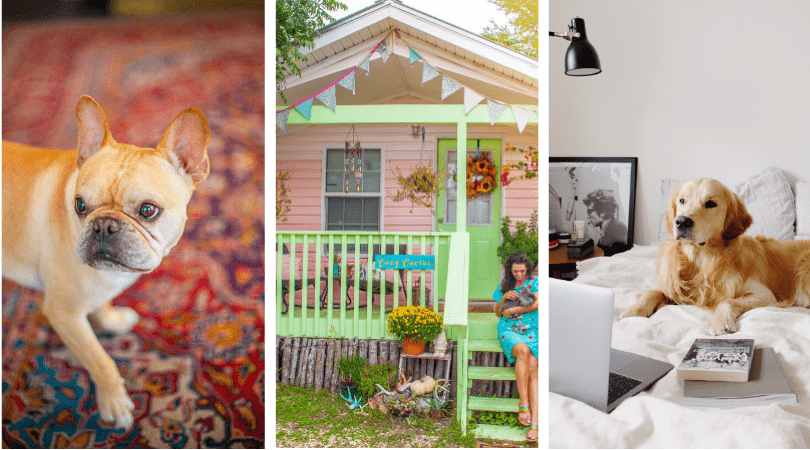 Family is everything, including our four-legged babies, grandbabies, siblings, and best friends, and being able to bring them along can make life experiences all the more memorable. Here are 8 affordable, pet-friendly hotels in Texas that make it possible for you to sleep alongside your furry companion, even when you're away from home. Plus, some nearby activities to these lodging locations for you to enjoy together.
Off the Vine RV Park: Hico, Texas
Camp out for a night or two with your four-legged friend in a retro airstream. Off The Vine RV Park loves your pets just as much as you do, making it an affordable, pet-friendly Texas hotel with just a $25 fee. As long as they're on a leash, you can venture around the property, meet other glampers in the community area, and venture through historic downtown Hico.
Stop into Flacas Fitness & Brews for some lunch and a refreshing, craft beer or glass of wine at one of their outdoor tables. They even provide a complimentary bowl of water, so both of you can enjoy a drink, side-by-side. Drop by the retro coffee shop, Buzzed Brumby and add another Hico gem to your agenda where your furry friend can tag-along.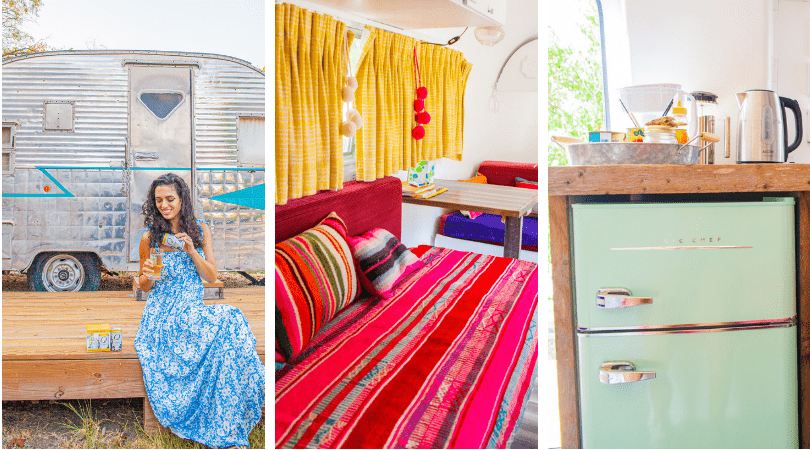 Wanderin' Star Farms: Dripping Springs, Texas
All of the spaces available at Wanderin' Star Farms are pet-friendly, minus the Yurt in the Trees. The Rustic Barndo has a private dog run so you don't have to keep your pet cooped up and, if you're hosting an event and your dog is a part of your wedding party or family reunion festivities, their Barn Venue and Ranch Property Lodging allow dogs too! What are memorable moments if every member of your family can't be there? Wanderin' Star Farms helps make it possible. All you have to do is agree to keep your pet on a leash and pay a $20 fee per dog, per day of your stay. Simply inform them beforehand.
They also ask you to do your best to keep your pets off of the furniture, since this can result in $50+ cleaning fees should there be more than light remnants of pet hair. With rustic decor, large windows, and patios, this Texas farm is an affordable, pet-friendly oasis for you and your pet(s).
Looking for an additional dog-friendly activity? Dripping Springs is home to Family Business Beer Co. Fido can share a meal with you at their outdoor tables in an oak grove draped with string lights or accompany you in line when food trucks stop by.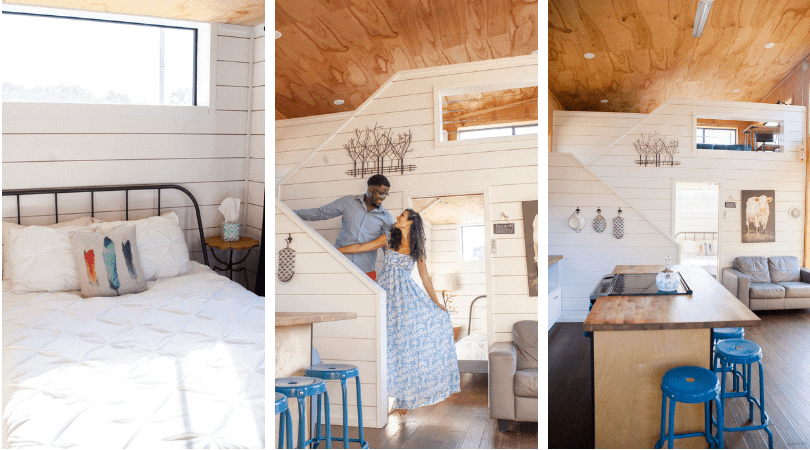 The LINE Austin: Austin, Texas
Equally close to downtown Austin and the outdoor adventures this Texas city is known for, The LINE is a great choice for affordable, pet-friendly lodging in Texas. To make your stay all the easier, there aren't any fees or weight limits. Don't forget your complimentary bags, water bowls, and treats! The hotel offers free bikes if you have a high-energy pet for a leisurely ride on the Town Lake Hike & Bike Trail.
If your furry friend is particularly adventurous, just half a mile from the hotel is Banger's Sausage House and Beer Garden. Treat your pet to a "Woof Wurst" and a percentage of the purchase will go to Austin Pets Alive, a local animal shelter dedicated to finding homes for at-risk animals. If you need more recommendations, the staff are prepared with walks, parks, and pet-friendly bars and restaurants.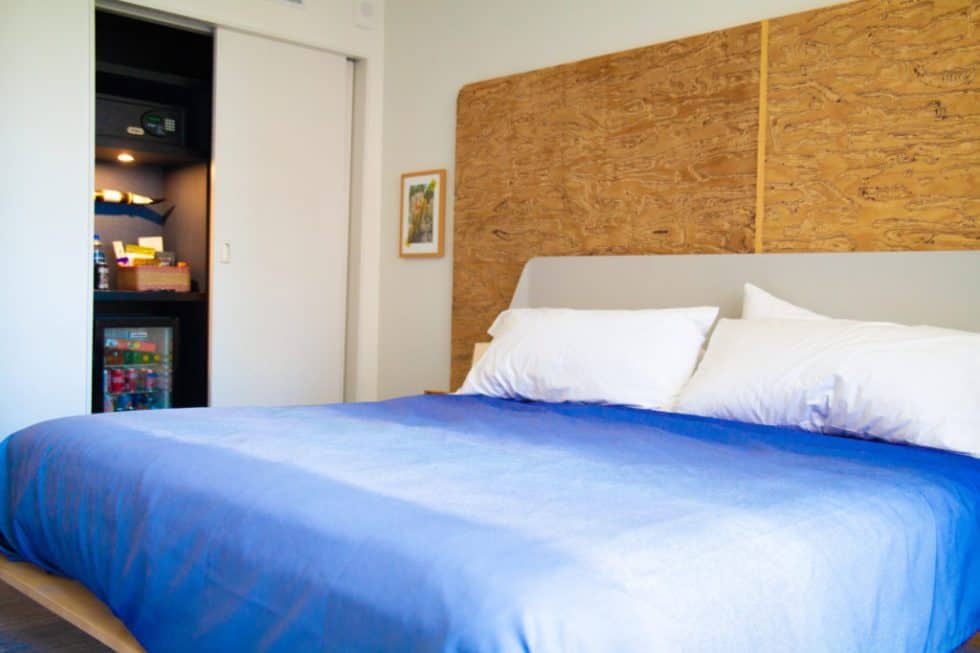 Hobbit Tree House: Paige, Texas
This is a truly magical and remote getaway just minutes from the small town of Bastrop and not much further from Austin. Your pet has 42 acres within Lost Pine Forest to roam and explore, but just keep in mind the owners of the property have two free-roaming dogs of their own. Also, due to the heavy forest, there may be scorpions or snakes along your way. Below your private balcony that overlooks the property is a lily pad pond, adding to the fairytale you'll experience during your stay here.
The dog-friendly restaurant Roadhouse Paige is sure to impress with its title as one of Texas Monthly's 50 Best Burgers in Texas. Plus, Bastrop State Park and its trails are just 8 miles away.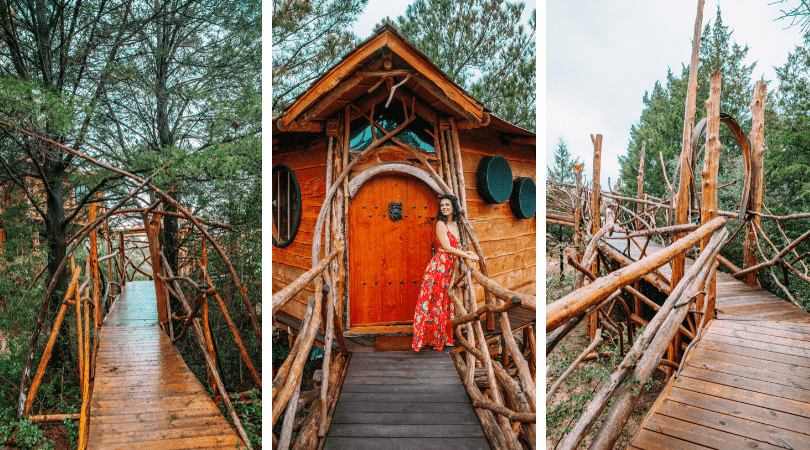 The Grand Hotel: McKinney, Texas
This regal hotel serves as the perfect place to cuddle with your pet after exploring downtown McKinney. Just inform the hotel about your furry plus-one without any concern about additional fees, making it a perfectly affordable and pet-friendly stay in Texas! The Grand Hotel is nestled within a mile of several delicious restaurants and charming boutiques.
Grab some lunch on the patio at Tupps Brewery, stop by Layered and get a latte with your companion's sweet face made out of foam, then Cocktail Creamery for a sweet treat for you, and a Puppernator for your puppy. Stroll through the Crape Myrtle Trails of McKinney and take cute pictures of your pet among the greenery to remember your trip together. Take a short field trip to Bonnie Wenk Dog Park, two-acres where your pet can run off-leash and cool off on the splash pad. Bring some lunch for a picnic under the pavilion! Finally, Landon Winery has take-home bottles for you to pick up and unwind with at the end of your long and adventurous day.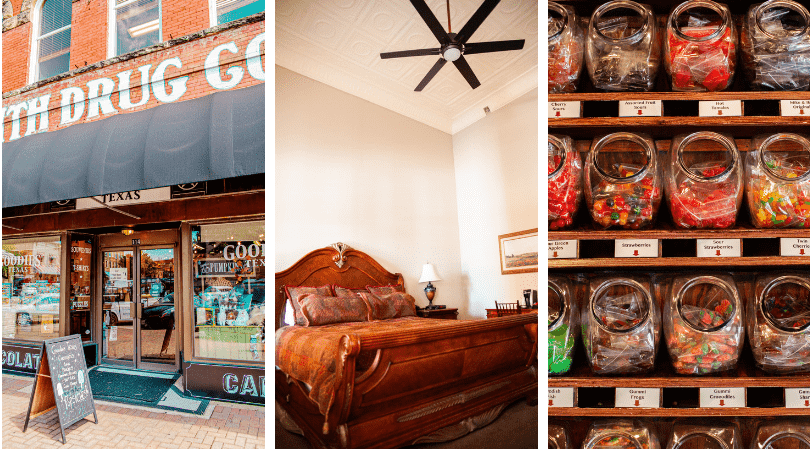 Inn on the River: Glen Rose, Texas
You'll feel right at home at the Inn on the River! With a charming dining room, complete with white table clothes, pristine table settings, and delicious, home-cooked meals, it'll feel too good to be true that you're there. All the staff at the Inn ask is to call ahead and tell them a little bit about the size and traits of your fur baby so they can make the proper accommodations for you both. They do maintain a limit of 1 pet per room and charge a $25 non-refundable pet fee.
Once you're settled, leash up your doggy and go for a walk in the city square. Take a trip to Dinosaur World, a 20-acre plot with over 100 life-size dinosaurs and an indoor animatronic museum. They also provide picnic tables, drink machines, and water stations for your pet. Cool off at Big Rocks Park or stroll along the Paluxy River together. Visit the Glen Rose site for precautions to take if you choose to go for a swim. 30-minutes from Glen Rose is Bluff Dale Vineyards where you can sip wine, snack on a cheese board, and absorb the beauty from the patio that overlooks the vineyards. They'll be hosting their wine party to celebrate their harvest on August 25th! 
Four Seasons Resort and Club Dallas at Las Colinas: Irving, Texas
While more of a splurge, the Four Seasons at Las Colinas, they are looking to care for you AND your pet during your stay. They offer pet amenities just for them: a bed, bottled water, food and a water bowl! For you, there's a gorgeous pool and a one-of-a-kind fitness center.
To make the most of your visit to Irving, eat at Nosh & Bottle and share an outdoor table with your four-legged friend. Order an appetizer or charcuterie board for the table (and eat the whole thing by yourself because it's THAT good) and then choose from a sandwich, a naan pizza or pasta. Close out your meal with something sweet and a cup of coffee or unwind with wine or a glass of local beer.
Soak in the sun at Cedar Ridge Nature Preserve and take pictures of the wildflowers and butterflies. Keep your eye out for some unique birds too! Or keep to the city and walk along the Mandalay Canals as you enjoy all the waterfront fun there is to choose from. Go at night and be amazed by the reflection of the city lights off the water.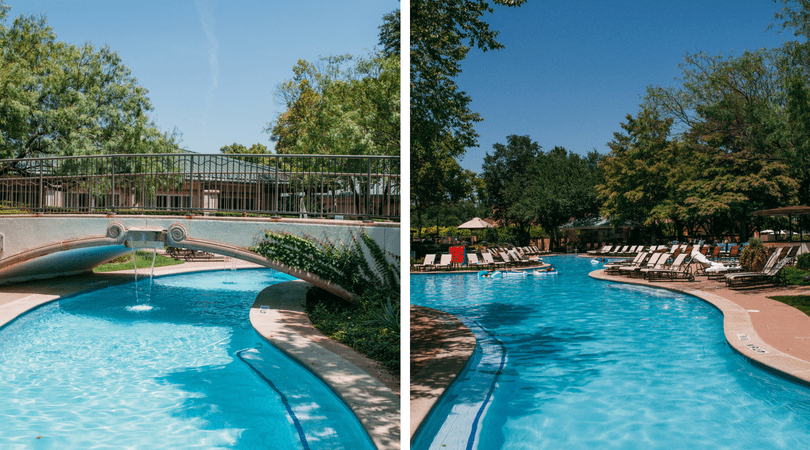 The INN Between: Concan, Texas
The owners of this property have created each of their homes with the goal of making your stay both fun-filled and rejuvenating. The amenities on the property include a fire pit and grill, a hammock tree, a teepee playhouse, and libraries in each house. The INN Between has three pet-friendly options for you to choose from: Hippies & Cowboys, The Cozy Cactus, and The Louise Cottage. Even better, you'll only pay a $50 fee per dog, so it's a wonderfully affordable Texas destination.
The Cozy Cactus' white walls and accents of color that match the bright exterior; The Louise Cottage's rustic, country decor, and the rainbow that is the exterior of the Hippies & Cowboys cottage make them stand out from other pet-friendly lodging options.
When you're not spending your time exploring all that's offered at the INN Between, hike Garner State Park and grab some Southern comfort food at Neal's while gazing out at the Frio River from their balcony. When you get back from your day of adventures, grab a mangonada from the bus on property and relax in a hammock.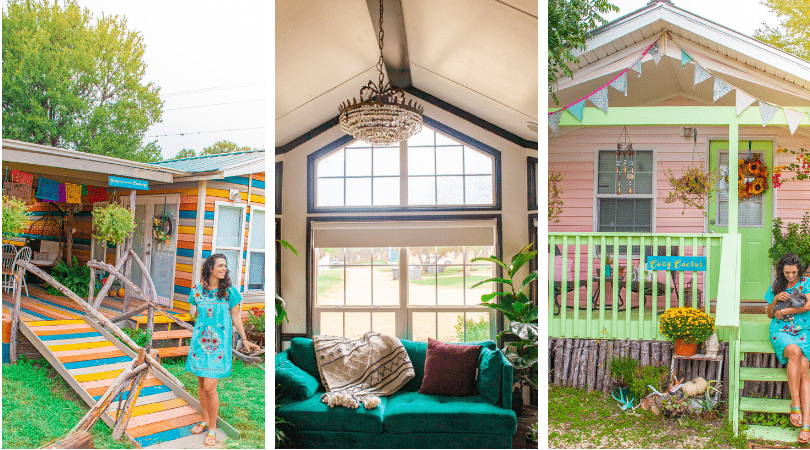 Note: Protect pets and wildlife by keeping pets on leashes, no longer than 6 feet, at all times. Pets are not permitted in any buildings at Texas State Parks. Pets are not allowed in the water or on the land around a designated swim area. Your pet must have a current rabies vaccination, and you must have proof with you. Visit https://tpwd.texas.gov/ for more information.