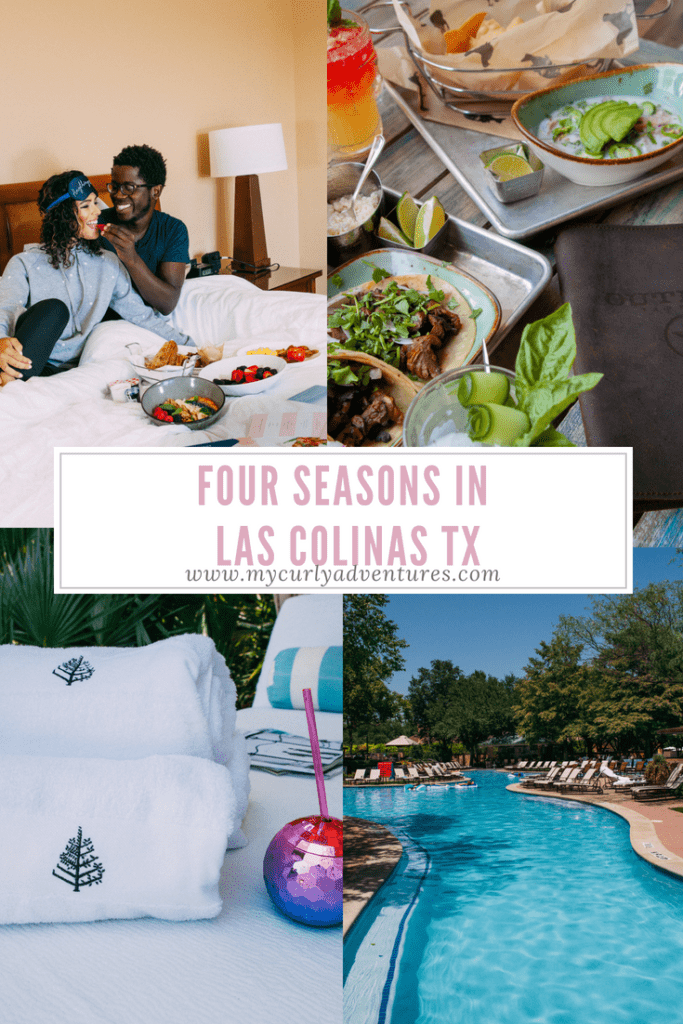 On a recent trip to Irving Texas my husband and I had the opportunity to stay at the Four Seasons Resort and Club Las Colinas where we enjoyed a relaxing couple's getaway close to home. During our stay at the Four Seasons, we enjoyed views over the city, a premier fitness center, relaxing by the pool, restorative massages, and amazing food. Read all about our stay and my Four Seasons Resort Las Colinas Review below.
Four Seasons Resort Las Colinas Review – The Hotel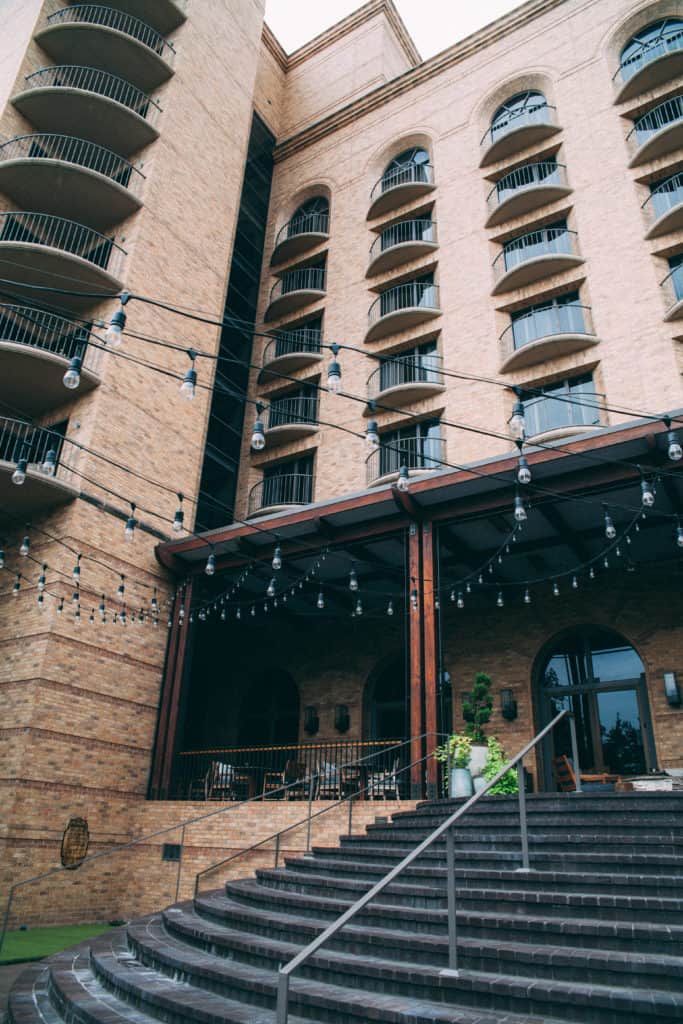 From the staff who greet you when you first enter to the gorgeous lobby, as soon as we walked into the Four Seasons we knew we were in for a good time.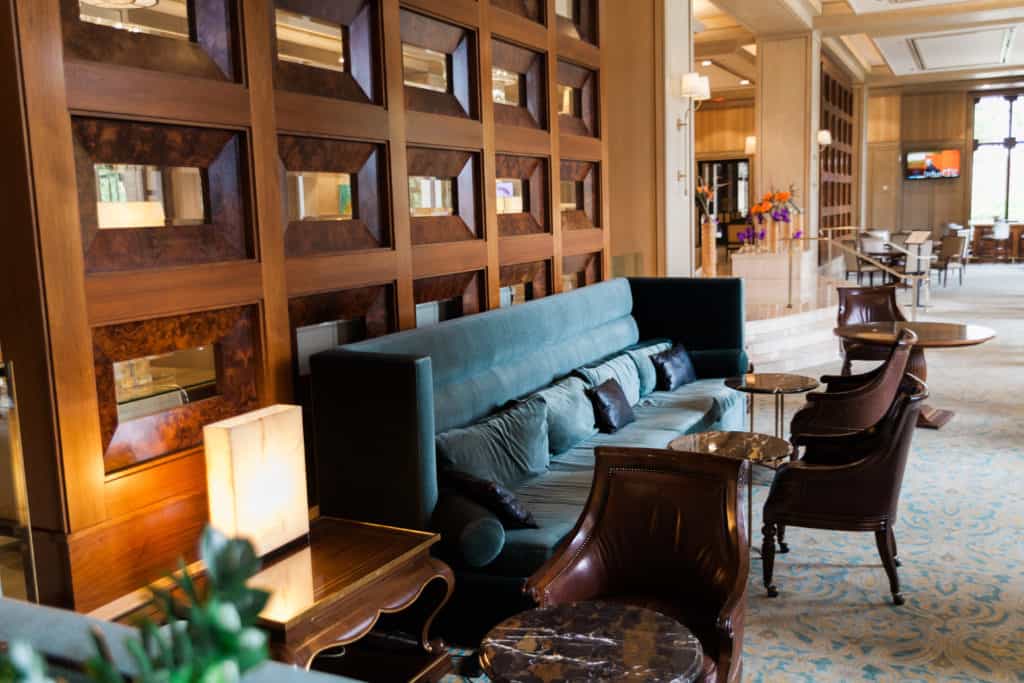 Four Seasons Resort Las Colinas Review – The Gym
Each Four Seasons offers something unique and one of the things we enjoyed about the Four Seasons Las Colinas was their elite fitness facility. People can sign up to be yearly members of the facility, or if you are visitors like us you have access to the gym, indoor track, tennis court, squash court, indoor swimming pool, and classes. Guests can even book a session with a trainer to help create a workout plan to target their weight loss goals.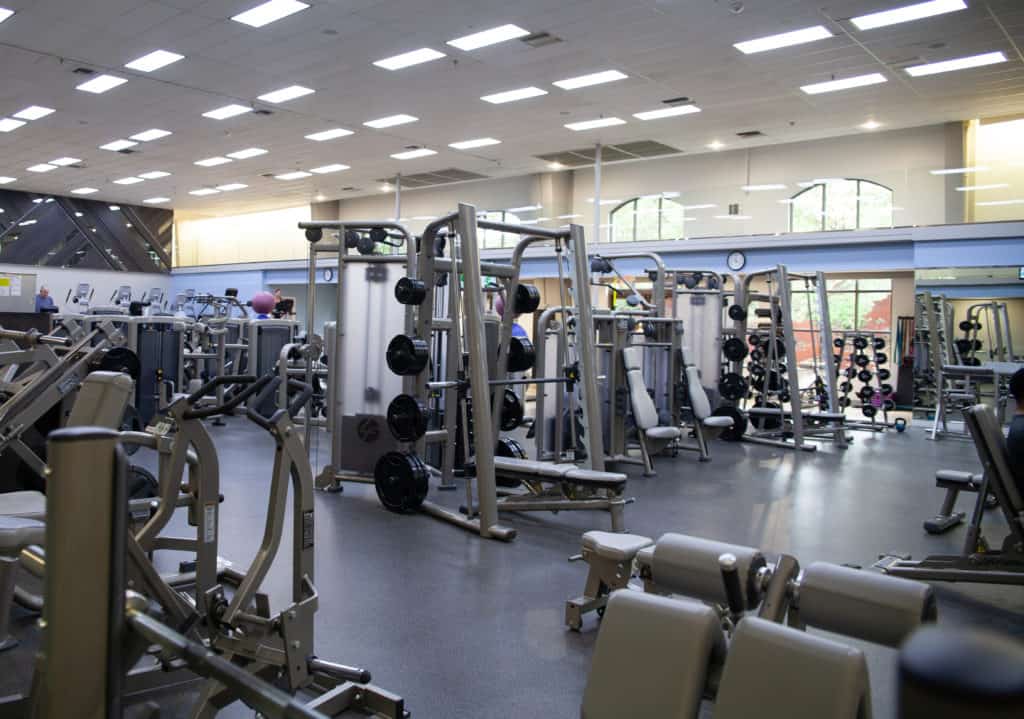 My favorite part was the amount of classes they offered. I'm a huge advocate that fitness should be fun and there's nothing like burning off calories to a fun dance class like the Center Stage class I took or the MMA class my husband took. They also have other fun classes including aerial yoga and a surfboard based class!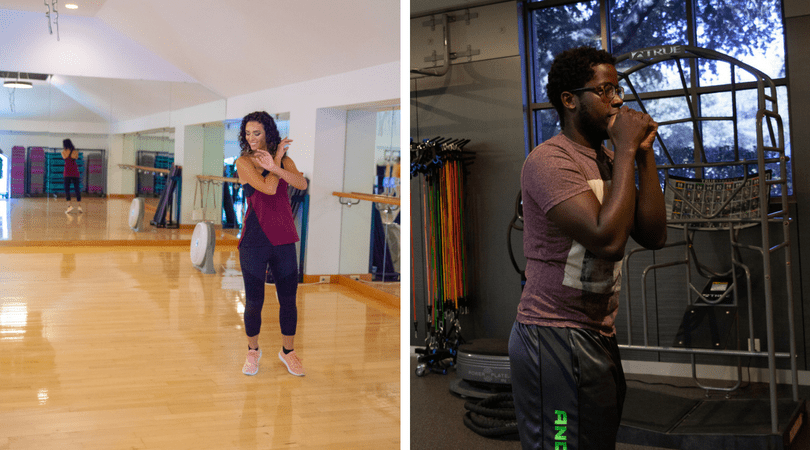 Four Seasons Resort Las Colinas Review – The Spa
The best way to start your trip is a trip to the Four Seasons Spa. After so much work, being able to relax for an hour Alpine Arnica Deep Tissue Massage helped to alleviate my tight muscles and knots as well as get into a relaxing mindset to ensure a stress-free stay. I had a quite a few knots and they slowly melted away under the expert hands of my therapist. A picture won't do it enough justice so you have to check out the video I shared below.
After the massage it was nice to relax in the tech free spa with two hot tubs and chairs for lounging and reading a good book. The Four Seasons works to create a serene environment and are there to help with whatever you may need to relax. The robes were one of the softest I experienced and I would have worn that around the entire hotel if I could!
After relaxing one of my favorite parts was the shower. There were three different faucets: a rain shower option, a regular shower head, and a horizontal shower for just your body. I enjoyed a long shower using the horizontal spray so I didn't mess up my hair. The shower also comes with a Eucalyptus spray that you spray at the bottom of the shower that rises with the steam for extra relaxation. I left the spa feeling pampered and ready for the rest of our wonderful stay at the hotel!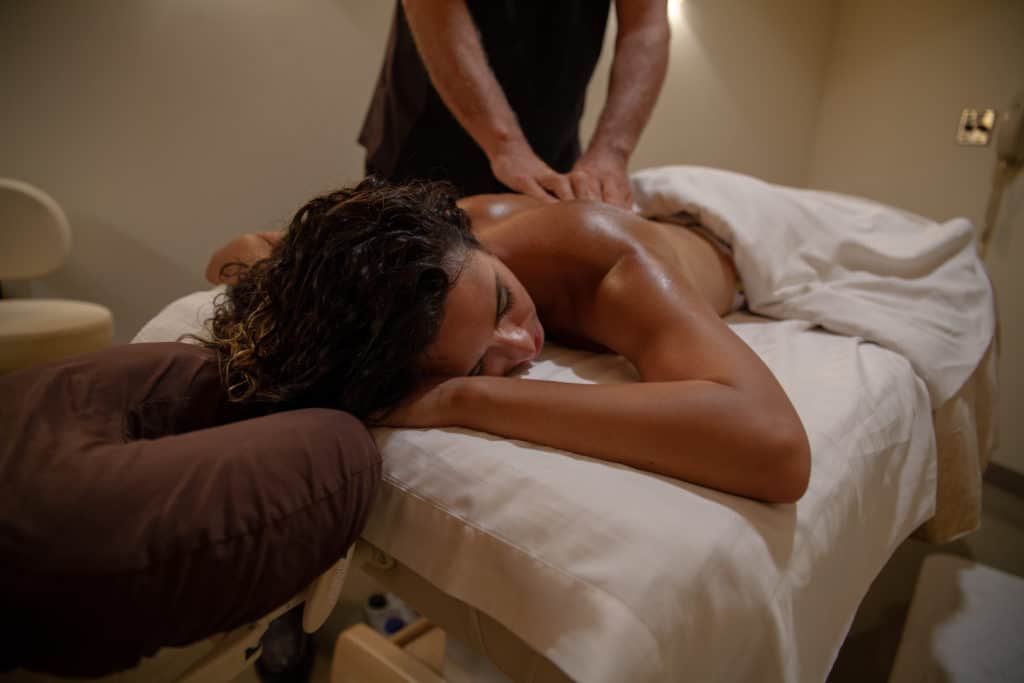 Four Seasons Resort Las Colinas Review – The Pool
The Four Seasons in Las Colinas actually has two pools. There is one by the gym which has a beach, a volleyball net, and other activities for kids.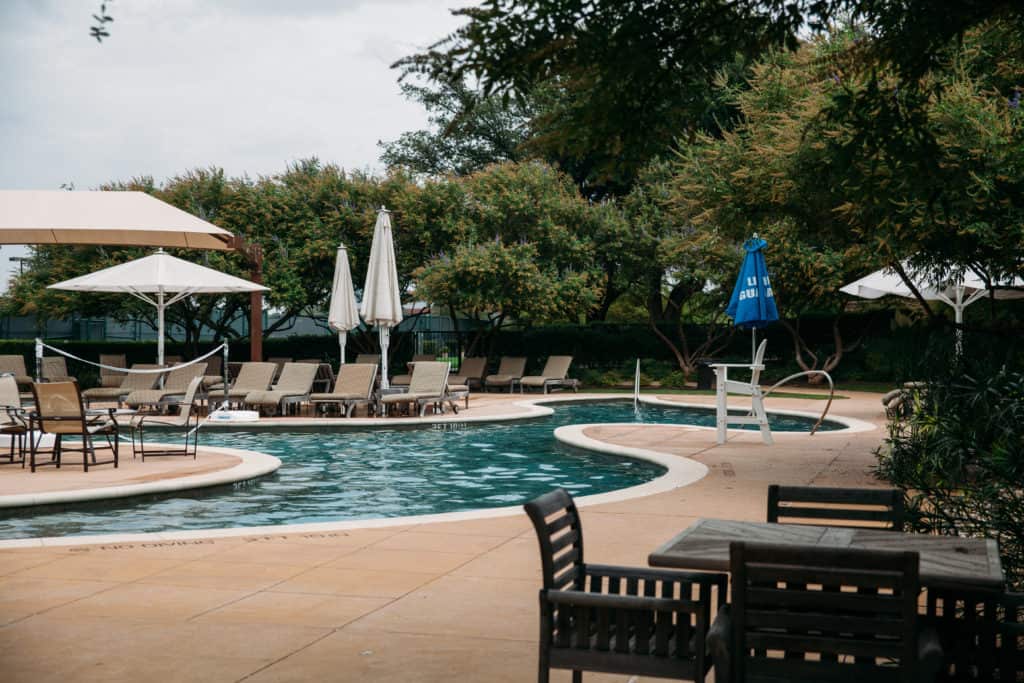 Since my husband I wanted to relax and enjoy quality time with each other we enjoyed the main pool. I loved the size of the pool which meant even though there were people there, we still got to enjoy some privacy. It circles around part of the resort and goes under a bridge. Beyond that is a hot tub for the cooler days. We enjoyed lunch poolside with fun drinks!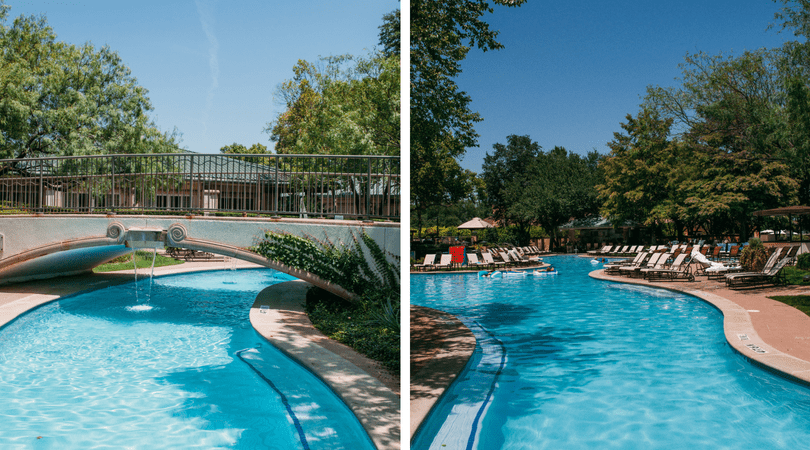 Four Seasons Resort Las Colinas Review – The Room
We had a gorgeous corner room over looking the greenery of the golf course and some city skyline in the distance. The bed was by far my favorite with the plush pillow top mattress that had me asleep within minutes of my head touching the pillow. The night before we used the tablet to order breakfast and had it delivered fresh to our door for a couples breakfast in bed.
In addition to the bed we enjoyed the couch for lounging, a desk to get some work done, and a Nespresso coffee machine for quality coffee every morning. There was also an extensive bar and snack section. If you are really looking to relax, I loved that they had the option of a bath tub or shower and the amenities included Lancome bath products. The Four Seasons really created a room for the perfect couple's retreat!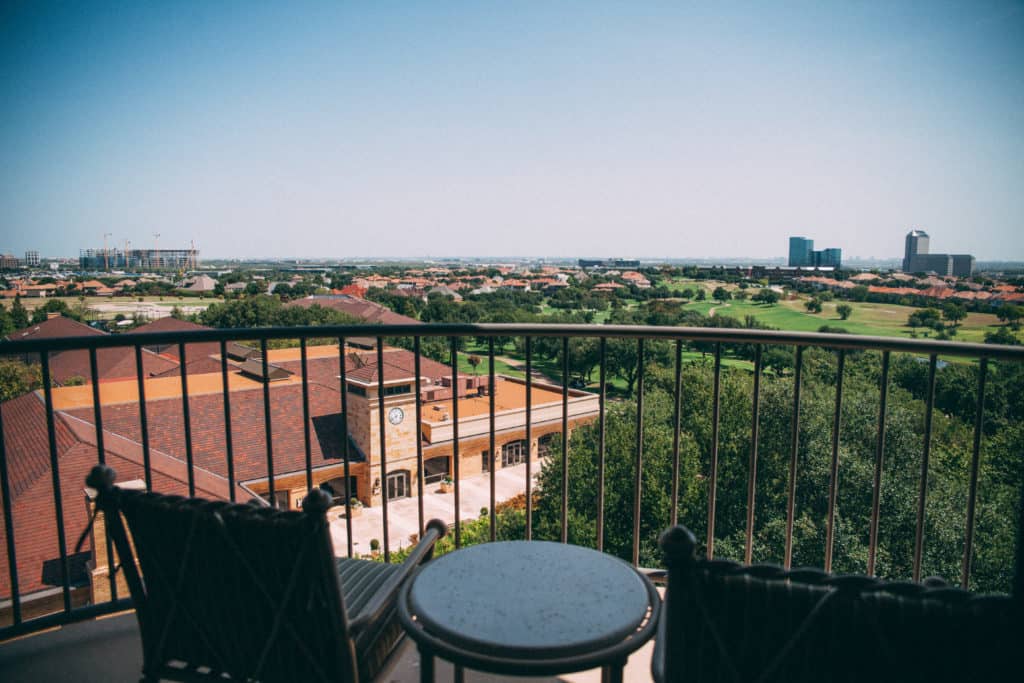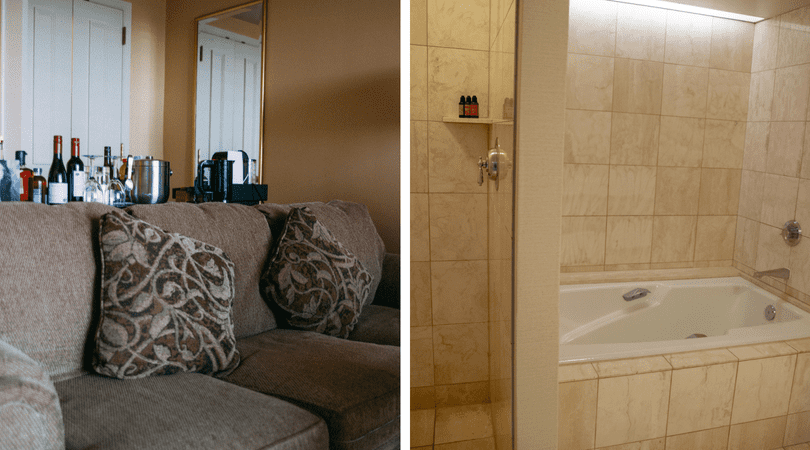 Eating at the Four Seasons Las Colinas – The LAW
Between the pool, spa, fitness center, and all of the restaurants, there is almost no need to leave the resort! On our first night we enjoyed a romantic dinner at the LAW which stands for Land, Air, and Water. We snacked on a tender pork belly and gourmet charcuterie board with house made coppa, artichoke pesto and buratta. Afterwards we enjoyed fresh crispy red fish and a 48 day dry-aged rib-eye. Everything was filled with flavor and it was nice to sit in their lovely dining room and reflect on our fun day together.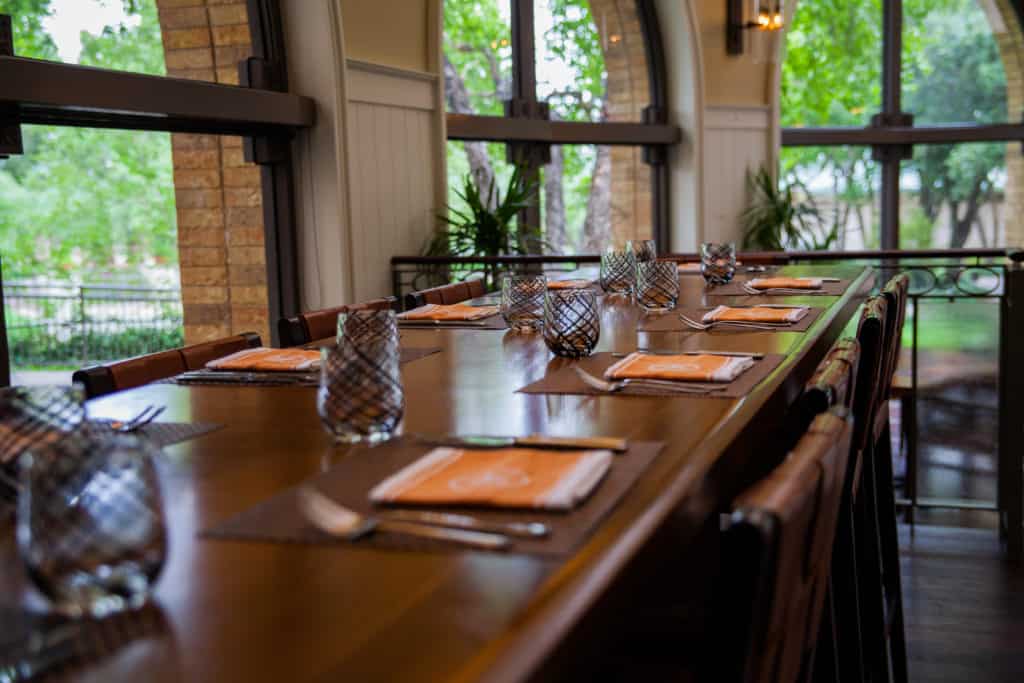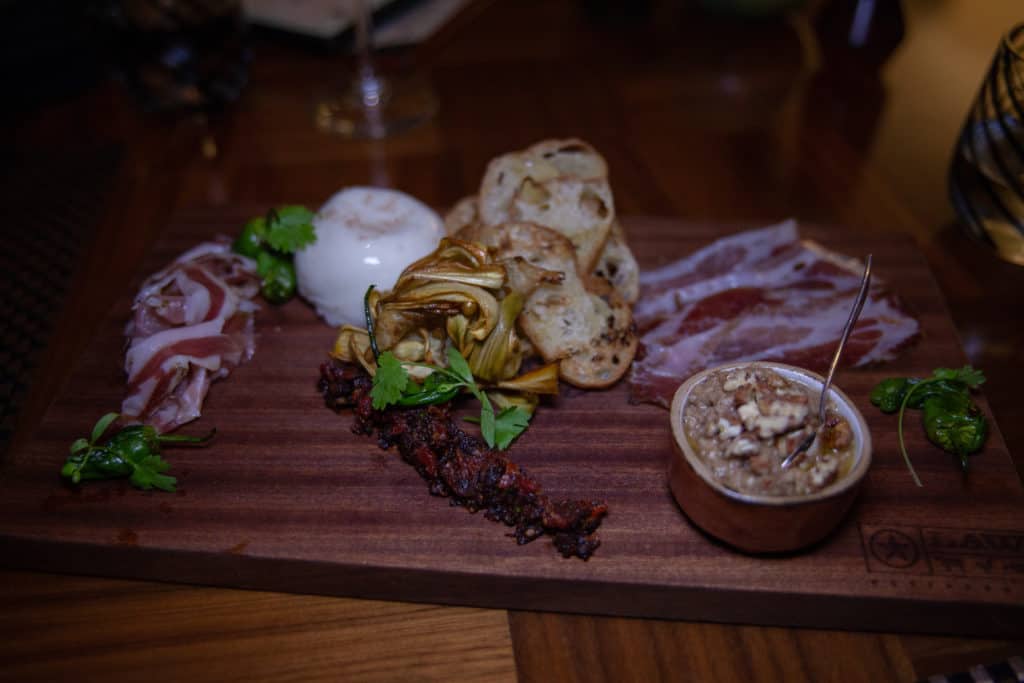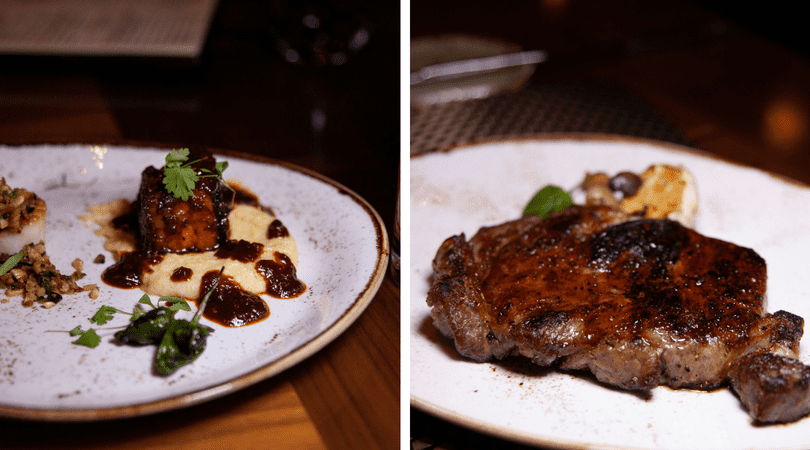 Eating at the Four Seasons Las Colinas – The Outlaw
The Outlaw is the bar on site. The inside looks very rocker with the band portraits around and guitars hanging from the bar. We enjoyed relaxing on patio overlooking the pool with fresh drinks. The bartender at Outlaw is actually a certified tequila expert (how do I become that) and so he can give you the best recommendations. I will probably just go back to learn from him!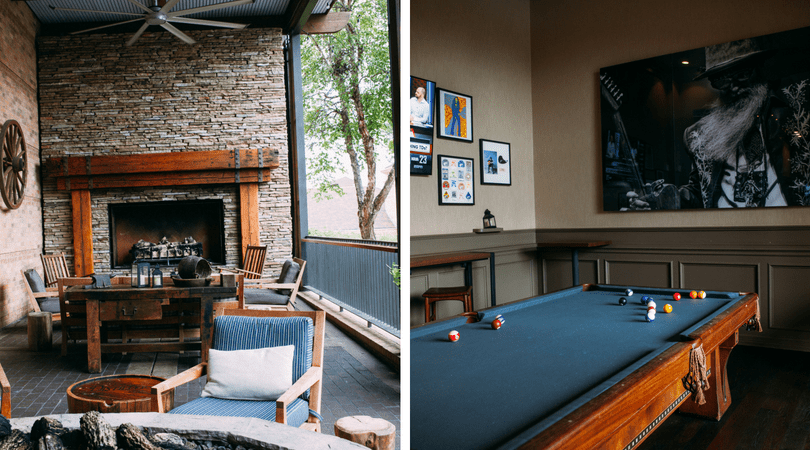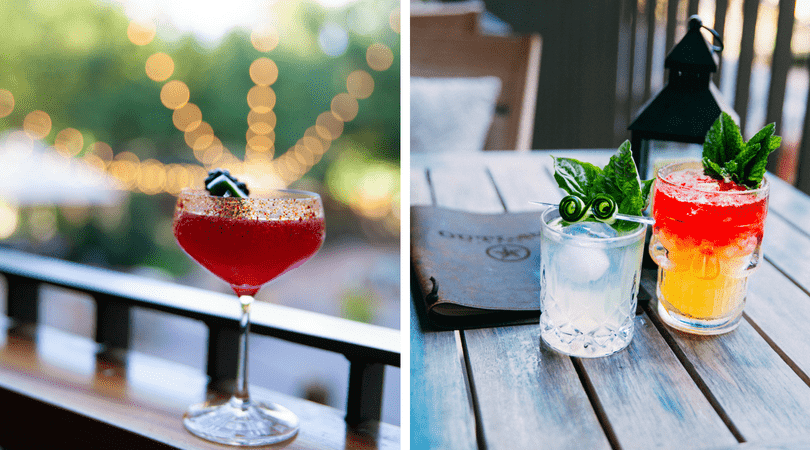 For a taproom and bar their food is phenomenal! I already miss that fresh ceviche, creamy and packed with fresh jalapenos and zesty lime flavor. I'm always a huge fan of Al Pastor tacos, but these vegetarian version did not contain meat and I couldn't even tell! Share this with your vegetarian and vegan friends because I cannot get over how amazing these were.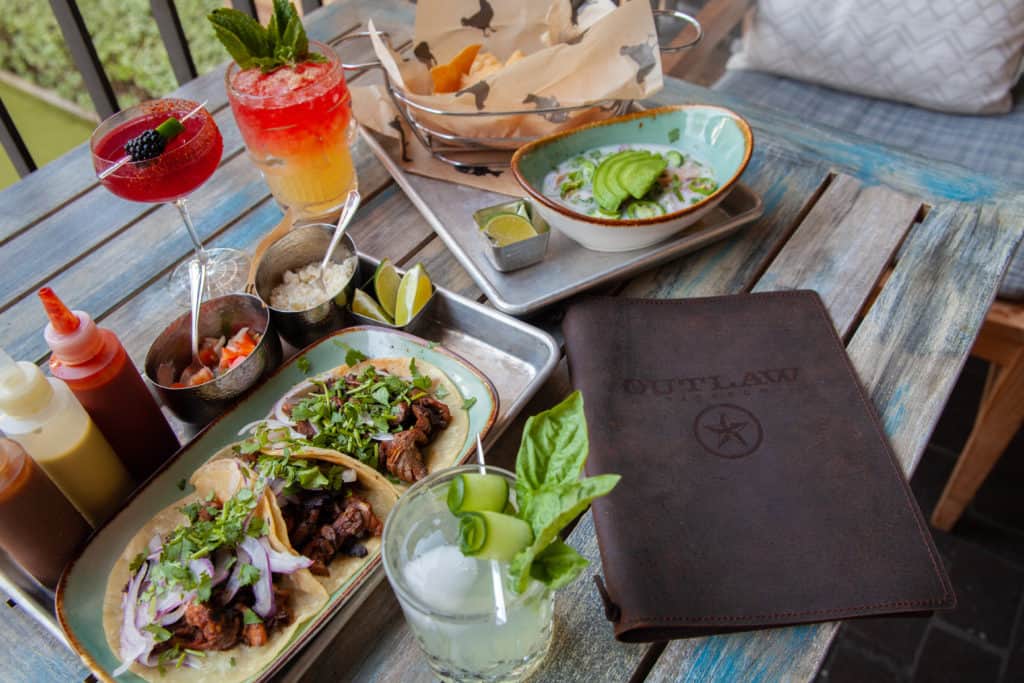 Four Seasons Resort Las Colinas Review – Final Thoughts
To say that my husband and I had a great stay at the Four Seasons would be an understatement. Gourmet meals, a luxury spa, an elite fitness center, and the wonderful staff all helped set the tone for a relaxing and romantic couples weekend getaway which is exactly what we needed as a way to continue to cultivate our relationship. Whether you are looking for a couple's, ladies, or men's getaway, the Four Seasons in Las Colinas has something for everyone! You can book your stay here.
If you enjoyed this review, please consider following the rest of our travels on Instagram!
This is our first video documenting our travels. We hope you enjoy!