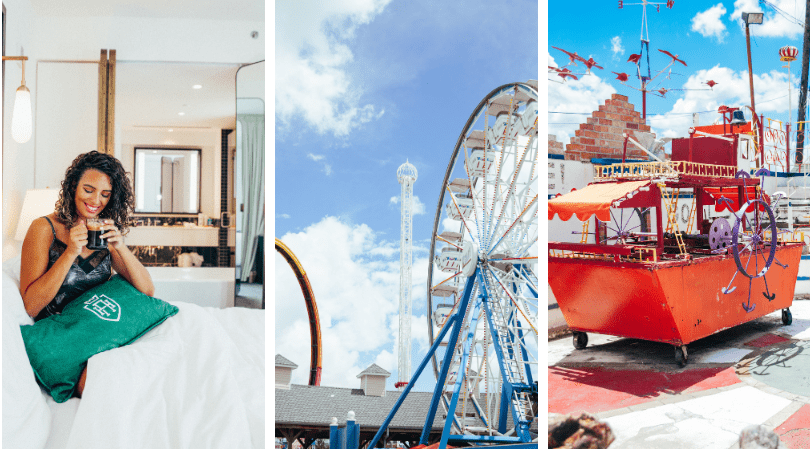 Trying to come up with a good Houston date night idea, but not quite sure what to do? There are so many fun and incredible things to do for couples in Houston, and you'll soon realize that there are so many great date night ideas in Houston. Save this for the next time you need a Houston date idea whether you're looking for a romantic, budget friendly, quirky, fitness-related, or foodie date. And even though this says date night ideas in Houston for couples, these ideas are great for people just looking for fun things to do in Houston!
Romantic Houston Date Night Ideas
1. Dine in an Aquarium – For a uniquely romantic Houston date night idea, visit the Aquarium Restaurant where you get to enjoy a nice meal while the fish swim around you!
2. Visit a Winery – There's something romantic about visiting vineyards and enjoying a nice glass of wine. Luckily, Houston has some great wineries. There's even a Texas Bluebonnet Wine Trail you can take. Some wineries include Bernhardt Winery, Solaro Winery, Nice Winery, Haak Vineyards, and Sable Gate Winery.
3. See the Gardens – Go for a romantic stroll through Bayou Bend Collection Gardens to see all the flowers, butterflies, and intricate landscapes.
4. Catch a Show – Houston has a lot of talent and different companies! At the theatre district couples can check out a show from Alley Theater, Da Camera, Society for the Performing Arts, and more.
5. Listen to Jazz – Romance is in the air with some smooth jazz at Cezanne with performances throughout the week.
6. Experience a Hammam Spa – The hammam spa is such a great experience if you've ever been to Morocco, and now you can experience it right in Houston at Moroccan Hammam Spa.
7. See a Broadway Show– You don't have to go to New York to catch a Broadway show! A lot of popular Broadway shows travel to Houston at the Hobby Center so you can have a New York date in Houston!
8. See an Opera – An elegant date awaits at the 125-year-old Grand 1984 Opera House where couples can catch a show.
9. See Butterflies – Couples can watch butterflies of all types fly right by them at the Cockrell Butterfly Garden and see the rainforest conservatory.
10. Go Sailing – Couples looking to splurge on a romantic day trip can book 1/2 and full day sailing charters that will take you on the gulf.
11. Watch a Movie – Dinner and a movie date might be cliché, but with Ipic Theaters, you get to take it up a notch in a romantic way with some of the best reclining seats made for two, and a great bar and menu selection!
12. See the Symphony – Get dressed up for a classy evening at the Houston Symphony. From the classics like Beethoven, to even some more modern options, you might be surprised at what the symphony has to offer.
13. Ride in a Helicopter – See Houston from the sky with Houston helicopter tours! Book for sunset for extra romance.
14. Go Boating – Hermann Park has a beautiful pond, and couples can rent out paddleboats for time on the water. It almost reminds me of something from an old book where you would bring poetry and read along the water.
15. Catch a Movie Under the Stars – Sit out on the deck and enjoy a movie as the sunsets and the stars light up at the Rooftop Cinema Club.
16. Enjoy a Romantic Dinner Cruise – Set sail on a yacht with a couple's dinner with views of Kemah, Clear Lake and Galveston Bay. They have different themes to match your mood.
17. Or Have a More Private Cruise – If looking for a more private experience, you can book a private catamaran adventure for a few hours for a romantic dinner or even multiple nights for a full-on couple's adventure.
18. Enjoy Caribbean Blue Water – Lago Mar is close to Houston and can be a couple's Caribbean-like getaway with beautiful blue waters, sandy beaches, and time in the sun.
19. Ride Horses on the Beach – Galveston Island Horse and Pony Rides is just outside of Houston where couples can take a romantic horse ride on the beach, perfect for sunsets.
20. Spend a Day at the Spa – Some time to relax and unwind together is just what a couple needs. There are so many incredible spas to make a full getaway out of it including the Fiori Spa, Trellis Spa, Hotel Zaza, and Post Oak.
21. Have a Romantic Dinner – A couple's dinner is never a bad idea especially if you have the right spot! Brenner's on the Bayou is a picturesque spot and Potente serves up fine steaks and dining just to name a few.
22. Grab Drinks on Scenic Rooftop – Z on 23 Rooftop Bar is a great place for drinks and great conversations with one of the best views of Houston.
23. Take a Staycation – Houston is filled with beautiful hotels for memorable stay. Feel like you've gotten far away with the convenience of being close to home at a beautiful hotel like the Hotel Alessandra or Hotel Icon.
24. Take a Romantic Trip – Turn a date night into a weekend with a full trip. Galveston is always a romantic place to visit and there are so many romantic spots in East Texas.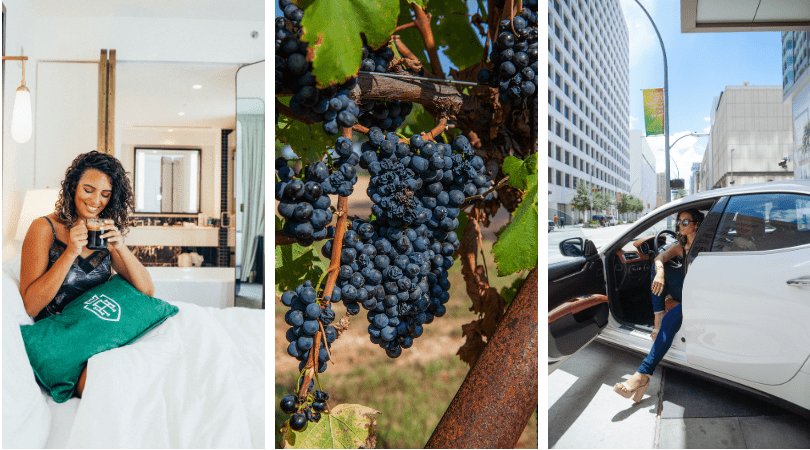 Free Houston Date Ideas for Couples
Having a romantic couples date in Houston does not mean you have to spend a lot of money! There are so many great free Houston date ideas. In fact, so there are so many great free Houston date ideas for couples, we had to write an entire post about it. Besides, it's not about the activity as much as it is about couples spending quality time together.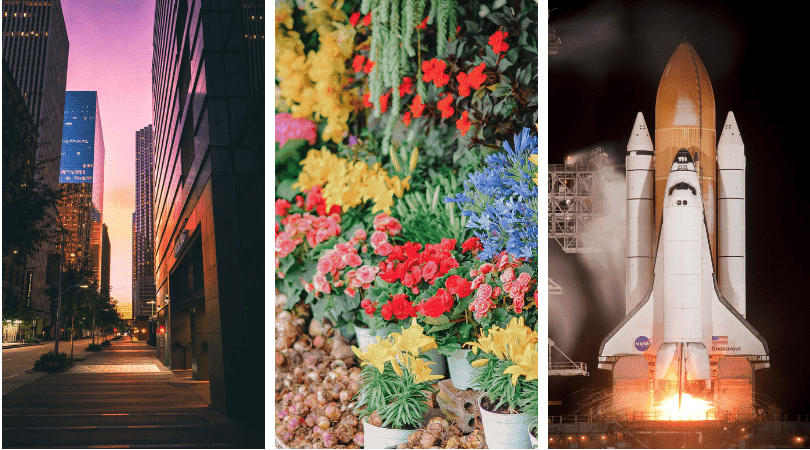 Fun Houston Date Night Ideas
Date nights are meant to be fun! Whether you're looking for a little adventure, something more relaxing, or even something out of the box, at least one of these Houston date ideas has to have something for you.
25. Visit the Houston Space Center – Houston is known for NASA and the Space Center and even if couple's have lived in Houston their whole lives, there's always something new and unique to find it. In addition to visiting all of the exciting exhibits, they have extra experiences to make a date even different including a behind the scenes tours and an astronaut experience.
26. Bring Astronauts Back to Earth – In true Houston NASA excitement, couples can experience an escape room like no other at Escape Hunt Houston in a space mission.
27. Learn About Czech Culture – Wander through the exhibits of Czech culture, history, and art at the Czech Center. Plus stay up to date with special events for something unique.
28. Meet Some Animals – With sloths, servals, kangaroos, porcupines, and other animals, this Houston date is sure to be a joy! TGR Exotic Wildlife Park lets people go on tours to see the animals and how they care for them. You can even book encounters such as meeting a sloth or spider monkey.
29. Go for a Swim – El Segundo is the spot for chilling by the water. For those looking for a 21+ atmosphere and a day of fun, this swim club is a great spot.
30. Watch a Race – Get up close at the Houston Motorsports Park as you watch all sorts of cars racing and be part of the experience by being so nearby the cars.
31. Get Spooked – If ghost tours and the paranormal are your thing, Houston Ghost Tours has tours of old towns, haunted parks, and more. Or take a ghostly pub tour with Nightly Spirits.
32. Take Some Cool Pictures – Art museums have gotten a lot more colorful and interactive Color Factory & Fomo Factory are both places with fun and exciting exhibits that make for great couple's photos and a playful experience.
33. Make a Splash – Race down the waterslides, relax in the lazy river, and soak in the summer sun at Typhoon Texas.
34. Take a Boat Tour – Buffalo Bayou Boat Tours will take couples and groups through the bayou for a scenic ride and some wildlife viewing.
35. Catch A Game – Houston has some of the best sports teams from the Texans, Rockets, Astros, Dynamos, and more. Even if you're not into a sports team, try something new, and you might find catching the game a new couple's tradition.
36. Give an Elephant a Bath – The Houston Zoo is an iconic date idea. Enjoy seeing the sea lions swim by, learn about endangered species, and watch as the otters play. On top of that, the zoo has some great experiences like training or painting with a sea lion, meeting a Galapagos turtle, giving an elephant a bath, and more.
37. Go Behind the Scenes of a Rockets Game – Go on a Houston Toyota Center tour and see where the Rockets play and where some major concerts happen.
38. Visit an Amusement Park – Kemah Boardwalk has all the makings of a fun date: Rides to get your thrills in, games to win a prize for your significant other, and that amusement park food!
39. Pick Berries – Blessington Farms offers all sorts of pick-your-owns including blueberries, strawberries, blackberries, and pumpkins. Plan a date night of berry picking, and then go home and create something with your findings.
40. Experience Texas History – George Ranch Historical Park is divided into four periods and has tours, people in costume acting out the tours, and blacksmith demonstrations.
41. Go on a Safari – Bayou Wildlife Zoo is an open range zoo where you get to drive through to see the animals. Get up close to camels, deer, ostriches, and other animals.
42. Play Some Games – A little friendly competition is always a good idea. Challenge each other at Main Event and winner buys drinks or some other dare.
43. Watch Indie Films – Support small creators all while getting a good date in with the Aurora Picture Show that has film screenings, festivals, and special film events.
44. See a Comedy Show – Get ready to laugh as artists from all over bring their best acts to Houston at Comedy Hub HTX.
45. Catch an Improv Show – A little bit different then comedy, but still filled with laughs, the actors provide skits, often with the interaction of guests for a fun filled night.
46. Discover Russian Culture – The Russian Cultural Center – Our Texas has exhibits, holiday bazaars, performances, Russian language courses, and tours of Houston with a Russian guide.
47. Play a Game – Go back in time with old school games and pinball machines at Mr. Pixel's Classic Arcade.
48. Sing Loudly – Whether you sing well and plan to dazzle the crowd or still have fun singing off key, karaoke can be a great bonding experience, and Houston has some great karaoke bars. Spotlight Karaoke is a popular spot in Houston, and if you're looking for something more upscale, head to Glitter Karaoke. Check out some other multicultural options including Yes KTV in Chinatown and Latino nights at Guava Lamp.
49. See the Sunflowers – See as the sunflowers bloom and enjoy cute pictures at Froberg Farms or P-6 Farms.
50. See Some Dueling Pianos – If you've never been, dueling piano bars are such a fun and unique idea where two pianos duel it out and the crowd gets into it, as well as singing along at Pete's Dueling Pianos.
51. Meet a Sloth – Houston Animal Shows will bring special animal encounters, petting zoos, and more to your home.
52. Ride in Style – Don't want to splurge on a slingshot full time but want to try it out? Houston Slingshot Rentals will let you rent one out for a few hours or for a few days for a date in style.
53. Learn All About Horses – If you have a passion for horses and the bond you can create, TC Ranch Horsemanship offers classes and even horsemanship vacations.
54. Experience Asian Heritage – The Chinese Community Center puts on all kinds of great tours and classes including dumpling making classes, Asia town food tours, and cultural showcases.
55. Play Some Board Games – Tea + Victory is a cafe where you can enjoy food & drinks as well as have access to different board games for a couples evening of challenge.
56. See a Light Show – Seismique is an art gallery in Houston where couples can wander through the different interactive exhibits filled with lights displays of all kinds.
57. Visit an Asian Inspired Theme Park – Lucky Land is filled with replicas of Chinese villages, Kung Fu statues, a panda village, a terra cotta army, other items for a unique couple's date that can only be found in Houston.
58. Go on a Vintage Hunt – Set a budget and maybe a theme and see who can come up with the most unique, most fashionable, or most outrageous ensemble. There are so many thrift stores all around Houston for you to find something.
59. Visit the Spa – GangNam spa is your one stop spot for multiple sauna rooms, pools, and other spa experiences for a full day of relaxation.
60. Attend an Event – There is always something going on in Houston from festivals to special events, and more. Visit the Houston website or browse through Facebook events to find your next date night.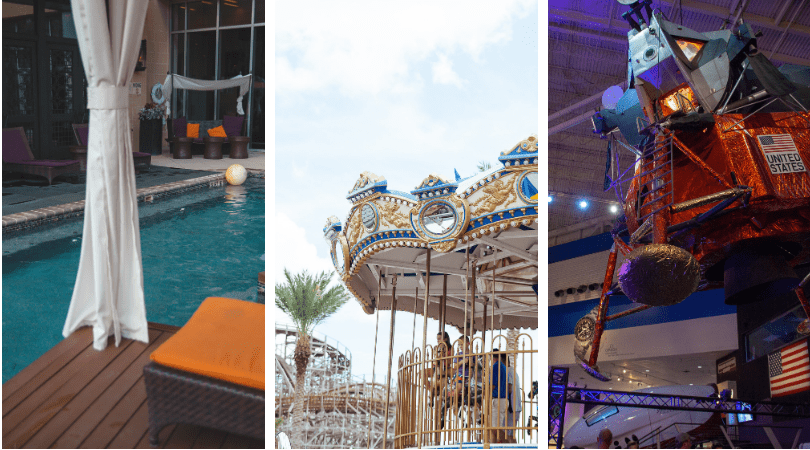 Houston Museum Dates
Houston has a lot of museums! If you're a couple that is into learning something new, you can make multiple dates out of checking out the museums!
61. 1940 Air Terminal Museum – This fun museum is instantly interesting for the fun art deco style building, and once you get inside, you get to see artifacts from the first flight in Texas and learn about aviation history.
62. Buffalo Soldier Museum – Learn all about the brave African American men who joined the military and were known as the Buffalo Soldiers.
63. Houston Maritime Museum – See over 150 ship models, art, and different maritime artifacts.
64. Health Museum – Learn all about the body, measure your heart rate, and test your lungs while screaming, plus so much more at the Health Museum.
65. Lonestar Flight Museum – See an array of vintage planes and warbirds, practice flying with a flight simulation, or maybe even fly in the sky with one of their warbirds.
66. Houston Museum of Natural Science – For all things science, couples can see dinosaurs, learn about energy, see gems and minerals, and take in the wonder of the natural world.
67. Museum of Fine Arts – You might be surprised to learn that this is one of the largest museums in the United States, but with several different sections, you could spend all day exploring art and architecture from around the world.
68. George Observatory – See the stars, milky way, the rings of Saturn and more through the telescopes.
69. Printing Museum – Learn about how print has evolved from the ancient Mesopotamian clay tablets to Johann Gutenberg's printing press. Or take one of their printing workshops!
70. Houston Heritage Society – Go on historical tours through the buildings and learn about Texas history here.
71. American Cowboy Museum – Learn about the multinational cowboys that lived in Texas and beyond as well as their contribution to society.
Quirky Houston Date Ideas
Houston has some quirky and fun things to explore. If you're a couple who looks for things out of the ordinary, then this list of date ideas is perfect!
72. Visit the Beer House – Couples can discover an entire house covered in beers cans and bottles at the Beer Can House. It's quite the site to see!
73. See Some Funky Cars – The Art Car Museum is such a cool place where you'll see cars like you've never imagined! Take in all the cool items and ways people have made cars into a work of art.
74. Visit an Interesting Display – There's no way to fully explain the Orange Show, except that it's fascinating and a little strange. Built after a man's favorite fruit, you'll find quotes all around and a part that looks like a circus!
75. Watch Turtles Race – They really do find the most interesting things to do in Houston! Come out to Little Woodrow's for a date night of entertainment to see if you can decide which turtle will win!
76. Make a Boot – For a date that's truly Texan, learn all about the history of boots, and then go on to make your own with a Boot History & Making Class at Republic Boot Co.
77. Go on a Segway Tour – See the city through a tourist's eye and figure out how to ride these interesting devices with Segway Tours of Houston.
78. Take a Nap – While not so much a date, the Nap Bar might be a great option for people looking for a long day of couple's adventures to get a little rest in between to have all of the energy to keep that date day going.
79. Have Coffee with Kittens – El Gato Cat Cafe helps cats find a home by giving people the chance to interact with them over snacks and drinks! Even couples who aren't immediately looking for a cat can enjoy helping the cats with socialization.
Houston Foodie Date Ideas
Houston is huge and so is the food scene! There are so many great Houston foodie dates that include trying new dishes, learning to make the food yourself, and more.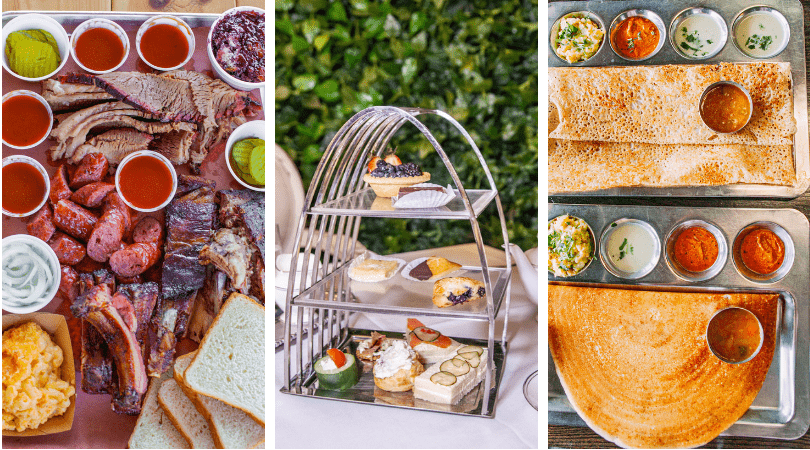 Active Houston Date Night Ideas
80. Go Line Dancing – Get out those boots and prepare to dance the night away. You'll probably break a little sweat and not even notice. Don't worry if you don't know how to dance. Neon Boots has free lessons as well!
81. Take a Canoe Tour – Find over 220 species of birds and beautiful trails that you kayak or canoe through All Points of Sail Kayak and Canoe Rental. For couple's looking for an even more unique experience, book a trip through Artist Boat who will teach you about the beauty of the ecosystems in the area and then help you to create a beautiful watercolor painting to remember the experience.
82. Ride a Horse – Cypress Trails Equestrian Center has a wide variety of different trails to match your needs whether it's a brief 1-hour ride, a picnic ride, or a night ride. You can even do a photoshoot here.
83. Go Bowling – Bowling has changed quite a bit in the past few years. On top of enjoying a little friendly competition, Bowlmor and Bowl & Barrel offer cocktails and upscale food for an elevated bowling experience.
84. Go for a Bike Ride – With Bayou City Bike Tours, you can see more of the city at once, learn about the history, and get a little workout in.
85. Go Indoor Skydiving – iFly Houston is a fun way for couples to get the thrill of skydiving without all the fear!
86. Become Ninjas – It hardly feels like work when you're playing, but Iron Sports Houston sure is a challenge with all the different obstacles they have just like the show!
87. Be a Race Car Driver – Go Karts are nothing compared to what they have at K1 Speed that can go 45 miles an hour. Couples will definitely get a thrill out of this Houston date!
88. Join the Circus – Learn acrobatics, trapeze, and aerial work at Cirque La Vie.
89. Climb Some Rock – Challenge each other to see who can make it to the top first at Texas Rocks Gym.
90. Learn to Wakeboard – Wake Station Cable Park is a way to learn how to wake surf without the boat. For newbies they have lessons as well.
91. Enjoy Golf & Drinks – Top Golf is a great option for when you want to stay active but also get a good meal in with drinks and food.
92. Play Golf in the Dark – For a little lighthearted competition, play mini golf with black lights at Shanks Black Light Miniature Golf. There are also many other great mini golf spots in Houston!
93. Rent Jet Skis – Have a date out on the water with Jet Ski Rental Houston.
94. Do Some Racing – If driving fast is your thing, both MSR Houston and Racing Adventures offer experiences on the racetrack with luxury vehicles, karts, and race cars.
95. Throw Some Axes – Learn a new skill and impress the other with a little axe throwing at Houston Axe Throwing.
96. Skate on Ice – Ice skating is always a fun date idea because at least one person is usually bad at skating which means opportunities to laugh together. Plus, the cold is more reason to hold hands! Do a little shopping at the Galleria and then enjoy some ice skating.
97. Or regular skating – Bring it back to the funky music, roller rink food, and the fun of rolling around in a circle time and time again.
98. Learn to Surf – Just a little outside of Houston, couples can go for an adventure and catch some waves at Eternal Waves Surf Shop. They have lessons for newbies as well as rentals available.
99. Go Swing Dancing – Dancing is always great for a date night! At Houston Swing Society you can learn all the skills you need, and they hold socials so you can get to dancing as well.
100. Go Salsa Dancing – Why stop at salsa dancing? Learn salsa and other Latin dance forms and then attend socials to show off your skills at Latin Dance Factory.
101. Be a Kid – Go back when it was cool to play and let that inner child out at Sky Sports Trampoline Park where couples can jump to their hearts desire, experience a batting cage, and take a go at the obstacle course.
102. Experience Virtual Reality – It's amazing how far virtual reality has come, and now couples can experience video games where you're a part of that experience. There are so many places where couples can go for a virtual reality experience including Zero Latency, Battleground Houston, and Exitusvr.
103. Go on a Scavenger Hunt– See a side of Houston you might not have ever known about with Let's Roam Tours. They even have different themes like date night.
104. Break Things – Let out any rage and smash everything from the comfort of Tantrums LLC.
105. Bike Through the Breweries – If you like beer and biking then put them together with Tour de Brewery Houston Bike Tours.
106. Go Through a Ropes Course – Test your balance, strength, and endurance up in the trees with a ropes course from Texas Treeventures.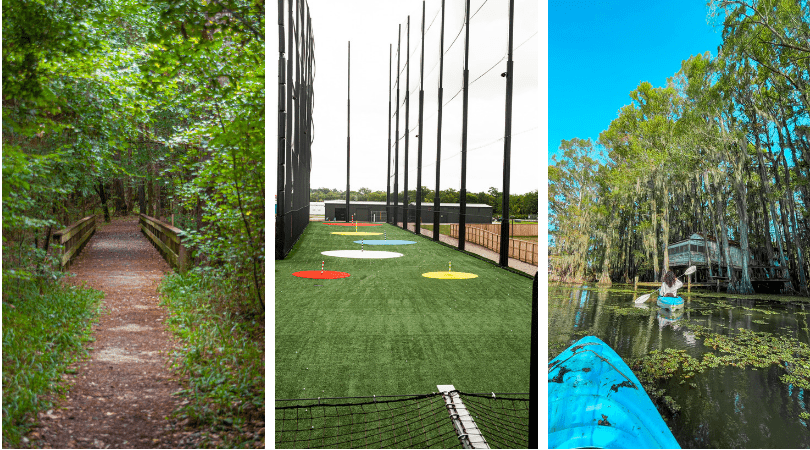 Crafty & DIY Date Ideas for Couples
Crafting dates are so fun because you get to learn a new skill and bring something to take home. There are quite a few DIY studios in Houston offering all sorts of courses. Check out our list of DIY Studios in Houston to plan your next crafty date.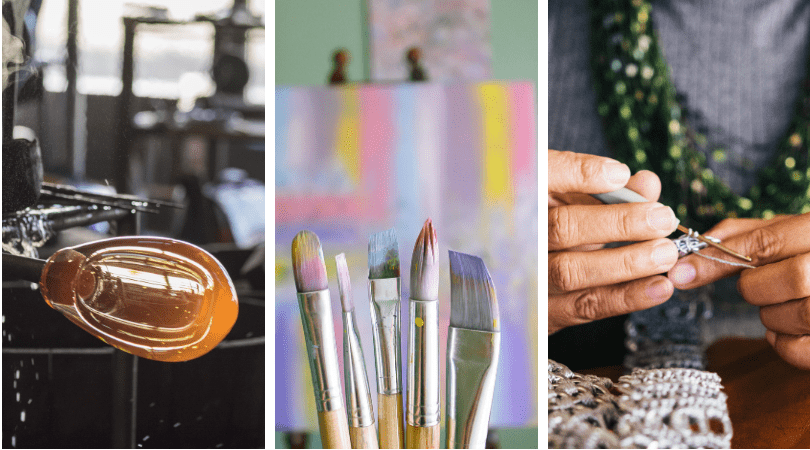 Houston Date Ideas for Couples
No more can you say I don't know what to do for a date. We have so many right here, and if that's not enough, we even have at-home date ideas.
If you're traveling to another town, check out our couple's guide to San Antonio, Austin, Dallas, and El Paso.