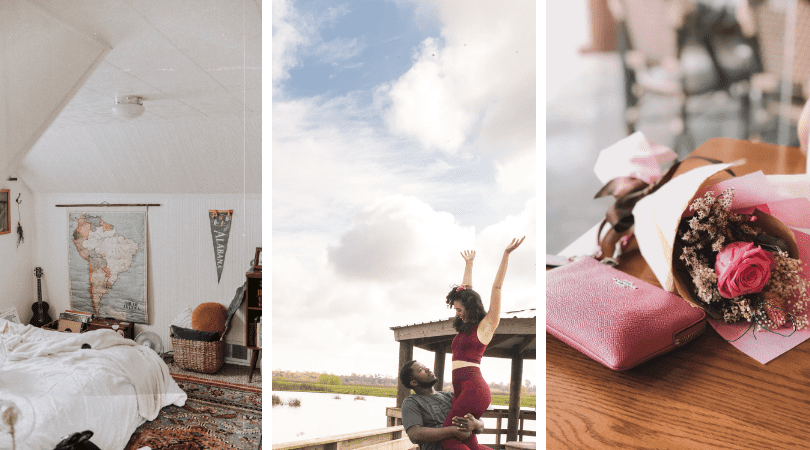 Being at home doesn't have to mean no fun dates! It's amazing how many fun things you can do without leaving the house for some fun stay at home date ideas. The things I've found about stay at home date ideas is that it really is all about the intention. You have to go all out on a theme, set aside the phone, and get creative. Get dressed up still to get in the mood, maybe take a stroll around the block first and then "arrive at your destination", add the right lighting, and do whatever you can to make it seem like you got out, even when you're still right at home.
1. Learn to make wine– Become a wine expert and enjoy making wine right from the comfort of your own home with this fun stay at home date idea! There are so many kits online and even beyond grapes, there are other really unique fruit wines you can learn to make as well!

2. Learn to make beer– Maybe you're not into wine! Well just the same, there are so many cool beer making options to make the craft beer of your dreams!

3. Play a couples card game – Get to know each other better with these fun card games that have fun questions, dares, and other couples bonding activities!

4. Ask 100 questions – Sit apart and come up with 50 questions each. You can use online resources that you can come up with in a quick google search or you can come up with yourself. Regroup after both of you have your 50 questions and start asking away!
5. Have your man do your makeup – Guys like a challenge and it's fun to see how much they often struggle learning to contour, apply eye shadow, and question the need for primer and other items. Let him do your makeup for your at home date night and either laugh or marvel at what he manages do. Youtube tutorial highly recommended!
6. Have a romantic bath – The key to this is go all out! I love roses so create a whole theme! Rose petals, rose epsom salts, rose bubble bath, rose candles, and a nice rose lotion afterwards! It doesn't have to be rose either, choose your favorite scent and go all out with it! Or if you have a favorite spa you like to go to, purchase some of their products to make it feel like you're there. Make some fruit infused water and chocolate covered strawberries just like the spas do. Lay out a robe to cuddle in after and use the nicest towels you have. Maybe even rearrange your bathroom and take out any clutter in there.

7. Do a Body Scrub – You can really keep the spa going for as long as you want! The things I love about this is most spa scrubs can be fairly expensive and this is a great way to save money. Once again, make sure to really set the mood. Lay out blankets that can get dirty on your bed or somewhere else. For the perfect scrub take turns covering each other in the srub and using gloves to really work it in. Afterwards apply lotion and take turns giving head and shoulder massages just like they do at the spa. Another one of my favorites to include in this is dry brushing which feels heavenly but is easy to do unlike a massage that can sometimes be difficult.

8. Do a Body Wrap – Just the same you can do an at home body wrap! Just decide what kind of body wrap you want (detox vs. moisturizing, etc), collect the right ingredients, and get the wrap. Add all the extras above to make it extra special.

9. Do facials together – It's amazing all the spa dates you can do from home! To make the facial extra special, get a full kit so that you can go through all the steps or get ingredients to make your own like a fun gold face mask!

10. Learn to give a good massage – What is an at home spa date without a good massage? A quick Youtube search will tell you all the steps to give a good couples massage and you can learn together!
10. Paint by Number – Maybe you aren't good at painting. Luckily they now make paint by numbers for adults! Grab a glass of wine and you have yourself a paint and sip at home date idea!

11. Set up a photoshoot- Make it sexy or make it fun! Set up an area, wear some cute lingerie, get pose ideas from Pinterest and have fun. Or get creative with what you have at home and make fun backdrops. My favorite photoshoots are the ones where you've made it seem like you're somewhere else or just look really artistic!
12. Create a bucket list – Planning travel always gets me so excited and is a great bonding experience. Try to get as specific as possible and thinks you actually want to do such as learning a specific skill, take a cooking class there, or attending a festival somewhere!
13. Have a book club – The best way to remember something you read was discuss it! Work through a good book such as the 5 love languages or another personal development book. Some books even come with work books to go through together! If you don't want to read a book you can do a podcast as well. The best part is just getting to discuss it after.

14. Play couples jenga – Normal jenga is fun, but take it up a notch with couples jenga!

15. Make your own cheese – You might be surprised at just how simple and fun it is to make cheese. And there are so many different varieties!

16. Go Camping – Whether you have a backyard or just do it in the living room, there's ways to make it fun! Use your phone to set up outdoor sounds, sleep in a tent, roast some marshmallows, and get into the camping spirit!

17. Travel to another country – Maybe you can't travel right now, but if there's a country you want to visit, this is a great way to not only have a fun date, but learn about the country beforehand. To travel to another country from home here is what you do. Order takeout or create a recipe from that country, watch a documentary on youtube, netflix, or PBS (I like no passports required or passport unkknown). Choose 3 major sites and learn about the history/meaning of them. Watch a movie that country produced or listen to a soundtrack! If it's a place with a dance like hula or traditional Balinese dance, learn a dance. There are really so many fun things you can do to feel like you're on a date in another country right from home!
18. Do an at Home Chopped – The first time we did this I took my husband to the grocery and made him choose an ingredient and didn't tell him anything else. Then I chose one and we had to go home and make something. You can do this with ingredients at home too! Or even see what's the most creative dish you can create with what you already have at home!
19. Learn a new dance – No need to pay for dance lessons when you can learn a new dance from the comfort of your home. Or even hire a dance instructor and do it online if needed. There are so many fun dance forms from Salsa, different cultural dances, two stepping, and more! Just look up a video on youtube!
20. Have a water balloon or water gun fight – Surprise your S/O with a soaking from water guns or a water balloon fight!

21. Recreate your restaurants favorite meal – Have a favorite restaurant? If it's a popular restaurant, there's often a copycat recipe online. I loved learning to make Chick-fil-a chicken or a Cheesecake factory recipe, and so much more!
22. Play Card Games – Never take for granted those simple dates! I loved playing speed, double solitaire, war and so many other games. You can google 2 player card games and find videos for new ones to play! And I even found a fun throwing burrito card game!
https://www.amazon.com/Throw-Burrito-Dodgeball-Exploding-Kittens/dp/B07TS96J7Q/
23. Learn to watercolor – Watercolor seems daunting at first, but it ends up being so much fun! Colorsnack puts together fun water color kids for beginners!

24. Photoshop Each Other As if You Are Far Away – I did this to my now husband, then husband, when I was studying abroad and couldn't visit me! It was fun to pretend we were far away and learn a new skill. There are great tutorials, but if you want to be extra challenged, check out the Photoshop Hustlers tutorials.
25. Create a whole travel itinerary – Putting together a full travel itinerary takes time and it's exciting. Choose a destination you plan on visiting in a few months and map everything out together! Choose where you're going to stay, what activities you're going to do, and where you're going to eat!
26. Learn to Invest Together – I don't know about you, but to me, earning money is fun! Learning about the stock market at first can seem daunting, but it can be simple to start. I love Youtube for learning. I've used Robinhood where you can even get a free stock (hint: free money!) to get your feet wet.
27. Build a garden– Gardening is so rewarding and is an at home date idea that will remain rewarding in the future! There are so many kits or even ways to re-purpose some of the foods that we have already!

28. Make your own hot sauce – This is such a fun date! Make your own hot sauce and then immediately go and use that hot sauce on a new recipe!

29. Become a spy – and learn to pick locks! I got this lock picking kit and it was fun to learn a new challenge! Or get a whole spy kit and spy away together!

30. Make a candle – I love when a date idea is useful!

31. Create a temporary tattoo – How good are your art skills? I would love to give my husband a tattoo at least for a little fun! I also love temporary tattoos because you have all of the fun without the commitment.

32. Do a science experiment – As a kid science experiments. As an adult we miss that wonder and awe of a good science experiment. You can look up at home science experiments using household appliances or get a fun kit!

33. Learn to roll sushi – It's a little hard at first, but once you've gotten a hang of it you might find it's just easier to make sushi at home rather than go out!

34. Find a new board game – Board games have gone a long way from the typical ones. There are so many cool and unique games so you can find something new to try!

35. Have a karaoke session – Yeah! You can do karaoke right at home! Pick you favorite songs and use Youtube with lyrics!
36. Re-purpose old shirts – I'm sure you have old shirts lying around that you don't use, but there are so many things you can do with them and turn it into a date with it! Try tie, different cutting methods, turn it into useful things for household products and more.
37. Make up a fun dance routine – Look. Tik Tok is not just for kids and those catchy dances end up being a lot of fun to learn! Learn a couple dances or see if you can make one of your own. Whether it's super corny or artistic!
38. Make a list of date ideas from around your city – We have a lot of fun having dates around our city when not having at home date nights. However, when it actually comes to planning that date we struggle with ideas. I created some Dallas date ideas and San Antonio date ideas, but if you don't live there, spend a evening coming up with as many things as possible as you can do in your city and nearby and turn it into a date night jar!
39. Learn magic – Try to see if you can fool each other by either looking up fun at home magic and slight of hand ideas or get an adult magic kit!

40. Find the biggest steal on ebay – It's like garage sailing from home! Look up things that are trending: vintage items, collectibles, cards, and more and see what you can flip or what's the most unique item you can find for $5.
41. Do a wine tasting – There are so many great resources to have a wine tasting at home! From tasting cards, resources to learn about all those complicated wine terms, and even ways to make games out of it. No need to worry about not knowing anything about wine! This is a fun way to do it!

42. Instead of buying flowers, learn to make a bouquet – Learning to create a flower arrangement is a skill that you can learn together to always have a beautiful arrangement at home!
43. Play Truth or Dare – You can either google your own and create your own game or buy a fun set!

44. Have a Comedy night – Make yourself a cocktail and pull up Youtube or Netflix! There are so many comedians who have their whole skit online for you to enjoy and laugh. Really get into the mood by dressing up!
45. Or try to learn stand up comedy yourself – We really don't give ourselves enough credit, but we all have a sense of humor! Look up some resources on how to create a comedy skit and have a competition to see who creates the better skit!
46. Play basketball/trash-ball/get creative – Even if you don't have a basketball court you can get creative! I remember in school playing and you can play Horse or use a laundry bin and come up with unique off-the-wall combos.
47. Get your old boxes and build something – Another thing that was so fun as a kid was getting boxes and building pirate ships, armor, and other fun items from them! It's time to go back to those days. You can even turn it into a competition and see who has the most creative idea!
48. At home escape room – Even escape rooms can be done from home now and are a great saving tool! Lock Paper Scissors has a kit you can buy or you can get an escape room in a box!

49. At home murder mystery – Even Murder Mystery dinners can be from home! You can google how to create your own or purchase a kit!

50. Create a themed dinner – Whether you're a huge Harry Potter fan, love Disney, love all things purple, etc. you can create a themed dinner all around it! Dress up, decorate your table, find fun recipes, and play appropriate music.
51. Visit an online art museum – and then choose one artist/art piece to dive into the details about! When you visit an art museum you are surrounded by hundreds to thousands of art pieces. Rather than focus on all of them, check out the free online galleries that they have. Choose a piece or two and deep dive into it's meaning or learn about the artist. Then see if you can recreate a piece or use their techniques to create your own interpretation.
52. Attend an online concert– You don't even have to go out for a concert date night. Some of the most popular shows are on Netflix whereas other people host their own live performances. NPR even has a tiny desk concert series!
53. See the stars – There's so much to see in the sky! Pick up a telescope, get a chart to read the stars, and explore the sky right at home!

54. Experience virtual reality – Even with at home dates you can feel like you've gone somewhere far away! You can order a set to put your phone in and there are fun apps to experience virtual reality, travel around the world, and play games!

55. Join the circus: Learn to tight rope walk, hula hoop tricks, do aerial yoga, or google tricks that you can do with household products. Balancing multiple toothbrushes on your face? It's a thing. Maybe you won't get recruited on that one, but you'll always have a weird skill to share at parties!

56. Make your own soap – Soaps are always a fun gift and they've really developed as a niche item from making them super pretty, having fun scents, or even making strange soaps (like bacon soap!). Get together and make your own soaps!
57. Learn to make a really complicated dish – If you have a lot of time, really work on making something that involved a lot of steps. Go through your Pinterest and find a recipe you wouldn't make on a normal day, but have the time to really bond over making!
58. Make coffee art – You've likely already made some coffee that morning. Keep the grounds, dip a paintbrush in the water and create a work of art! It's such a fun, free, and easy way to have a cute date night!
59. Create a list – My husband is a big burger lover. So we got to together and made a list of all of the really cool/amazing burgers to try around Dallas! Turn it into a work of art with little doodles, places to take notes when you visit them, and more. And you can do this for anything, margaritas, tacos, etc.
60. Get some fun table games – Play miniature versions of games from table tennis, foosball, golf, air hockey, and more! And if you don't want to go out and buy it, you can get creative! Make a golf course our of household products, etc.

61. Try couples journaling– There are so many great little journals for fun writing prompts and it's a great way for a later stay at home date idea where you can read all of the things you wrote!

Stay at Home Date Ideas
There really is no end to fun and unique date ideas. My list here barely scratches the surface. The biggest point is to be intentional with the one you care about. Take into account your special interests and hobbies and don't be afraid to create your own date!