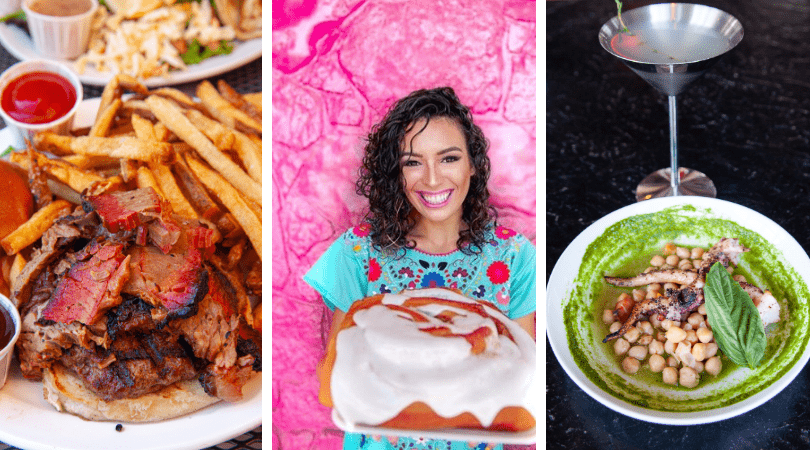 Growing up in San Antonio, I never visited the Riverwalk. It wasn't until I moved out and visited downtown San Antonio that I truly began to appreciate it and everything there was to do. However, for the longest time, I avoided eating at the San Antonio Riverwalk because of all of the touristy, overpriced chains selling overly sweet margaritas and burritos at a lower quality and higher price than I could find at my favorite Tex-Mex restaurants. I guess I should start by saying that if you're looking for the typical touristy restaurant, you won't necessarily find it here. 
Every touristy restaurants on the San Antonio Riverwalk offers about the same thing at the same price, far from the delicious food and authentic experiences I craved. Yet, hidden amongst these establishments, I've discovered some of the best restaurants on the San Antonio Riverwalk—gems that defy the touristy norm with their exceptional cuisine and charming views. If you want to eat at the Hard Rock Cafe, you don't need me to tell you about it.
One insider thing I've noticed is that it seems like a lot of the boutique hotels on the San Antonio Riverwalk have been offering some of the best dishes. I think it's because they usually have an executive chef on board, someone who knows how to expertly combine the variety of flavors of San Antonio with high-quality ingredients, resulting in exceptional culinary experiences that keep diners coming back for more.
My Favorite San Antonio Riverwalk Restaurants
Domingo
When it comes to the ideal setting for a special occasion, like a romantic date night, there's one restaurant that stands out as a beacon of charm and culinary excellence—Domingo. Known for serving up some seriously good Mexican food, this is my favorite spot in San Antonio and the one I recommend to all my friends.
The river views from their great outdoor seating area are simply stunning, offering the perfect backdrop as you watch boats gracefully pass by. Here you get an incredible selection of street tacos on house-made corn tortillas, ceviche, guacamole, elote, and street quesadillas. For a more elevated Mexican cuisine, the prime ribeye pipian is the perfect Mexican steak dish.
Brunch, though, has to be one of my favorites, as they have churro waffles, which really is just eating churros for breakfast, and I'm fine with that! Other incredible dishes include a chicken tinga with fried eggs, breakfast tacos, and avocado toast.
Domingo's commitment to providing fresh, flavorful local flavors at reasonable prices makes it a gem along the San Antonio Riverwalk. The experience here is exciting and satisfying, ensuring that patrons always get the best Tex-Mex food they're craving.
Supper for Breakfast
Usually it's the other way around, but Supper, a beautiful eatery in the Historic Pearl area serves up some incredible breakfast! Tres leches is a Mexican dessert favorite so I was so excited to come across their Tres Leches French Toast covered in fruit! So mouthwatering good. Served with chai beignets and whipped cream covered hot cocoa, you'll definitely satisfy your sweet tooth. They also serve up some savory dishes like avocado toast and craft brunch cocktails, so there's plenty to love at this spot!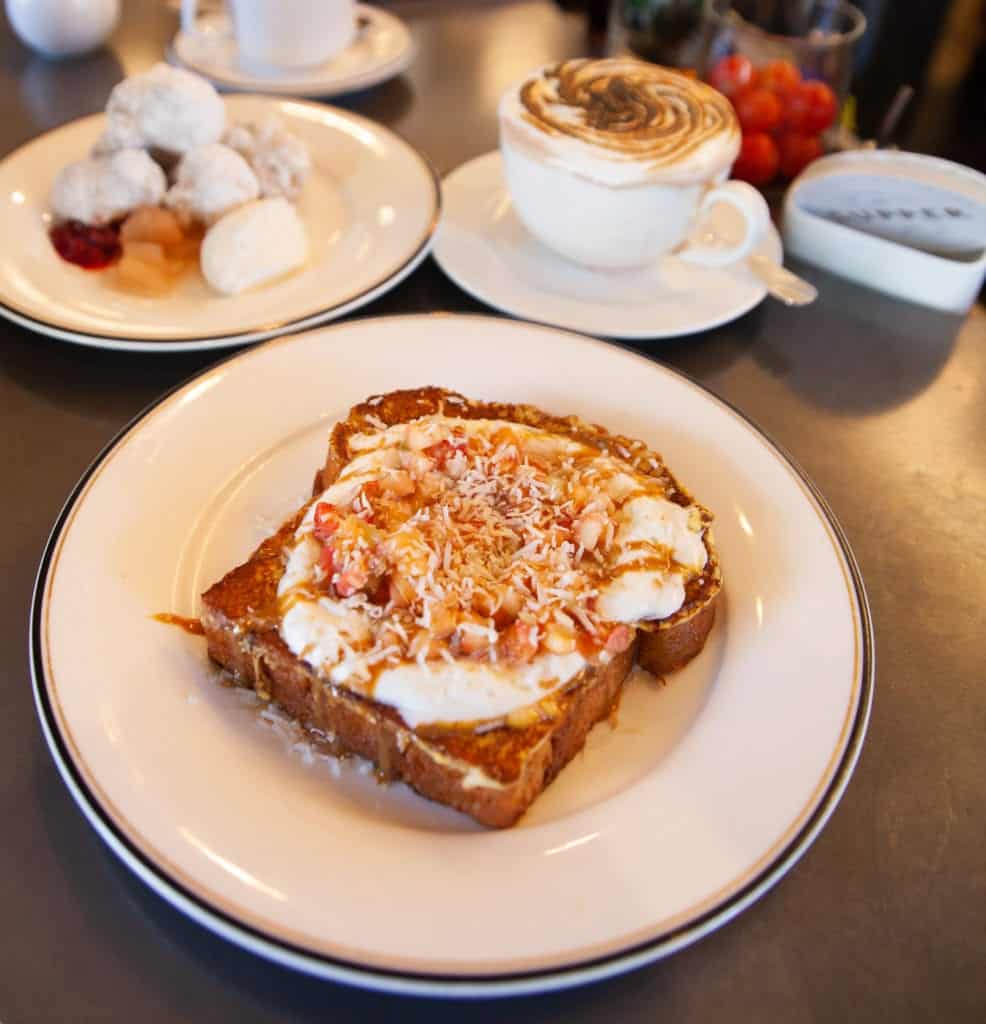 Rebelle
If you're willing to walk two minutes off of the Riverwalk, you're in for a treat at Rebelle inside the St. Anthony hotel. Their hot platter includes king crab legs smothered in a delicious butter sauce that I could use as a dipping sauce for just about anything. Just as tantalizing is their hot Crab Rangoon dish and warm Maine lobster roll with garlic-parmesan butter, which is truly a delicious meal.
The commitment to excellence doesn't end with the food; the great service here makes you feel like royalty from the moment you walk in. The staff knows their stuff, ensuring that your steak, crowned with mouthwatering creole butter and accompanied by perfectly seared scallops, is cooked to perfection. And the sinfully good cocktails? Let's just say that with names inspired by the seven deadly sins, like 'Wrath', a fiery mix of tequila, mezcal, agave, jalapeno bitters, grapefruit soda, lime, and freshly sliced jalapeño, you're in for a spirited adventure that perfectly complements your meal.
Blue Star Brewing Co
I remember when the Blue Star Brewing Co first opened up in San Antonio and the excitement of eating there for the first time. Well, that excitement hasn't worn off even years later when biting into their delicious dish tacos or juicy burger topped with brisket. Plus, when the weather is nice, the patio is a perfect place to sit and relax while enjoying a beer.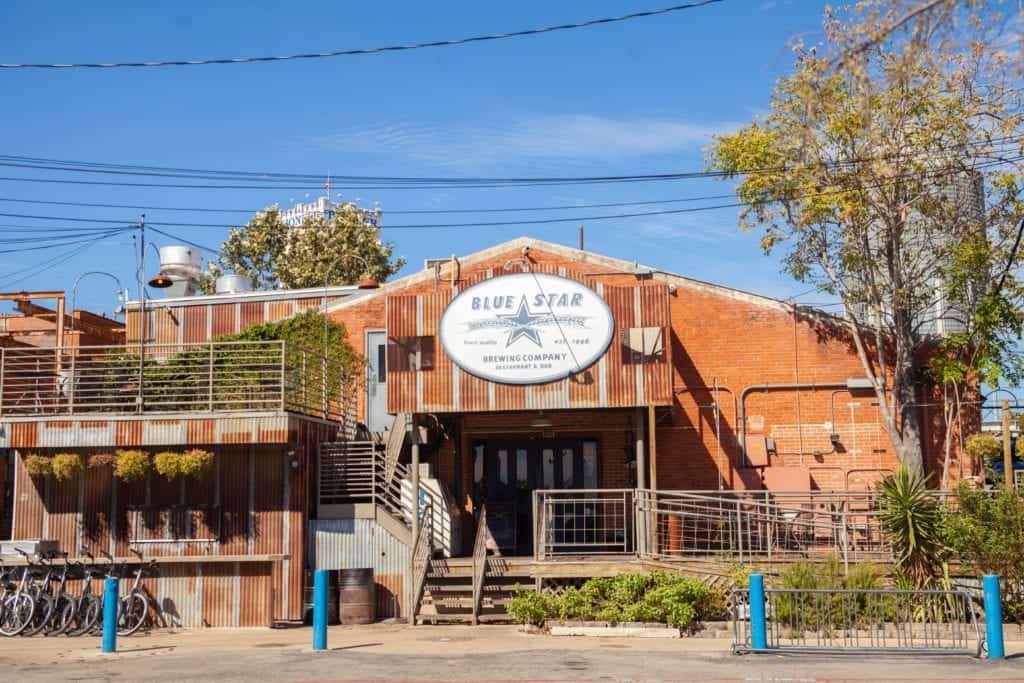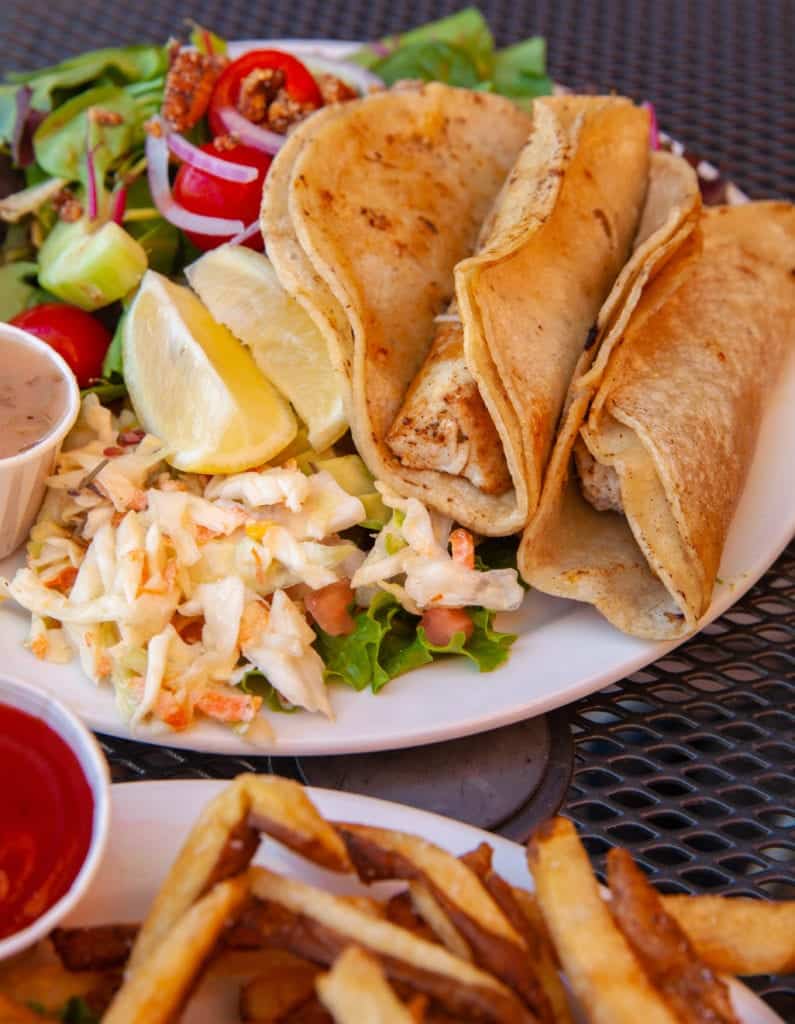 La Gloria
I had passed La Gloria in the Historic Pearl along the Riverwalk too many times, and man had I been missing out. La Gloria takes Mexican street flavors from all throughout Mexico and brings them to San Antonio. Cacao from Chiapas, mezcal from Oaxaca, agua chile from Sinaloa, Panucho Pubil from Yucatan, and more. They even have a map on the back of their menu that shows all of the different recipes and ingredients sourced from each place.
The Arrachera en Adobo molcajete was big enough to share and the margaritas were fresh! I'm looking forward to coming back for all of the other fun flavors!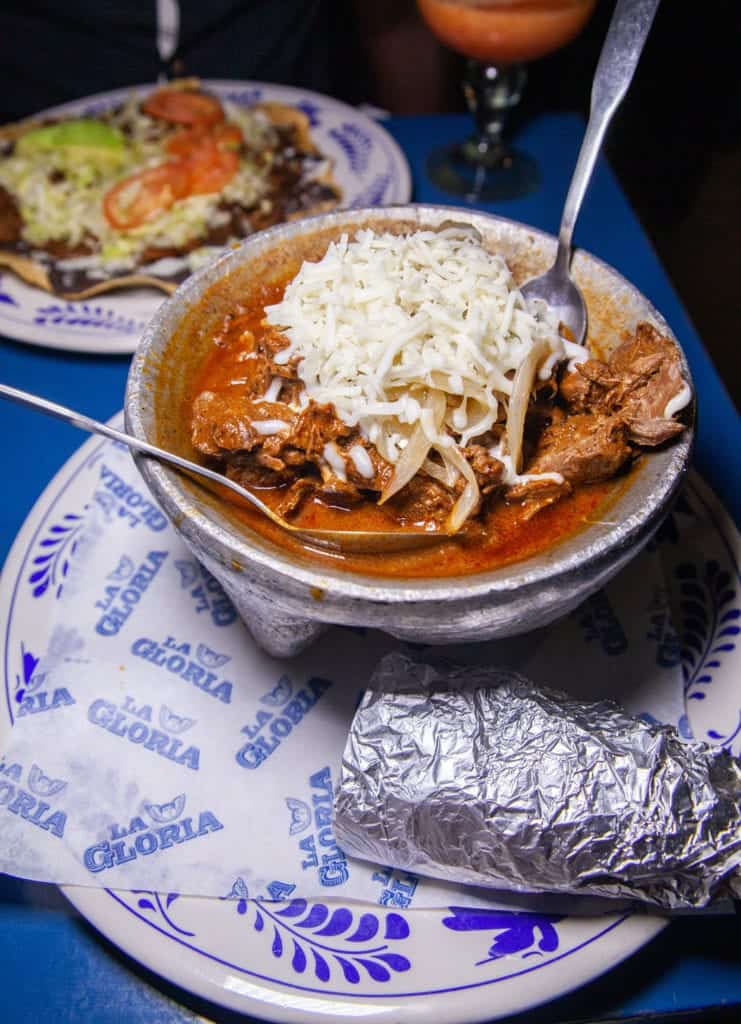 The Moons Daughter
On the far end of Riverwalk, located at the Thompson San Antonio, is the Moons Daughter, a rooftop bar on the 20th floor. It is a great spot for those looking to enjoy the expansive river walk view of San Antonio while savoring Mediterranean cuisine and delicious margaritas. This venue is the perfect place to relish an evening out with friends or a special someone.
This place is more often a bar and lounge for drinks and apps, but they also have a great menu. Just be prepared that there might be a longer wait time for the food (that tends to be everywhere on the Riverwalk, though). They have beautiful cocktails as well as mocktails (the EspressNo martini was a favorite).
We recommend the hummus platter, with the atrichoke hummus being the unexpected favorite, as well as the goat cheese pizette if you're looking for something shareable. For a lighter option, the roasted beet salad packs more flavor than we expected.
Battalion
Battalion is set inside an old fire station and cool enough you can even see the pole that the firefighters slid down. Sadly, it's not operational, but it would be pretty amazing to see your waiters slide down with food! Nevertheless, the food is fantastic! The menu changes regularly so what you see here might be different than what you see when you go.
I enjoyed seeing dishes out of the ordinary like spinach dumplings, trenne bombay, and grilled octopus. Of course they serve some classics like a grilled t-bone steak that that had the perfect seasoning to compliment the dish.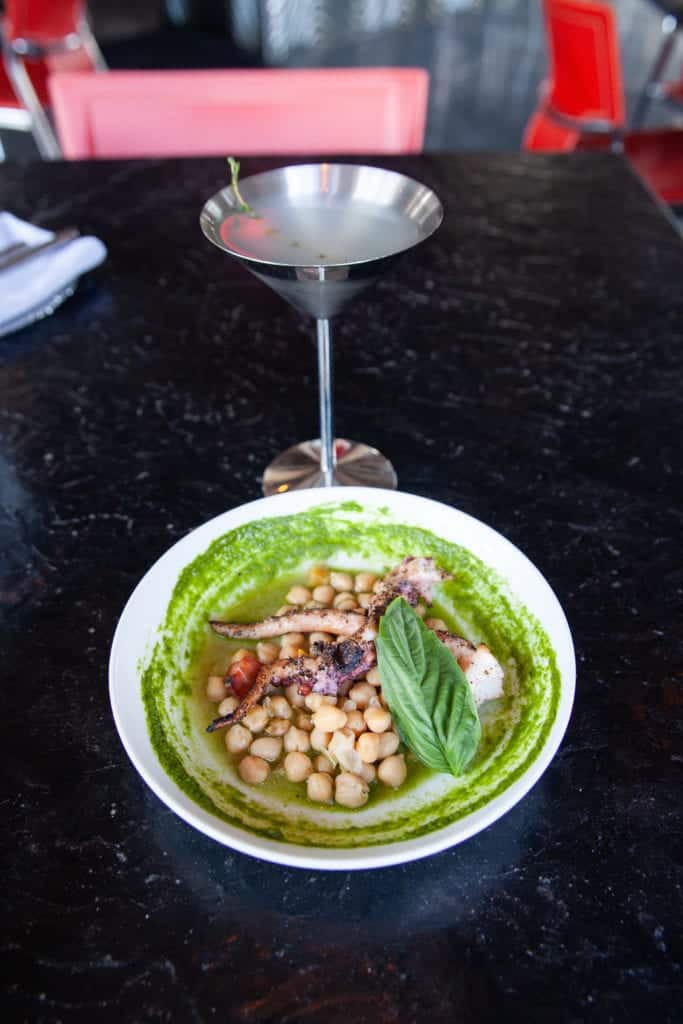 Pearl District
While technically on the Riverwalk but requiring a water taxi, the Pearl District offers so many great restaurants that make it worth the boat ride. It's even better if you can go on a Saturday or Sunday when they have the largest farmers market in Texas.
For quick options, there is the food hall with all different cuisine types, as well as Larder inside the Hotel Emma, a gorgeous hotel that is worth at least walking through. Best Quality Daughter is another option that's as beautiful as it is tasty and makes for a perfect brunch spot.
Mi Tierra
Mi Tierra is a San Antonio favorite among locals and tourists. I'm initially drawn in by all the colorful papeles picados, the Mexican folk-art banners. Just walking into Mi Tierra is fun. Luckily the food is just as good as the place is beautiful. The Sonrisa Special with beef ribs is always a favorite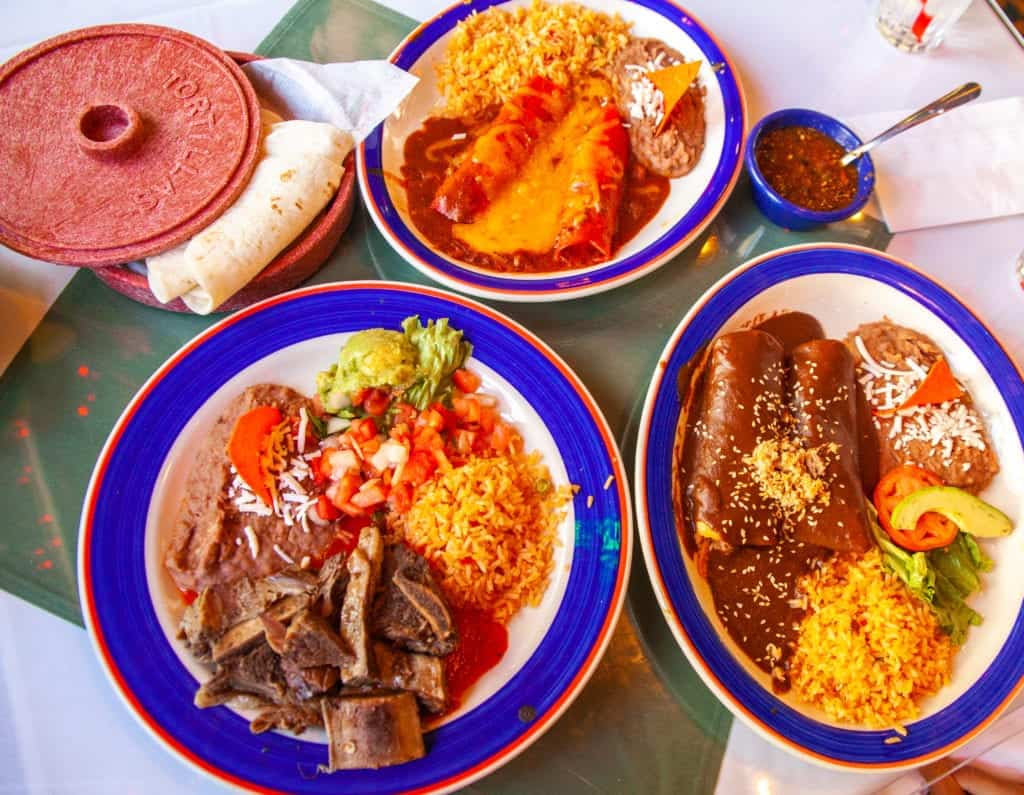 Other Best Places on The San Antonio Riverwalk We Really Enjoyed
La Panaderia
La Panadería, a local favorite near the San Antonio Museum of Art, is one of the tourist spots actually worth their name. A trip to Riverwalk San Antonio doesn't feel complete without taking a bite into a sweet pan dulce or tequila almond croissant (my personal favorite). This place is so popular that there are often lines out the door, so be prepared.
In addition to pastries, they are also known for some delicious breakfast sandwiches and croissants.
Voodoo Dougnuts
Voodoo Doughnuts, a chain restaurant that's been gradually expanding, is making its mark in the San Antonio doughnut scene. I mean, keep San Antonino, San Antonio (aka not Austin), but we will certainly take your naughtily delicious donuts.
We really enjoy their unique flavors like grape ape, viscous hibiscus, and, oh, captain, my captain with some captain crunch. Of course, they also have all of your classic flavors.
Esquire Tavern
Known as one of the first speakeasies before speakeasies were so trendy they were on every corner, Esquire Tavern is definitely no secret. However, it's still a fun stop to go down the hidden entrance to a dimly lit 20s-inspired area that feels completely different from the typical drinking scene you find on the San Antonio Riverwalk.
We can't speak for the food, but the drinks here are phenomenal. The bartenders and the entire staff are passionate about what they do, and the best way to get your drink is to simply tell them what you like. They'll craft the perfect concoction for your trip.
Permanently Closed
3 LB Cinnamon Roll
Well, we all know everything is bigger in Texas, and this breakfast right here does not disappoint. Lulu's Cafe & Bakery is a San Antonio restaurant near the Riverwalk that is famous for the giant cinnamon rolls and not only is it big, but it's also actually super good! We had this to eat for a few days after!
Best Restaurants on San Antonio Riverwalk: Final Thoughts
My personal roundup of the best restaurants on San Antonio Riverwalk where you can sink your teeth into more than just great food but a truly unique experience Each spot I've mentioned stands out for its ability to fuse the vibrant Texan spirit with the enchanting views of the Riverwalk. Whether you're out for a romantic date night, Sunday brunch, or just grabbing a quick but utterly delectable bite, these places promise to leave your taste buds dancing to the rhythm of the great state of Texas.
So next time you're strolling down this iconic waterside, let the path lead you to any of these culinary havens. Trust me, you'll be talking about those river views and the flavors that accompanied them long after the last morsel has been savored. Thanks for joining me on this delicious journey through the heart of San Antonio, and here's to many more of the best food adventures and the ultimate guide in the Lone Star State!