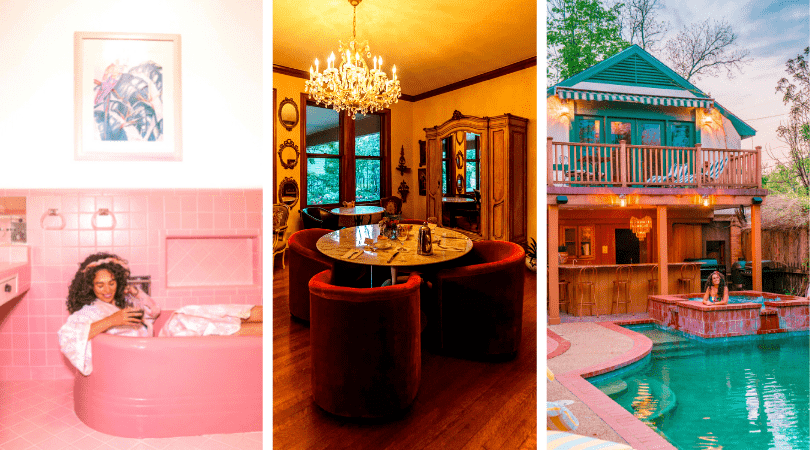 Note: On June 12, 2022, Hotel RITUAL experienced a fire. For this reason, the hotel and wellness center are currently closed. However, there is anticipation that it will reopen in 2023. Keep up with their social media for updates. You can continue to support the owner and her family by visiting Hotel Ritual's Luncheonette and Bar RITUAL during your visit to Jacksonville.
Nestled in the heart of downtown Jacksonville TX, with an abundance of things to do, Hotel RITUAL is a great choice for a rejuvenating getaway. Housed in a two-story, vintage building, Hotel RITUAL offers an almost all-inclusive wellness experience that shifts the boundaries of a classic stay at a boutique hotel. The charming, old-fashioned architecture and the infusion of healing elements throughout the property add to its eclectic ambiance, making it a fascinating vacation haven.
Lodging Options at Hotel RITUAL
Hotel RITUAL offers three opulent, spacious lodging options for guests to choose from: the Guest Suite, the Deluxe Suite, and the Carriage House. The rates of the Guest Suite and the Carriage House include two guests, with the addition of a per person rate after that, while the Deluxe Suite is per person.
Depending on the room you're given, the Guest Suite overlooks the Carriage House, the pool, and the terrace. Offering enough space for two to five people, the beds shared between the three conjoining rooms vary from king, queen, and twin-size beds, all with lush hotel linens. There is also a spacious tub and shower that is shared between the rooms, perfect for couples or families while still offering some privacy.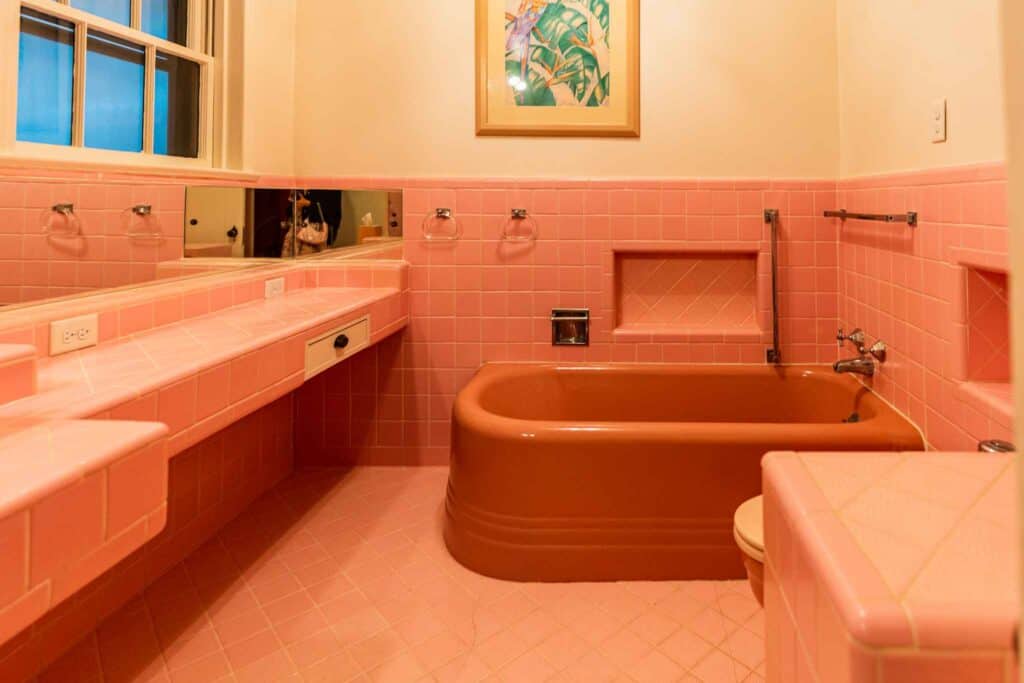 The Deluxe Suite offers the same amenities but provides a more private lodging arrangement so that either one or two guests can enjoy their stay in Jacksonville TX without sharing a communal space.
The Carriage House is a private suite that overlooks the pool and is equipped with two queen-size beds, a private and keyless entrance and deck, a full living area, kitchen, and a Roku TV. The Carriage House holds a maximum of five guests, ideal for small groups that are okay with sharing the same sleeping space.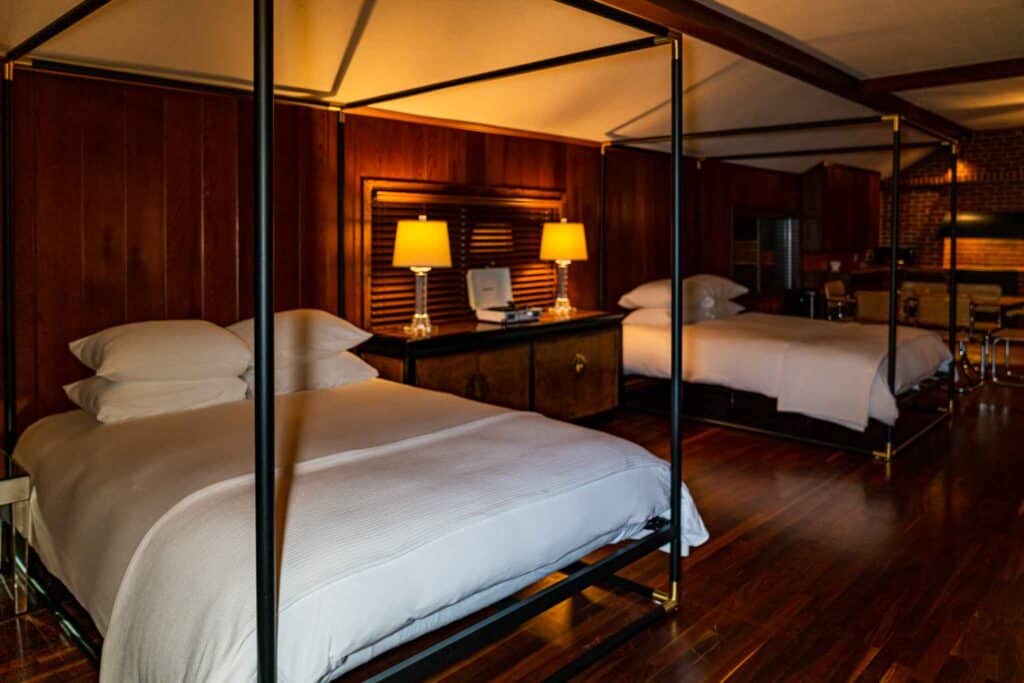 Dine in Style
About a block away from the hotel is Hotel RITUAL's luncheonette where you'll be transported to a cafe in France. Located in downtown Jacksonville, they serve lunch Tuesday through Friday from 8 am to 2 pm and brunch Saturday from 10 am to 2 pm, made with the highest quality organic ingredients. Next door is Bar RITUAL, which offers cocktails and specialized drinks Thursday and Friday from 5:30 pm to 9:30 pm.
Hotel RITUAL also offers on-site eating options for guests to indulge in. The Butler's Pantry sells snacks and drinks including tea, coffee, cookies, granola, and more. They also have popcorn available for purchase, the perfect snack for a movie night in your suite or in one of the many media amenities offered. A gourmet breakfast is also served daily in the main house dining room bistro starting at 8 am, so early risers can enjoy the beautiful East Texas morning breeze.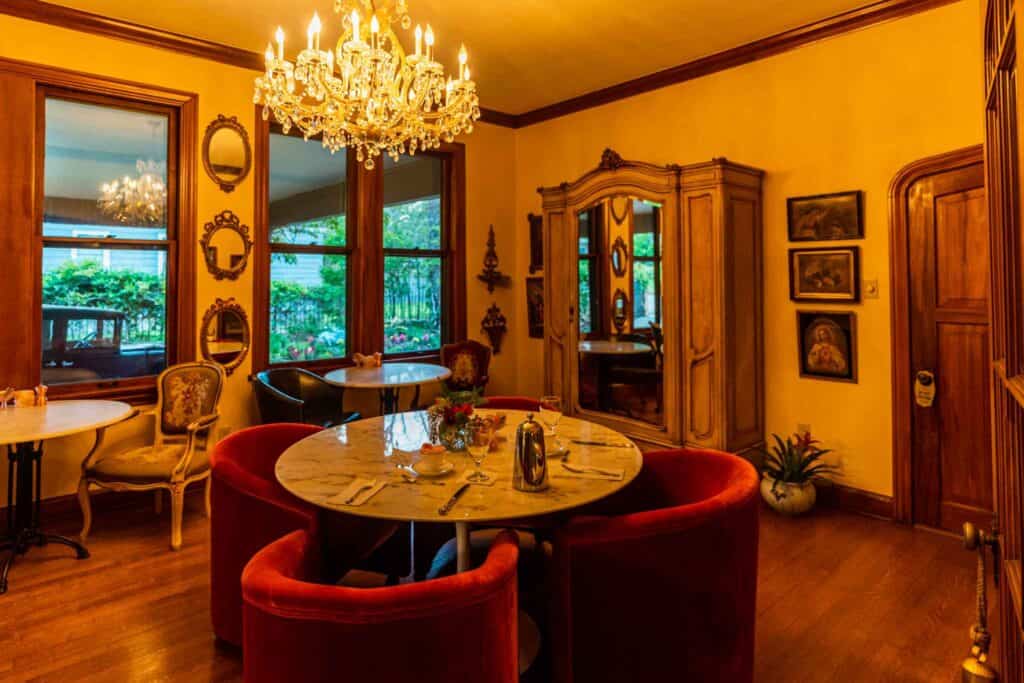 Book a Wellness Experience
Hotel RITUAL emphasizes healing and wellness so that guests feel revived at the end of their stay. Crystals are used around the resort by treatment professionals to aid in alleviating and rehabilitating the mind. They apply elements of palo santo, a native tree from Central and South America used as a traditional remedy for pain and stress and they perform Reiki, an ancient Japanese form of healing that connects people with their inner energy levels. Trained Reiki healers at Hotel RITUAL provide guests with treatments that are guaranteed to make their getaway one of relaxation.
The hotel's spa also offers classic Swedish massages and facials for those looking for a traditional way to detoxify and relieve stress. Mineral water is provided in the sauna for a purifying experience. There is also a yoga and meditation room that guests can enjoy at their leisure. Private yoga and meditation sessions are available but must be booked in advance. Check their website for more information.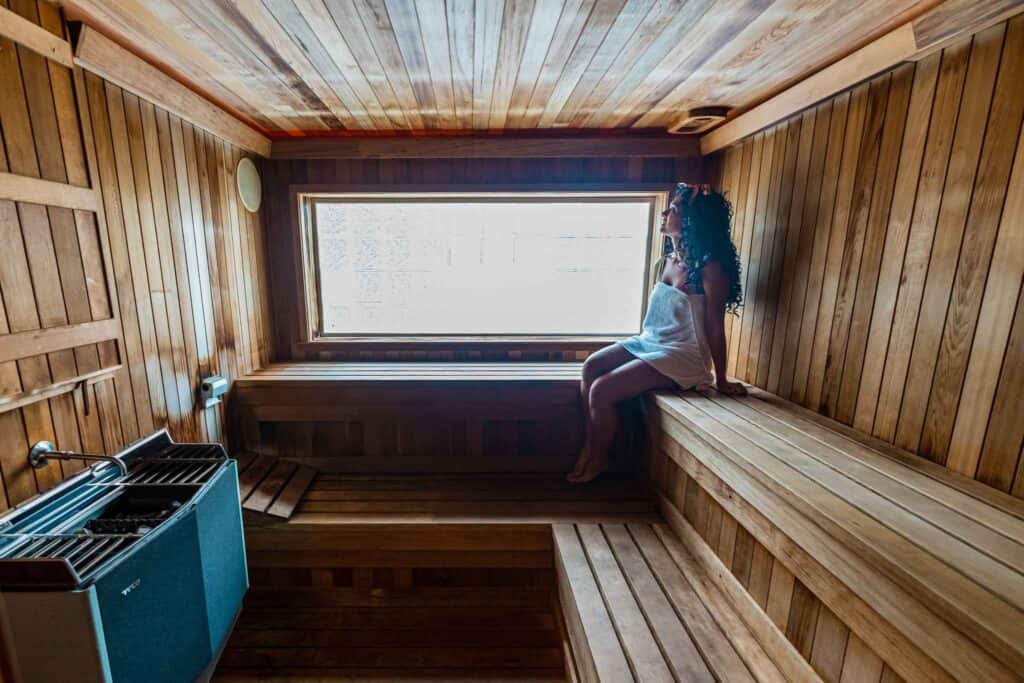 Lounge Around the Hotel
A stay at Hotel RITUAL includes many amenities that elevate the serene experience of your stay. Guests can enjoy access to the pool, a hot tub, and even a lending library! At the Amethyst Pool Bar, a daily bartender service is available, and guests receive 4 drink tickets a day for complimentary beer, wine, and frozen margaritas.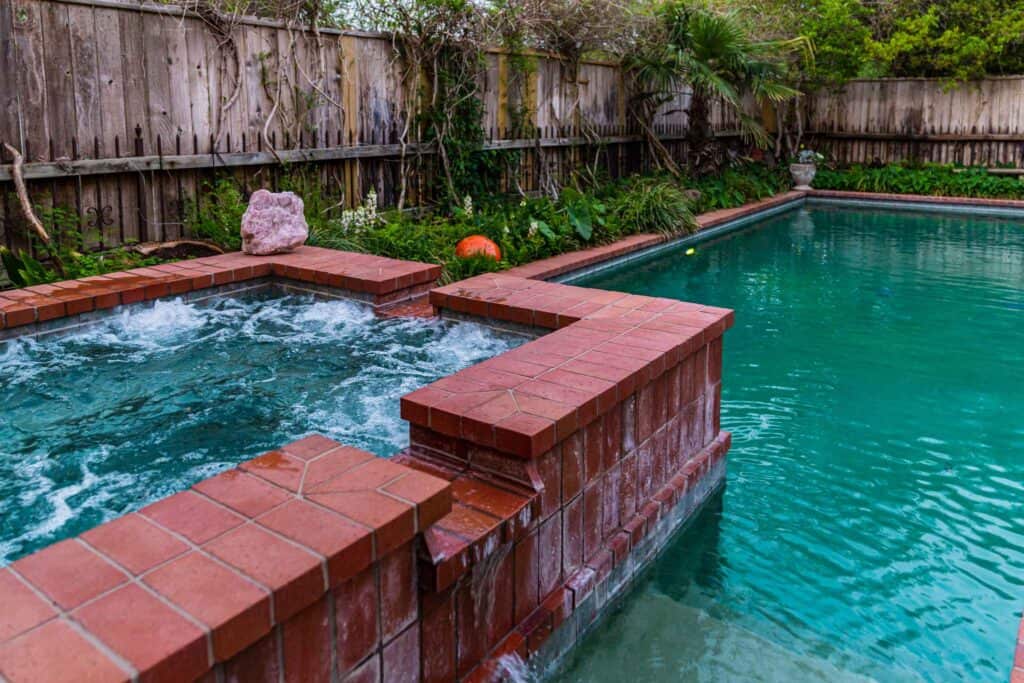 A media room with warm lighting and several cozy seating options offers a comfy area to watch movies and shows on a large projector screen.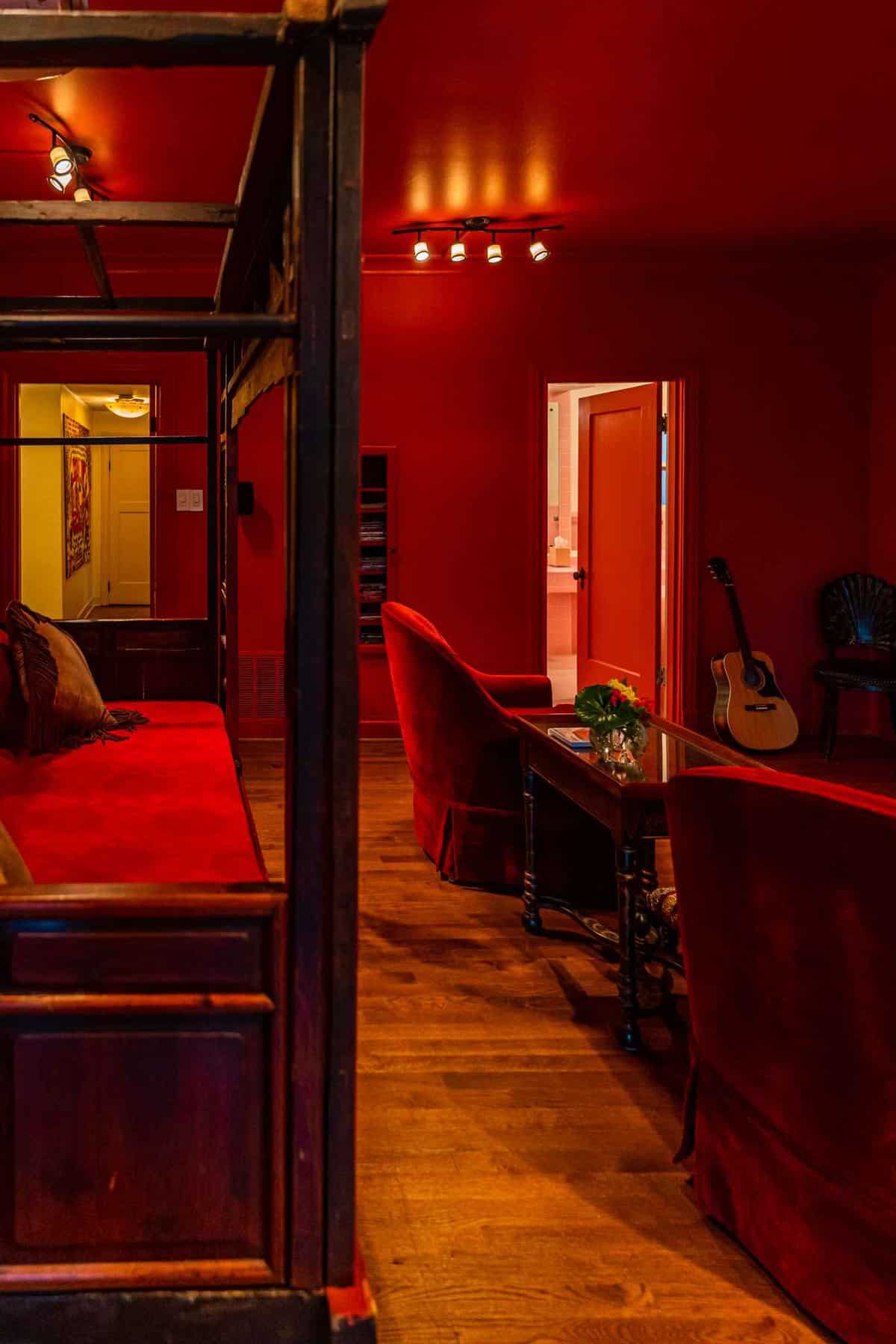 The hotel also provides luxury services to help ease your stress. A team is available to tailor recommendations and activities to fit your individual needs, as well as pick up food for you! Dr. Parkinstine, the hotel's fantastic butler, greets guests when they arrive and plays lovely tunes on the piano. You might even get lucky enough to ride around in their vintage car! You can find them on TikTok at @dr.parkinstine making cool inventions.
Explore Jacksonville TX
Jacksonville is home to several fun and entertaining attractions, as well as a plethora of green areas perfect for a day outdoors. Shops and restaurants are sprawled out all over the city and visitors will enjoy walking around and exploring. With intriguing attractions like the Vanishing Texana and open-air activities like boating at Nichols Green Park, Jacksonville has a long list of ventures for visitors to make the most out of their stay, so check out our list of things to do in Jacksonville!
Review of Hotel RITUAL: Final Thoughts
Hotel RITUAL's premier amenities and services make it a must-stay destination on your next East Texas vacation. With exclusive healing treatments and a charming old school ambiance, the hotel provides the perfect getaway. You'll leave replenished and all your stress will be forgotten after a stay at this hidden gem of a paradise. Hotel RITUAL's convenient placement within downtown Jacksonville also makes it easy for you to use your newfound energy to explore and check off items on your list of things to do!