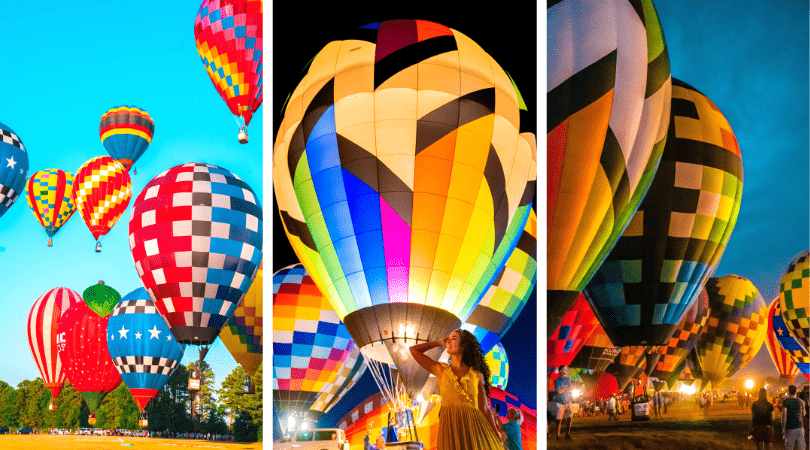 There are so many incredible hot air balloon festival destinations people think about (Albuquerque for instance), but you don't necessarily have to travel far for a great hot air balloon festival experience. In fact, there are multiple hot air balloon festivals in Texas where you can enjoy wandering through a field of hot air balloons lit up at night, watch them race across the sky, and even ride in one! Here are some of the most popular Texas Hot Air Balloon Festivals.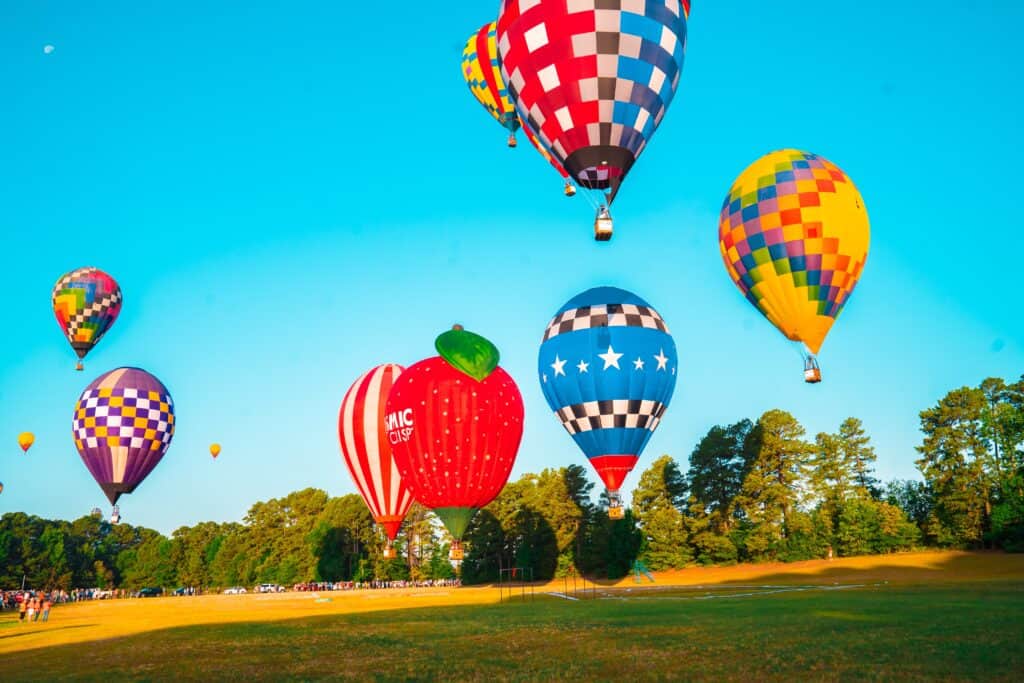 The Great Texas Balloon Race – Longview Texas Hot Air Balloon Festival (June 16-18th, 2023)
This is one of the most popular hot air balloon festivals in Texas. People travel from all over for this weekend long festival! In the morning world hot air balloon race champions launch from all over to race to different 'targets' that they drop close to and where people come to see. This part of the festival is free and a site to be seen! They also have special character shaped hot air balloons spread around the city to visit for free.
In the afternoons, they have a ticketed event with food vendors, performances, and even skydivers that land just feet away! The star of the show is the almost 100 hot air balloons that light up the night sky. While they're all on the ground, it's amazing to see and walk through all of the balloons! They even synchronize it to music!
Plano Balloon Festival (September 21-24th, 2023)
The Plano Texas Hot Air Balloon Festival is another of the most popular hot air balloon festivals in Texas! This year, you'll have FOUR days full of events like a parachute team, over 30 balloons, balloon races, and the nighttime balloon glow! Plus, don't forget to stay for fireworks! They also have a really cool lineup of their orchestra playing top film tracks, a paint band! This Texas hot air balloon festival also includes tethered balloon rides!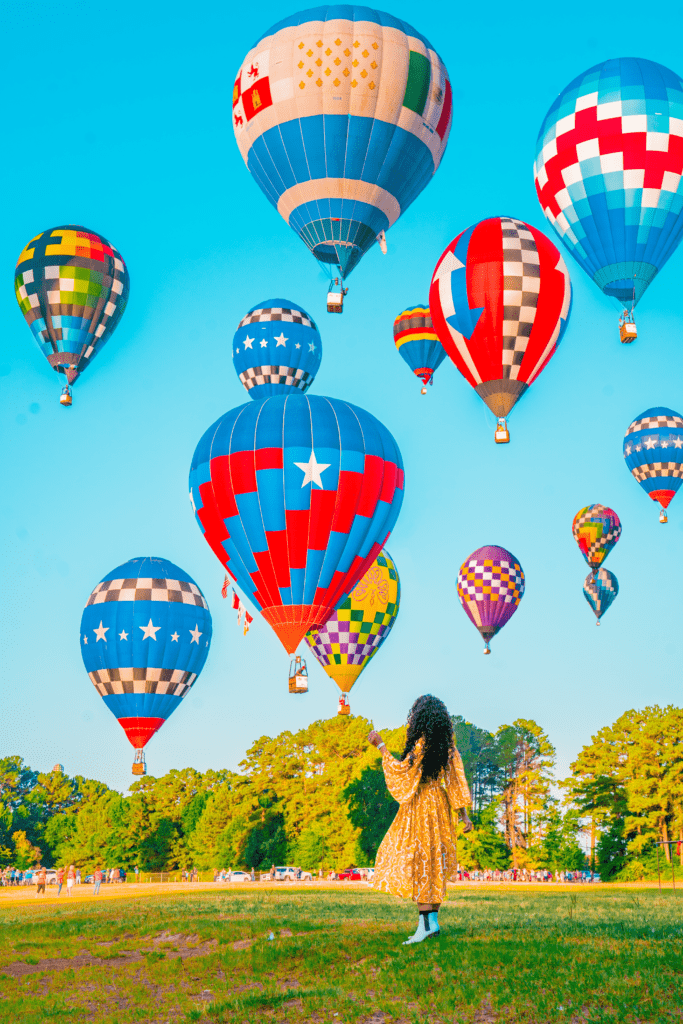 Canton Balloon Fest (July 7-8th, 2023)
Canton is known for their first Monday trade days, but also their annual balloon festival! Expect night glows, races, tethered hot air balloon rides, and even actual hot air balloon rides (which you have to schedule ahead of time). They also have a glow run and a car show in addition to all of the hot air balloon activities.
Fredericksburg Balloon Fest (July 3-4th, 2023)
Technically in Bankersmith Texas, this one day hot air balloon festival is a way to celebrate the 4th of July with hot air balloons, wine, entertainment, and fireworks! This festival has more of a hill country spin with a focus on wine and cocktails. People can sign up for tethered rides or helicopter rides, and you can even camp here.
Paris Balloon and Music Festival (Sep 8-10th, 2023)
A Texas Eiffel Tower and hot air balloons? Only in Texas of course! This festival includes many similar elements of the others such as the morning races and evening entertainment featuring hot air balloons. If you want to get more involved in the action, they even have a signup section on their website for those who want to volunteer to help inflate the balloons.
Skylight Balloon Festival – Selma, Texas Hot Air Balloon Festival (Sep 29-30th, 2023)
Close to San Antonio, this Texas Hot Air Balloon Festival is one of the ones that happens later in the year and includes morning races, the night time balloon glow, a skydiving team, and tethered balloon rides. They'll have daily entertainment like the Spazzmatics, a vendor village, and plenty of food vendors!
Lufkin Balloon Fest (August 26th, 2023) 
The Lufkin Glow Show is back this August and will illuminate the night sky at Kit McConnico Park. The event will run from 6 PM until 9:30 PM with an incredible evening full of balloon glow, fantastic children's and sports activities, tethered hot air balloon rides, live music performances, arts and crafts and more! It will surely be a fun time for you and your family!
2023 Hot Air Balloon Festivals in Texas: Final Thoughts
The thing that I love about all the Hot Air Balloon Festivals, is that with so many options, you have so many different opportunities to find a hot air balloon festival to match your schedule! You can go to one or all of them. Many of the balloon festivals in Texas have similar elements and many of the same competitors/balloons as they travel to all of the different ones. Of course, each festival will be different and have different balloons, but it's exciting to see how they're similar in many ways! Did we miss a hot air balloon festival in Texas? Share in the comments below!