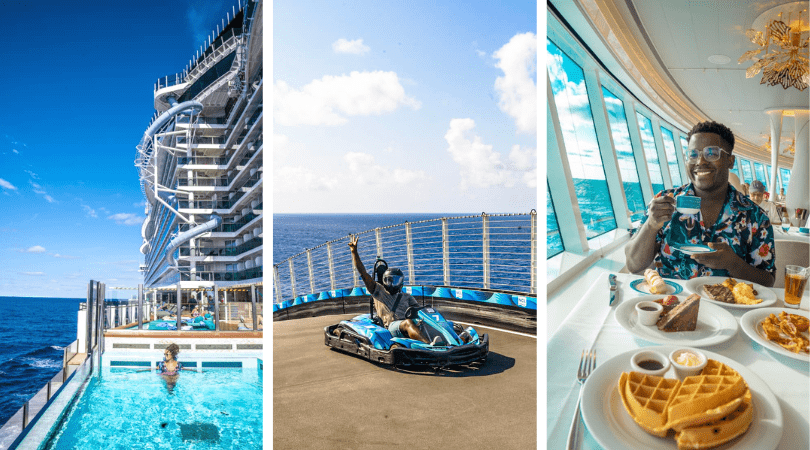 States on the water, like Florida and California, are notorious for their beaches, port cities, and hot spots for the best cruises. However, if you're in need of a getaway full of sunshine, ocean views, and amusement park-style fun, you don't have to catch a flight or make a long drive to do so!
It's true! There is a new Texas cruise sailing out of Galveston! The Norwegian Prima, a new ship from Norwegian Cruise Lines, offers everything from entertainment and activities to extensive menu items and luxurious accommodations!
We had the chance to set sail on the Norwegian Prima, one of the first in the new line of Prima-class ships. Although we browsed every page of the internet and every square inch of the app before boarding, we didn't know what to expect.
To make it a bit easier if you're looking to book a cruise aboard this shiny new cruise ship, we wanted to put together a Norwegian Prima review for you to reference when you plan your next Texas cruise.
If You Have Reservations About Going on a Texas Cruise
I was weary at first about being on a cruise ship. The reality is that if you get bored, you don't have any other options. You're basically stuck. It turned out that we weren't prepared for how rich our experience would be!
The cool thing about cruises, especially this Texas cruise out of Galveston, is the convenience of having everything you could need (main restaurants, bars, recreation, spectacular views) steps from your room.
A Norwegian Prima Review: Our First Impressions
On my first day on the Norwegian Prima, I was immediately struck by the customization and personality they put into the ship. There were lounge chairs of all colors, different swinging chairs, beds to lay on, and more.
They worked with multiple furniture providers, so there was always somewhere fun and unique to sit. It sounds silly, but it's that small attention to detail that stood out to me.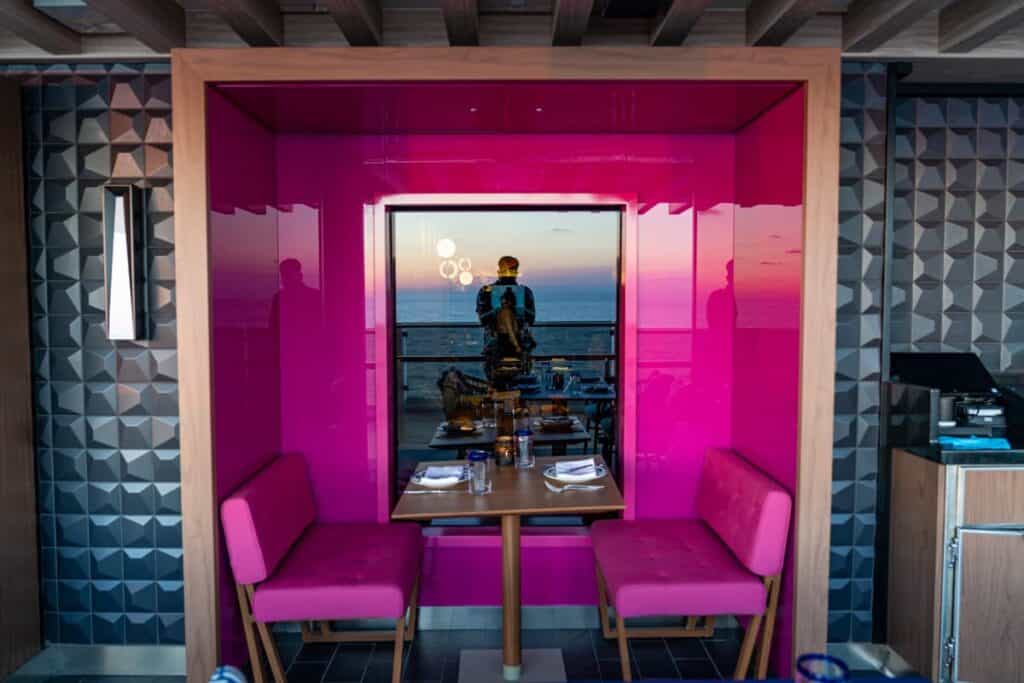 Personally, the best part of a cruise is just being surrounded by the unparalleled views of the rolling sea. There are a lot of places on land where you can go for activities and food, but only one where you can get views like this. When we docked at port one morning, we got the once-in-a lifetime opportunity to witness dolphins jumping around in the water!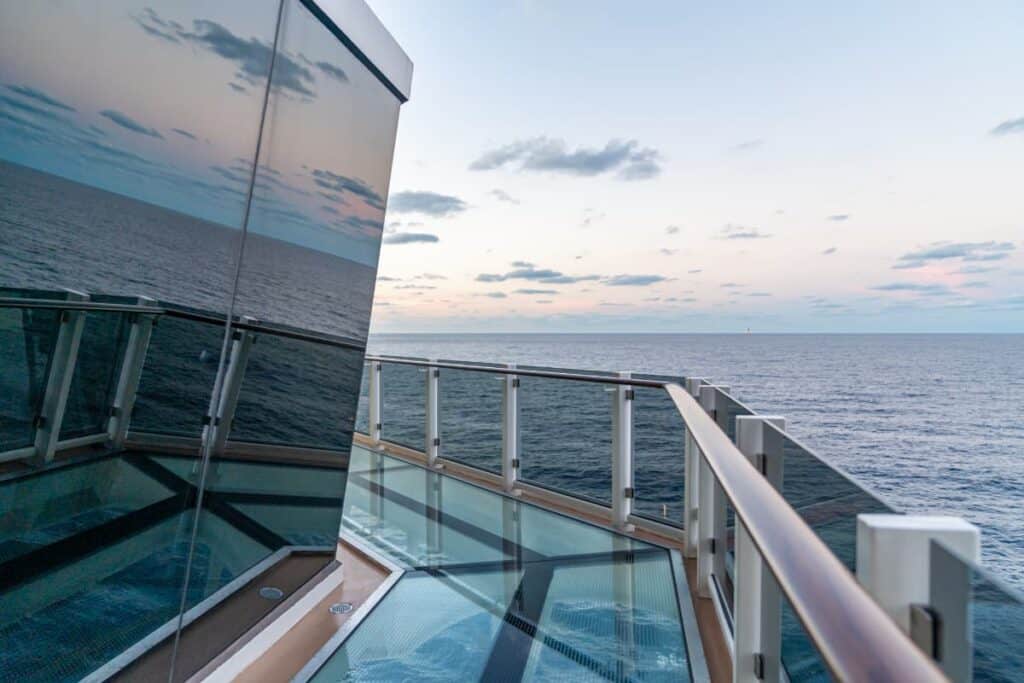 Another thing, and I don't know if it was the ship or where we were, but the ride was so smooth. I remember waking up in the middle of the night rocking from other cruises, but I slept soundly every night on the Norwegian Prima.
A Norwegian Prima Review: The Rooms
We ended up having a mini-suite with a balcony. While I've sailed before, this was my first time with a view of the sea. That natural light coming in every day and waking up to the seemingly infinite ocean reaching over the horizon every morning was the best way to start our day aboard the Norwegian Prima.
The room was bright and modern, and we never felt cramped. Our Mini Suite featured a king-size bed in the master bedroom, which was incredibly comfortable and ensured we had a good night's sleep every night.
Compared to the standard balcony cabins, our Mini Suite offered a bit more space and luxury, making it well worth the upgrade. The decor was stylish and contemporary, creating a pleasant and relaxing atmosphere.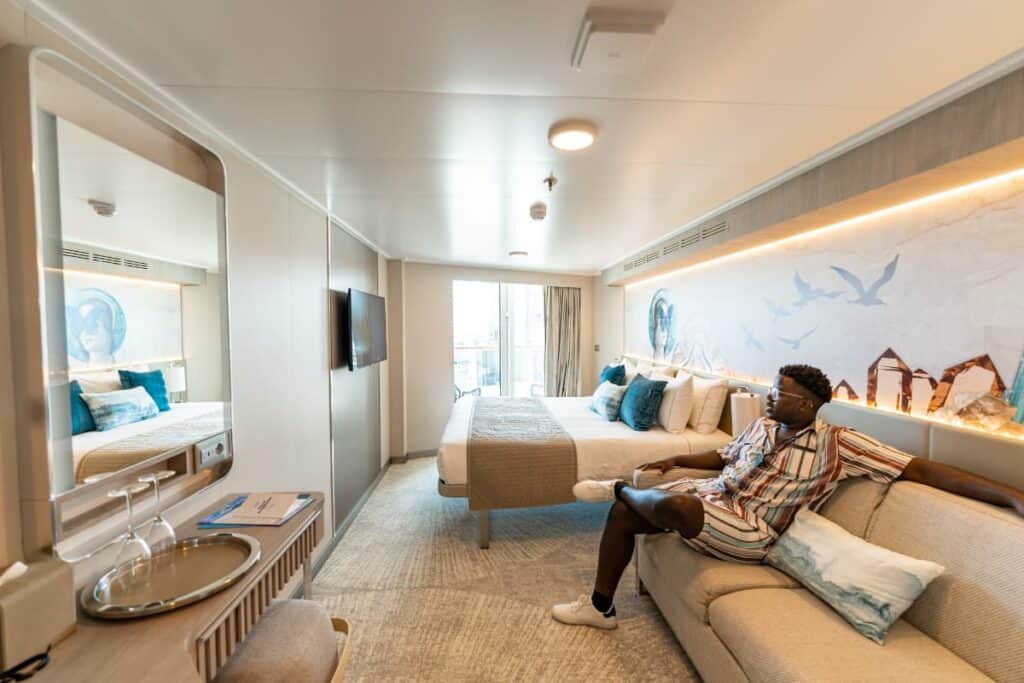 A Norwegian Prima Review: The Pools
We spent a lot of time at the pool aboard the Norwegian Prima, and what I really enjoyed was the layout. While yes, there was one main pool where everyone congregated, there were also several smaller pools to help even out the crowds.
They even had two infinity pools, which was amazing. Cruise ships typically have pools where you can look out to sea, but they're usually partially obstructed by glass. Sitting at the infinity pool gave us the best possible views of the endless ocean.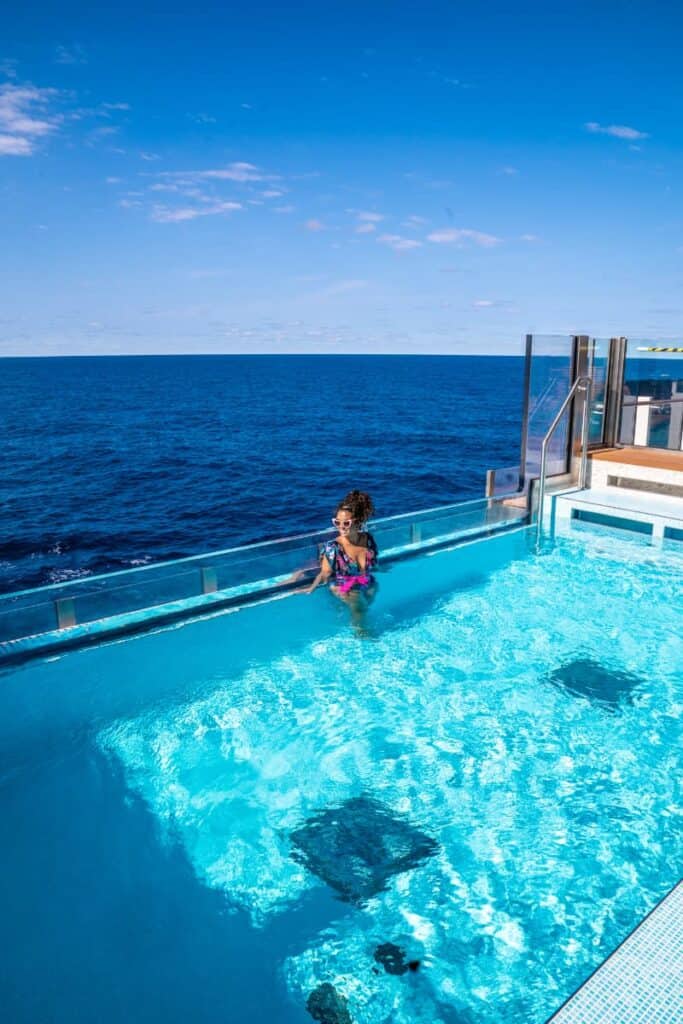 Additionally, Norwegian Prima provided some thrills with dry slides attached to the wave pool that they have on board! It was one of those things I mistakenly saved for the last day and ran out of time for. It looked like such a great experience!
And for those who wanted a more exclusive and adult-oriented experience, there was the Vibe Beach Club. It is a private retreat where you can escape the hustle and bustle of the main pool area.
The Vibe Beach Club offered a more sophisticated and relaxed atmosphere. This makes it a perfect place to unwind and soak up the sun.
A Norwegian Prima Review: The Dining Experience
My husband and I are big foodies, so we knew our dining experience aboard the Norwegian Prima could make or break this Texas cruise for us. This was honestly one of our biggest concerns because we love flavor and trying new things.
However, the food on the Norwegian Prima completely surprised us. I'm really into being as detailed as possible about food, so I knew I had to dedicate a whole post to all that we ate during our Texas cruise.
Indulge Food Hall – We were particularly impressed with this complimentary dining option. It's not your ordinary food court, but rather a collection of different cuisines all under one roof. You can choose Indian, Mexican, grab-and-go desserts, and more!
The Surfside Grill – Another complimentary dining option, this casual dining restaurant perfect for those days you want to grab something quick and head back to the pool.
Hudson's – A formal dining option in one of the main dining rooms, Hudson's offers several different menus, whether you want breakfast or dinner, and even a make-your-own pasta section! Plus, you'll have 270-degree views of the ocean!
The Metropolitan Bar – A sophisticated, stylish bar located on Deck 7 of the ship. Although there are several bars on board, we loved that they had a reuse program that aims to reduce their food waste.
For a complete list of all the dining options aboard the Norwegian Prima, click here for our comprehensive blog post.
A Norwegian Prima Review: Live Entertainment
Undoubtedly, there was so much to do on the Norwegian Prima! There were so many things I wanted to do that I didn't have time for, and the entertainment venues alone are a reason to rebook this Texas cruise out of Galveston.
I'm more of an active person, so I sometimes struggle to sit and watch something. Still, I wanted to catch the shows, but there was just not enough time!
What we did catch were the live performers that popped up all over the NCL Prima, and I was bewildered at how talented they were. I am not exaggerating when I say that I thought they were celebrities that I was unfamiliar with. One of the singers brought so much energy that I could have spent every night just listening to him sing!
The inclusion of live music and performances added a vibrant and dynamic element to the cruise experience, making every moment on board memorable.
A Norwegian Prima Review: Free Activities
There's no getting bored on the Norwegian Prima with everything that's included. Of course, as I've said, there's nonstop entertainment: dance nights, live performances, and comedy, but there are so many other activities that make it one of the best Texas cruises out of Galveston, ensuring so much fun for everyone.
Movies – Want a cozy day while looking out over the water? The TVs are always playing a long range of TV shows and movies, new and old, that are perfect for us.
Slides – With a 10-story, freefall dry slide, the fastest of its kind, as well as an exhilarating water slide, these will make for an exciting view of the sea. You'll feel like you're about to plummet straight into it!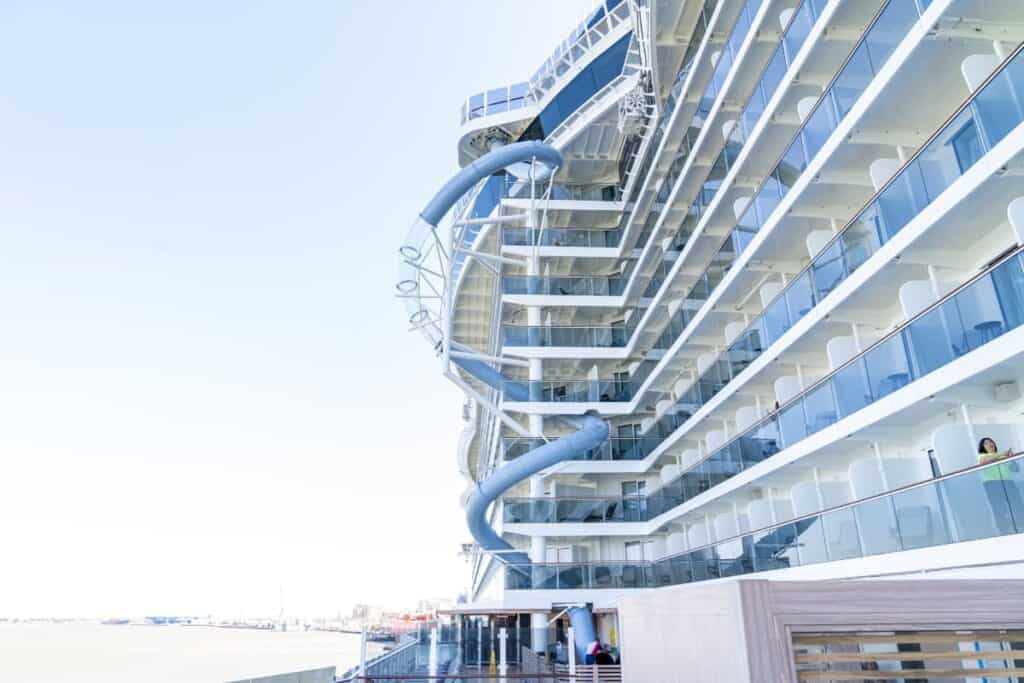 Upstairs Game Lounge – I thought this was so neat! I could have spent so much time up there playing ping pong, tableside soccer, and other games.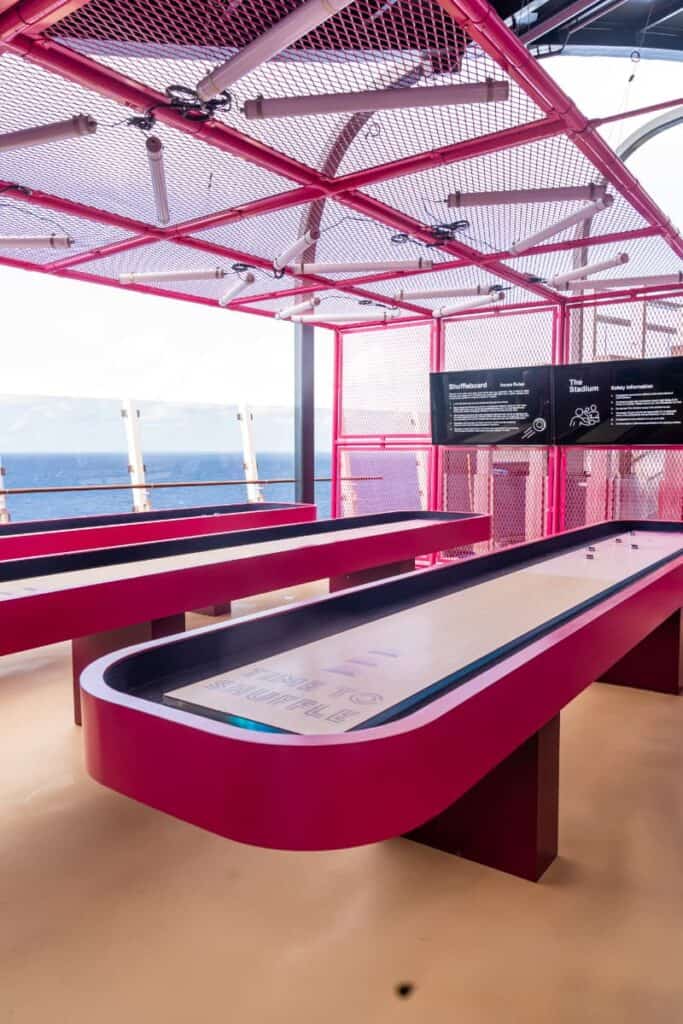 Entertainment Nights – I go to bed early. I want to make it for breakfast, but the way we had a blast at the club was insane. It only happened because my social husband managed to make friends who dragged us along, but I'm so glad we did. Every night is different! One night we went to Sensoria, which started out as a crazy techno dance show, where we managed to dance the night away under all the lights.
A Norwegian Prima Review: Paid Activities
Prima Speedway – Go-karts at sea? There's nothing else like it! It was crazy to zip around this three-story go-kart track with blue in every direction. All of it just adds to the thrill!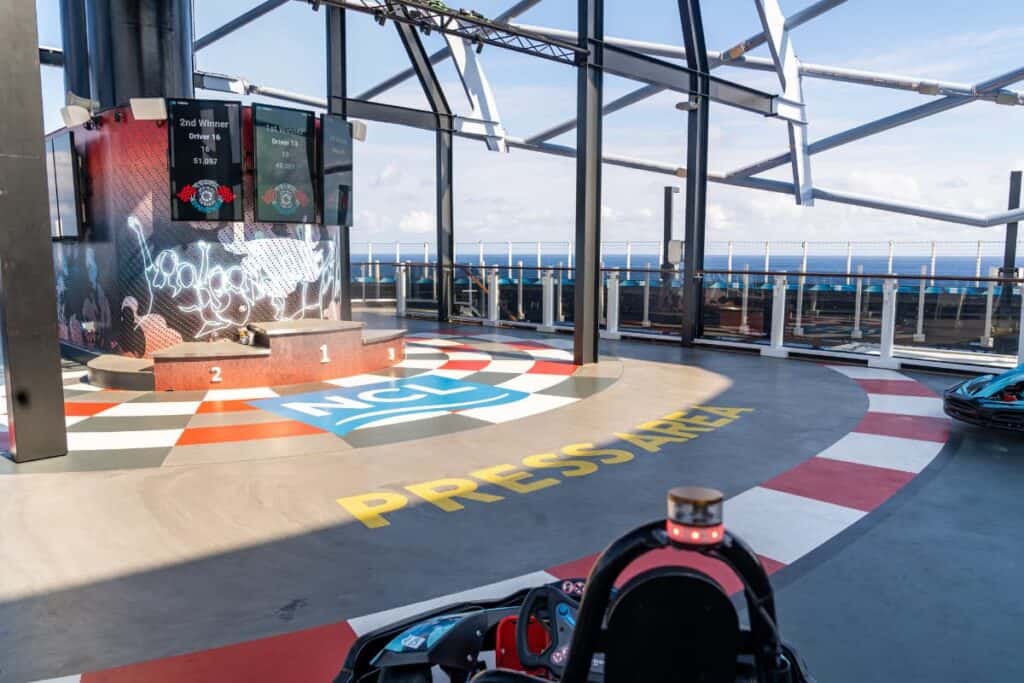 Tee Time & Bull's Eye – Opt for a group game of darts in a reserved space. It felt like one of those personal golf lounges, but with darts! Speaking of golf, Norwegian Prima really went big with their photo-worthy mini golf area, with beautiful sets and unique challenges.
Virtual Reality – This was probably my all-time favorite activity! It might just be the best virtual reality on sea or land. There was a virtual roller coaster, VR racing, and games of all kinds!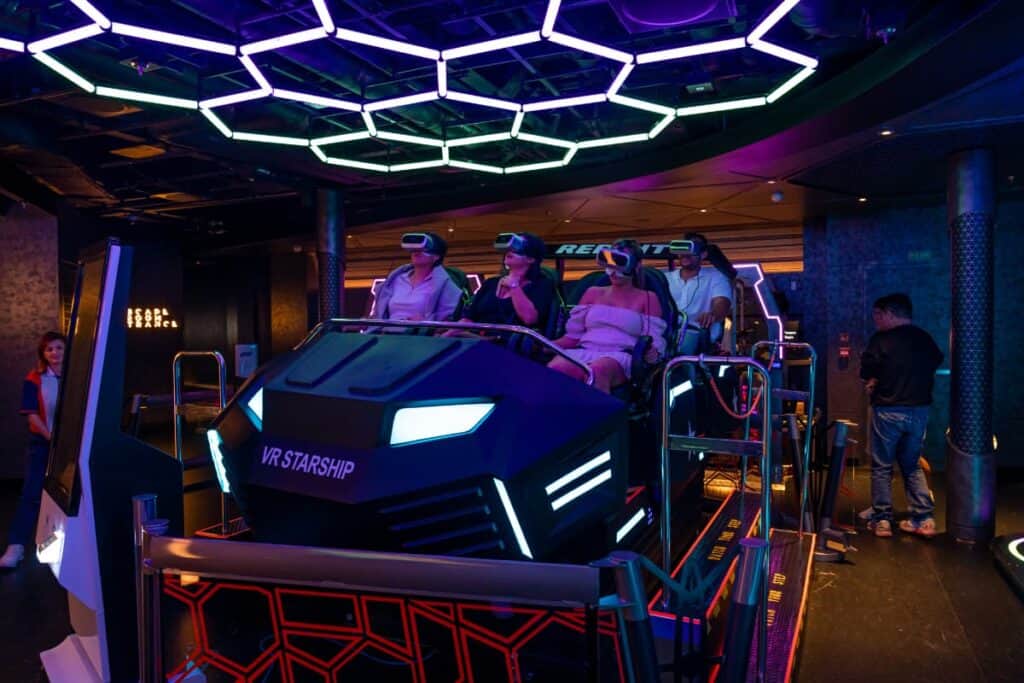 A Norwegian Prima Review: The Spa
If we're going to book a spa service, we don't want just a run-of-the-mill experience. The Norwegian Prima wowed again! As soon as you enter, you'll see two pools with waterfall features.
They offer a day pass where you can enjoy thermal pools, hot tubs, and a whole array of rooms, such as a sauna, steam room, cold room, infrared room, salt room, an experiential shower, and more! It's a whole wonderland of wellness.
In addition to that, there were the treatments themselves. They had several services to choose from that even I hadn't heard of before, including a zero-gravity massage. The massage I chose included lying on a bunch of tiny beads, so every limb had the whole time to unwind.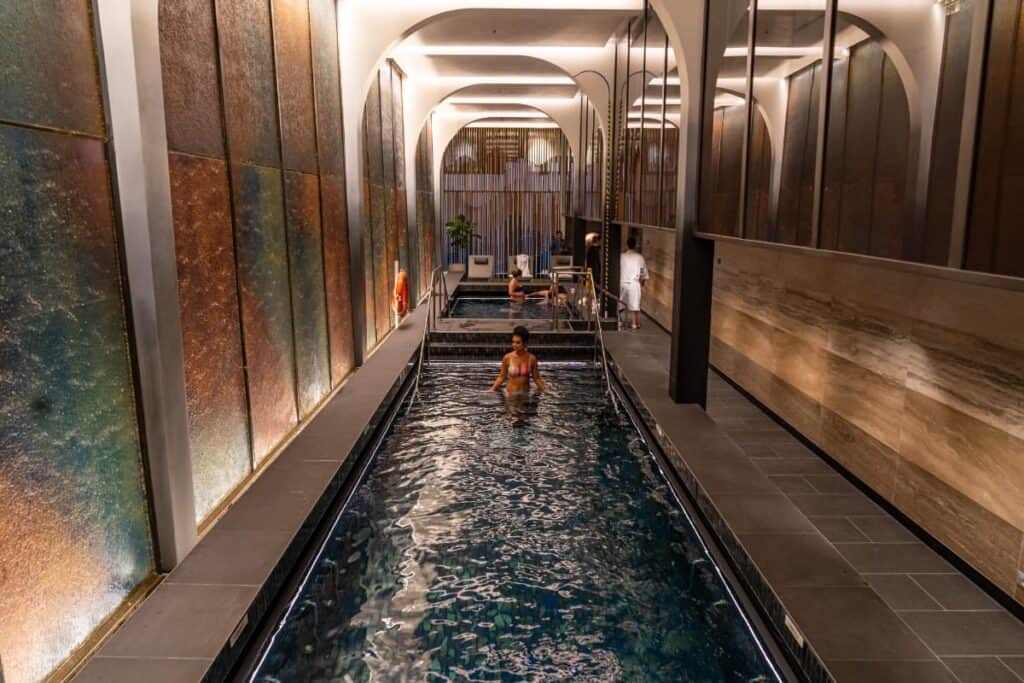 A Norwegian Prima Review: The Fitness Center
If you're worried about your wellness goals while on vacation, worry no more. The Norwegian Prima's fitness center is here to make sure you stay on track while enjoying every moment of your cruise journey.
What really stole my heart were the fitness classes they had on deck. Yoga at sunrise, high-intensity interval training, and even spin classes that made me forget I was even on a ship
Where the Norwegian Prima Sails
If you've ever dreamed of visiting the Western Caribbean, this Texas cruise aboard the Norwegian Prima is for you! It's important to note that the destinations offered by Norwegian Prima are some of the most sought-after locations in the Western Caribbean, setting it apart from other Norwegian ships.
Beginning in 2023 through April 2024, you can book everything from 4 to 11-day cruises to the following places with 8 to 9 hours spent in port, meaning plenty of time for exploring:
Costa Maya and Cozumel, Mexico
Norwegian Cruise Line's private island, Harvest Caye (Belize)
Belize City, Belize
Mahogany Bay and Roatan Island, Honduras
George Town, Grand Cayman
Key West, Florida,
Freeport, Half Moon Cay, Nassau, and Castaway Cay in the Bahamas
Falmouth, Montego Bay, and Ocho Rios, Jamaica
See their website to book your next Texas cruise aboard the Norwegian Prima!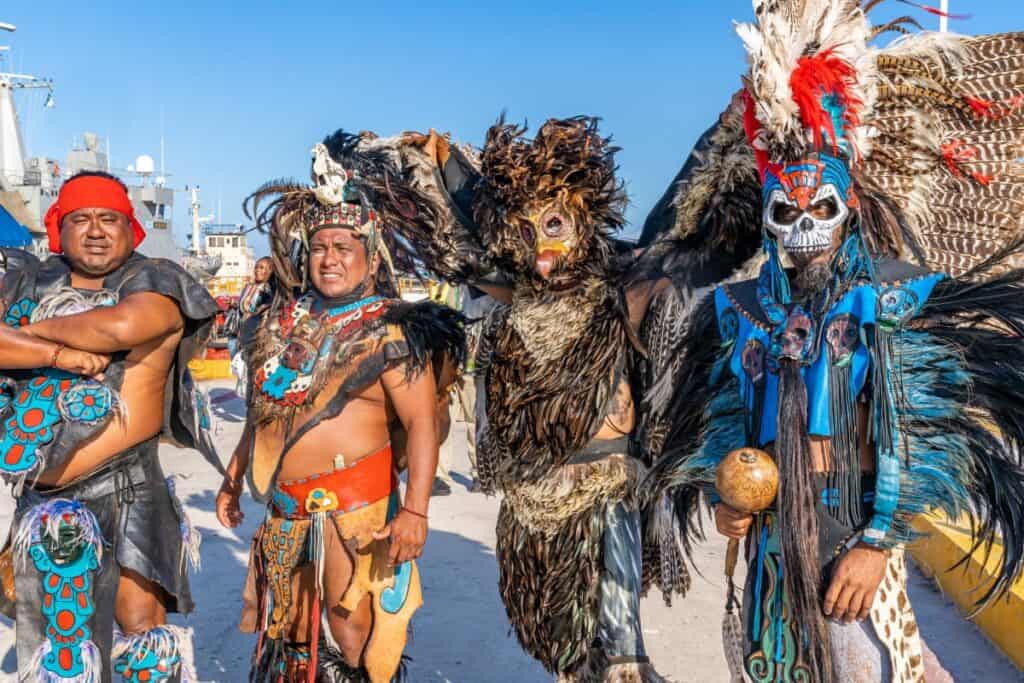 What to Tip on the Norwegian Prima
Our service was wonderful, and even if it wasn't, it's important to budget for tips and gratuity fees when you're doing any kind of travel. Every service provider on board deserves a fair tip for all they do to make your experience memorable.
For this reason, Norwegian Cruise Line has an automatic service charge that equates to $20–$25 per person per day (guests younger than 3 do not pay this service charge).
With that being said, you can choose to prepay for gratuity fees when you book your tickets or 24 hours prior to your trip. In reality, it's a convenience, so you don't have to travel with large amounts of cash.
You might even notice that if you prepay your gratuity fees, you get a cheaper rate, depending on what is offered by the cruise line. You can, of course, choose to pay these fees aboard the cruise ship after you've received service, like you would on land.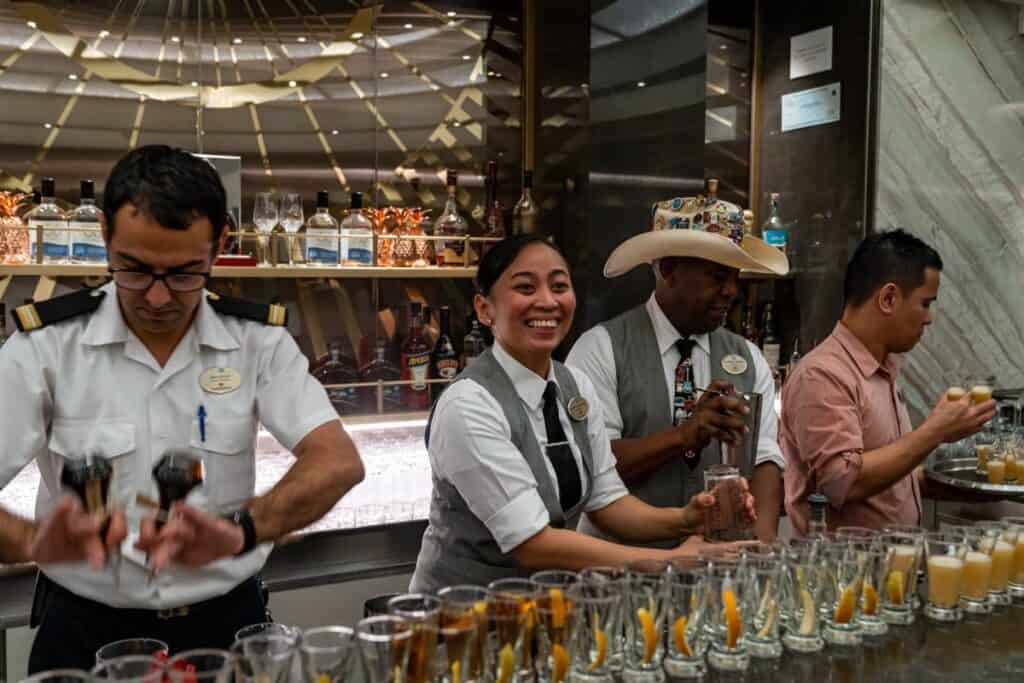 However, there are pluses to prepaying your gratuity fees: if rates happen to go up in between the time you book and the actual cruise, you don't have to pay to meet the new rates.
You can also choose to pay your service provider more than the pre-set gratuity fee by giving them cash, or if you happen to receive poor service, simply go to Guest Services and let them know the reason you'd like your gratuity fees reduced.
Be aware that you may see gratuity charges on receipts for paid services, like at the spa, the bar, or the specialty restaurants, which are separate from any pre-paid gratuity charges you paid during booking.
Additionally, if you purchase a free beverage package, a gratuity charge will also be added to the cost when you book. It is encouraged that you also tip employees that deliver your room service aboard the Norwegian Prima.
You may also encounter baggage handlers or tour guides at the port. Be sure to bring extra cash with you so you can tip them since they are not associated with Norwegian Cruise Line.
Tips to Make This Your Best Texas Cruise
Bring a large, refillable water bottle – I wish I had done this. Water seemed to be a hot commodity aboard this Texas cruise ship, and with all the drinking there is to do, it's so easy to end the day dehydrated. The waiters will happily give you water, but it never seems like enough. However, if you have a refillable water bottle (or two—one to carry with you and one to fill and leave in your cabin), they will gladly fill it up for you to help keep you hydrated.
Pack vitamin C and hydration – This was another thing I am so glad I brought. With all that drinking, make sure you're getting lots of electrolytes. It really helped with not feeling hungover.
Bring other liquid packets – I know, I'm really into all things related to drinks! But if you aren't going to buy a drink package (and even if you are), it's an easy way to add a little more flavor to what they offer. Tea, lemonade, fruit-flavored mixes, etc. It just really helps, and since water is free, you can mix it up. Same thing with coffee. I am a Starbucks addict, but if you're trying to save money on this Texas cruise and like your lattes, pick up a cappuccino mix or something similar.
Carry hand sanitizer – They had so many stations with hand sanitizer available, but it was such a convenience to have it when it's not easy to get to.
Cash for reasons mentioned above.
Our Favorite Cruise Looks
Of course, we want to look cute on this Texas cruise, which is why I'm sharing some of my favorite swimsuits, easy cover-ups, and, of course, cute dresses for the evening. Be sure to pack a long-sleeve swimming option for when you are slacking on your sunscreen application.
Always check your cruise itinerary, especially for dinner, as many have dress codes. You don't want to end up being limited to the buffet meals or having to splurge on a shirt if you don't have a collared shirt (for men, as an example).


A Norwegian Prima Review: Final Thoughts
I loved how unique the Norwegian Prima was compared to other NCL ships. I was never bored and always had a good time! Norwegian Prima also managed to find the best staff. Cruise ship customer service is unlike anywhere else. I truly appreciate how everyone aboard this Texas cruise ship worked so hard to make sure we had the best experience possible. They truly went above and beyond our expectations! We received first-class service everywhere we went! It's things like that that make a vacation one you'll remember forever.
There were a few things I thought could have been better. For instance, specialty dining just didn't seem worth the extra cost, and I was really looking forward to trying out different restaurants. However, I enjoyed the normal complimentary dining so much that I wasn't concerned about the specialty dining in the end. The other thing would be the wait at Hudson's for breakfast and dinner.
You can also check out our review of the Norwegian Bliss, one of the sister ships in the NCL fleet.