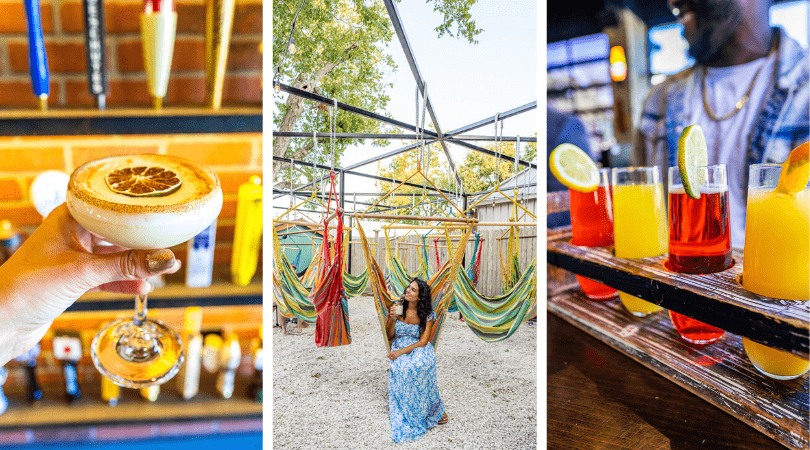 Looking for a night out on the town like you've never experienced before? Houston sports a wide array of secret speakeasies and hidden bars that give guests an exclusive drinking experience. Houston has an extensive list, ranging from Prohibition-style establishments to modern interpretations on the classic speakeasy; from tiki bars to speakeasies disguised as tailor shops. With so much to discover in Houston, let's discuss how to get into the top 21 best secret speakeasies and hidden bars in town!
For more about how to get into the best secret speakeasies and hidden bars across Texas, check out our guides for Dallas, Austin, and San Antonio!
Enjoy Mezcals and Tacos: Mijo's Mezcal Bar
Have you ever seen a Día de los Muertos themed speakeasy? For a hidden bar that will transport you to the beaches of Cancun, look no further than Mijo's Mezcal Bar. Located inside Cantina Barbara in the Heights, the speakeasy is towards the back patio. Just look for a small shipping container. The single storage container in between two palm trees doesn't look like much from the outside, but once you step inside, you'll be met by a lively atmosphere with neon lights.
This hidden bar is adorned with Día de los Muertos decor and boasts upbeat Latin tunes. While Mijo's serves a variety of cocktails and drinks, they are known for their mezcal. Their mezcals are the best you can find in the Houston area, so I definitely recommend giving it a try. Seating at the speakeasy is limited, so for the best chance of getting a seat, you should aim to get there at 8pm when they open. For the ultimate drinking experience, ask the bartender for a mezcal cocktail and dance the night away at Mijo's.
Bad News Never Sounded So Good: Captain Foxheart's Bad News Bar & Spirit Lounge
While downtown, you may see a man standing near the door next to Ira Aghai's Law Firm. If he asks if you're looking for bad news, say yes. He'll lead you to a doorway that ascends to a dark and narrow staircase. Upon getting to the top, you'll see a door on your left. Open it and you'll find Captain Foxheart's Bad News Bar & Spirit Lounge, an old-fashioned speakeasy and hidden bar sporting amazing views of downtown Houston.
Trained bartenders are ready to serve you some of the city's best variety of craft cocktails and drinks. Using high quality ingredients like rosewater and cantaloupe syrups, the bar creates authentic drinks that you can't get anywhere else. Take in the vintage vibes of the lounge as you sip on premier cocktails for an ultimate night out on the town.
Make Out in a Romantic Dive: Marfreless
If you're looking for an intimate and romantic night out with your favorite person, Marfreless is one of Houston's most clandestine date night spots and hidden bars. Located in River Oaks, it's known for being a hidden away make out spot. It's even a sort of tradition to make out once you reach the upstairs portion of the bar, so be sure to pack extra lip balm.
First established in the 1970's, Marfreless still stands today and can be accessed on the side of the building through an unmarked blue door beneath a white staircase. Once you enter the establishment, the sounds of old school music will meet your ears and you'll immediately be immersed in a vintage ambiance. Prohibition era themed decor adorns the walls and is complemented by candlelit couches. This hidden bar serves signature cocktails that you and your significant other can enjoy together.
Let the Rabbit Lead the Way: Rabbit's Got the Gun
If you're near the Northside, you have to check out Rabbit's Got the Gun. Be on the lookout for picnic tables near Rodriguez Tire Shop. At first glance, it may appear to just be a hangout spot for those enjoying tacos from the Lobos Tacos food truck, but if you look around, you'll spot some barred doors featuring a mural of a rather ominous looking rabbit. While it may look like an abandoned area, entering the door will lead you into an urban speakeasy paradise. With a live DJ lounge, tacos, and all the craft cocktails you can dream of, Rabbit's Got the Gun is a contemporary hidden bar that you don't want to miss out on. While you're at it, explore Houston and all of its things to do!
Sip on High End Cocktails: Bandista
If you're looking to go all out for the night and don't mind spending a bit of cash, Bandista is the place to be. Located in the Four Seasons Houston, make sure to book a reservation first. From there, a staff member will lead you to the second floor towards a bookcase behind Toro Toro. A secret code will be entered on the pin pad to unlock the door and you'll gain access to the hidden bar.
The intimate lounge only seats 20 people and is reminiscent of the 1920's, with stylish decor adorning the establishment. Bandista manages to combine the old-fashioned ambiance of a traditional speakeasy with a contemporary Latin vibe that makes this hidden bar the ultimate nighttime getaway. All drinks are handcrafted using premium spirits and specialty ingredients that can't be found just anywhere in Houston, making the prices a little higher than alternative bars. The high-quality drinks and unmatched atmosphere are worth the price, so Bandista should definitely be on your list of speakeasies to check out.
Life's Better with Sweets: The Sugar Room
Who doesn't like a little sugar with their drink? The Sugar Room takes midnight cravings to the next level, hidden in the back of a bakery on Washington Avenue. Enter through the bakery and walk past the pastry room until you hit the back stockroom. Past the surplus of baking supplies and coffee beans, you'll discover an unmarked door. Through the door is a clandestine, hidden bar complete with plush couches and glamor. With gorgeous gold-trimmed bar carts and a cocktail menu filled with specialty drinks, you'll get enough eye candy to last you the night.
Sushi and Whiskey: Kanpai Club
Kanpai Club is a shogun-style bar in the Heights. Only seating 10 people at a time, this speakeasy serves an assortment of exotic drinks, from unique gin creations to Japanese whiskey. Stationed inside of the sushi and hand roll restaurant Hando, make an immediate left and, through the red door, you'll find the Kanpai Club. The small room will look like an urban alleyway, but the vibes are immaculate as you enjoy a drink and talk with the trained mixologists inside this hidden bar. Keep in mind this establishment is cashless.
More Than Your Average Tailor Shop: Char Bar
While walking through downtown, you might think that Hollywood's Tailor's is a regular tailor shop. What might not be so obvious from the outside is that it actually sports a hidden bar inside. Just head inside and you'll be met with Char Bar, a full-service bar selling whiskey and infamous martinis that'll make you glad you stopped by. The bar is family-owned, so you'll see old family photos decorating the walls while chatting with the bartenders about the history of the establishment. The lounge even features a vintage jukebox that plays tunes that'll take you back. The coolest part of this hidden bar: the tailor shop is fully functioning! So, if you actually did want to grab a drink while you get some adjustments done, you're more than welcome to.
Be Transported to a Tropical Paradise: Lei Low Rum & Tiki Bar
Kāmau! Take a trip to the tropics with a visit to Lei Low Rum & Tiki Bar. Located inside Joe's Food Store in a Sunset Heights shopping center, look for the "Aloha" and neon "Rum" sign perched on top of blacked out windows. Go through the door and be transported to the hidden paradise of Lei Low.
This speakeasy is adorned with tropical themed touches and makes visitors feel like they're on vacation. Try one of their tropical cocktails mixed and served in cool hula girl and mermaid glasses. Their specialty is their rum, making for the tastiest concoctions that you'll find in the Houston area. More of a Mai Thai person? Don't fret, the lounge serves something for everyone. With piña coladas and martini's galore, the menu is never ending! The hidden bar isn't easily found and offers an intimate experience, so you'll enjoy laying low at Lei Low's.
A Traditional Speakeasy From the 1920's: The Noble Experiment
You may have heard of Grazia Italian Kitchen, but did you know the popular eatery sports a speakeasy inside? The Noble Experiment, named after the Prohibition era in American history, is hidden in the back of this Italian restaurant and is only fit for the most determined of people.
Call ahead to get the password. It's important to do this every time, as the password changes and there is no guarantee that it'll be the same one from last time. Password hints are also posted on Facebook for those who are up to the challenge of figuring it out on their own. There is a red phone booth inside the restaurant and, once you give the password, you can find a hidden door that will lead you into the speakeasy.
The Noble Experiment will remind you of the world of Great Gatsby with vintage tunes and decor. You'll find an authentic menu filled with high end cocktails made from all natural ingredients. With its luxurious atmosphere, experienced bartenders, and gorgeous champagne glasses, you'll feel like you're in 1920's New York.
Experience the Luxury in the Great Gatsby: Daisy Buchanan Lounge
In true 1920's fashion, Gatsby can't go without his Daisy at this Houston secret speakeasy. Located right next to Gatsby's Steakhouse, the Daisy Buchanan Lounge is adorned with gold decor and glistening chandeliers to give guests a feel for the elegance of F. Scott Fitzgerald's classic novel. Live music is played on a grand piano, and you can dance to jazz and swing tunes.
The setting of this secret speakeasy is to die for, and the drinks are equally as exquisite. Enjoy craft cocktails influenced by the vibes of the roaring 20's and an abundance of champagne. Beer, wine, and spirits are also served at this hidden bar for those looking for their traditional favorite. Since the Daisy Buchanan Lounge now serves as an extension to the Gatsby Steakhouse, guests can enjoy late-night dining options, like prime steak and maple glazed bacon. While the lounge may be speakeasy-style, it isn't hard to find at all. Just head towards Montrose Boulevard and you'll be able to find this stand-alone restaurant.
Get Your Party On: FAO
Party the night away at FAO HTX, Houston's premier location for drinks and fun. Sitting nondescript at the top of an office building in Midtown, this hidden bar can only be accessed with a numerical code. You can find it in their Instagram bio. Once you gain access to the building, head up to level three and you'll find the secret speakeasy: FAO HTX.
It provides the perfect combination of entertainment and relaxation with their arcade and party games. From classics to interactive games, you and your friends won't run out of cool things to try. The lounge also has TVs, comfortable couches, and of course, a bar that draws the eye. Serving some of Houston's best craft cocktails and specialty mixes, FAO is a great place to spend a night out on the town. Savor your drink as you take in the stunning skyline.
Remember to dress to impress. They have a dress code of business casual or fashionable attire that is encouraged every day but enforced on Fridays and Saturdays after 9:00.
A Hidden Away Oasis: Secret Garden
Located in downtown Houston, Secret Garden is just as enchanting as it sounds. It's not hard to access, just enter the backyard patio at Bravery Chef Hall or find the bar's entrance on Main Street. While it isn't as hidden as other secret speakeasies, the decor and intimate setting will make you feel like you've been transported into a hidden oasis. The 2,000 square foot patio is adorned with beautiful flowers and plants that bring it to life. It even has a greenhouse filled with flora that guests can stroll through with their drinks.
At night, the sunlight is traded for stunning neon lights. Secret Garden serves both coffee and cocktails, with coffee service halting at 2:00 pm. If you show up in time, you can enjoy a delicious assortment of coffee from around the globe. Try Greek Espresso, Turkish Coffee, or Vietnamese Coffee. As the evening approaches, bottled, craft, and carbonated options will populate the menu, including classics like margaritas and daiquiris.
An Exclusive Night Out: The Anvil Bar & Refuge
For a truly intimate night out, stop by Refuge. Located on the second floor of 1424 Westheimer, above the Anvil Bar, this hidden bar has been described by owners as a "formal cocktail apartment." This secret speakeasy boasts a dark interior complete with eight tables and a dozen bar seats for some added exclusivity. 200 spirits align a walnut bar, including a selection of unique and swanky liquors. Trained bartenders and mixologists will serve you the perfect drink, or you can choose something from their carefully divided cocktail list. The menu is split into three sections sporting the titles, "Classic & Riffs," "Originals," and "Excessives." While the list may only include 20 specialty cocktails, they are exquisite in taste and definitely make up for the limited options.
Attend a Concert: The Last Concert Cafe
Up for a night of live music and drinks? The Last Concert Cafe is a secret speakeasy that is a combination of a traditional Mexican restaurant, a hidden bar, and a concert hall. Tucked away in the Warehouse District in downtown Houston, the Last Concert Cafe looks like a typical Mexican cafe from the outside. When you first enter, you'll notice its full kitchen serving delicious Mexican delights. If you walk out back, you'll find the backyard patio, where the restaurant becomes a music lover's dream.
This outdoor concert venue hosts artists that perform a variety of different genres, so there's something for everyone to enjoy! The patio holds a plethora of picnic tables and there is even a large area in front of the stage where you can dance! The ambiance is aided further by their amazing selection of cocktails and craft beers that guests just can't get enough of.
For the Art Lovers: Notsuoh
For those looking for a quirky, hidden bar with a twist, look no further! Notsuoh is a creativity lounge where art lovers can come together and enjoy poetry, live music, and drinks all in one place. This secret speakeasy is located on 314 Main Street under a sign that says "Clarks" in big red letters. You may think you're entering a store, but upon entering, you'll recognize this as a cool speakeasy immediately. Artists of all types come together to show off their work in this hip joint. You can sit back and watch the art or opt in to show off your talents instead! Whatever you choose, this hidden lounge has craft cocktails, beer, and a simple menu to add to your night out.
360-Degree Views of Houston's Skyline: Z on 23 Rooftop
For some of the best views of Houston's skyline, head up to Z on 23 Rooftop. An extension of the Zuro Restaurant and Bar that sits on the ground floor, Z on 23 Rooftop was voted one of Houston's most Instagrammable places because the views can't be beat! To enter this hidden bar, just go to the Le Meridien Houston Hotel and head to the 23rd floor. The 360-degree views aren't the only pushing factor for this lounge, as their drink selection is to die for. Their menu includes specialty beers and wines, as well as specialty crafted cocktails that are paired perfectly with their light bite options. Bottle service is also available upon request.
Taste Flavors from Around the Globe: Diversion Cocktails
Diversion Cocktails has some of the best handcrafted cocktails in Houston. Using fresh and organic produce from local Texas farms, this hidden bar creates high quality drinks that you won't get anywhere else. With a menu inspired by owner, Steven Enrique Salazar's Spanish heritage and his travels, the exotic flavors and unique ingredients make these drinks an absolute must while you're in Houston. These drinks may have simple names, like Bourbon #1 and Amaro #1, but the taste will take you oceans away.
The outside of this hidden bar is an unassuming building that can be easy to miss at first, but with a quick search and a good eye, you'll be able to find it. Just walk through the front doors and embark on an international drinking adventure.
A Wine Bar in a Supermarket: Lee's Den
Relax with a glass of wine at Lee's Den, Houston's up and coming, secret speakeasy wine bar. To access the bar, either enter through the Local Foods Market and take the stairs to the second floor or through a hidden door on the side of the building. Upon entering this swanky warehouse turned hidden bar, you'll find an intimate lounge with luxury green velvet seating, quartzite topped tables, and brass lighting. The area also encompasses a covered patio and can fit about 60 people at a time.
You'll enjoy a fine assortment of wines and cocktails, including unique flavors that are hard to find elsewhere. The 400-bottle wine list contains natural wines and are all sold retail to-go. In fact, you can even purchase bottles at the Local Foods Market without paying a corkage fee. Small plates and entrees are also served and pair well with the collection of drinks on the menu.
Hidden Omakase: Sushi By Hidden
Sushi By Hidden is an exclusive 10-seat sushi bar located within the walls of a small art gallery in Rice Village. This place offers an adventurous Omakase dining experience with a unique 12-course sushi tasting menu served in just 30 minutes! They are currently Bring Your Own Liquor (BYOL) with a $20 corkage fee per bottle of 720 ml and larger.
Cuban-Inspired Hideaway in a Restaurant Kitchen: Emilia's Havana
You can access this elegant, candle lit lounge, Emilia's Havana, via a secret entrance inside the kitchen of the Annie Café & Bar. This intimate, 50-person bar plays live Cuban music nightly and serves a variety of expertly crafted, Caribbean-inspired cocktails and small bites. Guests also have unlimited access to their rum fountain.
This speakeasy seats guests Wednesday through Saturday, with the first seating beginning at 7:30 PM and the second at 10:00 PM. Be sure to make reservations ahead of time and keep in mind there is a $50 entertainment charge per person. During the second seating, there is a food and beverage minimum. Stay a little later on Friday and Saturday nights and catch the live DJ beginning at 12:30 PM!
The Best Secret Speakeasies and Hidden Bars in Houston TX: Final Thoughts
If you're looking for unique things to do in Houston, checking out the top 21 best speakeasy bars is never a bad idea. With hidden bars behind bakeries and groceries stores that all have intricate ways of getting in, a night out at a speakeasy is sure to be an unforgettable time. You won't regret checking out the best speakeasy bars hidden throughout Houston. You'll be surprised to hear that Dallas, Austin, and San Antonio are also home to some hidden bars!