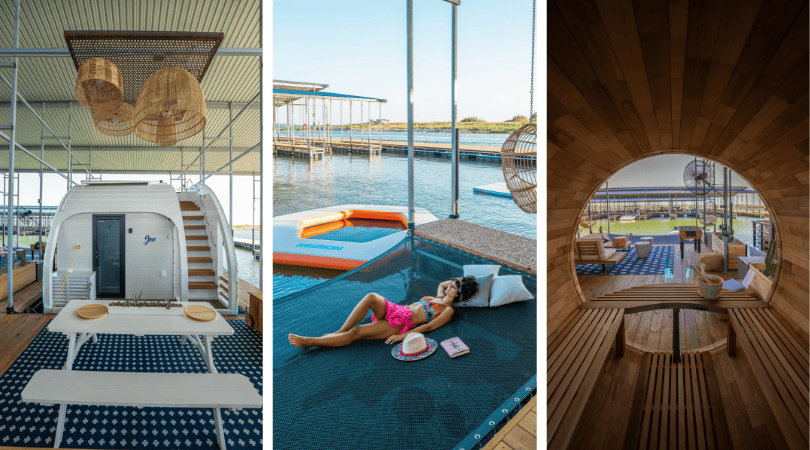 Love and Boat, the company behind the popular boat tours in Austin, takes their venture to a whole new level with the Floatel — an extraordinary endeavor in the heart of DFW. Docked at Sapphire Bay Marina in Rowlett, TX, this innovative concept offers a remarkable overnight stay on a boat, and it's nothing short of pure luxury.
From the moment you step on board, it becomes evident that no expense was spared in making Floatel an unparalleled experience. The attention to detail is astonishing, with amenities ranging from a foot massager to a heated toilet seat, leaving guests feeling pampered and delighted.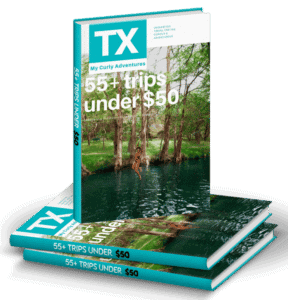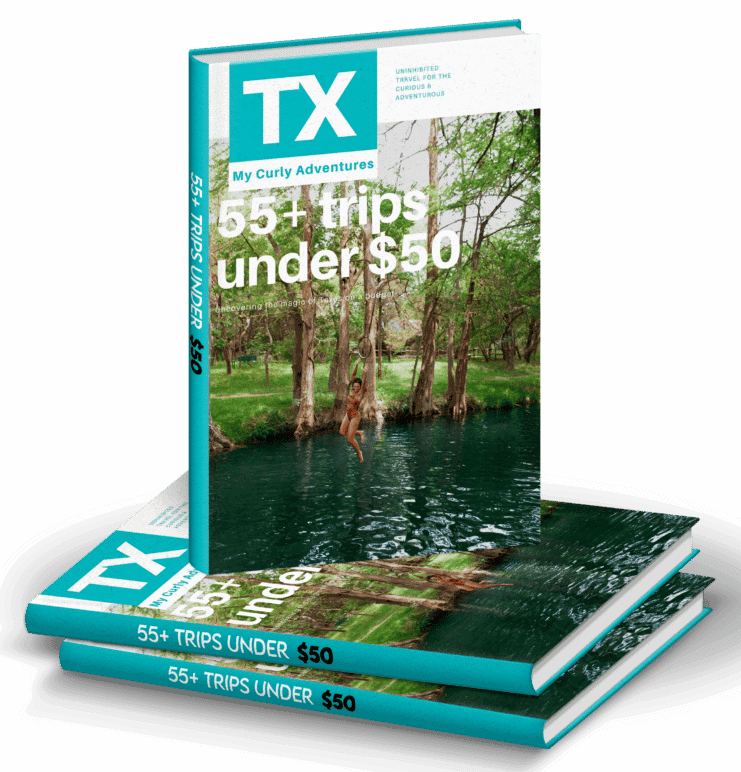 With our latest edition of our Texas Travel Guide, you can take an exciting vacation every weekend without breaking the bank and still have more to do! And in just one trip, the guide pays for itself! You'll be amazed at all the hidden gems, international influence, and wacky attractions you'll find all over Texas!
Not ready to purchase quite yet? We wanted to make this guide as accessible as possible, so we've shared our 1st edition of our guide, 50 Texas Trips Under $50. Click the button below to get yours for FREE!
About the Owner
Stella, a passionate boat enthusiast and entrepreneur originally from Kenya, had always dreamed of creating a one-of-a-kind boat experience that would redefine the way people enjoyed the waters of Texas.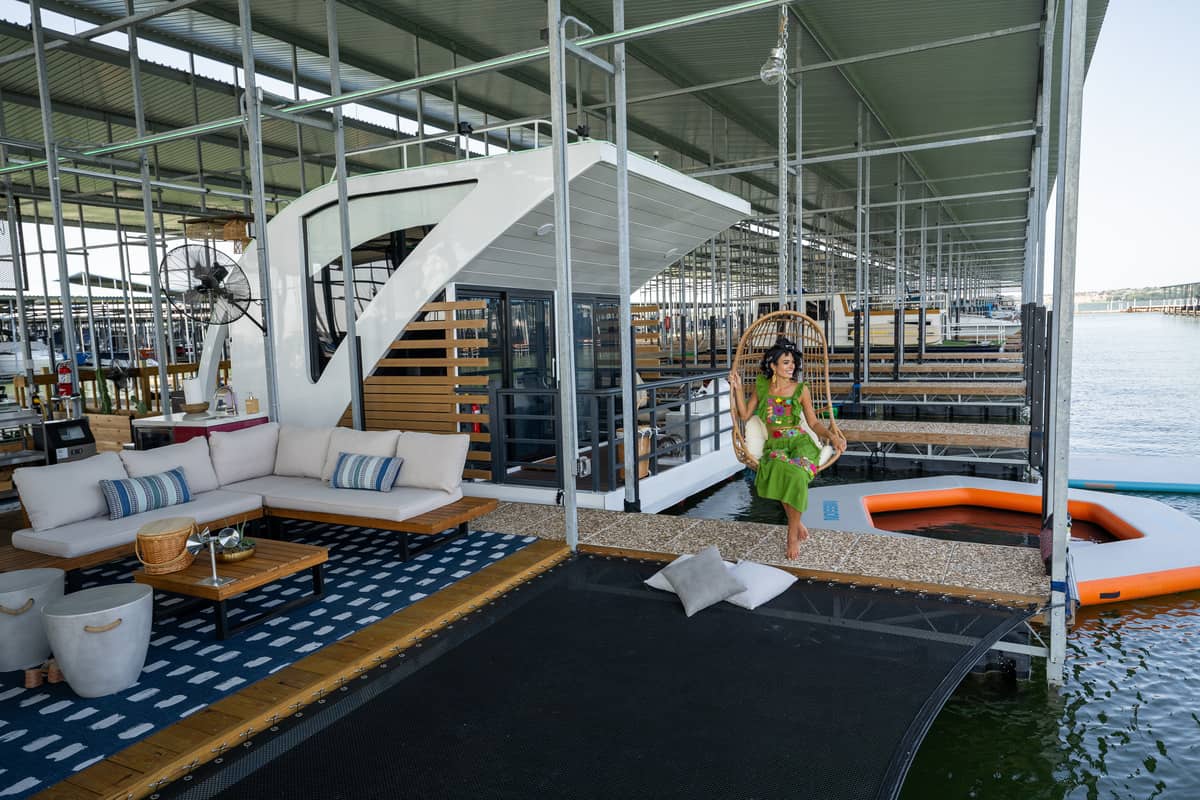 She established Love and Boat, a boat tour company based in Austin, which became immensely popular for its memorable tours and exceptional service. Buoyed by the success of Love and Boat, Stella set her sights on a new venture – The Floatel.
The inspiration for the Floatel came to Stella during one of her travels when she stumbled upon a unique floating accommodation concept on a distant land. Captivated by the idea of combining luxury with the serenity of the water, Stella worked tirelessly to make her vision a reality. After much planning and preparation, the Floatel found its home at Sapphire Bay Marina.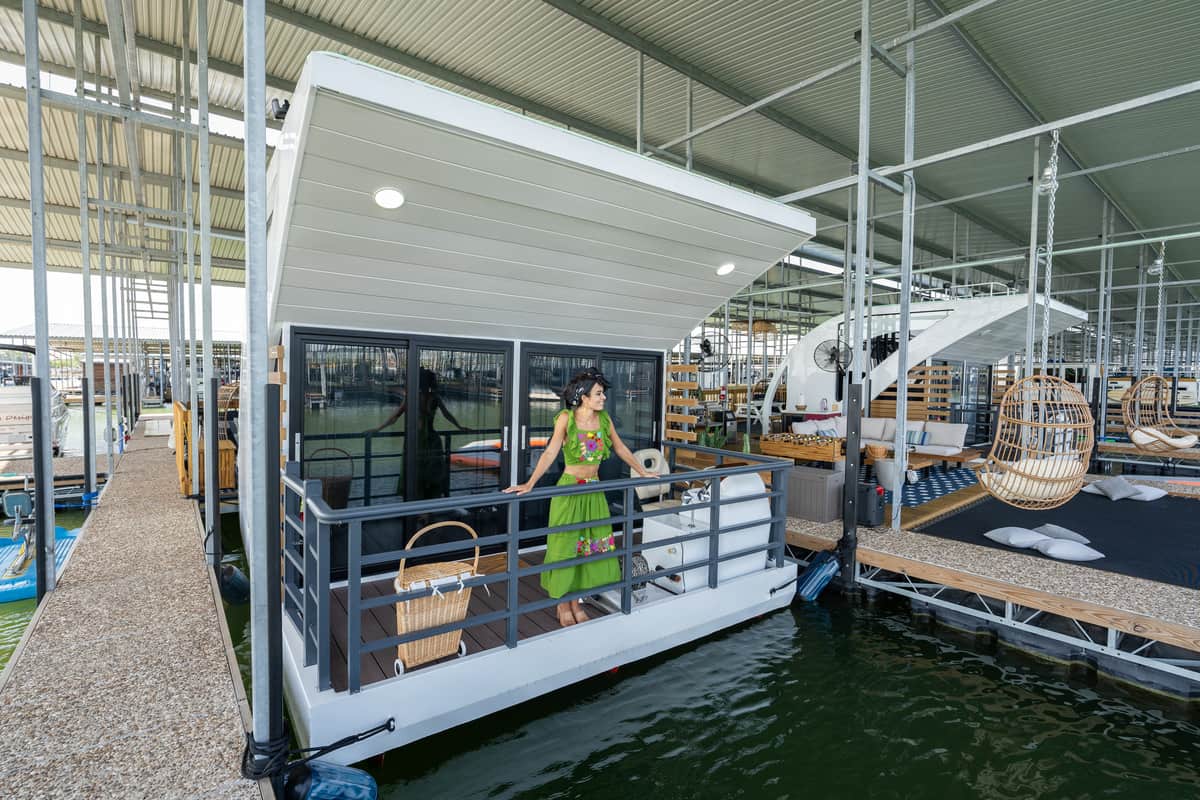 Luxurious & Thoughtful Amenities
The boat's interior features a kitchen that is well-equipped with almost a full-sized fridge, a Keurig maker with plenty of customization options, a microwave, a Nutribullet, and a single-pan stovetop.
The kitchen is stocked with all the necessary pots, pans, and utensils, as well as multiple seasonings and olive oil, making it perfect for guests who wish to cook their own meals. For the most part, we opted to cook in the outdoor kitchen, but we appreciated the added conveniences.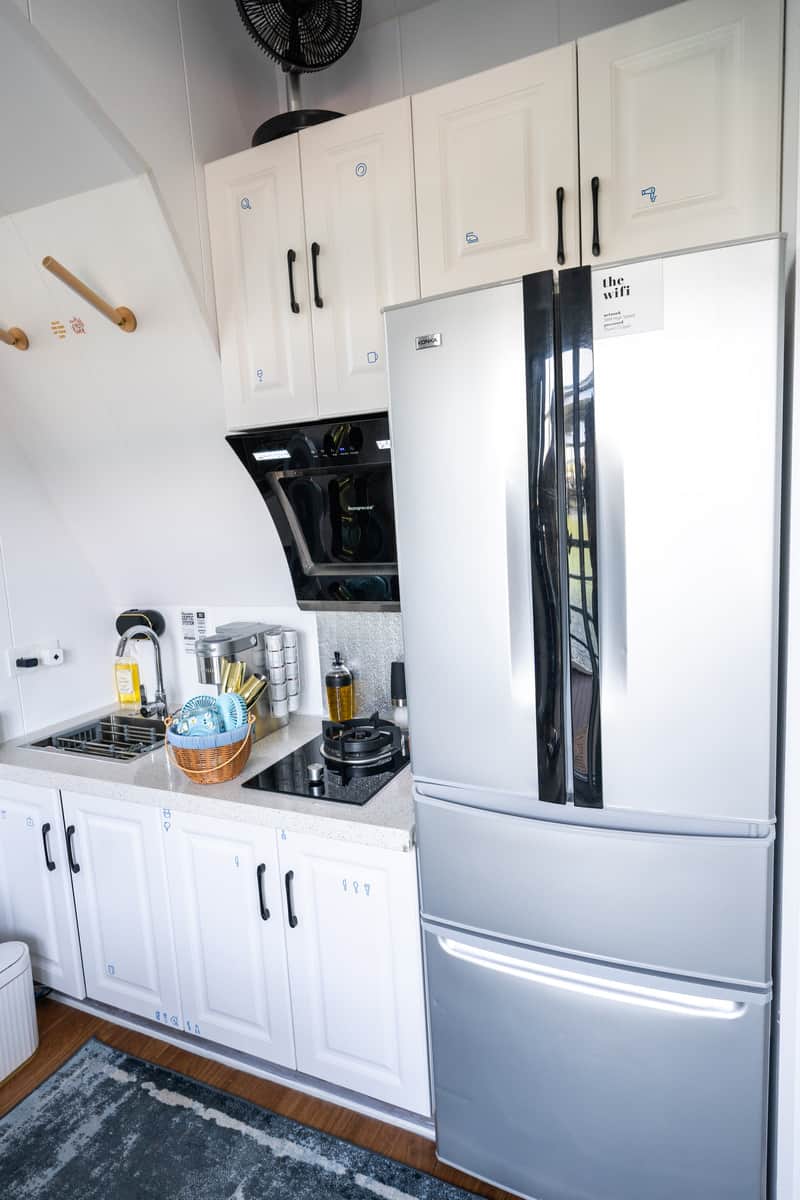 The living room area boasts a TV with various streaming channels, and the Wi-Fi connectivity is surprisingly strong, ensuring guests stay connected and entertained. Additionally, the living area houses an array of cute books and games for further relaxation and enjoyment. Not to mention there was even a foot massager that further shows just how much attention to detail Stella put into creating the Floatel.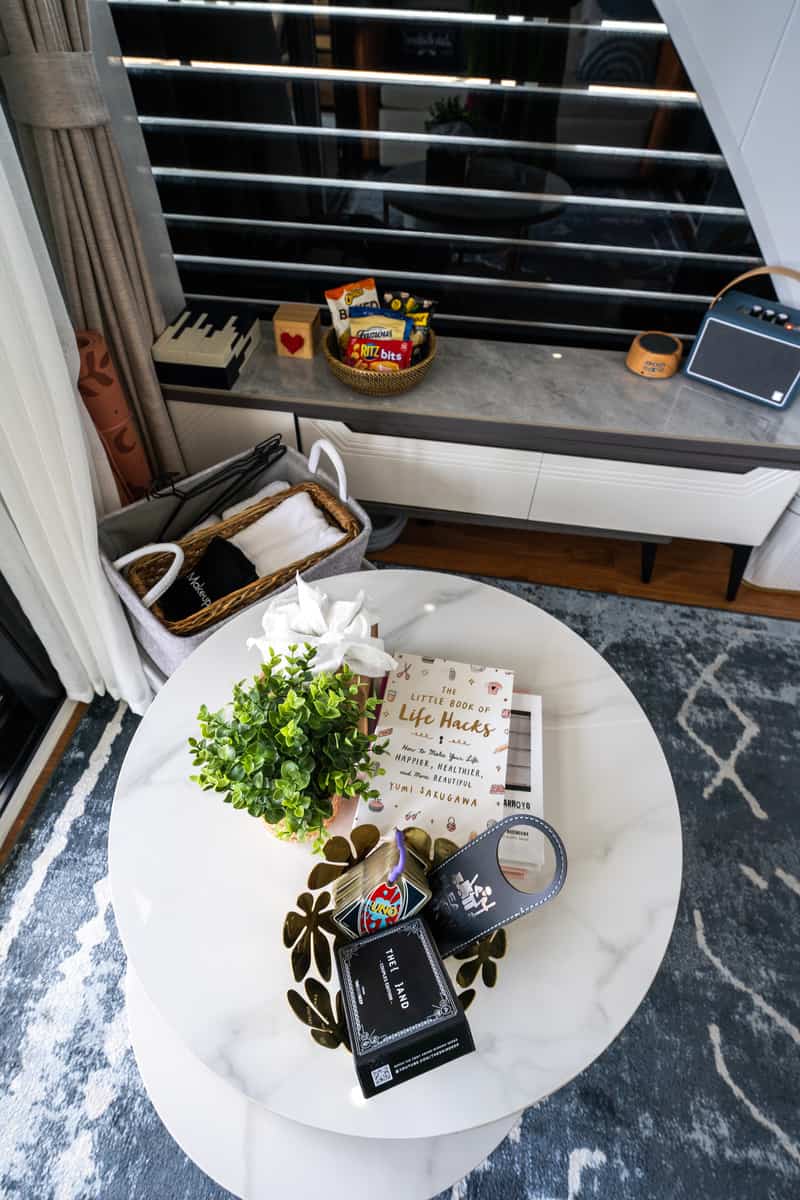 The Cozy Sleeping Arrangements
While the living space may be relatively compact, the accommodations are cozy and well-appointed. The loft area has a retractable ladder that leads to a comfortable, luxurious bed complemented by curtains and breathtaking views of the sunrise each morning. The bed promises a restful and indulgent night's sleep surrounded by the serenity of the water.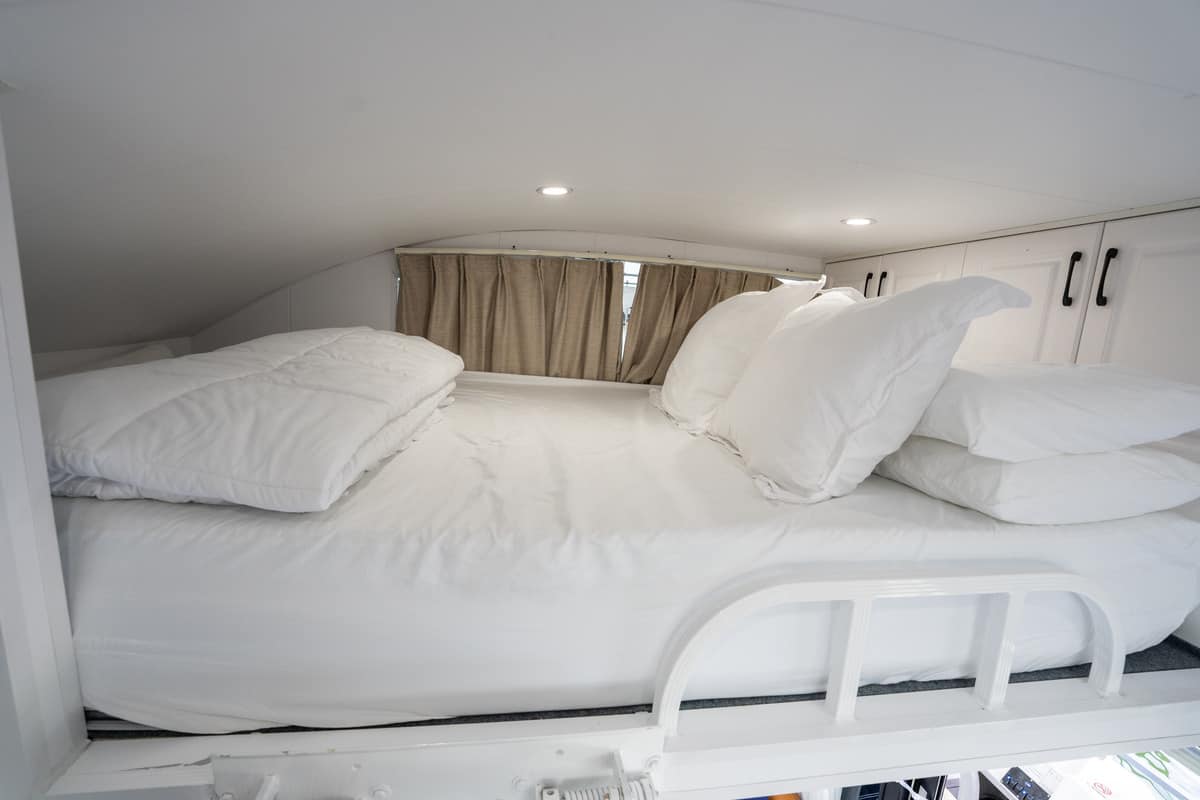 Bathroom & Outdoor Deck
The bathroom, though compact, offers a touch of luxury with its fancy toilet/bidet/heated seat combo, along with a shower and a small washer/dryer 2-in-1 set and full-length mirror for added convenience.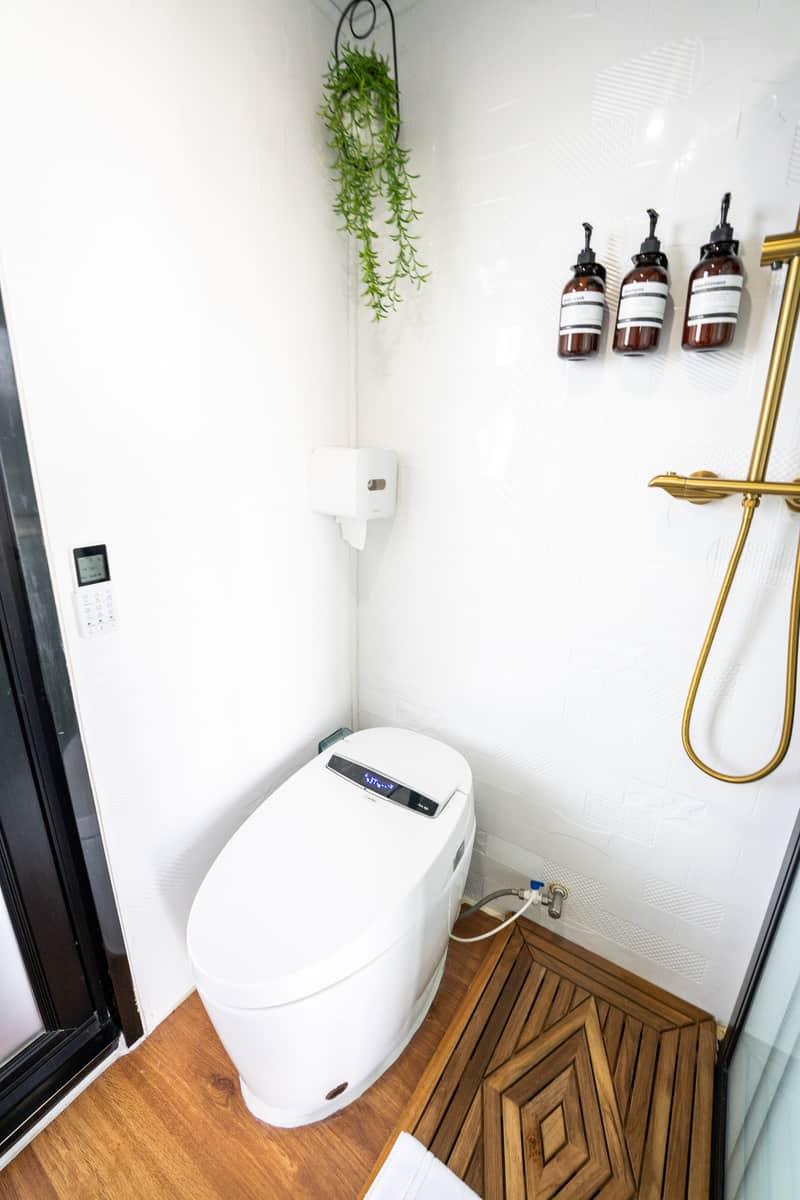 Stepping outside, guests will find a front deck with a captain's chair, perfect for sipping morning coffee and enjoying the scenic surroundings. Upstairs, there's a small deck for lounging, providing an excellent spot for guests to unwind and indulge in the surrounding view.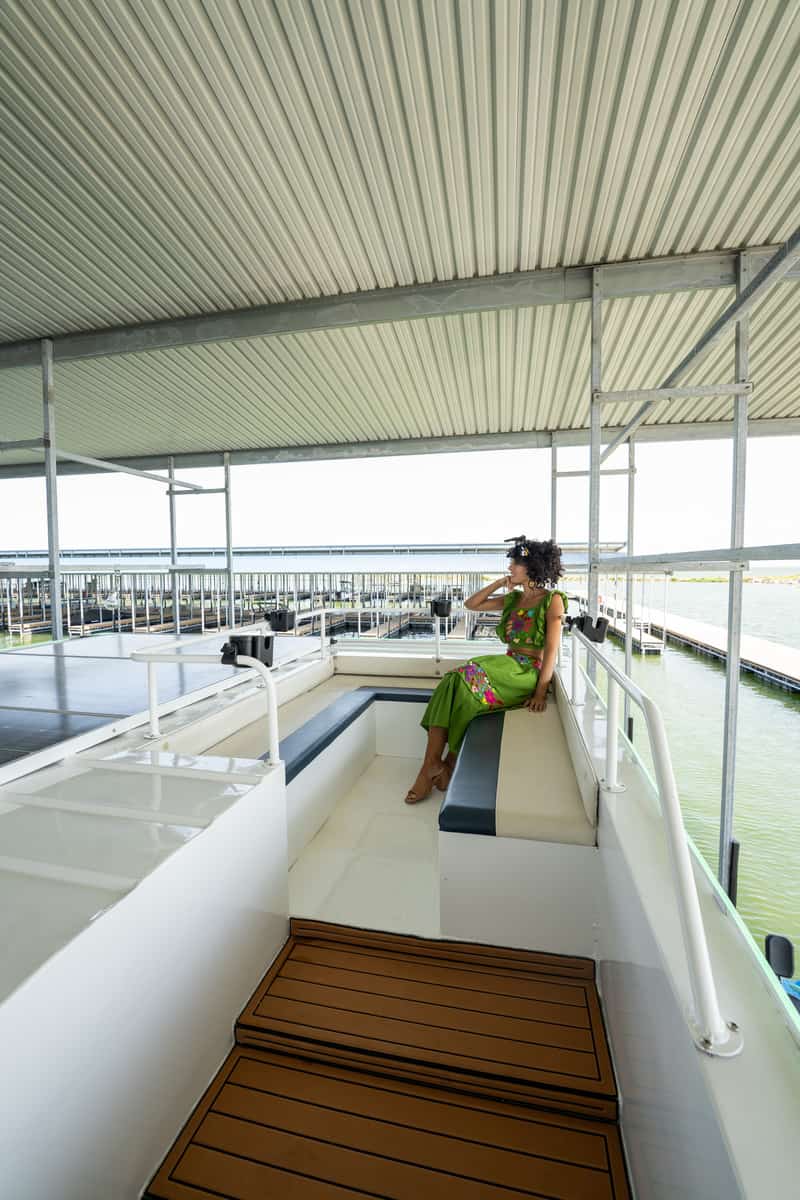 The Private & Shared Decks
Each Floatel comes with a private area featuring an egg chair and a picnic table, ideal for guests to enjoy a meal in a secluded, intimate setting.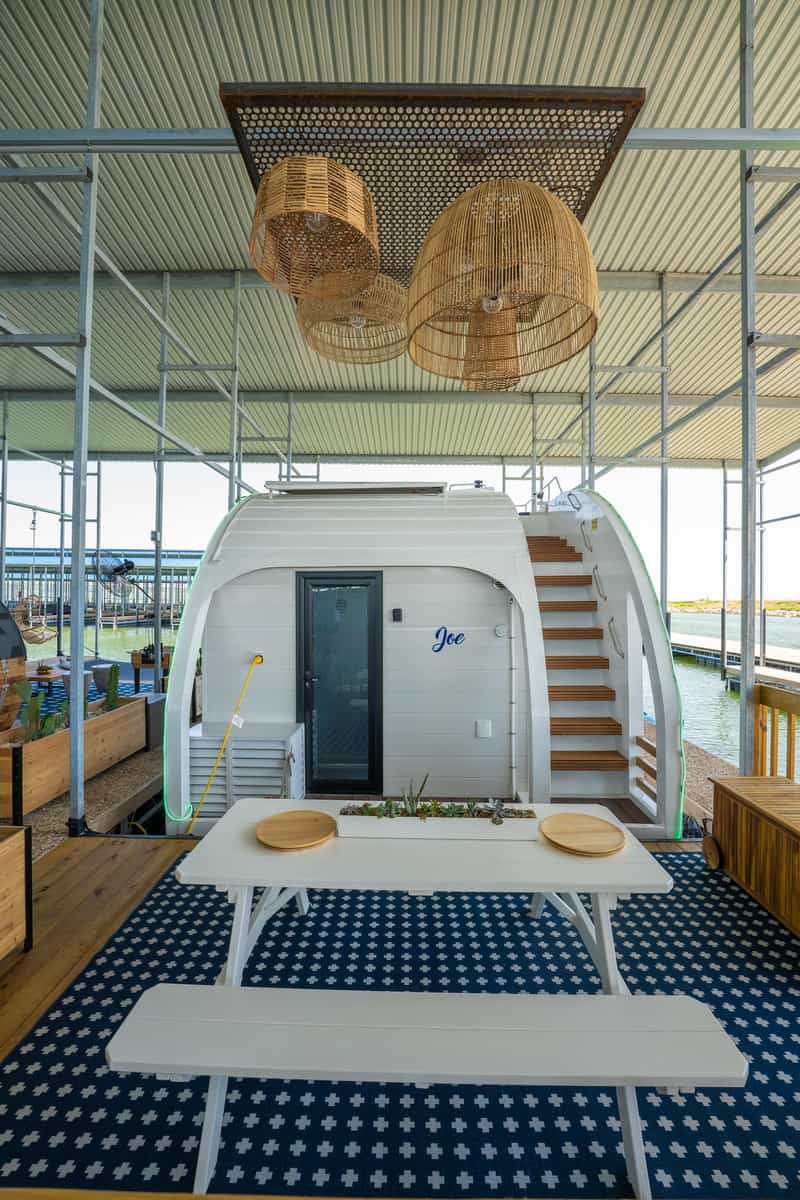 For a more communal experience, guests can head to the shared deck, offering ample space and impressive amenities, including a small grill, a two-plate stove, an air fryer combo, and even a wine cooler. We spent a lot of our time enjoying cooking out here and it remained cool in the shade despite the intense Texas heat.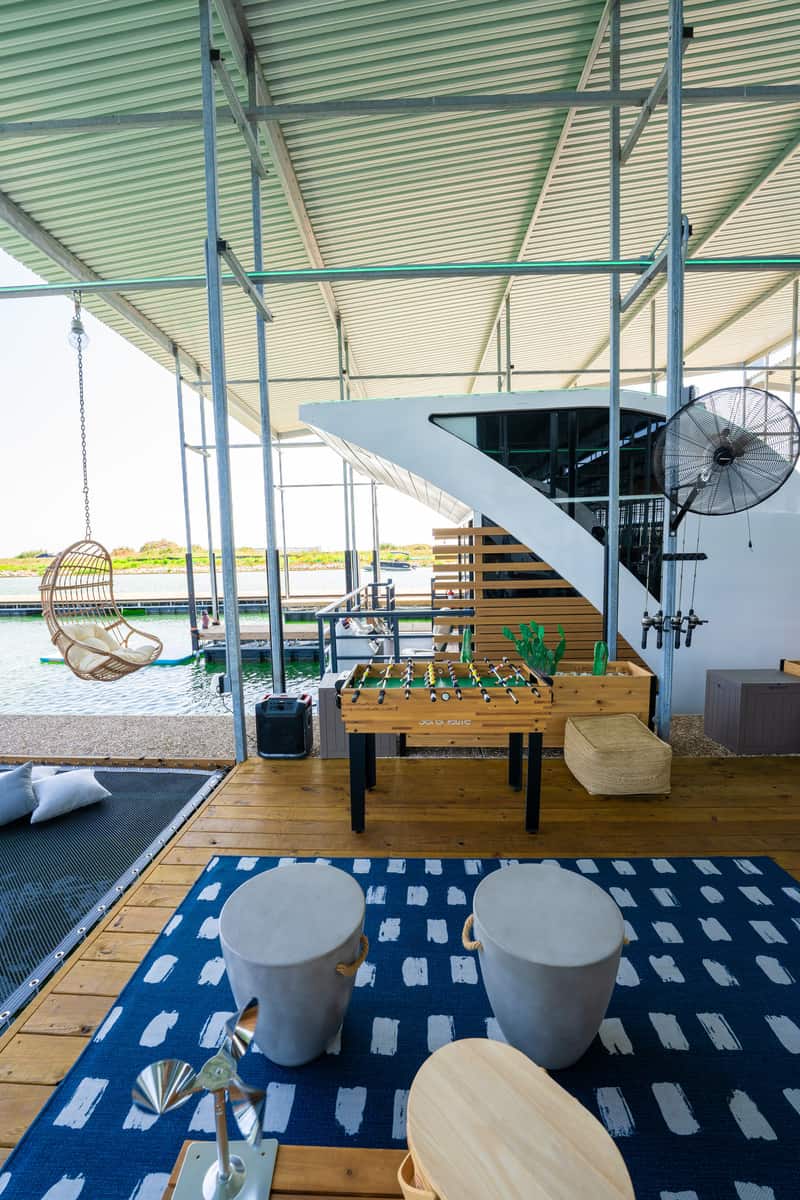 One of my favorite features was the beautiful, cylindrical sauna with a panoramic view of the marina through a bubble window in the back. It's the perfect place to work up a sweat before going for a swim.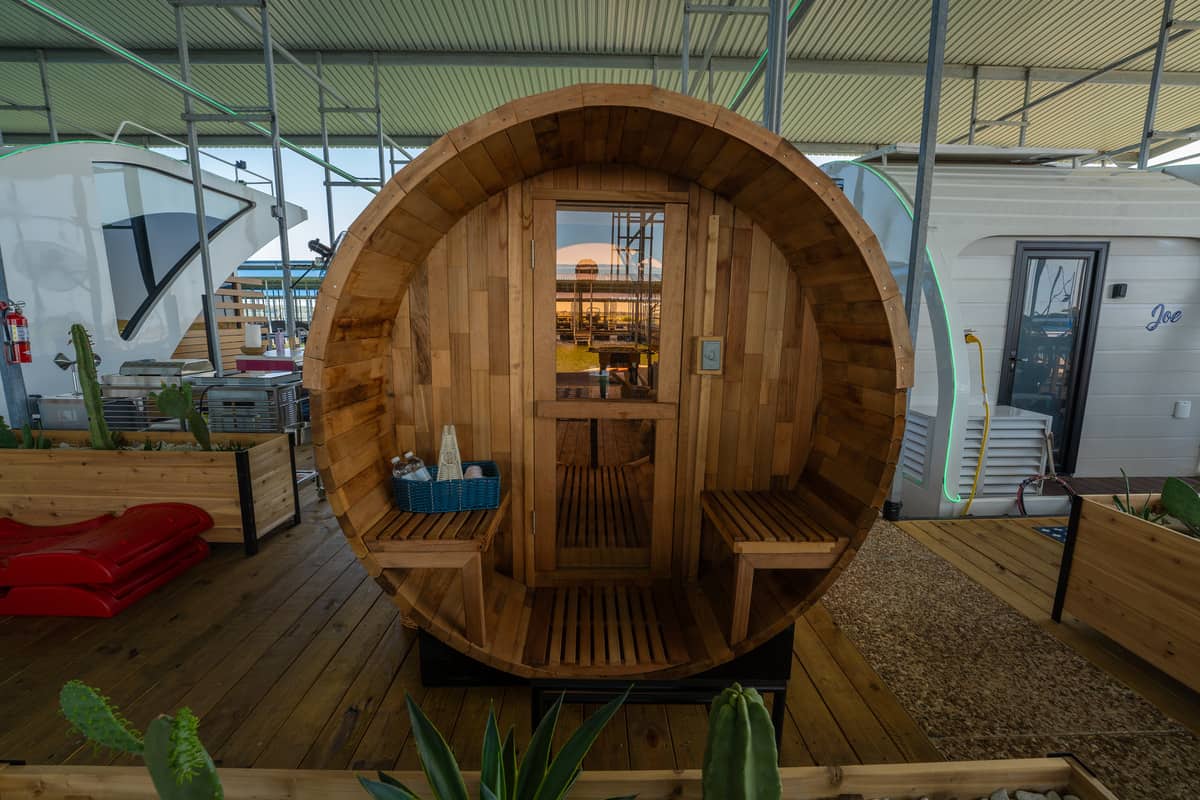 Water Recreation & Entertainment
With a host of water-based activities, guests are spoiled for choice when it comes to recreation. The overwater net is reminiscent of the Maldives, offering a peaceful spot for relaxation and reading, while lazy fishing is an option for those who enjoy the tranquility of the water.
Other water amenities include inflatables with mesh bottoms for lounging and giant inflatable tubes for fun on the water.
Additionally, the Floatel provides several types of recreational equipment such as water bikes, stand-up paddleboards, and kayaks for guests to explore the lake.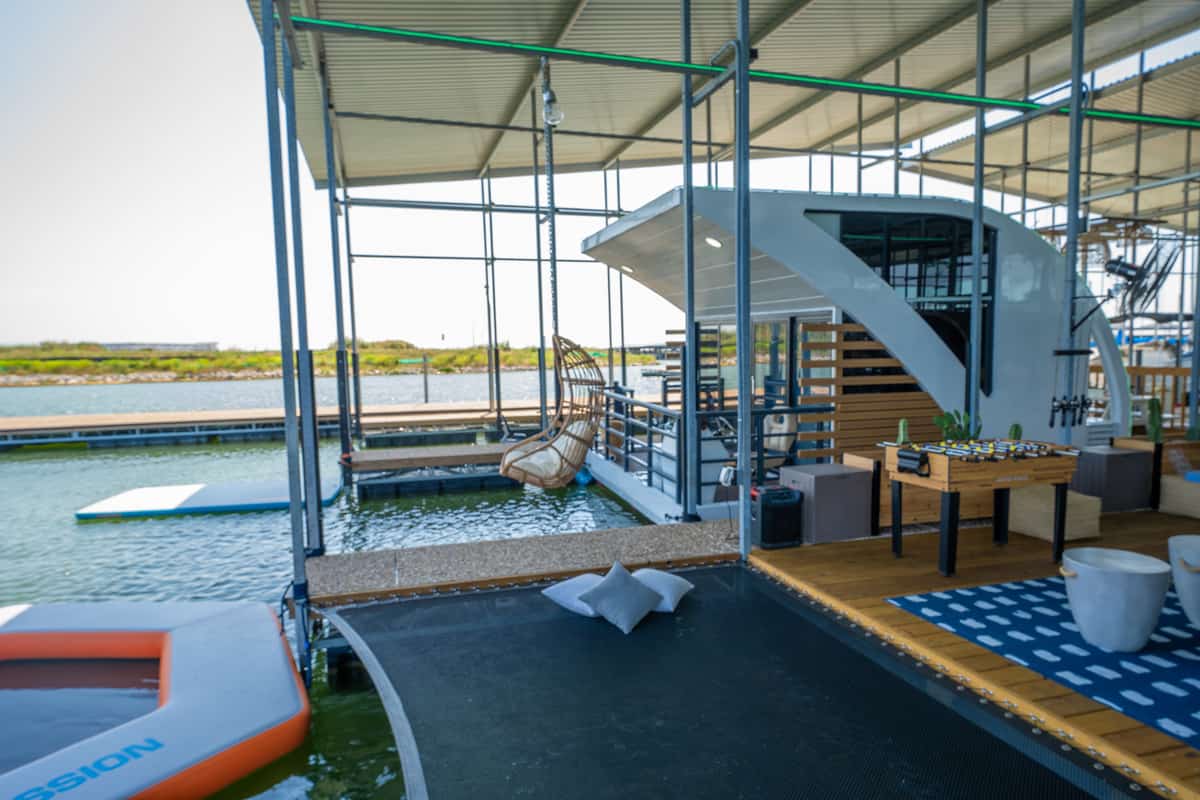 Special Experiences & Nearby Attractions
Guests at the Floatel can also indulge in a range of special experiences offered by the company such as yoga classes and a private chef (by request only).
Moreover, Sapphire Bay Marina is in proximity to an array of local businesses including tiki boats, boat rentals, jet skis, and dinner cruises, providing ample opportunities for exploration and adventure.
FAQs
1. How can I book a stay at the Floatel?
To book a luxurious boat stay at the Floatel, visit Love and Boat's official website or contact their customer support for availability and reservations.
2. Is the Floatel suitable for families or couples?
Yes. The Floatel offers a luxurious and serene experience suitable for families and couples alike. Whether you're looking for a romantic getaway or a unique family adventure on the water, the Floatel caters to both preferences.
3. Is smoking allowed on the Floatel boats?
Smoking is strictly prohibited on all the Floatel boats, as it can pose a fire hazard and disturb the experience of other guests.
4. Can I host events or parties on the boats?
While the Floatel encourages guests to enjoy their time on the boats, loud parties or events that may disturb other guests are not permitted. The primary focus is on providing a serene and relaxing experience for all visitors.
5. Are pets allowed on the Floatel?
Unfortunately, pets are not allowed on the Floatel, as it ensures a serene and allergy-free environment for all guests.
6. Is the Floatel open year-round?
The Floatel operates seasonally, taking advantage of the best weather conditions to provide an exceptional experience for guests. It is advisable to check the website or contact Sapphire Bay Marina for the current operating schedule.
The Floatel: Final Thoughts
The Floatel at Sapphire Bay Marina is a haven of luxury and tranquility, offering a unique and unforgettable experience for all who come aboard. With its well thought out amenities, picturesque setting, and array of water activities, the Floatel is the perfect destination for a relaxing and indulgent getaway.
Whether you seek adventure or simply wish to unwind in opulence, the Floatel promises to exceed your expectations and provide cherished memories for years to come.