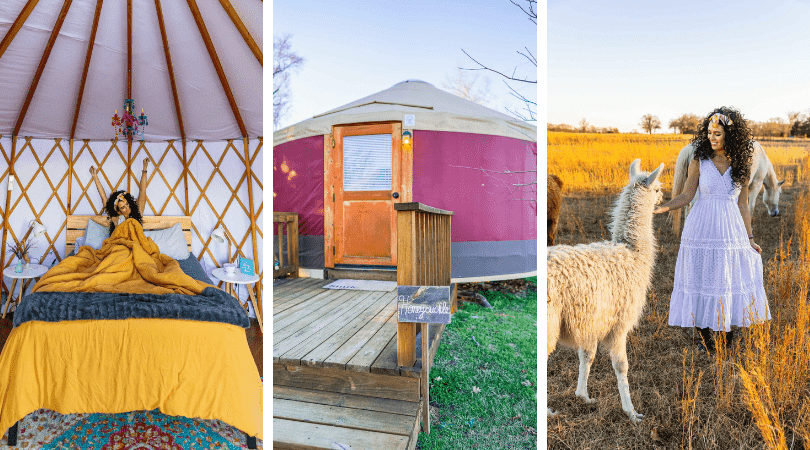 There's nothing quite like spending time in nature and enjoying all the creature comforts of home – the essence of glamping. If you're looking for where to stay near Dallas TX for your next quiet getaway this weekend, look no further than Wildflower Yurts! It's far enough away that you can truly escape and decompress without the extended hours of driving. Located in the small town of Emory, and with plenty to do nearby in Canton, Sulphur Springs, and Tyler, this Airbnb offers a comfortable glamping experience nestled among the trees. Enjoy peaceful and private amenities, fun activities, and maybe spot llamas during your stay at Wildflower Yurts this weekend!
Experience Glamping at its Finest
Sweetly named, the three glamping yurts at Wildflower Yurts, Honeysuckle, Bluebonnet, and Primrose offer a cozy, relaxing getaway nestled among the trees. Each yurt has a fun boho, but modern design that is individually unique in style, featuring a queen-sized bed and full-sized futon couch.
You'll also have all the creature comforts you need including electricity, air-conditioning, and running water, in addition to a private indoor bathroom and a kitchenette with a mini fridge, microwave, and coffee maker. Nothing will beat the cups of coffee you'll sip on this weekend while taking in the beautiful views of the surrounding country.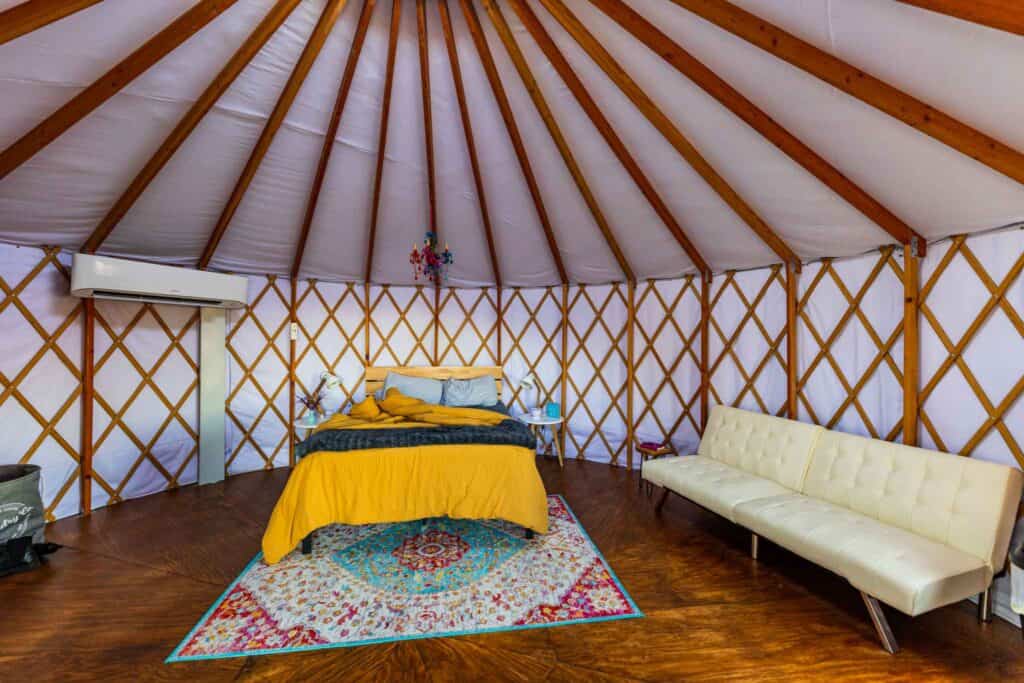 Enjoy Private Amenities with Stunning Views
There's so much to enjoy if you decide Wildflower Yurts is where you want to stay on your next glamping adventure near Dallas. Each yurt comes with its own private, enclosed outdoor shower under the canopy of the trees. Nearby, take advantage of your private hammock as you cuddle up with a good book or take an afternoon nap. You'll also have a gas BBQ grill to fire up dinner on, as well as a private fire pit, but bring your own firewood if you're looking to roast marshmallows one evening.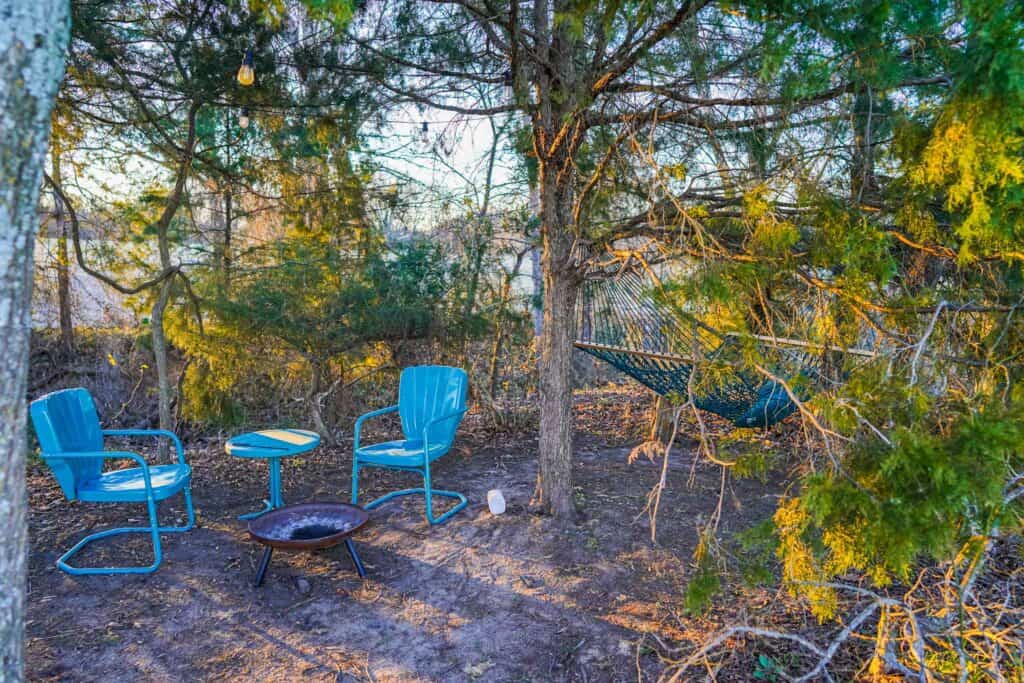 Wildflower Yurts also has another unique feature on site – llamas! Keep a look out during your stay to catch a glimpse (or spend some quality time) with these furry friends. You may also see deer, birds, and other wildlife dotting the stunning scenery, including the sunsets and sunrises.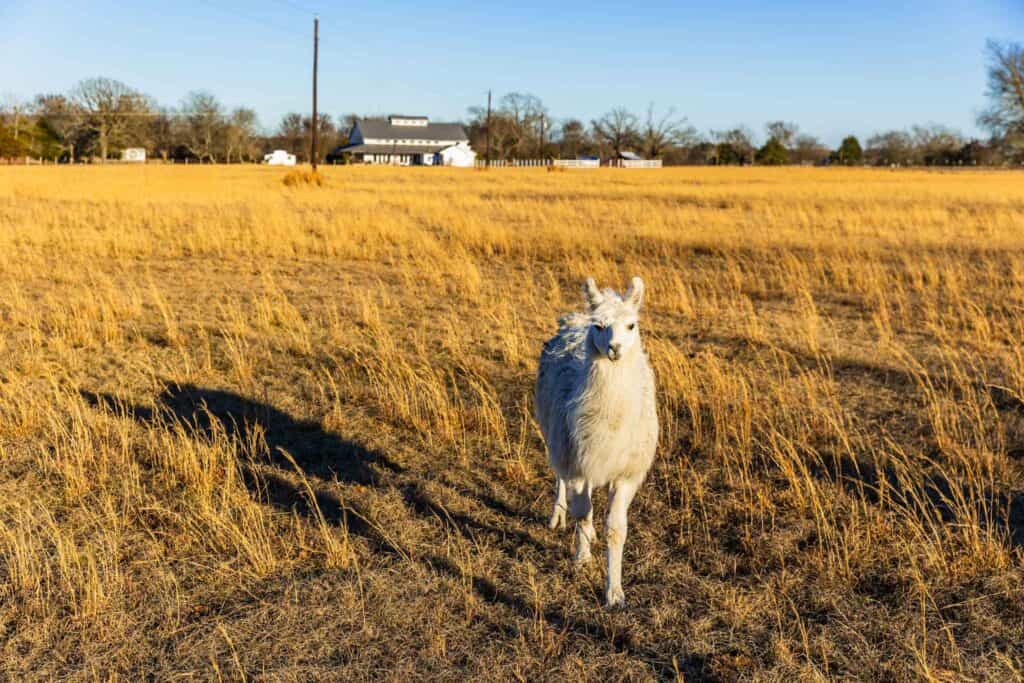 Things to Do Near Wildflower Yurts This Weekend
If you want to see a little more of the local area, there are several places to check out! Head over to Governor Hogg Shrine State Park (Quitman TX) or the Heritage Park Museum (Edgewood TX) to revel in some history. Or, just a short drive away, is Lake Tawakoni State Park in Wills Point where you can go swimming, fishing, hiking, and more. Check out the towns of Canton and Sulphur Springs just 30 minutes out, as well as Tyler, just an hour away.
In Emory, the home of Wildflower Yurts, there are a variety of restaurants to grab a delicious bite to eat. And of course, Dallas is just over an hour away and has so much to see and do including a myriad of activities, appetizing restaurants, and bars.
A Review of the Wildflower Yurts: Final Thoughts
The Wildflower Yurts are a fantastic glamping experience with scenic views and great amenities – complete with llamas on-site! Whether you stay for one night, a whole weekend, or longer, you can enjoy all the creature comforts of home while relaxing and recharging in the nature of East Texas at this lovely Airbnb near Dallas. Or, if you're looking to visit Canton or Sulphur Springs, and you're looking for where to stay this weekend to add some relaxation to the fun, Wildflower Yurts is just a short half-hour drive from both, and just an hour from Tyler.