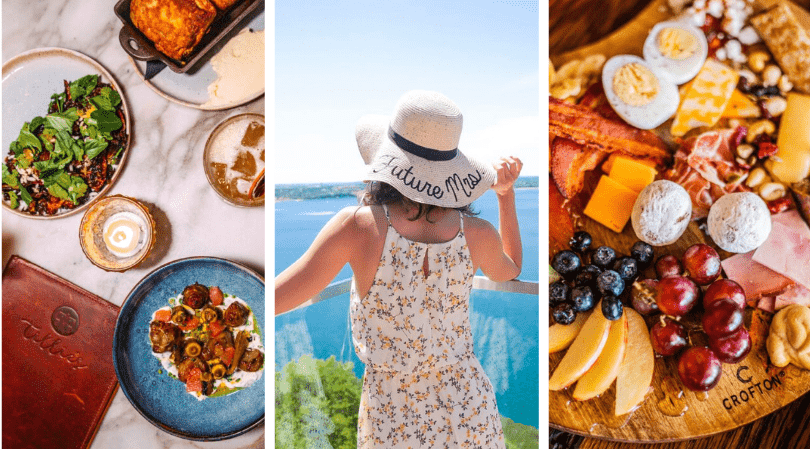 When it comes time to celebrate the bride-to-be with the ever-traditional bachelorette party, the only non-negotiable is it must be unforgettable. With that, every group of girlfriends is different and their connections to the bride are unique from each other. Whether the bridal party consists of lifelong companions or is a collection of friends from different spheres of life, everyone has one goal in mind: to enjoy the time spent together and to make the bride feel special. If you're a Texas resident or traveling from out of state, a Texas bachelorette party is 100% the way to go. There are destinations for every group dynamic and endless ways to make lasting memories in Texas at your next bachelorette party.
A Texas Bachelorette Party with Relaxation, and a Little Fun
Fredericksburg is home to the cutest, mint green bed and breakfast: the Hye-Way Haus. With balconies on both floors overlooking the grapevines on property, a beautiful view awaits you no matter what time of day. Its five uniquely themed bedrooms are only feet away from each other, making it easy for you to gather up your blankets and pillows for some bonding time. And what's a girl's trip without a little wine? Next door is William Chris Vineyards, home to a winery and multiple vineyards, making the Hye-Way Haus the ideal destination for a Texas bachelorette party. You and your girlfriends will have plenty to see (and drink) to celebrate your favorite bride-to-be. Make sure to explore all the great wineries in Hye and Fredericksburg along the way.
A Texas Bachelorette Party if You Want to Get Dressed Up and Go Out!
For an evening out on the town with your girls, decked out in sashes, crowns, and your tallest heels, you don't have to look very hard in Austin to plan a memorable bachelorette party in Texas. Drink margaritas and take selfies during golden hour at the Oasis overlooking Lake Travis. On your night out on the town, stop at Cap City Comedy, because nothing brings friends together like laughing until it hurts. If you're feeling brave, maybe you'll end up on stage during their open mic nights. Finally, pop into the Sahara Lounge and dance the night away to African, Middle Eastern, and Latin music.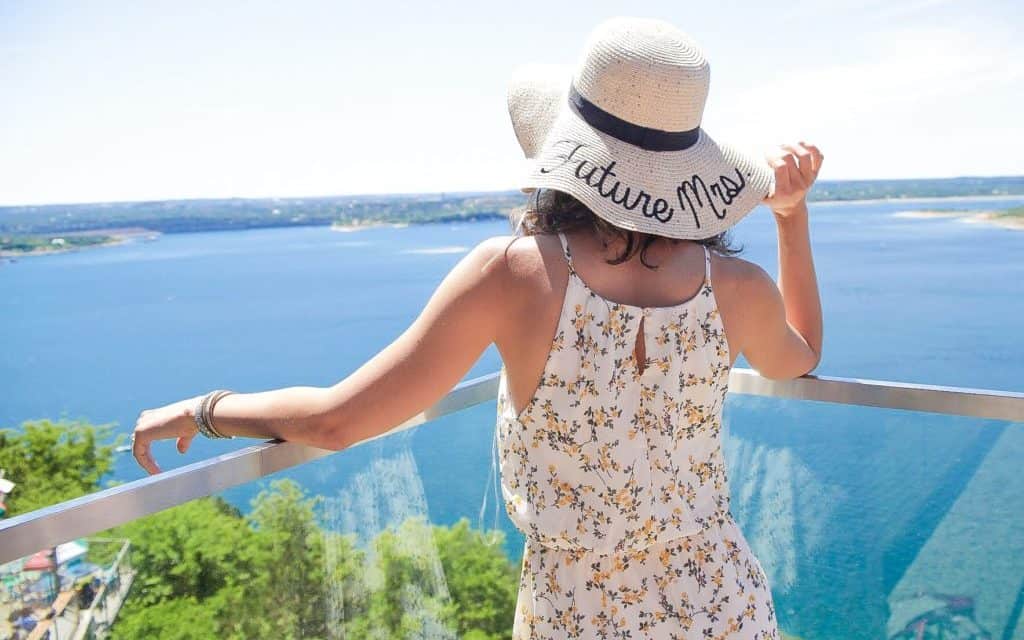 A Texas Bachelorette Party That's Like Summer Camp
Travel back to your days at summer camp and fill your weekend with fun activities at Camp Lucy in Dripping Springs. From wine tours through their on-property vineyards, to hiking, painting, fishing, archery, throwing hatchets, and feeding alpacas, you and your girlfriends have every opportunity to plan the most adventurous Texas bachelorette party all in one place. Have dinner at Tillie's Restaurant, a beautiful, repurposed town hall shipped all the way from Vietnam, and eat s'mores by the firepit for dessert. Recharge poolside while sipping Campy Lucy's own brand of wine before heading home.
A Texas Bachelorette Party on The Beach
What's more luxurious than a bachelorette party at the beach? Galveston offers a tropical location without the costs that come with overseas trips and stays. The San Luis Resort has pools with a swim-up bar, cabanas, beach views, a spa, and several restaurant options. Take an adventure down to Pleasure Pier, an amusement park by the water. Just pack your bathing suit and prepare for some fun bonding time with the girls before the big day.
A Texas Bachelorette Party for Smaller Groups
Lake Texoma is just right if you're making plans for a smaller bachelorette party. Start your day driving a real-life bulldozer at the Extreme Sandbox. Action shots aren't just for axe-throwing bachelor parties anymore! Take a trip into the nearby town of Denison for lunch. Then, head back to your cabin for a little afternoon relaxation time. Swing in a hammock and gaze out at the water. You could also rent a boat and paddle to Party Cove or drive over to Island View Park for some volleyball. For even more adventure, rent kayaks to explore Lake Texoma more extensively or go for a hike to the caves along Waterloo Lake. Fastrac Boat Charters is known for its sunset dinner cruises, so you and your ladies can spend a glamorous evening on the water before turning in for the night.
A Texas Bachelorette Party Full of Relaxation
The Miraval Resort in Austin is a great way to treat the bride-to-be and her closest friends to a much deserved recharge. After all, wedding planning can be stressful. Book a massage or a facial and indulge in the view from the infinity style pool overlooking the Texas Hill Country. Planning a bachelorette party in the winter? There are even heated pools and a hot tub for you to enjoy. Before arriving, book classes online to fill your day with activities to keep the relaxation going. From yoga, to bee-keeping, and cooking classes, what's a better way to make memories than through new experiences? No need to worry about accommodating everyone's lifestyles and preferences. The Miraval Austin offers vegan, vegetarian, and gluten-free options with different menu items everyday. You'll want to stick around to try as much as you can during your stay. Did I mention this is an all-inclusive resort? What more can you ask for? You and your wedding party will be very well taken care of.
A Texas Bachelorette Party with Shopping
Nestled in the small Texas town of Boerne is the Hill Country Mile, a strip mall of boutiques, breweries, and delicious restaurants all within walking distance of one another. Settle into your room(s) at The Kendall, an affordable, rustic hotel that sits along the Hill Country Mile. This means all you have to do is walk to your first activity to commence your Texas bachelorette party! Sip on flights at Cibolo Creek Brewing Co. and Tusculum Brewing Company or take your drink with you while you explore. Book the secret champagne room at Salvador Dobbs, a local 1920's-themed bar, to celebrate in style. What's more important on a girl's vacay than supporting other women? Simply stop into Girl with Grit, a non-profit that uses the proceeds from its sales and fundraisers to introduce girls to diverse career paths. If you happen to be in Boerne on a Saturday, visit the farmers market at Herff Farms, tour its historic home, and do yoga. Then head on back to the hotel and enjoy your complimentary bottle of wine. All you have to do is use the code WINETIME when you book.
A Texas Bachelorette Party Outdoors
If your group of gal pals is the adventurous type, you need to check out Garner State Park near Concan. Rent a paddle boat, play mini golf, hike Old Mount Baldy Trail, and venture through White Rock Cave. Wear your swimsuit under your hiking clothes and take a dip in the shallow water along Blinn River Trail. Want to cool off without hiking? Drive over to Mager's Crossing where you can lounge by the water with a view of Mount Baldy. Order Southern comfort food at Neal's and then ice cream at The Frio Float. Even do some shopping and take pictures for your feed in front of Concan's pink truck. To close out your day, book a tiny home or a cottage at the Inn Between. Before you check-in, grab a mangonada from the Mangonada bus, which is owned by the operators of the Inn. Once you're settled, pour some champagne, play board games, and once it's dark, you'll be amazed at the number of stars in the sky.
A Texas Bachelorette Party on an Affordable Road Trip
If you're looking for a daytrip to celebrate, Beaumont has a little bit of everything to fill your day with fun. Snap pictures in front of the largest working fire hydrant, learn about the history of firefighting at the Fire Museum of Texas, visit the Art Museum of Southeast Texas, then walk through the Beaumont Botanical Gardens and the Binks Horticulture Center. Visit Spindletop Glady City Boomtown to learn about Beaumont's first moments as a booming oil town and admire the St. Anthony Cathedral.
With the amount of free attractions Beaumont has to offer, this is a great option for an affordable Texas bachelorette party. If you're planning to be there on a Saturday, check out the yoga classes at Cattail Marsh and absorb the sounds of nature all around you. There are plenty of opportunities for cute group shots in front of Beaumont's diverse, colorful murals. After you're done exploring, choose from burgers, Cajun food, or even European style cuisine. Beaumont's food scene has a lot to offer!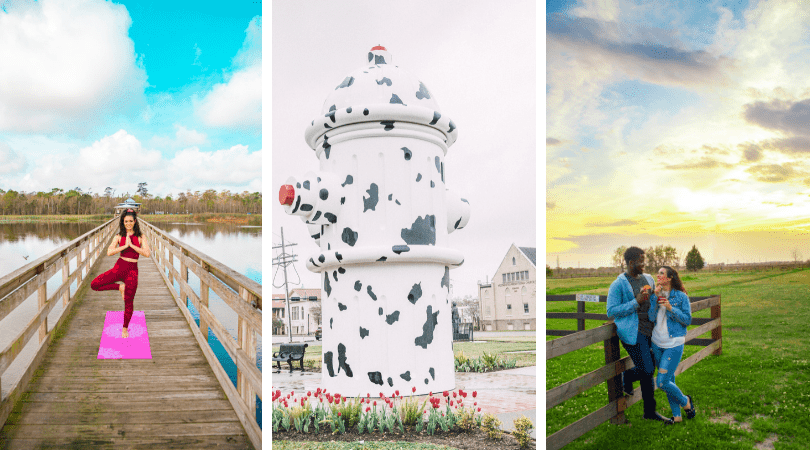 A Texas Bachelorette Party with Crafts
Farmersville can offer you a getaway for a craft-filled, laid-back Texas bachelorette party. Start with a charcuterie brunch board at Bottles and Boards and pop back in later for a cocktail or some dinner. Take in the 1920's history along Main Street and learn about the importance of onions to this Texas town at the Farmersville Heritage Museum. Shop for the bride-to-be's "something old" at the antique shops along the way. Create a unique souvenir to take home with you at one of the many crafting shops in Farmersville, no matter your experience level.
Or change into something comfy and take a yoga class at the Ville Studio. For a pick-me-up, check out 12 Stories Coffee for a latte or hot chocolate, and a sweet treat, or attend a tea party at the Honaker House. There is also a lady's parlor for an indoor option. For an overnight trip, you can also book a room at the Honaker House, a bed and breakfast originally built in 1870. Don't forget to try their Texas-shaped waffles!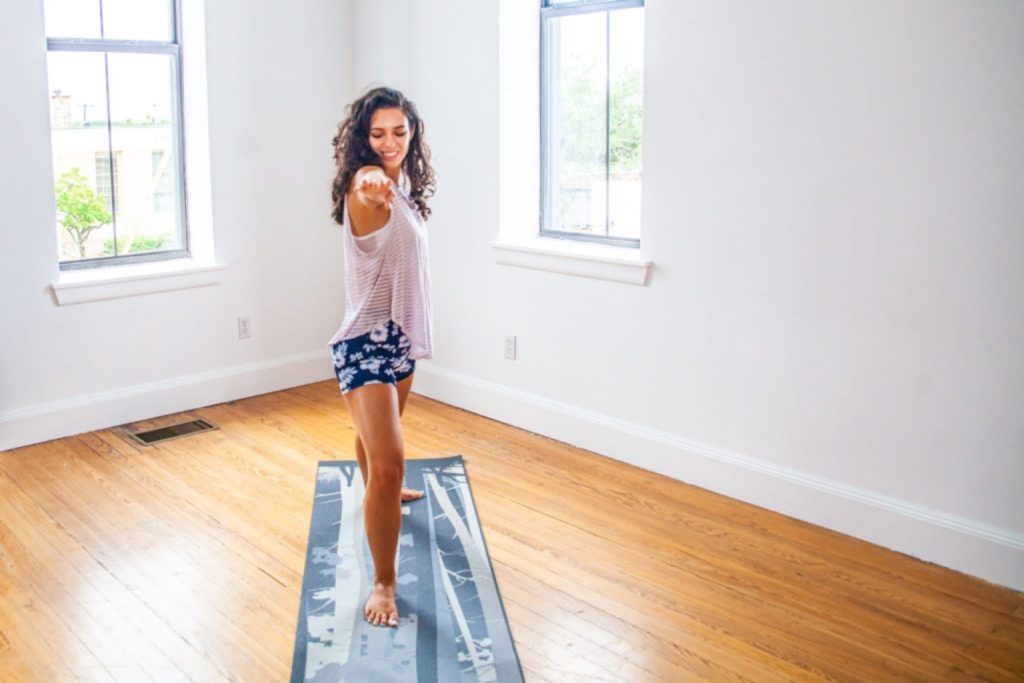 A Texas Bachelorette Party without Driving
San Antonio is known for being home to the River Walk. However, there are more than restaurants to explore. Take in all the colors and culture at El Mercado. Visit La Villita and shop for local, hand-crafted items to remember your trip. Visit Esquire Tavern, a secret Spanish speakeasy on the River Walk. In the shops across the street from the Alamo is Ripley's Believe It or Not Odditorium, complete with a wax museum. Then, just cross the street and get a glimpse of one of the most notorious Texas landmarks.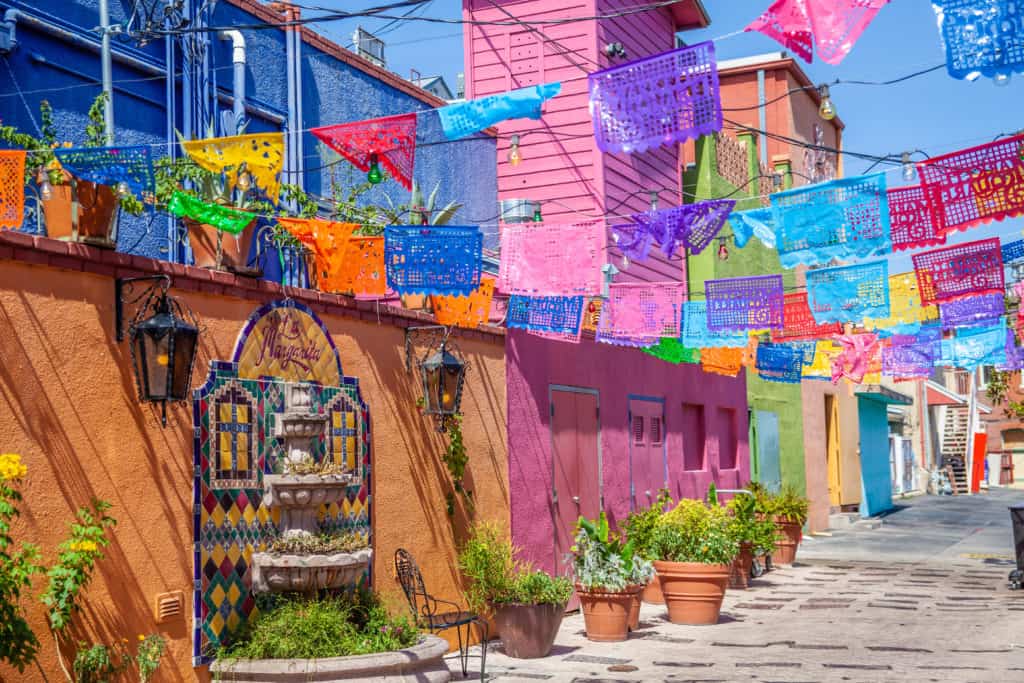 Stroll along the River Walk and watch the river taxis of Rio Cruises go by. If you happen to hop on one, you'll get a narrated tour about the history of the River Walk and the buildings surrounding it. You could even hop on a river shuttle that takes you to the Witte Museum, the boutiques of the Historic Pearl District, the Japanese Tea Gardens, the San Antonio Museum of Art, and the San Antonio Zoo. Also, plan a night out and celebrate at the Kremlin nightclub or go salsa dancing at Rosario's. The Pearl District is another awesome nighttime destination for drinks and dinner.
A Luxurious Texas Bachelorette Party
Book a room at the Omni Dallas and spoil yourself and your girls for the weekend. With plenty of space to spread out, take this time to pamper yourselves. Unpack the nail polish, face masks, make-up, and comfy pajamas. Put on your favorite rom-com and enjoy some girl time. Or book a massage at the Mokara Spa. And nothing says Texas like swimming, and the Omni Dallas pool offers great views of the city below. If you're planning a winter bachelorette party, their pool is heated, and a hot tub is available as well.
Next, grab a bite at The Owner's Box and flash that bride-to-be sash. Less than 2 miles from your hotel is the hip, downtown area of Deep Ellum. With a one-of-a-kind night scene, live music, and delicious restaurants that offer various types of dining experiences, from upscale to laid back, it'll be the perfect place to add to your evening (or afternoon) itinerary while partying it up in Dallas.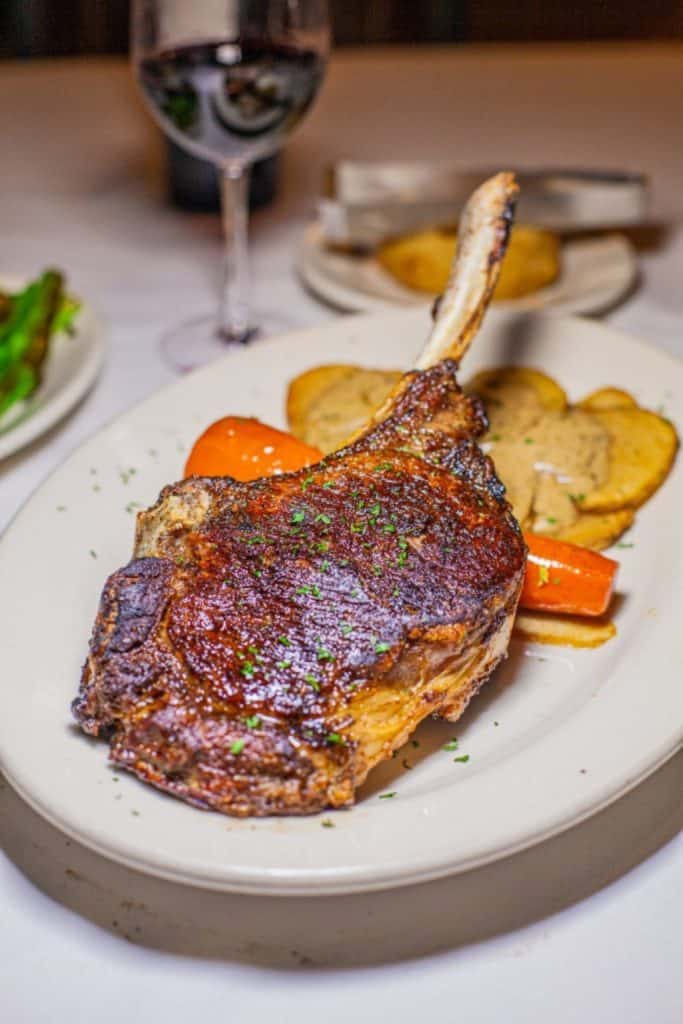 A Texas Bachelorette Party with Free Activities
With several options for free activities, Houston is the perfect place for an affordable and eventful Texas bachelorette party. Hop on a boat and take a 90-minute tour of the surrounding city, attend JR's free drag show, take pictures at the Houston Graffiti Park, journey through the Anahuac Wildlife Refuge, visit Midtown, get a taste of Houston's notorious space center at Rocket Park, and walk through Mercer Arboretum and Botanical Gardens' 400-acres of trails and wildlife. For information about more free events, go to the Visit Houston website and check out their events calendar.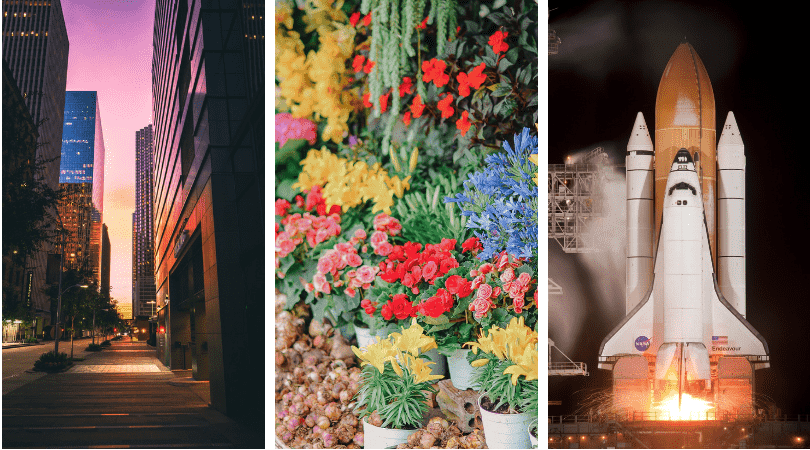 An Almost Texas Bachelorette Party Vegas-Style
A Vegas-style bachelorette party is within reach! Just visit Choctaw Durant. If you brought some extra cash, take advantage of the casino experience and try out all the diversely themed machines, classic slot machines, and Poker tables. There are several other fun things to do too! Get massages or mani/pedis, relax in a mineral bath or steam room, or take a swim in one of several pools and hot tubs. Try your hand at riding a mechanical bull and two-stepping at Gilley's when you need to stretch your legs. Want a relaxing evening activity? Choctaw has their own movie theatre with a concession stand or amp it up with a little friendly competition at the bowling alley or the arcade. Sundays they have $2 bowling specials! With plenty of food options, Choctaw Durant has you covered for everything, whether it be a late-night craving, a sit-down dinner, or a sweet treat.
A French-Style, Texas Bachelorette Party
No need to travel abroad for a taste of France. Simply visit Castroville! Pick-up some coffee at Magnolia Filling Station, European pastries at Haby's Bakery and see all of the history this little town has to offer. The Visitor's Center has a list of all the places to visit!
Load up the car and take a trip to Paradise Canyon. Pack a lunch and picnic by the water, then cool off after basking in the sun. When you're tuckered out, grab lunch at the Castroville Cafe, a restaurant inside a historic home. Recharge with some leisurely shopping at the antique shops and boutiques. You can also check-in to the Hillside Boutique Hotel and spend your day by the pool or at the spa, complete with scrubs, massages, and a rainfall spa shower. Make meals easy but delicious at the Hillside Texas Bistro. The menu changes between meals, making for a little extra excitement on your trip.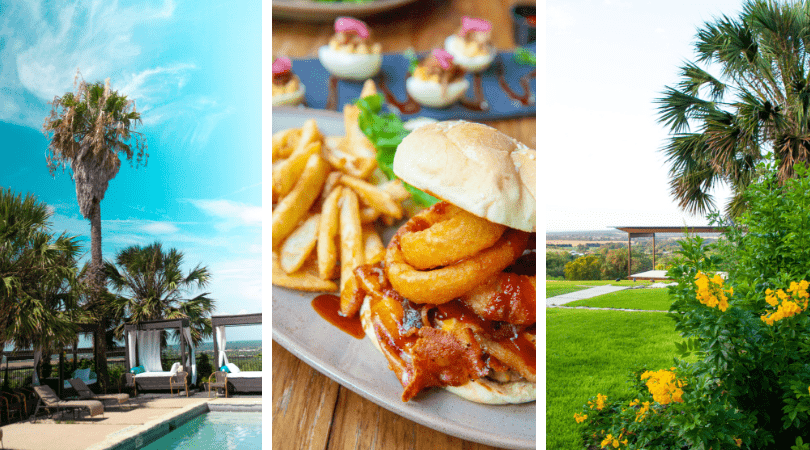 A Texas Bachelorette Party All About Wine
Denison is known for its rich history and the role it played in the wine industry. You can tour Thomas Munson's house and learn about how he contributed to saving the French wine industry. Taste some homegrown Texas wine at Homestead Vineyard and Winery and even take some home with you! Another winery option: Hidden Hangar Vineyards!
Food truck parks are a fun, laid back way to try a little bit of everything, and there's one in Denison! Stop at 410 Collective to participate in an arts & crafts workshop. Snag a unique burger at Best Burger Barn and give elk a try. For some added outdoor fun, visit Eisenhower State Park. Don't forget to grab breakfast at Momo's Famous Donuts before leaving Denison and its tasty wine behind!