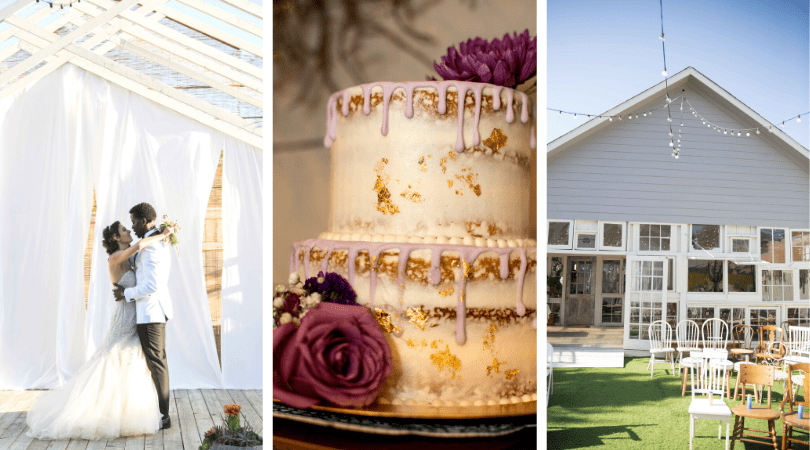 Wedding venues can be pricey, but thankfully for you, Texas is home to several affordable wedding venues under $5,000. Offering indoor and outdoor spaces, charming churches, unique dining areas, and natural elements with modern touches, you can count on there being more than just rustic wedding venues in Texas. Check out our list of DFW vendors and how I used WeddingWire's Wedding Cost Guide to help me plan my own wedding! Make sure to reference my list of 5 ways to plan your dream wedding without all the stress!
Affordable Wedding Venues in Texas Under $1,000
1. The Texas Hill Country is home to Chapel Dulcinea, offering free, 90-minute wedding ceremonies inside the chapel and cake-cuttings beneath the pavilion between 8:30am and 5pm, Mondays through Thursdays. They will collect a $200 refundable fee, so make sure to check-in at the Welcome Center when you arrive, otherwise you will not receive your refund.
For Mondays through Thursdays (7:30pm to 8:30pm), as well as Fridays through Sundays (8:30am to 8:30pm), you can reserve the space for a $425 non-refundable fee. Reservations for both types of wedding ceremonies must be done on their website.
You are allowed to decorate the chapel and to use live music or a plug-in sound system. You can also bring your own chairs or rent chairs for $6.50 each. This cost includes set-up and breakdown. Keep in mind, you are not able to drive right up to the chapel. This means you will have to transport your own decor and supplies to the chapel yourself from the parking lot. The venue just asks that you leave the chapel, pavilion, and suites as you found them: clean. Additionally, it is recommended you don't plan on having more than 60 guests.
Estimated Cost: $200 to $425, including the bride and groom suites, 30-minutes before your reservation time. For no additional cost, you are free to rehearse at the chapel, which is open 7 days a week, as long as another wedding or rehearsal isn't taking place. Just make sure to check-in at the Welcome Center first and keep it less than 30-minutes long.

SHOP OUR TEXAS WATERCOLOR ARTPRINTS ABOVE
2. The Eighteen-Eighteen Venue in Bryan, Texas is an industrial, yet modern wedding venue that fits 100 guests comfortably. Inside are walls of beautifully weathered wood and exposed brick that create a warm atmosphere. Keep in mind there is a neon sign with the venue's name displayed on the wall that may end up in your photos and videos.
Estimated Cost: $300 to $1,800, with how long you want the venue determining the rental rate. A deposit ($200) and cleaning fee ($150) are also required.
3. The Neill-Cochran House Museum located in Austin is a beautiful and elegant wedding venue. Not only are there outdoor string lights and amazing architecture, but the history of the building dates back to 1856 and displays Texas history throughout. The museum's indoor space can accommodate up to 100 guests, while the outdoor space can accommodate up to 200 guests, and they have all kinds of packages. If you're looking for a cute backyard wedding with a little more flair (and space), this wedding venue is a beautiful, affordable pick.
Estimated Cost: $400 to $4,000, with how long you want the venue determining the rental rate. A two-hour photo session and one-hour rehearsal are included under all wedding packages.
4. Hosting a maximum of 60 guests at one-time, this 2,000 square foot facility in the Bishop Arts District is complete with a full-kitchen, unique seating areas and decor, as well as free parking! The Little House of Bishop Arts is the perfect place for a tasteful micro-wedding in downtown Dallas without all the hassle that sometimes comes with parking. You are also able to bring your own food and alcohol as long as TABC guidelines are followed.
Estimated Cost: $650 (3 hours) to $1,800 (full day/more than 8 hours). Reservation slots from 1 to 5 hours are usually only available during the week and weekends require a 5-hour minimum time slot. It's recommended that you book a time slot that allows you at least an hour for set-up and an hour for clean-up. Note that, to lock-in your slot, a $150 refundable cleaning deposit and 50% of your rental fee is due. The venue excepts Venmo, Zelle, and credit cards.
5. If you love a bohemian/rustic vibe, check out the Station in historic downtown McKinney. This wedding venue was once a car garage, but it's now adorned with 100-year-old shiplap, antique doors, and an indoor bar with black concrete countertops. This wedding venue can host up to 120 people for dinner, so this space is best for a shorter guest list. However, you can allow for some more room for guests to roam, thanks to the venue's roll-up garage doors. It'll allow for a lovely breeze and natural light during the cooler months, as well as easy access to downtown McKinney following the reception. Grab post-wedding drinks or a last-minute wedding gift!
Estimated Cost: $750 to $1,350, with how long you want the venue determining the rental rate. Your options are four hours, five hours, or the whole day.
6. The Caswell House is a combination of vintage and elegance. The house can accommodate 100 people during a ceremony, but only 90 for a seated dinner (200 for standing-room-only). There are several aspects that make this venue unique, including the library and the study, allowing a dedicated space for the bride, the groom, and their bridesmaids/groomsmen to get ready on-site. No need to worry about getting the bride to the wedding venue, especially if they are wearing a form-fitting dress or a princess gown with a heavy skirt!
The outside of the home is white for classic photo-ops, whether you're photographing an outdoor ceremony on the steps of the home or guests mingling outside on the lawn. This antique and charming home fits the bill for an elegant, but intimate backyard-style wedding, with various spaces for guests to make themselves at home.
Estimated Cost: $950 to $3,250, with all proceeds going to the Austin Junior Forum and their community programs. You have options for five-hour or 10-hour reservation windows. There is also a refundable cleaning/security deposit.
7. Lillian Farms in Washington, Texas offers several packages to accommodate everyone accordingly. The venue can hold up to 300 guests and even provides accommodations for intimate ceremonies of 10 people or less! The farm has several special touches from a gazebo and an on-site B&B (for an additional cost) to blooming bluebonnets and a 14-acre lake; all perfect for photos following the ceremony! Lillian Farms offers a variety of venue options, all in one place: the Estate House is a Victorian-style mansion with a gallery for smaller celebrations, a large barn with an upstairs ballroom, and a 5,000-square-foot, renovated event center. This wedding venue is a great, inclusive getaway and wedding location all in one!
Estimated Cost: $995 to $4,950, including a one-hour rehearsal. This does not include a $750 refundable damage deposit. There is also a non-refundable $750 deposit required to reserve the wedding venue for your desired date.

Affordable Wedding Venues in Texas Under $2,000
8. Ronin Art House has three currently operational venues in Houston, Texas, including one that has recently opened and a fourth one coming soon. Two of their venues, Ronin 1 and Ronin 2, are both modern and affordable wedding venues. Ronin 1 is more neutral with bright white walls, hanging greenery, and a wall of mirrors. Ronin 2, meanwhile, is more industrial with brick walls and wrought iron touches throughout. Both locations would be best for more intimate weddings with a capacity of 50 to 75. The spaces are very open so, if you are wanting to host a minimalistic ceremony/reception, this venue would be a perfect fit.
Estimated Cost: $1,100 to $2,500, not including a refundable security deposit. Time slots vary from 6-hours to the full day. There is also an hourly option with a two-hour minimum required.
9. The Eagle Historic Warehouse in Hillsboro has a history that goes all the way back to 1911. The venue can accommodate 250 guests for just a reception, but they recommend around 150 guests if you're planning to host your ceremony and reception with them. 250 guests can be hosted, however, if time is allowed for the set-up to be altered following the ceremony. Should you choose to do this to make space for your longer guest list, Hillsboro has plenty of greenery around for some beautiful wedding photos in the meantime. Or take photos in the alley just outside for a rustic touch to your wedding photos.
The main room has industrial features as well, like brick walls, exposed ductwork, and concrete floors. There is also a furnished, private suite for the bridal party to get ready on-site, so you don't have to worry about traveling in a wedding dress. This wedding venue, although rustic in its decor, the neutral coloring of the exposed brick walls and the flooring allows you to make the space your own while still standing out from other wedding venues.
Estimated Cost: $1,125 to $1,850, including tables and chairs.
10. The Tuscan Hall in Austin is best for an intimate wedding with room for a maximum of 60 guests. They have an indoor and outdoor space, but their indoor space is best for just 50 people. The hall is simply a home without furniture to provide ample space for guests and tables. With three packages offered, keep in-mind the Tuscan Garden rentals include a private suite with amenities like two professional salons, a bedroom, bathroom, and kitchenette so you save some time by getting the bridal party ready on-site.
What's wonderful is the venue staff take care of the set-up and clean-up! This is a great choice for a couple who wants something cozy and simple without having to worry about additional rental costs or extra travel time. When it's all over, continue celebrating in nearby downtown Austin!
Estimated Cost: $1,495 to 3,495, furniture and linens included.
11. The Space on West Main is inside a historic building in Allen, but it is equally as modern as it is charming, with a lounge area and custom bar. It is a smaller space, so only micro-weddings would fit here, but if you're looking to host a smaller wedding with those closest to you, or you happen to be eloping, this wedding venue is calling your name!
Estimated Cost: Starting at $1,500, including tables, chairs, and use of a bridal suite (a groom suite is not available on-site).
12. Brazos Cotton Exchange is an indoor wedding venue in historic downtown Bryan on the third floor of this historic building. While the venue has minimal natural lighting, the interior is visually interesting with white columns and a view of the Bryan skyline. It is also within walking distance of the LaSalle Hotel so you can party late without worrying about getting home or to a hotel that's further away. With 3,000-square-feet, you'll have plenty of room for all your guests.
Estimated Cost: $1,500 to $2,500, including tables and chairs.
13. Ann Street Inn in Brenham is a vintage-style venue with a max capacity of 250 guests. The ballroom has an amazing stained-glass, dome ceiling which can be opened up for additional outdoor space overlooking the gardens. You have the option of including an hour-long ceremony in the garden (for no additional cost) before moving the party into the 4,000-square-foot ballroom, or you can host your reception outside as well! Keep in mind there is a parking lot nearby, so ask about situating the ceremony in a way that there won't be cars in your photos.
The inn itself has 15 rooms and is close to downtown Brenham, four county wineries, and bluebonnets in the spring, a perfect photo-op for weddings earlier in the year, although you can also take photos at the inn as well.
Estimated Cost: $1,500 to $3,400 with tables and chairs included.
14. Tucker Hall in Waco can host both indoor and outdoor events for up to 225 people. The hall is quite charming with a rustic-style. Tucker Hall is quite versatile, so if it's not your style, choose flowers and decorations to spice it up!
Estimated Cost: $1,800 to $2,900, including tables/chairs and some packages including use of the bridal suite and the groom's quarters. A damage deposit will also be requested.
15. The Giddings Stone Mansion was built in 1870 and has hosted many grand events over the years. Add your wedding to the list! The mansion is obviously quite spacious, and the architecture will leave your guests appreciating every detail of the space. It is also quite versatile and can host more intimate weddings or even ones as large as 1,000 guests! There are both indoor and outdoor settings, so no need to worry about the weather changing your plans. The Giddings Stone Mansion is located between Houston and Austin, which is great for out-of-state guests flying in!
Estimated Cost: $1,800 to $4,600, varying from four hours to three consecutive days. A cleaning and damage deposit will also be requested.
16. The Veranda in Bryan is an indoor and outdoor wedding venue offering scenic views of the Texas country. There is a pond on-site, a beautiful backdrop for your ceremony and photos with your guests, your wedding party, and your new life partner. There's also a boardwalk with a fountain just outside, the perfect place to sip cocktails during the reception or to snap pictures before the sun goes down. How cool would sparklers look out here during the send-off of the newly married couple? Really, this wedding venue in Texas is a clean slate, complemented perfectly by its water features, so you can add your own colors and theme without any clashing.
Estimated Cost: $1,850 to $3,600, with all rates including anywhere from 12 hours to 48 hours' worth of access to the wedding venue. This time includes decorating and clean-up. Account for the fact that there is a $500 refundable damage deposit as well.
17. Place at Tyler is a very open, minimal, and classy indoor venue for couples looking to have a simple wedding. The stark, white rooms are quite elegant, and the slight touches of greenery tie it all together, leaving plenty of opportunity to add your personal touches. Up to 100 guests can fit inside, with some outdoor photo-ops with your wedding party and guests.
Estimated Cost: $1,900 to $4,500. The wedding package includes use of the main venue and ceremony room, set-up/take down of the provided tables and chairs, as well as use of the bridal suite and a day-of-assistant. The wedding venue can also be rented on an hourly basis but will only include use of the main venue and set-up/take down of the provided tables and chairs. However, you must factor that time into the length of time you'll utilize the venue.
18. Texas Old Town offers two affordable indoor and outdoor wedding venues near Austin. Both venues are surrounded by oak trees and 55-acres of greenery with a gorgeous wooden pavilion if you're looking to have an outdoor ceremony. Then move the party inside the reception hall decked out in crystal chandeliers and light-colored wood. The photos on their website look like a scene out of a movie, which is amazing considering how affordable it is! This wedding venue in Texas can fit up to 350 people in both of these spaces, so a mid-sized wedding would work wonderfully here.
Estimated Cost: $1,950 to $4,950, including tables and chairs, set-up and take down, as well as use of the bridal suite(s). You can also schedule a photo session on-site for no extra cost.
19. Angel Mountain Events provides a romantic candlelit chapel for the ceremony, a spacious reception area with a bar, and a scenic patio for whatever you please. This affordable wedding venue in Texas has several places you can utilize, so you decide how you want to purpose each one. The chapel is painted in crisp white paint and the chandeliers overhead add a classic touch with an option for candlelight. Located near Bastrop, the venue has unreal sunsets that you and your guests will not want to miss!
Estimated Cost: $2,000 to $3,500, tables and chairs included for both the reception and the ceremony and an hour for a rehearsal, among other things, which you can find listed on their site. Ask them about what other touches you can request that are included in the cost of your rental, such as drink dispensers and chalk board signs.
Note: The estimated cost does not include the $250 cleaning fee, which includes clean-up, as well as breaking down and setting up the space. Nor does it include the $250 damage deposit. The damage deposit will be refunded to you within 2 weeks if no damages occurred.
Affordable Wedding Venues in Texas Under $3,000
20. The Reserve on Cypress Creek is a stunning, family-owned wedding venue in Texas with a natural backdrop. Bordered by a nature preserve, you can imagine how beautiful the greenery looks and how it'll effortlessly intertwine with your ceremony! There are also three ponds, water features, as well as a lit courtyard for your cocktail hour. The maximum capacity for this venue is 100 guests. It is absolutely stunning, especially if you're looking for a mix of nature with a rustic vibe. They also offer packages specifically for micro-weddings and elopements ($400 to $2,000).
Estimated Cost: $2,00 to $3,500 including use of the wedding venue for the whole day, use of their bridal suite, a 30′ by 60′ tent with tables and chairs, and a digital photo booth. Chairs will also be provided for the ceremony.
Note: Prices will range between peak and non-peak months. For weddings in 2023, prices will increase by $500.
21. Anding Acres in East Texas is a great venue for those who appreciate the outdoors and Texas weather. The open-air chapel is white, which reflects the sunlight in heavenly ways, making for magical photos. There is also a rustic barn venue, another beautiful space for a ceremony, but with a different style. This spacious wedding venue can fit 200 guests comfortably and also offers overnight accommodations for an additional cost.
Estimated Cost: $2,500 to $3,500, including a day-of coordinator, tables, chairs, set-up and take down, a cake table, two-hours for bridal pictures, and use of the bride and groom suites prior to your event. A rehearsal any day prior to your event is also included (one-hour only). For $500, the staff will decorate using a variety of comprehensive decor in your preferred colors. There will also be a $250 damage deposit.
22. Farmers Branch Historical Park offers packages with access to two of their venues and even 50% off the cost of your wedding/reception (check their website for details). This park fits up to 100 people, fitting for an intimate wedding. You can choose to rent the house, church, gazebo, patio, and/or their grounds. The church dates back to the 1890s with dark-stained, wooden pews and an organ. The Dodson House was built in 1937 and is more antique in nature. The grounds are great for those who love the outdoors and want nature incorporated in their photos. This beautiful park is one of a kind and will make your wedding something special with a bit of Texas history!
Estimated Cost: $2,500 for 6 hours and includes one-hour rehearsal and use of the park for bridal photos, as long as the photo shoot is scheduled in advance.
23. The Sanctuary Event Space located in Austin, is a charming cottage-style wedding venue shaded by oak trees. There are both indoor and outdoor spaces that collectively fit 150 guests. The enchanting outdoor grounds are surrounded by greenery and hanging lights. The studio makes for a great indoor dancefloor and the cottage will provide your guests a place to cool down and chat. There is also the cutest loft and tree-top balcony on-site! This event space was made for laid back souls who love the bohemian aesthetic and just want to have a good time!
Estimated Cost: $2,500 to $5,000, with all proceeds benefiting the Amala Foundation and its youth programs.
24. Synder River Ranch offers a minimalistic and modern style wedding venue in Texas for all the simple, yet stylish folk. The on-site Bridal, Groom, and Parents Suites are picturesque and will make for some beautiful pre-wedding and first-look photos! The Lawn Area is so green, with a tree providing shade over the lawn and adding some extra magic to your pictures! The actual venue is a white barn, so it does not have the Western, rustic feel like several other venues we've come across. The venue can fit up to 300 people, so plan accordingly!
Estimated Cost: $2,500 to $5,000 and may include five hours the day before for decorating, etc. Pricing also includes, tables, chairs, set-up and breakdown, and use of the French bar.
Note: For an additional cost, clean-up, a frozen margarita machine, and linens, glassware, and decor can be included. Depending on your rental package, you can potentially include these services and still remain under a $5,000 maximum.
25. Ponderosa Events in Smithville is another rustic barn venue with both an indoor and outdoor space, so whatever you prefer, they will make it happen! The barn can seat up to 150 guests, so keep that in mind as you're searching for your perfect wedding venue. They also have catering packages priced on a per-person basis, as well as micro-wedding packages.
Estimated Cost: $2,699 to $3,999, including set-up and break-down, 4-hours of rehearsal and overnight storage if needed, plus fun touches like lawn games, an indoor and outdoor bar area, and additional tables for your guest book and gifts.
26. Miller's Creek Rustic Events is an amazingly naturistic venue in Montgomery, Texas. There is a field of flowers, perfect for couple photos, plus walking trails, illuminated trees, a gazebo, and a red barn on 8-acres that'll host a maximum of 120 guests. Should the weather not be what you had planned, they'll move your ceremony into the barn.
Estimated Cost: $2,700 to $3,900 including tables, linens, chairs, decor, special lights, indoor/outdoor bar and patio, and more. Inquire about what else they have to offer. Pricing, complimentary services, how many hours you have to use the venue, and the number of guests will depend on the package you choose.
27. The Gardens at West Green in San Antonio is a beautiful and intimate outdoor wedding venue in Texas. Here, you'll be able to make your wedding into what you've always envisioned it to be. There are plenty of areas to work with and decorate as you please. The seating capacity for the reception is only 80 people, so it'll work best for a smaller wedding.
Estimated Cost: $2,750 to $4,250 including chairs, sign-in table, gift table, linens, dressing rooms, a bride and groom table, etc. The package you choose will determine your number of guests, as well as the day of the week and the time allotted for your ceremony/reception.
28. Are you an old soul who loves everything vintage? The 1940 Air Terminal Museum in Houston hosts timeless weddings that you and your guests will never forget. During your event, you will have access to the museum exhibits, planes and airport ramp; have you ever been to a wedding venue like that? The museum can accommodate up to 160 guests, but if you are having an event with less than 75, you can get special pricing! The history and elegance of the wedding in the museum will leave your guests wanting to book it for themselves!
Estimated Cost: $3,000 to $5,000, including on-site security, venue manager, and museum volunteers for tours, tables and chairs with set-up/break down, as well as included time for decorating and clean-up.
Affordable Wedding Venues in Texas Under $4,000
29. Market at the Mill consists of several buildings surrounding the courtyard in Clifton. Inside of the venue, there is white painted wood, adding some classic touches to its rustic style. There are dark brown accents on the wall and tables, which will add great in your photos!
Estimated Cost: $3,200 to $4,200, including tables and chairs.
30. Little Wren Weddings located in Rockwall, Texas is an intimate indoor and outdoor venue that fits up to 64 guests, or up to 99 for an extra fee. There is a charming chapel, but it is quite small, although the maximum capacity is said to be 64 guests. The indoor area is open, so you are able to make it your own with linens, flowers, etc. The outdoor area has beautiful trees and plenty of space for everyone to have a good time.
Estimated Cost: $3,250 to $3,750, including use of the bridal cottage, the groom suite, tables, chairs, access to the venue for a rehearsal, as well as a photo session, and more!
31. Red Ridge Receptions in Smithville, Texas offers beautiful outdoor grounds with elegant indoor areas for your guests. The reception area is very sleek and clean looking while the ceremony site is quite scenic and green. This adds some variety to your wedding venue, so if you can't choose between nature or a minimalistic style, this is the perfect choice!
Estimated Cost: $3,400 to $4,900, including tables/chairs, bride and groom suites, and early entry so you have time to decorate. They also have all-inclusive packages that'll still keep you under your $5,000 budget with services like a bartender and security that are also included!
32. The Barn at 5S Ranch has breathtaking sunset views on a large open ranch. Inside of the barn you will find romantic string lights, which makes the space even more gorgeous! Outside the barn is a grassy lawn with the open ranch stretched out before it. There is a wooden arch that will make for beautiful photos.
Estimated Cost: $3,500 to $4,500 with 15-hour use of the venue, tables/chairs, and bride and groom suites not including a $500 refundable damage deposit.
33. Bear Creek Ranch located in the DFW metroplex is a rustic/country style wedding venue for up to 150 people. This ranch has both indoor and outdoor spaces, but the outdoor area is quite charming with its hanging lights. Inside you will find a fully furnished house, as well as a large room for dinner with a small dance floor. There are many different areas to hangout on the ranch, so your guests will have plenty of room to spread out and explore. My favorite aspect of this ranch is that fireworks are allowed, so you and your wedding guests can end the night celebrating in a big way.
Estimated Cost: $3,600 to $4,500, including linens, tables, chairs, set-up/breakdown, cleaning, a scheduled one-hour rehearsal time prior to your wedding, and use of the bridal cabin the day-of.