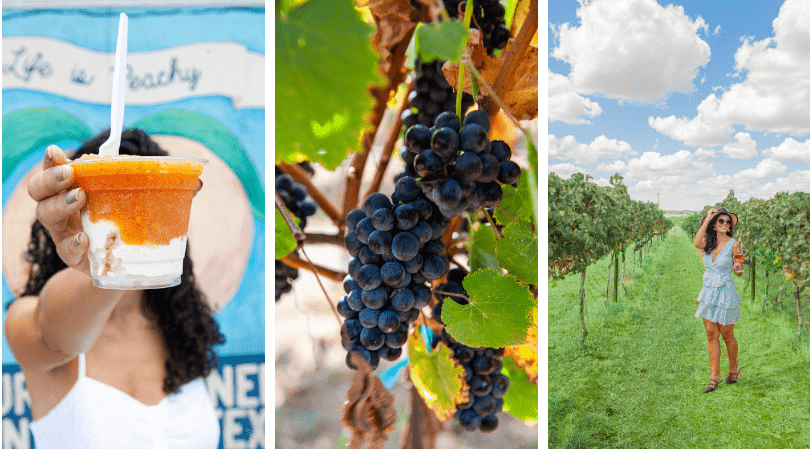 Known for it's peaches, Lyndon B Johnson history, and of course great wine, there are so many things to do in Stonewall, TX for a fun weekend getaway!
If you've ever gone on a wine tour in Fredericksburg, TX, you may be surprised to learn that you often hit up most of the wineries before you've made it to Fredericksburg! Along the 290 Wine Trail you pass through Johnson City, Hye, Stonewall, and then get to Fredericksburg. While I love my trips along the 290 Wine Trail, I decided to get that I wanted to break up my trip into four different towns and explore what makes each one special! Plus, with so many wineries, breaking it up into different trips made it more manageable when it came to planning out which wineries to visit!
Wineries to Visit in Stonewall TX
First let's talk about the wineries because that's why we come to the 290 Wine Trail right? Before we get started, here are a few things I've learned after multiple trips!
Try to go on weekdays. If you get the chance, you'll have so much more of a customized experience on the weekdays. Because so many people travel on the weekends, the tasting rooms tend to get more packed. When you go on the weekdays, more often the people doing the tastings have more time for you and can dive into tasting notes, teach you about the wine, and give you the best recommendations. Especially as a new wine drinker, this experience will be beneficial. You'll still have an incredible time on the weekends though!
Bring your own water. Between the Texas heat and the wine it's easy to get dehydrated. Many wineries often give you small cups. Bring your own bottle and then plan on drinking one glass of water per glass of wine. Many places have awesome snacking boards as well. However, it's not a bad idea to bring some snacks as well.
Try something new. The great thing about tastings is that you get to experiment with what you like. If you're new to wine don't be worried if you don't like something. I remember the first time I went to a winery that wasn't sweet. I thought it tasted horrible. Two years later, that winery is one of my favorites.
Take part in the special experiences. It can get overwhelming trying so many different wines and after a while they can start blending all together. Additionally, many wines truly shine when they're paired with food. So if there's a food pairing or special experience, try to take part in it. Additionally, you can order a charcuterie board and ask for helping pairing the foods with the different wines.
The perfect time to visit the Wine Country. It's hard to say when the perfect time is! Each season brings it's own special treats. The Winter months are great because it tends to be less packed and you get a more personal experience. The early Summer months are great because you can see the vines in full bloom and if you catch it around July/August you'll see the grapes growing and may even get to participate in things like grape stomps and harvests (get on the email lists ahead of time and check social media for this info). However, it's also very hot and the wine makers tend to be busy with harvesting/wine making. Fall is also great because this is when they often release their new wines!
Join that email list. While all these wineries offer the typical wine tasting experience, there are many times when they have special classes, tastings, and one of a kind experiences that you will only know about by joining the list!
Kuhlman Cellars
Kuhlman Cellars is such a scenic winery in Stonewall, TX! They have vines stretching in front of their tasting room and a second story viewing deck! In addition to a great list of incredible wines, they have some fun experiences to make things more personal. Take part in their aromas wine tasting where you can learn from a sommelier or their estate experience where you can learn about grape growing and go behind the scenes. As I mentioned above, a big thing about truly understanding wine is the food pairing and Kuhlman Cellars offers a special wine and food pairing with seasonal gourmet small bites! And don't forget to try some almonds. Although, as a warning, you'll probably want to take multiple jars home.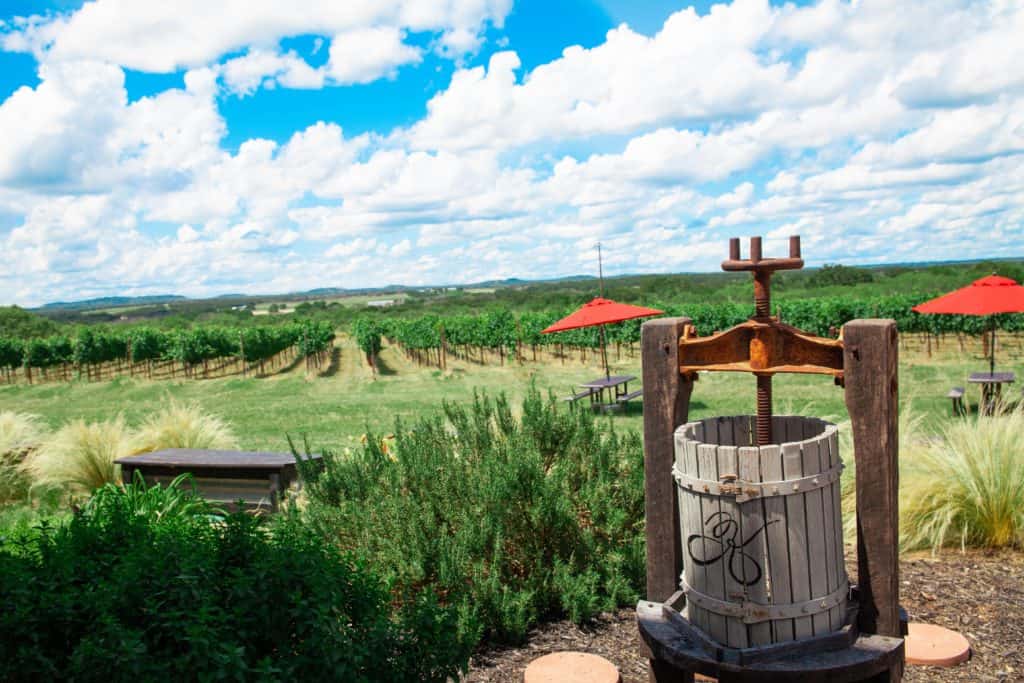 Pedernales Cellars
Pedernales Cellars was named one of the top wineries with a view in the World! Perched a top a hill, the view from their patio stretches on for hundreds of miles! In addition to their wine tastings, Pedernales also has a behind the scenes tour where you can learn about the wine making process and even taste it from the barrel. Keep your eyes on their social media channels (or get on their email list) in August as they have some fun grape stomping opportunities.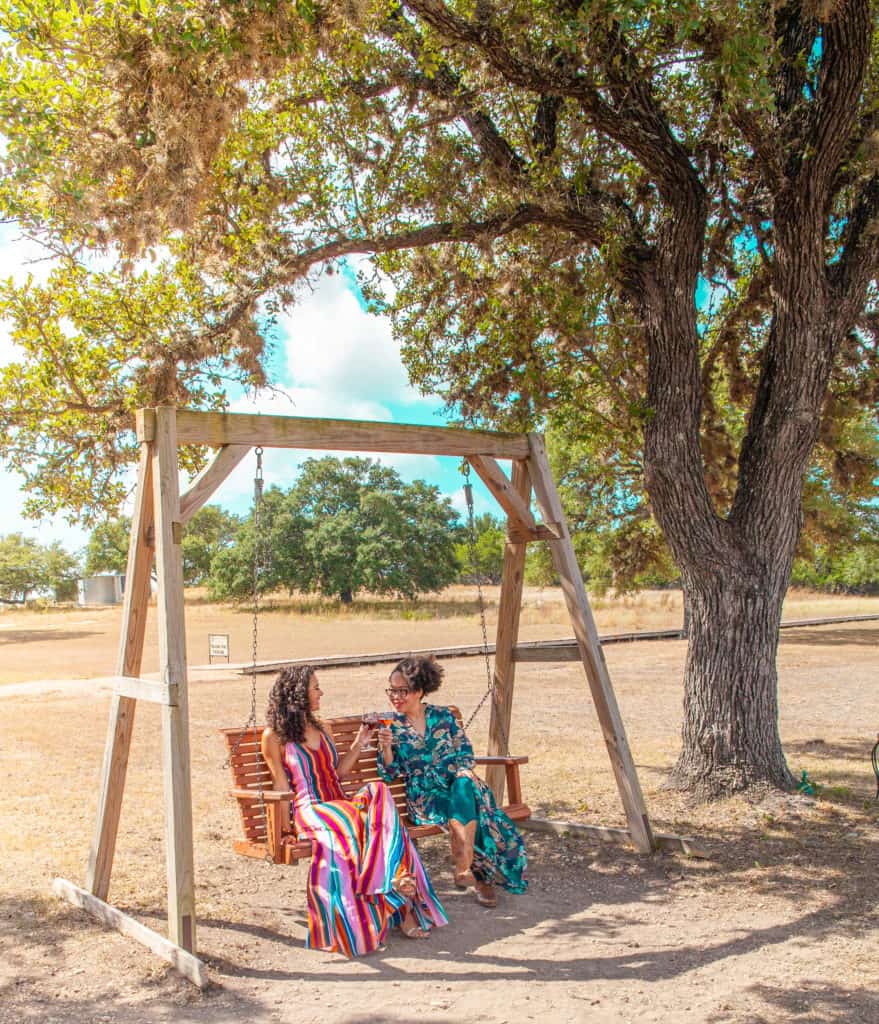 Adega Vinho
Adega follows traditional wine making practices and is also a spot with vineyards around to enjoy their beauty! One fun thing you'll find here is the Touriga Nacional grape which are rare grapes to find in Texas and are well known in Portugal.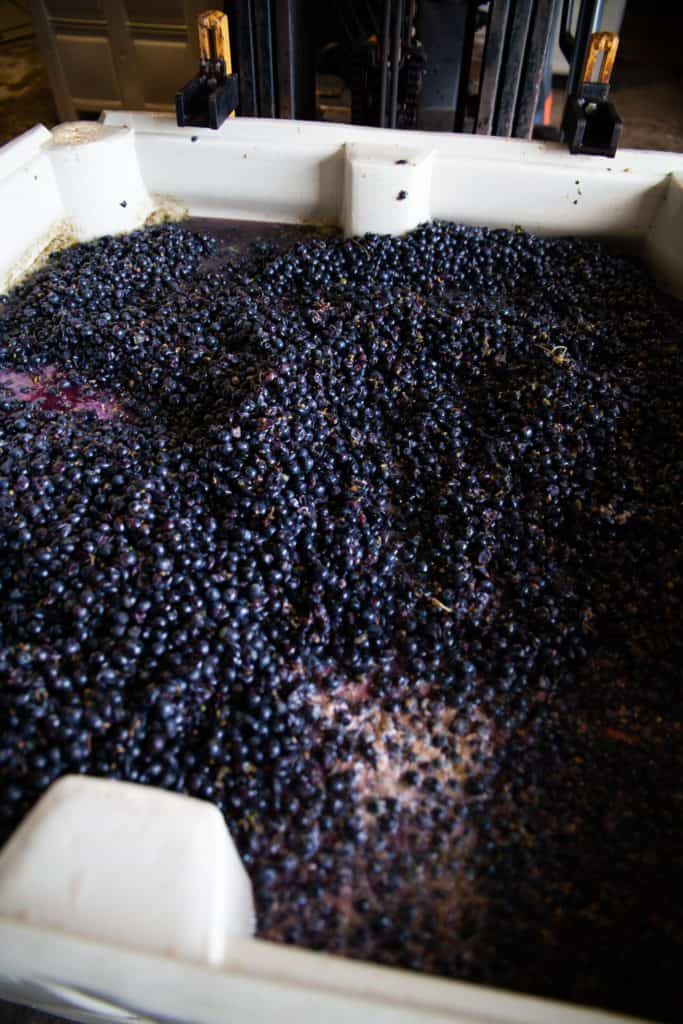 Ab Astris
This winery is a little tucked away off the main trail, but worth the couple of extra minutes it takes to get there! They have regular music on Saturdays and you can check their site for special events like a chocolate and wine pairing. I also recommend them for having the best charcuterie board to pair with your tasting! They partner with a local company that creates gourmet boards filled with a specialized mixture of fine cheeses, a mix of different crackers, and extra sides including preserves, incredible chocolates, honeycomb and more!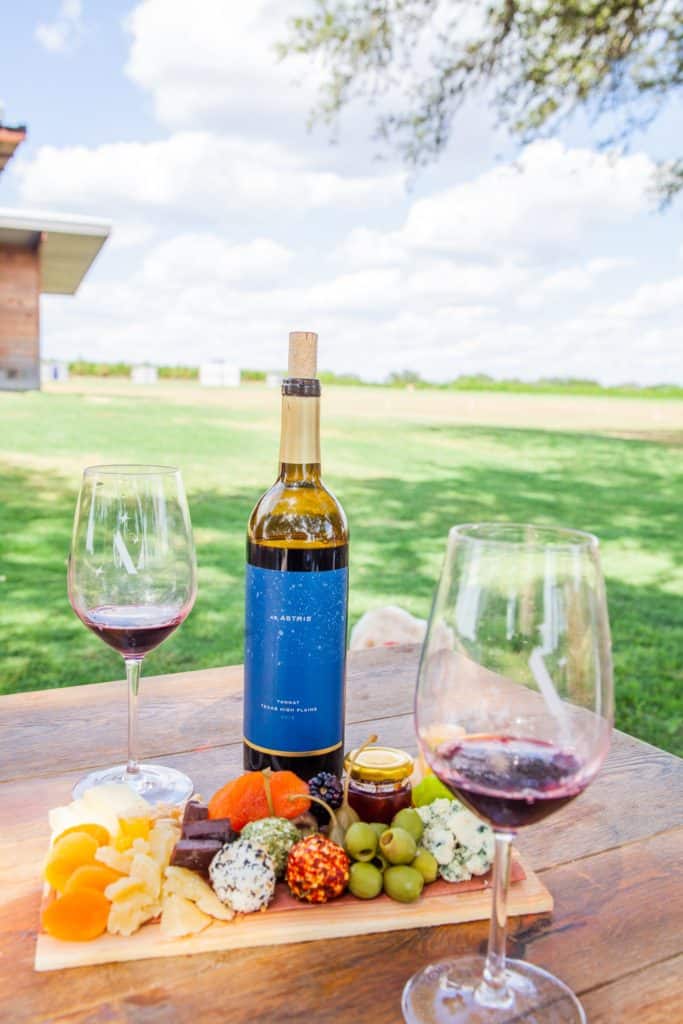 Arrowhead Creek Vineyard
Located right along the Pedernales River, you can enjoy a glass of wine with these incredible views of the water in addition to the vines onsite. They also regularly have live music. Arrowhead Creek makes a great stop for when you want to grab some food as well since they serve bbq and some other snacks on site!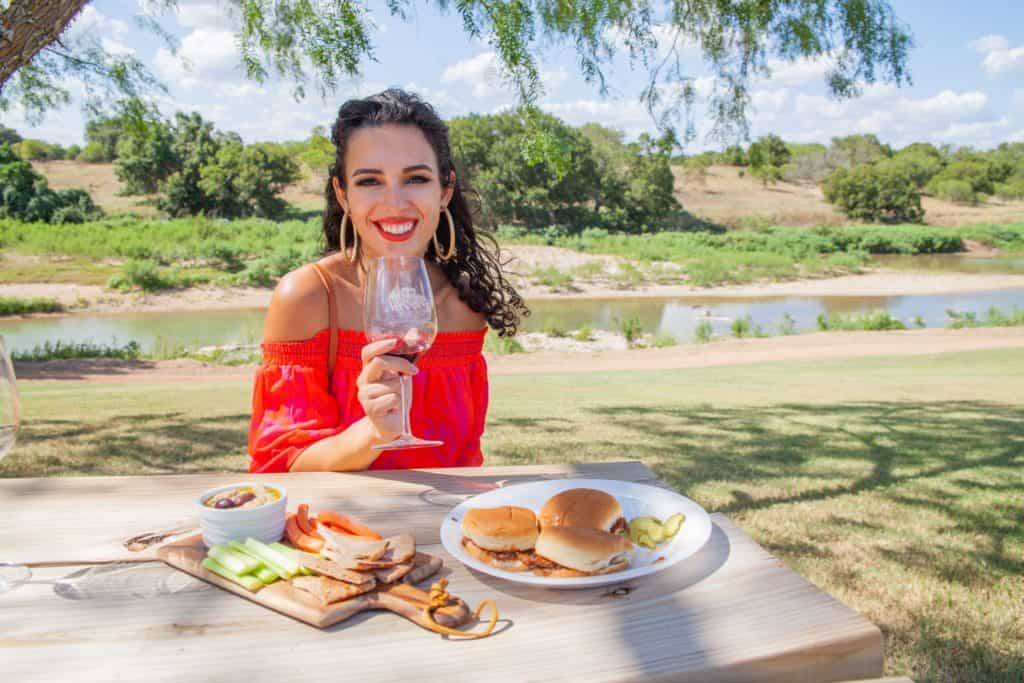 Cicada Cellars
You'll notice Cicada Cellars for the fun Stonewall mural they have on the side of their building. Here you'll find small batch wines. And one of the great things is that they're located just a one minute walk from Stonewall Motor Lodge (our favorite place to stay when visiting Stonewall – more details below). So if you want to visit a winery without driving you have this option!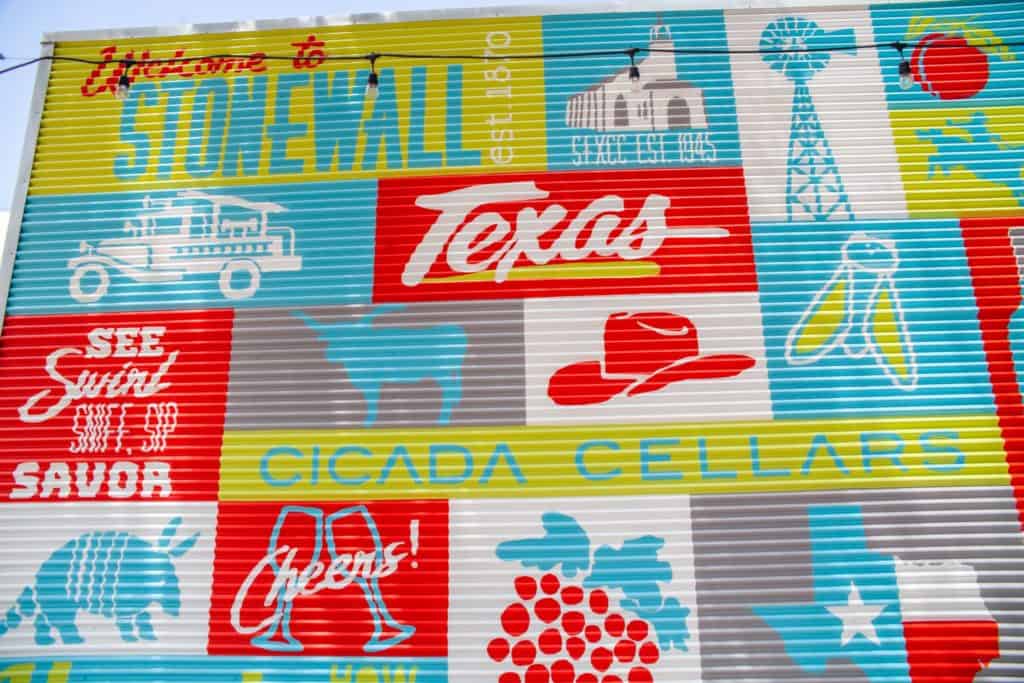 Things to do in Stonewall TX
See Air Force One Half
Half of the Lyndon B Johnson National Historic site is in Stonewall and with how massive it is, we enjoyed being able to break it up into different parts! While going through the park you will get to see the house former President Johnson lived in, his schoolhouse, the Texas White House, and the hangar that now houses Air Force One Half.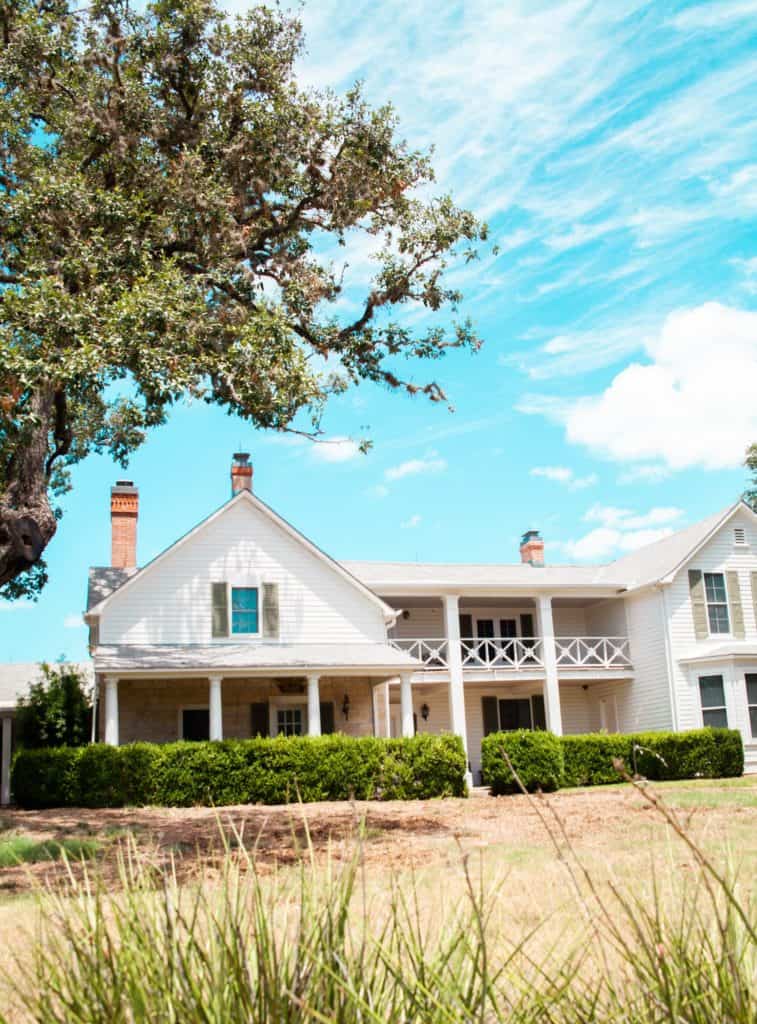 Get some peaches
Stonewall is known for it's peaches and even regularly has a peach jamboree! You'll definitely see peach stands all around! And why would you stop at just one? Just about every one has peach ice cream! Burg's Corner is known for their fun Stonewall mural and their ice cream that you can top with peach preserves!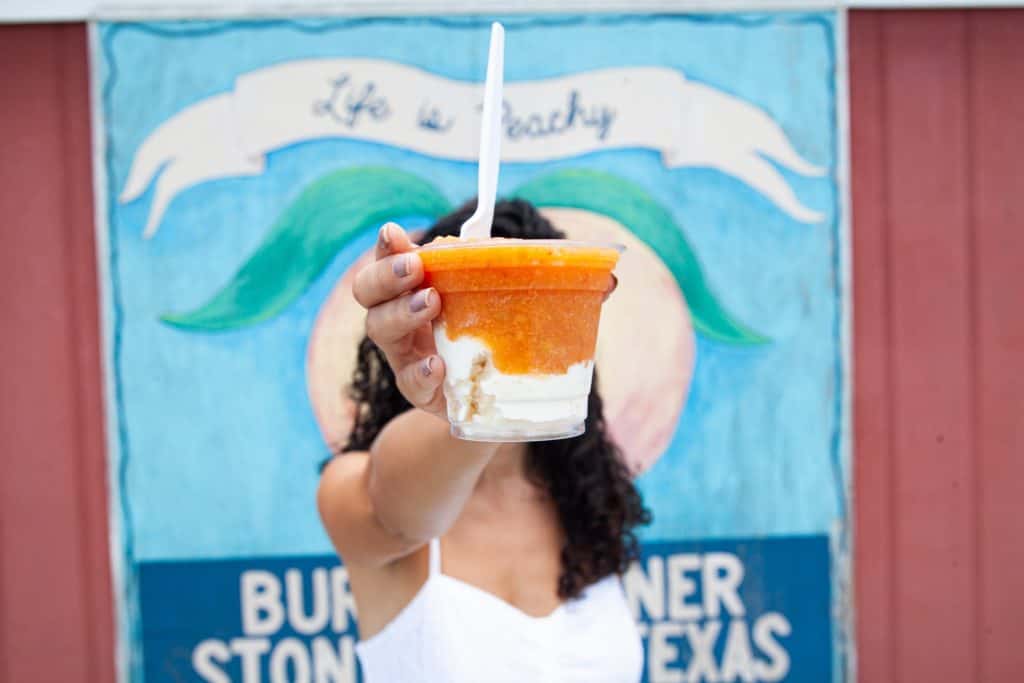 Another one that I personally loved was Gold's Orchards! They have a little bit of everything and we ended up grabbing things for a full peach picnic (perfect to enjoy on the top of Stonewall Motor Lodge's upstairs patio!). There's even a food truck on site serving up breakfast tacos, burgers, chicken, and more. Here's the pro peach tip! Grab a burger from the food truck and some peach preserves from Gold's for the ultimate peach burger! We made sure to also grab some peach cider, peach bread for breakfast, and peach pie topped with peach ice cream (you do not want to miss out on a slice of that pie!).