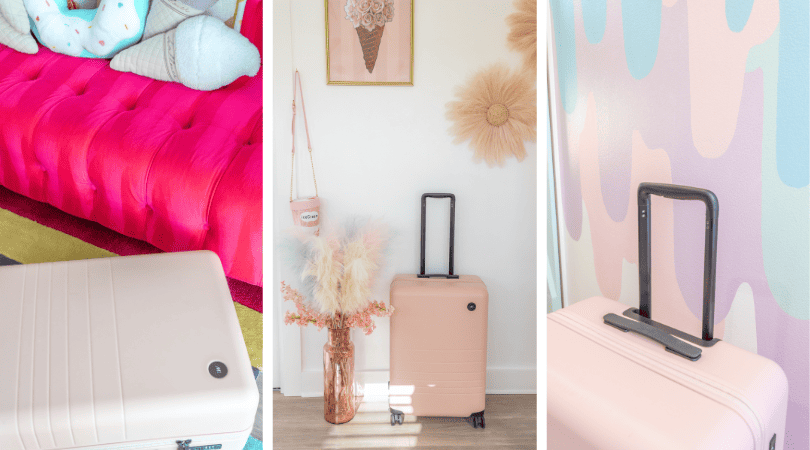 With a hefty price tag, we had a lot of the same issues and fears about whether or not the Monos Suitcases would be worth the investment. Below you'll find all the pros and cons in this comprehensive Monos Luggage review so you too can make an informed decision about this luggage brand being your next travel purchase!
I had a really cute travel themed suitcase that I traveled with before, and while cute, as expected, it took only a couple of years before every zipper had broken, wheels had fallen off, and the shell had cracked. Finally, I knew I was ready for an upgrade. I wanted a high quality lifetime suitcase, one that I knew would be sturdy for years to come, but also came with a lifetime warranty so that when issues inevitably happened, I wouldn't have to worry about forking out another pretty penny for a new luggage set.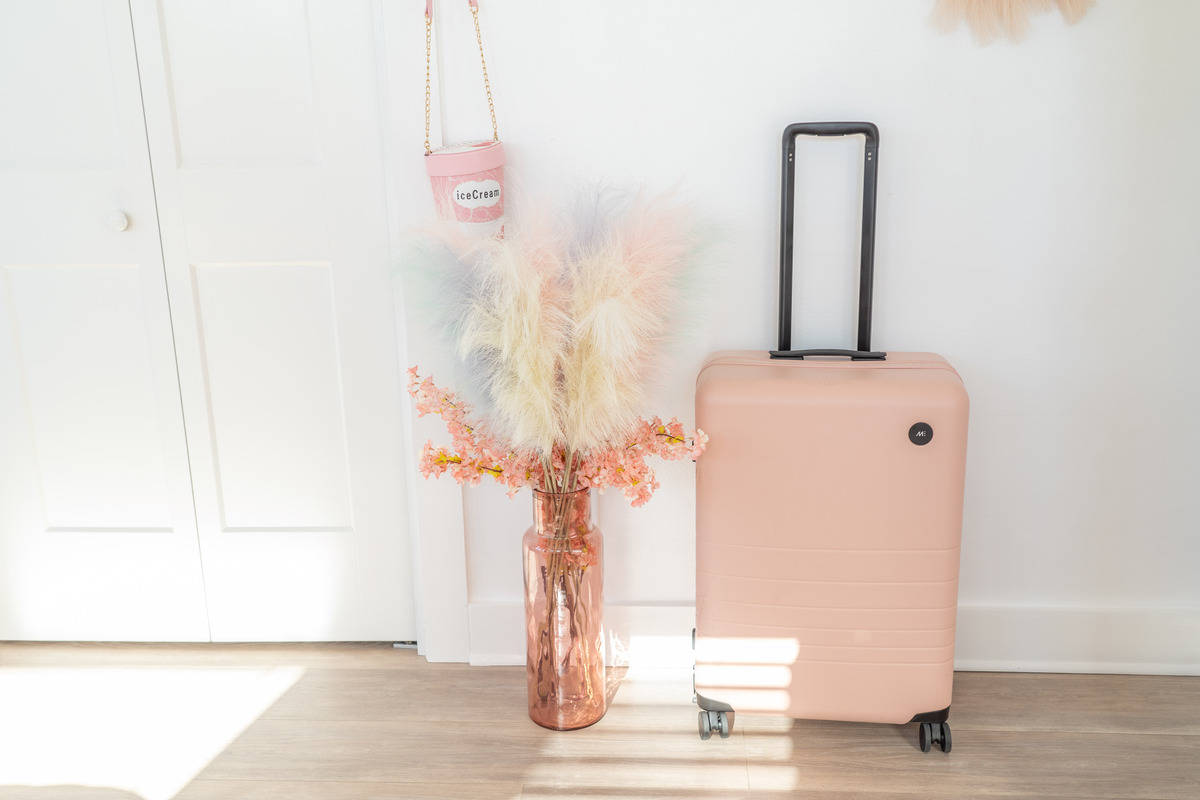 There is a lot out of your control when it comes to traveling. Checked baggage isn't always treated with the kindest of hands and it can be really upsetting when you pick up your suitcase at baggage claim and notice damage that wasn't there to begin with. It becomes even more important, especially when you're spending a little more on your luggage sets, that you feel confident knowing they can withstand the brunt they take during a trip.
I spent weeks, maybe months, researching. There were so many brands to consider, and actually, we first went with Away because of its popularity. There was also a physical store we could visit in our city. However, after about two trips, I already had to replace two of the suitcases and, overall, was not enjoying all the trips into the store to avoid extra costs. We ended up returning them (I am grateful for the 90-day return policy) and decided to look at a similar brand with some key differences.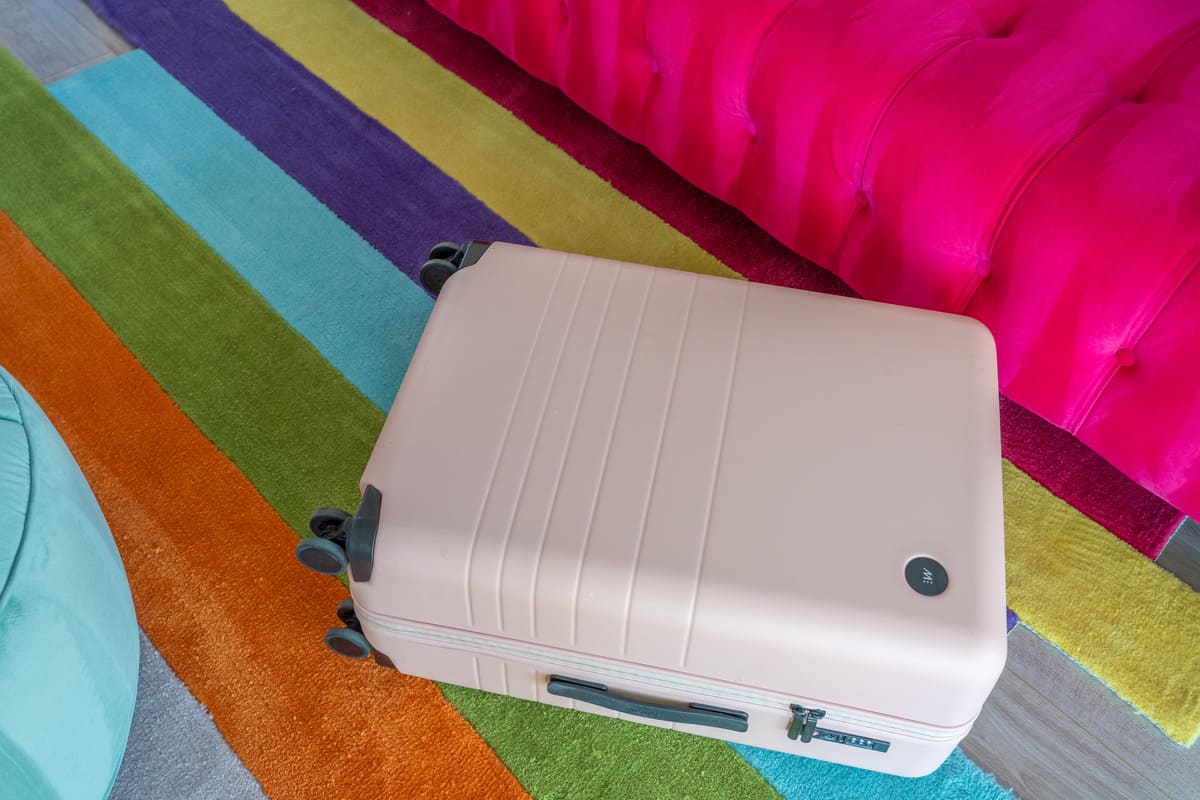 In all honesty, I reached out and received the Monos Suitcase for free. However, I am giving my honest review and would have also returned it if I hadn't enjoyed it as much as I do. Mostly, I love that by doing this, I can provide a Monos discount to my followers as thank you for your support and trust.
I'll begin by going through why I ended up liking my Monos luggage set. We'll go into greater detail of the Monos Metro Weekender vs the Monos Metro Duffel in our other blog post if you're looking for a a good carry-on option that's not a carry-on suitcase.
Use the following coupon code for a discount on your next Monos bag: MYCURLYADVENTURES 
Monos Luggage Review: Overall Thoughts
I live out of my suitcase (for real). I use my suitcase (and/or Metro Duffel/Weekender) 365 days out of the year. It usually involves being in our car for road trips versus flying, although I do fly 1-3 times a month. We were between the Monos Carry-On and the Check-In, but ended up choosing the medium Check-In because it fit in our car best with enough space to still fit other bags. Of course, there are plenty of different sizes to choose from and we will continue to add to our collection, but this was a good start for us!
The Monos Luggage set truly stands out in terms of its impeccable quality. The suitcases are made with aerospace-grade polycarbonate, a material renowned for its resilience and lightweight properties. This makes them sturdy enough to withstand the rigors of travel, and yet light enough not to add unnecessary weight to your journey.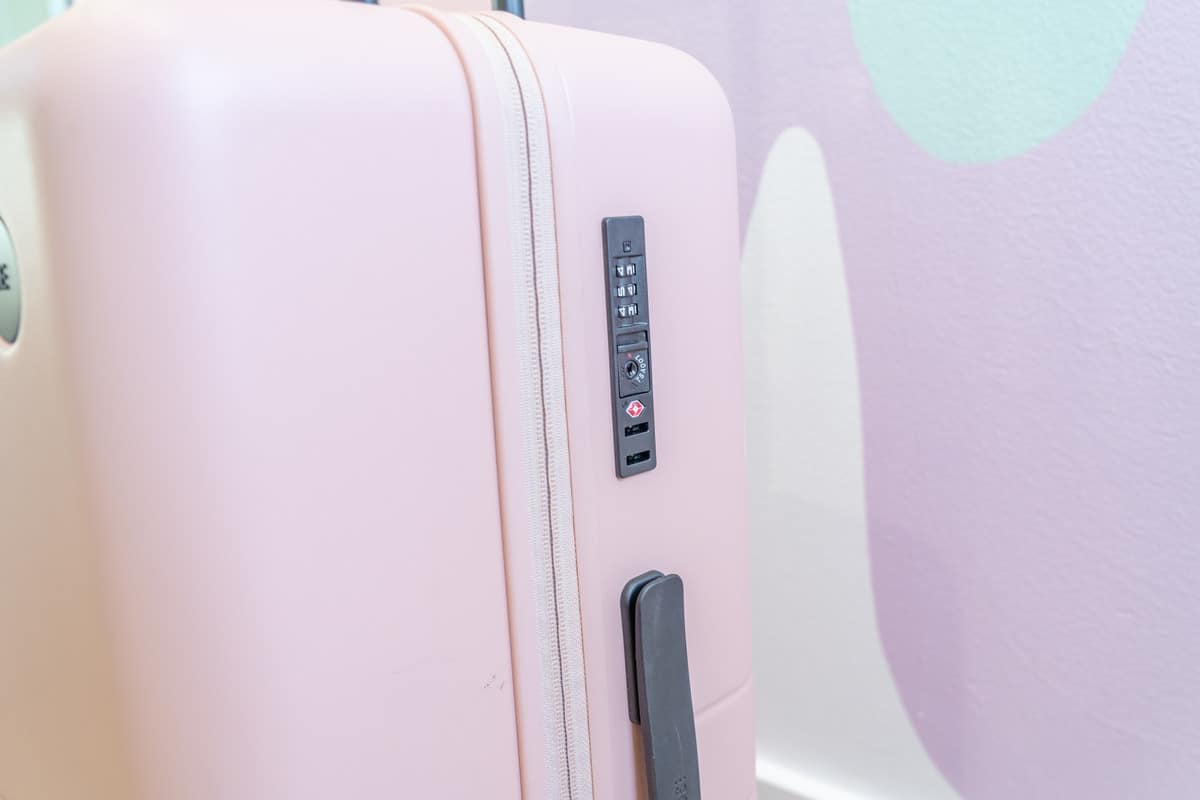 The zippers are engineered with a YKK brand that is known for its durability, and the wheels are designed to be silent and multi-directional, providing smooth maneuverability. What I appreciate the most, however, is the thoughtful design of the interior.
The organization compartments and compression pad help keep my items tidy and secure, and the anti-microbial lining is a great addition for hygiene-conscious travelers.
Not to mention the TSA-approved locks to prevent thefts, which has happened unfortunately, plus a telescopic handle with four settings, and 360-degree spinner wheels for easy maneuverability. 
Monos Luggage Review: What Initially Stood Out
The most important thing when choosing a suitcase is a lifetime warranty. With that investment, I wanted to make sure that if anything went wrong, I would be able to replace it. Monos guarantees that their suitcases will last for 10 years or more and even provides a warranty to cover any incidentals.
The next thing was getting to be able to carry it across as many surfaces as possible. While I do fly, my biggest thing is road trips and I'm constantly pulling it out of our car, lugging it into glamping spots, and so many other places. The smooth, silent wheels make such a difference and make it so much lighter. Carpets are still a little difficult, but I haven't found a luggage that does it better.
After that, I really enjoyed the compression and compartments of my Monos Check-In. I don't pack light and I don't plan on packing light. Having those compression straps helped me fit a decent amount of my extra items into my suitcase.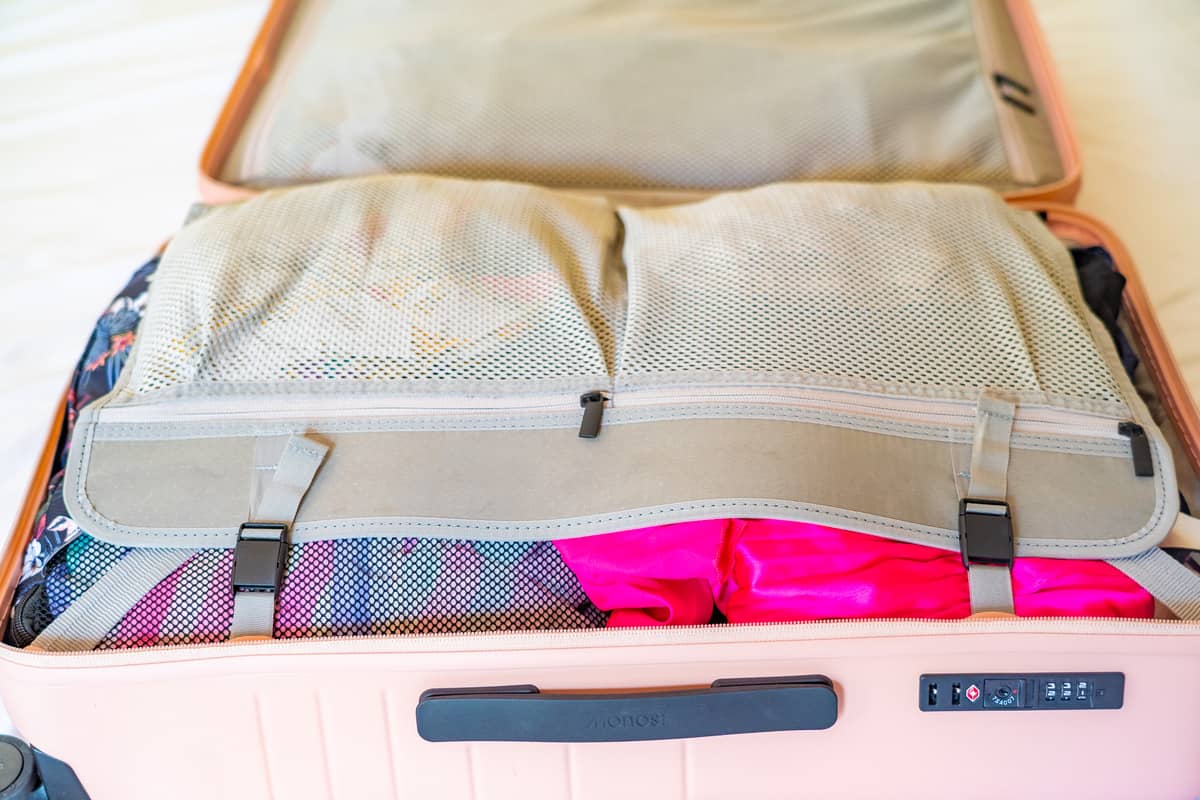 Another thing was the colorful designs! I initially started looking at them for their colorful Magnolia Bakery Collection and, although that's not what I went with in the end, I love how they have unique and colorful limited edition pieces in additional to lovely standard colors like the rose quartz, olive green, and blue haze.
Finally, I love how well our luggage works with the items in the Metro Collection. I used to lug everything on my shoulders, but I can get everything I need in one suitcase and one Metro item. Read our full review of the Metro Duffel vs the Weekender to compare.
Monos vs. Away: Key Differences
Honestly, at first glance, a lot of luggage brands look similar, but there are in fact some key differences that can help you make a purchasing decision.
When comparing Monos to Away Luggage, there are several differences. While both brands utilize durable, polycarbonate for their hard-shell suitcases, Monos uses an aerospace-grade variant for higher durability and resilience. We mostly noticed this in the way that we came away from a trip with less scuff marks on our bags. Any scuff marks we did have came off so much more easily.
The other thing about the Monos Check-In is that it came with compartments and a compression pad, which Away lacks. While there is some compression with Away, there was much more with Monos. It also has small compartments where I can easily store smaller items that I need easy access to.
When considering environmental consciousness and vegan-friendly aspects, Monos significantly surpasses the Away bag. Monos has made a commendable commitment towards sustainability by choosing eco-friendly materials and methods during production. The brand is fully vegan, ensuring no animal products are incorporated into their designs. This is a clear difference compared to Away, which uses regular leather on some of their products.
Moreover, Monos' dedication to minimizing environmental impact goes beyond the product itself. Their packaging is crafted from recycled cardboard, and they've partnered with WeForest to plant a tree for every piece of luggage sold, further emphasizing their commitment to environmental stewardship. Thus, for eco-conscious and vegan customers, Monos stands as a clear choice over Away.
Away does have a USB battery for your devices, but I didn't even use it when I had it. It was too much of a hassle. I much preferred just using my own portable chargers. Plus, the USB charger isn't part of the lifetime warranty anyways.
The Monos is mostly cheaper in price (especially with our discount code: MYCURLYADVENTURES), but I expect that's mostly to compete with Away, as Monos is overall a slightly superior bag. Not to mention, Monos runs regular sales.
Monos also has free shipping and a live chat for a better customer service experience. Living in a big city, I also like that Nordstrom stocks Monos.
Finally, although small, Monos has a 100-day trial period compared to the 90-day return period Away offers their customers.
Away is definitely a solid suitcase. I find that Monos has worked hard to be a competitor since they don't have the same big, name brand recognition that Away does.
Monos Regular vs Monos Hybrid Review
When it comes to comparing the Monos Regular Check-In to the Monos Hybrid Check-In, there are a few key differences to note. The Regular Check-In is crafted entirely from aerospace-grade polycarbonate, ensuring durability and lightweight characteristics. It's designed for the traditional traveler who values the tried-and-true hardshell protection for their belongings.
On the other hand, the Monos Hybrid has a zipperless, anodized aluminum frame. Seeing as zippers were the downfall that caused us to return our last suitcase multiple times, I was pretty excited about the Hyrbid Check-In. The only reason we purchased two different ones was so we could compare them, and also because it didn't come in a pretty color like pink, and as much as I wish I had a more professional reason, that is in fact why.
P.S. Anodized aluminum essentially refers to a process that thickens the protective oxide layer of metal, making it more durable, corrosion-resistant, and less likely to be scratched.
Overall, some key characteristics between the two are:
Monos Check-In Medium Check:
Exterior measurements: 26.5″ × 18.5″ × 10.5″
Interior measurements: 24.4″ × 17.7″
Weight: 9.59 lb.
Volume: 70 L
Monos Medium Hybrid Check-In:
Exterior measurements: 26.5" x 18.5" x 10.5"
Interior measurements: 24.4" x 17.5"
Weight: 11 lb.
Volume: 70 L
So you're essentially getting the same product, except the Hybrid line is a tiny bit heavier and it comes with fewer color options. Overall, an even sturdier shell as well as a zipperless feature makes this a great option for people who might be harder on their luggage.
Monos Luggage: Frequently Asked Questions
Do the Compressible Packing Cubes have a warranty? Yes, Monos Packing Cubes are backed by a 1-year warranty.
Does Monos offer free shipping? Yes, Monos offers free shipping on all orders to the contiguous US and Canada.
What does the Monos Suitcase warranty cover? Every Monos Suitcase comes with a limited, lifetime warranty for U.S. and Canadian residents.
Does Monos offer a money-back guarantee or a trial period? Monos offers a 100-day, money-back guarantee, but it's voided if the bag has been used even once.
Is Monos Luggage reasonably priced? The brand is known for offering high-quality luggage at reasonable prices. It's still a splurge, but the lifetime value of it outweighs the cost of something you have to regularly replace.
Does Monos offer an expandable suitcase option? At the moment, Monos does not have an expandable option, but it does have some of the best compression.
When was Monos founded? Monos was founded in 2018. It's a Canadian company created by three Canadian friends who wanted a brand that was durable and easy to use.
What luggage sizes does Monos offer? Monos offers several sizes of both check-in and carry-on luggage that will all fit within airline regulations.
What is the difference between the Monos Carry-On and the Monos Carry-On Pro? Really the only difference between the Monos Carry-On and Carry-On Pro lies in their interior features. While the Monos Carry-On offers a minimalistic design with a few organizational compartments, the Carry-On Pro features a front pocket designed for laptops and other essentials, making it ideal for business travelers who need quick access to their work tools. There's also the Monos Carry-On Pro Plus which we talk about next.
What is the difference between the Monos Carry-On and Carry-On Plus? The Monos Carry-On Plus has additional height and storage that make it operational as a US-based Carry-On. However, if you plan on flying on an international airline or on smaller planes, what qualifies as a carry-on is different and often smaller than a standard airline. If you want to carry-on to use in other countries, you should opt for the regular Monos Carry-On.
Monos Luggage Review: Final Thoughts
Overall, I really enjoy the brand Monos. It's the perfect suitcase for someone who travels as much as I do even though I tend to do more road trip travel. The amenities of whisper-quiet wheels, sleek design, nearly unbreakable polycarbonate shell, and TSA-approved combination lock meant that I knew I was getting solid travel gear that matched my personal style.
At some point, I really want to try the limited edition colors, but they tend to sell out fast, so I need to make sure I get on those fast. You do pay a premium price for Monos Luggage, but it's met with high-quality materials.