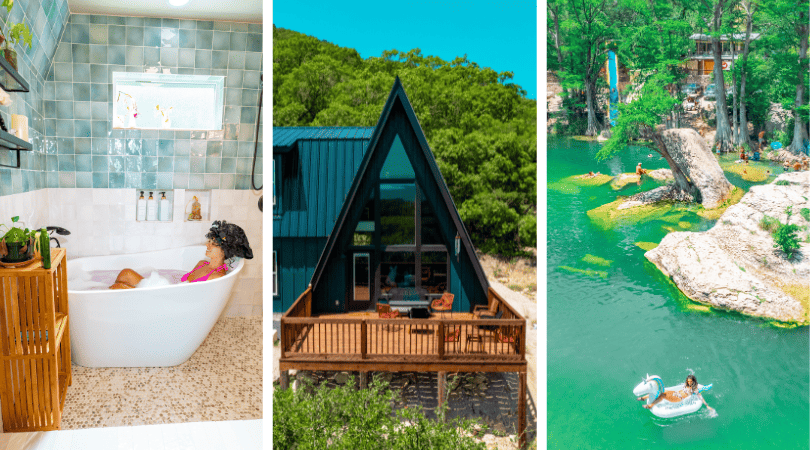 Nestled along the Frio River, the Inn Between holds a special place in the hearts of many Texans. This delightful retreat, once a dilapidated trailer park, has been lovingly revitalized by local couple, Leah and Jake, who have infused a sense of color, joy, and a touch of Mexican heritage into the property.
The Inn Between offers a unique stay in their A-frame cabin, an ideal choice for large groups and families with enough space for up to 10 guests to sleep comfortably. The cabin features two bedrooms, two bathrooms, an upstairs nook with an extra bed, and several pull-out beds, providing ample space for everyone looking to go on your next getaway to Concan. This cabin is also pet-friendly, so you can bring your pups along too!
While in Concan, don't forget to check out all of the fun things to do and the best swimming spots along the Frio River.
For couples and smaller groups, they also offer other colorful cabins, including some additional pet-friendly options!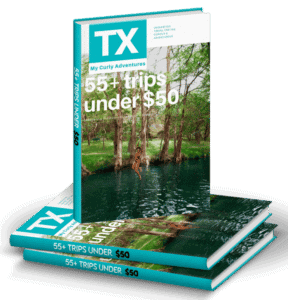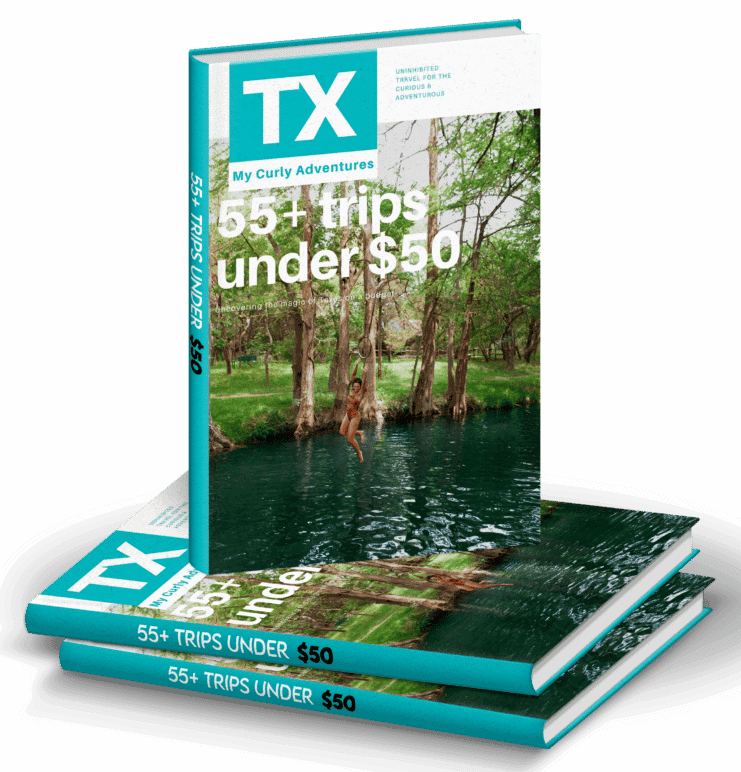 With our latest edition of our Texas Travel Guide, you can take an exciting vacation every weekend without breaking the bank and still have more to do! And in just one trip, the guide pays for itself! You'll be amazed at all the hidden gems, international influence, and wacky attractions you'll find all over Texas!
Not ready to purchase quite yet? We wanted to make this guide as accessible as possible, so we've shared our 1st edition of our guide, 50 Texas Trips Under $50. Click the button below to get yours for FREE!
All About the A-Frame at the Inn Between
The large windows of the A-frame cabin are one its many noteworthy characteristics, offering breathtaking views of the Texas Hill Country. The cabin's location, perched on a hill, affords guests an exclusive view of Concan from their dining table. Make yourself a cup of coffee and take in the mesmerizing sunrise from the front patio.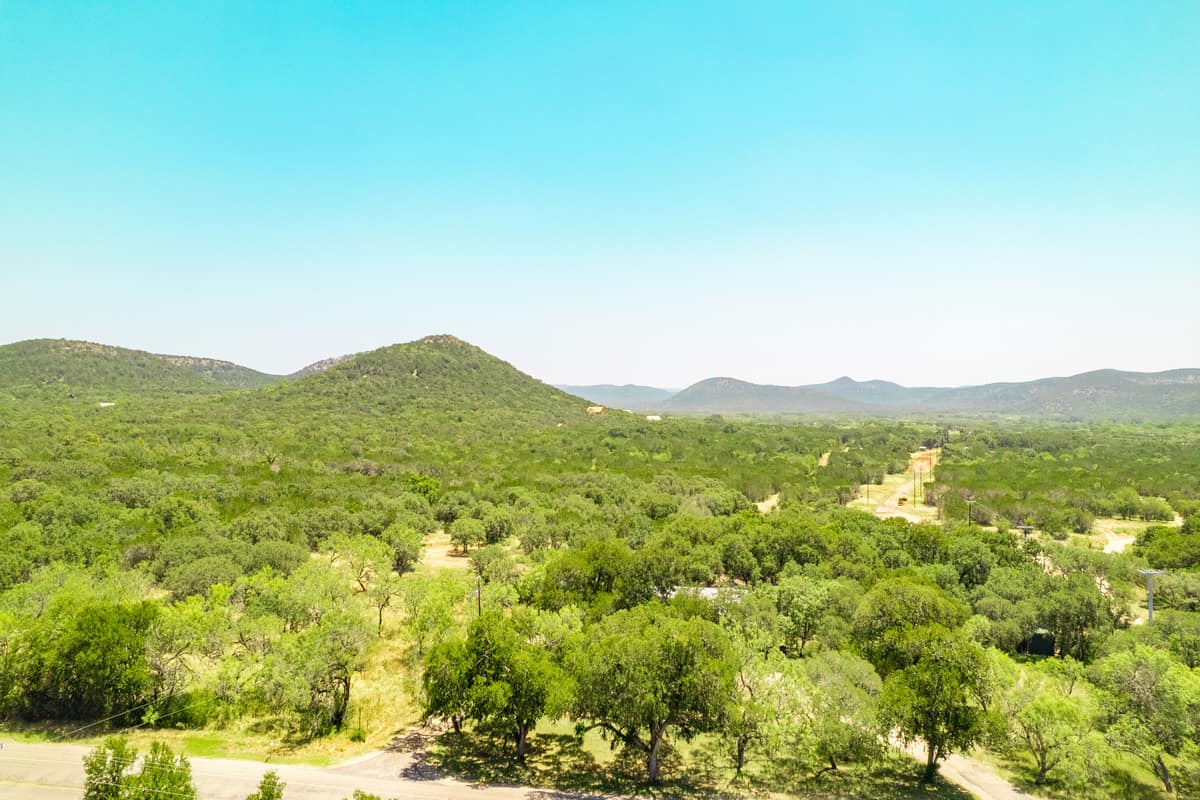 The living room comes equipped with a TV for movie nights, but also offers a selection of games and books to promote connection and provide entertainment on rainy days or during downtime.
The upstairs bathroom is a highlight with its striking blue tile, live plants, and gold mirror. The icing on the cake is the luxurious tub, perfect for a soak after a day of adventure.
The convenience of having a full kitchen in Concan cannot be overstated due to a lack of grocery stores in the vicinity. It's advisable to stock up on groceries beforehand to avoid long drives out of town for meals or supplies. The A-frame cabin kitchen also includes an ice maker and filtered water, along with a coffee pot for those early mornings.
They even have a smoker and a grill for those who really want to get serious about their cooking!
One thing we really appreciated at the Inn Between's A-Frame Cottage is its robust Wi-Fi connectivity, a rare commodity in this area, especially since services like Verizon completely don't work here.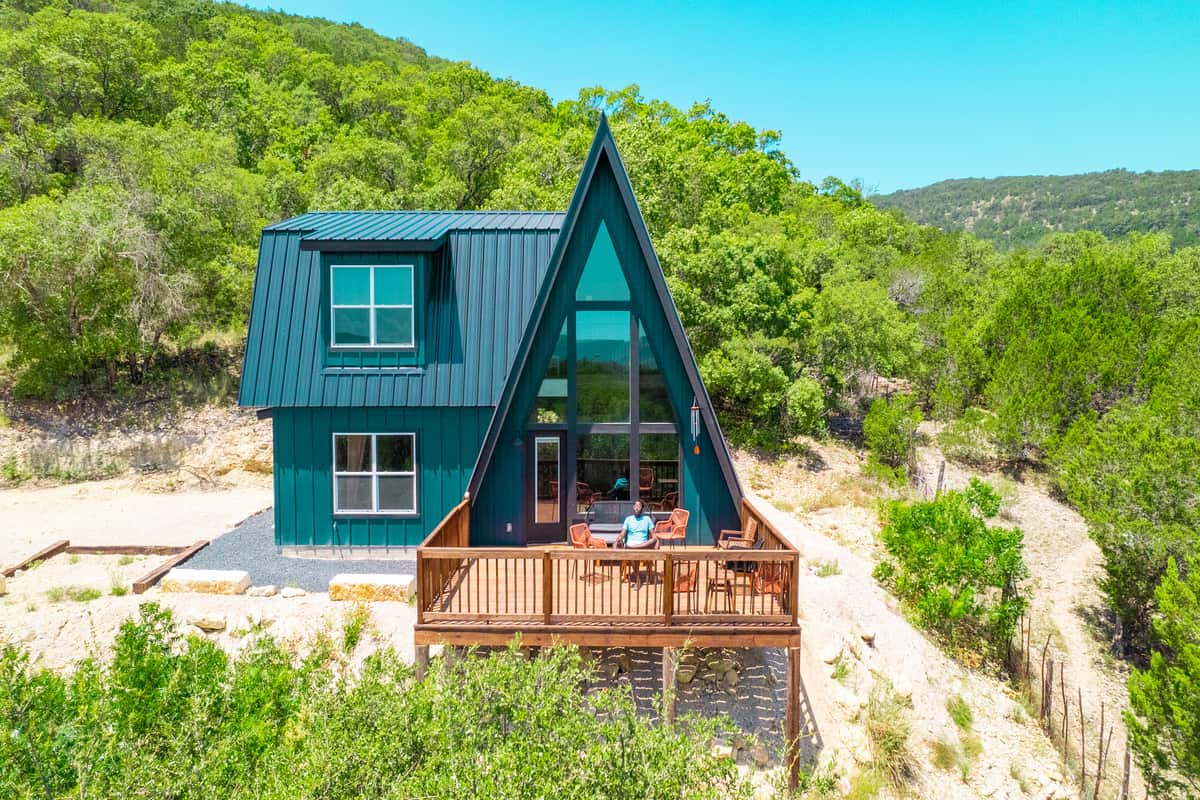 Other On-Site Amenities at the Inn Between
While the house itself is a wonderful place to stay, you'll really want to take advantage of all the other amenities at your finger tips on the property.
In addition to the comforts of your individual rental, the Inn Between offers guests access to their on-site herb garden and in-season fruit or vegetable plants. Imagine the satisfaction of handpicking fresh produce right on the property! Take a leisurely stroll through their flower garden, where you can often spot butterflies fluttering about.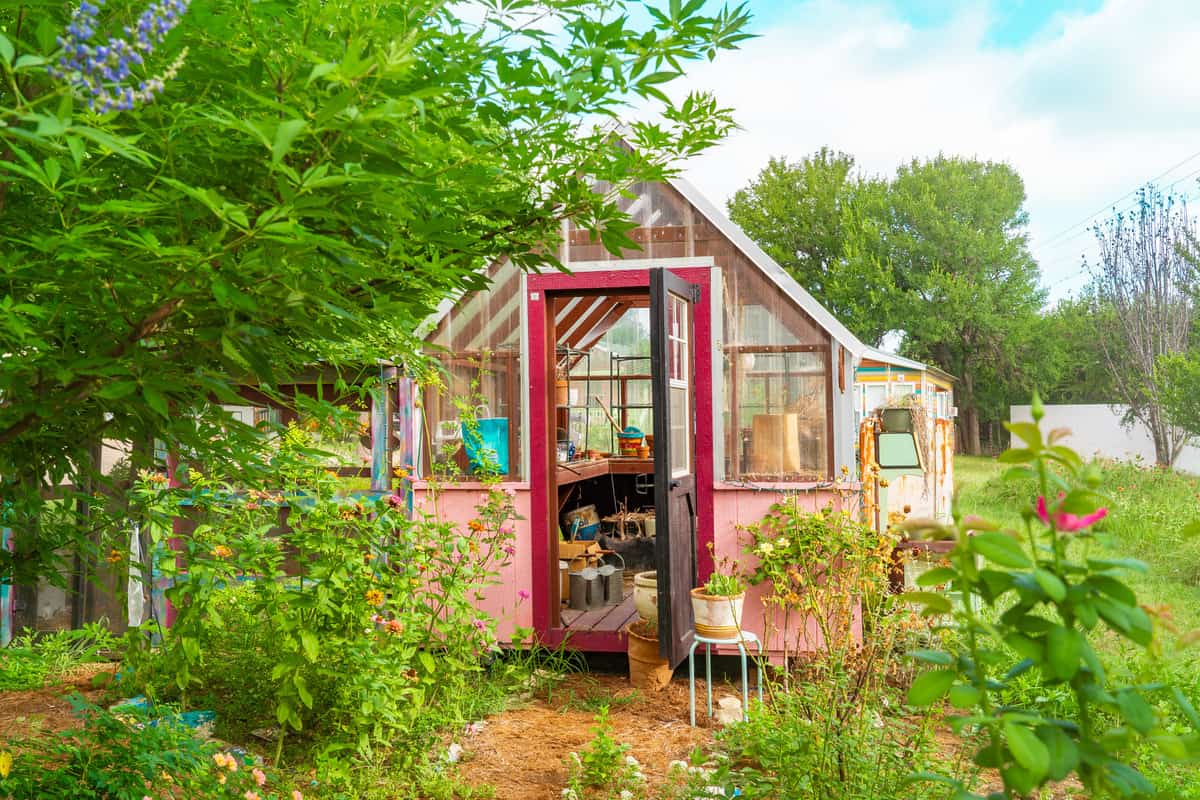 You might also enjoy meeting the friendly on-site goats and pig. They have their own little Luckenbach, Texas and spend their evenings laying around.
If you're an early riser or late evening stroller, you'll likely catch sight of the free-roaming rabbits enjoying their dawn and dusk snacks. For families with children, the property boasts a small playground, a charming lemonade stand, wooden tipis, and various play areas to keep the little ones engaged.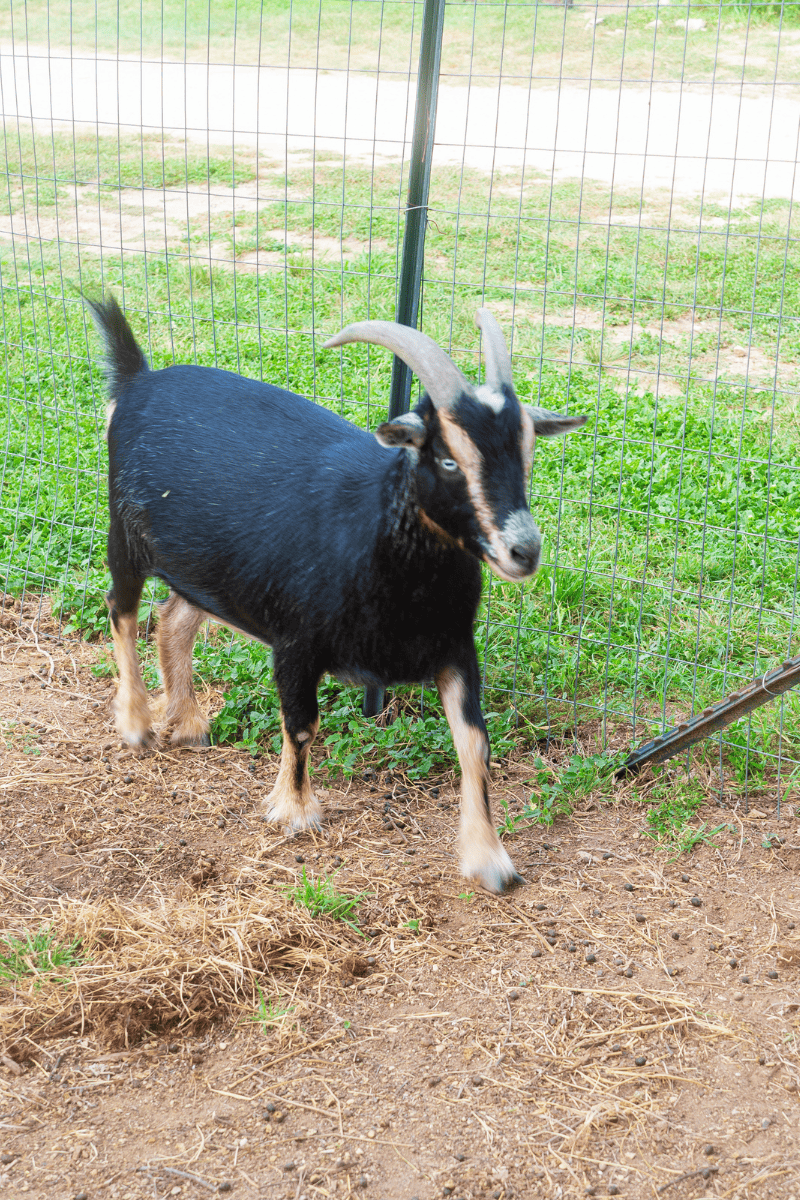 Leaving a mark on your travel experiences has never been so literal — contribute to the property's communal "Everyone's an Artist" mural or paint a rock to leave in their garden. Add to the whimsy by enjoying their quaint wooden tents, a unique touch to the property.
The Inn Between's hosts, Leah and Josh, are an invaluable resource. Their deep knowledge of the area and passionate support for local businesses mean they can provide insights and recommendations for virtually anything you might need. Location-wise, the convenience is unbeatable — you'll find yourself just minutes away from all the notable, local attractions!
Save at the Inn Between
While the Inn Between is popular during the summer, off-season visits offer cheaper rates and increased availability, making it worth considering. Imagine cozying up in a cute cottage with hill country views, playing board games, hiking in cooler weather, and having swimming spots all to yourself. To top it all off, you can end your day soaking in the amazing tub with a good book.
The A-Frame Cottage at the Inn Between: Final Thoughts
To wrap up, the Inn Between with its host of amenities and the A-frame cabin's unique charm offer an unforgettable overnight experience. It is easily one of the most colorful lodgings in Concan! Not to mention, the friendly and knowledgeable hosts, Leah and Josh, who are always ready to provide local insights and make your stay extra special. For more details, check out their website here.