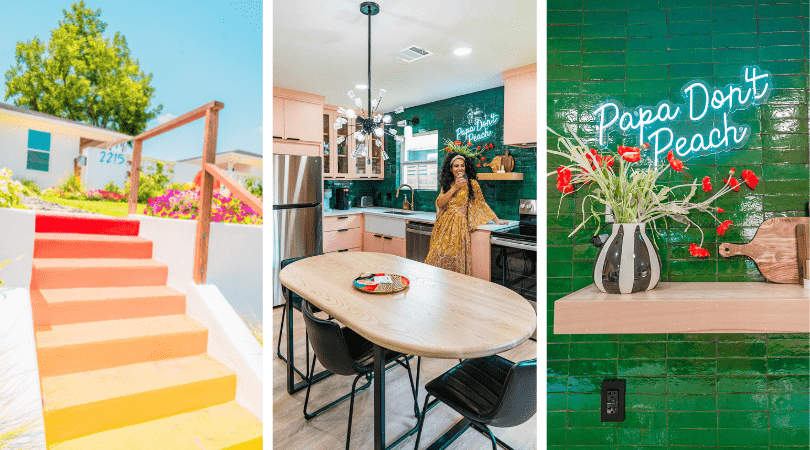 With so many things to do and places to eat in Waco, you luckily have several different options to choose from when you're looking for where to stay in Waco TX. However, the colorful suites at Uptown Peach have a personality of their own that will fill your weekend with fun from the time you wake up until the moment you fall asleep.
This Airbnb offers four distinct suites surrounding a central courtyard. These colorful suites can be booked individually or together, making it the perfect place for everyone, from solo travelers or couples to groups of friends and large families. You'll find Uptown Peach to be as colorful as it is comfortable and homey.
So, when you're trying to decide where to stay in Waco this weekend on your next Texas getaway, the colorful Uptown Peach Suites are one of the several amazing options around town.
Stay in These Colorful Suites
The colorful suites at Uptown Peach have to be some of the most stylish, but comfortable places to stay in Waco. Each suite is a little different, but all of them feature two beautiful, large bedrooms, a colorful kitchen, and a sizable living area with plenty of space to lounge.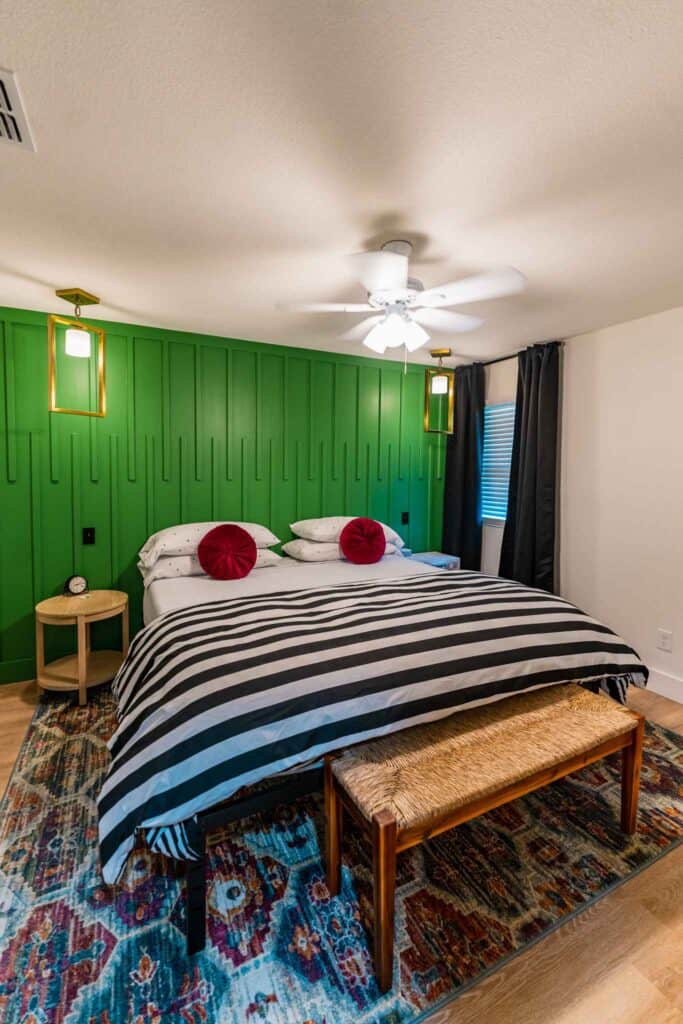 Suite 2215A is stark blue and yellow. Suite 2215B is pink, much like a peach, and green. Suite 2213A is more like the pink of a glass of rosé with more green compared to Suite 2215B. Finally, Suite 2213B is a mix of dusty blue and royal blue. The shower and bedroom walls of each suite are covered with vibrant patterns that complement the color scheme and each kitchen has its own unique neon sign with the suite name on it; a cute pun that uses the word "peach" in it.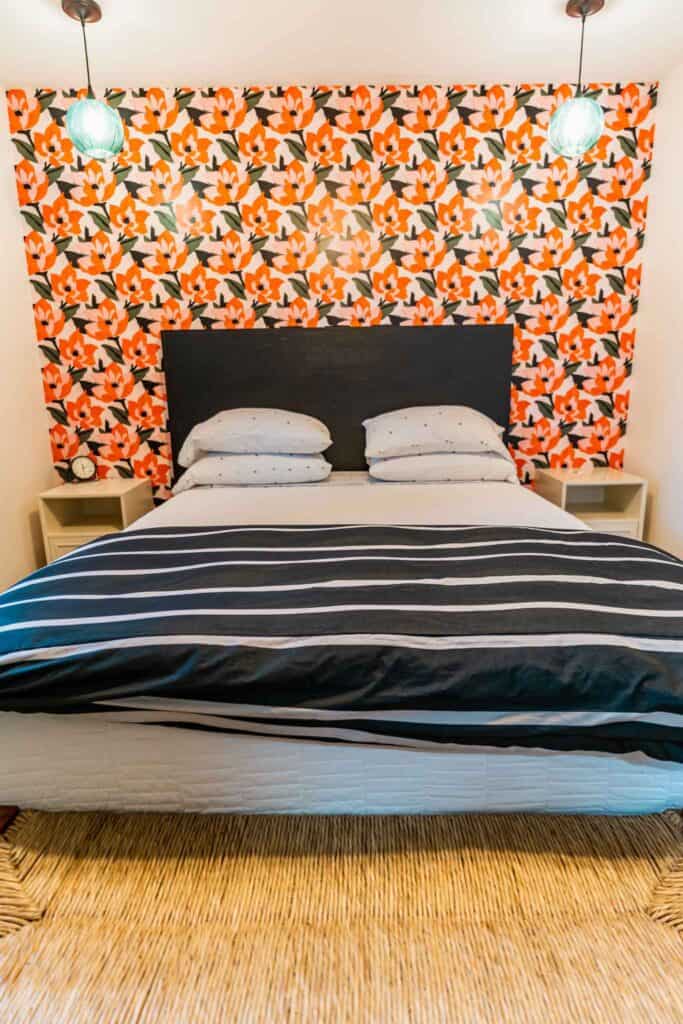 Relax in an Extensive, but Secluded Courtyard
One of the many perks of staying at Uptown Peach is the spacious courtyard that joins these four distinct, colorful suites. The courtyard is the perfect place to relax at the end of the day, with outdoor picnic tables and plenty of comfy seats, including swings and a hammock. Each suite also has a furnished porch for some privacy as you enjoy your morning coffee, or more seating in the evening when everyone gathers together after a day of exploring. There is even space to set up an outdoor projector, as well as a fire pit and a BBQ to gather around at dinner time.
All the colors of each of the suites come together in the bright murals painted on the outside of the buildings where the peach puns continue. The fairy lights overhead and the looming pecan trees add will add even more magic to your weekend getaway in Waco TX.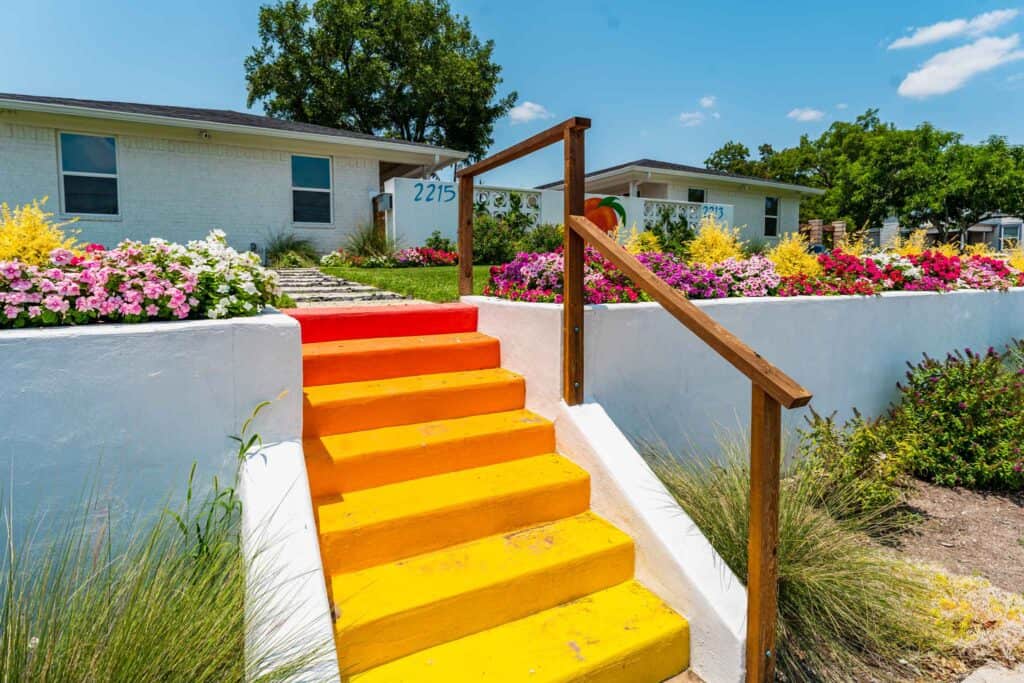 Enjoy Your Home Away from Home
Everything in the colorful suites at Uptown Peach is set up to make you feel as welcome as possible by providing all you need to have added comfort and luxury while you're away from home this weekend. Guests are welcomed with a bottle of peach wine upon arrival, not to mention the variety of drinks stocked in the fridge and the pantry filled with snacks and candy.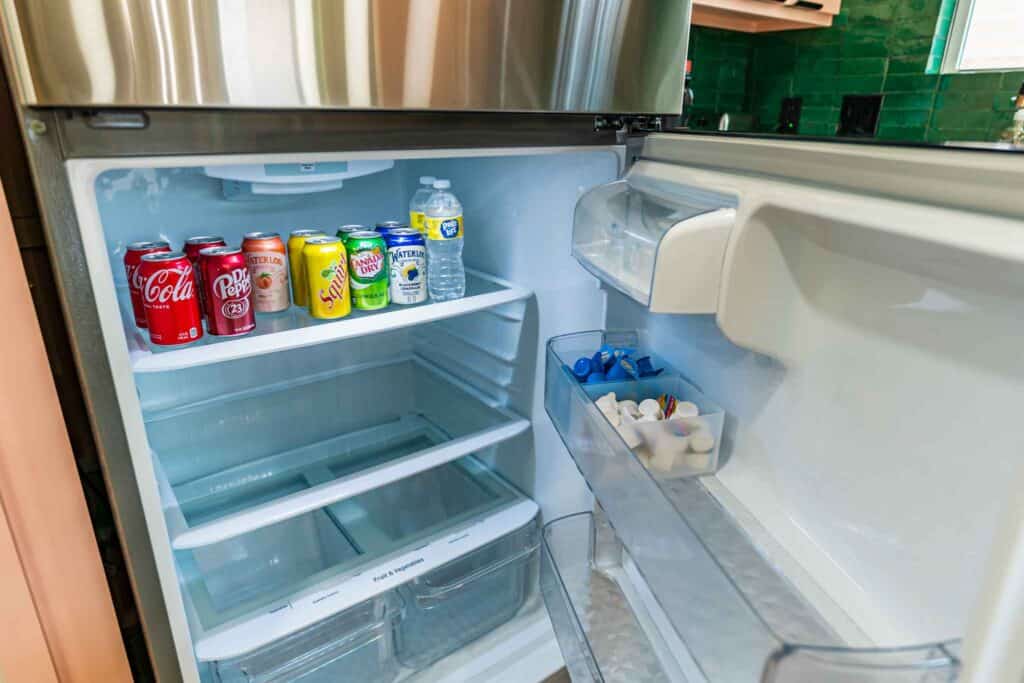 Breakfast will be provided during your stay and the kitchen is equipped with all of the basics for cooking your other meals. In addition, you have a washer, dryer, and detergent available at your disposal so you can return home with a suitcase full of clean clothes (or you can plan to pack a little less). If the beauty of these colorful suites didn't sell you, the amenities will make your choice of where to stay in Waco remarkably easy.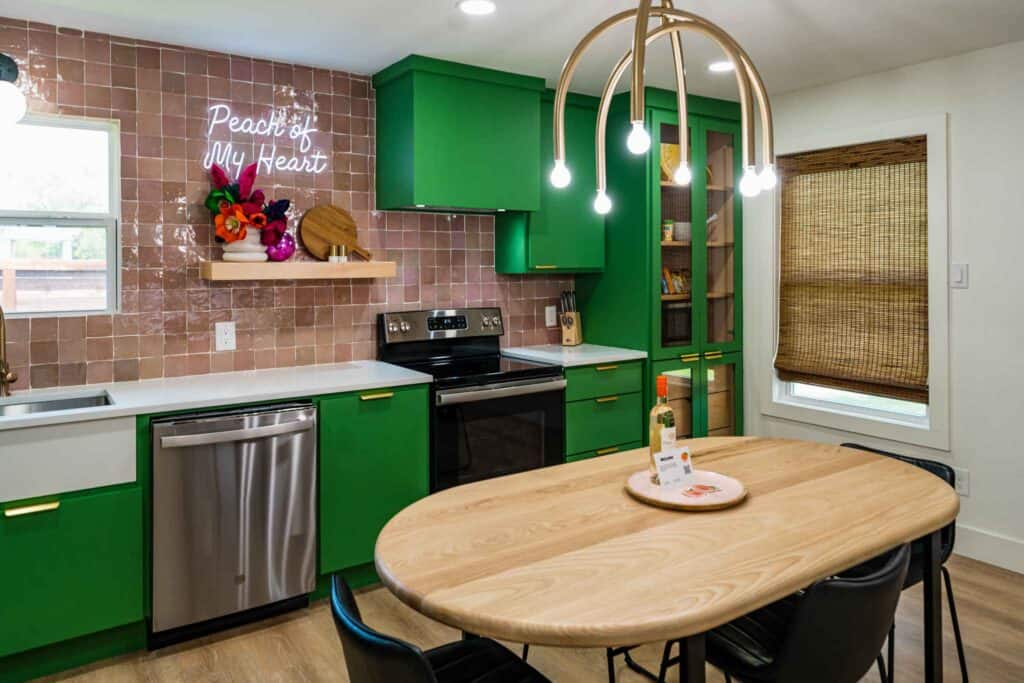 Things to Do Near the Colorful Suites at Uptown Peach
Uptown Peach is a great place to stay in Waco this weekend, however, with all of the things to do in town, Waco is just waiting to be explored! You'll find coffee shops, restaurants, and boutiques within walking distance, or you can head out to Cameron Park if you're interested in hiking or biking and bringing a packed lunch. There are also two bikes available for you to use for yet another fun way to experience Waco.
Downtown Waco is also in close proximity to the colorful suites at Uptown Peach, making it convenient for you to visit attractions like the Dr. Pepper Museum, more boutiques, Magnolia Market at the Silos, and places to eat like Union Food Hall. You can also enjoy different activities, like a tour with Waco-Tours. Choose from a wine tour, a boat tour on the Brazos River, or a classic Waco tour, making stops at all the Fixer Upper homes in the area. Don't forget to check out West Waco too, as it is currently undergoing some revamping and will soon be the location of Waco's Cultural Arts District.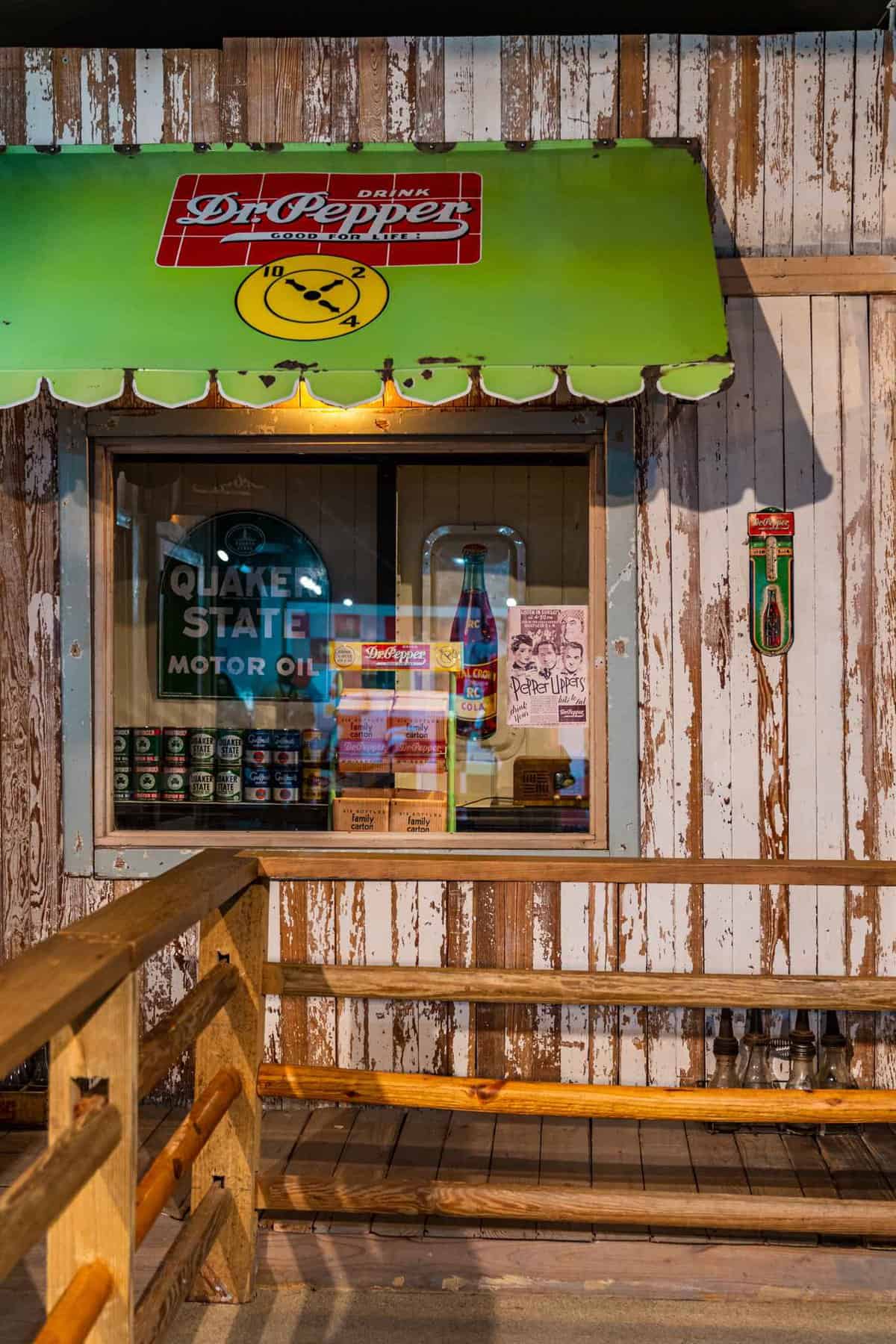 A Review of the Colorful Suites at Uptown Peach: Final Thoughts
The suites at Uptown Peach are truly something special, a uniquely fun place to relax and enjoy some downtime when you aren't out and about exploring all of the things to do and places to eat in Waco this weekend. Not to mention, the modern luxuries and added goodies provided to you by the hosts will make your stay just that much better. Not to mention, this Airbnb is located close enough to downtown Waco while also offering easy access to a wide variety of coffee shops and restaurants a short walk away. If you are looking for where to stay in Waco, make sure you to look into the colorful suites at Uptown Peach. It'll make your memories that much sweeter!