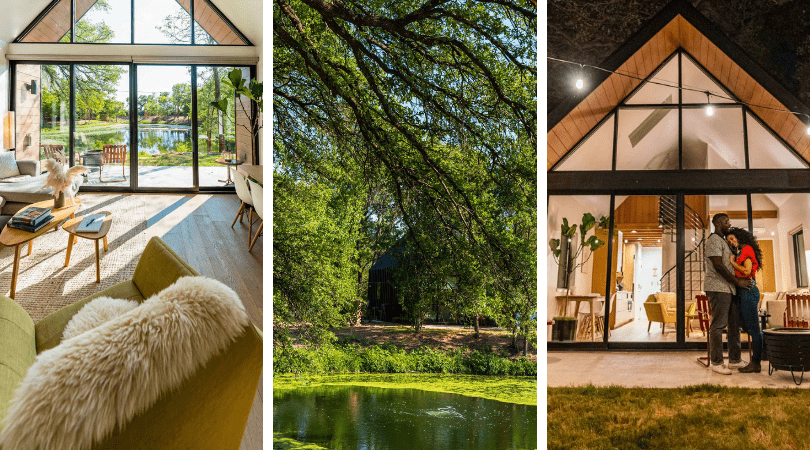 Under the shade of giant oak trees and situated at the water's edge, the cabins at Live Oak Lake offer a serene, pet-friendly place to relax, enjoy nature, and have some fun in the sun. From the cabin's intentional, Scandinavian-inspired design to its excellent amenities (hello hot tub!).
Plus, with all the things to do and places to eat in Waco, the Live Oak Lake cabins are the perfect spot to set-up your own little piece of heaven this weekend if you're searching for where to stay in Waco.
The Cabin with a Hot Tub at Live Oak Lake
Shadow Bend, one of several cabins at Live Oak Lake, features a stunning interior with beautiful wooden floors, unscathed white walls, and an abundance of windows, through which natural light pours in and brightens the already clean decor. This Live Oak Lake cabin has one bedroom, an upstairs loft, and one bathroom, in addition to a living room, a small dining area, and a gorgeous kitchen. The kitchen comes fully stocked, ready for guests to prepare a meal if they wish, in addition to a tea kettle, Keurig, and a glass percolator so guests can make their favorite cozy drink anyway they'd like. While the cabin doesn't have a TV, Live Oak Lake does have fast Wi-Fi for streaming your favorite shows and movies to your phone or laptop.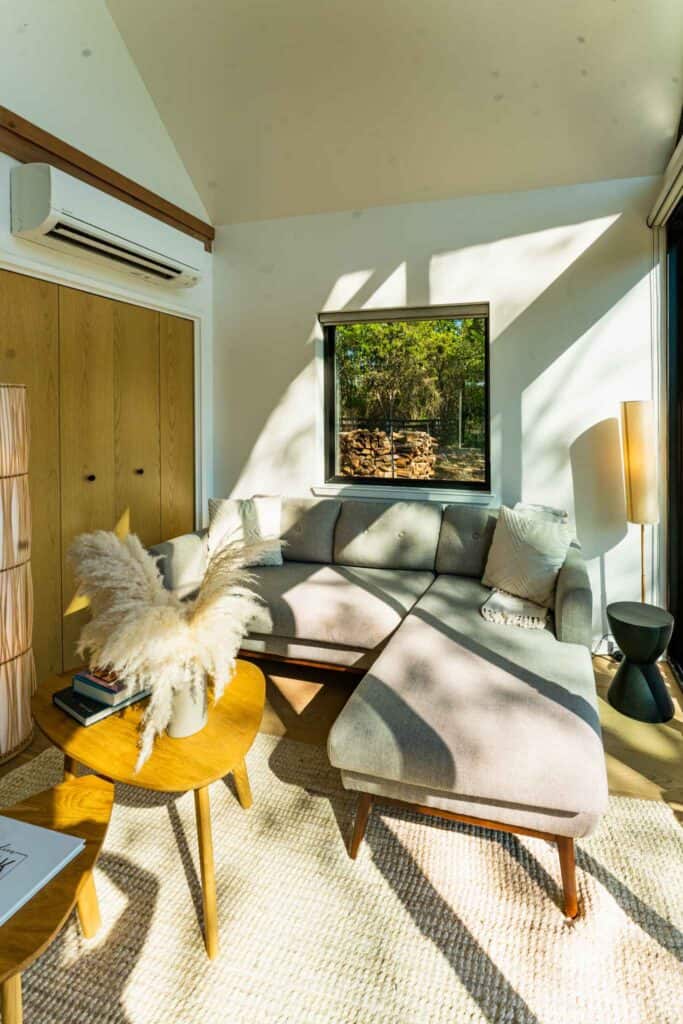 If you ascend the modern spiral staircase, you'll discover the upstairs loft. This unique room includes a queen-sized bed situated under a slanted-ceiling that frames the sky with a window–perfect for stargazing at night. The second bedroom, located on the main floor, includes a full-sized bed and has similar minimalistic design and is just as cozy. No matter where guests sleep, they're bound to get a good night's rest in these peaceful rooms.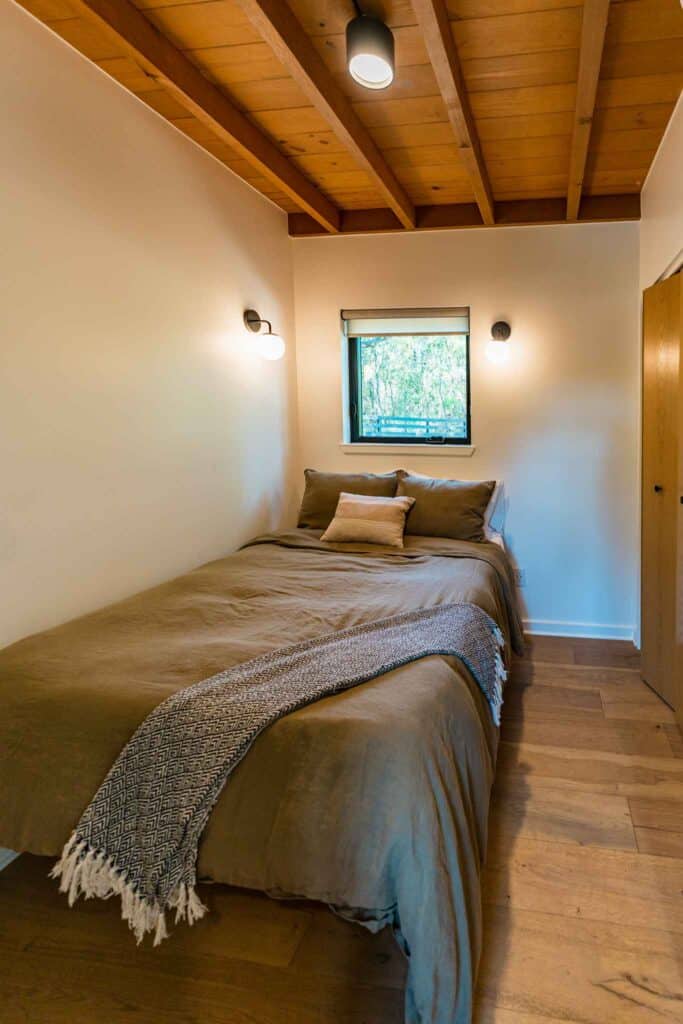 A crowning feature of this Live Oak Lake cabin is the floor-to-ceiling windows in the living room that overlook the lake, a serene spot to sip coffee and relax. Guests can also take in water views from the outside patio, complete with chairs and a smokeless tiki fire pit, and the nearby private hammock nestled among the trees. The Shadow Bend cabin also boasts an outdoor hot tub that is ready to be used solo or with a group of friends!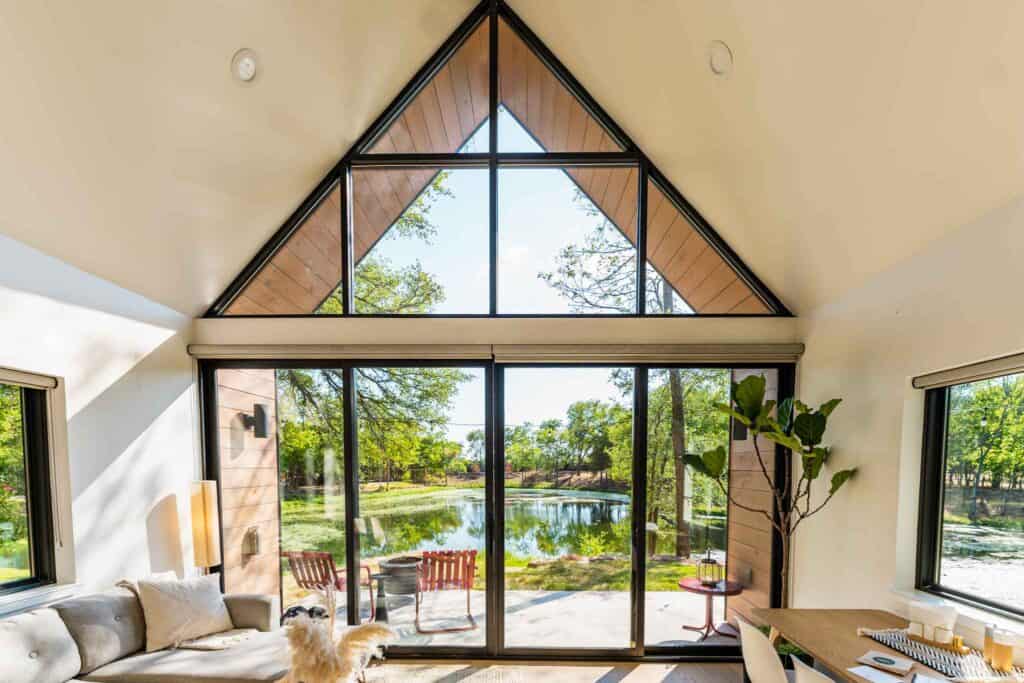 The Other Live Oak Lake Cabins
Along with the Shadow Bend cabin, Live Oak Lake features six other cabins that are spaced out across the property: Forest Edge, Cedar Brook, Lakeside East, White Rock, Lakeside South, and Lakeside North. These cabins also are minimalistic with Scandinavian-inspired designs that envelop guests in a peaceful atmosphere.
The Cedar Brook and Lakeside South cabins include one bedroom and bathroom, perfect for a smaller party, while the rest of the cabins include two bedrooms and one bathroom. No matter which cabin guests choose, they'll be sure to have a beautiful view and stunning accommodations. When you're booking, make sure to consider that, although Live Oak Lake Cabins is a pet-friendly property, not all the cabins are pet-friendly.
Amenities & Activities at the Live Oak Lake Cabins
The Live Oak Lake cabins boast several amenities and activities for guests to enjoy during their stay. Just a short walk from the cabin is the Water's Edge Commons, a shared common space by Live Oak Lake, featuring a wooden pergola with a propane grill, picnic tables, and swings; a great spot to hang with friends, enjoy the outdoors, and fire up dinner on the grill. Guests can also relax and fish at the public dock, paddle around the lake on the provided kayaks, or start up a campfire on the stone patio. If you plan on spending a good amount of time by the lake, make sure to bring along some bug spray if the weather is still warm.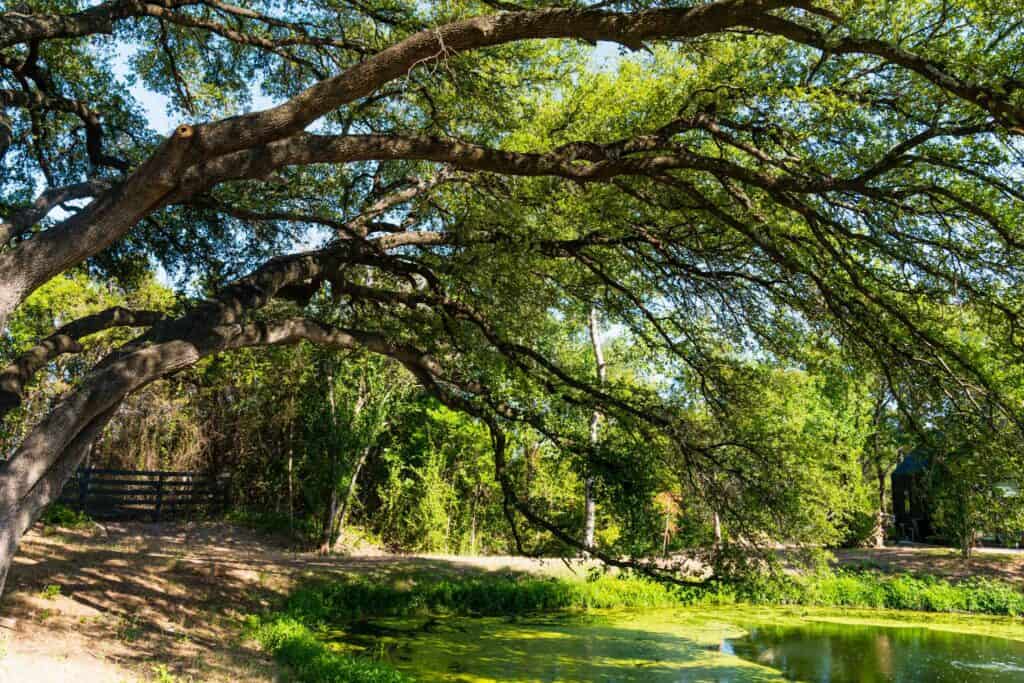 For even more activities, the Live Oak Lake cabins are just ten minutes from downtown Waco, with its numerous shops, places to eat, and things to do. There's also plenty of things to do in Waco for couples, such as a sunset horseback riding trip at Brazos Bluffs Ranch! Just five minutes from the Live Oak Lake cabins, Brazos Bluffs Ranch will be a perfect addition to your already romantic weekend in Waco.
A Review of the Live Oak Lake Cabins: Final Thoughts
Whether traveling on your own, as a couple, or with a group, the Live Oak Lake cabins are an ideal spot to spend quality time in a well-designed space situated on a beautiful property. The sleek, minimalistic design of the cabins, the water views, the on-site activities (let's not forget the hot tub!), as well as the things to do and places to eat nearby, will all make the cabins at Live Oak Lake your favorite place in Waco for a getaway. Put Live Oak Lake on your list of where to stay in Waco this weekend and you'll be amazed at the memories you'll make and the stress you'll release.