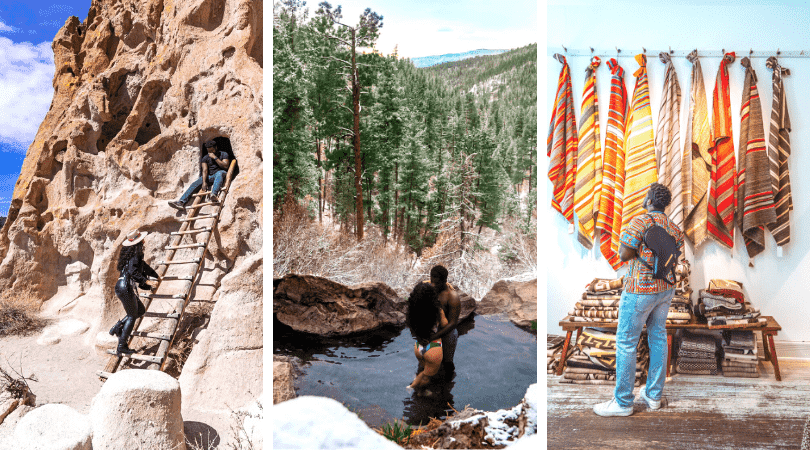 Santa Fe is enriched with natural beauty, Native American culture, art, an extensive history, and opportunities to conveniently combine them for memorable, day-long adventures with your favorite person. Trying to figure out great date ideas in Santa Fe can be overwhelming since there are so many things to do in Santa Fe. To help you out, we've put together this extensive list of fun, romantic, and creative date ideas in Santa Fe for couples, or anyone, to enjoy!
Things to Do in Sante Fe
1. Go on a Hike – Hike, meditate, and enjoy the outdoors with your date and visit Santa Fe National Forest for a scenic adventure.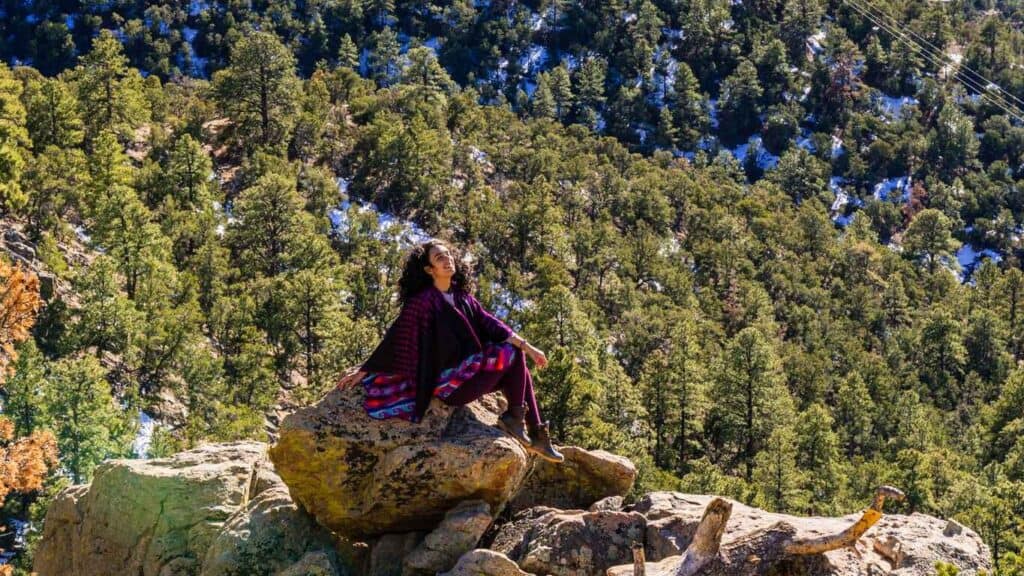 2. Travel Off the Beaten Path – Try out a more adventurous activity and tour Diablo Canyon and "Route 66" The Mother Road on an off-road jeep tour.
3. Go Skiing – Plan a ski trip in Santa Fe for more outdoor adventures. Ski down the slopes of Taos Ski Valley, Ski Santa Fe, Pajarito Mountain Ski Area, Angel Fire, or Sipapu Ski and Summer Resort for some fun in the snow.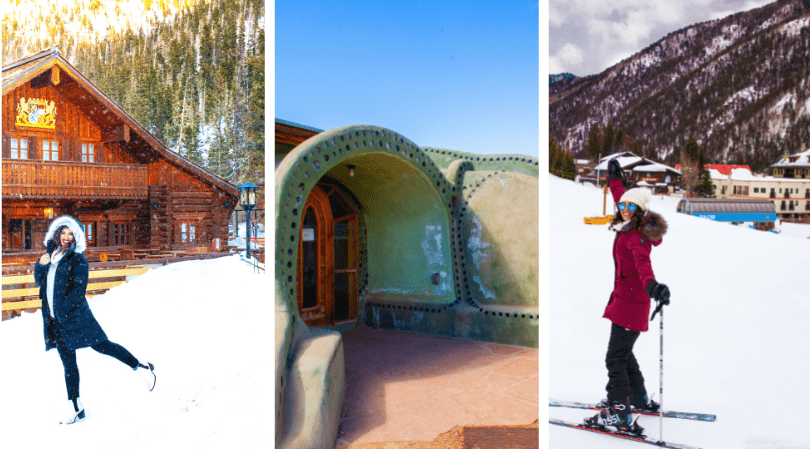 4. Become a Glassblower – Learn the art of glass blowing and create your very own creation at Liquid Light Glass and Prairie Dog Glass.
5. Go Hiking and Biking – What better way to explore Santa Fe than through its abundance of beautiful nature trails. Hike, bike, and walk Dale Ball Trails, Old Santa Fe Trail, Santa Fe Canyon Preserve, Nature Conservancy Loop, Sun Mountain Trail Loop, Waterfall Trail Hyde Memorial Park, Atalaya Trail, Chamisa Trail Loop, Little Tesuque Trail, and Piggyback Trail.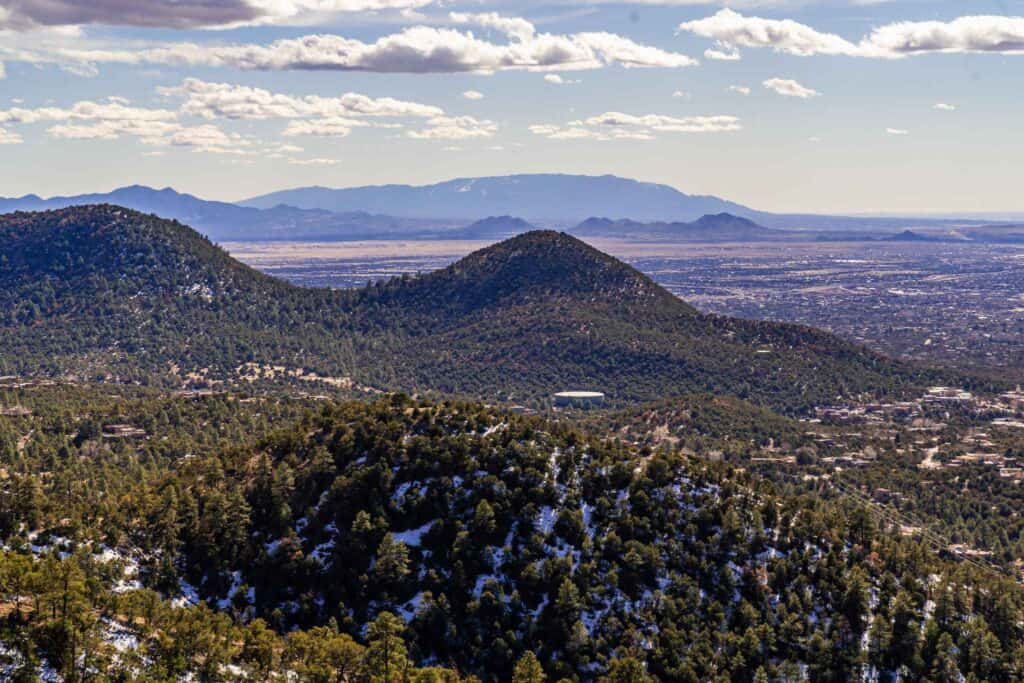 6. Go Wine Tasting – Plan a date for the books with brunch or a tasting at Gruet Winery, which specializes in sparkling and still wines. Black Mesa Winery in Velarde, halfway between Santa Fe and Taos, produces small-batch wines and ciders made from fruit exclusively grown and hand-sorted in New Mexico. You can also check out Vivac Winery and Casa Abril Vineyards and Winery, located at most an hour from Santa Fe.
7. Take a Stargazing Tour – Experience clear New Mexico nights just a short drive from Santa Fe with a stargazing tour at Astronomy Adventures.
8. Learn about Georgia O'Keeffe – Peruse around Georgia O'Keeffe's Museum and enjoy the collection of Georgia O'Keeffe's life and artwork. She was the first woman painter to gain respect in the art world of New York in the 1920s. Her abstract art of landscapes and flowers break down the essence of nature while capturing its most important aspects.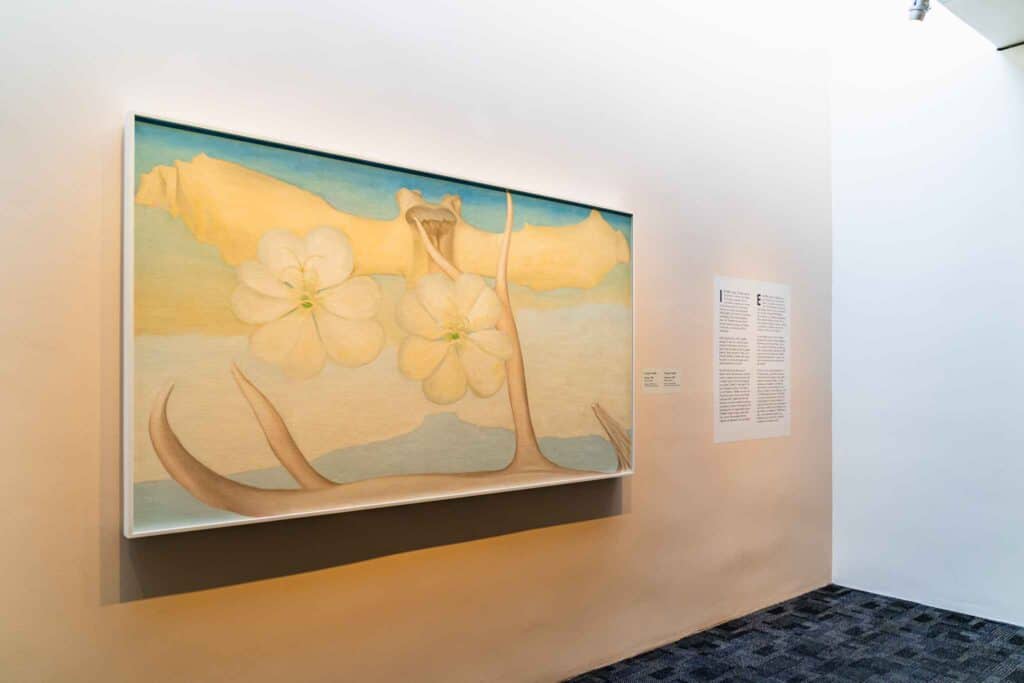 9. Get a Taste of Santa Fe – Visit Pasqual's Cafe and Gallery for a romantic dinner and savor Santa Fe's signature flavors.
10. Unwind with Sangria and Tapas – Savor the drinks and atmosphere and enjoy a date night at La Boca Santa Fe.
11. Enjoy Sunset with Craft Cocktails – Bar Alto Santa Fe offers guests with an incredible rooftop view of the city and craft cocktails to enjoy.
12. Grab Breakfast – Don't skip out on the most important meal of the day and eat at Modern General for some healthy and delicious breakfast dishes.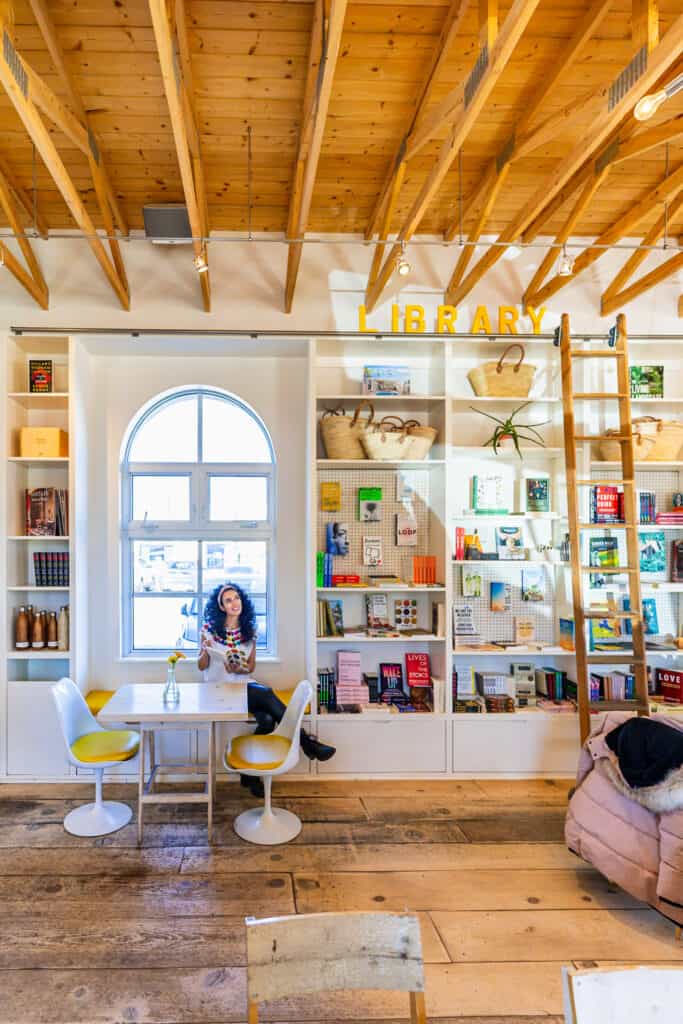 13. Explore Hiking Slot Canyon – Visit Kasha-Katuwe Tent Rocks National Monument and look out over the incredible rock structures jutting out around the canyon.
14. Go Shopping – Spend the day shopping for cool vintage items at House of Ancestors Antiques, or visit Casa Nova, Back at Ranch, and Wind River Trading Company for one-of-a-kind souvenirs and maybe a new favorite piece for yourself.
15. Learn How to Reduce your Carbon Footprint at the Taos Earthships – Only an hour and a half from Santa Fe, explore the sustainability and eco-architecture of Earthships Community.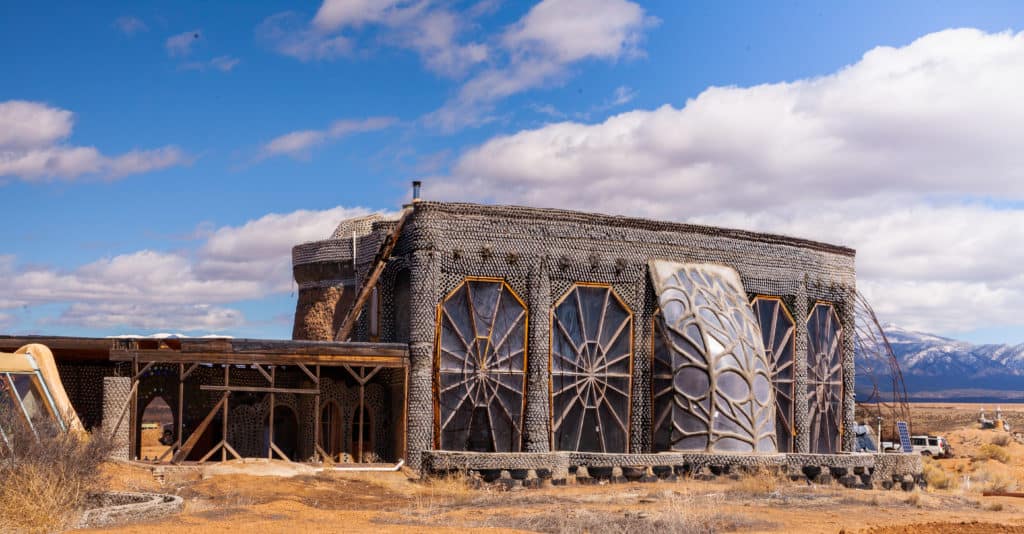 16. Soak and Relax in a Santa Fe Hot Spring – Venture an hour or two outside of Santa Fe and plan a relaxing date surrounded by the Santa Fe landscape as you soak. Choose from the Black Rock Hot Springs, Stagecoach (Manby) Hot Springs, Montezuma Hot Springs, McCauley Hot Springs, Soda Dam Hot Springs, Spence Hot Springs, Jemez Hot Springs, and Ojo Caliente Hot Springs. Make sure to check out our list of 6 hot springs near Santa Fe!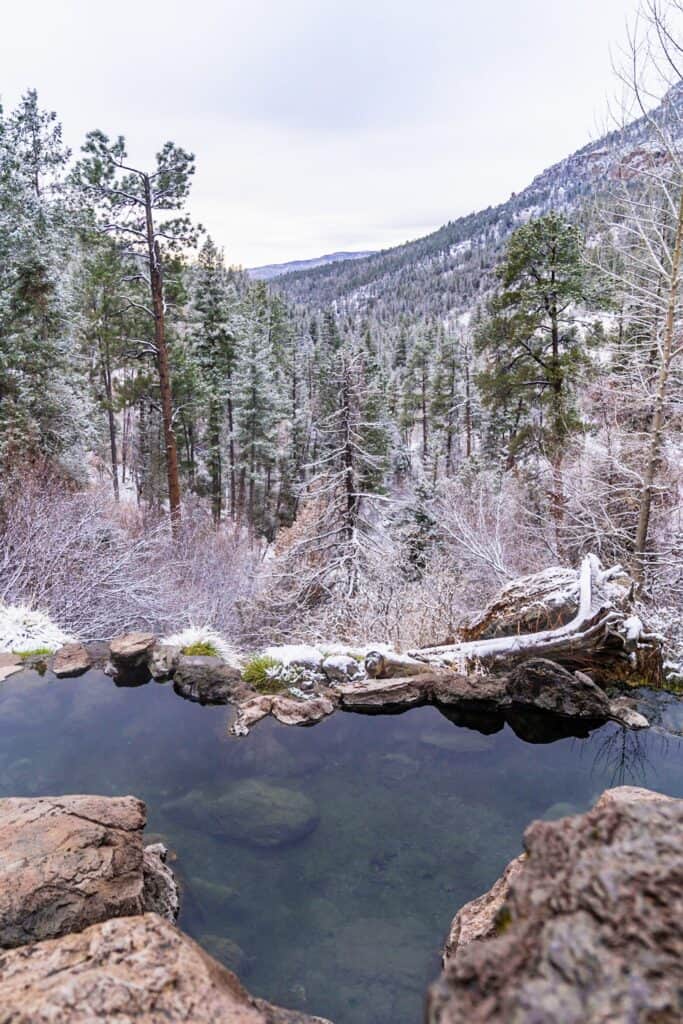 17. Drive the Santa Fe Byways – Take in the Santa Fe National Forest Scenic Byway on your way up the Jemez Mountains. Explore natural wonders like the Soda Dam and historical wonders like the Bandelier National Monument and the Gilman Tunnels. Knock out multiple items on our list of date ideas for couples in Santa Fe and visit Spence Hot Springs while you're here!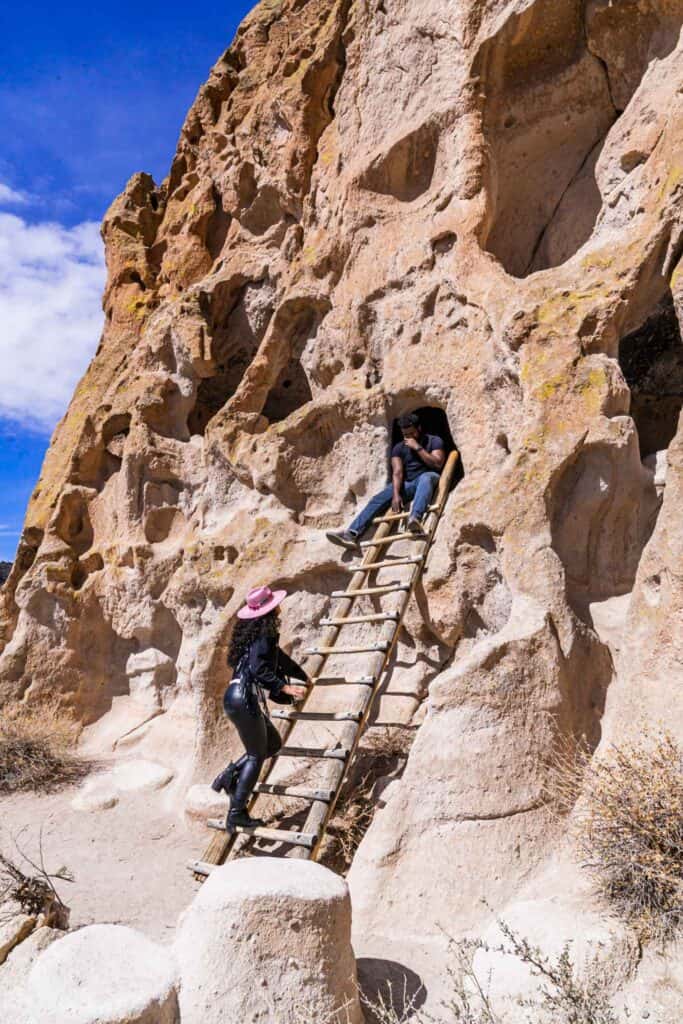 18. Ride the Fall Foliage Chairlift – As the seasons change and autumn comes, and while you're suspended over the Ski Santa Fe Resort, absorb the beauty of the native trees as they change colors. Texans know we don't get to see things like this too often, so take this chance!
19. Go on a Scavenger Hunt – Explore Old Fort Marcy Park, a historic park with remnants of a military fort, in an innovative way with Operation City Quest, an app that guides you through a scavenger hunt and even keeps track of your score so you can see how you stack up against other visitors (this is really fun if you're the competitive type).
20. Float the River – Ride a raft along the Rio Chama and change your point of view as you ride the same currents that carved out a 900-foot canyon and contributed to the sedimentary fluctuations in the canyon wall.
21. Go Fishing – If you love a good 'ole fashion fishing trip or it's something you've always wanted to try, Santa Fe has several bodies of water known for their variety of catches. Nambe Falls is only 30-minutes from Santa Fe and the Rio Grande itself is 1-hour and 20-minutes away. You can also check out Pecos River if you wish to take a bit of a longer drive.
22. Join a Motorcycle Tour – Take advantage of the exclusive opportunity to tour Santa Fe with Ride the Dream on the back of a Harley Davidson.
23. Visit Santa Fe Distilleries – Book your spot on a tasting tour at Santa Fe Spirits Distillery & Tasting Room. Or adventure hand-in-hand with your date through Santa Fe and stop at distilleries like Tumbleroot Brewery & Distillery, Algodones Distillery, Albuquerque Distillery, Alter Springs, Taylor Garrett Whiskey, Safe House Distilling, La Reforma Brewery, and Left Turn Distilling.
24. Go Bar-Hopping – Or sip and snack together as you visit Santa Fe's abundance of bars, like Brewing Company Headquarters, Second Street Brewery, Brews & Bites Bike Tour, Blue Corn Brewery, Draft Station, and the Cowgirl.
25. Check Out Local Workshops – Learn to paint, sculpt, cook, and more while you're in Santa Fe. Try out Santa Fe Art Classes by Robbi Firestone, Western Horseback Rides & Lessons by Vision Quest, Paseo Pottery, the Santa Fe School of Cooking, the Art of Chocolate, or Green River Pottery. You might even leave with a new hobby to pursue when you get back home.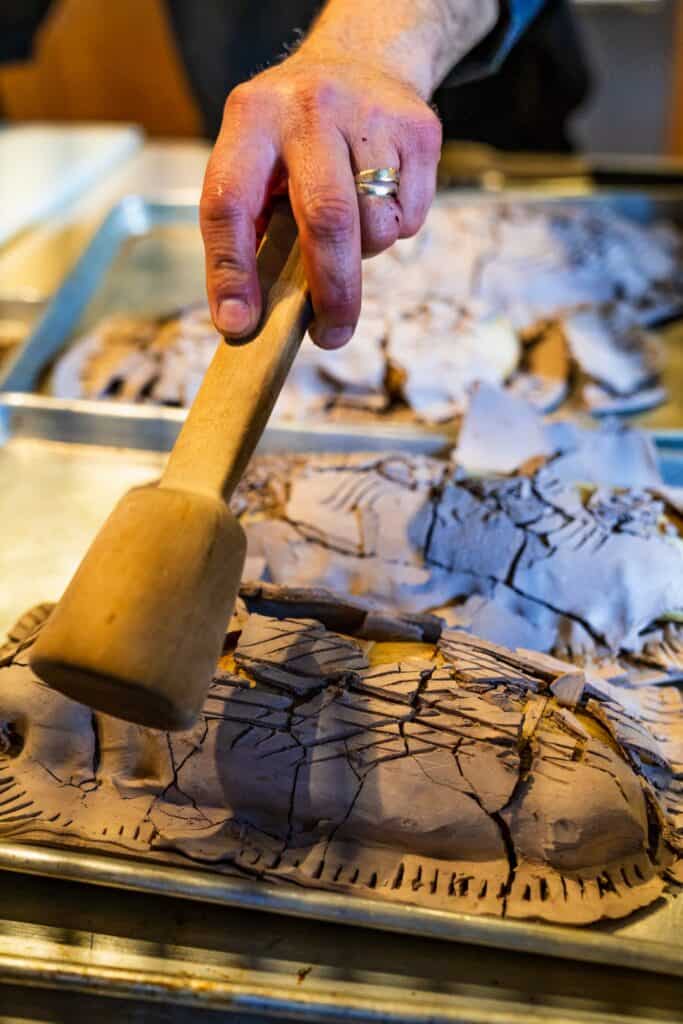 Hotels, Restaurants, & Cafes in Santa Fe
After exploring all the fun things to do in Santa Fe, make sure to refuel and enjoy all the tasty food Santa Fe has to offer. For even more ideas, check out where to eat in Santa Fe.
26. Stay in a Luxurious Hotel – The Hotel Rosewood Inn of the Anasazi is conveniently located on the Santa Fe Plaza while offering its guests a relaxing atmosphere, enriched with culture and Santa Fe's notorious Latin American cuisine at the Anasazi Restaurant.
27. Stay in a Historic Hotel – La Fonda on the Plaza, a historic 4-Diamond hotel that has been open since 1922, features complimentary art and history tours, three on-site restaurants including an outdoor bar, and spa services.
28. Enjoy Food with a View – La Plazuela's dining room is the perfect balance of color, with its hundreds of hand-painted windows, and elegance. Indulge in an exquisite meal with a great view from its rooftop or eat inside under the foliage and string lights beside a lit fountain. This well-known Santa Fe eatery is inside the hotel, La Fonda on the Plaza, so you have the convenience of a romantic meal and a beautiful hotel room all in one place.
29. Dine in the Railyard District – Plan a whole afternoon or evening of fun exploring the Santa Fe Railyard District, then stop by the Shed for their vibrant and tasty dishes influenced by Puebloan, Mexican, and Spanish culture. They even have videos on their site of recipes you can try at home to keep your Santa Fe memories alive!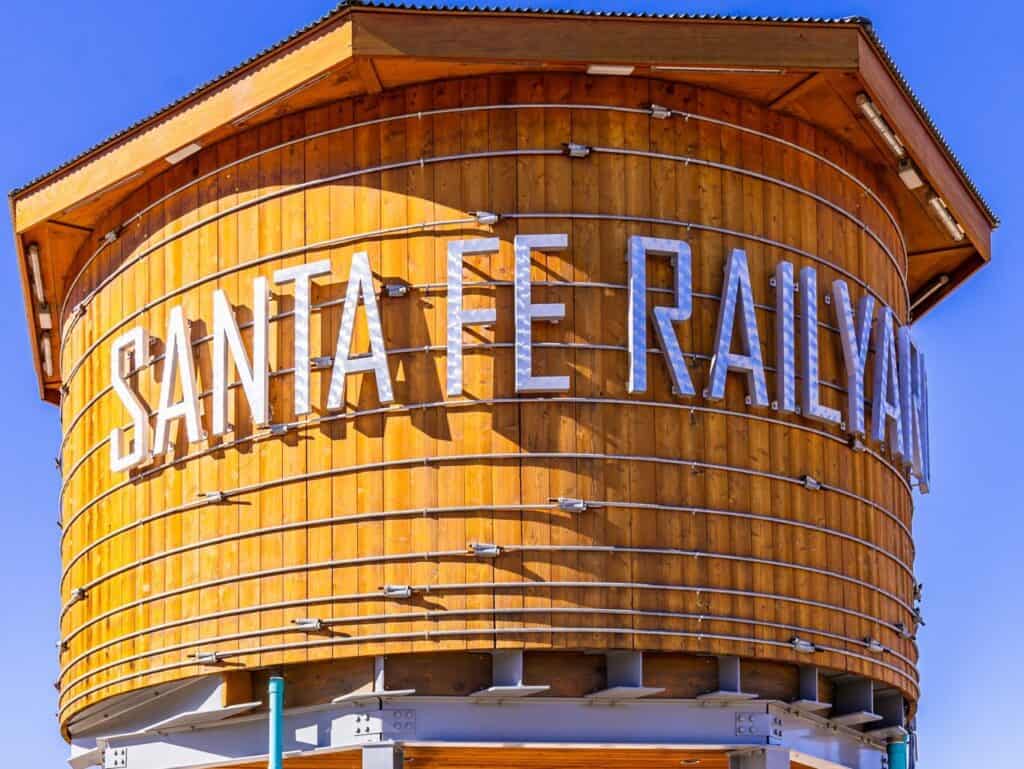 30. Grab a Drink Like Never Before – Order a drink or two made with the utmost flare as you snack at the Bell Tower Bar inside La Fonda on the Plaza. Make sure to time it right so you can pose a toast as the sun sets for the best photos and memories with your favorite person.
31. Enjoy Art and Food – Positioned near the International Museum of Folk Art, as well as among several well-known Santa Fe museums and across from the Santa Fe Botanical Gardens, the Weldon's Museum Hill Cafe is a romantic spot to compliment a day of exploring and learning together. Open Wednesday through Sunday for lunch (11am to 2pm), this hidden little spot offers views of the mountains and city from their patio.
32. Eat at a Classic Diner – The Plaza Cafe, a retro-style diner, has been run by the Razatos family and serving New Mexican-Greek fusion since 1905.
33. Explore Santa Fe's Flavors – The Compound offers a menu full of American dishes influenced by Mediterranean flavors and created with local New Mexican crops. Founder Chef Mark Kiffin is known for his involvement in his community and his unique style of cooking.
34. Watch a Flamenco Show – Enjoy dinner and a live Flamenco show at the El Farol Restaurant.
35. Grab a Bite – Cafecito is housed inside a repurposed building with tall windows that look out into the gardens that surround it. A family-owned business, this coffeeshop serves traditional Argentinian tea, Italian-style coffee, and everything from brunch to dinner made with local, organic ingredients. Make sure to try one of their famous empanadas!
36. Sip Tea in a Greenhouse – Explore Opuntia Cafe's indoor garden and teahouse, doubling as a supporter of local artists where you can purchase plants and pottery alike. They also serve breakfast items, ramen, sandwiches, and other light fare with gluten-free and vegan options.
See a Show in Santa Fe
37. Teatro Paraguas – Plan a date to the theater and watch live performances enriched with Hispanic culture.
38. Pandemonium Productions – Enjoy a musical performance at Pandemonium Productions.
39. Performance Santa Fe – Catch a show and enjoy a whirlwind of dance and music at Performance Santa Fe.
40. Santa Fe Playhouse – Experience a date filled with music and laughter at the Santa Fe Playhouse located in the heart of history and culture.
41. Teatro Paraguas Black Box Theater – Couples can explore poetry performances, concerts and more at Teatro Paraguas Black Box Theater.
42. Lensic Performing Arts Center – Plan a relaxing date at Lensic Performing Arts Center for even more theatrical performances.
Learn About Santa Fe
43. The Palace of the Governors – The oldest public building that continues to be used today; the Palace of Governors is home to the New Mexico History Museum. Every day you can also find local artists selling their handmade goods, the perfect opportunity to bring home a unique souvenir or gift for yourself.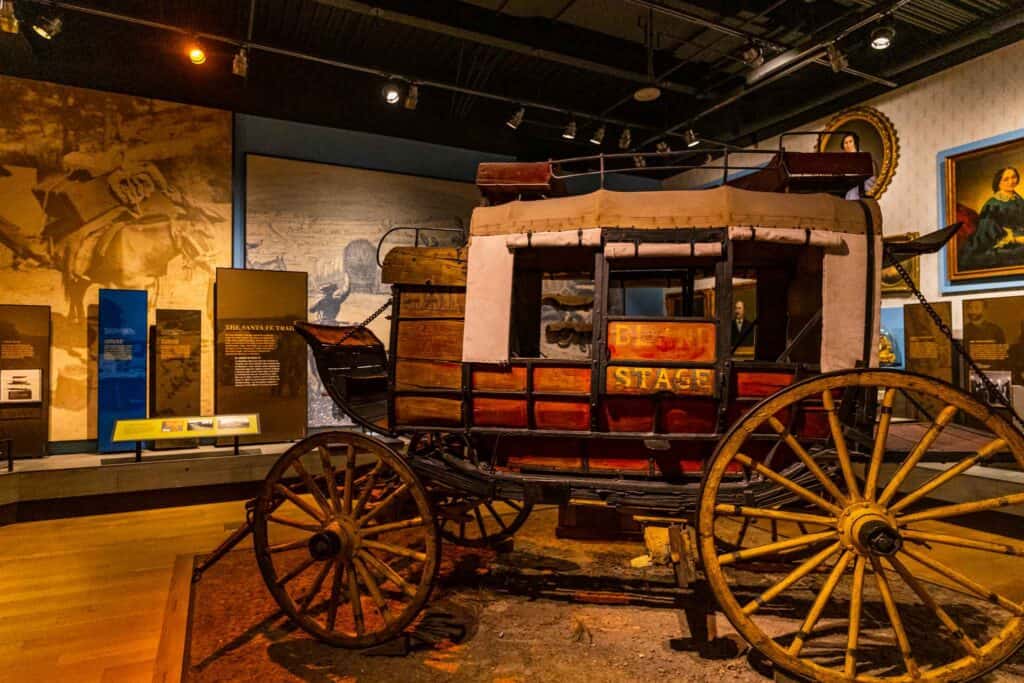 44. The Fray Angélico Chávez History Library – You must book an appointment in order to browse the historical collections of the Fray Angélico Chávez History Library, one of New Mexico's oldest libraries housed in the Palace of the Governors.
45. The Museum of Encaustic Art – About 40-minutes from Santa Fe is the largest collection of encaustic art, or wax art, in the country. Learn more about this historic medium you may not have even known existed!
46. The Poeh Museum & Cultural Center – Learn more about the history of New Mexico's Pueblo communities at the Poeh Museum.
47. The Museum of Spanish Colonial Art – Home to art pieces dating back to the Middle Ages, the Museum of Spanish Colonial Art strives to tell the story of how the Hispanic culture that influenced New Mexico evolved over time through various mediums and over 3,000 artifacts.
48. The New Mexico Military Museum – Learn about how war has shaped New Mexico through art, artifacts, and interactive exhibits. Don't forget to catch a glimpse of the military vehicles parked on-site at the New Mexico Military Museum.
49. The New Mexico History Museum – This museum is home to two primary exhibits. One consists of archaeological artifacts that were found on-site and the other, photographs that revisit the path taken by two friars who crossed the Grand Canyon back in 1776.
50. The Wheelwright Museum of the American Indian – See historic and local Native American artwork at the Wheelwright Museum of the American Indian. It's also home to the oldest collection of Pueblo and Navajo jewelry in the world!
51. The Museum of Indian Arts and Culture – Take a deep dive into Native American culture through artifacts from across the globe. Learn about the methodical creation of Puebloan pottery, the cultural significance of certain animals, and the reimagination of traditional Native American creations through art created by current artists.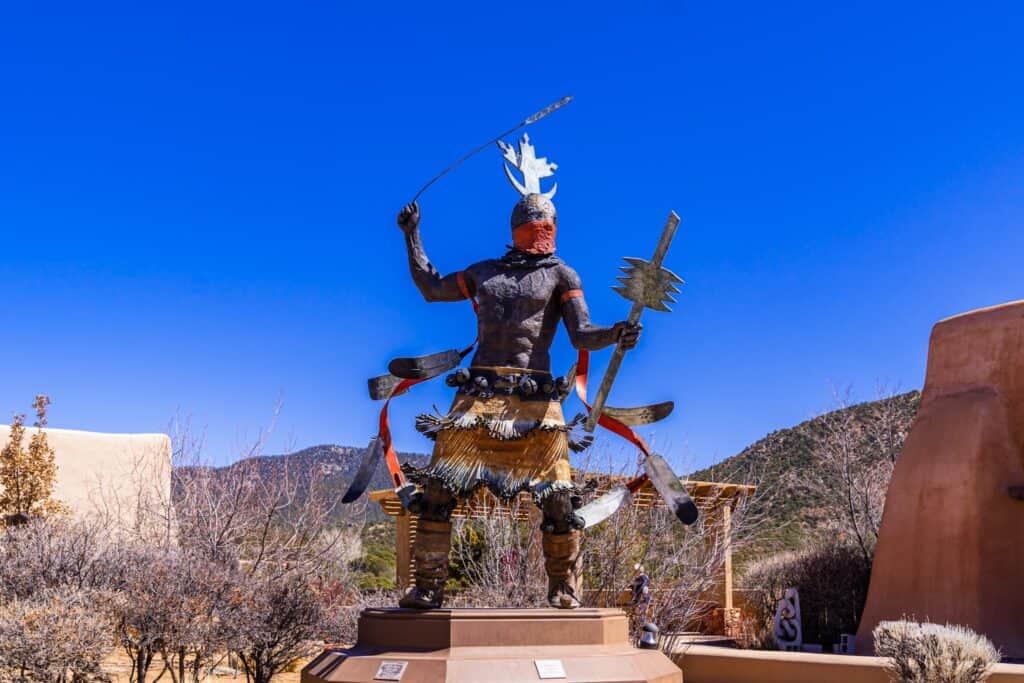 52. Museum of International Folk Art – A collection of over 130,000 artifacts, you'll find an in-depth history of folk art from over 100 countries. You'll see art and historically functional items made from a wide variety of mediums, along with exhibits that cover regionally specific topics, such as fashion, history, music, and folklore.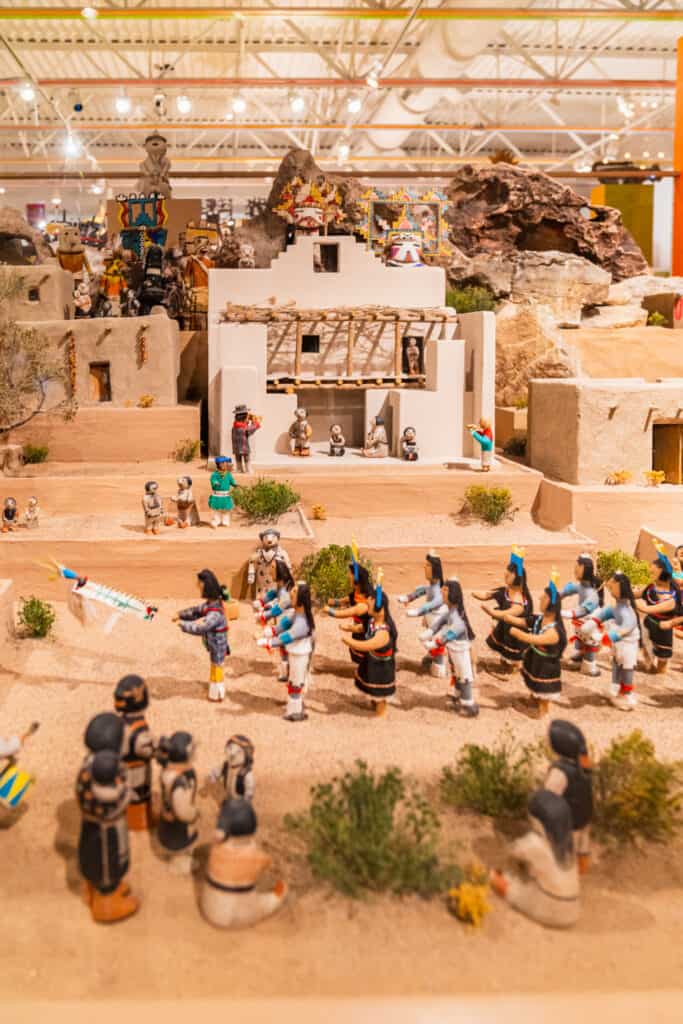 53. Santa Fe Children's Museum – Pay a visit to the Santa Fe Children's Museum and have fun with their interactive exhibits that explore a variety of topics in the STEAM field.
Top-Rated Attractions in Santa Fe
54. Canyon Road – Canyon Road is another cozier arts district in Santa Fe with small and low adobe buildings on either side of a narrow road. These home-y buildings have a large array of art, from fine art to international art. Hecho En Mano showcases Oaxacan and New Mexican artists while Cielo Handcrafted is a vibrant shop with New Mexican and Peruvian artists.
55. The Santa Fe Opera – Experience an elegant date night at the Santa Fe Opera.
56. The Santa Fe Plaza – Use the Santa Fe Art Tours app as you explore the Santa Fe Plaza for a more in-depth perspective, perfect for newbies and experts alike. You may happen upon Native performers as they share their traditions, dances, music, and stories.
57. The Cathedral Basilica of St. Francis of Assisi – This gorgeous cathedral was built in the late 19th century entirely out of limestone. Behind its tall, bronze doors you'll see extravagant arches and traditional Catholic images.
58. The Santa Fe Farmers' Market – If you happen to be in Santa Fe on a weekend, visit the Railyard District & Park where they have both an artisan's market and farmer's market. It's one of the best opportunities to find fun chile-infused sweets and baked goods.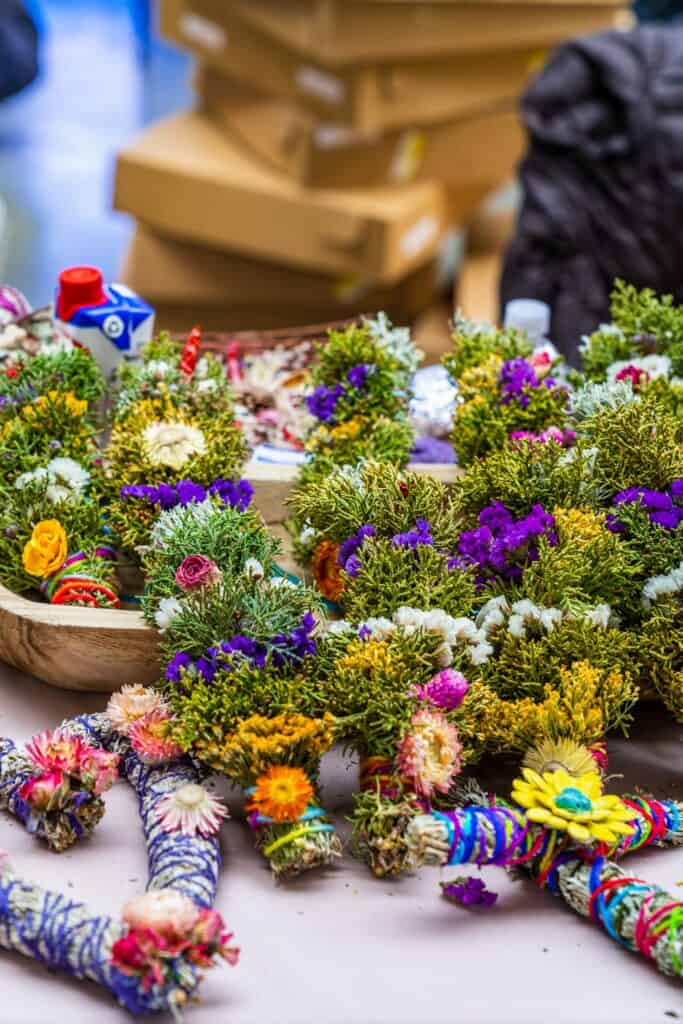 59. The Loretto Chapel – As the oldest church in the United States, it is a must-see as you walk through Santa Fe Plaza. There's also a restaurant right next door, the Luminaria Restaurant, home to the Strawberry-Jalapeño Margarita, and a stop along the Margarita Trail.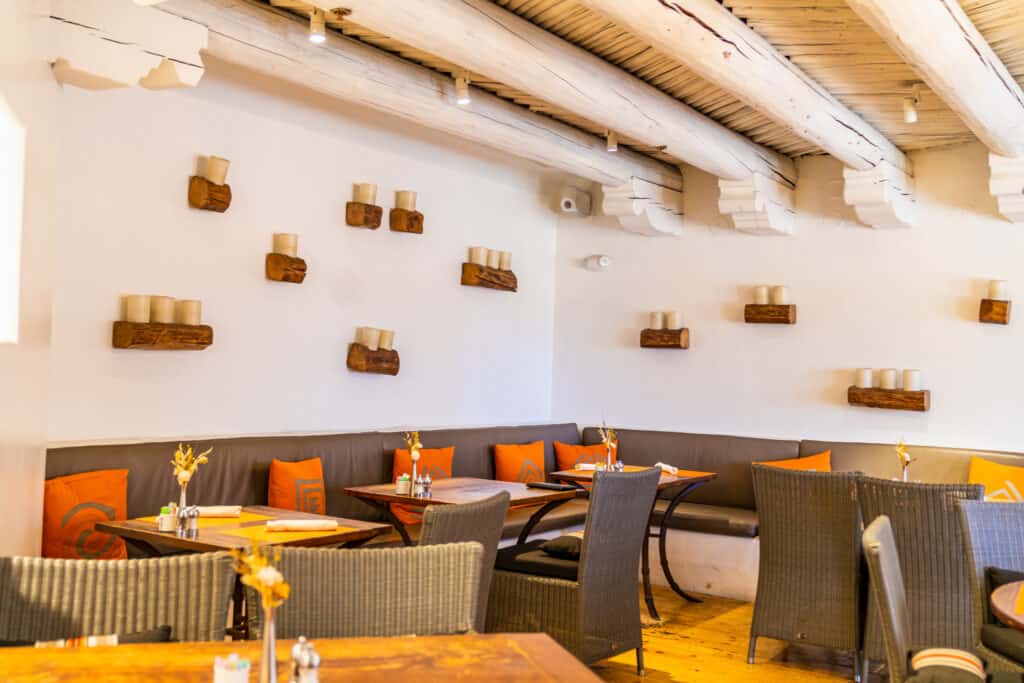 60. El Rancho de las Golondrinas – Once a rest stop along the historic road from Mexico City to Santa Fe, visitors can experience a glimpse back in time and interact with villagers dressed in traditional clothing of the time.
61. San Miguel Mission Chapel – Take the opportunity to see the oldest Catholic church in the United States. This 400-year-old piece of adobe architecture is home to historic oil paintings, a statue of Michael the Archangel, and an altar, among other artifacts.
62. The Randall Davey Audubon Center – Offering guided tours, this historic site is home to 190 different species of birds, a garden that supports this abundant wildlife, and the Randall Davey home and art studio, built on land that was first touched by Puebloan Indians in 1050 AD.
63. Kakawa Chocolate House – Visit Kakawa Chocolate House and try one of their unique chocolate drinks and treats, such as Mesoamerican, Mayan and Aztec drinking chocolate elixirs with rich dark flavors, fresh truffles, and homemade ice cream.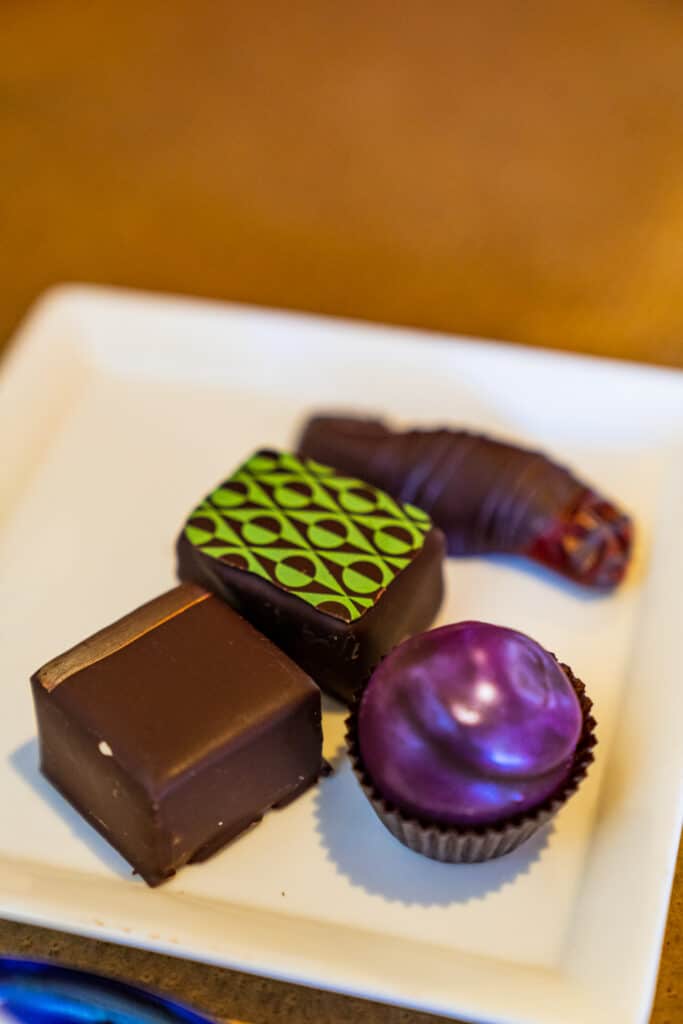 64. The Annual Santa Fe Indian Market – The first Indian Market took place back in 1922. To this day, it is hosted for one weekend and is followed by a continuous span of galleries and other events for another two weeks. Learn more about Native American culture in an incredible and immersive way at the annual Santa Fe Indian Market August 20th and 21st, 2022. There's even an Indian fasion show!
65. The Haiku Pathway – Take a romantic stroll and read poetry along the Haiku Pathway hidden inside the campus at Santa Fe Community College.
66. Violet Crown Cinemas Santa Fe – Plan for dinner and a movie all in one place at Violet Crown Cinemas in Santa Fe. They show everything from current films to classic and independent films. There's also a location in Austin and one coming soon to Dallas!
67. Taos Pueblo – Take a trip to Taos Pueblo, a Native American community filled with culture, art, and various restaurants.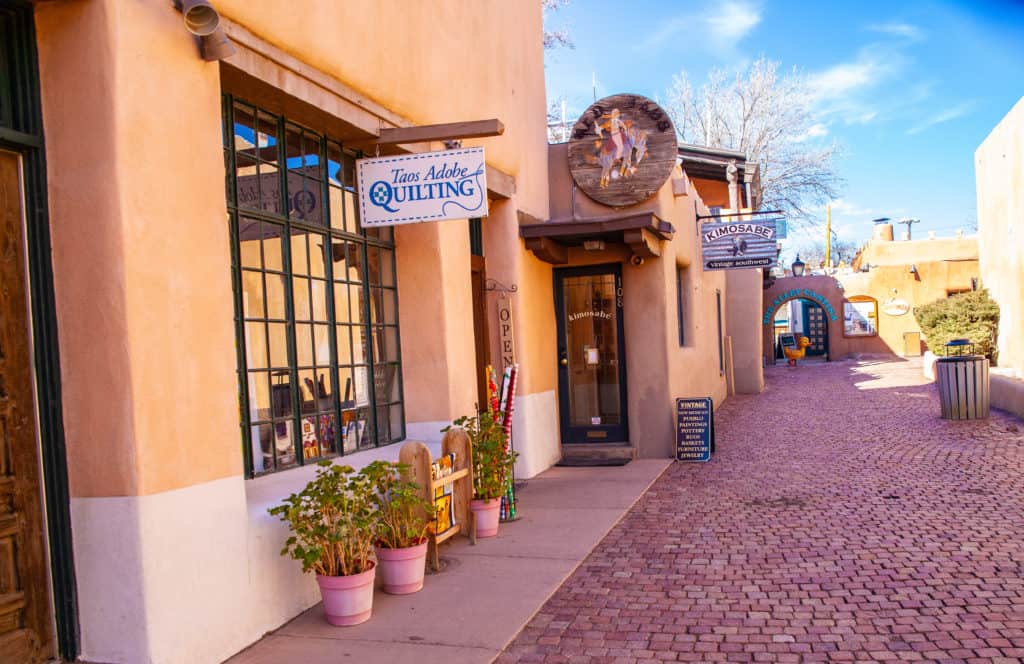 68. The Bandelier National Monument – Explore ancient Anasazi architecture at Bandelier National Monument, the largest cliff dwellings in North America where you can climb up the ladders in order to see inside and amazing mountain views.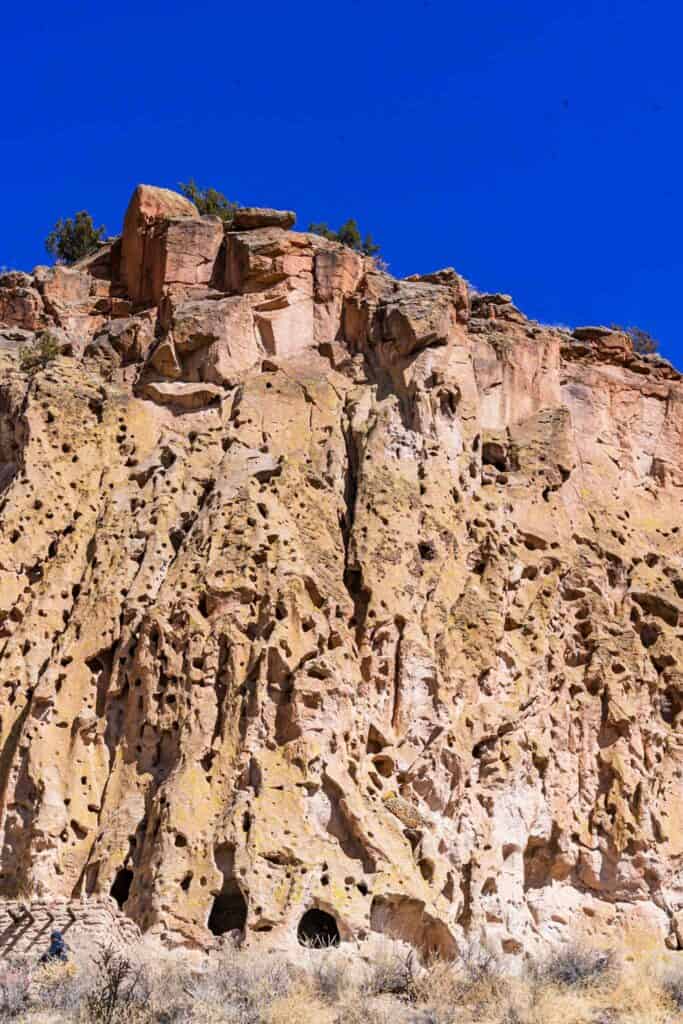 69. El Museo Cultural de Santa Fe Mercado – Also located in the Railyard District, El Museo Cultural consists of vendors selling art, antiques, clothing, jewelry, and more.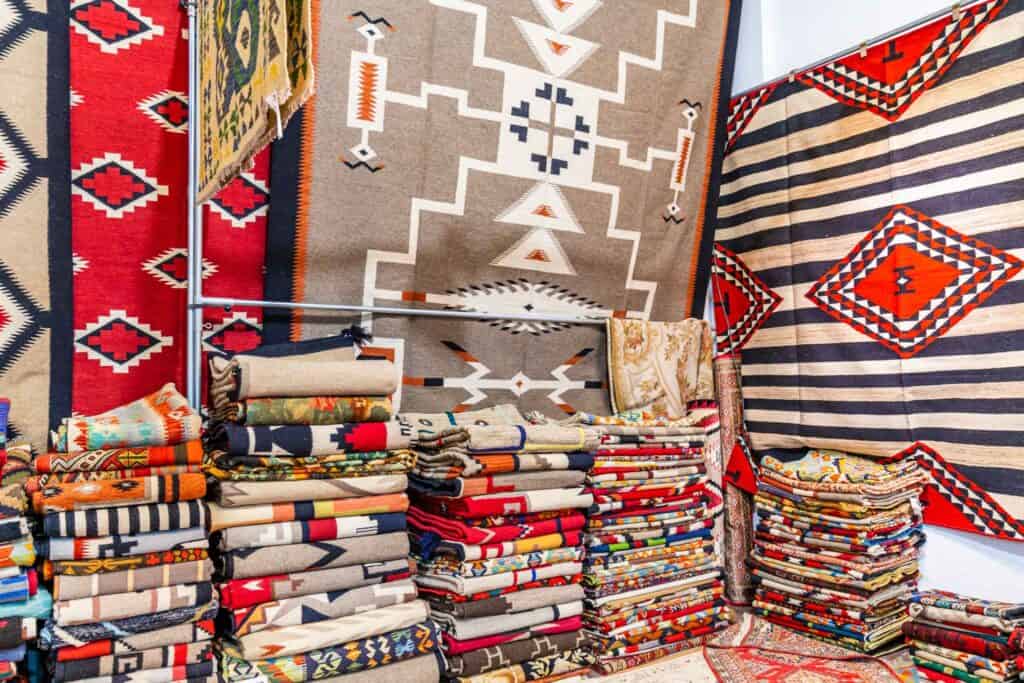 70. Cross of the Martyrs – Make a day trip and hike up to Cross of the Martyrs and see the sun set over the city of Santa Fe.
71. Pecos National Historical Park – Walk in the footsteps of people who have used Glorietta Pass as a means of travel across the contiguous U.S. since 11,500 B.C.E. at Pecos National Historical Park. Make it into a scavenger hunt and reference the electronic checklist on the park's site as you hike to keep track of the diverse wildlife you encounter along the way.
72. Santuario de Guadalupe – Visit the oldest church in the United States dedicated to Our Lady of Guadalupe, which was originally built in the late 18th century.
73. Ghost Ranch – This outdoor oasis is a retreat, archaeological site, and historical landmark all-in-one. It inspired the artwork of Georgia O'Keeffe; it's home to fossils and two on-site museums; there are miles of hiking trails, campsites, and even opportunities for interactive workshops that'll give you a whole new perspective on all that Ghost Ranch is. If there's too much that you want to do, there is even lodging here for overnight and multi-day stays!
74. Thoma Foundation Art Vault – Explore the world of digital art at one of the few digital art collections open to the public in the U.S. Hold hands as you walk through and share your amazement as you see things you may have never experienced before at the Art Vault in Santa Fe.
75. New Mexico State Capitol Building – Make a visit to the "Roundhouse," or the New Mexico State Capitol Building, and admire its interesting circular structure as the only round capitol building in the country.
76. Acoma Pueblo – Visit the historic town of Acoma Pueblo that dates back to the 12th century. Filled with traditional Puebloan homes built from the Earth itself and less than 50 Acoma Puebloans that live here year-round, there are amenities such as a museum, a theater, a cultural center, a cafe that serves traditional Acoman cuisine, and even options for overnight lodging.
77. Ortega's on the Plaza – For more places to shop, visit Ortega's on the Plaza, a shop that has been selling Native American jewelry and other hand-crafted goods since 1871 in downtown Santa Fe. Check out these 8 shops to visit in Santa Fe as well!
78. El Santuario de Chimayo – As a place where healing miracles are said to occur, El Santuario de Chimayo has discarded items like canes and wheelchairs hanging from the wall alongside Spanish and Indian folk art; a representation of its unique history. The source of its healing: the dirt on which this historic church stands. To this day, Mass is still held here.
79. Sky Railway – Hop on the Sky Railway train and experience a trip filled with scenic views and entertainment. You can witness everything from live music to staged murder mysteries. The crew also provides first class food and beverage service, including brunch!
80. La Cieneguilla Petroglyph Site – Journey back in time and see petroglyphs etched by the descendants of the Puebloans that live in this area today at La Cieneguilla Petroglyph Site. They date back to between the 13th and 17th centuries! Please be respectful and careful during your visit due to the fragility of this archaeological site.
81. Beastly Books – Buy a one-of-a-kind gift for that special someone in your life or if you're a lover of sci-fi and fantasy, pick up something new for your trip home. Keep an eye out for their indie collection and their autographed items!
82. Jean Cocteau Cinema – Next door to Beastly Books, grab a drink and a movie for a laid-back date at the Jean Cocteau Cinema. The theater will resume showing films in May 2022 following the completion of some renovations.
83. Santa Fe Margarita Trail – Taste different Margaritas along the Santa Fe Margarita Trail. Stop at Sazón, the Inn & Spa at Loretto's Luminaria Restaurant, and Tomasita's Restaurant. All of these stops can be found in the Santa Fe Plaza.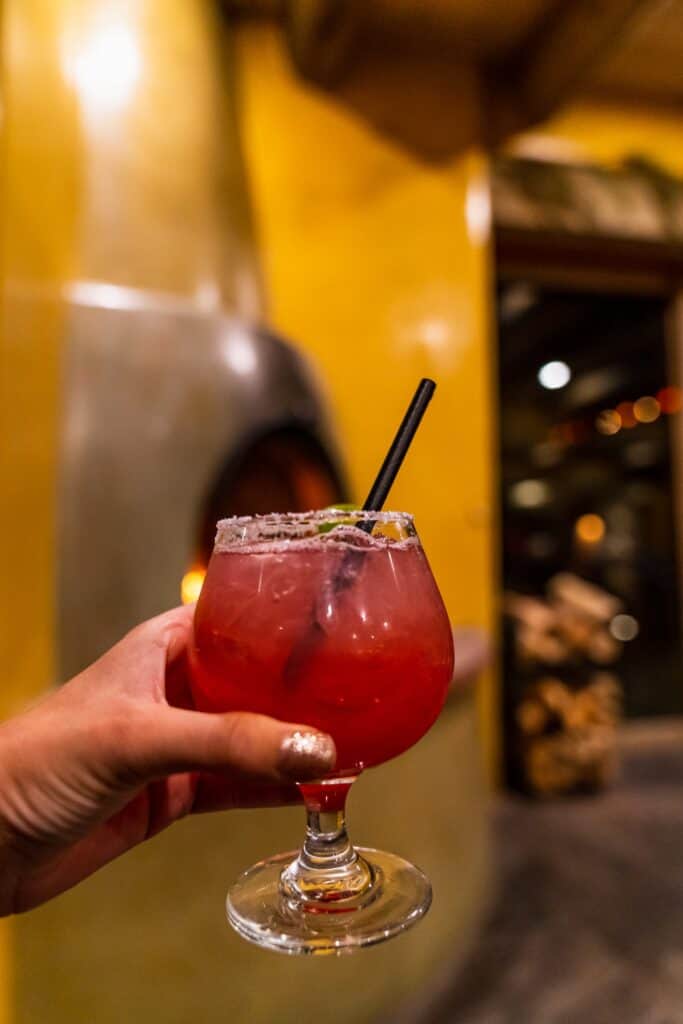 84. Absolute Nirvana Spa, Tea Room & Gardens – Plan a romantic getaway and unwind at Absolute Nirvana Spa, Tea Room & Gardens. Book a couple's massage utilizing traditional Indonesian "Jamu" and natural products with experienced staff, or a couple's soak for a more intimate experience.
85. Grey Matter Float Spa – Take advantage of the opportunity to drown out the outside world and focus only on the company of one another with a sensory deprivation soak. The tub is filled with 1,000 pounds of Epsom salt, leaving you feeling like you're floating and providing several physical and mental benefits.
86. Santa Fe Salt Cave – Book a relaxing session inside the Santa Fe Salt Cave surrounded by gorgeous Himalayan pink salt and calming music while relaxing in a zero-gravity chair. The salt cave is thought to be healing on multiple fronts while providing you and your partner time to recharge together.
Incredible Art Experiences
Santa Fe is well-known for its abundant variety of art galleries, so you're guaranteed 'lots of time for handholding with your partner as you do some silent exploring, or as you whisper to each other what you think.
87. Prescott Gallery & Sculpture Garden – See a vibrant indoor art gallery and outdoor garden filled with colorful sculptures at Prescott Gallery & Sculpture Garden. They also have a location along Canyon Road so you can do some shopping AND check out this bright art museum.
88. 7 Arts Gallery – Slowly admire art made by New Mexican artists in various mediums at 7 Arts Gallery. You may also happen upon a local artist creating something new right before your very eyes!
89. Addison Rowe Gallery – Enjoy modern artwork and several functional items, like unique home furnishings, at the Addison Rowe Gallery. There's no doubt you'd want to fill your future home together with each one of these pieces.
90. Meow Wolf's House of Eternal Return – Meow Wolf is an immersive art experience created by over 200 artists with over 70 rooms! It's hard to fully understand Meow Wolf without seeing it for yourself, but make sure to book tickets ahead of time, as they could sell out.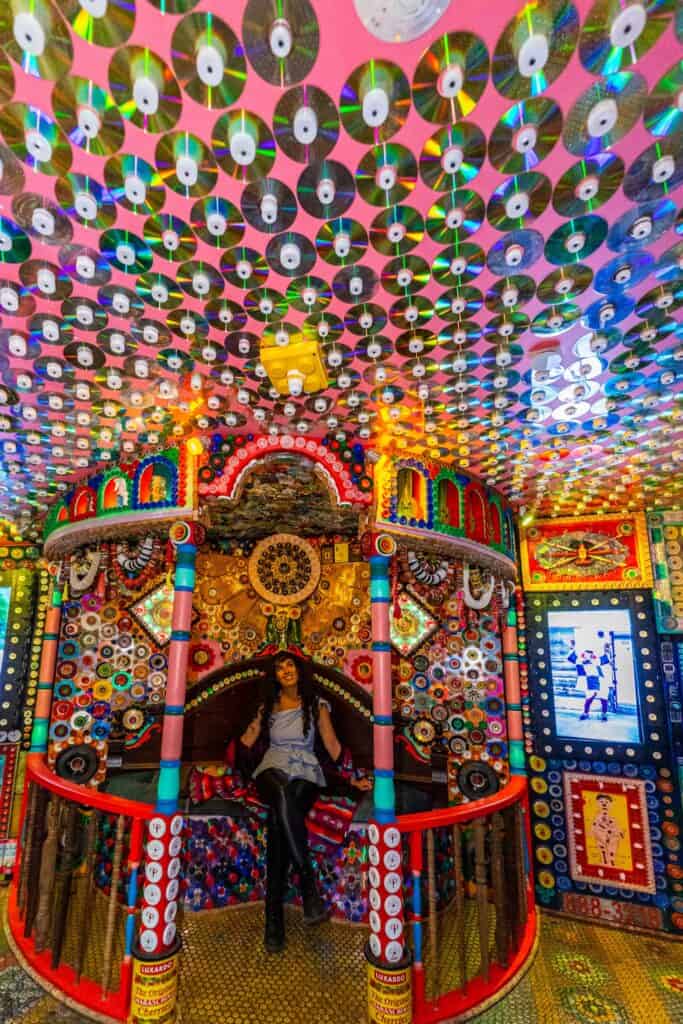 91. Center for Contemporary Arts – Explore contemporary art installations at the Center for Contemporary Arts.
92. Shidoni Gallery and Sculpture Garden – Relax and browse around art, sculptures, and more at Shidoni Gallery and Sculpture Garden.
93. Form & Concept – Explore even more contemporary artwork at Form & Concept.
94. SITE Santa Fe – For a free art experience while you're roaming the Railyard District & Park, Visit SITE Santa Fe, which shares innovative art, new developments in the art field, and both permanent and rotating exhibits.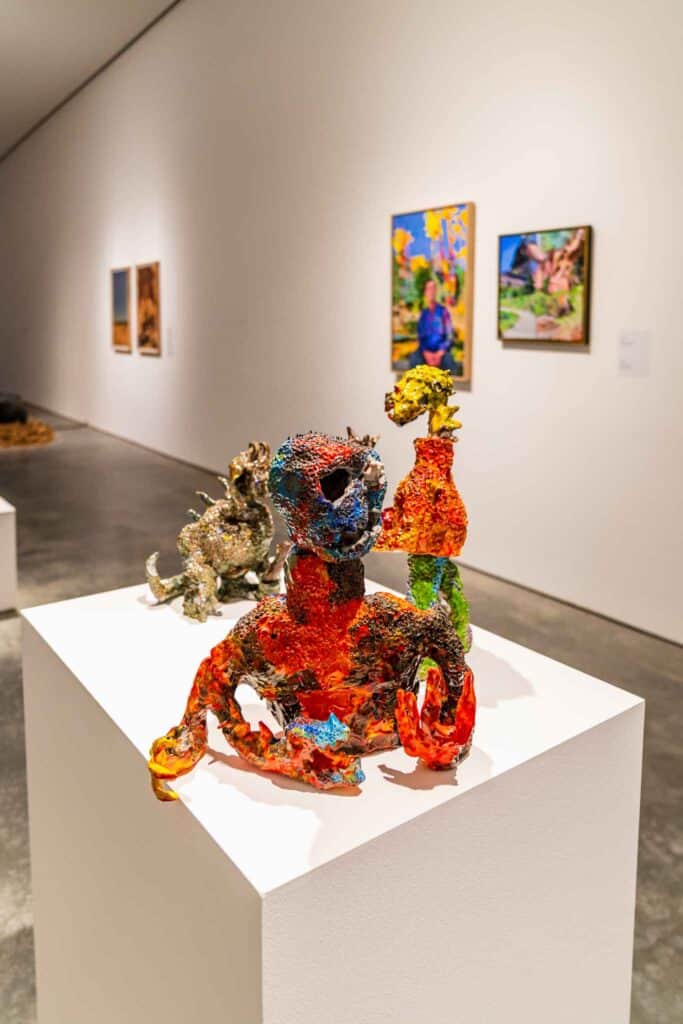 95. Santa Fe Botanical Garden – Wander through the Santa Fe Botanical Garden and explore the collection of greenery.
96. Currents New Media – Walk around and experience virtual art exhibits at Currents New Media.
97. Adobe Gallery – Explore a combination of historic and contemporary Native American art at the Adobe Gallery.
98. Ahmyo River Gallery – Visit Ahmyo River Gallery, a gallery filled with fine jewelry, art and more.
99. Allan Houser Gallery – Take a stroll around the Allan Houser Gallery and explore Native American contemporary art sculptures.
100. Altermann Galleries – Explore the fine world of modern art and visit Altermann Galleries.
101. Antieau Gallery – Visit Antieau Gallery and explore Chris Roberts-Antieus's embroidery art exhibits.
102. Andrea Fisher Fine Pottery – Visit Andrea Fisher Fine Pottery and see the collection of Native American pottery.
103. Santa Fe Studio Arts Collective – Explore local artists at work at Santa Fe Studio Arts Collective.
Couples Guide to Santa Fe: Final Thoughts
With so many date ideas and things to do in Santa Fe, it's impossible that you'll run out of ideas any time soon. Navigate your perfect date with ease and experience all of the history, culture, tasty foods, and activities in Santa Fe.