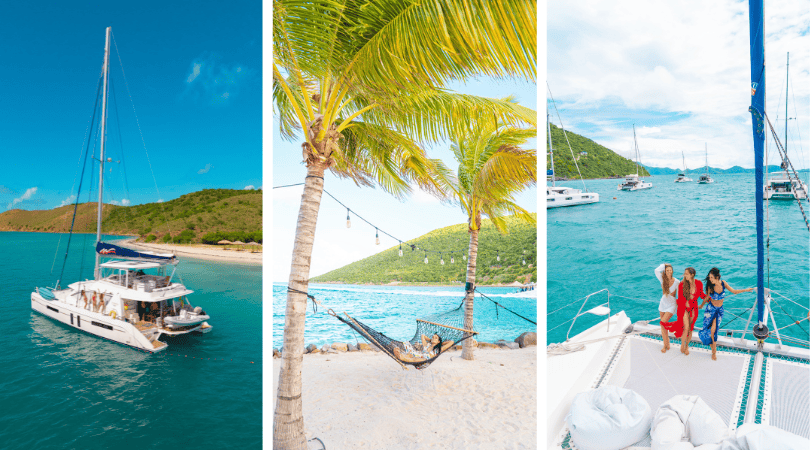 The British Virgin Islands (BVI), often referred to as the "Sailing Capital of the Caribbean," boast some of the most stunning and pristine waters in the world. As sailors and sea enthusiasts flock to this tropical paradise, one essential element plays a crucial role in their island-hopping adventures: The Moorings in the British Virgin Islands.
Moorings Yacht Charters is the key to unlocking the breathtaking beauty and magic of these Caribbean islands. Whether you're a seasoned sailor or an eager first-timer, understanding Moorings is essential for a safe and fun trip.
So, if you're ready to set sail and discover the enchanting world of Moorings in the British Virgin Islands, join us as we embark on this unique experience full of exploration and relaxation in one of the most breathtaking corners of the Caribbean.
Use CODE: SUN for 10% off your booking or use our link.
Want to learn more about vacationing in the British Virgin Islands? Check out our blog posts below about our experience:
Choosing Your Moorings Yacht Charter
Planning your dream vacation with Moorings Yacht Charters, the world's premier yacht charter company, is an exciting adventure in itself!
The Moorings offers a wide range of charter options. You can choose charter boats that suit your group size and preferences, from the classic monohull to luxurious catamarans.
Your stay typically includes a well-equipped vessel, a professional captain (if needed), and the freedom to set your own course. Costs vary depending on the type of yacht, destination, and duration of your charter.
There are additional expenses to consider, such as food and beverages, mooring fees, and fuel. However, the incredible experience of sailing through the pristine waters of your chosen destination, be it the BVI, the Mediterranean, or beyond, is well worth the investment.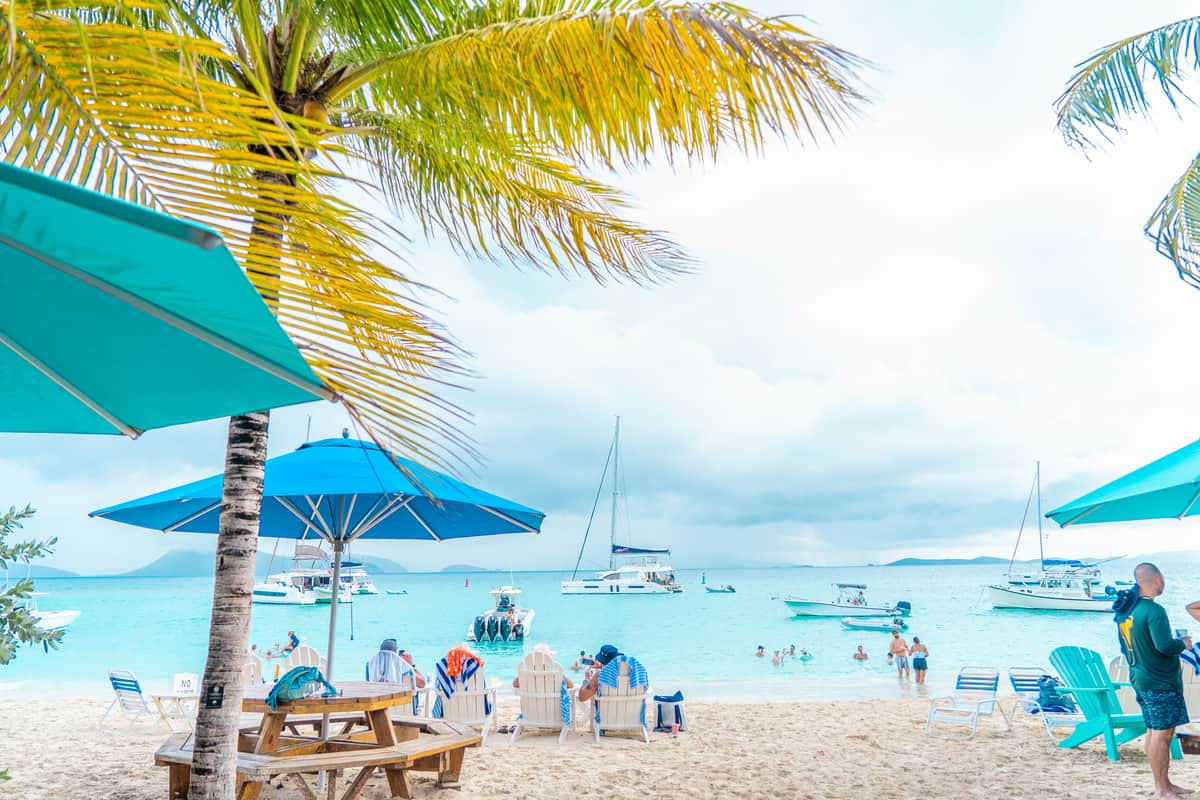 With a Moorings British Virgin Islands Yacht Charter, you're not just booking a charter vacation; you're embarking on a journey of a lifetime, filled with breathtaking views, thrilling adventures, and cherished memories.
The 5800 Moorings Catamaran
Stepping aboard the 5800 Moorings Catamaran combines luxury and adventure in the beautiful British Virgin Islands. This private yacht offers the perfect blend of sailing excitement and resort-style comfort.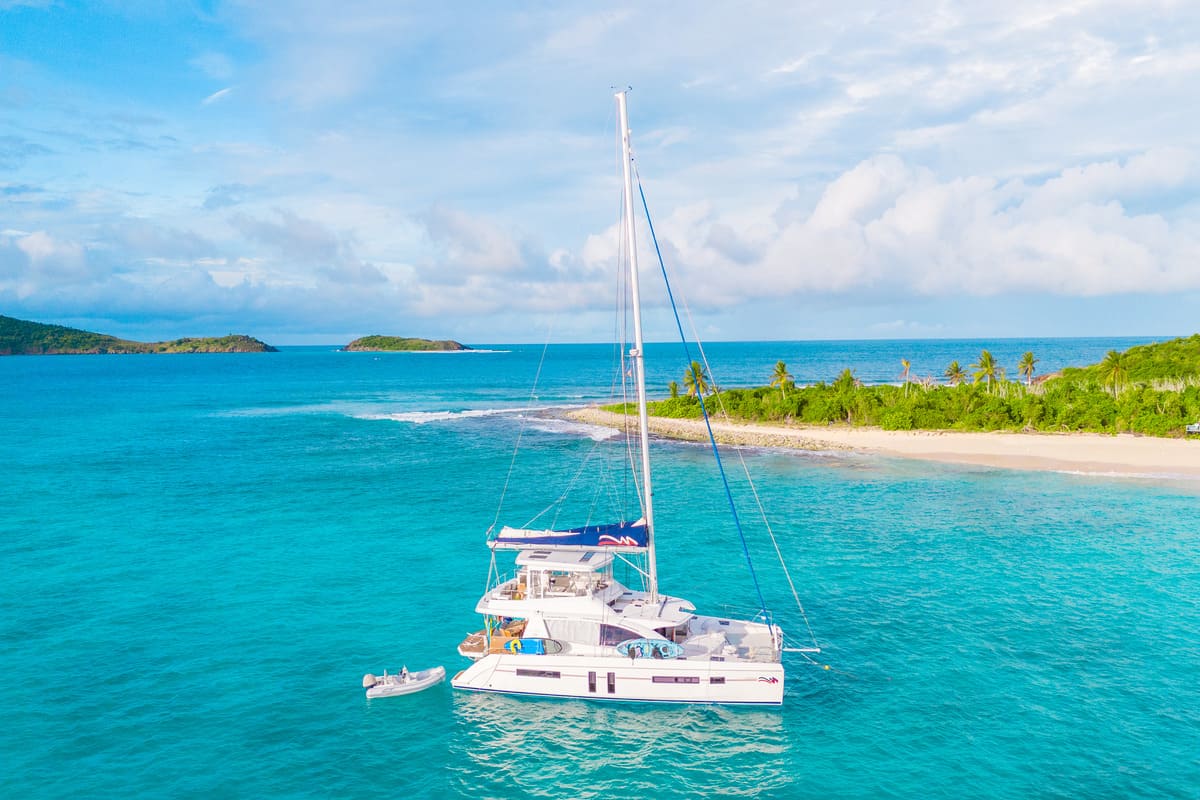 It boasts a comprehensive kitchen, free Wi-Fi, and expansive deck areas for basking in the sun and socializing with other adventurers.
It is equipped with six cabins—one reserved for the chef and five designated for guests—ensuring a private and exclusive journey.
The bedrooms were surprisingly spacious when it came to storage. The bathroom was small but nice enough for a hot shower.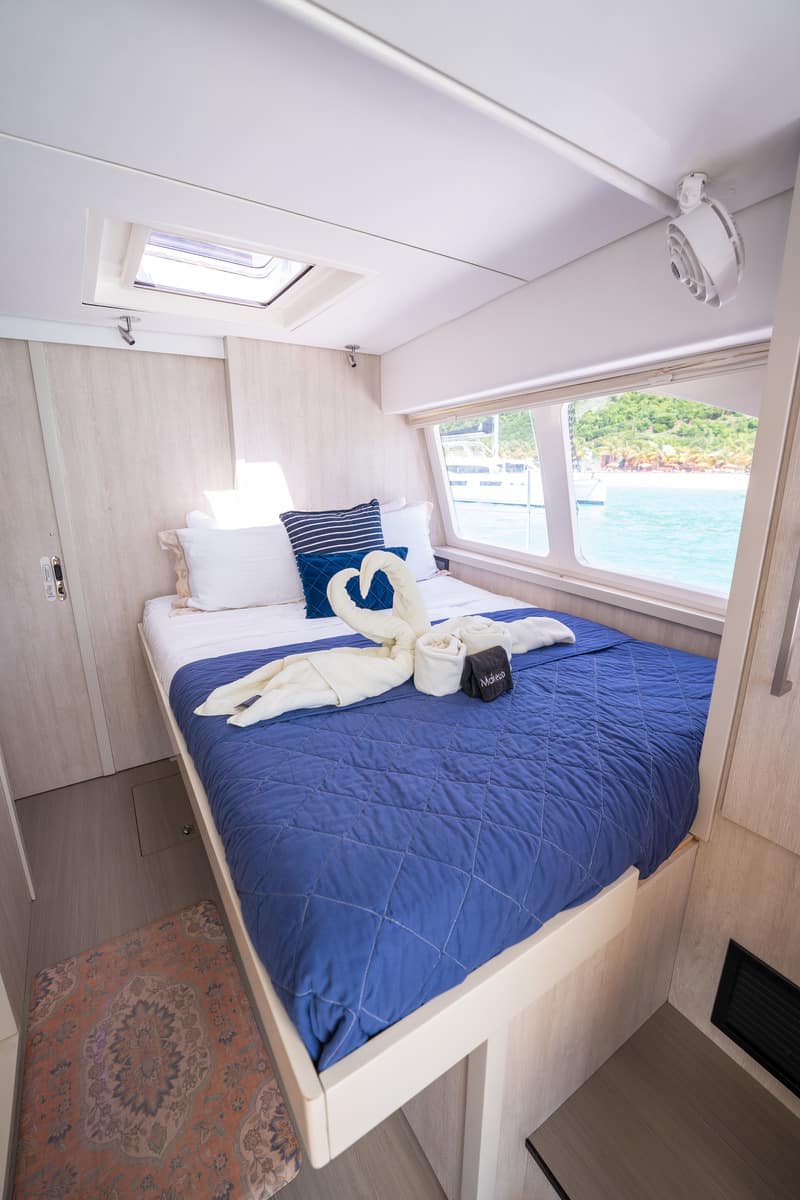 Daily housekeeping ensures the rooms remain pristine, including collecting waste and tidying up.
Whether you're a seasoned sailor or a newbie to the open water, you're in for a seamless and unforgettable voyage as you explore the pristine waters and charming islands of the BVI.
Setting sail on the 5800 Moorings Catamaran will show you that life at sea can be as indulgent and inviting as any top-notch resort on land.
The Beauty of the British Virgin Islands
The British Virgin Islands is the perfect place if you are looking for beautiful scenery. As we floated through these beautiful turquoise waters, I couldn't get enough of the natural beauty that was all around us.
With turquoise seas that sparkled like sapphires in the sun, each island looked like a valuable gem. There were bright pink bougainvillaea, a native tropical flower, and palm trees growing all over the lush, green mountains.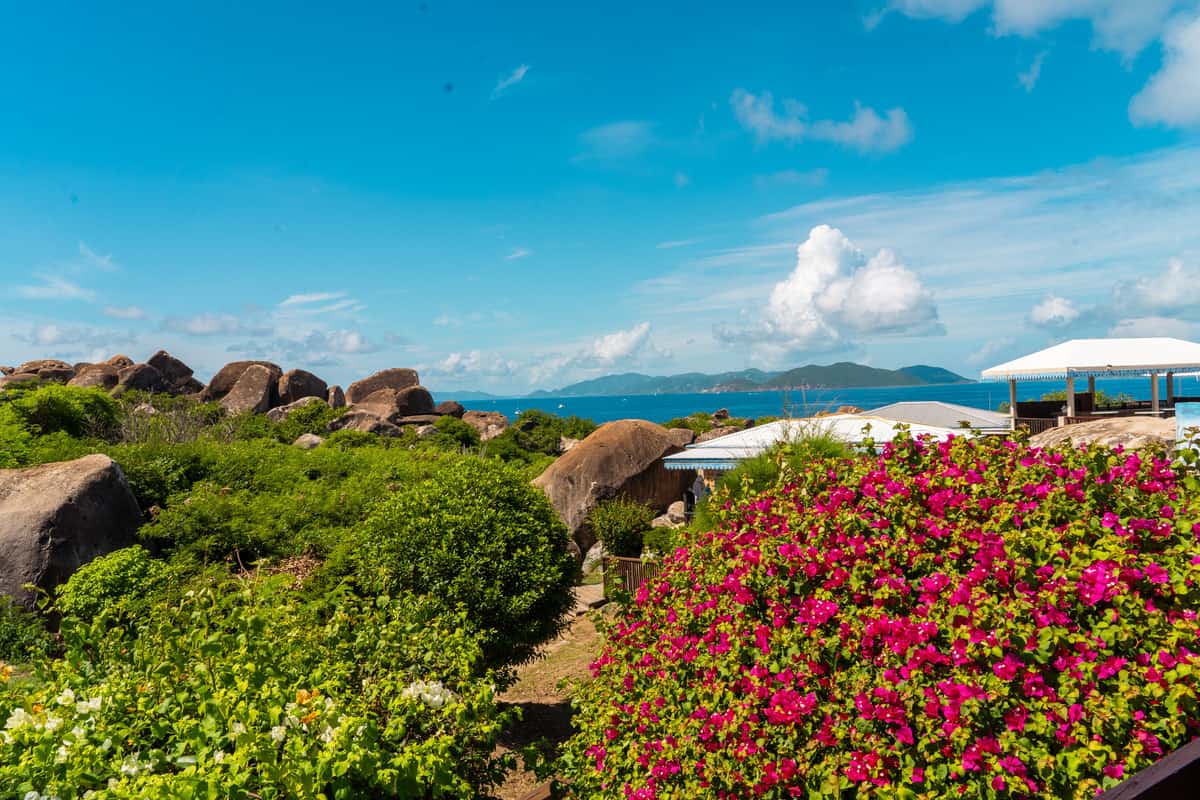 Oh, and those sunsets? The sky lit up with fiery oranges and pinks, and they were nothing less than a work of art. Each day ended in a blaze of glory. Nature wrote the BVI's beauty like a love story, and I couldn't help but fall in love with it.
Popular Destinations in the BVI
The British Virgin Islands is a Caribbean archipelago of over 60 islands and cays, each with its own unique character and charm. Whether you're looking for secluded beaches, lush rainforests, or vibrant nightlife, the BVI has something to offer everyone!
Here are a few of the best places in the BVI, along with their unique features and attractions:
Tortola is the largest and most populous island in the BVI. It's home to the capital city of Road Town, as well as a variety of beaches, restaurants, and shops. Tortola is also a popular destination for hiking and sailing.
Virgin Gorda is known for its stunning beaches, including The Baths, a unique geological formation of giant granite boulders. Virgin Gorda is also home to Gorda Peak National Park, which offers stunning views of the surrounding islands.
Jost Van Dyke is a small island with a reputation for its laid-back atmosphere and lively nightlife. Jost Van Dyke is also home to Foxy's Bar, a popular hangout for sailors and tourists alike. The island is known for its beautiful beaches, including White Bay and Sandy Spit.
Anegada is a unique island in the BVI. It is a beautiful place made of coral and limestone. Anegada is known for its pristine beaches, flamingo population, and lobster fishing.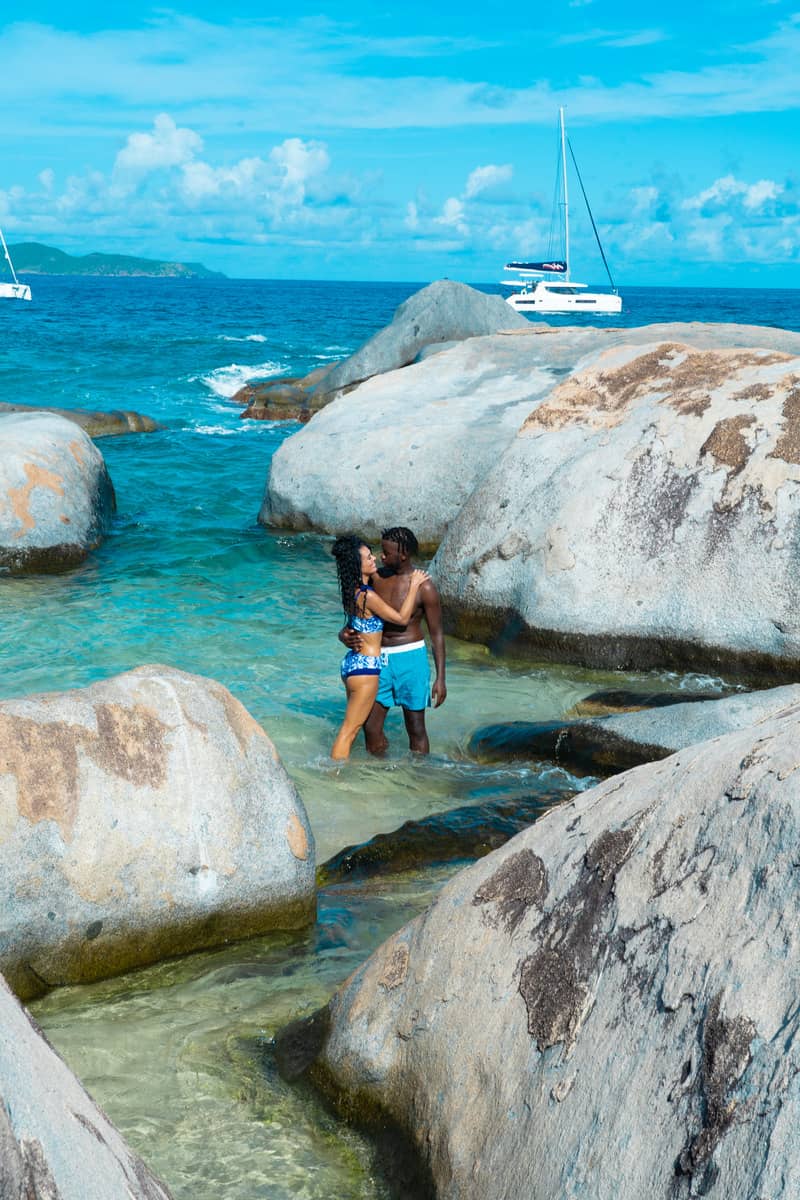 Vacation Planner: Planning Your Trip to the BVI
Planning your next trip to the British Virgin Islands aboard a crewed catamaran charter is a crucial part of ensuring a fantastic and stress-free experience.
Here are some tips to help you plan your itinerary effectively:
Research Destinations: Start by researching the different islands and destinations in the BVI. Each island offers unique attractions, from secluded beaches to vibrant nightlife, so choose destinations that align with your interests and preferences.
Discuss with the Crew: Engage with your catamaran's crew and captain early in the planning process. They possess invaluable local knowledge and can provide insights into your travel plans for the best anchorages, dining spots, and activities based on your group's interests.
Consider Group Preferences: Take into account the preferences and interests of everyone in your group. Discuss what activities, watersports, and experiences each person would like to include in the itinerary to ensure that everyone has an enjoyable time.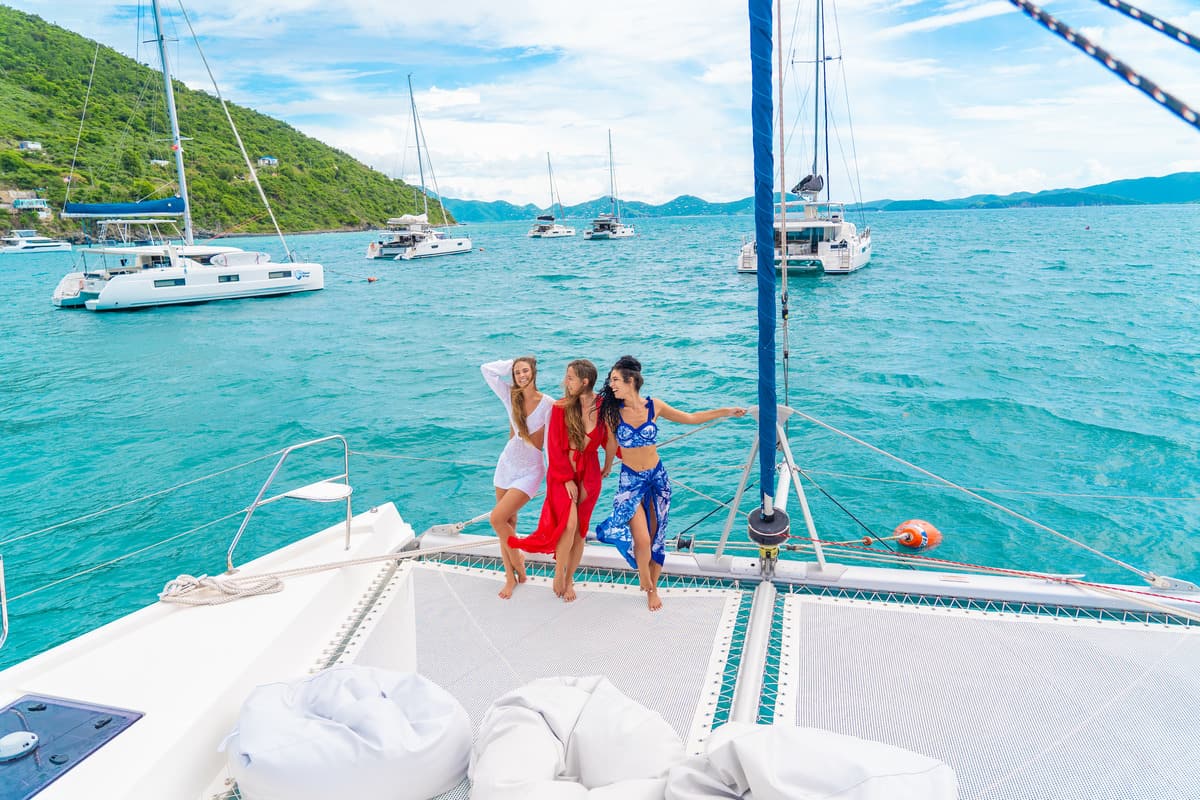 Allocate Relaxation Time: Don't forget to allocate some downtime for relaxation. Part of the charm of a catamaran charter is the ability to unwind and enjoy the serene surroundings.
Plan for Special Occasions: If you're celebrating a special occasion during your charter, such as a birthday or anniversary, inform the crew in advance. They can help arrange surprises or special celebrations.
Leave Room for Spontaneity: While planning is essential, remember that some of the best experiences in the BVI happen when you venture off the beaten path and embrace the unexpected. Being open to surprises and new opportunities can often lead to moments that create lasting memories and ensure you have a truly good time.
By following these tips and maintaining a balance between planning and flexibility, you'll be well-prepared to create a memorable and enjoyable itinerary on your crewed catamaran charter in the BVI.
The Moorings Yacht Charters: Crew Experience
One of the best parts of embarking on a Moorings catamaran yacht charter is the exceptional customer service.
The crew treats you like a part of the family and has an unwavering commitment to making your journey unforgettable. From the moment you step aboard, you'll be welcomed with warm smiles and genuine hospitality that set the tone for your entire voyage.
The crew members are not just skilled sailors but also seasoned hosts who take pride in ensuring your comfort and safety. Their knowledge of the local waters, hidden gems, and insider tips is invaluable, allowing you to explore the British Virgin Islands with confidence.
Beyond their nautical expertise, the crew members often have deep connections to the BVI, sharing stories, history, and cultural insights that enrich your experience and foster a deeper connection with the destination.
Budgeting & Planning for a Smooth Sailing Vacation
Yacht charters in the BVI can be an expensive vacation, but they're also an unforgettable experience.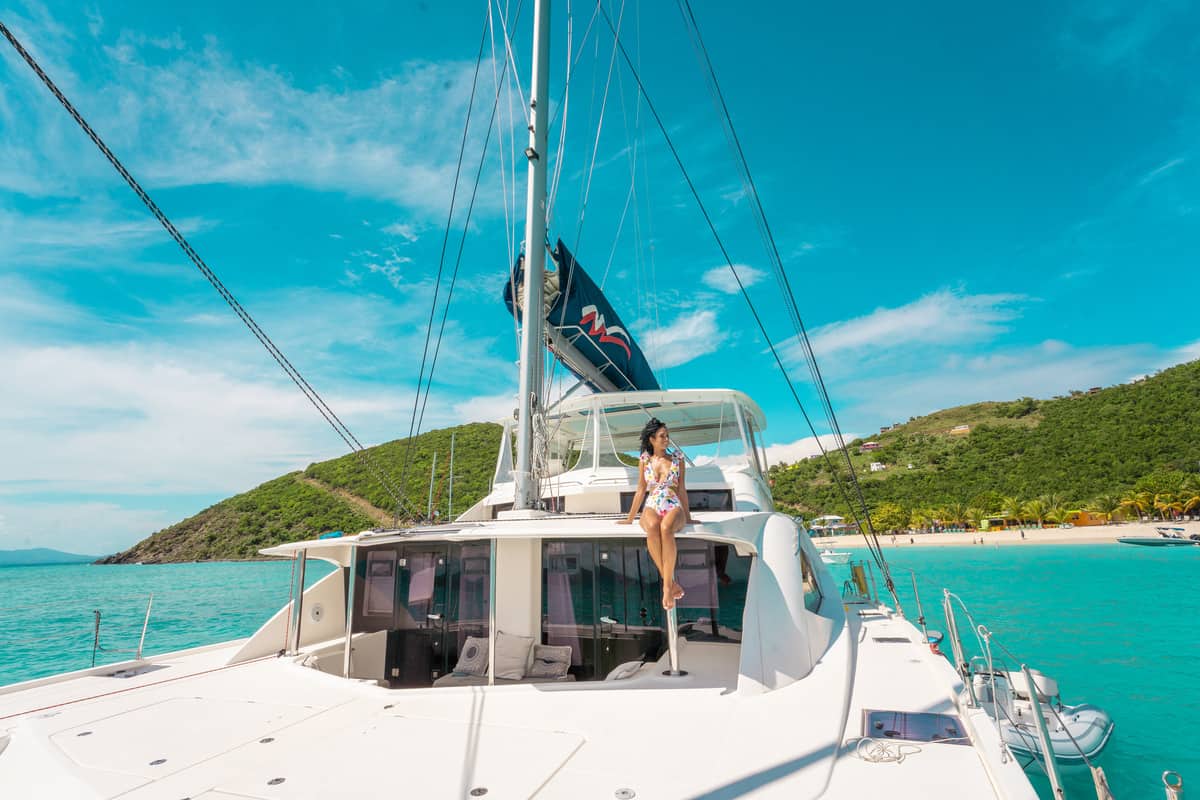 The cost of a crewed catamaran charter in the BVI will vary depending on a number of factors, including the size and type of catamaran, the time of year, and the length of the charter.
Generally speaking, you can expect to pay between $20,000 and $30,000 per week for a crewed catamaran charter in the BVI.
In addition to the charter fee, you'll also need to budget for food, drinks, fuel, dockage fees, and other expenses.
Here are some tips on how to budget and plan for a crewed catamaran charter in the BVI:
Start Planning Early to Secure Your Charter Reservation: This will give you more time to research different charter companies and compare prices. You may also be able to negotiate a better rate if you book your charter in advance. Additionally, many charter companies offer special discounts for early bookings.
Consider the Time of Year: Charter rates are typically expensive during the high season (December to April), when the British Virgin Islands have the most beautiful weather. If you're on a budget, consider traveling during the off-season (May to June and September to November).
Choose the Right-Size Catamaran: Catamarans come in a variety of sizes, from two to eight cabins. Choose a catamaran that is the right size for your group and budget.
Gratuity: It is customary to tip the crew at the end of your charter. A gratuity of 15-20% is typical.
Meeting the Locals of the British Virgin Islands
One of the most rewarding aspects of sailing the British Virgin Islands is the opportunity to interact with the warm and welcoming locals.
From the moment you step ashore, you're greeted with friendly smiles. Whether you're seeking directions, recommendations for local cuisine, or simply wanting to strike up a conversation, the BVI locals are always eager to share their knowledge.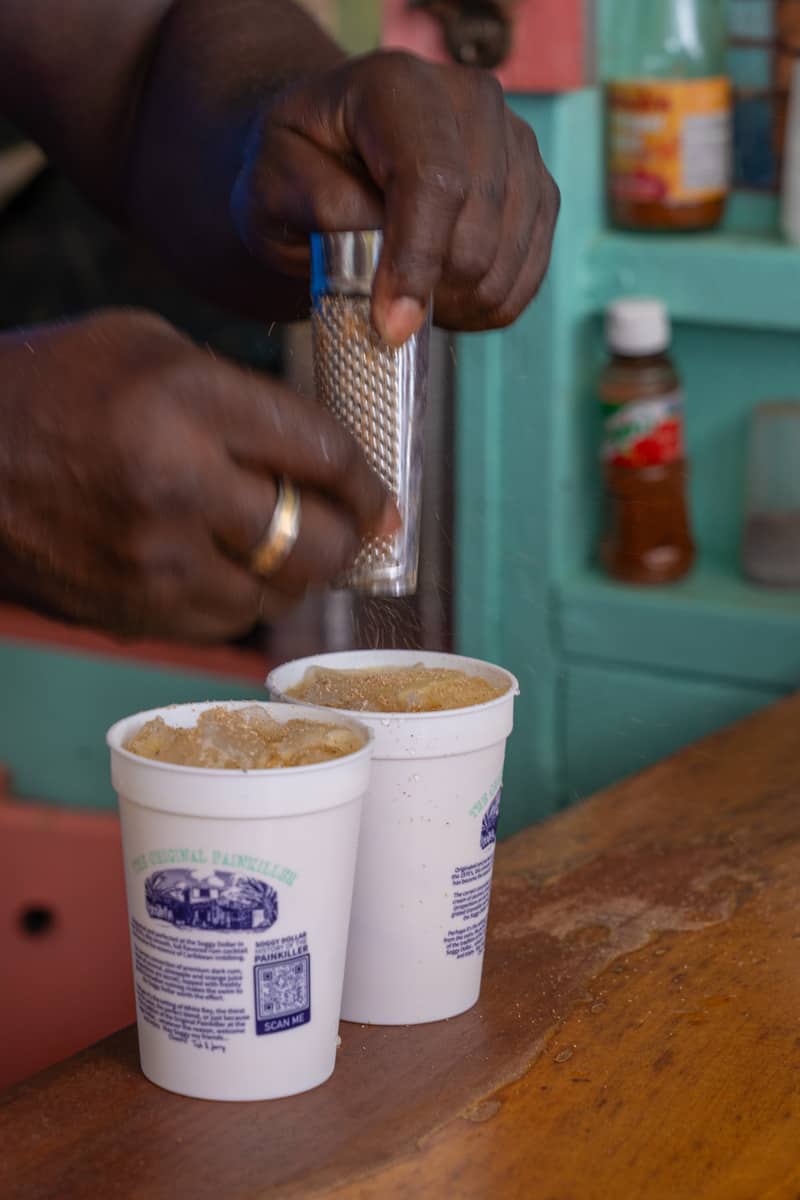 One of the best ways to meet locals is to venture beyond the tourist hotspots and explore the smaller villages and communities. Here, you'll get a glimpse into the everyday lives of the people who call the BVI home.
No matter where you go, you'll find that the locals are friendly and welcoming. They're proud of their heritage and their culture, and they're always happy to share it with visitors. So take some time to get to know the people of the BVI, and you'll discover a whole new dimension to your sailing vacation.
The Moorings Yacht Charters: Chartering Etiquette
Chartering a boat with Moorings in the British Virgin Islands is a great way to experience the beauty of the islands and to enjoy the freedom of sailing.
However, it's important to be aware of the local customs and marine regulations in order to be a respectful and responsible charterer.
Be respectful of the locals and their culture: This includes dressing appropriately, being mindful of your noise level, and disposing of trash properly.
Be aware of your surroundings and navigate carefully: The BVI is a beautiful and fragile ecosystem, so it's important to avoid damaging coral reefs and other marine life.
Dispose of trash properly: There are designated trash disposal bins at most marinas and beaches. If you're out on the water, be sure to pack up all of your trash.
Be courteous to other boaters: Obey the rules of the road and be aware of your surroundings.
Respect marine life: Don't feed or touch the fish or other marine life.
Be aware of the local marine regulations: There are a number of marine regulations in the BVI, such as speed limits and no-fishing zones. Be sure to familiarize yourself with the regulations before you set sail.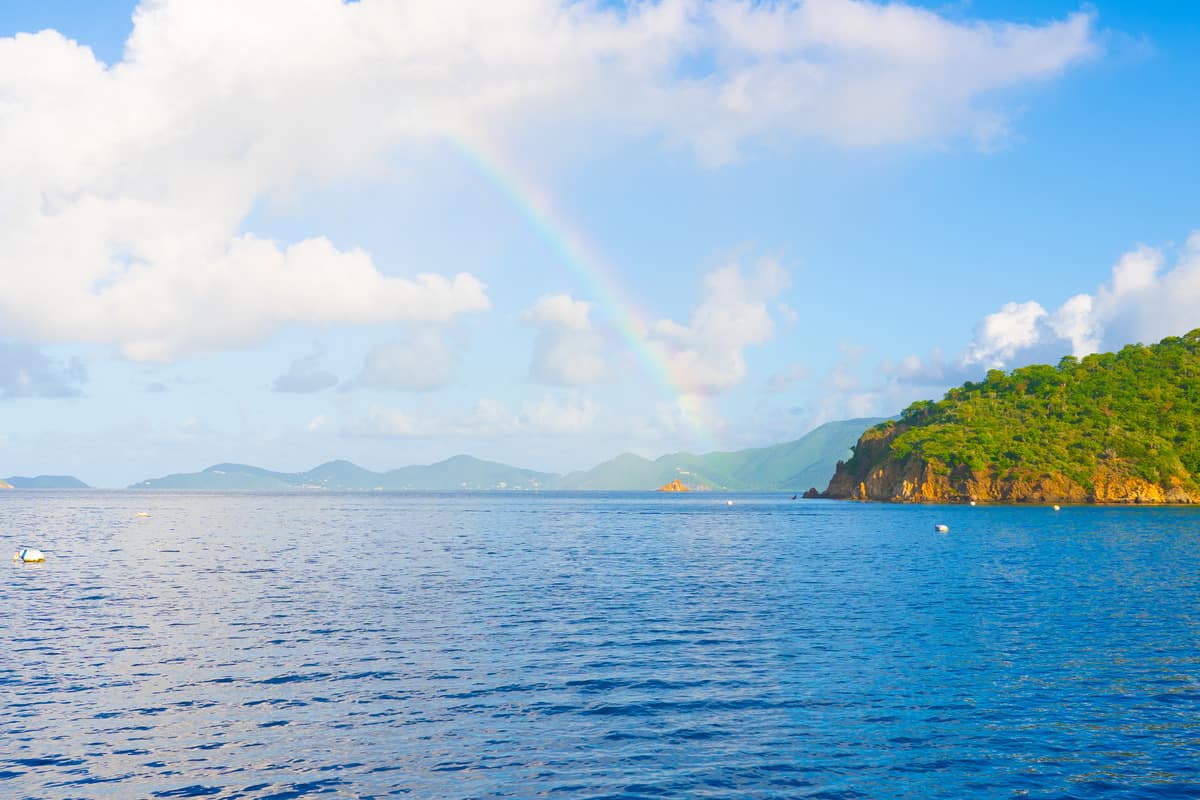 Moorings Yacht Charters in the British Virgin Islands: Final Thoughts
The British Virgin Islands (BVI) is a popular charter destination for a reason. The islands offer stunning scenery, crystal-clear waters, and a variety of activities to enjoy.
One of the best ways to experience the beauty of the BVI is on a crewed catamaran charter. With the Moorings, you can be sure that you'll have a luxurious and relaxing vacation.
With each day unfolding like a new chapter, your yacht charter becomes a real-life story filled with unforgettable moments, building anticipation for your next trip before it even ends. These memories will stay with you long after you've left the turquoise waters behind.
Whether you're an experienced sailor or a first-time adventurer, make Moorings Yacht Charters in the British Virgin Islands the starting point for an extraordinary voyage that will leave you with a treasure trove of lifelong memories.