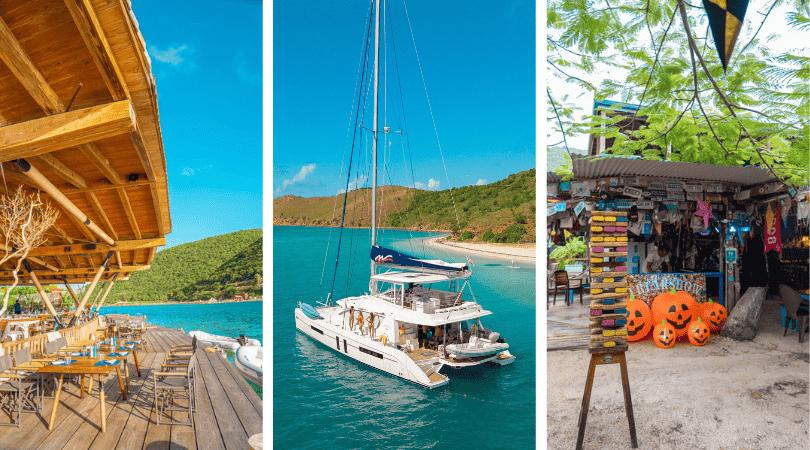 We just completed a truly unforgettable five-day British Virgin Islands vacation with Moorings Yacht Charters, where we got to sail with several other couples through all of the amazing islands while enjoying fully cooked meals and adventure around every corner. Because of this experience, we're sharing our 5-day journey to help guide you on your own!
The weather in this tropical paradise can be unpredictable, and a sunny forecast can swiftly turn into a stormy afternoon. So having an alternative plan is absolutely essential.
Unforeseen weather changes might require modification of this itinerary, such as exploring different islands or seeking shelter in a safe harbor. But remember, each twist and turn is part of the adventure, and every island has its own unique charm and attractions to offer. So, embrace the unexpected and let the wind guide your journey!
Use CODE: SUN for 10% off your booking or use our link.
Want to learn more about vacationing in the British Virgin Islands? Check out our blog posts below about our experience:
Day 1: Getting in & Cooper's Island
Our first day began with our arrival at the St. Thomas airport. From here, Island Time, our reliable transportation service, whisked us away on a journey across the clear blue waters, taking us to our final destination—the British Virgin Islands, near Soper's Hole. This is where our Moorings charter awaited us.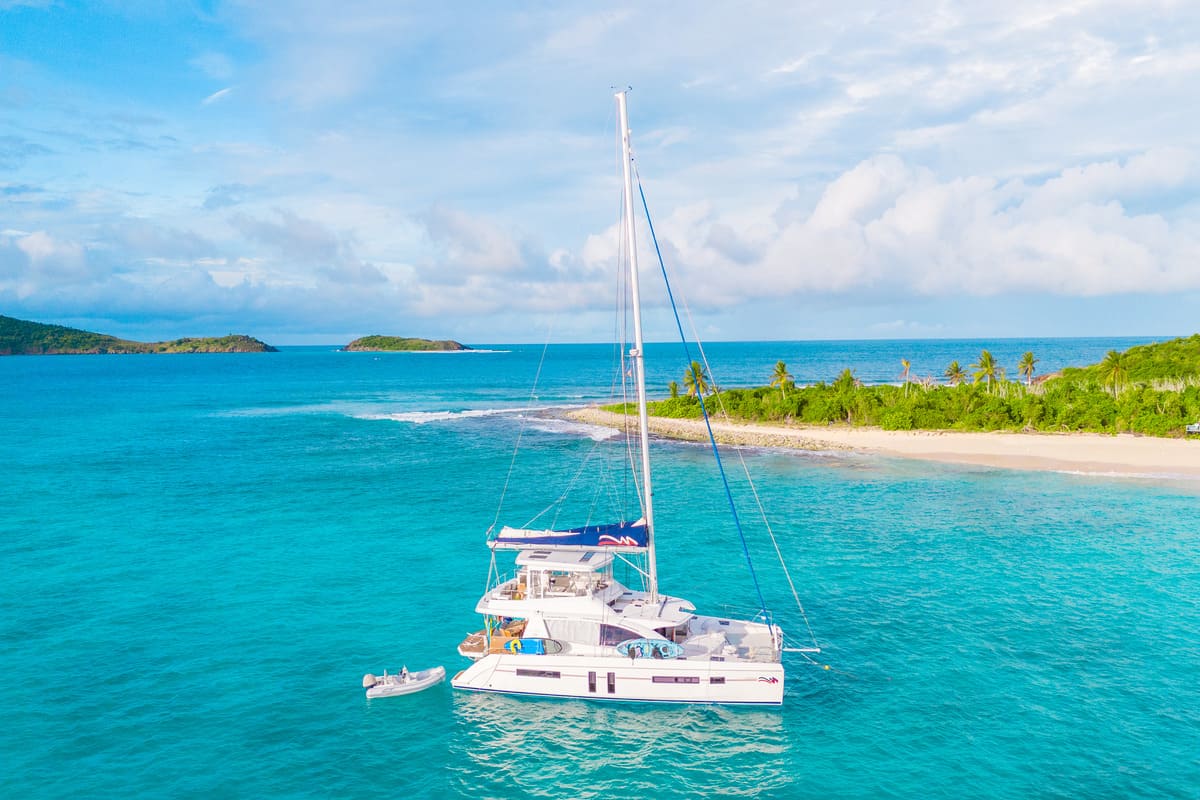 We ended up landing around 2pm, and made it quickly onboard by 4pm, followed by a little champagne break while we crossed through customs (which we got to do comfortably aboard our water taxi while our captain did all the boring paperwork).
As soon as we got on board, there was rum punch and snacks waiting for us, provided by our crew. We checked into our rooms and immediately headed out to Cooper Island, right next to Willy T's.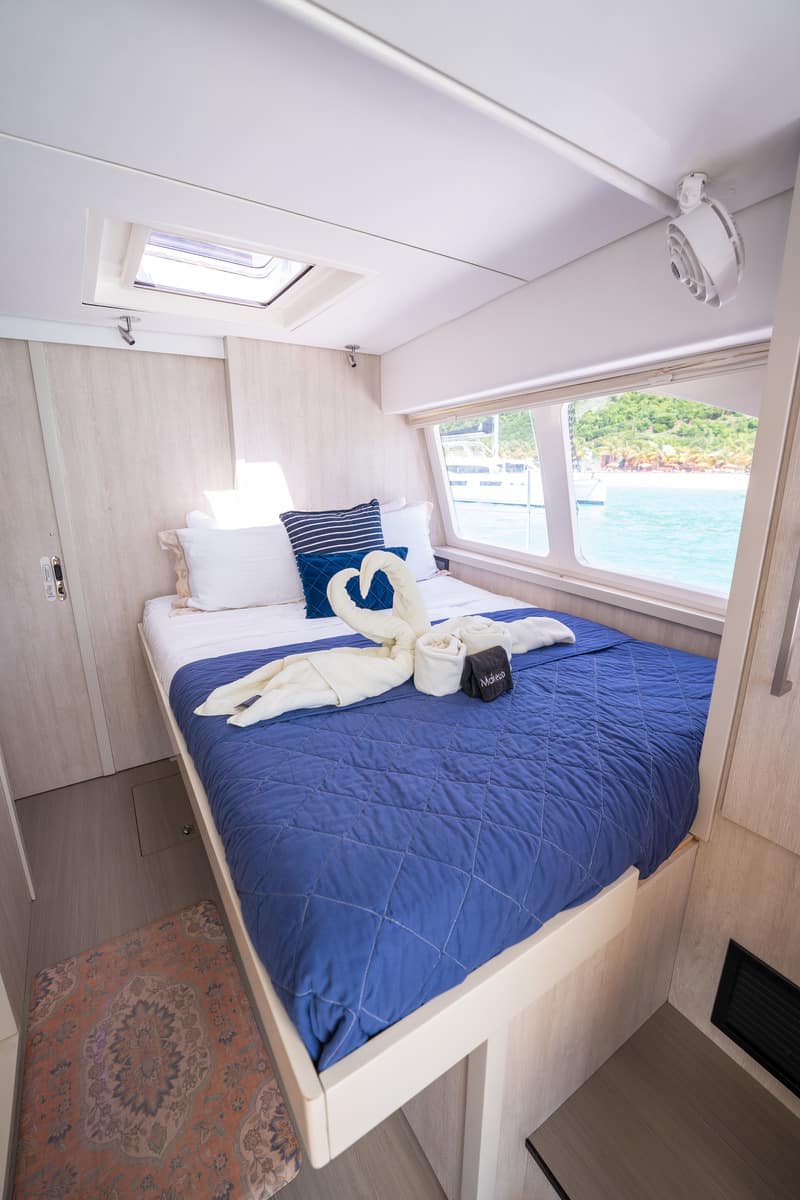 Willy T's is an iconic floating bar and restaurant. Known for its potent rum punch, this legendary establishment offers a unique dining experience amidst the sea. But Willy T's isn't just about food and drink — it's about fun.
The upper deck is often the scene of impromptu dives and jumps into the water below, making for unforgettable holiday memories. It used to be girls could jump off topless for a free t-shirt. Now, you can still jump off topless, there's just no free t-shirt involved.
Day 2: Sailing to the Northern Sounds
First thing in the morning, we rounded the corner to go snorkeling at the Norman Caves. Since we started early, we had it practically all to ourselves. Here, we saw jellyfish and lots of beautiful fish. The water in the caves was so clear! We couldn't get over the color.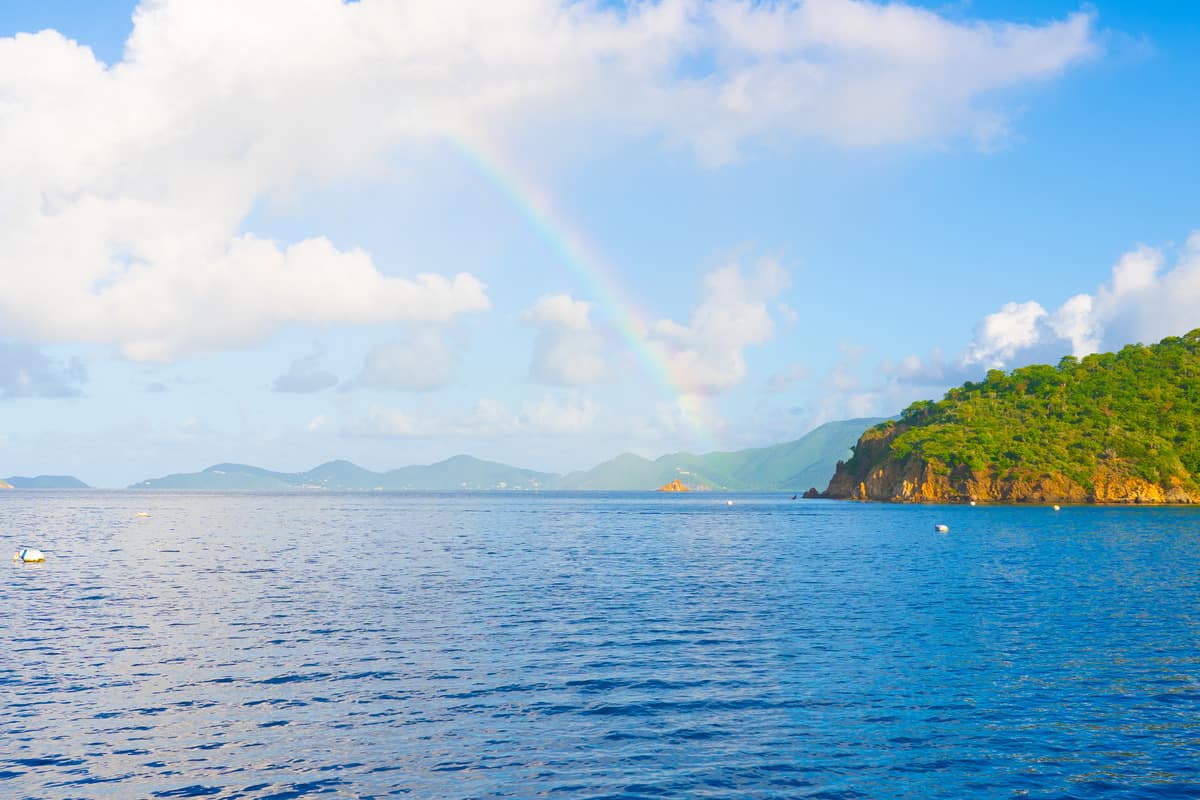 Next, we had a long boat ride up to Prickly Pear Island. This island may be small, but it was the perfect little spot to enjoy the clear and calm blue waters with fewer boats. There were also people stand-up paddle boarding and swimming.
From there, we ended our evening at Saba Rock, an island resort known for their famous eFoiling and windsurfing. They also have Tarpon feedings daily at 5pm. A lot of people will dock here to enjoy dinner and drinks as well.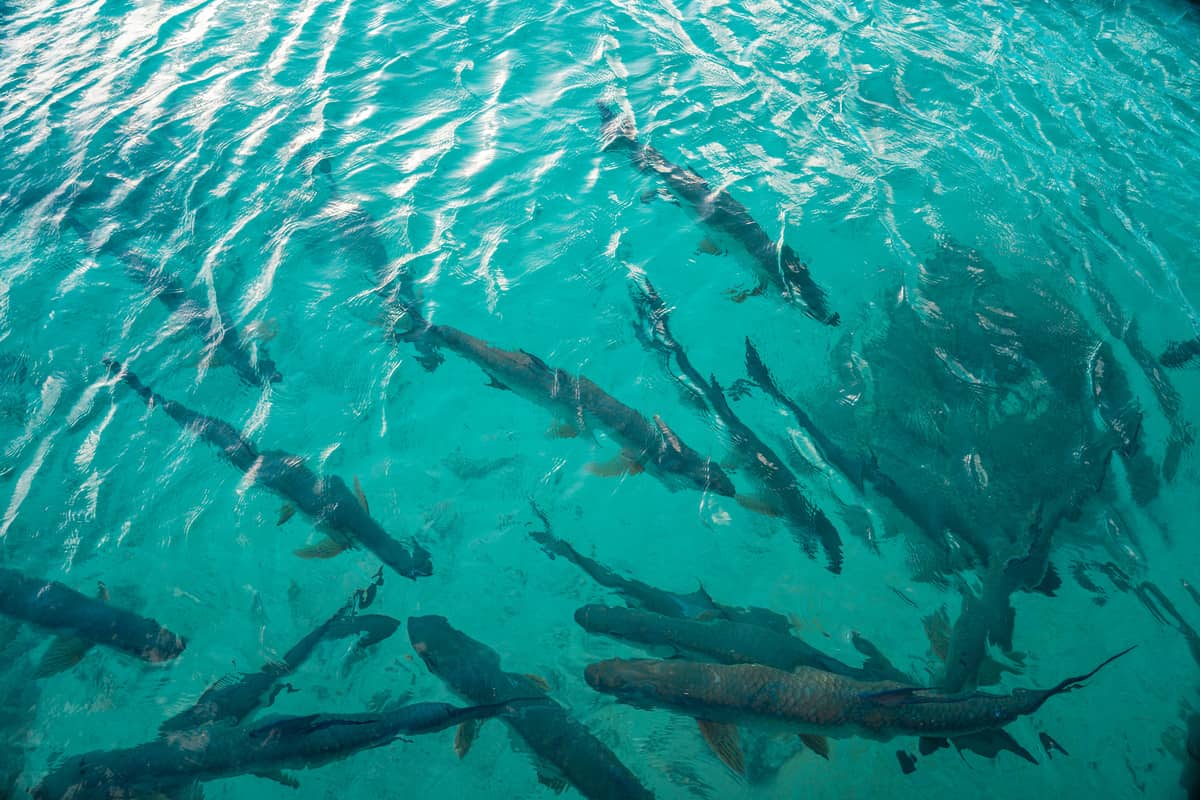 We enjoyed relaxing in the hammocks and their red telephone booth that actually worked. I think it was on the other side of the resort, but we were so shocked when we picked up the phone and a few seconds later, someone answered.
It's also a short dinghy ride away from Bitter End Yacht Club. Here, they have a fun, boat-shaped bar, but on land.
There are also several Hobie Cats and other water sport rentals to enjoy!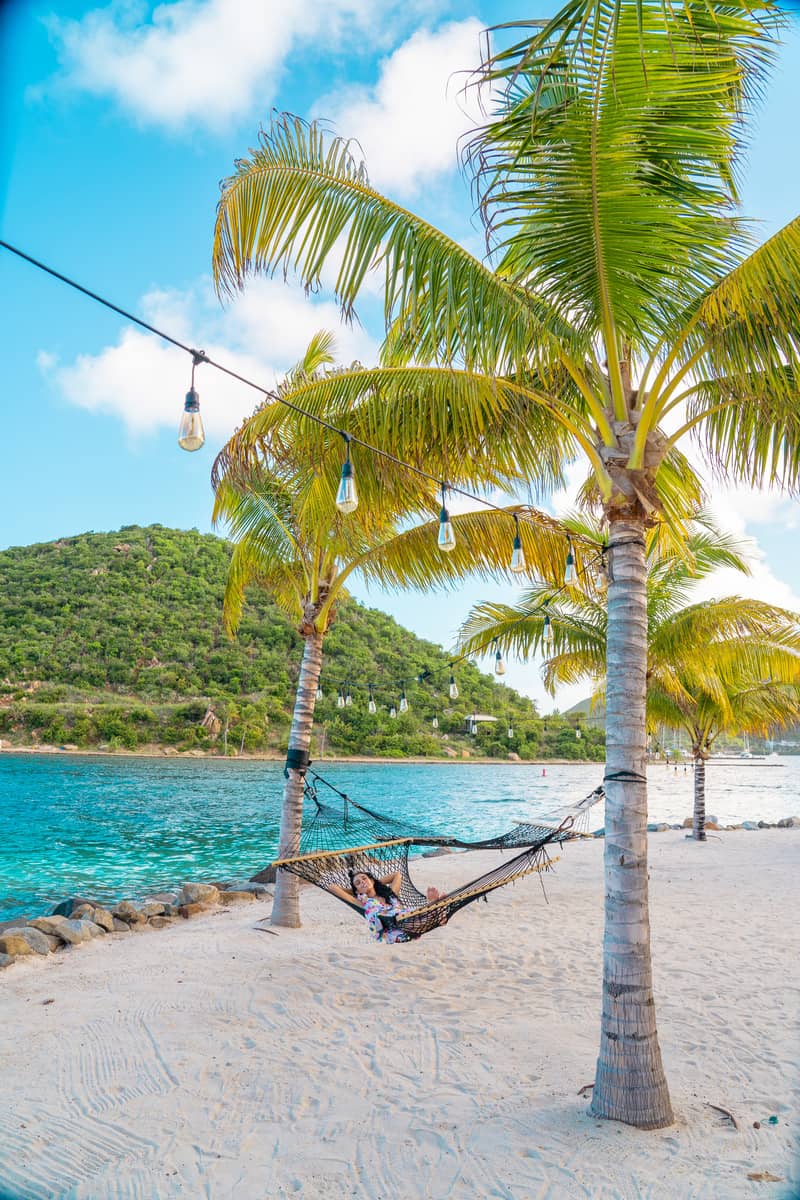 Day 3: Virgin Gorda Baths & Scrub Island
Because of the large crowds, we opted to push back our breakfast to later and head straight to Virgin Gorda and the baths.
Unfortunately, there was a large swell that prevented us from taking the most popular transportation method, tying up in front of the beach, and swimming to shore. Instead, our captain got us a taxi and we drove to the Virgin Gorda Baths National Park and hiked down.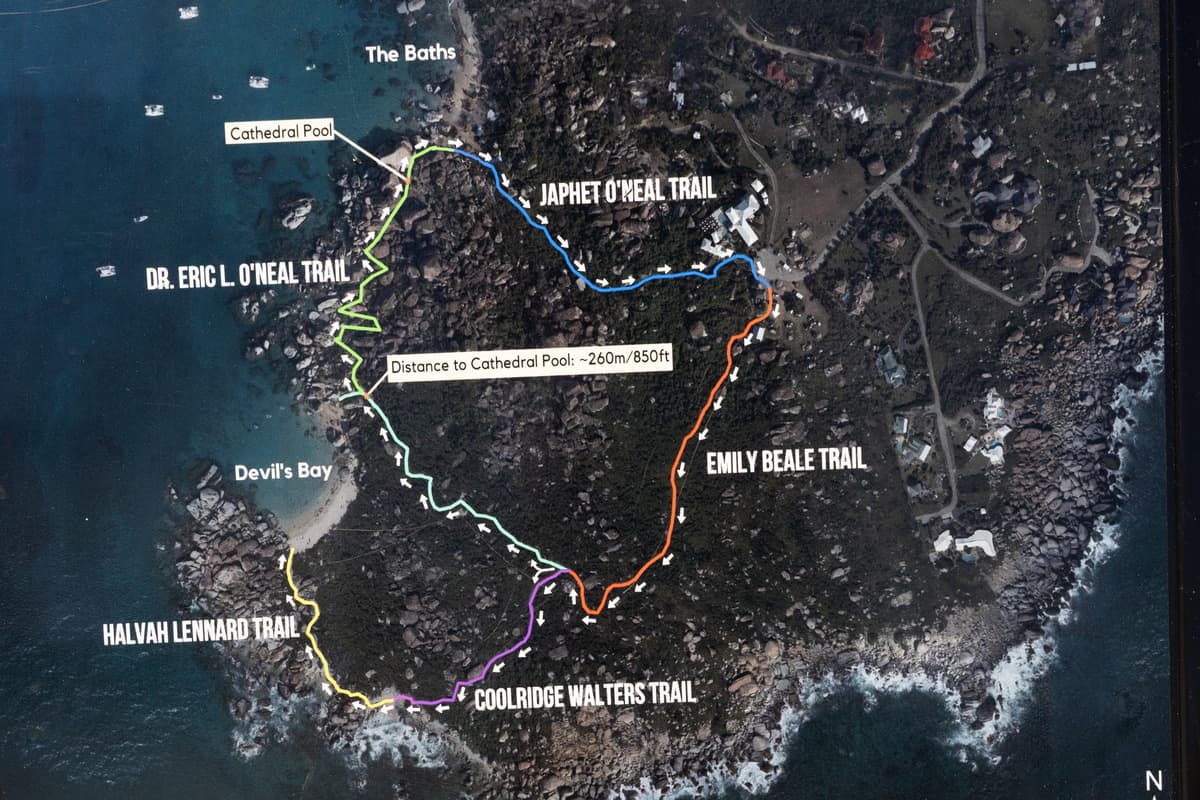 One of the best parts was simply where the rocks surrounded the water, creating a beautiful pool where you could see everything. I could've sat here forever, although it does get packed.
From there, we made our way through the caves. We climbed up stairs, crossed a bridge, went down some more stairs, ducked under some rocks, and then made our way to the famous picture spot in front of the caves.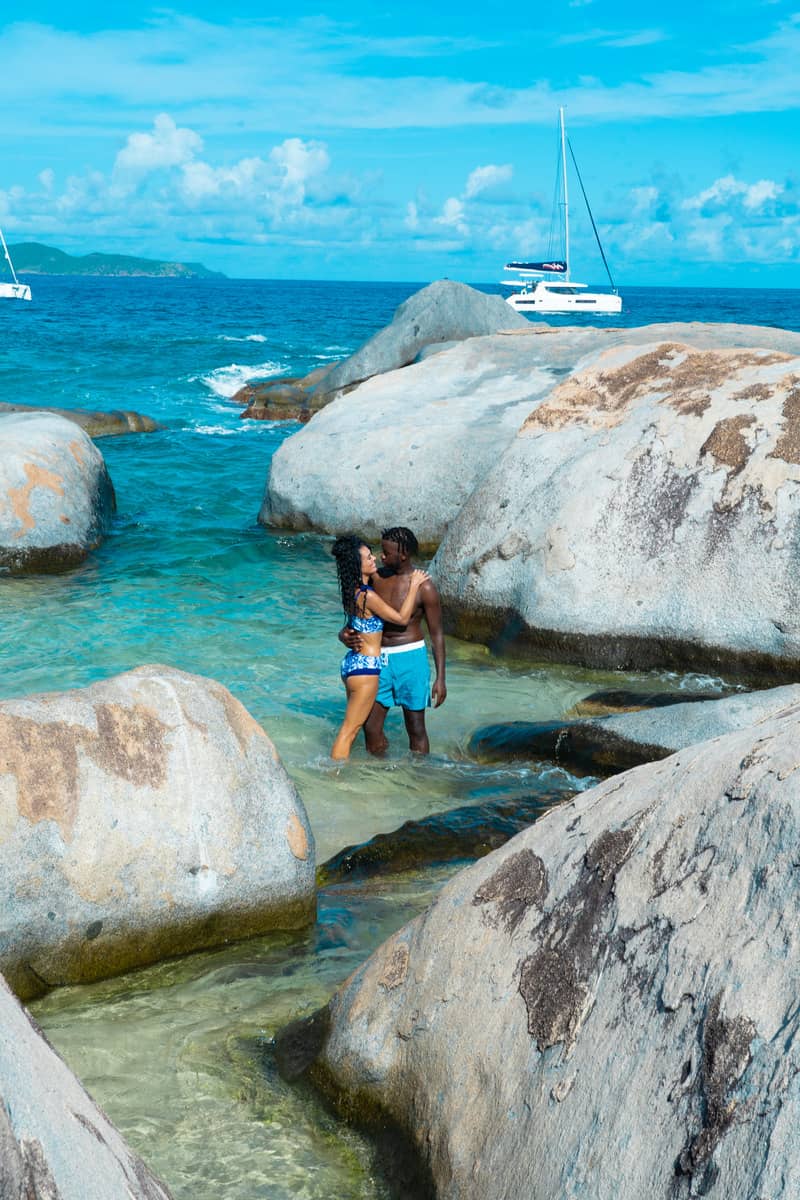 Next, we continued down the path where there was a small beach and bar. Sadly, the waves were too strong to swim. We relaxed here for a minute to enjoy the view and the chickens running around before hiking back to the Top of the Baths and completing the loop.
At the Top of the Baths, is a restaurant/bar and shopping area. Guests who choose to eat here can also enjoy access to their pool with a nice view.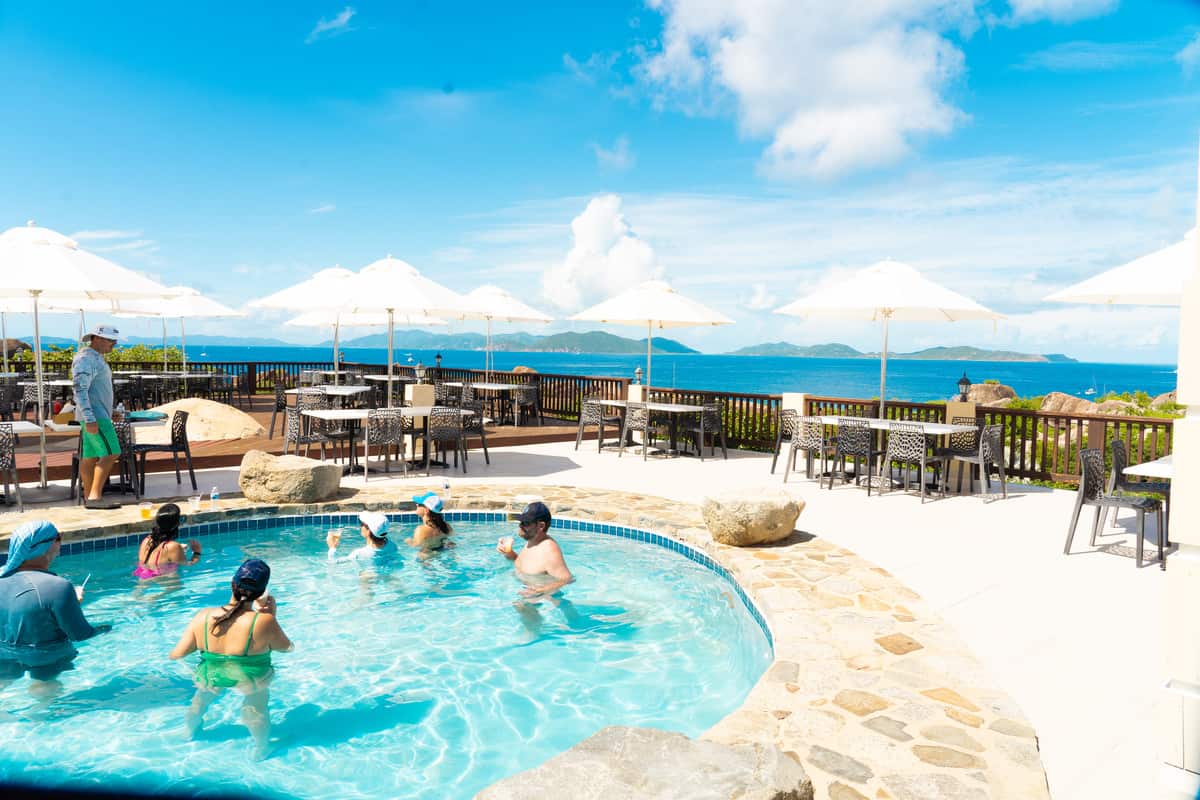 We ended up docking at Scrub Island, a marina with a hotel. Because we docked at Scrub Island, we had to pay an additional fee, but had access to all of the activities.
They had a small, gorgeous beach with some of the clearest and calmest waters we had seen during our entire trip to the BVI.
There was an overwater trampoline that our group loved, as well as complimentary stand-up paddle boards and kayaks. There was even a free boat service to take you to the other side of the island!
Our favorite part was the multi-level pool with a swim-up bar and hot tub overlooking the water. It was definitely an active spot. In addition to this, guests can use the on-site gym and showers. There is also a restaurant and coffee bar for your convenience.
We ended up taking our dinghy for a little exploration of Marina Cay and the shipwreck nearby before tucking in for a restful night.
Day 4: Jost Van Dyke & Soggy Dollar
Our fourth day was a little bit rocky. With rains coming in, many of our plans didn't work out so well. The waters were too rocky for landing where we wanted to.
In general, day 4 and day 5 can be switched around for what you want. I will say the best thing about rain is you're already constantly wet so it doesn't matter if the rain gets you wet too.
We parked at the White Bay, home to the famous Soggy Dollar and their cocktail, the Painkiller. We started out by enjoying our boat's amenities, like the paddle boards. There was even a turtle near our boat that kept popping up!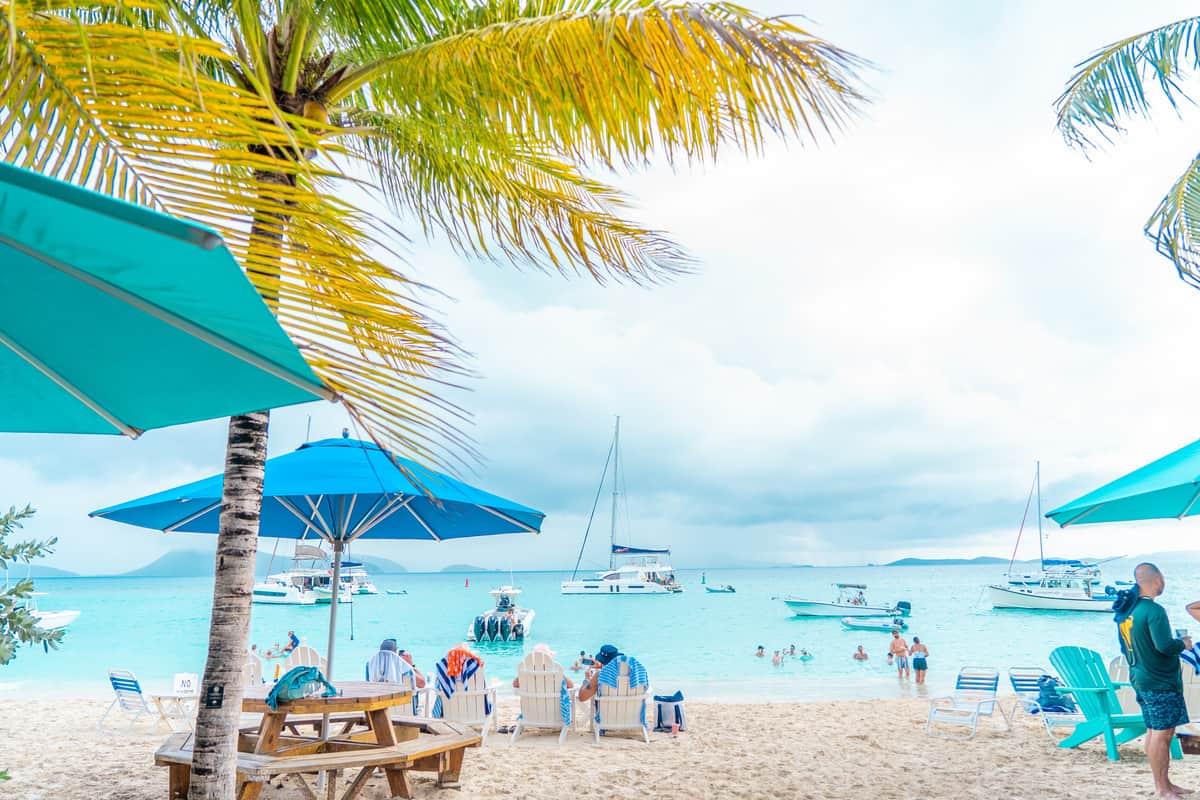 Then some rain rolled through so we did some swimming and settled in for lunch. Our captain made us fresh Painkillers since we couldn't yet make it to the Soggy Dollar.
Once the rain let up, we took a dinghy to shore (where we had to swim a few feet) to try the original Soggy Dollar. We enjoyed relaxing here, before taking a taxi down to Foxy's where our boat was docked for the night.