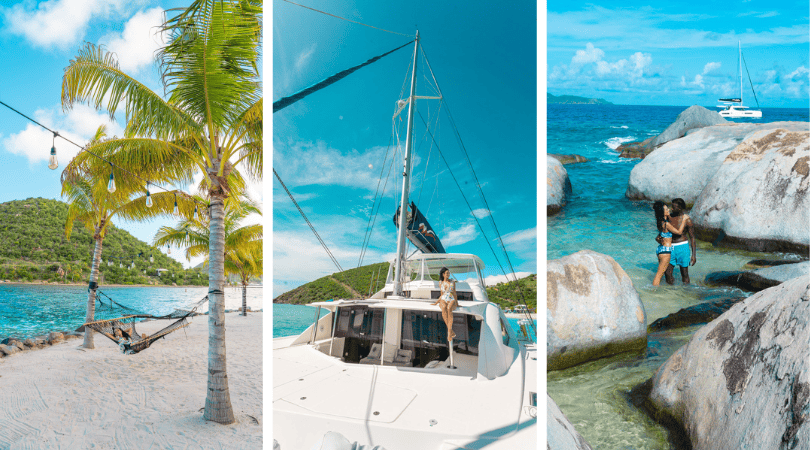 The British Virgin Islands (BVI) is an archipelago consisting of stunning islands that are a paradise for beach lovers and marine enthusiasts. Here is what you need to know before sailing the British Virgin Islands. Pack your bags now for a sunny retreat in the BVI.
We explored BVI with Moorings Yacht Charters and we highly recommend you do the same! Read more about our experience here! Use CODE: SUN for 10% off your own Moorings Yacht Charter or use our link.
Want to learn more about vacationing in the British Virgin Islands? Check out our blog posts below about our experience:
Get to Know the British Virgin Islands
The British Virgin Islands consist of four main islands and over fifty smaller ones.
The largest and most populated is Tortola, home to the capital city of Road Town. Tortola boasts beautiful beaches, historical sites, and a vibrant local culture. This is where most of the action is. If you needed a home base where most tours operate, this would be the one.
To the east of Tortola lies Virgin Gorda, renowned for its natural beauty, yacht clubs, and the famous Baths—probably the most popular spot to visit in the British Virgin Islands.
Jost Van Dyke, although smaller, is just as charming, with its laid-back atmosphere, sugar-white beaches, and famed beach bars. It's home to Soggy Dollar, what might be the most popular bar in the British Virgin Islands, known for creating the famous Painkiller.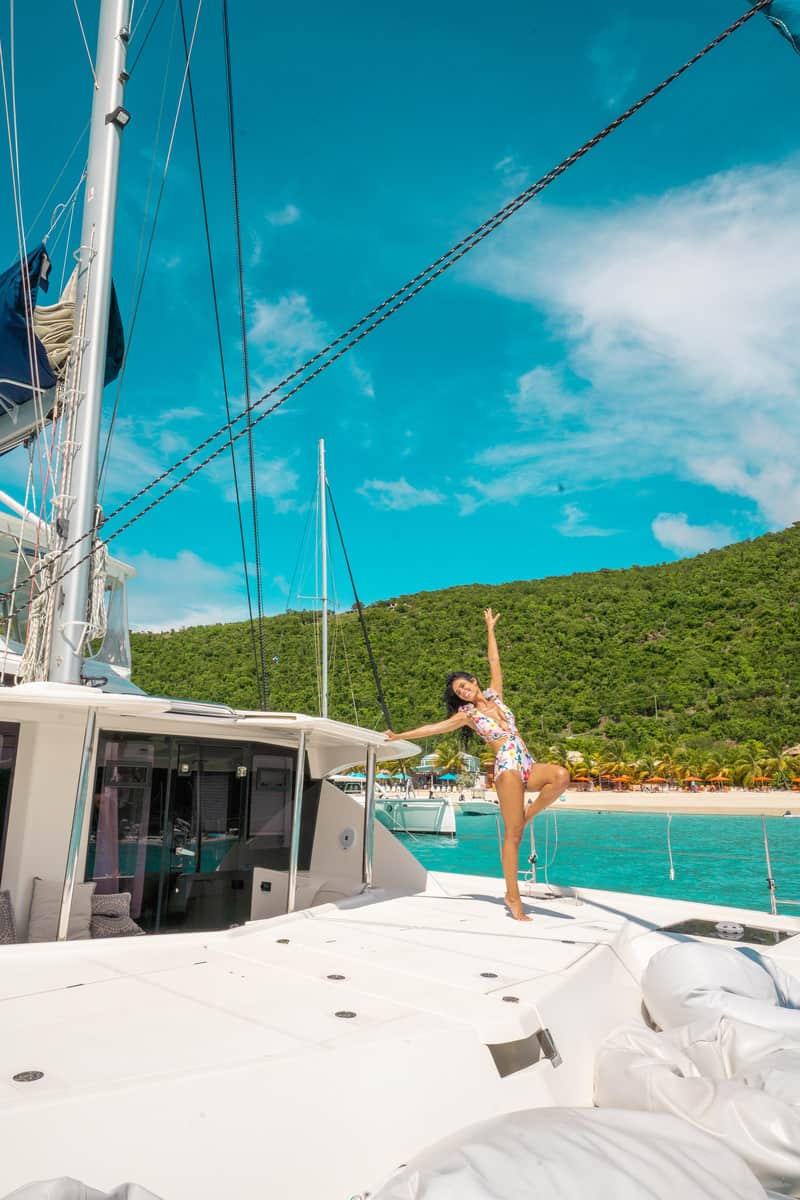 Next to Jost Van Dyke is also the Sandy Spit, a tiny island with about 3 trees on it that just feels like a sandy paradise.
Anegada, the only coral island in the group, stands out with its unique flat topography, flamingo-inhabited ponds, and miles of uncrowded beaches. It's also the furthest north of all the islands and the hardest to get to.
Here you'll get amazing tours to Conch Island, where you'll get to catch and eat conch. It is also well known for its incredible lobster. Be sure to check out Anegada Tours, linked here.
In addition to the four main islands, the British Virgin Islands also include numerous smaller islands that are worth visiting. Here are a few that stand out:
Cooper Island: Known for its eco-friendly resort and popular snorkeling spots.
Peter Island: Home to a luxury resort and beautiful, secluded beaches.
Norman Island: Allegedly the inspiration for Robert Louis Stevenson's "Treasure Island," it offers excellent diving locations and is home to the famous Willy T's post.
Ginger Island: Uninhabited and undeveloped, it's perfect for nature lovers and those seeking tranquility.
Salt Island: Famous for its salt ponds and the wreck of the RMS Rhone, a popular diving site.
Guana Island: A private island with seven beautiful beaches.
Necker Island: Owned by Richard Branson, it's used as a luxury retreat if you're able to spend a large sum of money.
Mosquito Island: Also owned by Richard Branson, it's the site of an eco-resort.
Great Camanoe Island: Primarily residential, it offers a peaceful getaway, but there aren't any public facilities.
Scrub Island: Home to a resort, marina, and spa. Here, if you choose to dock or stay the night, you can enjoy a beautiful multi-level pool overlooking some of the clearest waters.
When is the Best Time to Visit the British Virgin Islands?
The best time to visit the British Virgin Islands is between December and April, when the weather is at its sunniest and driest. This is the high season, when temperatures average in the mid 70s to low 80s (Fahrenheit), perfect for beach going and sailing.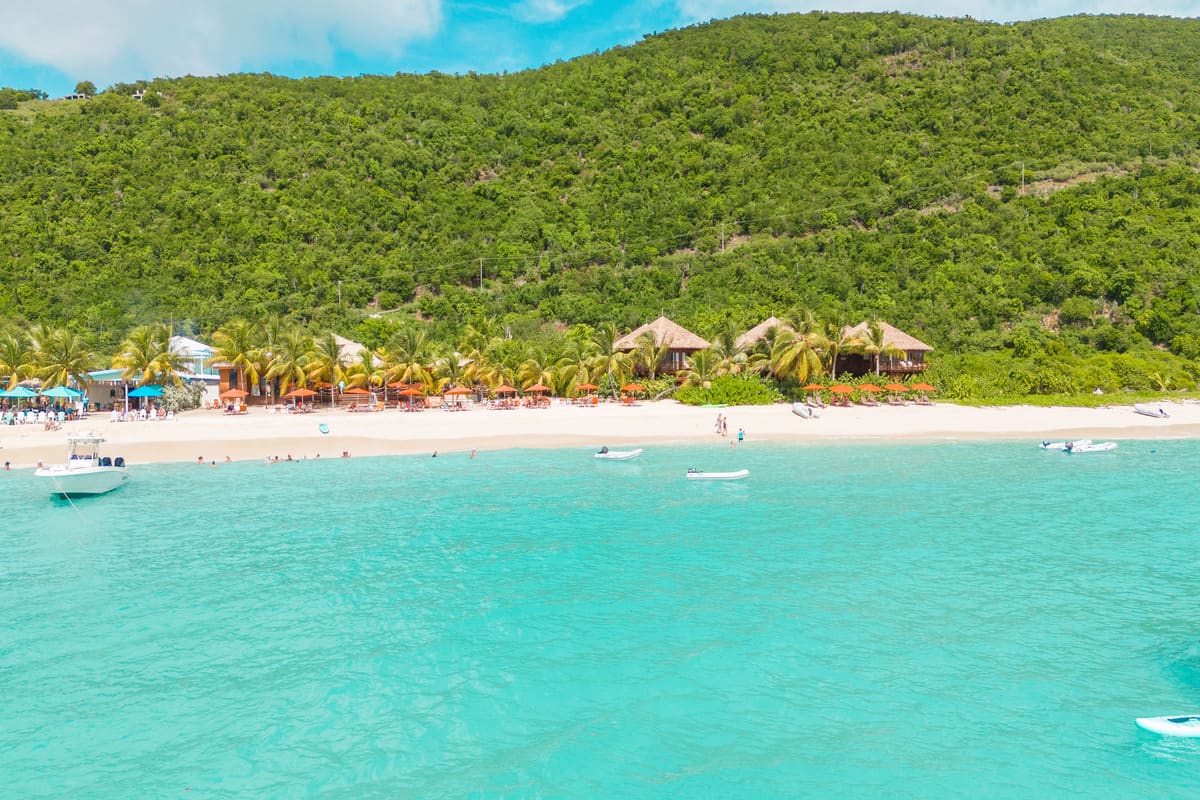 However, if you're looking for a quieter and budget-friendly time to visit, consider the off-peak season, which runs from May to November. This period coincides with the Atlantic hurricane season, so it's vital to keep an eye on weather forecasts. We went in November, which meant some rainy days, but it always cleared up.
How to Get to the British Virgin Islands
Traveling to the British Virgin Islands can be achieved through a few different routes.
Most commonly, visitors typically fly into Cyril E. King Airport in St. Thomas (STT), located in the U.S. Virgin Islands. From the U.S. mainland, there are numerous direct flights to St. Thomas from cities like Miami, New York, and Atlanta.
After landing, you can then take a water taxi or ferry across the stunning blue Caribbean waters to reach the British Virgin Islands. The boat ride usually takes just over an hour and offers breathtaking views of the archipelago, making the journey itself a memorable experience.
Alternatively, for those who prefer to fly directly into the British Virgin Islands (although, it's the less popular option), you can fly into Terrance B. Lettsome International Airport (EIS) on Beef Island, a small island connected by a bridge to Tortola. Direct flights are less frequent, and may require a stopover in Puerto Rico (SJU).
Safety in the British Virgin Islands
Sailing the British Virgin Islands are generally considered safe for tourists, with a relatively low crime rate compared to other Caribbean destinations. The local inhabitants are friendly and welcoming, often going out of their way to ensure visitors feel comfortable and safe.
However, as with any travel destination, it's important to always keep personal safety in mind. Petty crimes such as pickpocketing or bag-snatching can occur, especially in crowded tourist areas, so it's advisable to keep your belongings secure. Of course, remain aware of your surroundings as well.
What Language is Spoken in the British Virgin Islands?
The primary language spoken in the British Virgin Islands is English. This makes communication easy for tourists from English-speaking countries. The local dialect may incorporate some Caribbean slang or Creole influences, but these variances are typically easy to understand.
Many locals also speak Spanish due to the proximity of Latin American countries and the islands' diverse population.
What You Need to Bring to the British Virgin Islands
For most tourists, a valid passport with at least six months' validity remaining is required to enter the BVI. Please consult with your local embassy or consulate for Visa requirements based on your nationality.
Despite being the British Virgin Islands, BVI uses the US dollar as its official currency, making it easy for American tourists. However, non-US visitors should be aware of their bank's foreign transaction fees.
Many bigger places like Soggy Dollar & Foxys take debit and credit cards no problem. However, we never really saw an ATM (although we weren't actively looking for one) so make sure to bring cash for safety.
When packing for your sunny retreat to the British Virgin Islands, remember to bring reef-friendly sunscreen. Coral reefs, vital to marine biodiversity, are threatened worldwide by chemicals in sunscreens washed off into the ocean. These sunscreens contain oxybenzone and octinoxate, which contribute to coral bleaching. Coral bleaching can lead to loss of reefs and the diverse marine life they support.
Reef-friendly sunscreens are mineral-based and biodegradable, offering effective sun protection without harming marine ecosystems. Choose reef-friendly sunscreen to protect the stunning marine life of the British Virgin Islands.
Also, it is worth noting that the British Virgin Islands has a laid-back, casual vibe. There's no need to pack your high heels or fancy dresses — comfortable, light, and breathable clothing is the way to go.
The emphasis is on relaxation and outdoor enjoyment, so your wardrobe should reflect that. Beachwear, flip flops, shorts, and t-shirts are more the norm. So leave your formal attire at home, and enjoy the easy-going, island lifestyle.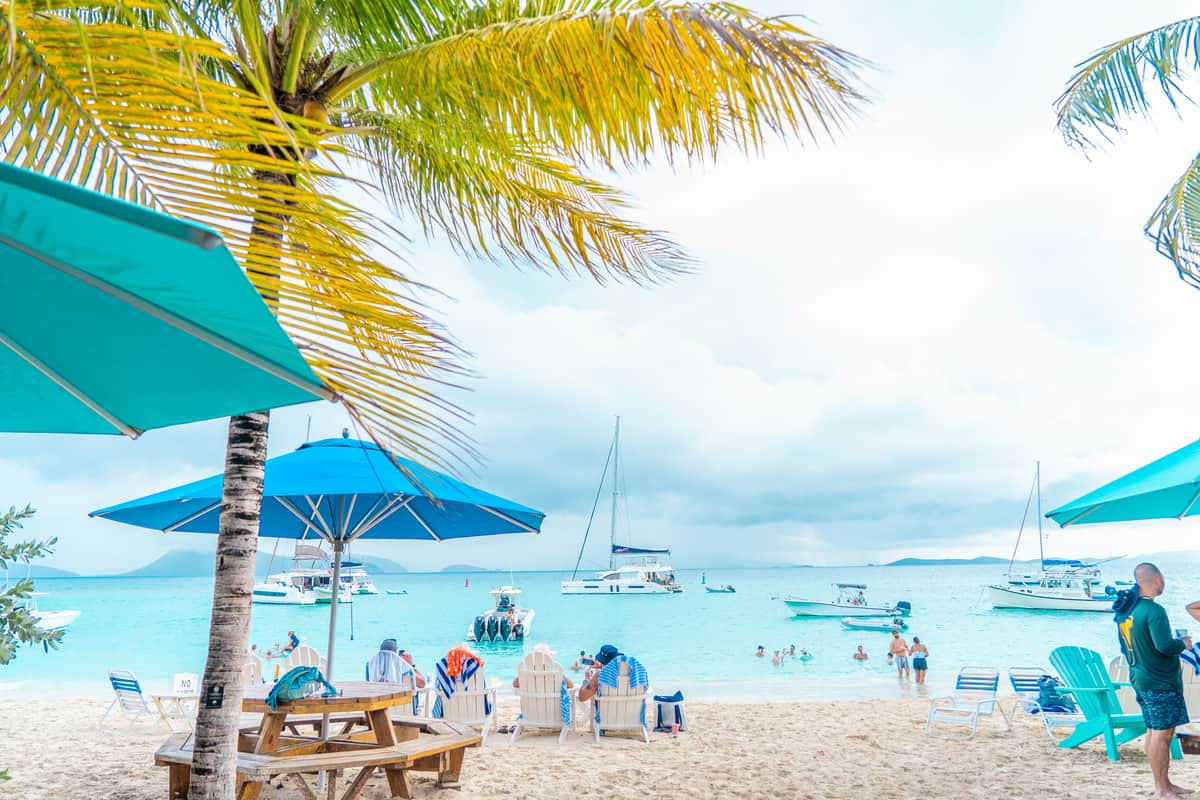 British Virgin Islands Packing List
Honestly, if we're talking about what to pack on your trip to the British Virgin Islands, there's not much to worry about! It's one of the lightest trips we've ever packed for, consisting mostly of swimsuits and cover-ups, along with:
Snorkel gear to save money on renting some out everyday if your resort doesn't include them
The Difference Between the US Virgin Islands & British Virgin Islands
The U.S. Virgin Islands and the British Virgin Islands, situated in the same Caribbean archipelago, offer distinct experiences. The U.S. Virgin Islands, encompassing St. Thomas, St. John, and St. Croix, exude a vibrant atmosphere with abundant shopping complexes, golf courses, and larger resorts. They flawlessly blend Caribbean flavor with American convenience.
In contrast, the British Virgin Islands, including Tortola, Virgin Gorda, Anegada, and Jost Van Dyke, are a preferred choice for those seeking a more relaxed and uncommercialized getaway. These islands are renowned for their serene beaches, exceptional sailing opportunities, and charming local culture.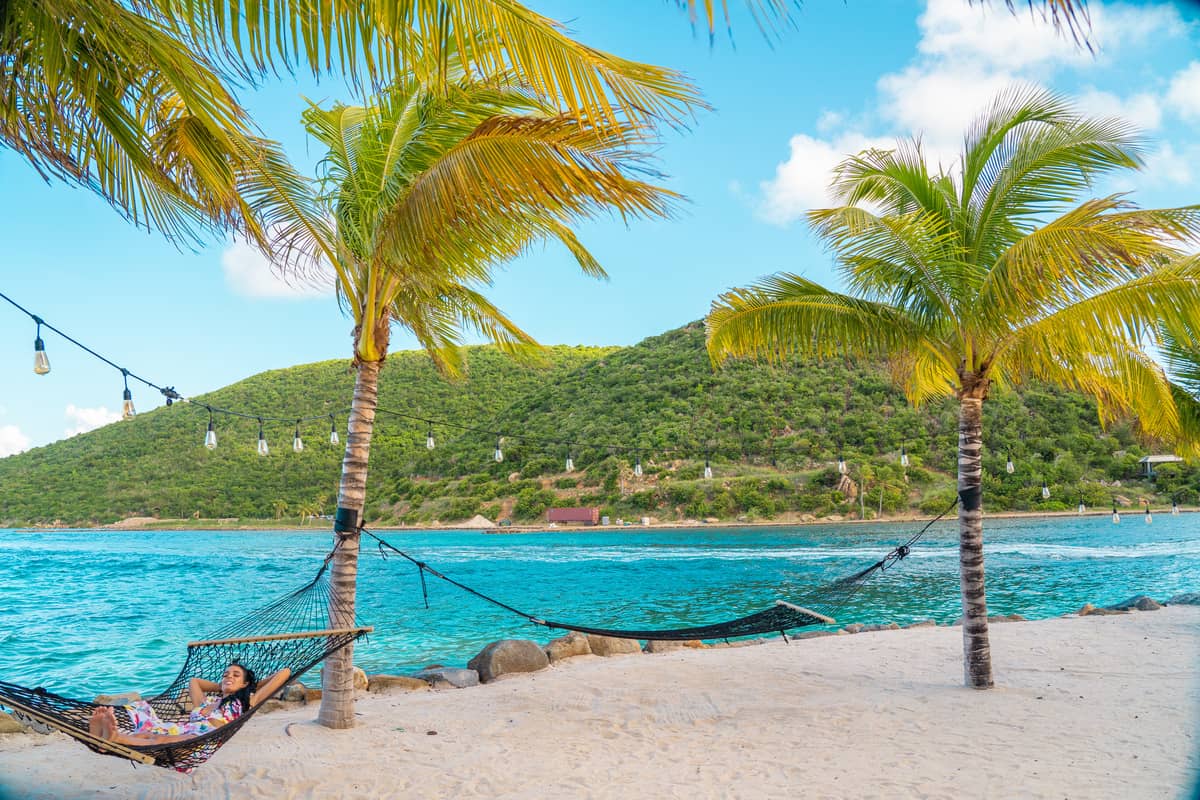 Sailing the British Virgin Islands' undeveloped and tranquil environment is a strong draw for those in search of respite from the fast-paced life of larger cities. Interestingly, although they use dollars instead of pounds, exchanging cash is not a concern.
Due to their proximity and absence of additional travel requirements, the U.S. Virgin Islands attract a larger number of visitors, resulting in a more commercial appeal. On the other hand, the British Virgin Islands offer a quieter experience with fewer crowds. It's the perfect destination for yacht charters so you can explore the islands at your leisure.
Transportation on the British Virgin Islands
Sailing the British Virgin Islands is an adventure in itself, showcasing the region's vibrant maritime culture.
For daily commutes or island-hopping, ferries provide a convenient and reliable means of transportation. Major islands like Tortola, Virgin Gorda, Anegada, and Jost Van Dyke are well-connected by frequent ferry services, making it easy for visitors to establish a base on one island and embark on exciting day trips to explore the others.
If you prefer to stay overnight at different places, day ferries offer flexible schedules, allowing you to experience the unique charm of each island at your leisure.
For example, you can spend the morning snorkeling in the crystal-clear waters of Virgin Gorda and spend the night at Rosewood Little Dix Bay; go foil surfing and sleep at Saba Rock; ferry to Jost Van Dyke and spend a night at the Hideout White Bay Resort. Essentially, you can build an entire, personalized itinerary!
However, the most popular and perhaps the most exhilarating way to traverse the archipelago is by hiring a yacht charter. Sailing across the turquoise Caribbean Sea, you can discover hidden coves, secluded beaches, and off-the-beaten-path islands at your own pace.
A yacht charter provides a luxurious, personalized travel experience, and is undoubtedly the best way to immerse yourself in the breathtaking natural beauty of the British Virgin Islands.
We sailed through the British Virgin Islands through Moorings and we found it to be the best and most relaxing way to see as much as possible. We even found it to be comparable in price to the other options!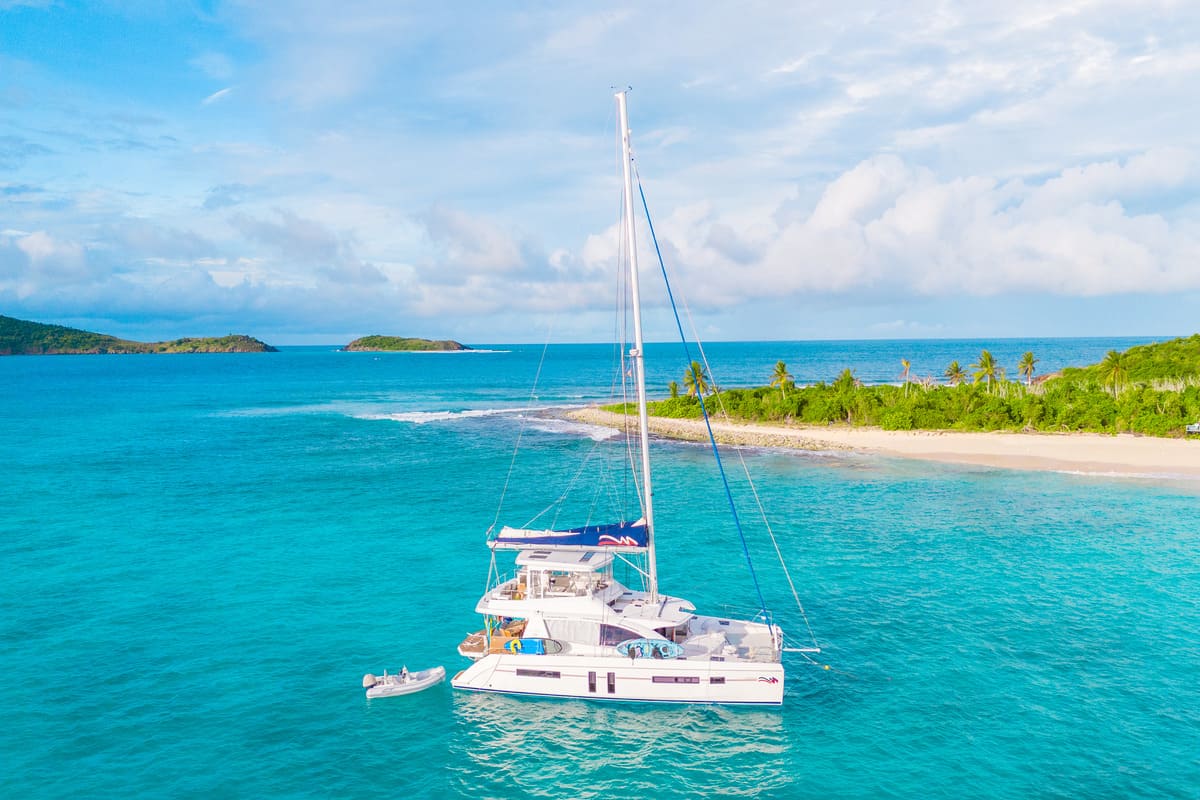 Note that Uber and Lyft do not operate here. There are taxis that have posted rates so you know you're getting charged a fair fee. They also charge a bag fee so make sure to be aware of this.
There are several popular ferry companies operating in the British Virgin Islands, ensuring seamless and regular connections between the islands. Some of the key players in the region include the Road Town Fast Ferry, known for its swift and efficient services between Tortola and St. Thomas.
Speedy's Ferry Services is another major operator, offering regular trips between Virgin Gorda and Tortola. Native Son Inc. is highly respected for their dependable services across a variety of routes, including connections to St. John and St. Thomas.
Lastly, Smith's Ferry Services also provides reliable and convenient inter-island transportation options. These companies are committed to making island-hopping in the British Virgin Islands a smooth and enjoyable experience for visitors.
Is the Water Safe to Drink?
While the British Virgin Islands do have a water treatment system in place, it's generally recommended for visitors to drink bottled water. Tap water is typically safe for activities like showering or brushing teeth, but for drinking and cooking, bottled water is the safer choice.
This is due to variations in water treatment processes across the islands, which may not conform to what visitors are accustomed to in their home countries. Always remember, it is better to err on the side of caution to ensure a healthy and enjoyable vacation.
Power Adapters
The islands, being a British Overseas Territory, predominantly use UK-style, Type G power outlets with a standard voltage of 110V and a frequency of 60Hz. However, Type A and B outlets, common in the United States, can also be found in some areas.
It's always prudent to carry a universal power adaptor during your travels to accommodate different types of outlets. In case of purchasing electronics on the island, remember to check the voltage compatibility with your home country to avoid damage to your devices.
Cuisine in the British Virgin Islands
The cuisine of the British Virgin Islands is a flavorful fusion of Caribbean, African, and British influences. A staple meal often consists of fish or other seafood, served with rice and peas, fried plantains, or Johnny Cakes — delectable fried bread.
One of the islands' signature dishes is the Anegada Lobster, typically grilled and seasoned with local spices. Another beloved dish is the Roti, a hearty wrap filled with curried meat, potatoes, and vegetables.
For something sweet, the local Tamarind Stew, a sweet and tangy dessert, and Guavaberry liqueur, a festive, sweet, and slightly tart drink, are must-tries!
Planning the Perfect Itinerary in the British Virgin Islands
Planning your trip to the British Virgin Islands requires consideration of several key factors to ensure an unforgettable experience. Most of all, be ready to be flexible with alternatives in mind as weather can impact what you are able to do. Read our 5-day British Virgin Islands Itinerary here for our recommendations!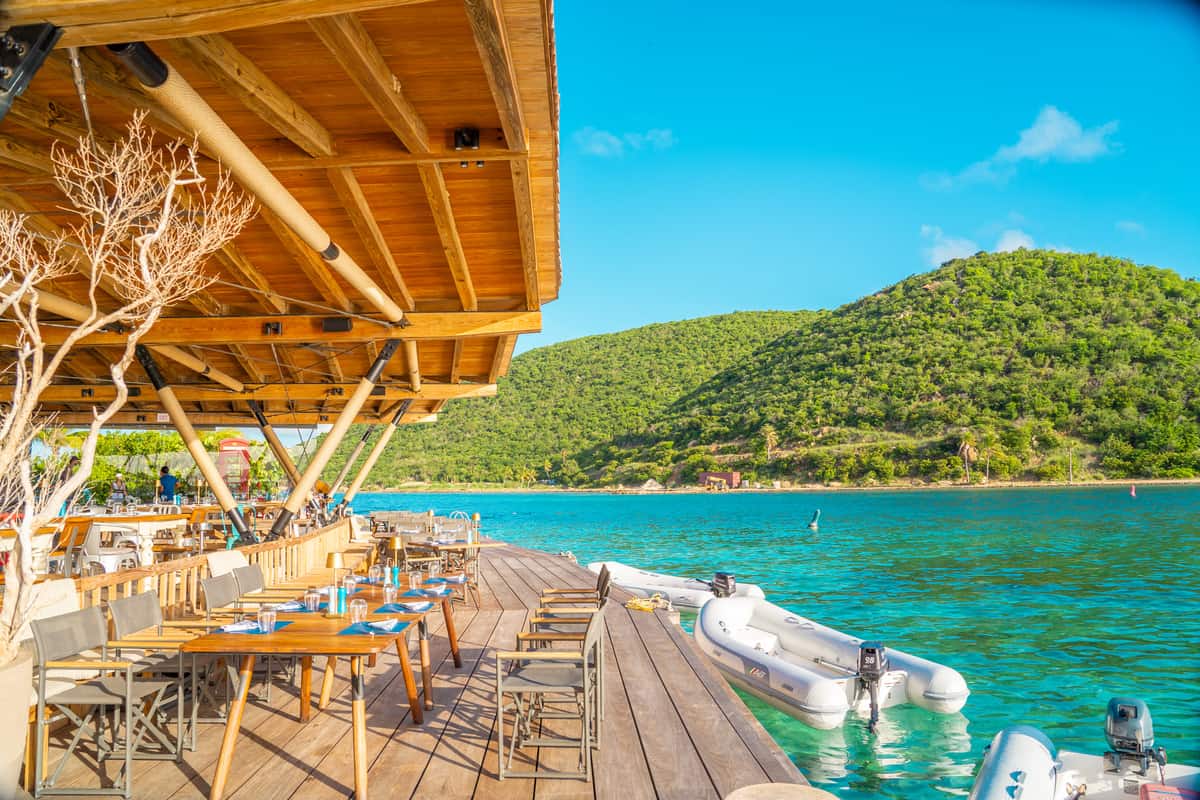 Other Things to Know Before Visiting the Islands
Make your mooring ball reservations early, as they can get all booked up and it may require you to change your plans.
While not proven, our crew mentioned that jellyfish stings seem to happen when people peed in the water, so be careful.
If you want a more relaxed experience, consider visiting during the off-season, as it is less crowded and rates may be lower.
Pack lightly, as most islands have laundry facilities available for you to use.
Cash is preferred on the smaller islands and in remote areas.
What You Need to Know Before Sailing the British Virgin Islands: Final Thoughts
The British Virgin Islands, with their captivating blend of natural beauty, vibrant culture, and culinary delights, offer an unparalleled Caribbean getaway. Whether you're seeking an adventurous journey brimming with water sports and hiking or a serene retreat with stunning beaches and exquisite dining, the islands cater to every desire.
Don't forget to plan ahead, respect the local customs, and most importantly, surrender yourself to the enchanting rhythms of island life. No matter what you choose to do, we are sure your trip to the British Virgin Islands will be etched in your memory as a truly extraordinary experience.