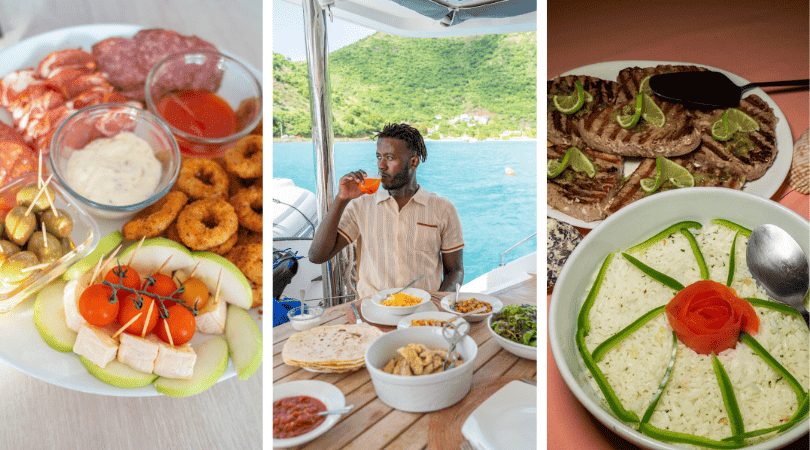 Use CODE: SUN for 10% off your own Moorings Yacht Charter or use our link.
Is this the most important question? I feel like it is! I was browsing the internet everywhere, trying to imagine what we could possibly have. Would it be PB&J sandwiches or lobster and caviar? In the end, it's really up to you, although I think there might be an upcharge for lobster and caviar (haha). If you choose to stay at Moorings Yacht Charter, you have a lot of flexibility when it comes to food options.
Want to learn more about vacationing in the British Virgin Islands? Check out our blog posts below about our experience:
Everyday included a full breakfast, lunch, a midday snack, and dinner with dessert. This was in addition to the large array of snacks and fresh fruit they had available at any time.
Before you get on board, you can send them a list of your favorite chips, cookies, crackers, popcorn, candies, etc. They buy everything the day before or the day after. It's so comforting to have your favorite snacks available whenever you want. Not to mention all of the fresh fruit.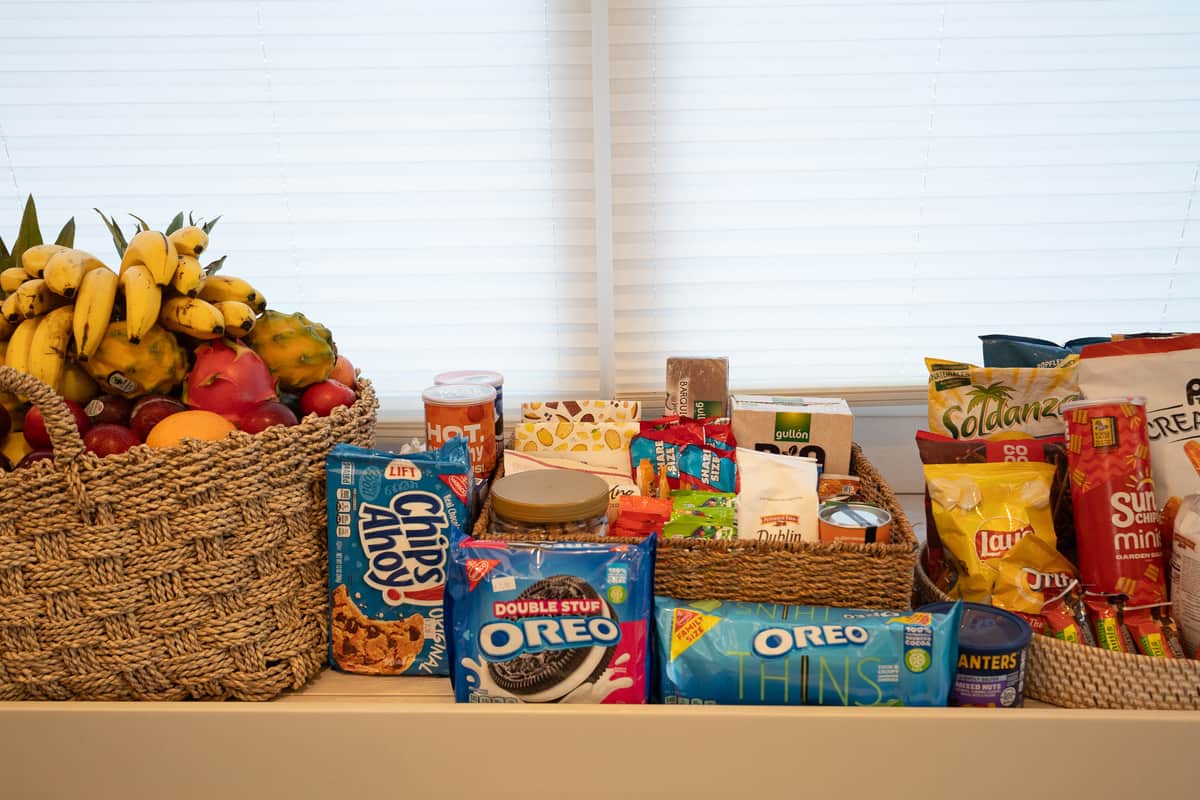 When it comes to drinks, the staff are well stocked. Beforehand, you can tell them what you want or hope for.
We had multiple selections of red wine, white wine, rose, sparkling wine, beer, seltzers, tequila, rum, whiskey, scotch, vodka, Aperol, etc.
They also had bitters, syrups, Baileys, and mix-ins. However, if you really want an Old-Fashioned or a specific cocktail, beer, wine, seltzer, or liquor, let them know beforehand, and they will stock it (premium high-end alcohol is extra). Some people do opt to bring a particular alcohol on board, but we didn't feel the need.
I spent most of my time enjoying an Aperol spritz and a Mudslide, as well as plenty of mimosas in the morning. We learned that our group was made up of very light drinkers compared to the average charter. So if you plan on partying, don't worry; the drinks are abundantly flowing.
Side note: We went to Soggy Dollar, a popular spot for their Painkillers, but because it's so popular, the drinks are mostly pre-made. Captain Seymour had a recipe for Painkillers that we all agreed tasted more fresh!
There is a coffee pot on board with multiple creamers, milk alternatives, half-and-half, and other milk options, which was great! Again, if you prefer a certain milk or creamer, be sure to let them know!
They also told us some people opt to bring their own espresso machine since their coffee maker only makes coffee. I will say, every day I enjoyed Ms. Vicky's Caribbean coffee with condensed milk and cinnamon.
There were also juices, plenty of water, and sparkling water. I'll stop adding this because I think you get the point, but if there's something you want, just request it!
Our Meals on the Moorings Yacht Charter
Every meal on our Moorings Cruise was nothing short of amazing! It was so nice to wake up and have breakfast ready or to get done with a morning of snorkeling and know there was an abundant breakfast waiting for us.
The crew tries to get a good sense of your schedule, but they're also extremely flexible. One day, we changed our plans at the last minute so we could eat fast and get out on the water.
Another day, we thought we would eat dinner on the boat and then decided at the last minute to eat at Foxy's. Ms. Vicky is resourceful in how she prepares the food, so things don't go to waste, but you also don't have to worry about changing your plans.
Although everything is planned out, you can always ask for changes. One day, one person was just craving a PB&J over our prepared meal, and they whipped one up just like that!
You can also opt for plated meals or buffet style. We opted for the family style since all of our appetizers differed.
The biggest thing I couldn't get over was how much they did for us, so we never had to lift a finger. It was hard to want to help clean up, grab my own drinks, etc. The crew were the kindest people, and we all fell in love with them. There was nothing to stress out about on this trip, which I think is why we felt so comfortable and relaxed by the end.
The chef does generally have a menu planned out, but you can always request items beforehand or on ship if you want them (and if they have them).
Breakfast
Breakfast always included a huge spread of some sort of egg dish (sometimes scrambled, sometimes with veggies in muffin form, etc), bacon/ham/sausage, and toast/bagels/pancakes.
This was also accompanied by an assortment of fresh fruit, cereal, and yogurt. There were plenty of toppings like peanut butter, butter, cream cheese, jam, and Nutella.
Of course, coffee, juice, and mimosas are always available!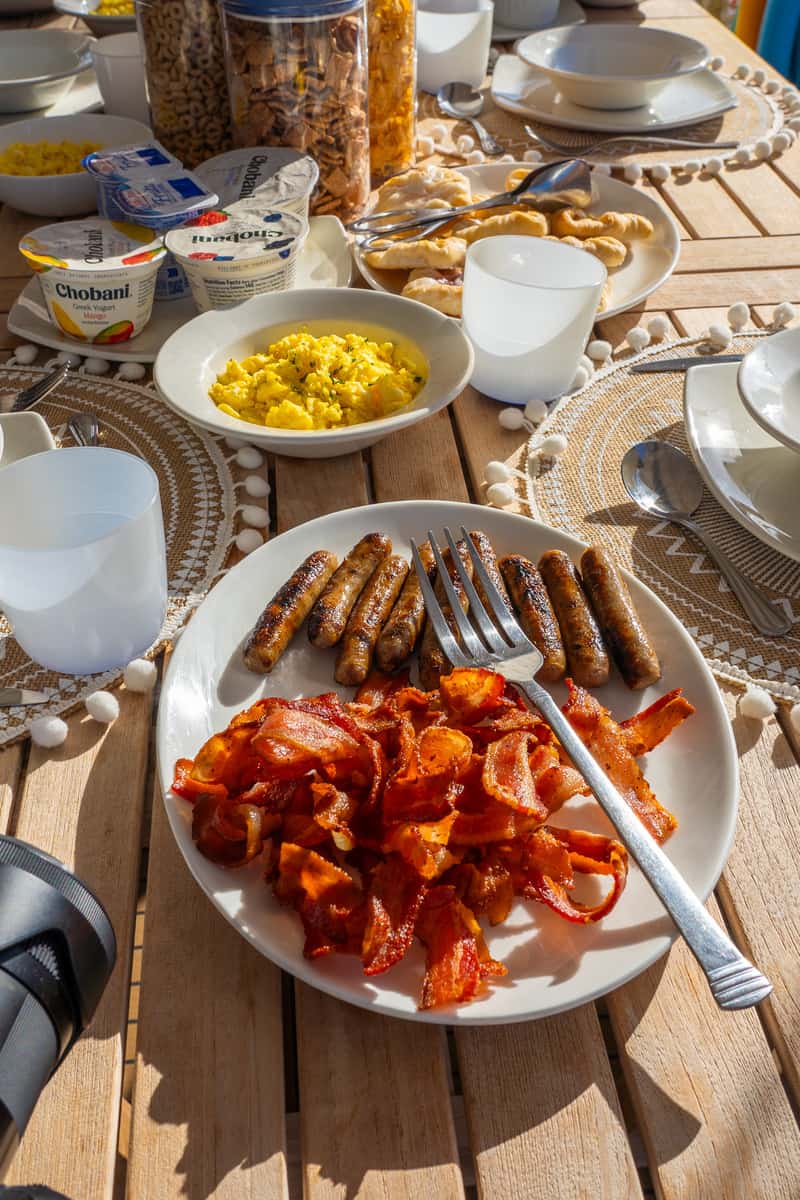 Lunch & Dinner
About halfway through the trip, we learned more about the Caribbean food Ms. Vicky makes with curries, and she incorporated those into our meals thereafter. Those were always my favorites!
While the menu changes regularly, here is what we had:
Steak and Potatoes
Chicken Curry with Rice
Tuna with rice & Caribbean tomato salsa
Tacos with chicken and Caribbean curried chickpeas
Spicy shrimp pasta (if you don't like spicy, don't worry; you can request non-spicy foods)
In addition to that, we always had midday snacks, including:
Calamari
Hummus & pita
Bean taquitos
Breaded shrimp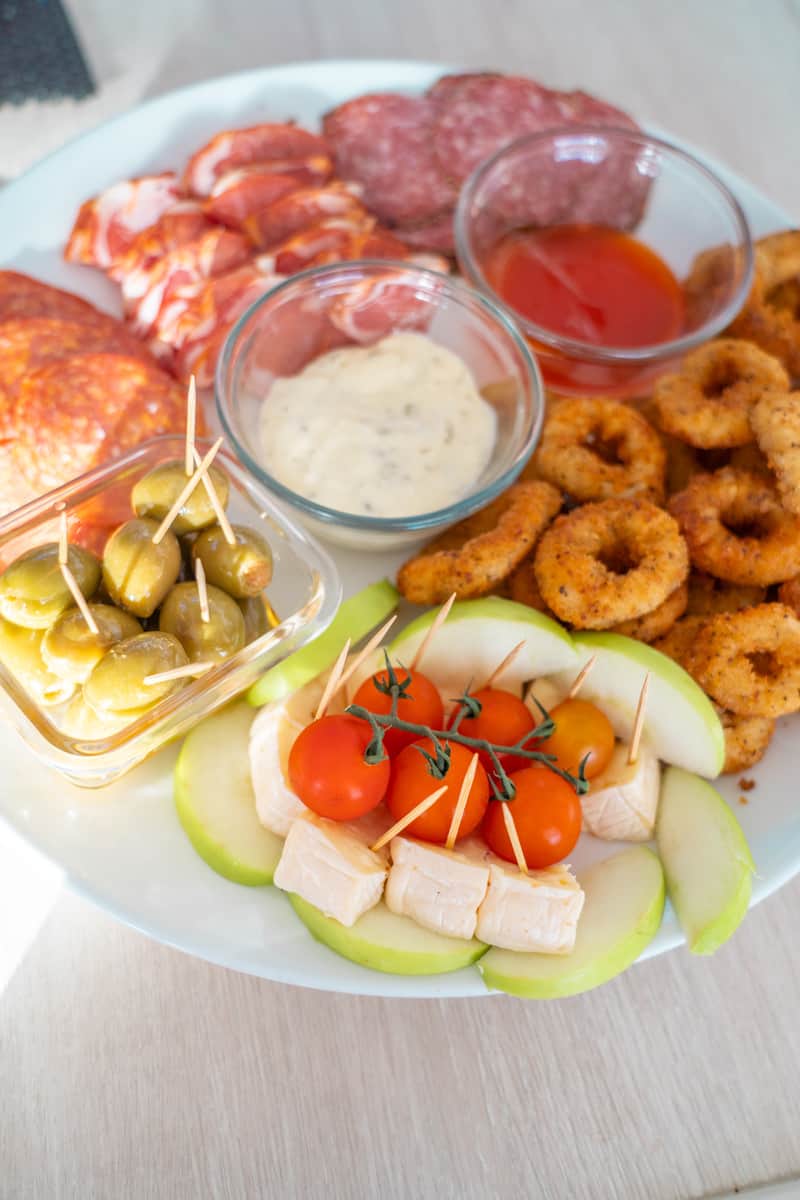 Dessert
I have such a sweet tooth and was so shocked/happy at a dessert after every dinner. We also had a birthday onboard, and one day we enjoyed a nice cake to celebrate.
One of my favorite desserts we had was a Banana Flambe with Caribbean rum! Not only did it taste amazing, but it was also quite the show with all the fire!
Some other desserts we enjoyed included:
Creme Brulee Mousse
Pecan Pie
Banana Cupcake with Ice Cream
Food & Drink on the Moorings Yacht Charter: Final Thoughts
Overall, having someone to cook on the Moorings yacht charter was one of the things that made this trip so incredible! To have delicious, well-balanced meals that catered to our tastes meant that we could focus just on vacationing.
My husband and I are huge foodies, and so we wanted to enjoy good food while also dedicating as much of our time as possible to all the activities. Most restaurants run on island time in the British Virgin Islands, so I liked that our meals were as quick or as long as we wanted.
Not to mention the convenience of having something freshly made whenever we wanted it. I definitely took advantage of mid-day Caribbean coffee and the multiple specialty cocktails.