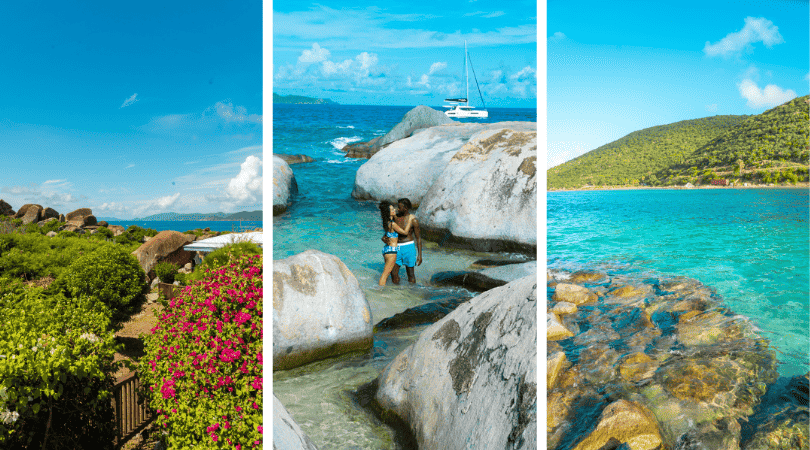 Whether you're an adrenaline junkie seeking thrill-packed adventures, a foodie on a quest for flavorful, gastronomic experiences, or a culture enthusiast yearning to delve into the rich history and heritage of the land, the British Virgin Islands (BVI) offers an enticing array of activities that cater to every traveler's preferences.
From exploring the pristine beaches and clear turquoise waters to diving into the vibrant local markets and savoring exotic Caribbean cuisine, there's something for everyone in the BVI.
Here's a list of things you simply cannot miss when you visit this tropical paradise. Prepare to be swept off your feet by the irresistible charm and varied offerings of the BVI.
We explored BVI with Moorings Yacht Charters and we highly recommend you do the same! Read more about our experience here! Use CODE: SUN for 10% off your own Moorings Yacht Charter or use our link.
Want to learn more about vacationing in the British Virgin Islands? Check out our blog posts below about our experience:
Cooper Island & Willy T's
One of the most well known activities is jumping off Willy T's boat. It used to be that girls would jump off in exchange for free drinks or a shirt. Now it's just a tradition to do it for fun, shirt or no shirt, while grabbing drinks on the water. It's one of the best spots for a party, day or night.
Norman Island Caves
Norman Island is known for some great snorkeling with tons of colorful fish. The caves are so much fun to explore, with crystal clear water in the little pools. I would get here early since it's a smaller area and would be a tight squeeze if you had to share it with other people. Do be careful, as we saw a few jellyfish while we were here.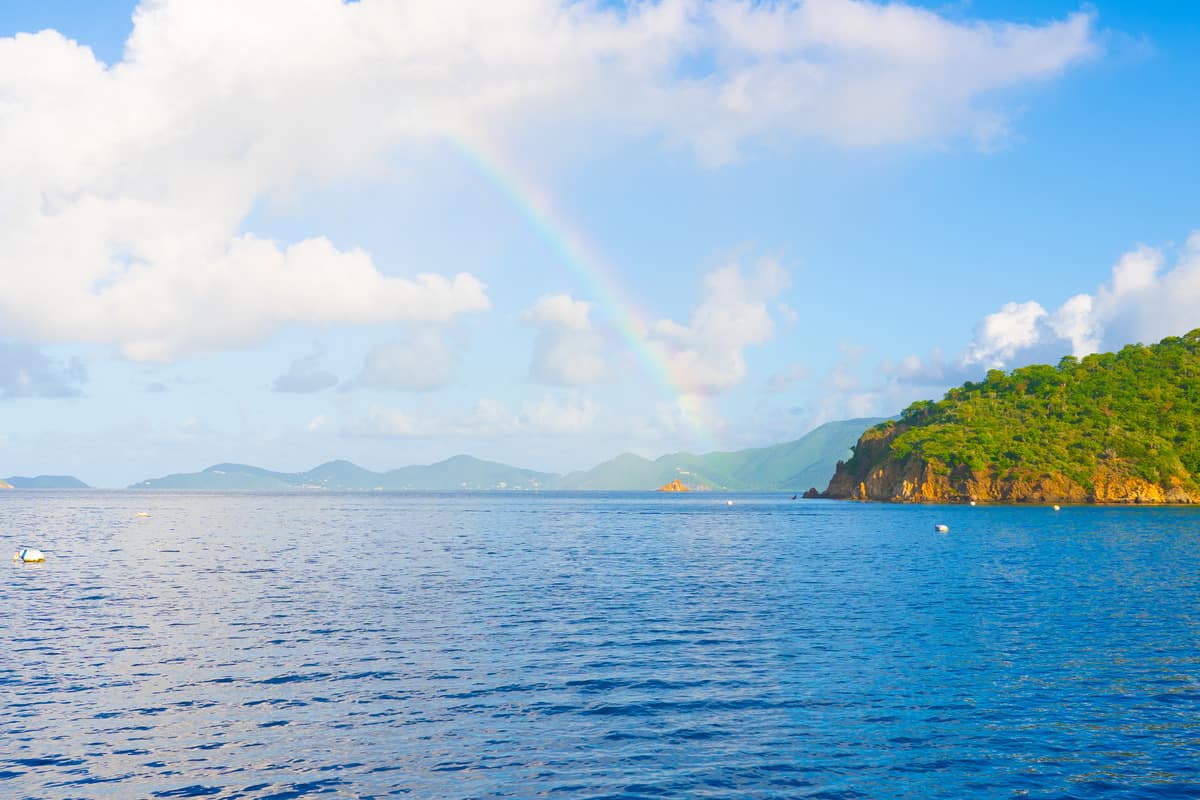 The Virgin Gorda Baths
No trip is complete to the British Virgin Islands without the famous baths of Virgin Gorda. If you speak to anyone about BVI, this is certainly the most talked about part, along with the beautiful pools amongst the rocks, crystal clear waters, and of course, the caves.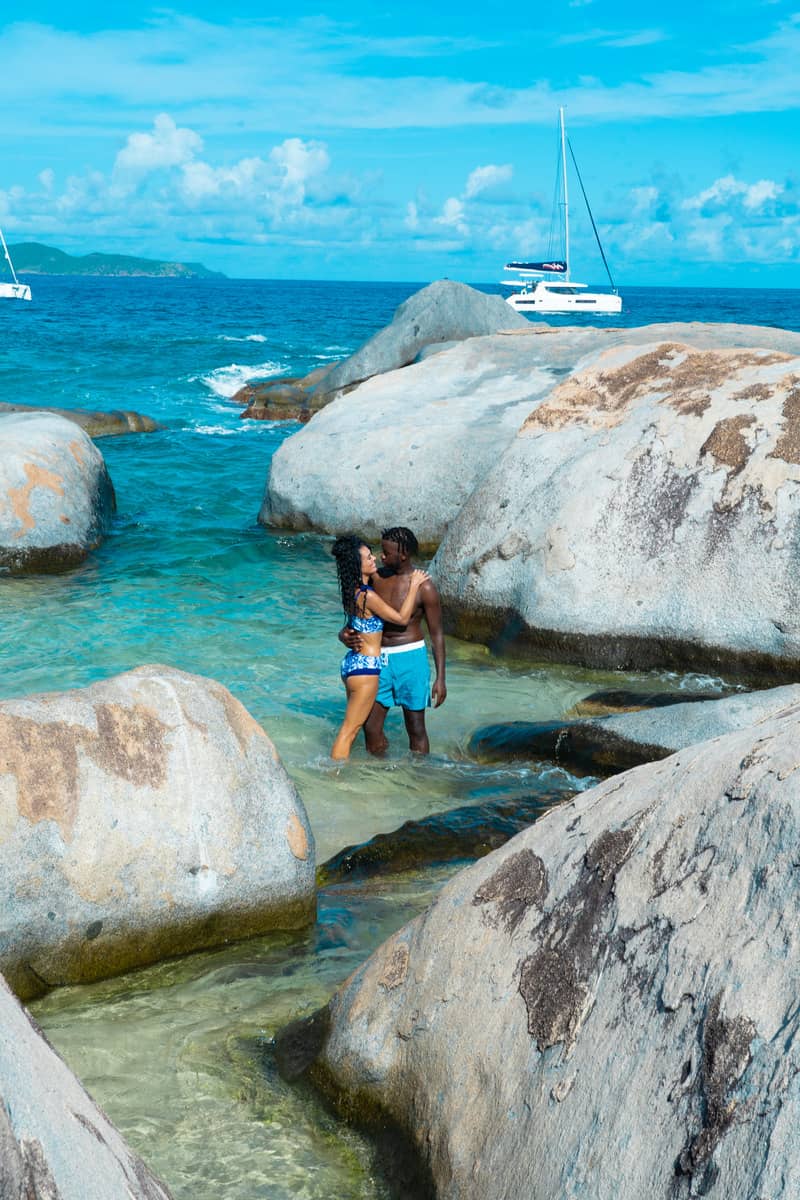 Depending on if you enter from Devils Bay or the Baths, the hike to the caves changes a bit. It's a medium difficulty hike from Devils Bay. You have to climb up and down some ladders, as well as duck under some rocks.
However, If you come from the Baths, it's an easier hike. When we were there, we did the full loop and there are several different trails in the Devil Bay's National park as well.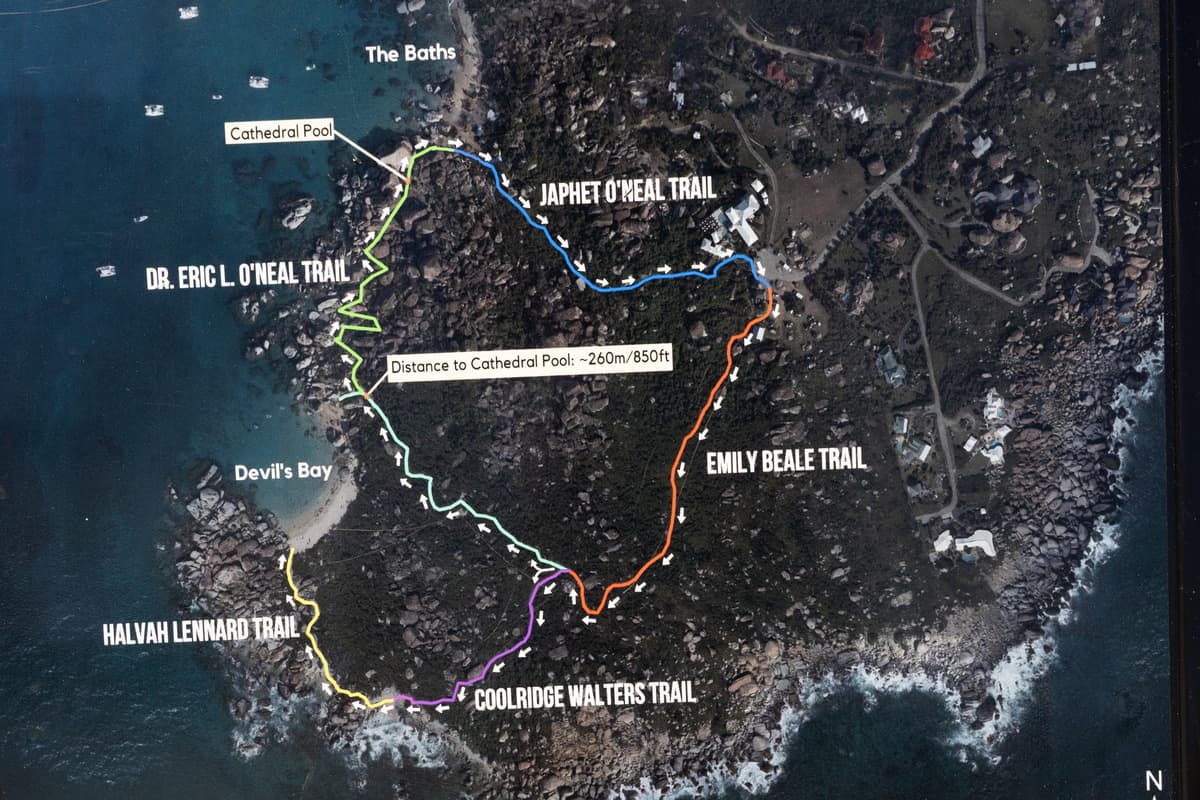 In order to get to the Baths, you either have to take a dinghy and swim part of the way, or go to the top of the park and hike down.
Due to strong swells on our trip, our only option was to hike down, but it was a beautiful hike with lots of lush flowers, scenic overlooks, colorful lizards, and a few chickens! There's even a little restaurant up top if you want to enjoy a meal with a pool overlooking the water.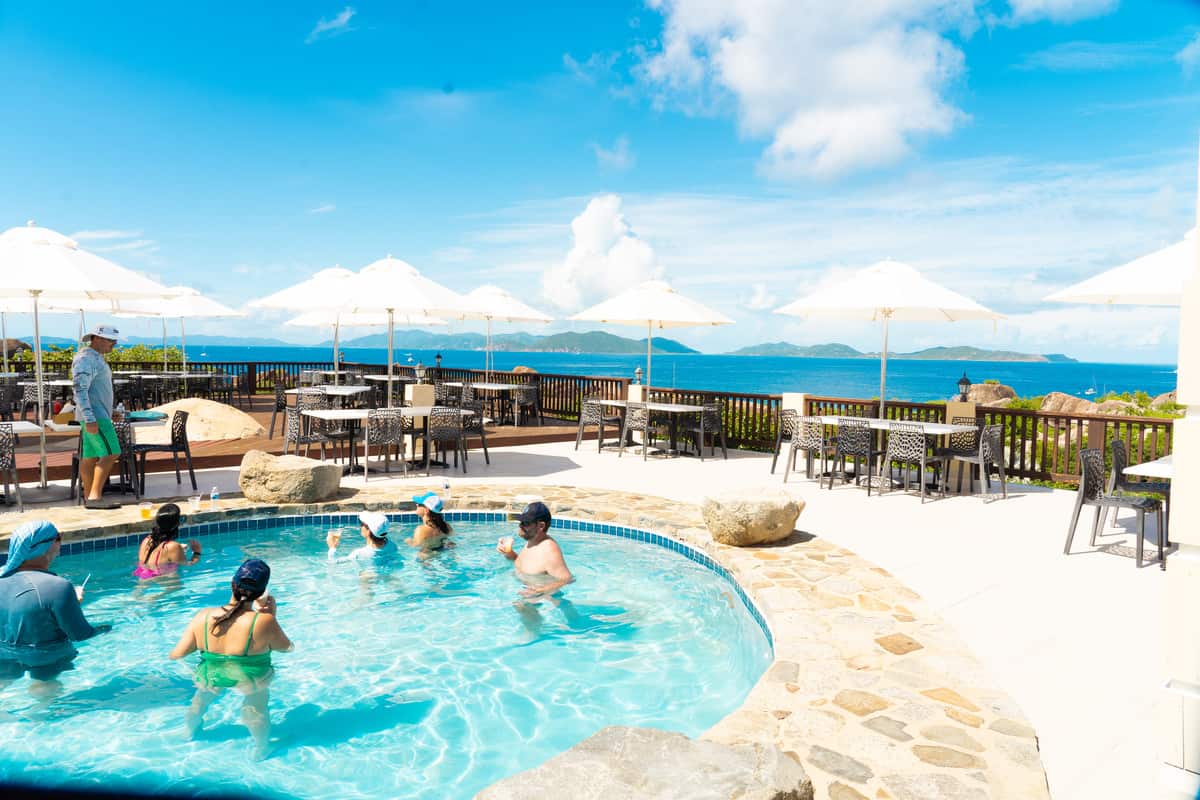 Anegada
Anegada is in one of the most Northern parts of the BVIs and therefore, the longest trek, but one of the most rewarding! Here, you can stay at beautiful villas at Anegada Beach Club just steps away from the calm ocean.
You can take a tour with Kelly's Land and Sea Tours for a full day of snorkeling with plenty of chances to see stingrays and turtles, as well as diving for conch and lobster on the famous Conch Island! They'll even make you a fresh conch ceviche with your catch!
Anegada is known for their lobster, so a trip for a lobster lunch is included while you relax at the beach bars. It's one of the most unique things we found in the British Virgin Islands!
Saba Rock & Bitter End Yacht Club
Saba Rock is a resort that makes up a tiny island all of its own. It makes its own unique shape and is a popular spot for boats to stop overnight, but you have access to the island just by stopping in.
There's a spa, restaurant, bar, and gift shop. While it's mostly resort property that goes straight to water, there is a small beach and plenty of places along the pier to jump in. Plus, the water is really calm due to its location, so it stays clear.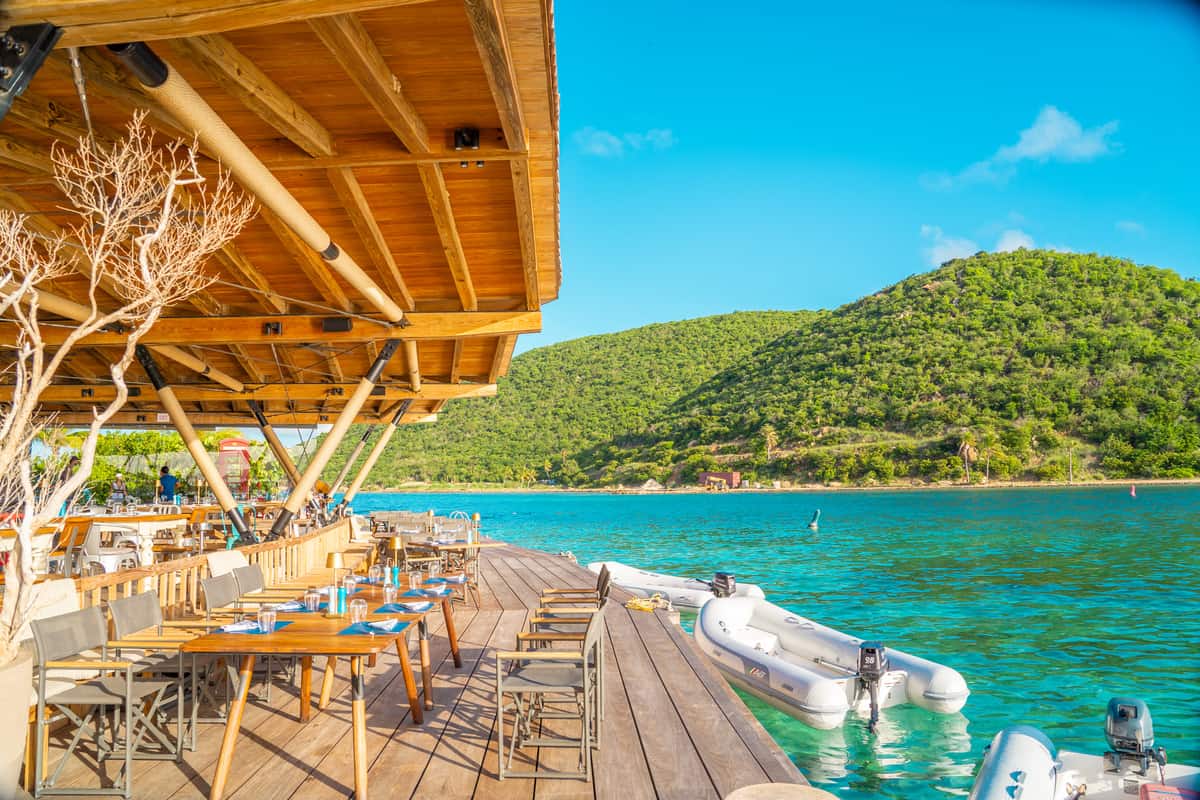 What we found most exciting here is that they offer eFoiling, windsurfing options, and even classes for some extra adventure. They also go out daily to feed the Tarpon that hangs out there.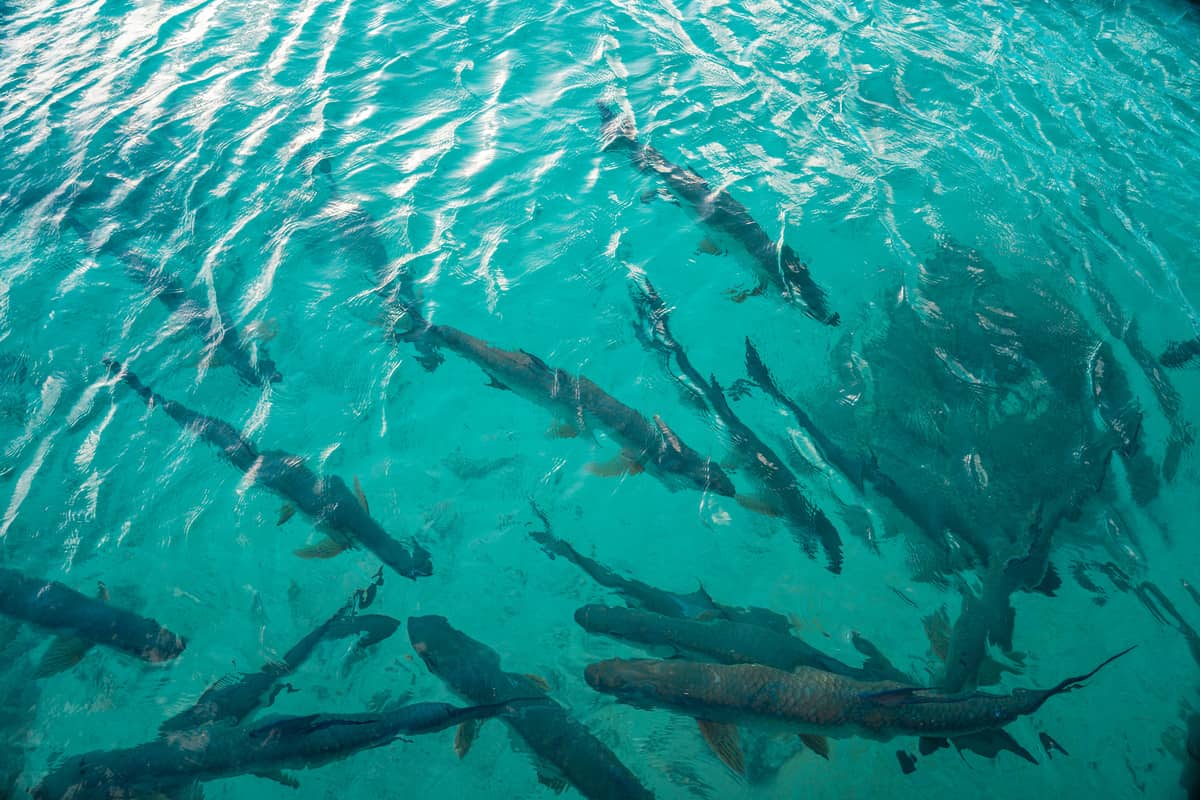 One quirky thing we enjoyed were the two red phone booths on either side of the resort that I'm pretty sure allow you to talk to each other.
Saba Rock and Bitter End Yacht Club are extremely close to each other. You can either dinghy to each one or there are boats that will take you between the two.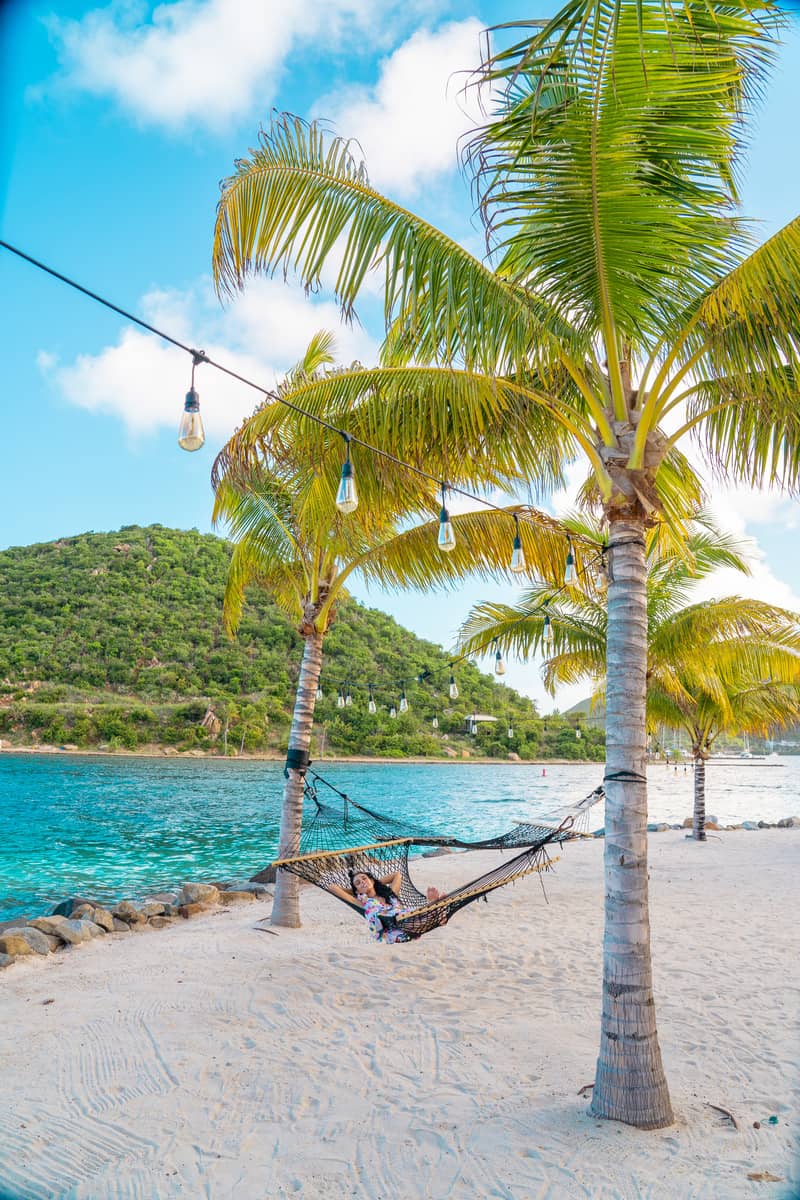 At the Bitter End Yacht Club, you can enjoy their boat-shaped bar, food, a small beach, and a few different water activities. They teach sailing and windsurfing, as well as provide access to stand-up paddleboarding and kayaking.
When in season, they also have lofts available for booking.
Scrub Island
At first, I was very confused about how all of these resort islands worked. Eventually, I came to understand that, since so many people dock their boats there and pay the mooring fee, they get access to the on-island/resort amenities. Scrub Island also offers accommodations for those not chartering a yacht.
Pictures of Scrub Island never really do it justice. They have a small beach with some of the clearest water we saw on our entire trip. We had so much fun jumping on their trampoline, as well as having access to the stand-up paddle boards and kayaks.
Up top was a multi-level pool overlooking the beach with a hot tub and two swim-up bars. This was definitely the happening spot where you could sunbathe or enjoy the view from high above the water.
There are also other amenities on Scrub Island, like a complimentary boat to the other side with a beach, gym, restaurant, and coffee shop.
The Soggy Dollar
If there are two places I heard most about while traveling around the British Virgin Islands, it was Willy T's and the Soggy Dollar.
The Soggy Dollar on White Bay of Jost Van Dyke is famous because people used to have to swim to shore to visit the bar, thus forcing them to pay with soggy money. They also invented the Painkiller, a variation on the Piña Colada, but made with dark rum instead of light.
Luckily, they take credit cards now, which are much easier to dry off. The whole area has a relaxed vibe, with a nice beach where I saw a sea turtle popping up every once in a while. You'll find a few restaurants here, like Hendo's, and you can even rent tents to relax in the shade.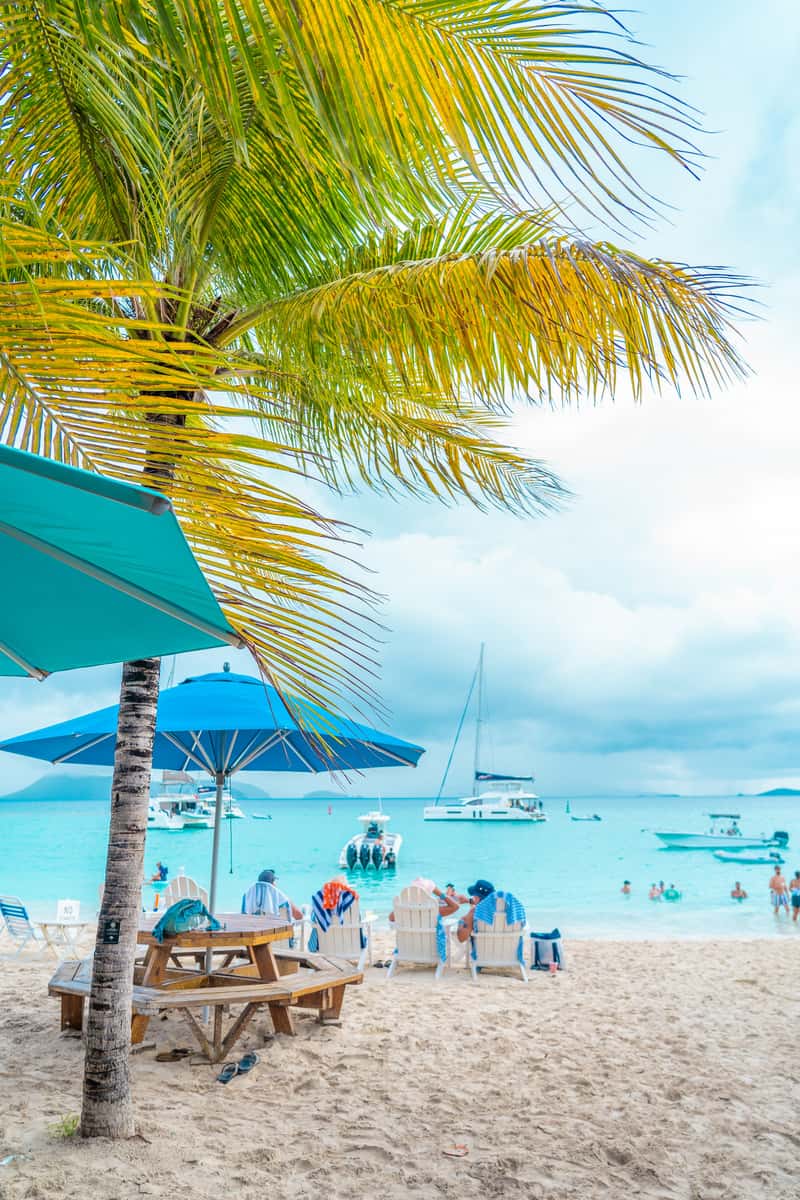 Spa on the Boat
There are a lot of places to have a scenic massage in the British Virgin Islands, but the Ocean Spa, located a couple hundred yards from the Soggy Dollar, is definitely one-of-a-kind.
Here, you get to enjoy a massage right on the water with the most incredible views from their boat. It was actually built using salvaged pieces from the last hurricane!
All the windows are open, but you have complete privacy, allowing you to fully relax while the waves gently rock you. There's even a screen on the floor, so as you're relaxing in the headrest, you can see fish swimming beneath you. You can choose to pull-up in your boat or swim up.
Foxy's
Foxy's is a beachside bar on Jost Van Dyke right down the road from the Soggy Dollar. Serving up good times since the 60s, this place has a laid-back vibe that's all about the Caribbean chill. You can kick back with a cold beer or one of Foxy's famous rum cocktails, while enjoying some of the best live music you'll find on the islands.
They are also known for hosting parties and different themed nights. We managed to visit on their BBQ Buffet Night, where we got to see them cook all of the food right in front of us! It was all a part of the experience.