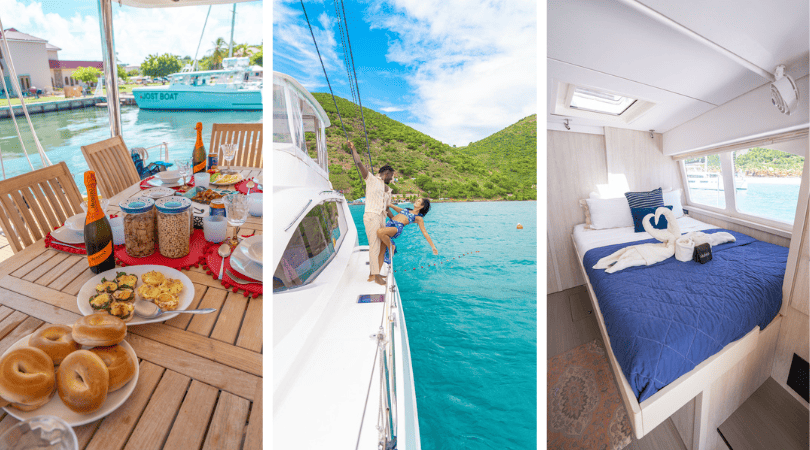 Our all-inclusive British Virgin Islands vacation was nothing short of a sun-soaked fairytale experience! From the moment we set foot on the chartered 5800 Moorings Catamaran, we knew we were in for an extraordinary adventure.
Use CODE: SUN for 10% off your booking or use our link.
This spacious and luxurious boat, with its sleek design and modern amenities, became our floating paradise on the crystal-clear waters.
Want to learn more about vacationing in the British Virgin Islands? Check out our blog posts below about our experience: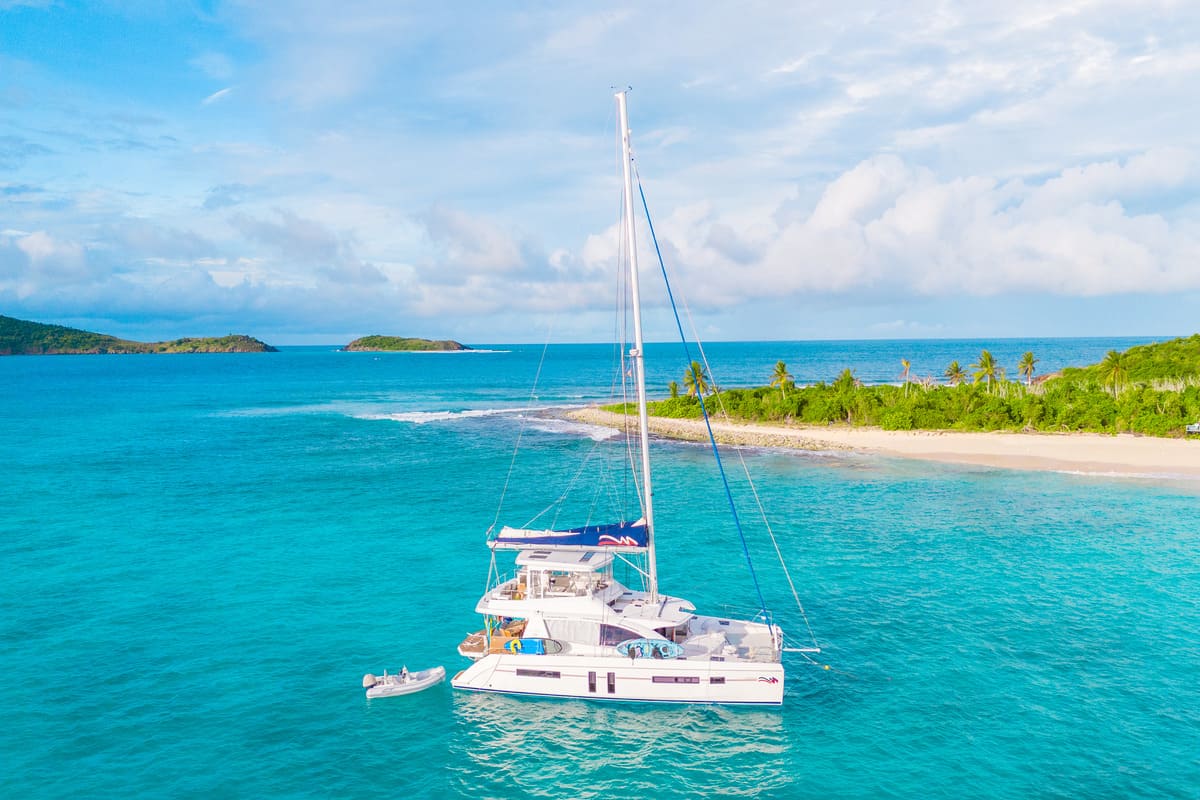 Our dedicated crew, consisting of a knowledgeable captain, a talented chef, and a skilled bartender, ensured that every moment of our journey was filled with pure bliss and relaxation. Whether it was navigating through hidden coves, recommending the best snorkeling spots, or crafting exquisite cocktails, they truly went above and beyond to cater to our every need.
The sensory delights on board were simply mesmerizing. We were treated to a wide variety of delectable snacks, mouthwatering meals, and refreshing drinks, meticulously prepared by our talented chef. Each meal was a culinary masterpiece, showcasing the vibrant flavors of the Caribbean and leaving us craving more.
Every day brought new adventures and exciting destinations to explore. From discovering secluded beaches with powdery white sand to snorkeling among vibrant coral reefs teeming with marine life, we were constantly immersed in the natural beauty of the islands.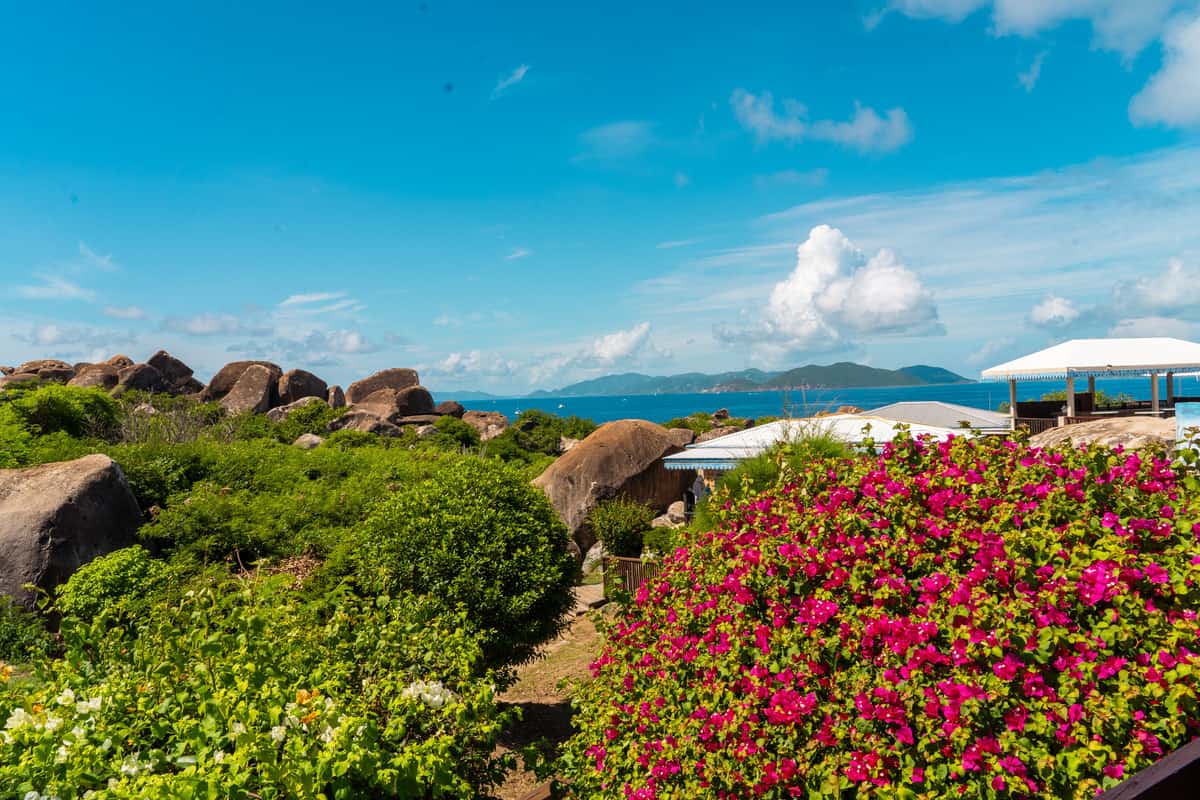 And as the sun set over the horizon, painting the sky in hues of orange and pink, we were left in awe of the breathtaking sunsets that graced our evenings.
This all-inclusive Caribbean vacation was a perfect blend of thrilling activities, mouthwatering cuisine, and unforgettable moments. The British Virgin Islands truly captured our hearts with its pristine beaches, turquoise waters, and warm hospitality. It was a slice of paradise that will forever hold a special place in our memories.
How Much Does a Moorings Yacht Charter Cost?
Our 5800 Moorings Charter for a five-day trip ranges between 24,000 to 30,000 USD, depending on the booking dates. Although the price tag may seem steep at first glance, the charter can comfortably accommodate up to 10 people, with each couple enjoying their own private bathroom and bedroom.
This means that the cost per individual can range from $2,400-$3,200, or $480-$640 per person per night. When compared to the rates of all-inclusive resorts, we found that our charter offers significant value, making it a cost-effective option for an unforgettable vacation experience.
What's Included in Your Moorings Yacht Charter?
Included in your yacht charter is the opportunity to island hop around the beautiful British Virgin Islands. Every day, we woke up to a new view, hit up all of the top spots, and enjoyed the diverse beauty of the British Virgin Islands. We also had stand-up paddle boards, a kayak, a dinghy, and snorkel fins (however, you must bring your own goggles).
In addition, a dedicated chef is at your service, preparing breakfast, lunch, and dinner for you daily. Each meal is an event in itself, featuring local flavors and international cuisine and catered to your preferences. We wrote a whole separate blog on that because food is important to us. Click here to check it out!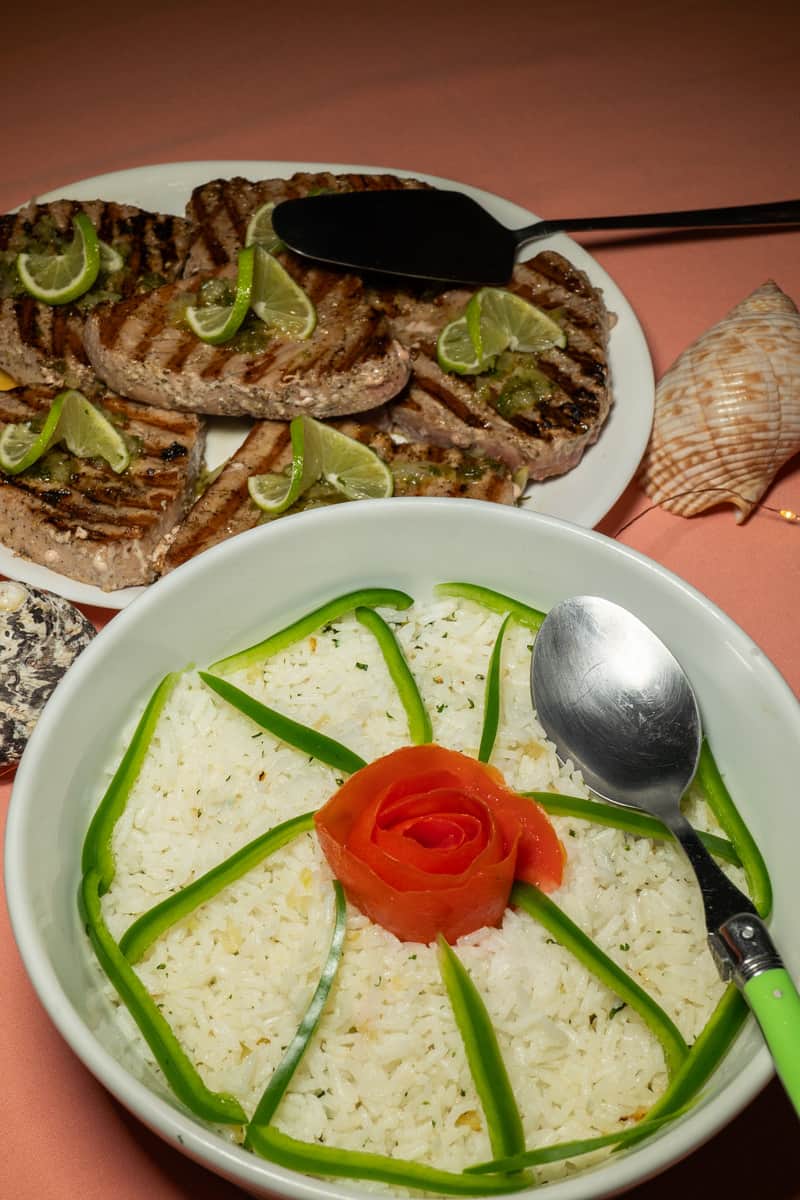 There are also plenty of snacks, such as Oreos, chips, candy, cookies, etc. for when you're hungry. The charter also includes a selection of alcoholic beverages for you to enjoy as you soak up the Caribbean sun.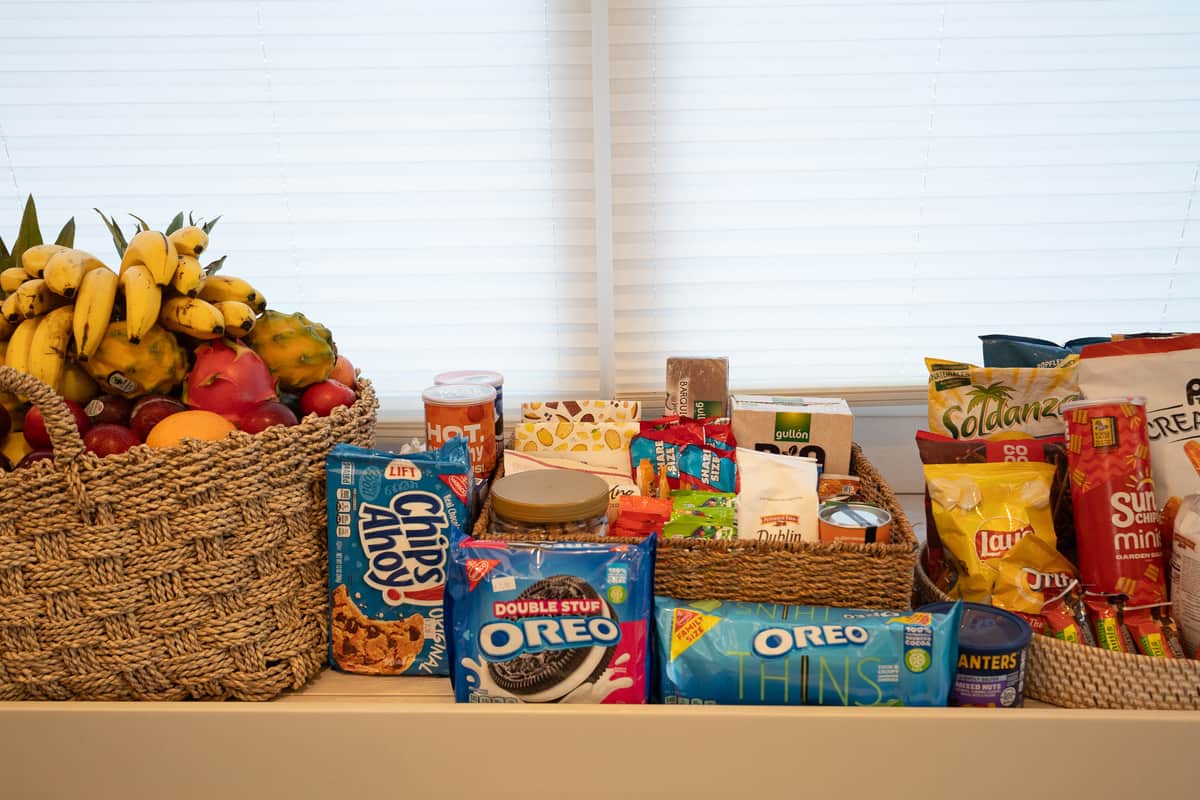 But what truly set our charter apart was our crew. Committed to ensuring that you have the vacation of a lifetime, our crew members were some of the sweetest, most attentive, and most knowledgeable people we could ask for. However, they are more than just a crew; they're your personal concierge, tour guide, chef, and bartender all rolled into one.
One of the hardest parts was leaving Captain Seymour and Ms. Vicky, who took the best care of us while on the boat. They helped us find the best gems, avoid crowds, keep our rooms clean, and make sure we never had to lift a finger.
How to Get to the British Virgin Islands
Getting to the British Virgin Islands is part of the adventure, with several routes depending on your starting point.
The most common way to reach the islands is by air. Direct flights are available from several major cities in the United States, such as Miami and New York, to St. Thomas Airport.
As soon as we landed, we were whisked away by taxi to the port, which was arranged as a courtesy by the charter. We then hopped on a water taxi and sailed from the US Virgin Islands to the British Virgin Island of Tortola at Old Town Road. Don't worry, the Moorings Yacht Charter helps set all that up as well!
We had to stop at customs, but it was such an easy process. We stayed on the boat while our captain took the passports. He left us some champagne to enjoy while he took care of business.
Not long after, he returned. Then, we sailed right up to our yacht, where Ms. Vicky, our chef, had rum punch and snacks waiting for us.
Alternatively, you can also fly to Luis Muñoz Marín International Airport in San Juan, Puerto Rico, and then catch a connecting flight to the British Virgin Islands.
British Virgin Islands vs US Virgin Islands
The U.S. Virgin Islands and the British Virgin Islands, located in the same Caribbean archipelago, offer totally different experiences. The U.S. Virgin Islands, including St. Thomas, St. John, and St. Croix, is bustling with shopping complexes, golf courses, and larger resorts. They have the perfect blend of Caribbean flavor and American convenience.
In contrast, the British Virgin Islands are often preferred by those seeking a more laid-back, less commercialized escape. The islands of Tortola, Virgin Gorda, Anegada, and Jost Van Dyke are renowned for their tranquil beaches, exceptional sailing opportunities, and charming local culture.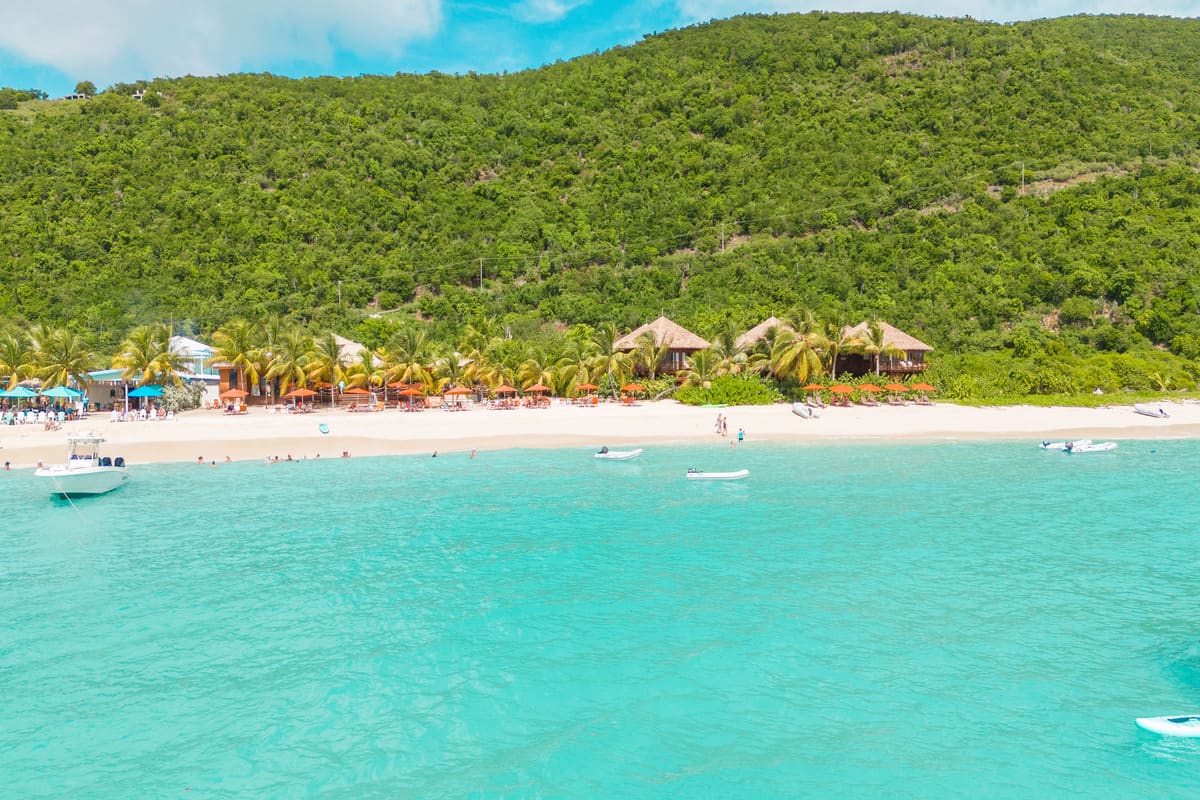 The British Virgin Islands' less developed, more serene environment is often a strong draw for those in search of respite from the fast-paced life of larger cities. Funny enough, they don't use pounds. They actually use dollars, so you won't have to worry about exchanging cash.
Because they don't require the extra plane ride and customs, more people visit the US Virgin Islands, meaning it has more of a commercial appeal. Meanwhile, the British Virgin Islands have fewer people and provide a more laid-back experience. It's also the place where you'd want a yacht charter to get around.
What to Add to Your Yacht Packing List
The amazing thing about our Mooring Yacht Charter was all that it included! It made it easy to not need much. I packed so much and ended up needing so little (besides my favorite swimsuits, which I wore multiple times).
Reef-safe sunscreen: They have sunscreen, aloe vera, and after-sun, but we opted to bring our own sunscreen. Read about our reef-safe sunscreen recommendations here.
Your own snorkel: They provide the flippers, but you must bring your own mask. We got ours from Amazon. I ended up loving them because if you accidentally get water in the snorkel, it simply doesn't let you inhale, preventing you from getting water in your mouth.
3 to 4 swimsuits and 3 to 4 cover-ups: We lived in swimsuits on this trip, and with the sun shining bright, they would always dry quickly. One bathing suit I recommend is one with full sleeves for the sun.
Foldable hat: The sun is strong on the islands. Pack a hat for extra sun protection.
Toiletries: They have body wash. Everything else, you will be responsible for bringing.
Suitcases: They said there was limited space. However, with our two hard-shell carry-on suitcases and two duffel bags, there was more than enough space! I didn't feel like we needed more, and I definitely overpacked, but I could have fit a lot more if I wanted to. There was storage space everywhere!
Fun, Extra Things You Can Bring
These are not necessary but could be a fun addition.
Fun beach accessories (Link to oversized flamingo float for 10, etc)
Water shoes: I ended up being the only person in the group to have water shoes, but I only ended up using them once. I barely needed to use them and would have been fine without them.
What You Don't Need to Bring
Nice clothes/heels: You can't even really wear shoes on the boat. Even the nice resorts you might dock at are all casual.
Towels & sun towels: They provide both.
Blankets: I get cold so easily, but there were plenty of blankets to keep us comfortable and warm.
Snacks: They provide all the snacks you need! Just let them know your favorites so they can stock them.
The Camera Equipment We Brought
One thing we did not go light on was our camera equipment! With so much sun and different settings, we wanted to be fully prepared for any shot we could get. I'm so glad we came prepared.
Sony a7iii: This is our main travel camera
24-105 lens: Perfect for almost all shots
Sigma 14-24 mm F 2.8 Art Lens: This helped us get tight shots of the cabin, as well as really great shots with the sails up.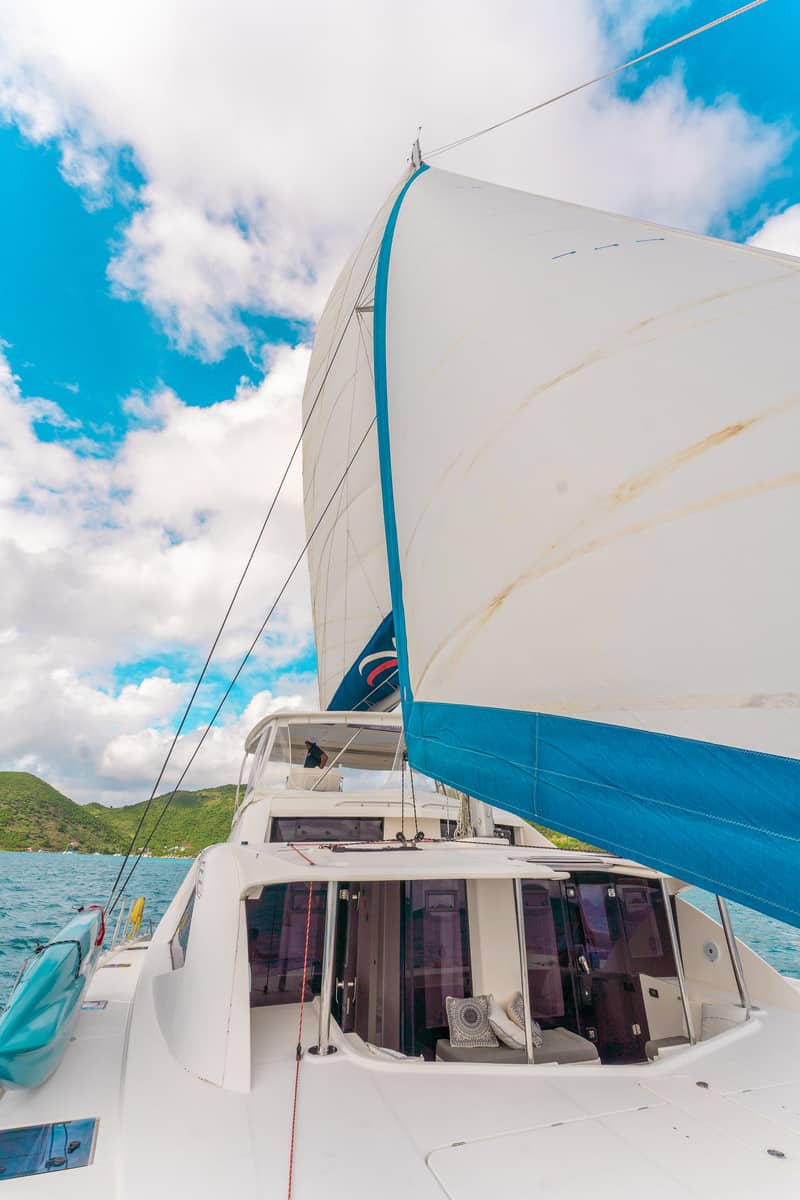 DJI drone: We just upgraded to this one that lets you shoot horizontally and vertically, and it has been a game changer. It's light and was easy to carry in our bag.
Insta 360: Since we were on a boat with high winds, the drone wasn't always an option and that's where the 360 with an extender pole came in. It allowed us to get shots further off the boat that looked almost drone-like.
Go Pro & Dome: This was probably our most used piece of equipment! It's waterproof, allows for movement (lots of jumping into water action), and has so much versatility. The dome helped us get some epic overwater/underwater shots that I love!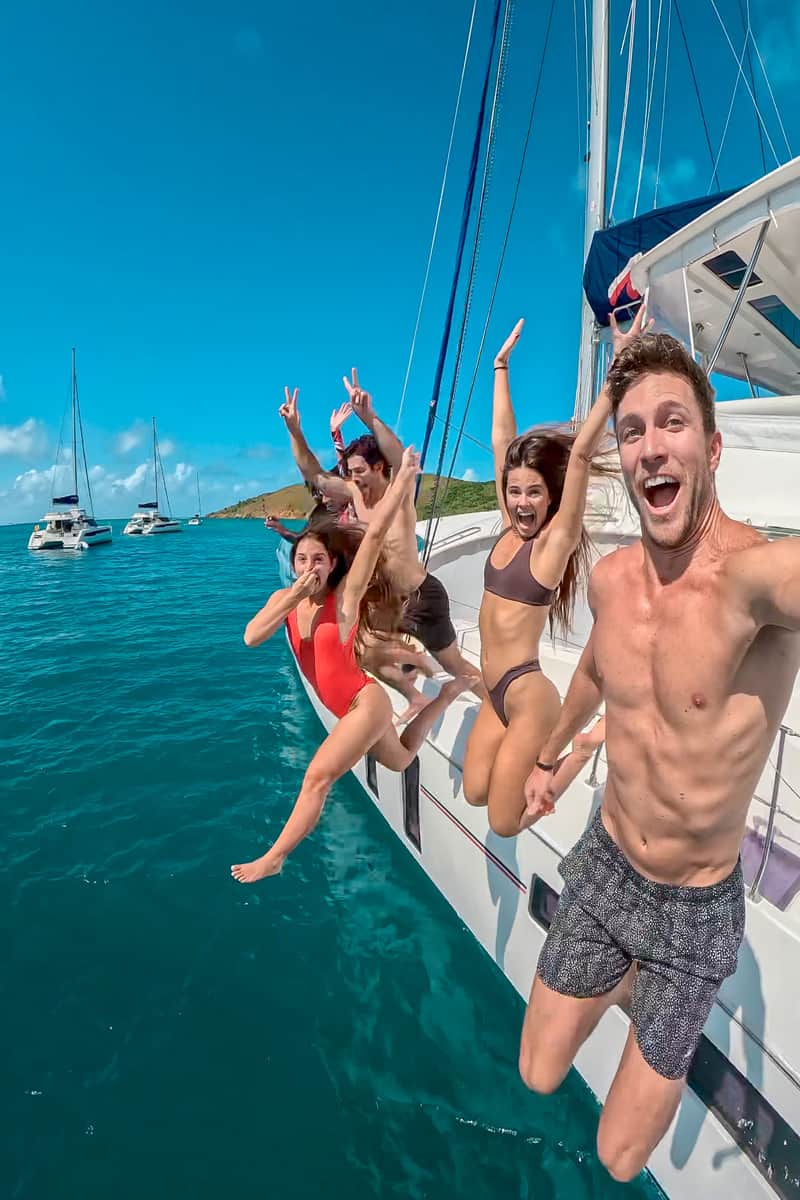 Waterproof bag: This was so necessary! Sometimes to get to shore, we literally had to swim, and the bag kept our equipment safe.
Tripod: Of course, we had plenty of couples to help us take couple pictures. However, we loved the freedom of being able to shoot what we wanted.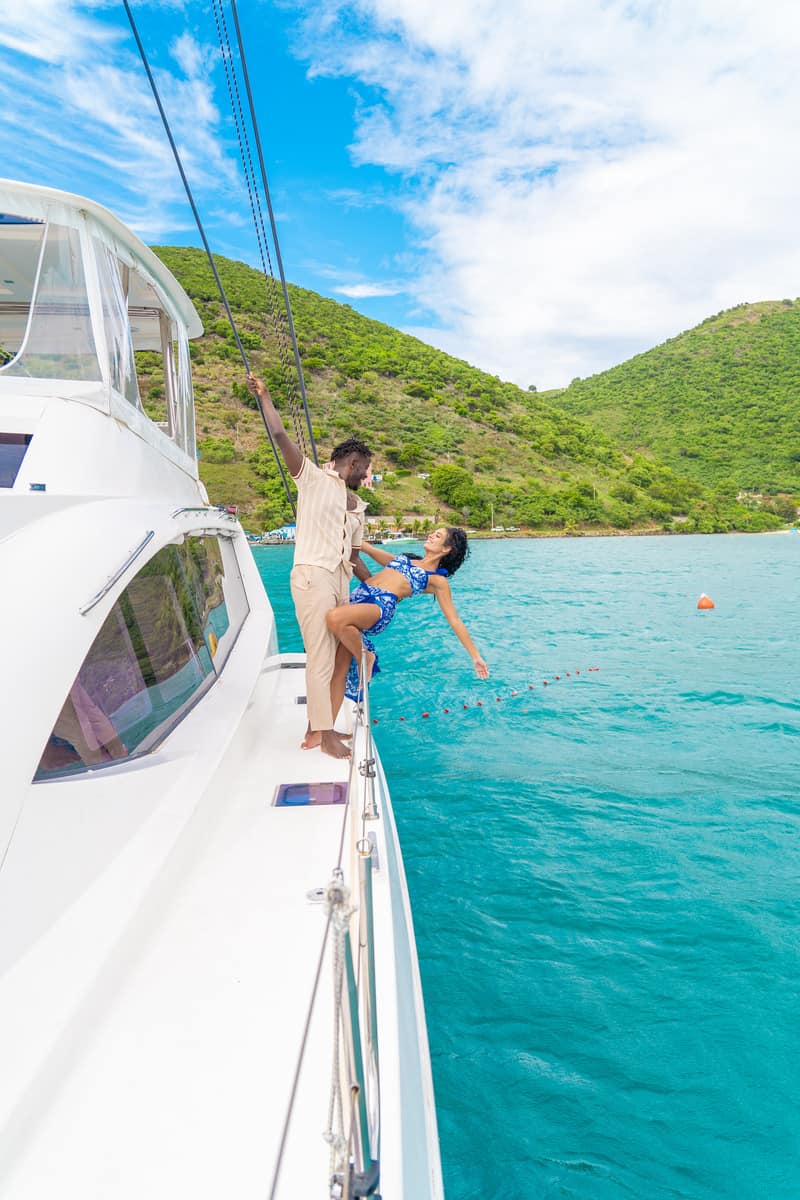 Get our full list of our favorite camera equipment that we always travel with here.
What the Boat Looked Like
Each boat is a little bit different. Our 5800 Mooring Andromeda came with 6 bedrooms. Each one had their own private bathroom, kitchen/living space, front of boat with hammocks, back of boat with a dining table, and an upstairs deck with views up top (where we spent most of our time).